Help support the Horizons Unlimited E-zine - visit our sponsors! If Madagascar sounds like a great place to ride to you, (and it sure does to me!) drop by their website and make sure you tell Manfred how you heard about them!
Ever wanted to go biking in Madagascar?
You can ride this unique island continent east of Africa, meet friendly, humorous and unobtrusive people, and see the fascinating indigenous plant and animal life.
Take one of our Transalps and discover for yourself the highlands, the rain forest, the arid south, and it's tropical beaches.
Special event: June 21st, 2001, Total Solar Eclipse in Madagascar.
Talk to Manfred at Madagascar-on-bike.
More info on the June 21 eclipse in Africa
Johnson's Horizons Unlimited Open House
see my comments in the opening paragraph for what you missed!
Plan where to be when!
If you know of any events of interest to travellers, send me a note.
Alpine Rally, NSW, Australia, long weekend of June 8-10 2001
"...Rally is in the Brindabella ranges SW of Canberra. Take the Brindabella Rd from either Tumut or Canberra and follow the signs. It's usually very cold and the dirt roads to the site are lots of fun."
IronButt event - A chance to achieve (your choice) 1000 Kilometres, 1000 miles or 1500 Kilometres certificates.
56th FIM Rally July 5-7 in Killarney, Ireland
Bob Alexander says: "...trust me, the Irish will host a fantastic Rally. A ride along the beautiful "Ring of Kerry " and Dingle Peninsula are only a few miles away. Blarney Castle and a kiss of the Blarney Stone only a short distance. Take in the "Killarney Pub Trail" for a nice walk through the town, and enjoy some traditional music and a pint or two." Riders from over 30 countries are expected!
47th annual Routledge Dual Sport Tour, July 7 - 8 2001, Surrey BC, Canada
"Starting in Surrey (suburb of Vancouver), going up to Coalmont (near Princeton), camping there & back to Surrey....80% good gravel & 20% paved... Fast Truck for carrying camp gear... BBQ at end. All for Cdn $25.00 driver & $15.00 passenger... about US$18.00 & US$10.00. Info: website or e-mail"
Deadhorse, Alaska, July 12, 2001
"... Let's make Deadhorse (Northern end of the road) like the annual Ushuaia (Southern end of the road) Christmas gathering. If you are going to Deadhorse in 2001, co-ordinate it (on the Bulletin Board) with other like minded folks with common interests in the land of the Midnight Sun. I'll be there with my Yorkie 'Punky' on a Kawasaki KLR650."
Lew Waterman, USA, North and South America 2001-2
There are at least a half dozen riders already committed to being there - how about you?
Gieboldehausen 5th Annual Treff, Germany, 31 August to 2 Sept 2001
Great rally, well worth going! Details here.
Transdanubia Ride 2001 The Ride for Understanding, 25.08. - 01.09.2001
"Start in Munich at BMW's, prologue near the city and then off via Austria to the Czech and Slovak Republic to Hungary. With the freedom of selection of route, checkpoints have to be stopped at which in each country lead to the national special stage. It`s in the Puszta with the Magyar people where the ride will fully get going: in four one-day loops starting from the base camp. Here is the complete tempting cross-country terrain which will make the Enduro hearts beat faster. Sand, mud, gravel and one special stage after the other. Participation is permitted for anyone holding a driving licence corresponding with a 4-stroke Enduro. Also admitted are enduro-type side cars and quads (4-stroke only)."
Clare Navigation Rally, 7 - 11 September, Ireland
"...why not join us for the Clare Navigation Rally suitable for large capacity trail motorcycles, in the Burren Co Clare Ireland , also on at the same time is the Famous matchmaking Fair in Lisdoonvarna... rock on! Clare Navigation Rally C/O Philip Gunn, Watergrasshill, Co Cork, Ireland. Ph ++ 353 21 4889 462 Fax ++ 353 21 4889 516 Email, Website"
Starting from a US Military Base in Germany. IronButt type event. If you are interested, there will be a 100 rider limit, so it pays to get your name on the list.
GET YOUR WEB SITE LISTED in the LINKS section by listing Horizons Unlimited on YOUR web site, let me know you've done it by mailing me a link to the page, and you may get listed here in the next newsletter and on the Horizons Unlimited web site Links page. To make it easy for you, we even have our logo and link code here!
All sites will be considered for listing, but must be a MOTORCYCLE or TRAVEL site, useful or of interest in some way to travellers.
Links will be rotated regularly as needed.
Motorcycle Traveller friendly campsite, Toronto OH, 20 minutes from Steubenville, OH, USA. Tell Bill we sent ya!
Patrick Lueth and Lorenz Kerer, Indonesia, SE Asia to Japan and across Russia to Austria, departed Jakarta, Indonesia on 09.01.2001. Well done in German and English, good packing lists.
Chris Burt and Kirsten Latimer, UK, are planning an around the world trip on old Triumphs. Yes, the OLD ones.
Kelly and Enric's Latin American Adventure
Kelly and Enric Bernal, Central and South America 2001, excellent packing list and more.
Seven US and Chinese riders in China, 2000.
Two Wheels Only Motorcycle Resort, Suches, Georgia, in the Chattahoochee National Forest, is claimed to be the first resort of its kind. "Developed by a motorcycling family in 1982, for the pure pleasure of other touring motorcyclists."
Microfiches online for many models - very nice to figure out how it goes back together or what you need to order when you're back o' Bourke...
There are many "Helpful People" listed on the Links page, a huge thanks to all of them. How about you? Or just join a Community, or start your own!
Do you know of a good shop "on the road,"
in other words somewhere there isn't a large number of shops? (Also of course any shop that specialises in travellers equipment and repairs is of interest.) But we're particularly looking for those rare items, good repair shops in South America, Africa and Asia etc. I will create a web page for them soon... eventually... real soon now...
Submit your tips and questions here, anything goes! Got a great idea for travellers, found a new solution to a problem? Send it in! If you're having a problem, just ask, there's a lot of people with a ton of experience out there to help.
On the "Sealed Battery" question raised before in previous issues, more comments:
Regarding the battery options for BMWs - a fellow mentions using Yuasa or Odyssey as an alternative to the expensive BMW batteries. The Yuasa YXT20L-BS is an excellent replacement option for the 18amp BMW battery in many GS and K bikes and is often half the price. ( I used to work for Exide ) However, to fit GS models, one must slightly alter the battery cage but cutting or bending the frame as the Yuasa is about 1/4 inch fatter. Some times this is not an option - i.e. a leased bike for example.
Similarly, any BMW which uses the large Y60-N24 battery can be altered to take a group U-1 farm tractor or wheel chair gel battery. The cage must be cut and the rear fender dropped to allow the deeper battery to fit. The group U-1 gel is a deep cycle and can be drained dozens of times without
damage compared to only a couple of times for the standard Y60-N24 battery. It also costs about 1/2 of the price and can be found anywhere in the world where farm tractors or electric wheel chairs can be bought.
One thing to remember is that a stock Air Head charging system is barely adequate and only works well if the bike is ridden in a prescribed manner = little idling, and few if any accessories i.e. vest or heated grips. If an bike like my 1991 R100RT is ridden too slowly or in constant traffic, the battery will not be charged properly. You must compensate by using an AC outlet to charge at low amperage ( 1/4 to 1 amp ) at least once a week to be effective. Many riders forced to run at low speeds on poor roads in the third world will not be charging properly. A battery ( with the engine off ) must read at least 12.65 volts minimum to be fully charged!! Below 12.40 it will slowly become sulphated. On a boxer this means at least 3500rpm constant and the larger and more powerful the battery, the more voltage it takes to keep it charged!!
Also, most older boxers suffer from poorly grounded diode boards which always fail in hot climates. I recommend removing the rubber washers and "hard ground " the entire board to the engine - they way they did it before 1981. This will greatly extend the life of the board and the life of the battery.
Check out www.exideworld.com for more info on batteries.
Craig - Vancouver, Canada
I've made contact with some of the people we were looking for last month, thanks! - but the following are unaccounted for. If you know any of them, please send in full names and e-mail addresses would be much appreciated!
Claire and Mark from England riding two XT600's...
Lionel Marx, I have no e-mail for him...
Chris van de Goorberg, Netherlands, XT600, last seen in Mali...
Kiwi Brian and Japanese Junko, both seen in Chitral
Johan ? traveller from Netherlands, last seen in Rio de Janeiro.
a couple of riders from French Guyana, she's riding a Suzuki DR 350 and he's riding a new XR 650.
Rob Arnell, UK, in India
When you meet travellers...
on the road, please get contact info and let me know so I can add them to my who's who and where list! Grant
E-mail address Problems:
Sometimes there is a problem with an e-mail address - it's not that I'm deliberately ignoring you! I have been unable to reply to the following, as the address they gave me bounces. If anyone knows them please let them know the problem:
Jürgen Hoffmann, and anyone else @slpol.de, I am unable to get anything through to slpol.de addresses. Please supply another e-mail address by re-subscribing at the Subscribe Form.
Chris Smith
cjsmith@ gtonline.net.uk
in the Channel Islands - This address is no good, if anyone knows him or knows what the address might really be, please let me know.
Thanks!
Hi, I am looking for a safe place to store a bike for about 3 months in central America (i.e. Panama, Costa Rica, Nicaragua). In the meantime I would like to fly home and earn some money to continue my trip. I heard conflicting reports on the possibility to leave these countries without the bike since something like 'Entrada con Vehiculo' will be stamped into the passport. Who has firsthand experience with customs/immigration in southern Central America? Where could I get more info to solve my problem? Thanx, Werner.
From Dirk Bachmann,
"... what about opening a chapter on your website for GPS locations of good routes, wells (in the desert), good mechanics etc.?! It would for example be so much easier for me to find BMW in Sao Paolo if I had their GPS location..."
No argument from me, send in all your GPS information and we'll get it sorted! We are already working on a mapping system with James Riley, a great volunteer who has offered his expertise with mapping programs to set up a constantly updated map on the website that will keep track of where travellers are and their routes! We plan to have bike shops, helpful people, borders and anything else we can think of on it, so the more GPS numbers we can get the better. For the moment just go to the form page - and use the Feedback form to send us info. We will have a dedicated form for this as soon as we can.
Rich Kickbush, Australia, currently in Vancouver,
"...Plans are changing with my RTW tour, nothing seems to be happening as quickly as I would like, and I'm considering changing my timing and plans rather than add to the stress.
How easy would it be for an Aussie to get under-the-table work in Britain during the winter, do you think? I know of volunteering on organic farms that would allow me to only have fuel as my main cost (they supply food), maybe bar work or the like. I'm young and fit, so don't mind mindless labour, if it allows me to do what I want.
Could you tell me when a bike could head out of Britain into Central Europe without being delayed too much by snow etc?"
Dakar, Senegal,
"The best time to come to Senegal is from November to July-August. It's the dry season. Expect 25 in the coast and 30 inland. The are nice cool breezes near the coast. But in the rainy season it's greener and lusher, it only rains an hour a day, there are a few more bugs and it's a bit hotter and humid.
In the dry season all the pistes are dry and there is a lot of driving through sandy tracks and some hard surfaced tracks. 99% of the itinerary is off-road, through savannah. Every day we pass quite a few villages and tend to stop in them to have a rest or a chat to the locals. In the rainy season these tracks are slightly more muddy after the rain and dry out after an hour. Carlos Rodriguez Omalley, Dakar."
for further info: See the Dakar Community!
From a question on the BB re: Touring Poland?
Patrick Lueth responded:
"Go there! You won't be disappointed. I biked around Poland for one month two years ago and it was great.
We didn't make any bad experiences with crime or nasty people. For destinations I would recommend: North-East and South- East. Anyway we liked the eastern parts a lot more.
We rented a canoe for one week in the Masuren area, which was fabulous. Also the nicest and most quiet roads, I think.
As for accommodation, I think camping is the best idea. Don't expect campsites, but nobody ever cared when we pitched our tent in the wild. Have fun! Patrick"
Gernot Minig and Horst Lentes, Germany, in Indonesia,
"There is not one single vehicle ferry between Malaysia and Indonesia or Singapore and Indonesia. So we chartered one of the little wooden cargo boats that sail from Melaka in Malaysia to Dumai in Sumatra every day. The name and address of the shipping agency:
Purnama Mutiara Sdn. Bhd.
Ajensi Penghantaran & Perkapalan
d/a Petronas Lot 179 Semabok
75050 Melaka, Malaysia.
The little office is situated right on the harbour behind the Maritime Museum.
We paid 350 Ringit per bike. We were not allowed on the cargo boat. We had to take the passenger ferry, which cost 50 Ringit per person plus 10 Ringit tax. The ferry and the cargo boat left in the morning of the same day. Since the ferry was a lot faster, we could wait for the cargo boat in Dumai. There was a customs officer on board the ferry. He asked a lot of questions, but didn't cause any problems.
Since Dumai is a big oil harbour it was a problem to find the area of the harbour where the little cargo boat would arrive. It arrived in the so called TPI harbour (or: TPI Pelabuhan).
There we paid 80.000 Rupies for the helpers to get the bikes off the boat.
The customs officers in Dumai were extremely friendly and efficient. Certainly a very pleasant experience."
One way to avoid a speeding ticket (from Australia)
A police officer pulls a bloke over for speeding and has the following exchange:
Officer May I see your driver's license?
Driver I don't have one. I had it suspended for exceeding .05
Officer May I see the registration for this vehicle?
Driver It's not my car. I stole it.
Officer The car is stolen?
Driver That's right. But come to think of it, I think I saw the registration in the glove box when I was putting my gun in there.
Officer There's a gun in the glove box?
Driver Yes mate. That's where I put it after I shot and killed the woman who owns this car and stuffed her in the boot (trunk).
Officer There's a BODY in the BOOT?!?!?
Driver Yes, mate.
Hearing this, the officer immediately called his back up. The car was quickly surrounded by police, and the captain approached the driver to handle the tense situation.
Captain Sir, can I see your license?
Driver Sure. Here it is.
It was valid.
Captain Who's car is this?
Driver It's mine, officer. Here's the registration papers.
The driver owned the car.
Captain Could you slowly open your glove box so I can see if there's a gun in it?
Driver Yes, sir, but there's no gun in it.
Sure enough, there was nothing in the glove box.
Captain Would you mind opening your boot? I was told you said there's a body in it.
Driver No problem.
Boot is opened; no body.
Captain I don't understand it. The officer who stopped you said you told him you didn't have a license, stole the car, had a gun in the glove box, and that there was a dead body in the boot.
Driver Yeah, I'll bet the lying b*st*rd told you I was speeding, as well.
Shipping - Everything You Need to Know to Get the Bike from Here to There
By popular demand, there is now a Shipping page on the site. It can be reached directly or from the Shipping link on the Trip Planning page.
This is a compilation of information from e-mails to us, scattered throughout the newsletter issues, and the bulletin board on shipping (air or sea) between continents. It includes stories about 'bad' experiences as well as good ones.
A big thanks to all those who have submitted this information, and a request. Can you please look at your item(s) and check it, and send us any missing information. Also, if anyone has more recent information on any location than what is on the page, please let us know.
If you have any information to contribute, there is a form at the bottom of the page which you can submit and we will put it on the page. As you all know only too well, this information is critical for those of you who are on the road searching for a shipper, so please provide local contact details and price, as well as whether you were happy with the service and would recommend them to your fellow travellers..
Thanks in advance, Susan
Travel Medical News
More and more locations have malaria strains which are resistant to many traditional drugs, such as chloroquine. For example, drug resistant malaria is now so common in Tanzania that the government is banning the importation of chloroquine.
Mefloquine, or Lariam, is much more effective, but many travellers have been scared off by its reputed side effects. Some of this may be psychological: In a double-blind study recently, where the control group was taking Lariam, some people suffered crippling Lariam-like side effects - just from the belief that they were in the Lariam group!
A new drug, Malarone, has just been approved by the US FDA, and holds hope for travellers who have had side effects from Lariam, but are travelling to chloroquine resistant areas.
Of course, anti-malarials are NEVER sufficient on their own, but must be combined with measures to avoid bites, such as long sleeves and pants after dusk, mosquito netting and insecticide.
For very useful health info / news, check out The Fleet Street Travel Medicine Clinic's website.
Travel Advisories:
The Foreign Office in London's Travel Advice Unit advises against all travel to all sorts of places. Check out the listing before you start!
The US State Department has issued travel advisories, information and/or warnings.
Border Crossings
If anyone has any information please let us know. When you cross ANY border, take some notes, and pass them on to us. Eventually we would like to have information for all the borders of the world posted on the website to help you, and other travellers.
Wouldn't YOU like to know all about the border you're approaching - what it should cost, paperwork required, "tips" needed, and who to talk to etc.?
Just send in whatever you can as you go.
Thanks to all who have sent info in the past, please keep it up!
Thanks, Grant
"Mission Accomplished. I will never forget the moments before leaving on our first motorcycle trip back in 97. Friends, acquaintances and the general public bid us farewell as if it was our funeral. You will be robbed, raped and rattled they said.
What can we say now, three trips and approx. 70.000km later -except that they were wrong? Everything has gone according to plan, so smoothly that we cannot believe it ourselves! And once again, our theory that the majority of the people on this planet are actually nice has again been proven. Fortunately they prevail over the bad guys.
We left the city of La Paz in its general state of confusion. There were demonstrations, counter demonstrations, student celebrations, union protests, Indian uprisings, coca growers-roadblocks and the police -just in case- dosed everybody with tear gas. Plenty of tear gas. Walking around La Paz became an eye-watering experience and we finally understood why the city was full of street vendors selling small packs of tissues. As soon as the police peppered the main avenue with gas, a bunch of these salesmen showed up. 2 for the price of 1! Every opportunity in La Paz is a good one to sell something.
Anyway, we were advised to leave Bolivia by May 1 (May Day) since there were rumors that roadblocks would make leaving the country a rather adventurous affair. This matched our plans perfectly since we were already longing for meat and wine in Argentina...
The drive to Buenos Aires was dull on good but all-too-straight roads. We resorted to our number one money saving technique when in Argentina which consists in never paying for a place to sleep. Thus we found ourselves camping in the backyard of a police station among some hideous looking car wrecks. Nevertheless everything looked a lot better after a wonderful night eating cured ham and drinking gin.
Next day was more of the same except this time we ended up camping behind a gas station in a very small agricultural town. As soon as we arrived we caught the attention of the entire town and it did not take long before we were being interviewed by local cable television. With all the attention he has received throughout this trip Gonzalo has often felt like Julia Roberts. During the interview he almost launched into a speech thanking for the Oscar. Soon after we were eating another barbecue courtesy of about 15 of the local lads. After football, eating an "asado" is the second most important Argentine national "sport". We must also modestly admit that Argentines are probably the second most friendliest bunch in South America, second only to the Brazilians. All throughout the country we are constantly being invited to eat, drink and even to peoples homes...
For all you motorcycle lovers, we may conclude that the Honda XRV 750 Africa Twin is an excellent machine. We have had absolutely NO problems. I repeat: None. We drove 20.000 km (12.500 miles) and the only thing we did to the bike was change the oil twice, repair one puncture and replace a pair of worn out tires. Otherwise, nothing. Nichts. Nada. Although we like to ride a motorcycle, we consider the machine only an instrument and not an end in itself. Therefore, not having to spend time polishing, fixing or cuddling with it gives us even greater pleasure of owning one.
As we sit here in Buenos Aires visiting our friends (and still eating), we already joke about future destinations. A 'short' trip to Libya, or maybe Turkey. A drive from Norway to India. A detour to Tibet. There's so much to see, so much to learn and obsessions die hard."
Ted Simon, UK/USA, "Jupiter's Travels," around the world, again, in Kenya, R80GS Basic, recovering from a broken leg,
"...Hello everyone, from the comfort of an armchair in Lorraine's convalescent home where we have an excellent view of giraffe and occasional visits from baboons. Yesterday was my birthday, and we made the most of the occasion...
However, what broke was the fibula? at last I know what that is? and it's not so serious. The professor screwed a bloody great plate across the break, and I plan to be back on the bike by the end of the month. If Barry Sheene can do it, so can I...
What happened? Well, it was supposed to be dry, and it rained. The first part of the road south of Moyale is dirt, which translates into mud. Me, my bike and my tyres were simply not at their best in these conditions. I fell over a couple of times before the break, but that was just inconvenient. The main problem, it seems to me, is that the boxes are just a bit too long and come too far forward. I defy anyone not to put a leg down when the bike is obviously going over, and the mud dragged my foot back under the box. Even so, it was an unlucky fall. I still remember the crack ? first time in my life I've heard it ? and the rest is history which you will read about in full detail on my web site as soon as we catch up...
Thank you all for keeping confidence in me. Ted Simon"
"We are already near the Grand Canyon! Since San Diego we saw a lot of national parks (NP) and cities. We hiked in Yosemite NP through the snow, camped in the Sequoia NP even in the snow and sweated in the Death Valley. There we had 40 degrees Celsius in the shade. But we could see the snowy peak of Telescope Peak which we climbed up the day before and saw the oldest living things on earth: the bristle cone pines which get 4000 years old! Wow, what great scenery in this valley! But as Swiss people we enjoyed the climate of the other parks more.
... We have travelled all through the Indian countries and have seen a lot. There are many interesting and beautiful national parks and Indian villages. The land is mostly a high desert, very dry and hot if not a cold wind is blowing. But suddenly you are in the green mountains that still have snow on their tops. So we undergo a lot of changes in temperatures, altitudes and landscapes. On the mesas the wind, the rain and the rivers have done a lot of artistic work. We could admire a lot of special arches, canyons and monuments of stone. It's great to walk down into the Grand Canyon with its special colors or to wander around the arches in Arches NP. We enjoyed also the campgrounds everywhere.
Oh yes, I almost missed to tell you about the Petrified Forest NP. This is a very interesting park with stony logs in all colors. It was amazing. You could walk around the whole day long and always find a more beautiful log than the one before. If it only had some shade! The Indians knew why they built their homes in cliffs where it is cool in summer time and protected in the winter. Walnut Canyon NP, Bandelier NM or Mesa Verde NP have wonderful cliff dwellings to see.
Now we were at the Hopi reservation and enjoyed to see the old towns in which nowadays not many Hopi live (no water, no electricity) and we bought some pieces (small ones!) of their art, which we like very much.
Today we left Tuba City and stay at Lake Powell. We are enjoying the pool of a nearby lodge by 35 degrees Celsius, and this evening we are celebrating our 50,000 kilometers."

Help support the Horizons Unlimited E-zine - visit our sponsors! Nice people, so drop in on them if you're in the area, and make sure you tell them how you heard about them!

Motorcycle Friendly
B&B
in historic Corrales, New Mexico. 15 minutes from the intersection of Interstate 40 and I25 in beautiful New Mexico.
Thanks!

Werner Zwick, Germany, South and North America in stages, in Bolivia and Peru, Honda Transalp,
"...From La Paz we went via the 4700m La Cumbre pass into the lowlands, the famous Yungas. We intended to meet Birgit and Jo, who are travelling in South America for several months, in Coroica. But the road was blocked by a truck that fell over a cliff. The unpaved roads into the Yungas are often one lane, with hundreds of meters of steep cliffs, no protection whatsoever. The road to Coroico is dubbed the most dangerous road in the world.
Since we could not reach Coroico, we ended up in Chulumani, where the hotel-owners urged everybody to leave the next morning as soon as possible. Roadblocks were planned, and last year the town was cut off for 3 weeks.
We did not want to get stuck and left the next morning the same way as we came. But everything was quiet. Even in La Paz. Bolivia played Argentina in a world cup qualification match. There seem to be more important things in Bolivia than staging a revolution.
We entered Peru, went to Puno, visited the famous Islands of Uros, Amantani and Taquile, where indigenous people live in their traditional ways.
From Puno, we took, against the advice of local people the road to Arequipa. This road is heavily used by trucks and buses, but has not been maintained for 2 years. Huge potholes, washouts, mud holes, and sand slowed us down to an 10-20km per hour average. It took us 2 days to travel 190km of dirt road. Arequipa is dominated by huge Volcanoes. It has a very nice colonial center. The highlight is the 16 century convent of Santa Catalina. It's like a medieval Spanish village.
Near the Colca Canyon, almost twice as deep as the Grand Canyon, we met Birgit and Jo again. We had a nice breakfast at the Canyon rim and watched giant Condors sail by almost at arms length. Maybe they were attracted by our food.
Via a truck infested dusty gravel road we went to Cusco. The ancient capital of the Inca empire deserves a longer stay than I could afford. My vacation was running out, and after three days of visiting Inca temples and fortresses, churches and monasteries, I had to start my way back to La Paz. But not before visiting the famous lost city of the Andes, Machu Picchu. This was the most memorable visit of the entire trip. On a steep ridge lies a city, almost intact, just the roofs are missing. Very impressive and mystical.
Now I am in La Paz and waiting for my flight home. Hasta luego, Werner"
Connor Carson, UK, UK to Australia, in Malaysia, and temporarily back home,
"...The 747 sank heavily into the leaden clouds below, and my spirits sank with it. Rain skittered against the perspex of the window, obscuring my view of the grey anonymous clutter below - London on a wet weekday morning.
If you had asked me, three weeks previously, to predict the circumstances which could possibly induce me to return to Britain, I couldn't have done it without resorting to complex and unlikely scenarios involving strong men with balaclavas and chloroformed handkerchiefs, or possibly teams of wild horses...
Team Duval and I had spent several days in Chiang Mai, northern Thailand, swatting mosquitoes and listening to the rain hurling itself at the roof, before deciding that enough was enough. We set off towards the 'Golden Triangle' the following morning, or perhaps it would be more accurate to say that we paddled off in an upstream direction, for the rain continued to fall unabated.
I had purchased a green plastic rain poncho in Chiang Mai, and it has to be said that it was not exactly up there with state of the art weather protection systems. Its strength may have been sufficient to withstand speeds of 20 kph on a step through scooter, but at normal road cruising velocities I quickly shredded the flimsy thing, and ended up with long green fronds whipping around above my head. Ken, glancing in his rear view mirror, must have believed himself pursued down the road by an angry motorcycling seaweed.
Stopping over the night in Chiang Saen on the banks of the Mekong river, we were entertained in the local restaurant by the appearance of the indigenous rat population, who perched cheekily on the small altar and scoffed the edible offerings placed there by the restaurateurs. I had been contemplating another plate of the most excellent fried rice, but quickly reversed my decision and we beat a hasty retreat. Ken couldn't resist pointing out the 'rat cabaret' to some other tourists seated outside the restaurant - they really had nothing to worry about as the rats were sleek and fat, so the food had to be good didn't it?
The weather improved markedly over the following days, as we travelled North to the much photographed confluence of the Sai and Mekong rivers, the 'Golden Triangle' where the borders of Thailand, Burma and Laos meet. The area is marked by a little monument, a row of tourist stalls, and a huge brightly coloured Buddha.
The following few days were bright and warm, and this break in the weather could not have come at a better time, as it afforded us a hugely enjoyable trip on an excellent road which runs down the western border of Thailand swooping up and down innumerable jungle covered ridges on the Burmese border. Things got green and twisty and the grin factor was appreciable.
We returned to Bangkok to prepare for the journey south - Ken was engrossed in the continuing saga of the BMW shock absorber, a dramatic and apparently never ending tale of man's perpetual struggle against weak recoil (and soon to be produced as a Hollywood blockbuster starring Clint Eastwood as Ken and Sharon Stone as Barbie (sorry, that's Carol...)).
I on the other hand simply had to procure a new tyre, having trashed my Kathmandu-purchased rear 'Nitto' in a little over 2000 miles. If I make it to Indonesia, where these satanic things are made, I shall attempt to do humanity a favour by burning down the factory... Two days of highway-bashing later, and we were in Krabi for a little beachlife. Things don't get much better than this. However, even Chang beer and lazy days at the beach soon wear thin on hardy action-adventure types like us. Ahem...
We headed for Hat Yai, close to the border, and it was at this point that something nasty dropped on me from a great height. Metaphorically speaking that is. To cut a long one short, I had in the past worked with farm livestock in Britain, and had long since hung up my green wellies and rubber gloves and believed that this was the end of it. But unfortunately, with Foot and Mouth disease virus running riot in Britain, the Ministry had posted a request on the Internet that even such miserable specimens as myself were urgently required back home in Blighty. I freely acknowledge that, given a healthy bank account, I might have been tempted to ignore this request and keep riding. However, in common with most overlanders, my wallet after 6 months travel is a sickly and shrivelled creature, and the opportunity to earn a few UK greenbacks would be welcome.
This presented me with the problem of returning to the UK, a difficult feat to accomplish from Thailand because the Thai authorities do not recognise the Carnet de Passage. Instead, they put a big ugly stamp in your passport and make you sign a 'goolie clause' (this is a bit of paper that says that if you do not re export the bike, they are entitled to remove your testicles)... This difficulty was solved by crossing into neighbouring Malaysia - a country which does honour the carnet, and therefore does not need to decorate your passport in such an offensive manner: with a 'clean' passport I was free to leave the country, so there was no further obstacle to my returning home. Damn.
... I left my poor abused and dented bike in the safe keeping of nice Mr Wong of Motosing in K.L., with instructions to look after it and read it bedtime stories. I was surprised at how easy it was to walk away from my trusty machine - either I had implicit trust in the sterling character of nice Mr Wong, or I had implicit faith in the fact that things will work out one way or the other. Or possibly it was just that my ass was sore, I was a bit knackered, and I was unconsciously jumping at the chance of a couple of months out of the saddle to recover.
I briefly examined this forum for self analysis, decided that it looked like too much effort, and went to KFC instead. I amused myself on the bus journey to the airport by making lists of the spare parts I would bring back with me, on my return to Malaysia from the UK. It's pathetic, but after a few months away from convenient sources of spare parts, and you find yourself almost drooling over the thought of a readily obtainable O-ring chain and sprocket set. Yum.
And so it came to pass that I took up a posting to work for MAFF in England. For the next couple of months, all I have to sustain me in this dark, dismal and virus ridden country is the e-mail contact with all those friends who are still out there. Good luck to you all and I'll be making that return trip soon, hopefully with a bucketful of groats and a bag full of XT600 goodies.
And if you listen real hard, you can just hear the faint but strengthening echoes of a little tune, tootling away indomitably in the background - (with apologies to Willie Nelson because I never did get the damn lyrics straight......) - 'On the road again...' it goes, '...can't wait to get back on that road again...'"
Kelly (USA) and Enric (Spain), from Santiago to USA, BMW R1100GS, finding paradise in Panama,
Depending upon who you are, the word Panamá may trigger little more than Canal or the funny word Isthmus that refers to the long and skinny stretch of lands that connects the Northern and Southern Americas. But if you are lucky enough to visit the skinny piece of land that lies next to the Darien Jungle at the southern tip of the country, along the Caribbean sea, you just may think that this is paradise... the bathtub like waters, the abundance of coral reef, the excellent snorkelling and scuba diving, and the jungle that surrounds it all. Here you can fish in the morning and eat your catch in the afternoon, and listen to the monkeys hooting in the trees, eating the bananas, next to the mango tree.
'So how exactly did you get here?' It was a common question among the locals. Mother Nature has done a pretty good job blocking transit between Central and South America by stuffing the tip of the isthmus and the entryway to Colombia with enough jungle to uproot any attempt at laying road. The Darien Jungle, we were told, contains more nature per square foot than the Amazon; it is virtually a no-mans land, with the guerrilla controlling the territory to the South and happy Carabineers controlling the paradise to the North.
There is the saying that goes, 'A watched pot of water will never boil.' There should be another one that says, 'A watched wind will never blow'. For 4 days the wind did not blow; the San Blas islands of Panamá stood out like little smudges on the horizon as we watched Panamá from the sea: 6 crewmembers, 3 guests, one motorcycle, 3 sails and the motor-less iron hull named 'Tara'. The 250-mile stretch from Cartagena, Colombia to Isla Grande, Panamá evolved from a 48-hour journey to a 7-day crossing.
Paciencia. In the windless sea there seems to be very little to do except for lay in the sun, wait until your skin reaches extremely hot temperatures and then jump into the warm sea to try and cool off. But the sun dips down at 5 o'clock and an entire dolphin school swims up to the prow - dozens of shiny smooth gray dorsal fins become inverted white belly salutes as the dolphins swim like a group of corkscrews.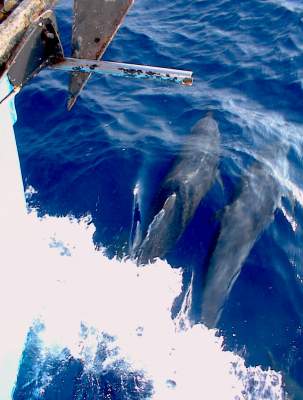 And when the sun finally sinks behind that same vast horizon we have been staring at all day, we can see both the Northern Star and the Southern Cross and lightning shows that surround us as if we were in one of those 360 degree IMAX theaters.
... Our crew was great - Olivier, the Capitan brought the best of France with him when he left - a love of iron hulled ships, and the ability to bake French bread on board. Juan may make the entire crew famous; he spent a good part of our ample leisure time making a video of life aboard the boat for a new Colombian television series: 'Real life - Sailing in the Caribbean.'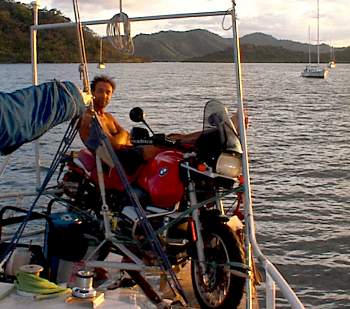 ... Our plan was to sail through the San Blas Islands, an archipelago of 378 tiny islands, populated with little more than white sand beaches, crystalline waters, coconut trees and the Kuna natives - it was to be a rare chance to visit one of few 'little discovered' places in the world. Instead we spent 4 days watching half a dozen silhouettes of palm tree covered islands against the horizon. At the end of the 6th day, the wind picked up and began pushing us towards the little dots on the horizon, that became bigger and bigger... By morning we were navigating our way into the passage of Isla Grande, where we would be able to take the motorcycle out of her web of chords and set her on pavement again. Enric and I began talking about when we would return to the San Blas Islands.
After 6 days of looking for a boat and 7 days of sitting on one, I could hardly believe we were going to be disembarking. The sun was going down as we sailed up to an arrangement of logs and planks that they called a dock. Colorful people ran out of equally colorful little houses along the shore to watch us disembark. The 6-person crew turned into a pier construction team, lifting plank after plank over the rickety pier so that Enric could push the motorcycle across. When the crew and Enric and the motorcycle finally reached the end of the pier we all cheered.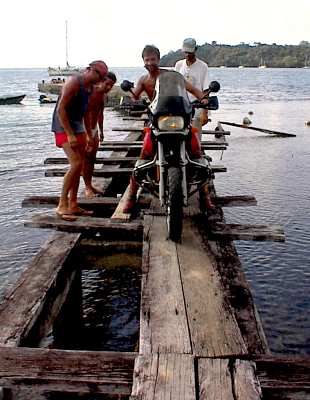 ... By the time I got used to land, we had spent 2 nights at Binny and Roger's (an American couple who had been watching that 'heavy boat' ride up to the pier, and had seen a motorcycle be unloaded), had visited the beautiful and modern city of Panamá, had driven the length and width of the Panama Canal, and had ridden through the coffee plantations of Boquete (a small town in the North of Panama just at the base of the Volcano Barú). In a tiny isthmus of only 2 million people lives a population as varied as its geography. Yet each night, no matter how far away we got from Puerto Linda and Tara, I kept returning to a raft, floating in the sea."
From Chris and Erin Ratay:
Accident, Whyalla, Australia,
"18 MAY: We just spoke to Jan at the hospital - Anke is OK, and should be out of the hospital sometime next week. No broken bones, but lots of bruises, including some swelling which is putting pressure on her lungs, making it hard to breath. Sounds like another week in the hospital will have her back on her feet.
Apparently the pair were about 15km south of a Roadhouse where they had stopped for fuel, water, and a bit of a rest. Shortly afterward, around 2pm, Anke was leading when they came to the bottom of a bridge. A gust of wind pushed her into the gravel shoulder at about 100km/h. Jan thought she would make it back to the pavement, when suddenly the bike jumped several feet in the air, sending Anke off to one side, a pannier bounced off the other way, and the bike continued (without pilot) straight ahead. Jan was horrified as he witnessed the whole thing, unable to help. Seems that Anke was knocked out for a few minutes.
Fortunately, it wasn't long before Jan managed to flag down a car, who went back to the roadhouse and called for help. Around 3pm, the ambulance arrived from some 120km away (must've been hauling!). They got Anke back to the hospital, ran some tests, found nothing broken, but that she was pretty beat up. Phone calls were made, arrangements confirmed, and the couple were flown to a larger hospital in Whyalla, SW of Port Augusta. Anke ended up in her present room in the Surgical Division around 2am, and will probably be there for another week.
Both bikes were left at the scene, and later transported back to the roadhouse - the owner is a biker (Harley), as was the first policeman on the scene. They secured the bikes back at the roadhouse - Jan is not sure of the exact damage, but thinks Anke's bike may be totalled. The Technoflex rep in Adelaide offered Jan use of his car/trailer to drive up and fetch the bikes.
Obviously, they're not sure what they'll do next - first priority is to get Anke to walk out of the hospital. They plan to get back on the road - just not sure when and/or how."
If anyone in Australia can help Anke and Jan, contact them here. We all hope she gets well soon!
Mika Kuhn, Germany, around the world, out of the rain in Melbourne, Australia, Yamaha Tenere,
"G' day mates. On Easter Sunday I arrived in sunny Sydney and as the Aussies don't like the European foot and mouth disease on their island, the customs officer asked me about the countries I had been in the last three months. Cambodia, Thailand, Malaysia and Singapore was my answer. Have you been to any farm in Cambodia? was the next question. Farm in Cambodia? Whole Cambodia is a farm! He didn't like my answer, maybe I had better told him that Cambodia is not in Europe, but too late.
Another customs officer unpacked my bag and I had to put everything back in, after a short 'see you' as a welcome to Australia... It took more than a week to get my bike out of the port in Botany. If you ever intend to ship your bike to Australia, you should avoid Sydney, or at least the two companies I had to deal with: Globelink and Oswaldos. They overcharged so much, that I ended up paying more than for the freight and port handling in Port Klang Malaysia, but I had no choice because otherwise the bike would be still in the port. And they were so professional unfriendly that I just had the feeling to leave Australia as soon as possible, instead of staying a year as I planned.
But as you can see I am still in Down Under - and now I like it more. Good to meet friends here again and stay with them for some days (Thank you Gary in Kempsey and thank you Jenny and Gary here in Frankston / Melbourne), listen to their travel stories and have some homebrew beer.
The best invention I could see here is the Drive In Liquor bottle shop - you just sit on your bike and order your six pack - why nobody had this kind of idea in Germany? Melbourne is a bit cold at the moment, but I am going North to Queensland soon.
After I had my Teneres alternator redone twice in SE Asia, it was faulty again in Malaysia. And again I have to thank Yamaha Motors for their help in Sydney and down here in Melbourne for getting it fixed.
Two years on the road and 70.000km since I left Germany and I still enjoy travelling, meeting people and new places nearly every day. But I think it is time to work for some time, earn money and stay in one place for a few months. So far I have not decided where I am going to work - but there are some offers, only the money could be better, like in most jobs I guess.
World traveler Liam McCabe from Belfast I met yesterday, Andreas Fick I met over a few beers in Sydney and to German BMW World Traveler Anke Eggengoor I talk to in hospital on the phone the other day, after she had a bad accident near Port Augusta in South Australia. She is recovering, but the bike is quite damaged.
Have fun, wherever you are - hope to see you soon."
Babe and Yahoo, (Jane Norris and David Banbury) UK, in South America on Honda Transalps,
"Leaving Santiago we continued the theme of mountain passes taking the main pass between Chile & Argentina.
... The Paso Agua Negra at 4775m is a fantastic little dirt road with very little traffic. It winds up a fertile valley and eventually reaches a gravely plateaux which was covered with patches of snow. It's getting on for winter here now and these passes are often closed by snow. We have had to ride over patches of snow & ice but luckily it has never blocked the road. At the top we couldn't resist the temptation to fly the kite in the freezing wind. The mountains up here are quite barren but they are tinted the most amazing variety of colors by mineral salts. One may be red, its neighbour yellow, the next one green, brown etc.
This pass took us back to the Elqui valley. This is where they make most of the Pisco and we camped that night beside a small Pisco factory, the sweet rotting smell of thousand litres of fermenting grape juice lulling us to sleep. The tent smelt of pisco for weeks after.
Paso San Francisco, 4738m, was next on the agenda. It's a day's ride north, which takes us up into the Atacama Desert proper. This was the most spectacular pass we did with every turn of the track revealing something different. Further up we emerged onto the flat landscape of the Alti Plano where we rode across vast gravel plains & salt flats, strikingly beautiful in the harsh sun. Any scraps of vegetation disappeared as we climbed, replaced by those strikingly coloured mountains made even more impressive in such a barren wilderness.
... Just before the top of the pass we rode over a ridge and gazed down upon an awesomely blue lake. Beside the lake was a basic little 4-roomed tin shack, which housed thermal springs! The place was deserted and so spectacular we had to stay the night. In the evening we were joined by a lone German biker, Gerhardt, on an XT600. We cooked him a good feed and then we soothed away our troubles with a long soak in the thermals eating chocolate and drinking whiskey.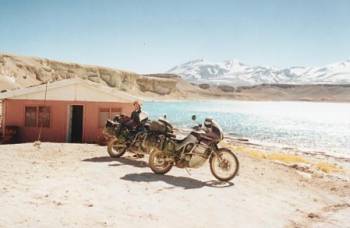 The concept of altitude sickness did not occur to any of us until about 10pm that night when the boys both started to get quite severe head aches. Looking back it's not really surprising we suffered a bit. Our medical book advises that above 3000m you should ascend no faster than 300m/day and aim to "climb high, camp low". We came from almost sea level that morning up to a height of 4700m and then camped there! Add to that the effects of dehydration, alcohol and the sulphur fumes from the thermals ... What is surprising is that Jane felt no more than a mild headache while the lads could hardly move for the pain, felt sick and slept not a wink! At 6am the next morning we were all up and packing the bikes keen to get down from the pass. The road down the pass was perfect smooth tarmac around an intricate set of flowing twisties with clear visibility. It was like a racetrack complete with the worlds biggest gravel trap all around. It would be one of the world's all-time great biking roads if it wasn't for the fact that it's 4000m up in the Andes.
... Time was against us as we were heading for Peru to meet Sarah in Cusco so we headed for our last Argentina/Chile pass. The Paso Sico (4200m or so), was quite bland in comparison and the fierce sandstorm on the high plain did not improve the experience. However the snow-capped volcanoes on the Chilean side were an impressive sight in the setting sun.
Coming over the pass Dave had listened to a strange noise from his front sprocket getting gradually louder. The break from travelling gave us the time to check it out and it wasn't good. The drive shaft from the gearbox that turns the front sprocket was badly worn and rapidly deteriorating. This is especially bad because to replace it you have to dismantle the entire engine and gearbox despite the fact that they are both functioning perfectly. We took the next 500km to Iquique on the coast very slowly, and used the sealed roads despite some very tempting dirt roads in the area. In Iquique we caught up with Michael and Franka again and went looking for a welder. The plan was to weld the front sprocket onto the shaft. This would take the load off the splines on the shaft but makes it difficult to change the sprocket when it wears out.
Luckily we found the towns most respected welder, Sergio, who spent many years in Switzerland training and working and has an excellent workshop.
Unfortunately the genuine Honda sprocket I had was of a type of steel that is very difficult to weld and we couldn't get a strong enough bond to the shaft. All of a sudden we were faced with the task of pulling the engine apart. The Internet is a wonderful thing and having knowledgeable friends on-line is a real blessing when you're travelling. We sent out a quick plea for advice and tips on our problem and next day we had all sorts of suggestions from all over the place.
Much later...
...After much consideration we decided on a plan. We really didn't want to disassemble a perfectly functioning engine & gearbox in order to fit a new shaft. Quite apart from the risk & time it would have been really expensive to buy the shaft and all the gaskets we would need. Sergio, our welding expert, assured us that, if we could remove the motor to give him better access, he could actually rebuild the worn splines on the drive shaft with his TIG welder. Having seen some of his work we decided to give it a go & Dave set about pulling the engine out. Despite never having done this on a Transalp he managed to get it out in about 3 hours. Next day Sergio carefully crafted new splines and ground them into shape. The only new part we needed was a replacement oil seal for the shaft as the welding heat would have fried it.
Dave managed to get the motor back in the bike next day in about 4.5 hrs and amazingly the whole thing seems to work! The total cost of the repair was $22,720. Er, that's Pesos, not dollars. In dollars it's about US$30! Not bad. Let's hope it lasts.
While doing all this we've been planning our next moves and have noticed an interesting road north through the centre of the Amazon Basin in Brazil ...We'll run around Bolivia a bit first to see how the repair holds up and then maybe head for Venezuela or Ecuador ...
Ed. For the story of their hike up Machu Picchu and the trip up the Amazon see their website.
Gernot Minig and Horst Lentes, Germany, in Indonesia,
"...We entered Cambodia from Thailand via Poi Pet in order to ride to Angkor Wat. Unfortunately we got literally stuck in the mud after about 80 kms. There was no way of carrying on on our heavily loaded motorbikes and so we decided to return to Poi Pet and forget about Angkor Wat. So it was one of our less successful days.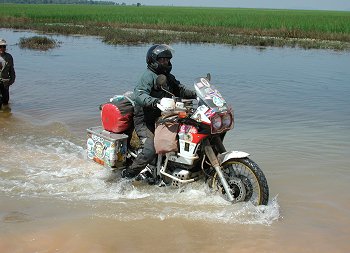 Since a lot of motorcycle travellers on the way to Australia ship their bikes from Singapore and consider going into Indonesia too risky and too much of a hassle I could tell you the experiences that we (i.e. Horst Lentes, Chris Addison, Cuan Mulcahy and me) made. It might encourage other travellers to go through Indonesia as well. Indonesia is certainly a country worth visiting.
(see sidebar for detailed info and it will be on the site)
...Travelling in Indonesia is no problem. There are frequent vehicle ferries between all the islands. Most roads are quite good. But especially in Java traffic is horrendous. I would advise anyone to avoid Jakarta, unless he would want to do some sightseeing there. The traffic was the worst that I experienced on the whole trip. Motorcycles are not allowed on the motorways and all the other roads were extremely poorly signposted. So I would recommend to take the road along the south coast far away from Jakarta.
We were never stopped by policemen.
Getting out of Indonesia was more difficult. The bikes can be flown from Denpasar in Bali to Perth or Brisbane in Australia by the Indonesian airline Garuda. They charge an enormous US$3.85 per kilogram.
They can also be sent by sea for a far better rate. But it might take 6 weeks or even more. We were told that the only export harbour is Surabaya. So it will probably be cheaper to find a shipping company there.
I flew the bike from Denpasar to Perth since I was running out of time and I wanted to get to Australia rather quickly. The customs officers in Denpasar were also quite friendly and efficient.
I hope this information will be valuable to other travellers. If they have more questions they could get in touch by email. Gernot"