Help support the Horizons Unlimited E-zine - visit our sponsors! If Madagascar sounds like a great place to ride to you, (and it sure does to me!) drop by their website and make sure you tell Manfred how you heard about them!
Ever wished to go biking in Madagascar?
You can ride this unique island continent east of Africa, meet friendly, humorous and unobtrusive people, and see the fascinating indigenous plant and animal life.
Take one of our Transalps and discover for yourself the highlands, the rain forest, the arid south, and it's tropical beaches.
Special event: June 21st, 2001, Total Solar Eclipse in Madagascar.
Talk to Manfred at Madagascar-on-bike.
From Werner Zwick, on the Tesch Treff in Malmedy, Belgium,
"I just came back from the Tesch Treffen. Same procedure as every year. Rain Friday, showers Saturday, but for a change, rain on Sunday as well. No snow and ice though. The slide presentations went well into the night, driving back to Monschau in the pouring rain and onto the muddy campsite. It was great to meet old friends again and find out about unusual ways to travel by motorcycle.
Bernd asked to greet everybody who is on the road."
Plan where to be when!
If you know of any events of interest to travellers, send me a note.
GS ride out, Cassel, France, near St Omer, Sunday 6 May
Meeting point is the market square of Cassel, 08.30, departure 09.00 Details.
Balkan Run 2001
14 May return UK on or around 31 May.
Depart Dover (UK). Across Europe to a BnB in Neum (near Dubrovnik), from there explore fantastic Adriatic coast and the remote inland mountain trails of central Bosnia... Biking heaven. Cost of £130 (UK) includes support vehicle plus a donation to charity. Superb run. Contact for further details.
Odyssee 2001 im Rheintal (Odyssey 2001 in the Rhine-Valley) 24-27 May
It's a Travellers Meeting for Motorcycles and cars/Trucks. Beer and firewood will be provided, everything else bring your own. Shelters, Toilets and electricity is available. Costs: 10/15/20 DM for 1/2/3 nights. There might be a slide show as well.
The site is located high above the cliffs of the famous Lorely-rock above the Rhine-River. Prime Motorcycle country with curves, curves, and curves. Bornich is a few kilometres off the right Bank of the Rhine River, 40km south of Koblenz. (GPS N50 07´49´´, E 007 45´31´´). Turn off B42 (Rhine River east bank road) in St. Goarshausen towards Weisel/Bornich, 500m ahead of Bornich is the turnoff to the Campsite.
Johnson Open House, Slough, UK, bank holiday weekend 26-28 May
Open house for motorcycle travellers. We'll supply either tent space or floor space, but it will be BYO (bring your own) everything else. Please RSVP Susan if you'd like to join us, and we'll send the details for how to get here.
Alpine Rally, NSW, Australia, long weekend of June 8-10 2001
Details to come.
IronButt event - A chance to achieve (your choice) 1000 Kilometres, 1000 miles or 1500 Kilometres certificates.
47th annual Routledge Dual Sport Tour, July 7 & 8, 2001, Surrey BC, Canada
"Starting in Surrey (suburb of Vancouver), going up to Coalmont (near Princeton), camping there & back to Surrey....80% good gravel & 20% paved... Fast Truck for carrying camp gear... BBQ at end. All for Cdn $25.00 driver & $15.00 passenger... about US$18.00 & US$10.00. Info: website or e-mail"
Deadhorse, Alaska, July 12, 2001
"... Let's make Deadhorse (Northern end of the road) like the annual Ushuaia (Southern end of the road) Christmas gathering. If you are going to Deadhorse in 2001, co-ordinate it (on the Bulletin Board) with other like minded folks with common interests in the land of the Midnight Sun. I'll be there with my Yorkie 'Punky' on a Kawasaki KLR650."
Lew Waterman, USA, North and South America 2001-2
There are at least a half dozen riders already committed to being there - how about you?
2001 Possum Lodge Special August 10 - 12 2001 from the "International Order of Rolling Broccoli Riders"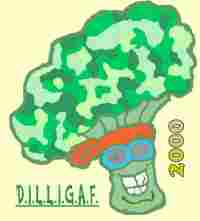 Pack your "Handy Mans Secret Weapon", enter the Rolling Broccoli Riders open competition for the most original misuse of Duck Tape and try for the prestigious "Red Green Award".
NO FEES, no fuss, no frills, just falling down fun, fellowship and frivolities. Info: Helmut Haus, 484044 Cape Rd., RR#2 Wiarton, Ontario, Canada, N0H-2T0 Tel. (519) 534-2598 or email
Gieboldehausen, Germany 5th Annual Treff, 31 August to 2 Sept 2001
Great rally, well worth going! Details here.
Starting from a US Military Base in Germany. IronButt type event. If you are interested, there will be a 100 rider limit, so it pays to get your name on the list.
GET YOUR WEB SITE LISTED in the LINKS section by listing Horizons Unlimited on YOUR web site, let me know you've done it by mailing me a link to the page, and you may get listed here in the next newsletter and on the Horizons Unlimited web site Links page. To make it easy for you, we even have our logo and link code here!
All sites will be considered for listing, but must be a MOTORCYCLE or TRAVEL site, useful or of interest in some way to travellers.
Links will be rotated regularly as needed.
"...my friend Jurgen and I are doing a global polio awareness campaign for UNICEF. Maybe you can put this info somewhere for people interested to see or even catch up with us." Dirk Bachmann
Bart & Shaun's Outback Australia Motorcycling Website. New, but already some good info on Oz.
Worldwide Ferry links page - should be useful as you plan how to get across bodies of water with the bike this summer.
CIA World Factbook; not completely up-to-date, but good maps, and plenty of encyclopaedia type info.
From Grant March in Ireland,
"The Irish Motorcycle Action Group is the best source of information on absolutely everything about motorcycling in Ireland. On the off chance they don't know something they will go out of their way to help you. I say this cos they've assisted me more than once or twice."
There are many "Helpful People" listed on the Links page, a huge thanks to all of them. How about you? Or just join a Community, or start your own!
Do you know of a good shop "on the road,"
in other words somewhere there isn't a number of shops? USA, Canada, Europe etc. don't count. That's too easy. And too many! We're looking for those rare items, good repair shops in South America, Africa and Asia etc. I will create a web page for them eventually.
from Dirk Bachmann; William Dams, WRD Motoservice,
"Avenida Ivo, Silveira 710, Florianopolis, Brazil, (48) 244-8696 (GPS: S 27 degrees 35.784', W 048 degrees 34.494'), an excellent shop, extremely knowledgeable mechanic and great hospitality and enthusiasm."
Submit your tips and questions here, anything goes! Got a great idea for travellers, found a new solution to a problem? Send it in! If you're having a problem, just ask, there's a lot of people with a ton of experience out there to help.
"...has anybody been following on the BMW-GS motorcycles mailing list (micapeak.com) the recent re-gearing exercise for the 1150 GS by swapping final drive units with a 1100 GS? Apparently the units are interchangeable including ABS. The rewards are 6% lower overall gearing which drops the first gear ratio very close to the 1100 first gear and gives slightly closer spaced spread of ratios not to mention a better (lower) sixth gear that you can actually accelerate away in from 100 ks. You can now tootle along in first gear at <10 ks without slipping the clutch and take off on steep hills two up and fully loaded without abusing the clutch. This sounds like a good update and should be available as an option from new in my opinion. Anybody want to swap an 1100 final drive for an 1150 final drive? Or have one for sale?
Mal White, Canberra"
Keeping It All Together:
How A Bolt Works
Great technical article on nuts and bolts and how they work. If you do your own work, read this!
On the "Sealed Battery" question raised before in previous issues, from Allen Naille, USA,
"I promised to keep you updated on 2 new sealed maintenance free non-spillable batteries: Yuasa YTK 20 BS and Hawker Odyssey PC 545 (cold cranking amps 230). Both were purchased early August 2000, and equally used for several thousand miles. While not a lengthy test yet, the bikes, both Ducati / Cagiva Elefant E900's, are 7 and 8 years old. They sit for several months and then get used for a week or several as in Mexico this January. My Elefants have always required numerous turns to light the fire. Both of these batteries explode the starters at the touch of the button. And, I mean right now, they fire up! I assume due to double the cold cranking amps over stock. I have yet to need any 'battery tending'. I'll keep you posted."
For BMW airhead riders interested in these batteries, note that the Elefant's alternator isn't much better, at only 350 watts, to the airheads 280 watts. So the results are probably a pretty good indication of how they SHOULD perform in an airhead. Grant.
I've made contact with some of the people we were looking for last month, thanks! - but the following are unaccounted for. If you know any of them, please send in full names and e-mail addresses would be much appreciated!
Claire and Mark from England riding two XT600's...
Lionel Marx, I have no e-mail for him...
Chris van de Goorberg, Netherlands, XT600, last seen in Mali...
Kiwi Brian and Japanese Junko, both seen in Chitral
Johan ? traveller from Netherlands, last seen in Rio de Janeiro.
a couple of riders from French Guyana, she's riding a Suzuki DR 350 and he's riding a new Honda XR 650.
Ralf 'Rallerastlos' Enders and two other Germans named Stefan and Vivien, in Africa
Rob Arnell, UK, in India
When you meet travellers...
on the road, please get contact info and let me know so I can add them to my who's who and where list! Grant
E-mail address Problems:
Sometimes there is a problem with an e-mail address - it's not that I'm deliberately ignoring you! I have been unable to reply to the following, as the address they gave me bounces. If anyone knows them please let them know the problem:
Jürgen Hoffmann, and anyone else @slpol.de, I am unable to get anything through to slpol.de addresses. Please supply another e-mail address by re-subscribing at the Subscribe Form.
Chris Smith
cjsmith@ gtonline.net.uk
in the Channel Islands - This address is no good, if anyone knows him or knows what the address might really be, please let me know.
Thanks!
From Dirk Bachmann,
"... what about opening a chapter on your website for GPS locations of good routes, wells (in the desert), good mechanics etc.?! It would for example be so much easier for me to find BMW in Sao Paolo if I had their GPS location..."
No argument from me, send in all your GPS information and we'll get it sorted! We are already working on a mapping system with James Riley, a great volunteer who has offered his expertise with mapping programs to set up a constantly updated map on the website that will keep track of where travellers are and their routes! We plan to have bike shops, helpful people, borders and anything else we can think of on it, so the more GPS numbers we can get the better. For the moment just go to the form page - and use the Feedback form to send us info. We will have a dedicated form for this as soon as we can.
"Hi Grant, the newsletter simply gets better, but some time ago you were compiling a list of people who had done RTW on unusual bikes or old ones. (yep, still am... hint hint...) I told you about Theo from Belgium, what happened to the rest?
In 2 years my girlfriend and I intend to ride overland UK to Oz with a couple of 1970's Bonnevilles, apart from Ted Simon on his 500 Triumph, and Richard and Mopsa with their 750 Tiger combination I don't know of anyone else, do you?"
Currently, no, but there are a number of "old" adventures. I am working on the list, along with a hundred or so other projects for the website. I will post what I have when it's turn comes, in the meantime, keep sending in information everyone, we can use it all! Grant
From Benka Pulko,
"Grant, do you know of anybody in Pakistan currently? If so, please pass the e-mail if available. Thanks in advance and a great spring to England." Benka & BMW, Around the World Following the Sun, currently in Sri Lanka. E-mail Benka
From Werner Zwick - Bolivia Warning
"Hi from La Paz, Massive strikes and road blockades are threatening public life in Bolivia. It is expected that starting 1 May many roads will be blocked by protesting farmers. Last year, the country was paralysed for 2 and 3 weeks. It seems likely that this will happen again."
Ferries - Italy to Greece and Turkey - from the Bulletin Board in a very busy post on UK to Australia, this from Sean Kelly, UK
"... the weather is a major concern to us, I believe it can reach -5C in the east of Turkey!!!! I think our best bet will be to set off as early as possible in November and sprint east as quick as possible. At least we should get reasonable weather during our stay in India.
Paolo Volpara has sent some very useful and detailed info on the ferry/air connection from Trieste to Istanbul.
Also he says that starting April 4th, there will be a ferry from Venice to Izmir every Saturday night. This is operated by Turkish Cargo Lines. Their phone numbers are below. They have no Venice agent yet, as the season progresses the Venice agent name can be obtained from these numbers.
Istanbul 0212 244 02 07
Izmir 0232 464 88 64
Blue Star Line (Strintzis Line) in Brindisi, Italy phone number +39 (0) 83 1521022.
Superfast in Bari, Italy phone number +39 (0) 80 5211416 5232429."
Sean Kelly
We will post additional ferries info in the tripplan / transport section as we get it. Grant
"I am just about to leave SE Asia after five months. Best is to have a carnet in SE Asia and to show it at the borders, mine was even stamped into Vietnam. Five days ago I met a Brit and he imported his bike into Bangkok airport without a carnet, they stamped it into his passport, but for Malaysia he used the carnet. Take the carnet from home and use it, even if it is not valid for the country, if you have enough pages and if you don't want to sell the bike over here. Greetings from KL, and if you need more information about border crossing just send me an email.
Mika Kuhn"
"Malaysia and Singapore are definites for needing a carnet. We also used one for Cambodia. This is our 3rd time here in Thailand on this trip. Twice we were able to sign Thai customs papers, but they only last a month, and then it can be a hassle to have them extended, but this time they insisted on a carnet, even though officially Thailand has not signed the agreement to be part of the carnet. This is the same as has happened to other bikers we are either travelling with or have met up with. No time limit and so much easier to use a carnet."
David and Cheryl Laing, Australia
From Ken and Carol Duval re shipping the bike from Malaysia to Indonesia
"Shipping the bike can only be done on a cargo vessel. We were directed to an agent by the Customs Officer in Melaka who was very helpful. Company name- Jalinan Muara Enterprise, 865-1 Jalan Semabok,
75050 Melaka.
H/P 012-6238438 Tel/Fax: 06-2921867. This office is located beside the ferry terminals.
Cost to ship the bike is 400RM. Passenger Fares + Dep. Tax is 59RM each. There will be charges on the other side but that will be negotiable. We will forward other info. connected to this once we have reached Indonesia. We have heard that entering through this port the Customs are 'very gentle' and only the Carnet is required. Not a letter of Invitation as was necessary in the past. Hope this is of help."
Bente Bråthen and Dag Jenssen
On the Valdez Peninsula in Argentina, they met motorcyclists riding three identical dual sport motorcycles with Swiss license plates. They were on a four months trip from Brazil to Ushuaia and up to Ecuador. It had taken them one full month to get the bikes out of customs in Brazil!
The Swiss motorcyclists told Bente and Dag they had asked for sponsorship from the manufacturer of the bikes. "The manufacturer quickly came back to them with a positive answer. A while later 250 pens and 250 lighters came in the mail, each item decorated with the brand name. 'Here you are, folks, and good luck with your trip.' That would help see them through the trip all right."
Back of the Bike Exercises
"Note: Some of these exercises should only be engaged in while traveling country roads where there is not too much traffic. Enric made me aware a few days ago, as we drove into Buenos Aires, that perhaps doing the "Fly" (See Below), might send confusing signals to the drivers in the opposite direction.
Some exercises are denoted as Velocity Dependent. These work best when the motorcycle is moving at higher speed. This creates greater wind resistance and is like adding plates to the "weights" you are lifting.
Assumption: All exercises are accomplished in the sitting position.
1. Leg lifts (For those Abs): Grab onto the handles of the side panniers (just at my side) for support. Lift legs simultaneously off the seat, knees remain bent. Count to 20. Relax. Repeat.
2. The Fly (For the Pectorals - Velocity dependant): Make the motion with you arms as if you are on a Pectoral Fly machine in a gymnasium. Arms out to the side, bend elbows upwards, palms face forwards. Bring forearms towards each other as if you are compressing weights (you are compressing wind). Try not to interfere with the driver's vision.
3. Arm raises (Velocity dependant): Arms out to side. Bend elbows upward to contract bicep. Work against the wind. This exercise may be performed with straight arms as well.
4. Side Punches (like Kick-boxing or Tae Bo): Imagine a small punching bag to your left. Bend arms at elbows and begin making rapid punches and jabs to the side. Keep the focus on the imaginary punching bag. Be aware of the position of the driver so that you do not send a punch mistakenly in that direction.
5. Shoulder Circles: Lift shoulders, roll them to the back slowly, and roll them down, forward. Repeat. Reverse direction.
6. Arm Circles: Stick arms out straight. Make circles forward, backwards. Increase their size. Repeat.
7. Neck Stretches: Lean head to the left. Lean to the right. Do not lean backwards (bad for the neck), or forwards (bad for the driver)."
More great stuff including 'Top Ten Activities For the Back of the Bike' and some funny stories can be found on their website.
Shipping - Everything You Need to Know to Get the Bike from Here to There
By popular demand, there is now a Shipping page on the site. It can be reached directly or from the Shipping link on the Trip Planning page.
This is a compilation of information from e-mails to us, scattered throughout the newsletter issues, and the bulletin board on shipping (air or sea) between continents. It includes stories about 'bad' experiences as well as good ones.
A big thanks to all those who have submitted this information, and a request. Can you please look at your item(s) and check it, and send us any missing information. Also, if anyone has more recent information on any location than what is on the page, please let us know.
If you have any information to contribute, there is a form at the bottom of the page which you can submit and we will put it on the page. As you all know only too well, this information is critical for those of you who are on the road searching for a shipper, so please provide local contact details and price, as well as whether you were happy with the service and would recommend them to your fellow travellers..
Thanks in advance,
Susan
Travel Advisories:
The Foreign Office in London's Travel Advice Unit advises against all travel to all sorts of places. Check out the listing before you start!
The US State Department has issued travel advisories, information and/or warnings.
Border Crossings
If anyone has any information please let us know. When you cross ANY border, take some notes, and pass them on to us. Eventually we would like to have information for all the borders of the world posted on the website to help you, and other travellers.
Wouldn't YOU like to know all about the border you're approaching - what it should cost, paperwork required, "tips" needed, and who to talk to etc.?
Just send in whatever you can as you go.
Thanks to all who have sent info in the past, please keep it up!
Thanks, Grant
Background - January, 2001
"Kelly and I got married last August and will start our Latin America adventure in less than a week. The 4-month-"honeymoon" that will take us through 19 countries. (Fly to Santiago, Chile. Drive to Ushuaia, north to Buenos Aires, then Uruguay, Brazil, Paraguay, Bolivia, Peru, Ecuador, Colombia, Venezuela, Panama, Costa Rica, Nicaragua, Honduras, Guatemala, Belize, Mexico, USA returning to San Diego).
Trip arrangements started long before a year ago, when we started thinking and buying all necessary equipment and gear for such a trip. We know we are not the first, nor the last to do such a trip, but we certainly are doing it with a lot of stuff and only one motorcycle. Check the Packing List!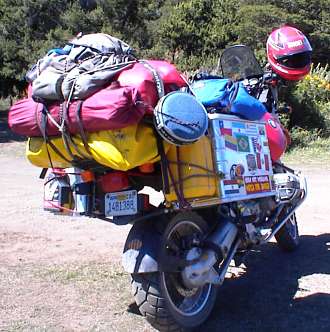 We discovered at the last minute that the motorcycle, a Mexican resident for 2.5 years, must EXIT the same place it entered. The permit must be cancelled in Tijuana. We stood in front of the customs administrator with earnest, honest, husband and wife faces. 'This is our honeymoon. It is a dream trip that we have been planning for 3 years'. Enric shows the notebook he has made. How can the customs administrator resist this guy? He did. 5 times. The customs consultants told us that we could ship the motorcycle by, no second looks, with a mere $1000 bribe. Passion and excitement to leave made us want to say yes, but after some risk assessment, we decided that we would follow the honest road, the long road, the windy road back up to Tijuana...
We are about to ship ourselves off to Santiago, entrusting the Logistics guys to DRIVE the crated motorcycle up through Tijuana, to Los Angeles International airport, where it will finally embark for Chile. The entire logistics team swears up and down that we will have no problems. With helmets, gear and all, we plan to land in Santiago tomorrow, and head up to the base camp of the Aconcagua (tallest mountain in the Americas)! When the bike arrives (perhaps a week later), we will blaze the trail to Tierra Del Fuego and make up for our lost time.
(Ed. Note - the bike didn't make it until 19 February, which put them a few weeks behind schedule, but they did get to Ushuaia.)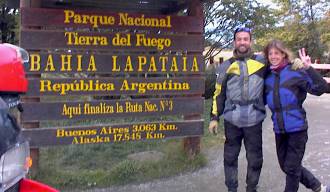 La Paz, Bolivia
After a 2 day crossing of Paraguay and 8 hours bumping through 'El Chaco', a mule nearly runs us off the road. Our hearts are pounding as we wind through pigs, sheep and finally hit pavement in Villamontes, Bolivia. But the first hotel has a pool, a huge hot shower and a large garden.
In our hotel, we meet a man from Santa Cruz, our next destination. "I suggest you get an early start tomorrow," he suggests. "Santa Cruz is a beautiful city, and you want to have time to enjoy it." What he did not tell us is that there is a 150 km stretch of road between Villamontes and Santa Cruz that is dirt. And it rained that night. And rain and dirt make mud. We spent 6 hours navigating sunken impressions made by the wheels of semis, skidding in sludge, looking for harder ground and finding none. The indicator on Enric's GPS that traces the path we make never seemed to move. While Enric held tightly to the handlebars, I practised good posture - for 6 hours. We did manage to fall 4 times... my puny arms did not do a lot to help pick up the bike, but the very wide side bags prevented us from falling all the way over, and a local Bolivian wading through the mud helped out too.
The mud ended with a triumphant crossing of a one-lane bridge that was the train bridge as well! And just when we thought that Bolivia really was undeveloped, we roll into Santa Cruz de los Andes and find ourselves in the middle of a large Spanish style plaza - full of people, and music - a cultural festival. The streets are lined with cafés, restaurants."
See their site for more stories from Chile, Argentina, Uruguay, Bolivia, Brazil and Peru.

Help support the Horizons Unlimited E-zine - visit our sponsors! Nice people, so drop in on them if you're in the area, and make sure you tell them how you heard about them!

Motorcycle Friendly
B&B
in historic Corrales, New Mexico. 15 minutes from the intersection of Interstate 40 and I25 in beautiful New Mexico.
Thanks!

Ken and Carol Duval, Australia, around the world, wet but not hungry in Thailand, Malaysia and Singapore, BMW R80G/S,
Thailand
"Bangkok was steamy and hot in contrast to the dry heat of India. Getting the bike out of customs was a marathon effort and Bangkok airport cargo on a Monday morning would have to be one of the busiest we have seen. Connor's story of releasing the bike taking a day without an agent had us engaging one, hoping this would speed things up. No such luck and we departed the cargo terminal at 5pm charging into the peak hour traffic. This was after negotiating a substantial reduction in our fees, 3,800 Thai Baht to 1,500 Thai Baht (Ed. Note - 1,500 Baht is approx. US$33). Avoiding the freeways we lost ourselves and extended our journey back to the hotel by over an hour and several kms.
Sight seeing around Bangkok was fun. Using the local buses we visited a few Buddhist Temples. Our hotel, New World Guest House was surrounded by sidewalk restaurants where the food was superb and we tried almost everything.
The roads in Thailand are excellent, the traffic minimal and orderly (compared to India!) and we travelled much further in the day than expected.
On the road we get doused with several heavy showers. Road works were turned to slush as we pushed on to Chiang Saen. This appeared to be almost a ghost town, very quiet. Dinner at a little restaurant was very nice but the floorshow of several large rats visiting a small altar/shrine to eat the provided food was a little too much.
Sunshine and blue sky greeted us the next day. Following the mighty Mekong River we reached the Golden Triangle. Tourists, coaches, souvenirs and high rise hotels; this was why Chiang Saen was so quiet. We took the obligatory photos and rode into the lush green hills wishing the bike's suspension was fixed so we could enjoy these superb roads.
We visited the border town of Mae Sae. The Thai side was open but the Burmese side remained closed due recent border clashes. Phayao on picturesque a lake was worth the visit. Enjoying a cold Chang and watching the sunset while eating a spicy meal of chicken and vegetables. Super!!
At Bangkok we meet up with Dr. Gregory Frazier again and within a couple of days a number of other motorcyclists we have met en route arrive. Angela, Leo, Yolander and Trond the bicycle rider. Much merriment and many tales were exchanged at our little Thai restaurants near the hotel.
We took two days of steady riding to get to Krabi near Phuket. The road was smooth with plenty of variety, twisty rainforests to straight coastal roads through fishing villages. Krabi was touristy, the seafood good but overrated, the long prop boats were fun and the beaches 'hot'. We were amazed to see so many westerners 'fried' to a colour that was darker than the locals.
Malaysia and Singapore
Plenty of rain in Kota Bahru had us delaying our departure down the east coast. Stopping several times at Marang, Kuala Dungan and Chendor we baulk at the high cost of accommodation for very ordinary rooms. In general, food and accommodation was more expensive in Malaysia. Finally at Cherating a quiet beach area we park the bike at the Coconut Inn which has great little rustic chalets with shower and toilet at a reasonable price. Two nights here listening to the birds and the rain drops on an unlined tin roof. Very tropical.
Johor Bahru is the 2nd largest city in Malaysia and it has traffic to match. Motorcycle chaos as thousands of Malays cross the border each day to work. Arranging a legal entry was tedious but the officials were extremely helpful, advising us of all the do's and don'ts in Singapore. We parted with too many hard-earned dollars for our short visit but hearing of the efficiency of Singaporean bureaucrats made us do everything correctly.
Riding in Singapore was an orderly affair... the roads are clean and wide and the sign posting excellent. We still missed our turn off to Changi however and ended up riding into the real prison to find out where the Changi Prison Museum was situated. It was only 200 meters down the road. With free entry we spent two hours reading the history of the fall of the island to the Japanese and the horrific treatment meted out to its occupants.
Cruising back to town we find accommodation at the Ah Chew Hotel, parking the bike on the street with guarantees from the manager and the staff of the attached restaurant that all would be safe. Raffles Hotel was very close and we entertained ourselves wandering around this old colonial monument. Carol had a Singapore Sling and I had a pint of Guinness. Pure decadence as we munch our dry roasted nuts, throwing the shells onto the floor (this is the done thing here) of the world famous 'Long Bar'.
Tackling the causeway border crossing back to Malaysia at 5pm on a Sunday with some 500-600 small motorcycles in front of us and a similar number behind us (and increasing) was not a good idea. We swelter as the line slowly shrinks towards the immigration booths. Stamped and processed the fun begins again. Checking to see if we owe any road tax and showing customs how to complete a carnet de passage.
Reaching Melaka in sunny weather was a first for many a days travel. Plenty of sight seeing at this old, now almost redundant, port. Museums abound and the replica of the old Portuguese sailing ship reminds us of the history that envelops the area. Our hosts at the Guest House cook up a great Malay feed and all the guests retire that night with a very contented look.
It is not far to K.L. So we decide on the long route, east towards Kuantan on highway 12 and then back west on highway 2. This is over 500kms and we were surprised at how easily we did the journey. There were plenty of winding roads through the mountains with highway 12 being lined entirely with palm tree oil plantations.
We stayed at the Sun Kong Hotel in Chinatown. We cruise the markets looking for bargains but most are items from Thailand where they are much cheaper. At Sunny Motorcycles we have our troublesome shock checked. The mechanic finds a loose swing arm and agrees to add more preload to the spring. Adding more nitrogen the next day the suspension and handling improves.
Our next stop north was the Cameron Highlands. Up there the weather is cool and damp and Tanah Rata (the village) has plenty of guest houses. We stumble into the Twin Pines and have an enjoyable two days mixing with travellers and sightseeing. Returning down the twisty mountain road we reach the warm humid plains again and make a dash to Penang hoping to arrive before the inevitable afternoon thunderstorm. Our haste was in vain as we collected a spike of steel deflating our rear tyre. Once again our patches would not bond to the Asian tube so we replaced the tube.
In Georgetown, Penang we endeavour to ship our bike to Medan in Indonesia but the asking price exceeds our budget. We contact the Indonesian Consulate and photocopy their requirements to bring the bike in. Their rules are so far out of date but what can be done?
Sunday we left Penang and headed back to Melaka as we had information of a better and easier deal from that port. The deal is done and we depart for Dumai 25/4/01. We are on the passenger ferry and the bike is on a beaten up old cargo boat. Hope the pirates don't get her and it is a calm crossing. Indonesia here we come."
"Sorata, at the foot of Mt. Illampu in the Cordillera Real, boasts an excellent setting. Nestled on green hills at the foot of Bolivia's highest peaks. Let's go for a climb! We bought packs of coca leaves, stuffed them in our cheeks and followed our trusty Aymara guide Francisco into the hills. Holy shit! We spent the next three days going uphill. We climbed from 2700 meters up to 5300 above sea level and a few of us thought we would surely vomit our palpitating hearts. But it was worth the effort. The views would make your mind gallop wild and we could even see as far as our French Riviera, sorry, I mean, Copacabana (Bolivia, not Brasil) about 100 km away.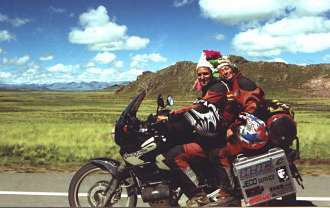 We arrived two days ago at that great cauldron known as La Paz. When we arrived in the city exactly a year ago the country was in a state of siege. Popular uprisings had forced the unpopular government to cancel some civil liberties, fill the city with riot police and the streets with tear gas.
Today, after a week long march, a caravan of farmers and opposition leaders arrived in La Paz. Once again, the popular uprising was met by an unpopular government, riot police and... tear gas. That's La Paz. And we love it in all its chaos and scruffy charm."
Peter & Kay Forwood, Australia, around the world, in Mauritania and Morocco, Africa, Harley-Davidson,
"... The desert is slowly encroaching on Nouakchott, the streets building up the eddying sand blown in from surrounding dunes. The goats, sheep and donkeys vacuum the vegetable matter from the markets or restaurants. It is hot and dry until relief from an afternoon sea breeze. Like many sub Saharan desert encroaching countries there seems little prospects for the increasing population forced to the cities by the desert's overgrazing.
They drive here like they walk, going anywhere and everywhere, road or no road, weaving in and out oblivious to road rules but slowly so there seems little danger
... This border has only been open for one year for northbound travellers. Coming south is a well-trodden route with most people crossing the sand dunes between land mines in convoy with a guide before a long section along the beach at low tide. The alternative is to catch the iron ore train to Choum, 120km of gravel then asphalt. With the bike dodgy mechanically, no room for a guide and no one else heading north we chose the train option in reverse.
We were advised to take the mountain road with less sand, over a beautiful wadi edge down onto the flat, through sand, then down another wadi keeping the mountain range to our right. Like most desert tracks the road disintegrates or becomes covered in sand and side tracks grow. Here there were dozens of alternatives, everyone almost making their own. With the temperature at 40 degrees and frying our brains inside the black helmets, the track we were following became smaller and sandier with the difficult decision to turn back, retracing our path for 5km, before we would have become completely stuck. The crack had reappeared in the exhaust pipe where it was welded only 6000km ago and our oil consumption was now a litre every 200km.
We arrived in Choum to be told that the weekly flat wagon won't depart till Monday, four days time. This desert town of about 100 mud brick flat roofed house boxes, a few shops and really just a rail post and junction in the middle of the desert is not my idea of a four day rest.
We slept in our tent on the train goods loading platform, on the side line. A couple of the ore trains passed during the night, reportedly the longest in the world, with their 110 wagons. The company is not interested in freight or passengers but to keep the indigenous people happy tolerates both. We repaired the exhaust again and settled into life on the platform, with partial shade and a dusk desert shower and toilet behind the perimeter wall, small water generously provided by the station guardian.
The wind didn't drop all day but whipped up the ultra fine Sahara desert sand completely hiding the nearby hills and making life uncomfortable, drying out even my old boots to a crisp hard leather. Yesterday was a holiday, Muslim New Year so at 5pm we find out there is no 6pm train today and considerable concern, after packing up ready, that maybe we will not leave. There are now us, a van and a car (which lost its muffler and exhaust on the road from Atar) as tourists plus two local cars to go. At 6pm we start to squeeze all vehicles on with the train to come at 10pm. With the wheels of the last car half a metre short of the carriage a reshuffle of all vehicles with both ends of the carriage being overhung and no gaps between vehicles. Motorcycles $20, cars $45, and a van $60, plus a small fee to attach them. We rode with the people in the van avoiding the 5-dollar fee to be squeezed in the passenger car and to watch the motorcycle. Finally pulled out of Choum at 11pm after much shunting and rearranging of carriages on the train. Arrived in Nouadhibou about 1pm after 14 hours travel then another two hours being shunted and unloading. A hotel room and shower after five days
... It is eight km of no mans land between the two border posts, an area heavily mined, sensible to remain on one of the tracks between the painted rock cairns and where guides are not allowed in to assist. Arrived at the Moroccan border at 5pm after a long day.
When we arrived in Morocco the first time three years ago from Spain we found it to be quite dirty, disorganised and almost what we then thought third world. But this time arriving from black West Africa it looks as modern as any western society. Things work, like Internet, hot showers and electricity. The streets seem clean and the roads paved with curb and gutters and footpaths.
... Spring cleaning the dirt and sand from our clothes and luggage. Sorting out the African worn out things and buying replacements more suited to the States. Changing our mental attitude to that of the west. Enjoying the last of cheaper coffee shops and restaurants. Mentally worrying about the higher costs of travelling in the States. Looking forward to the west and missing the loss of the east."
(Ed. Congratulations to Peter and Kay on their epic achievement of finishing Africa. From Dec/1999 to Apr/2001, they travelled through virtually every county in black Africa, including war zones. See their site for their amazing stories. And they didn't do it like us wusses on BMW's, they did it the hard way, two up on a Harley! Good on ya, mates!)
Babe and Yahoo, (Jane Norris and David Banbury) UK, in South America on Honda Transalps,
"…We cruised for three days through the Chilean fjords up 800 kms to Puerto Montt. The 'Cruise' was aboard a cargo ship, which had half the top deck kitted out for the 120 or so passengers on board. Our accommodation was bunk beds in cabins that slept 40 others... The only entertainment provided was a slide show one night. Still there were plenty of other travelers aboard to chat to, play cards with, share stories and the odd bottle of Pisco.
On the second night our route took us out into the open ocean which, in a flat-bottomed boat, proved quite interesting. There were significantly fewer people in the refectory for dinner that night and it was like a ghost ship after that. The only people not in bed were a group of very drunk Germans and the four motorcyclists. When we did stagger (due to the swell not the wine) to our bunks sleep was disturbed by strange noises from the cargo hold below. Something large and metallic was sliding around with each roll of the ship and crashing into things with a force that could be felt two decks above. Was it our imagination or did that sound like a Transalp? We just had to lie there and listen hoping for the best because there is no way you could stop 200 kgs of sliding bike if it had broken loose. The day we arrived in Puerto Montt the sun was shining and we were greatly relieved the bikes had survived unscathed (unlike two cows that had been thrown clean out of the truck they were in!)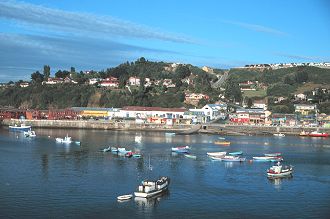 We wanted to head south along the Camino Austral, a road along the mainland side of the fjords broken up by many small ferry crossings. As it turned out we couldn't get far because most of the ferries had stopped running already after their short season. We went as far as we could down the little used road and wound up camped in an idyllic spot on a disused ferry ramp looking out over a small bay where seals and dolphins played. All around us were the steep slopes of the fjords covered in dense tangle of ancient forest.
We met a couple of Chilean tourists there who had commandeered a small fishing boat to explore a nearby fjord. The fjord was spectacular with sheer slopes rising 2000m out of the water up to the Argentinean border and plunging another 1000m down below the smooth surface... Seals and dolphins played in the clear waters and eagles flew overhead. The whole landscape was completely unspoiled. Apparently an American millionaire, Mr Tonkin, visited this area 5 years ago and was so taken with its beauty and concerned about the destruction of the forests by logging, that he bought the whole area, the size of Holland! Now it's a sort of privately owned reserve, which seems to be in the right hands.
We decided to have a quick look at the island of Chiloe which is reputed to be a beautiful green paradise. Unfortunately on the way Dave misjudged one of the tight gravely corners and crashed straining his back a bit. Waiting for the next ferry and nursing his aching back a mini bus full of tourists from a swanky fly fishing retreat arrived. As luck would have it they all turned out to be orthopaedic surgeons down from Santiago! After a thorough check up on the ferry they recommended a cautionary x-ray but it turned out to be no more than a strain... Dave has just finished working on the bikes, giving them new oil, clean filters and generally straightening them out. Now we are ready to head North to Peru."
Mika Kuhn, Germany, around the world, in Vietnam, Cambodia, and Thailand, Yamaha Tenere
"...Two months ago in Saigon I met a Swiss girl and we decided to travel together, on my Tenere. We are still together, but tomorrow she will fly to Latin America for a few months before we meet in Australia again. From Saigon we went South to the Mekong Delta for a few days and then crossed the border into Cambodia. The Vietnamese border guards were really unfriendly, seeing us coming on a big bike, which they would not let pass into Vietnam. But leaving was no problem and to see the smiling border guards on the Cambodian side was very nice. But roads in Cambodia are the worst you can imagine; it is easier to ride in Mongolia without roads than on these dusty roads full of potholes. (Yes, Liam you were right, in some of them you can easy fit a bus in) And to describe the bridges the only words I can find in my limited English are: nightmare and deadly at night. The way to Siem Riep we managed in two days with an average speed of 30km/h and fully covered in dust.
Angkor Wat was our highlight in Cambodia, and I don't regret to have spent 20 USD for the ticket on the second day. Even after seeing all these temples in Asia, I am travelling here now for eighteen months, Angkor Wat is fantastic. Then we spend a few days riding in the rain down to the south of Thailand - Krabi - for a few days on the beach and a sunburn. Riding down the superhighways in Malaysia was fast and we spend my birthday again in the rain in the Cameron Highlands. My friend Murali from Multimodal Freight Port Klang was already waiting for me, the crate ready for shipping the Tenere to Sydney - thank you Murali.
We took the train up to Bangkok and just missed the bombing on the Hatyai railway station in South Thailand by 24 hours - maybe you read it in the papers a few days ago. Lucky us. Outside on the streets here in Bangkok everybody celebrates the Thai New Year with pouring water at everyone walking or driving by. The younger Thais are using the option to test their mopeds without mufflers and everybody is having a good time. But please don't ask me which year is going to start today here - but for sure not 2002. I am looking forward to Australia and the outback."
"... A 1,000 km of dirt road to go, seemingly becoming more and more beautiful the further south one goes. This was the famous Carretera Austral and I was on it! The rain passed and the next challenge came when I hit the river that was once called a road. A good opportunity to make friends with other travellers caught in the same destiny. Cars got pulled through by a caterpillar; bikes had to go on their own. Lightened of all my luggage it was easier than expected... A minor incident on my way out from the glacier Ventisquero Colgate saw me undertake my first repair. I hit a rock with one of my panniers, ripping it out of the frame and bending it. With the help of one of my more sophisticated tools - a rock - it took me about half an hour to unpack the bike, hammer some decent shape back into the aluminium box and put it all back together. The whole incident made me understand a bit better how vulnerable I was to even minor accidents, not only with regards to myself but also to my bike and its equipment. A lesson learnt!
During my days on the road here the scenery turned from pleasant to extremely beautiful the further south I went. It so much reminded me of the South Island of New Zealand. Glaciers, virgin forests, lakes of untold beauty and isolation. The carretera itself being in rather good condition made my journey fairly quick... However, the strong and gusty side winds I experienced in the ever-changing landscape during my last forty kilometres before reaching Coihaique made me slow down significantly from about 100km/h to something between 40 and 70 depending on the gust. It also forced me to leave the smooth track on the side of the road, the one without any major potholes to seek the safety of the centre of the carretera. Despite its generally good condition it became a rather bumpy ride with frequent and long periods during which I had to drive standing up on the footrests. A foretaste to what to expect in Argentinean Patagonia!
There are enough petrol stations on the Carretera Austral now and also more "traffic" than expected. Expect some rain on a daily basis and some of the road being closed due to flooding. Shortly before I started there had been two weeks of almost constant rain! A last piece of advice for all future bikies: Travel light!"
Steve Raucher, South Africa, around the world, in India, BMW R1150GS,
"... Upon arrival in Cochin I noticed that the leaking of my oil cap had reached critical proportions, it was time for action! I decided to bite the bullet and write off 5 days in order to wait for the parts to arrive in Cochin. So while I was passing the time, I decided to go back to Varkala to rest my tired bones. Upon arrival I met up with Benka again, this time I was not going to get away lightly. As she was busy studying Ayurvedic Massage in Varkala and needed a body to work on. Sounded too good to be true (it was - apologies Benka!). I was covered head to toe in Coconut Oil and then walked all over by an Eastern European Woman - God I hate that!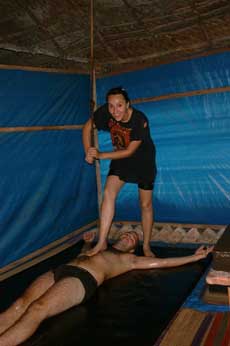 There I was relaxing, getting walked all over and checking emails, when to my surprise I get an email from my mother who informs me (how does she still know everything?) that my visa is about to expire in 5 days! So I quickly hire a car, cruise down to Trivandrum, speak to the head cook and bottle washer at the Police Station and his reply is: 'Sorry can't help, next!' I then hightail it back to Varkala, catch the 5pm train back to Cochin (can you believe they have me taking trains now?). The next day I went to see the Commissioner of Police, this time armed with my trusty newspaper cutting (see Press Cuttings link) and blag my way into a 2-week extension. Fan-bloody-tastic. Two weeks to drive 3000 kms, thanks Sport... The Parts arrived, I left Cochin, did a drive-by of Munnar, a really beautiful hill-top tea plantation and then drove to Kodai Kanal via the road with 17 Hairpin turns (they actually number them - very proud.)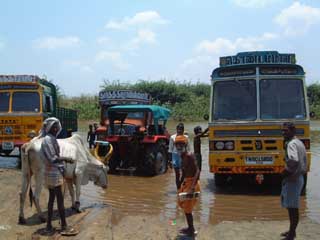 ... Well there wasn't much more I thought I could expect from the Indian Department Of Suicide Tarmac (i.e. National Highways), I was wrong. They put speed bumps before bridges and corners! Because, get this, they want to prevent accidents! No serious casualties to report, bar a broken Laptop screen - too much bouncing you see. We split up the journey into four days roughly 500 km per day. This road is almost as busy as the infamous Grand Trunk road. Lunatics. All of them. And if they miss you they send in the goats and cows to try and finish the job... I am at the Indian/Nepalese Border and will be in Nepal tomorrow. No more Indian traffic! Yeehhaaa!"
Bente Bråthen and Dag Jenssen, (Rocinantes' Travels) Norway, North and South America, in Argentina, Triumph Tiger,
"... We did a couple of long days in the saddle after Peninsula Valdéz The boring stretch of road was only good for one thing, open up the throttle and lean into the wind. One day we did 600 km with only three stops. Then we arrived in Azul. Gerald, our Triumph engine mounts fixer, was waiting for us at the Posta del Viajero en Moto. Also Dai, the Japanese biker we met on the border between Peru and Bolivia, was there. A moto club in town had for several years offered free stay in their clubhouse for long distance moto travelers. It was an admirable initiative. The clubhouse had two beds, kitchen with fridge, bathroom and a garage with lots of space to work on the bikes. Jorge, one of the club members, lived and worked next door, so in case we needed any tools he had lots available. We stayed a week, and joined in on the Friday night barbecue, which by default was free for the visitors. A lot of beers and a bottle of whisky disappeared during the week, and also I was able to do some long needed work on Rocinante.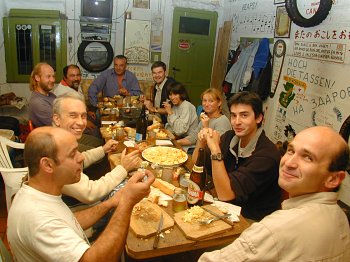 The air filter, forever a source of annoyance, was taken off again. I replaced all the screws that held the two parts of the filter box together with bolts going through the plastic. They were secured with nuts. I also used wire to keep the filter box secured towards the carburetors, because the box lately had tended to slide off and let unfiltered air come in on the engine side of the filter. The oil was changed as well, and some bits and pieces tightened, cleaned, oiled, greased or fixed. All we needed now was a new set of tyres to be able to go the rest of the trip without more services. The Metzeler Tourance tyres I bought in Costa Rica had done almost 20000km, and the rear was dead, quite simply... An e-mail from the editor of Informoto gave us the contact information for the Metzeler distributor, Monsa. A telephone call was rewarded with an offer for tyres for both bikes at cost prices, 250 USD for front and rear. A few hours later the new tyres were on and we were ready to explore northern Argentina and southern Brazil.
... When the Iguazu Falls came into view, it was a sight grander and prettier than any waterfall we had seen. While the Niagara Falls with its two big falls are impressive, this simply takes your breath away. One point two million litres of water pass through every second, and the falls are spread over an immense area, making up many hundred separate falls. It is impossible to describe or to catch on photo, and it is simply a must if you pass through this part of the world. We were soaking wet by the end of the day, after walking over and under waterfalls and seeing rainbows everywhere. It rates very high on the single most beautiful place we have seen on this trip.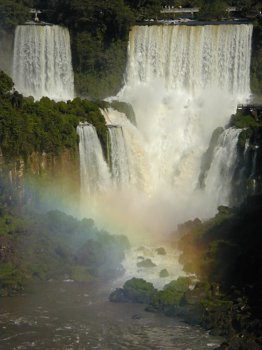 ... Late in the day, Rocinante decided to make progress difficult for us. She had been using abnormal amounts of oil lately, a problem I had no explanation for since the compression was fine, the spark plugs showed no signs of burning oil, and the engine looked dry and non-leaking. On a long straight I suddenly noticed that my right boot slipped off the foot peg. A look down stopped my heart for a second. From above my knee to the tip of the shoe my pants were covered in a thick, slick layer of oil. I stopped the engine and rolled over to the side of the road. 'This looks like disaster,' I thought. The whole bike was covered in oil from the engine and back. But I smiled when I saw the source of the problem. A bolt securing the cam shaft cover to the cam U-bolt had burst open and oil had been blown out under pressure. The bolt had been weak last time I checked the valves. I had secured the partly stripped threads with loctite and made a gasket of heat resistant silicon. It was a mistake and now I paid for it. The bolt was impossible to secure again, so we made another temporary solution. A piece of aluminium was shaped into a bar we secured between the bolt head and the frame, then locked the bar to the frame with downwards pressure, packed the bolt with silicon and hoped it would stay there the five hundred kilometres we had left on this continent.
The oil had soaked the electrical system and made the bike hard to start. For the next couple of days we had to push start it in the morning. We passed quickly through Uruguay and took the ferry from Colonia to Buenos Aires on the morning of Thursday April 26th. It felt strange and sad to be back in the Argentinean capital. The last kilometre on the continent was done. Our America adventure was in truth over, done with, finished. Even though we would go to Madrid and use four weeks to crawl our way through Europe and to Norway, a trip long enough to be called a good size holiday under normal conditions, we felt the trip was very much over. A fantastic continent lay behind us, a continent that had left impressions that would stay with us the rest of our lives, a continent far safer and friendlier than many books and people want it to be. We can truly say we love this part of the world and will definitely come back one day. I felt sad but knew that in reality I was ready to go now. Bente was ready too. It would be good to see Europe again, and the slow ride up north would adjust us gradually to 'normal' life again."
Gregory Frazier, USA, around the world for the third time, in Thailand, riding whatever he can scrounge for free, and on to Taiwan, ditto...,
"Bangkok is where most overland motorcycle travelers fly to after India if heading east, and most arrive by airplane, as do their motorcycles. Nearly everyone spoke or understood a little English, although often it was a strange and twisted use of words. Night lighting in Bangkok reminded me of Times Square in New York. There were new cars everywhere; a monorail similar to Seattle's and the Big Mac had real beef.
I needed Bangkok badly. Three months earlier a large piece of an old porcelain dental crown broke away from one of my teeth. My tolerance for pain is fairly high, except when it comes to my teeth, then I am very fragile. An ice cube on the right molar can change me from my warm, sensitive and cuddly self into a lion being given an unexpected rectal exam. I had been told that if I could make it to Thailand I would find my definition of an understanding dentist. I was also told the price would be lower, quality better and the water cleaner than in India, Bangladesh or Nepal. I decided to tough it out and try to reach Bangkok.
... Daily the pain became worse as more of the old porcelain broke off, eventually exposing the raw nerve. During my last days in India I was taking Ibuprofen like a junkie shooting horse, each day needing more. The lack of easily acquired spirits in Muslim parts of India and having to ride the motorcycle each day, constantly gritting my teeth, made me as friendly as a rattlesnake with no rattles.
The dental work in Bangkok was such a bargain I had three crowns done, two as an investment and one as a cure. There was no New Age music or gently flowing gas, but the driller was fast, Valium fresh and Novocain readily applied. The money I saved over the USA price I used to live and ride across Thailand.
... I met several motorcycle road acquaintances in Bangkok. British BMW GS riders (two-up) Chris Jagger and Sara Down had been sitting out Sara's broken leg (broken when they crashed in Pakistan). I had seen them four months earlier in a restaurant in Kathmandu. There her leg hurt, but in Bangkok they discovered she needed a cast. It was a surprise to see them in a restaurant in Bangkok. The next night Ken and Carol Duval arrived. I had last seen them New Year's Eve in Nepal. On the third night Angela Brandl appeared, a Honda rider I last saw in Kathmandu. Then appeared a couple of new motorcycle travelers, like Connor Carson, a friend of the Duvals, and two Enfield riders from Australia, Tiana and Bernie Sheahan. Nightly we gathered to exchange travel tips, rumors and news of fellow travelers.
... I left sweltering Bangkok and rode to the cooler north where I again tried to enter Burma, a land of jungles and snakes, big snakes, some of the biggest in the world. In Chiang Mai I was told, 'Sorry Greg, but the border to Burma is closed this week. But, you have some luck. There is a huge snake farm right here in Chiang Mai. The person telling me this had misread my business card that says, "I hate adventure that has anything to do with snakes or sharks."
I thought, 'Forget Burma, and forget the snake farm.' Instead, I rode an elephant.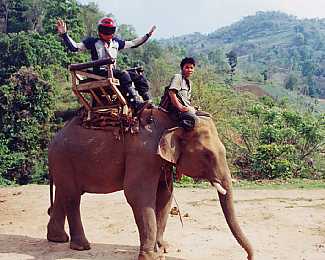 Taiwan
... The Hartford factory assigned one of their technicians to escort me to the countryside for some "practice" before turning me loose on my own. Best described, the test area is where military tanks and jeeps go to play. Lots of deep canyons, ugly rocks, and 4-wheel drive areas. The 125cc bike was little in size but surprisingly big in guts. It was able to get me airborne easily in second gear, and jumped/landed well on a suspension system designed for someone half my size and weight. After we did some jeep/tank trails for a little while I asked Technician Chung if I could try some more serious off-road riding.
Daniel looked at me with some trepidation, then agreed to handle the camera. Once I got him distracted with trying to focus my camera I took off cross country. The 125cc Hartford and I plowed through some deep grass and weeds as I kept trying to find its limits.
After some time I rode back to him to check on film and shots. We had a laugh about me fooling him as to where I was going to ride, then he told me, 'Most of us do not ride in that grass because of the snakes.' Technician Chung was getting the last laugh on this Crow Indian and this ended my cross-country riding."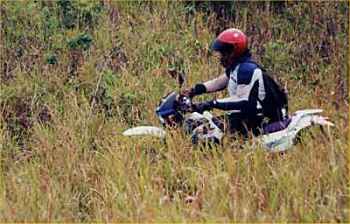 "Greetings from Cape Town... and apologies for the long periods of e-mail silence. After 18 months and 45,000 miles on the road through Europe, Asia, Oz, NZ and Arctic Circle 'tip' to Tierra de Fuego 'toe' of the Americas, Cape Town is a splendid place to relax. We arrived in South Africa (flying from Buenos Aires on 6 March), jet-lagged and still feeling a little battered after many days in the saddle riding across vast and windswept pampas to Ushuaia and the magnificent Perito Moreno glacier.
By the time we reached Cape Town, Beatrice's (1973 BMW) transmission was grumbling horribly. An inspection by Trefco BMW revealed a failing gearbox-bearing, blown transmission seals, warped shims and worn rocker/valve assembly and piston rings. After 3 weeks of work and waiting for parts to be delivered from the UK, Beatrice is on the road again and (Trefco assure us) is ready for an African adventure.
Meanwhile we have been enjoying much that Cape Town has to offer - music, pubs, ostrich steaks and vibrant café culture, and some more bizarre experiences like sharing beaches and roads with penguins, ostriches and baboons. Other highlights have included motorcycling around coastline and winelands with Tony France (who runs a fleet of beautifully maintained BMWs for guided tour or hire), as well as walking some of the green-spaces near Table Mountain and the city.
Now that Beatrice is fully run-in we plan to make a short trip to Namibia. We expect to return to Cape Town before setting off along the 'Garden Route' towards Lesotho and Swaziland (possibly Mozambique), then northwards to East Africa. We are still undecided as how to cross to North Africa. Most overlanders report arduous road conditions and unpredictable border closures, so we may opt for a more comfortable route by sea or air.
Whatever the means, we look forward to seeing friends and family at home soon. Very best wishes to all."
"We left Jaipur together with Ken and Carol. After 150 km on a good, curvy road trough nice hillside we arrived in Pushkar. A chill out village for travelers and holy too. Found a cheap (4.40 $US, double), clean place with bright, big rooms and pool ca. 600 m outside of Pushkar in the New Park Hotel. The village lies around an even more holy lake. Beer, Dope and Schweinebraten is not available here, officially. Best food in town is the Om Shiva (there are two, the one on the rooftop), with excellent vegetarian buffet for 1$. You can eat till you look like Ken and Carol, the natural born chocolate balls killer, Ha Ha. It was great! A good place to relax."