I hear last months Cold Flame Rally in Oz was a great event. Too bad you missed it...
"Well the CF turned out to be a great success and a good time was had by all except those two people who shall remain nameless but managed to fall ass over tit as they left the campsite, strangely they were both riding bikes from Bavaria... We were the first ones to arrive at the site about 5 pm. We built a house and settled down to a few ales. Saturday a few started to arrive after lunch and dribbled in till dark. We had most of the OARs in our camp and managed to bat on till late, I think a good time was had by all... Those who couldn't make it I hope this let's you know what you missed. Regards Russ Daniel"
Plan where to be when!
If you know of any events of interest to travellers, send me a note.
Tesch 23rd Meeting for World Travellers, April 6 to 8, 2001, Malmedy, Belgium
Approx. 300 travellers meet for slide shows, conversation, bonfire etc. Contact Bernd if you want to go.
BMW Bike Festival, 20 to 22 April, 2001, Izmir, Turkey
BMW is organizing a Bike and Bikers Weekend in Izmir, Turkey. Contact Paolo Volpara or BMW in Kurucesme.
GS ride out, Cassel, France, near St Omer, Sunday 6 May
Meeting point is the market square of Cassel, 08.30, departure 09.00 Details.
Balkan Run 2001
14 May return UK on or around 31 May.
Depart Dover (UK). Across Europe to a BnB in Neum (near Dubrovnik), from there explore fantastic Adriatic coast and the remote inland mountain trails of central Bosnia... Biking heaven. Cost of £130 (UK) includes support vehicle plus a donation to charity. I went last year on an R80GS Basic. Superb run. Contact me for further details.
Alpine Rally, NSW, Australia, long weekend of June 8-10 2001
Details to come.
IronButt event - A chance to achieve (your choice) 1000 Kilometers, 1000 miles or 1500 Kilometers certificates.
47th annual Routledge Dual Sport Tour, July 7 & 8, 2001, Surrey BC, Canada
"Starting in Surrey (suburb of Vancouver), going up to Coalmont (near Princeton), camping there & back to Surrey....80% good gravel & 20% paved... Fast Truck for carrying camp gear... BBQ at end. All for Cdn $25.00 driver & $15.00 passenger... about US$18.00 & US$10.00. Info: website or e-mail"
Deadhorse, Alaska, July 12, 2001
"... Let's make Deadhorse (Northern end of the road) like the annual Ushuaia (Southern end of the road) Christmas gathering. If you are going to Deadhorse in 2001, co-ordinate it (on the Bulletin Board) with other like minded folks with common interests in the land of the Midnight Sun. I'll be there with my Yorkie 'Punky' on a Kawasaki KLR650."
Lew Waterman, USA, North and South America 2001-2
There are at least a half dozen riders already committed to being there - how about you?
2001 Possum Lodge Special August 10 - 12 2001 from the "International Order of Rolling Broccoli Riders"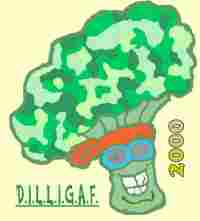 Pack your "Handy Mans Secret Weapon", enter the Rolling Broccoli Riders open competition for the most original misuse of Duck Tape and try for the prestigious "Red Green Award".
NO FEES, no fuss, no frills, just falling down fun, fellowship and frivolities. Info: Helmut Haus, 484044 Cape Rd., RR#2 Wiarton, Ontario, Canada, N0H-2T0 Tel. (519) 534-2598 or email
Gieboldehausen, Germany 5th Annual Treff, 31 August to 2 Sept 2001
Great rally, well worth going! Details here.
Starting from a US Military Base in Germany. IronButt type event. If you are interested, there will be a 100 rider limit, so it pays to get your name on the list.
GET YOUR WEB SITE LISTED in the LINKS section by listing Horizons Unlimited on YOUR web site, let me know you've done it by mailing me a link to the page, and you may get listed here in the next newsletter and on the Horizons Unlimited web site Links page.
All sites will be considered for listing, but must be a MOTORCYCLE or TRAVEL site, useful or of interest in some way to travellers.
Links will be rotated regularly as needed.
KLR650 (and related models) Mailing List
There are many "Helpful People" listed on the Links page, a huge thanks to all of them. How about you? Or just join a Community, or start your own!
Do you know of a good shop "on the road,"
in other words somewhere there isn't a number of shops? USA, Canada, Europe etc. don't count. That's too easy. And too many! We're looking for those rare items, good repair shops in South America, Africa and Asia etc. I will create a web page for them eventually.
Submit your tips and questions here, anything goes! Got a great idea for travellers, found a new solution to a problem? Send it in! If you're having a problem, just ask, there's a lot of people with a ton of experience out there to help.
I've made contact with some of the people we were looking for last month, thanks! - but the following are unaccounted for. If you know any of them, please send in full names and e-mail addresses would be much appreciated!
Daniel, USA on a KLR650 travelling the world.
Claire and Mark from England riding two XT600's...
Lionel Marx, I have no e-mail for him...
Chris van de Goorberg, Netherlands, XT600, last seen in Mali...
Kiwi Brian and Japanese Junko, both seen in Chitral
Johan ? traveller from Netherlands, last seen in Rio de Janeiro.
a couple of riders from French Guyana, she's riding a Suzuki DR 350 and he's riding a new Honda XR 650.
Ralf 'Rallerastlos' Enders and two other Germans named Stefan and Vivien, in Africa
Rob Arnell, UK, in India
When you meet travellers...
on the road, please get contact info and let me know so I can add them to my who's who and where list! Grant
E-mail address Problems:
Sometimes there is a problem with an e-mail address - it's not that I'm deliberately ignoring you! I have been unable to reply to the following, as the address they gave me bounces. If anyone knows them please let them know the problem:
Jürgen Hoffmann, and anyone else @slpol.de, I am unable to get anything through to slpol.de addresses. Please supply another e-mail address by resubscribing at the Subscribe Form.
Chris Smith
cjsmith@gtonline.net.uk
in the Channel Islands - This amyl address is no good, if anyone knows him or knows what the address might really be, please let me know.
Thanks!
"I contacted you in January telling you I was planning a trip from LA to BA, departing in March 2001. I am now in LA and my ridding buddy had to cancel the trip. Now I am looking for a riding partner to try to leave around the 17th of March. Please let me know if you know of anyone that might be interested. My plan is to do part enduro since I will be ravelling on a KLR 650. Thank you and Best Regards, Fabian"
I haven't heard if he has found anyone, so if you're interested, or on his route, say hi!
Pakistan
"...try to form a convoy with other vehicle(s) when in Pakistan, particularly on the Taftan - Quetta and on the Quetta - Rohri leg of the journey. Otherwise both Iran and India are cool." Yuval Ronan
From Greg Frazier,
"The unwritten Rules Of The Road in India are not the same as the rest of the world. India is different. Here are some other interesting India Road Rules:
Rear view mirrors on cars are often missing or turned inward, which is allowed because no one uses them.
A right turn signal on the vehicle in front of you can mean 'Pass me,' 'I am going to make a right turn', or 'I do not know my blinker is on.'
A vehicle honking its horn behind you might mean 'I want to pass you, move over,' 'I am coming through town,' or 'Do you like how loud my horn is?'
A white painted line on a road means nothing, nor does a STOP sign.
A one-way lane or street does not mean one-way traffic.
A two lane road means there is room for at least six vehicles.
The driver of a vehicle entering your lane from either the left or right side will not look before pulling in front of you.
And finally, if you are involved in an accident with an India vehicle, animal, person, you (the foreigner) are the cause."
From a post by Bruce Clarke, Canada, on the board
"Remember when asking the way, people in India tell you, even if they haven't a clue!!
'Is town such-and-such this way?'
Nods and smiles: 'Yes.'
'But I thought such-and-such was *that* way?'
Nods and smiles: 'Yes.'
'So which way to such-and-such?'
Nods and smiles: 'Yes.'"
Unfortunately I find this is often the case in the third world generally. For that matter, judging by the directions I've received on occasion in the so-called "civilised" world... maybe bad directions are normal... Grant
From Gonzalo Figueroa: "Customs in Quito, Ecuador is for masochists."
"These guys will do their utter best to make you have a bad time. It took us 7 hours to get our bike out of customs and by then I was screaming and yelling for my citizens rights. For motorcyclists: if going to Quito, DO NOT follow the standard procedure like any other Tom, Dick and Harry. Go up the stairs and ask to speak to the "Gerente" (or Manager). Currently his name is Doctor Corral. Explain your intentions and have him start the procedure. Otherwise you will fall in the hands of a series of young ladies asking for the "triptico" (Carnet) and then you are screwed."
Shipping - Everything You Need to Know to Get the Bike from Here to There
By popular demand, there is now a Shipping page on the site. It can be reached directly or from the Shipping link on the Trip Planning page.
This is a compilation of information from e-mails to us, scattered throughout the newsletter issues, and the bulletin board on shipping (air or sea) between continents. It includes stories about 'bad' experiences as well as good ones.
A big thanks to all those who have submitted this information, and a request. Can you please look at your item(s) and check it, and send us any missing information. Also, if anyone has more recent information on any location than what is on the page, please let us know.
If you have any information to contribute, there is a form at the bottom of the page which you can submit and we will put it on the page. As you all know only too well, this information is critical for those of you who are on the road searching for a shipper, so please provide local contact details and price, as well as whether you were happy with the service and would recommend them to your fellow travellers..
Thanks in advance
Susan
You can help! Yeah, YOU!
There is a ban on foreign motorcycles in Korea...
so we can't get in! Japanese motorcyclists are working to get the ban repealed with a petition. You can sign it too! There is an English version here. Deadline is April 15, 2001. E-mail Chris Lockwood if you have trouble. Thanks!
Travel Advisories:
The Foreign Office in London's Travel Advice Unit advises against all travel to all sorts of places. Check out the listing before you start!
The US State Department has issued travel advisories, information and/or warnings.
Border Crossings
If anyone has any information please let us know. When you cross ANY border, take some notes, and pass them on to us. Eventually we would like to have information for all the borders of the world posted on the website to help you, and other travellers.
Wouldn't YOU like to know all about the border you're approaching - what it should cost, paperwork required, "tips" needed, and who to talk to etc.?
Just send in whatever you can as you go.
Thanks to all who have sent info in the past, please keep it up!
Thanks, Grant
I thought you'd like this story, posted on the 'Jupiters Travels' mailing list recently...
"...A letter arrived in Birmingham, England, addressed to B.S.A. Motorcycles, Armoury Road, Small Heath. This was in the late 80's... It was postmarked 'Argentina' and was taken to a local museum, where it was opened. It was from an Argentinean farmer who had bought a brand new B.S.A. Bantam D1 (125cc) in the early 50's. He had written to B.S.A., whose address he got from the owners handbook, asking if they could sell him a new kickstart ratchet assembly, as his had worn out.
The museum knew of the B.S.A. Owners club and gave the letter to a member, who handed it to a national committee member. The farmer was sent a brand new kickstart ratchet assembly free of charge. He also received life membership of the B.S.A.O.C, also free of charge, and he still gets his 'Star' every month. When the B.S.A.O.C. held their national rally in California a year or 2 later, the Argentinean farmer decided to ride his Bantam (top speed 45mph on a good day) to meet his 'club'.
He rode the entire distance, camping out on the way. The journey to the rally site took over a month. He met the national committee and thanked them for their generosity, and the next day he left to start his journey back home.
'Flying' Cyril Benn
Jason Koch, USA, to South America, in Brazil, R100GS,
"Crossing the Darien...
'So, how many brothers do you have?'
'Eight,' replied our new found 10 year old friend.
'Eight plus mom and dad makes 10, right?'
'Yeah, but he's not my dad. We all have a different father.'
'Where is your father?'
'The paroca's killed him. With a chainsaw,' [the kid did not flinch]
'So you don't like the paramilitares [paroca's]?'
'I hate them. When I'm old enough I'm going to join the guerrillas.'
After 3 days in Puerto Olbadia, Rodrigo, Marcela, and I decided to make a break for it to Colombia's mainland. Rod and Marcy are my new-found Argentine friends, riding two up on a Yamaha XT600. Puerto Olbadia might make it on the list for the strangest place I have been. It is stuck on the border, but within Panama, and is fully occupied by Panama's military--you cannot leave the village. You cannot take photos. And everywhere is heavy artillery to fend off guerrilla attacks which have happened in the recent past.
...Here also lies the famous Darien Gap, the zone between Panama and Colombia where there is no road and no way to drive a vehicle through. It is a major route for drug smuggling from Colombia via jungle trails on foot. Protected by the guerrillas, of course...
All we wanted was to get to Cartagena, on the Caribbean coast of Colombia, where guerrilla activity is fairly quiet. From there it is a short jaunt into Venezuela. We waited for a boat directly to Cartagena which never came, and after three days in Puerto Olbadia it was apparent we needed to pursue another option. Already, the bikes had been disarmed and put on a 20 passenger plane from Panama City to the border.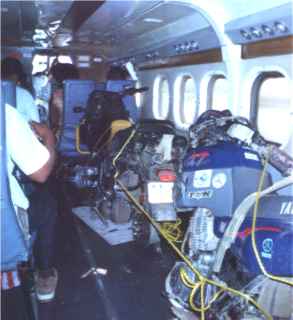 What ensued from Olbadia proved to be the journey's most adventurous undertaking:
Against the Panamanian army's better judgement, we loaded the bikes into a 20 foot wooden boat with a 15 hp motor and headed to Zapzurro, Colombia - a one hour voyage.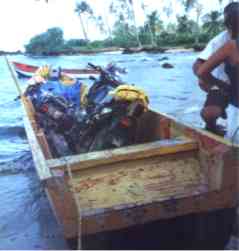 There were heavy seas, with waves two stories tall, and when entering Zapzurro's bay, I discovered fear. Not so much from the giant wave breaking 10 feet from us, but rather from our pilot's face. I feared what he feared. But with cool skill, he coaxed the 15 horses and the boat softly into the bay. Upon arrival, we immediately found a fiberglass speedboat ready to take us to Turbo, on the Colombia mainland.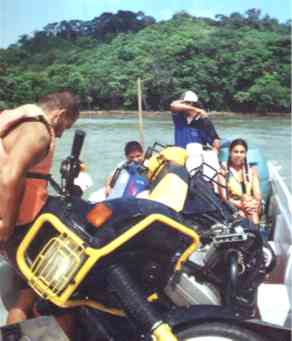 'How big and heavy are the bikes?' asked the pilot.
'The Yamaha is a 250cc, weighs 200 lbs, and mine is a 600cc, weighs 250 lbs.'[The reality is that the Yamaha weighs 300 lbs, and the BMW 450 lbs, not to mention 200 lbs of luggage. Lying like this makes the difference between go, no go, and $100US or $200US.]
'Esta bien. Vamos'.
We agreed upon a $100US price tag with the pilot from the speedboat. To transfer the bikes from boat to boat in the middle of the bay, we paid $20US to four very large black men picked up from the local dock. Even then, they stressed when they lifted the heavy BMW--and for two seconds, I feared my bike would be fish food. It wasn't, and we bolted for Turbo, three and a half hours away. The sea still swelled, and the boat jumped and slapped hard with every wave, making a sick cracking sound and taking on a little water each time. I thought it strange that my leg was getting soaked, until I looked down and noticed with every slap-landing, a crack in the hull opening and water shooting in. At this point I wondered if lying about the weight was a good idea. In the end, we made it to Turbo with the bikes and a pounding headache.
After arrival, customs (whom we surprised), and more frightening stories of guerrilla violence from locals, we shot out of Turbo on the bikes. I held my breath. A week later, in Maracaibo, Venezuela, I exhaled."
Peter & Kay Forwood, Australia, in Code d'Ivoire and Liberia, Harley-Davidson,
"8/3/01 It was to be another four hours before we would be out of the grips of the port. Guinea was reported to be one of the worst countries in the world for official corruption. All Guineans were required to pay US$2.50 to disembark and other nationals US$10.00 straight to the officials, no receipt, no arguments, pay or you don't get off. We refused, having paid for a visa, and were kept aboard two hours till everyone else's papers had been cleared.
There was great argument and discussion between passengers over this payment, with one lady claiming anothers identity card in an attempted avoidance. She was slapped over the face by a uniformed person and berated over the head with an empty water bottle before being taken away somewhere. Tempers rose and much pushing and shoving. One man in imitation army greens leapt off the bow when he thought no one was looking only to be caught and dragged away.
For security, no Sierra Leone men are allowed to travel on the boat but this did not stop the officials searching people looking for money to confiscate. One crewmember showed me two packages of US cash, 1200 dollars, he had been entrusted with from passengers to avoid discovery. Deals were being done everywhere and payments not to search bags made.
There is no recourse here for the people. When the police, military and customs are all on the wharf sharing in the bounty of blackmail and extortion as a small individual who do you turn to. The people who are employed to protect us are our worst enemies. No wonder there is such civil unrest, coup attempts and dissatisfaction with the governments in these countries.
Eventually we were the only ones left and, delaying the officials departure, were allowed to disembark with the motorcycle clearing customs and immigration without payments or problems. The two hour delay to watch Guinea officials in action well worth the time. Straight to change money in the street and to the Guinea Bissau embassy where visas were issued on the spot. A welcoming friendly official, hopefully an indication of a visit to their country.
Guinea is certainly a step up from where we have been recently. Its shops are full, petrol comes from a pump and meat can be bought. Our hotel, although more expensive has water from taps not buckets and electricity most of the time. Food is not in short supply, is varied and cheap. The breasts of West African women are seen as functional and not sexual, that is left to the thighs and buttocks. It is not unusual to see topless women or those scantily covered with their pendulous mammaries flaying the air popping in and out of loose clothing. Street feeding of babies or small children is everywhere with the wee one latching the tuba with both hands as a bottle or reaching around from their carried position on the back for a quick nourishing drink. No-one but westerners eyes are diverted and diverted away as quickly in embarrassment at this open display, particularly surprising from Muslim women.
The BBC's saying for the day was, 'No matter how long and winding the road it will always lead you to your destination.' We followed the black top 250km to Boke then the pink dust a further 150km to Koumbia. Only four check post stops with one 'Bad Policeman' as our Japanese friend Naoki describes difficult corrupt officials in these countries. Tired and moving steadily through the French speaking countries looking for direct routes not scenic.
11/3/01 Reasonable dirt to Foulamori for immigration etc before a barge across the border river."

Help support the Horizons Unlimited E-zine - visit our sponsors! Nice people, so drop in on them if you're in the area, and make sure you tell them how you heard about them!

Motorcycle Friendly
B&B
in historic Corrales, New Mexico. 15 minutes from the intersection of Interstate 40 and I25 in beautiful New Mexico.
Thanks!

Gregory Frazier, USA, around the world for the third time, in India, on an Enfield,
"...'You look tired.'
'Maybe I am,' I answered. I was in Delhi, India, speaking with a Sikh motorcycle shop owner who had sold me some spare parts 4 months earlier. He remembered me and asked,
'Did you get to Nepal?'
'Yes, and Sikkim, Bangladesh, then back across India nearly to Pakistan.'
'What do you think of India?'
'I don't know,' I answered.
'Will you come back?'
'I don't know.'
I knew I was repeating myself, but did not have any wisdom for him. Under his dirty white turban I suspect his gears were turning, thinking how, after 4 months and 10,000 kilometers, I should be able to offer some secrets of travel discovery, but I could think of nothing poignant. He started to ask another question, saw the look of quandary on my windblown and sunburned face, and waited patiently for me to speak. After an uncomfortable silence, I finally said,
'Want to buy my bike?'
This leg of my ride around the world was filled with sights and sounds not experienced anywhere else on the globe. The stink from the open sewers and the smell of human and animal excrement in cities like Jaisalmer, the 'Golden City,' come to the front of my olfactory sensory memories. The gold, red, blue and yellow colors of clothing, temples and rickshaws rush into visual recall. The sound of Muslims yelling over loudspeakers four times a day, especially at sunrise, define my immediate audio recall, then comes the constant sound on honking horns.
And then there are the roads and drivers of India. Talk with any foreign motorcyclist about their experiences in India and immediately they will focus on the drivers. If not, then they put their bike on a train, truck or plane to get it around or out of India.
The numbers for India tell the story. India averages 70,000 road deaths each year, compared to 43,000 in the USA. At first swipe that number appears not too bad, as there are 1 billion people in India versus less than 1/3 that in the USA. The reality factor for the numbers is that there are 20 times more vehicles on the road in the USA than in India. This significantly increases the risk factor in India. The Lonely Planet Guide for travelers in India says, 'Given the general road conditions, motorcycling is a reasonably hazardous endeavour, and best undertaken by experienced riders only.'
The Karma Theory for India drivers is that it is not so much the vehicle that collides with you as the events of your previous life that actually cause the accident. Add to that some odd India thinking, like driving with headlights on uses more gas than driving with them off, and thus why cars and trucks often do not use their lights at night, or helmets are only needed in the cities, and one can see why riding a motorcycle in India is considerably different than riding one in Germany or New Zealand. ..
There is organization in India driving, a hierarchy that has trucks and buses at the top and motorcycles at the bottom, along with bicycles and anything on foot. I believe the basis of the hierarchy is the lower the level, supposedly the more manoeuvrability. Thus a TATA truck blasting through a village at 100 kilometers per hour is not expected to slow down, only to let those in his path know he is coming by blasting his horn. Anyone or anything in his path has more manoeuvrability and thus will get out of his way. Proof of this theory exists in the great number of head-on collisions between trucks and buses as neither can hear the other. At night it is not uncommon to be passed by a truck or bus which has neither headlights or horn operating.
Another theory is that no one needs to check-up or stop before entering a roadway from the side. If they are able to get into your path then they are in front of you. You have the chance to avoid the collision by braking or swerving. If a collision does happen it will be your fault because you were the one who could have avoided it.
Applying Western driving techniques to India motorcycling is a mistake. As a foreigner you have to play by their rules, even when everything you have ever been taught tells you it is wrong. It is frustrating at first and the non-flexible foreigner will soon find themselves doing a lot of yelling, horn honking and finger waving, all to no avail. To the India driver it means nothing because everything they have ever been taught tells them they have done nothing wrong. To try and educate them by yelling, saluting with one finger or honking is a waste of time because of the sheer numbers of India drivers...
An interesting sidebar to bus drivers in India is they often flee the scene of an accident, and for good reason. The locals are known to take justice into their own hands and dispatch the bus driver on the spot. One bus driver who ran over a little girl and her father on a motorcycle, killing the father, did stay at the scene. He was quoted in the newspaper as saying, 'I've had my drivers license since 1984 and this is the first time I have killed anybody.'
...There is an imbalance to my dishing out road justice. Stopped behind a truck I was hit from the rear. It was not a neck snapping hit, but enough to roll my motorcycle forward. Thinking 'This India driver is going to learn what Butte, Montana looks like,' I leaned the bike onto the sidestand and got off. Instead of a car behind me it was a small Baja scooter, now on its side, with the pilot and his passenger laying on the pavement. I helped them get up and together we dragged the scooter to the side of the road, where I also parked mine. Nothing was hurt on my Enfield, but the front fender of the Baja was smashed against the tire making it impossible to roll. I was able to pull their fender free, and with my first aid kit, sewing supplies and vodka I closed a six inch cut on the driver's arm. He was a pretty tough little Hindu, but nearly passed out when he saw the size of my needle. It is nearly the size of a toothpick. His buddy held his arm while he looked away and I did not feel him flinch as I quickly gave him 10 stitches. When finished, instead of yelling and screaming at him (the accident was clearly his fault), I shook his hand, gave him a couple of aspirin and a business card, then told him to call me in a couple of days if infection set in. He did not speak English, but we all had a good laugh.
My last weeks included touristing at a Hindu temple where rats were worshipped and visitors had to enter barefoot. Imagine walking barefoot over a white marble floor covered with rat droppings, believing it is holy to have one of the 10,000 rats run over your feet. Somewhere in my religious upbringing my parents skipped this part.
Riding into The Great Desert of Rajasthan found me passing herds of camels. In Africa I rode one of these flop-footed spitters, and I wanted to see if the camels of India were the same. Camel spit in Africa feels, smells and tastes exactly like camel spit in India. I now know not to photograph one of these beasts from the front. If you want to know how I learned this, eyeball a camel up close, but keep the visor of your motorcycle helmet down.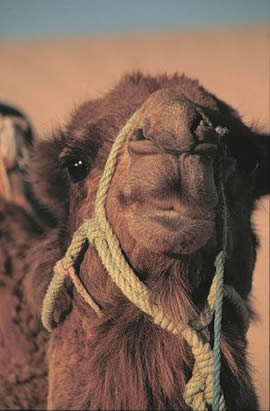 I admit to not being much of a tourist as I ride motorcycles around the world. For me the adventure is far away from those recommended in the tourist guidebooks. I find no room in my travels to lean out the front of my tent studying the mushrooms growing on the ground. Nor do I peck away at night on a computer composing the ultimate journey motorcycle travel book. Instead, I prefer to hunt roads during the day, enjoying the freedom of movement through the environment on two wheels. As night approaches I relish watching a red sun fall below the horizon, knowing that while night and darkness follows for me, the same red ball is bringing a bright yellow morning to some friend halfway around the earth. If I am lucky enough to get a good evening meal, I re-ride in my mind the high and low points of my day while eating. A good book and a dry bed fill my needs for the night, knowing more roads and trails are waiting in the morning. India was good for this kind of life. Sleeping was cheap, food easy to find (but I was sick often, mostly from food), and adventure was everywhere in the form of risk.
Across the last section of India I met numerous foreign motorcycle travelers, quite unlike my previous month. It was like the 'Gringo Trail' through Mexico, a route well traveled by foreigners. It was much of the same route some motorcycle tour operators use for their clients, although I came across none... numerous foreigners riding India Enfield Bullets they had purchased or rented. Pushkar was 'Bullet Central' when I passed through, hosting 10-20 foreign pilots with luggage or girlfriends on the back.
In India you can quickly differentiate between the locals and the foreigners on the Bullets. The foreigners have luggage whereas the locals are carrying passengers (sometimes as many as 4-5) or 20 gallon milk cans...
Amritsar found me making some minor repairs to my motorcycle. For 35 cents I replaced a footpeg rubber that had disappeared in the sands of the Great Desert. I still shake my head at the price... The layover for repairs gave me enough time to tourist to the Golden Temple, sacred center for the Sikhs. The gold temple, set in the middle of a white courtyard with a surrounding pool, was a stark contrast to the Jain and Rat Temples I saw earlier. For the money, the Golden Temple was a better deal than the Taj Mahal and if I had time for only one I would chose the Golden Temple...
The Dalai Lama holds court in McLeod Ganj, a nice mountain area of northern India. I decided to make my final days ride up that way. The maps showed small winding mountain roads, a final breath of fresh air before returning to the vehicle mayhem of New Delhi. The Dalai Lama was to be there giving readings, along with 5,000 Buddhist monks and some foreigners. I had read you could request a private meeting with the Dalai so I thought it would be an interesting finale to my ride around the subcontinent of Asia where I had been seeing Buddhists everywhere (when not seeing Hindus and Muslims).
What do you ask someone like the Dali who knows everything? As I rode higher into the mountains of northern India that thought plagued me. You do not want to waste His time with a question someone has already asked and he has answered. The question asker would appear to be ignorant and further would have wasted His Holiness' time... I have not read much about Buddhists and far less of the Dalai Lama's teachings and publications.
I found the Dalai Lama. This being the High Season for Buddhist readings, chants and meditation, he was given little time to meet individually with anyone, let alone a non-Buddhist foreigner from a small town in the middle of an Indian reservation in Montana. As he was whisked past me our eyes met (I was standing and the 1,000's of monks were kneeling). There was a brief connection, he smiled a little more than he usually does, and then our connection was broken as his bodyguards hustled him forward. The distance between us was 3-5 meters, but that was close enough for me to get the response to the question I had for him.
'Hello Dalai. Where does the rubber go when it wears off my motorcycle tire?'
'Greg, I don't know.'"
Robert and Steve Raucher, South Africa, around the world, in India, BMW R1150GS's,
"Everything went South...
It started out just being the direction I was travelling, I managed to get on the road by 6:30 am just before sunrise and had made 655kms by 17:30 that evening. I had ridden from Morjim, Goa to Calicut, Kerala...
The following day seemed promising: the weather was cool; the sky slightly overcast; and very little traffic at 7 a.m. It was at 9 am, when I was travelling south on the National Highway 17, approaching a small town, when suddenly I was covered in milk and sliding down the road, after my bike, mind you. You see, before I had even registered what was happening, a milkman on a 100cc, had just decided that it was the opportune moment to shoot out of a side street and cross the national highway (which, in India becomes the main road for every village it traverses). It is at times like this quick thinking is a must:
Do I A) wring the milk out of my jacket and get the cornflakes off the bike and have breakfast Or B) try and get the petrol to stop pouring out of my bike and try and get the hell out of dodge!
Decisions, decisions. Well I tried option B, only to find that I had a hole in my Cylinder Cover that was spurting oil. "So that's the end of the trip" I find myself muttering in disbelief. There were also a few choice words that came out a bit louder.
After containing the petrol leak amidst a hundred smiling (thank god) faces, I was summoned to the police station and given the drill. "You foreigner wait for many hours for vehicle inspector to come. How much you pay to milkman?" I tried to explain that it was the fault of the milkman, who by the way was by this stage in hospital along with his passenger and his bike was totalled. When the inspector finally came round to the fallibility of his villagers he refused to accept that I did not wish to make a complaint. This episode came to an abrupt end when I tried to explain that there was no point in making a complaint as the milkman did not have the money to fix the bike. The inspector, quite typically, began to roar with laughter - it was at this point I walked out of the police station.
I headed for the trucks. In every Indian town there is at least one row of trucks all waiting to be hired. I managed to hire a truck and persuade the villagers to help pick up the bike, a dead weight of well over 350 kgs. The Laughing Policeman soon foiled this plan, he had managed to extricate himself from his desk and make it to the scene of the accident. He informed me that I was going nowhere until I had paid something to the family of the milkman to help with their grief. Suddenly I was 500 rupees lighter AND back on the road.
I got to Cochin finally at 3 pm that afternoon and waited for my girlfriend to arrive and tend to me. I had only one scratch on my knee, not much of a patient, I thought.
This was all about to change. By Monday afternoon I was rushed to hospital with all the symptoms of malaria. After being examined I was relieved to find out I only had Bacterial Dysentery. What a relief. I was plugged into many drips and told to drink Tender Coconut Water, this apparently stops one from dehydrating. The next morning I was released to nurse myself in my hotel room, writing very boring long travel stories to alleviate my own boredom.
We left Cochin on a bright sunny day, fought our way through the crowds and headed further south towards the tip of India.
As we turned off the highway towards Varkala we spotted Kushi and Ayah, two really brilliant Enfield Bullet driving Israeli travellers. We decided to drive in to town together (this set the tone of the next few days). The next morning Kushi, Ayah, Tiran and Gali (two more Israeli Enfield maniacs) and Ariella and I headed to Kannyakamuri (aka Cape Comorin, the tip of India). Well I certainly learned how lucky I was to be driving a Beemer. Over a distance of 150 kms Tiran's Bullet managed to break down 3 times. On the final occasion I stuck one of my BMW badges on his petrol tank, this seemed to fix the problem!
Kannyakamuri was not to be disappointing. We arrived at a small beach and persuaded the local fishermen to take us for a sunset cruise. First let me begin by saying that the design of fishing boats in this part of the world hasn't changed in about 5000 years (bar, of course, the addition of an outboard motor). The boat is essentially three logs held together by pieces of twine. Not the ideal transport for 7 tourists (a Japanese chap joined us for the ride) and a fisherman. After crashing through the surf and being entirely waterlogged before getting out of the bay we settled into a beautiful cruise. Watching the sun set at the tip of India was very special for us, as the majority of us had driven at least 5000kms to get here.
The next day we woke at 5:30 am to watch the sun rise over the ocean (this is the only place in India where the sun rises and sets on the ocean). After a chai and photo opportunity we headed back to Varkala beach for a bit of R+R.
Fatefully this break in Varkala led to the meeting of Benka Pulko, an absolute maniac/gem. To recount some of the stories she has told me would make both sailors and hard-as-nails-adventurers blush with equal measure. It is at times like this that I really feel there is some powerful force behind all motorcycle adventurers that draws us together.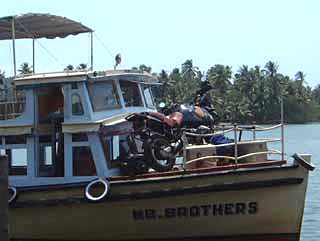 Yesterday we put the bike on a riverboat and went for a breathtaking 8-hour cruise of backwaters of Kerala and arrived SAFELY in Cochin for one more night before heading to Munnar in the hills."
Bente Bråthen and Dag Jenssen, (Rocinantes' Travels) Norway, North and South America, in Chile, Triumph Tiger,
"Carretara Austral...
This famous road is 1000 km long, and except for a 200 km paved section halfway through, it is a gravel road of mainly good quality. It starts in Puerto Montt and ends in a fjord south of the town of Cochrane. We would do about 750 km of it, starting in Chaitén, thereby skipping the first 250 km because the ferries stopped for the season, and then head inland towards Argentina in Chile Chico.
In Chaitén we drove off the ferry from Quellon on the island of Chiloe on the morning of the second day in March. It was raining cats and dogs and the wind was howling. The road was full of potholes, but after an hour or two the sun came out, and the road quality changed to the better. Now it was like riding a good Norwegian mountain road, with hard packed gravel and dirt making fast riding a breeze. The nature, or what we saw of it below the never too distant clouds, was amazing to me. High waterfalls, green forests and glaciers that seemed to poor out of the valleys, small lakes and every now and then a gaucho herding his cattle....
The road quality got even better, and it was easy to travel around 80 km/h for hours. When the night came we had done almost 300 km. On a small farm that offered camping, the owner looked like he was made from the woods around him with a wide beard the color of tobacco, a lumberjack shirt and high boots. We lit a huge fire, shared a bottle of wine and tried in vain to empty the bottle of Pisco we had carried for almost a week... A few hours after bedtime the temperature was about to reach the freezing point. Bente pointed out sarcastically that we had light weight sleeping bags, and we were far below the comfort temperature.
The second day we made good progress as well, but it was cold again and the rain was coming from every direction... When we found the Hostal Salamandra, repeatedly recommended to us, we smiled when we recognized the Africa Twin parked outside. Lars and Tini rushed out to say hello before we could get off the bikes. They had been a week or two ahead of us since Quito...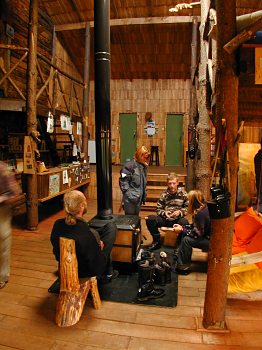 Hostal Las Salamandras, Coyahaique.
Beers were obtained, a huge and fantastic pasta prepared and consumed, before we moved to the wood stove and shared more stories from the road into the night. The hard and tough motorcyclists, never minding the weather, now fighting to get the seat closest to the fire. The Pisco disappeared, the beers emptied and the laughter brought out the owner who asked us please not to wake up the rest of the guests, who had gone to bed a few hours earlier...
Quite naturally we had no urge to leave the next day, but got going after two nights. It was colder and wetter than ever before, and when we came to a flooded river with petrified trees, the temperature was just a few degrees above zero and with the rain and wind, it was bitingly cold.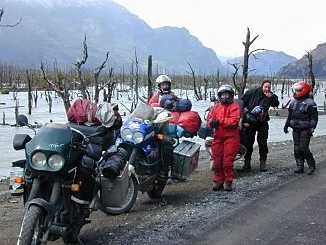 The road was still excellent though, and when we saw the first part of the Lago General Carrera, one of the biggest lakes in Chile, it was well worth the ride. Colored green by the glaciers that supplied water to it, and circled by snow covered tentacle mountains, it was a magic sight...
The last stretch of our part of the Carretera Austral took us through more beautiful scenery along the south shores of the lake. After a days ride we had only kilometers left before entering Chile Chico. The road quality had degraded to loose gravel and the road was climbing and diving and turning fast. Sometimes we had to gas out of the dangers, while other times the danger waited around a downhill bend and came as a surprise. Lars and Tini had a slow speed fall on one of these loose sections, but were soon back on the bike. When we came to Chile Chico, Bente had just about had enough of loose riding. She admitted it scared her, and it made me realize that the Ruta 40 in Argentina was not for us. This road which stretches for 5000 km from the borders of Bolivia to Rio Gallegos in the south, is a difficult ride because of the deep tracks separated by loose gravel mixed with the constant side wind
...we crossed into Argentina and said goodbye to Lars, Tini and Gerald, who would all take the infamous Ruta 40 while we would take the long paved road to the Atlantic coast. We agreed to meet in Calafate in a few days...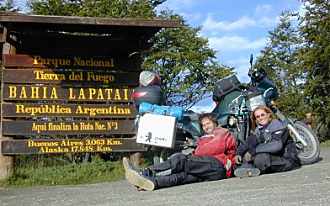 ...We're on 54 degrees south, and reached the turn around point 291 days and 45000km after we left Norway.
It feels good to be here now, but the journey ain't over until the fat lady sings, or whatever they say. It'll be at least another 10,000km and two to three months before we're back in Norway.
You know what the issue was on our first coffee shop in Ushuaia? Our next trip on two wheels... The world isn't that big anymore.
best regards from the end of the road, Bente and Dag"
Babe and Yahoo, (Jane Norris and David Banbury) UK, in South America on Honda Transalps,
(no prizes for which is which ;-)
Background - After a couple of years of work in Aus we (Dave & Jane) are off on another trip on the motorbikes. A quick summary: We lived in Sydney for about 18 months working, partying, riding and saving cash. Then in October 2000 we flew back to England to get married...We spent the next 3 months cruising around Europe.
Meanwhile the bikes (two trusty Honda Transalps) have been on their way from Sydney to Valparaiso in Chile, the kickoff point of our South America trip. It's amazing how a wedding can distract you from the million things that need doing for a trip like this. We have had stuff to ship to Aus, stuff to pack for S. America, stuff to buy, travel arrangements to make and medical things to sort out all in a few weeks.
We don't know what is in store for us in Chile (due to our customary levels of research). The first stage should take us south to Tierra del Fuego, hopefully via some high Andean dirt roads and a few fjords.
Monday, March 12, 2001
...our last report ended with me (Dave) getting a temporary filling in Temuco, Chile. For the record it lasted one day. I went back and got it replaced for free with something a bit stronger.
From Temuco we headed back up into the mountains on excellent dirt roads. They favour a loose gravel surface here which causes an initially unnerving weave at speed but you soon learn to relax into it and really enjoy it. It also allows even a well-laden Transalp to experiment with rear wheel steering for added amusement.
The road from Temuco took us up to the start of the renowned Lake District that spans Chile & Argentina. The mountains are beautiful here, a mixture of sharp craggy fold mountains and textbook conical volcanoes, most tall enough to provide snowy highlights at their peaks. The slopes below the snow are shrouded in dense forest of beautiful green and nestled in these velvet folds are the clearest lakes you can imagine. You can see every detail of the rocks and submerged tree trunks at their edges until they fade into green, then blue, then just depth. The forests are a dense cool jumble of deciduous trees, young and old tangling upwards between the rotting trunks of past giants.
We felt utterly spoilt to have the choice every day of thrilling to the spectacular scenery or to the buzz of speeding along the loose twisty empty roads. To top it all it is blackberry season here and the brambles lining the side of the roads are laden with sweet ripe (if a little dusty) berries which we scoffed by the handful. It was one of these sessions that led to my filling falling out again so it was off to the dentist again but an Argentinean one this time. His temporary filling was a bit more expensive but has proven to be a bit less temporary.
The weather was perfect and the great dirt roads zigzagging between Chile & Argentina led us to a progression of perfect lakeside campsites each miraculously even better than the last. Tranquillity, stunning scenery, sun, clear water to swim in, firewood for the evening fire and cooking. Then even a forest pool fed by natural thermal hot springs!
The end of February brought an end to the land of warmth and forested mountains for us. We headed south out over the Argentinean Pampas with its interminable wind. I felt a bit exposed and agoraphobic at first on the wide open plains with such distances between things but I did come to appreciate the "thought time" that this space (and straight road) allows.
We discovered we were now following the apparently infamous Ruta 40, known for it's hazardous loose surface, ceaseless strong crosswinds and little traffic.
Normally the wind blows directly across the road, which is a pain but you can get used to it. The gravel on the very long straights is pushed up into quite deep piles between the firm wheel tracks. This is OK as long as you are in a wheel track but if you have to move over for an oncoming vehicle or if the wind blows you off course you swim about in the loose stuff until you can get back into the wheeltrack. The real crises, however, happen when the wind is so strong that the loose stuff doesn't provide enough traction to get you back into the rut. That's when you start the steady slide across to the other side of the road hoping the gust will die down before you run out of road. We each had one episode where we did run out of road. Jane did a typical exit into the scrub without falling off, I ended up down a gravel embankment. What followed would have made excellent video (slightly speeded up) as I dragged the bike around, picked it up, tried to ride up the embankment, dropped it again, tugged it around, picked it up, pushed it up the embankment, got blown down again and finally ended up riding it out across a dry creek bed.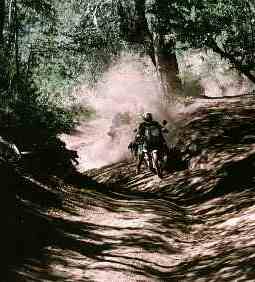 Generally the ride wasn't that bad and we could bat along at about 80-100km/h. At 80 the weaves would stabilise, at 100 they would escalate, at 90 they would just continue until you slowed down to kill them off. It did take a lot of concentration to stay in the ruts at speed. Staring at the approaching road in front of you continually causes the brain to start to compensate. When you stop everything you look at appears to be rushing away from you. This optical illusion is responsible for a few misjudged braking distances on sharper corners. Jane, being more conservative is OK but I was caught out on one occasion and locked the front wheel at the last moment going into a corner. (That set the score to 4-4.) The worst problem on the road was the occasional big stone lodged firmly across the wheel tracks. These were very hard to spot especially in a dust cloud and have lead to a large dent and a cracked weld in my front rim but no punctures.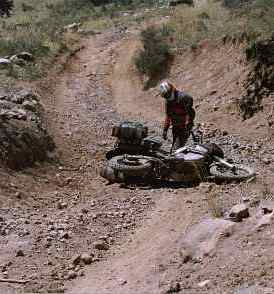 The Perito Moreno Glacier is a stunning 14km long, 4km wide, 50m thick glacier that glides down into a milky blue lake. The face of this fissured, jumbled ice sheet is continually breaking off in chunks from a few kilograms to hundreds, even thousands of tonnes. We were there for about an hour and were amazed to see 2 enormous chunks break off the glacier. One erupted through the surface of the lake from below about 1km away. It was absolutely immense, the size of a cathedral. The other was a towering 30m pinnacle right in front of the viewing platforms which shattered against the lakeshore below us. It was a truly amazing experience.
From here we headed for Tierra del Fuego but were foiled by bike problems in Rio Gallegos on the east coast of Argentina. Jane's bike had been blowing fuses and now it was terminal. We managed to locate a bike shop with the help of a local motocrosser and spent an afternoon tracing the problem to a wire stripped by vibrating against a sharp edge...
Next day it was Jane's turn for dental trouble - her bridge broke loose! So, the dental tour continued to Punta Arenas in Chile (because it's cheaper there than in Argentina). The first dentist we tried was absolutely awful. The waiting room was just a porch, there was a TV blaring in the surgery (to mask the patient's screams?), his drills sat on a bookshelf at the head of the old barber's chair and the drill motor hung from a coathook on the end of the bookshelf. To add to the ambience he had a small air compressor on the floor behind his chair which cut in every now and then totally drowning out any conversation. We couldn't stand it and eventually fled with Jane's bridge now in a film canister. We found a much more sanitary dentist in town who spoke English and re-fixed the teeth.
After those adventures, we have just caught the ferry across to Tierra del Fuego and we send this from Ushuaia on the Argentinean side of the Island. The most southerly town in the world."
Singin' the Chiang Mai blues;
Thailand: Chiang Mai: It's cold. I stare slack-jawed into my Ovaltine and listen to the rain dripping listlessly from my cheap plastic rain cape. Nearby stands a lifeless XT600. Her motor is cold, and her once-jaunty mirrors droop pathetically in the downpour. Where did it all go wrong? What could possibly have happened to this man that he resorts to hot malty beverages? Let us examine the evidence...
In February I found myself in Kathmandu, Nepal, where the realization finally penetrated my tiny intellect that Things Would Have To Be Done to the bike if it was going to carry me any further on this ill advised jaunt. For a start, I ordered a replacement alloy rear wheel to replace the badly buckled cheap steel item, which had been causing me grief since Pakistan. I had wobbled across the subcontinent on this damn thing, leaving behind a trail of broken spokes and instantly wealthy wheel-straightening wallahs, and had at length been advised by one overlander (thanks Rob) to bin the thing before it decided to bin me. I was also made aware of the fact that my rear spring had the rigidity of a wet marshmallow, and that my shock absorber was completely useless except as a paperweight. Australian Dirt Bike Sales of Brisbane had a suitable wheel (i.e. one with the traditional round shape, to replace the kind of banana-shaped profile that I had been experimenting with), and Rob assured me that a knackered shock could be temporarily ameliorated by increasing the preload on the spring to maximum. Only trouble was that it already was at maximum. So I had a problem - which was solved by the application of several Nepali mechanics, a spring compressor, a dozen massive steel washers normally used in the repair of Caterpillar bulldozers (I kid you not) and the biggest Stillson wrench I have ever seen. I can provide diagrams if any of you care.
I then made two momentous decisions: A) To go trekking round the Annapurna circuit near Pokhara, and B) To cancel my plans to fly from Delhi to Bangkok (which would have entailed re-entering India - an appalling prospect), and fly instead from the much more user friendly and conveniently sited Kathmandu. Decision A was inspired, a stroke of genius, a masterly synthesis of cause and effect resulting in one of the most impressive and memorable experiences of my life. Decision B, unfortunately, sucked. But I didn't learn this until later...
I returned from the Annapurna trek dusty but fulfilled. My new wheel had been dispatched as promised from Oz, and was by now languishing in a customs warehouse at Kathmandu airport…As I rolled up to the anonymous and scruffy warehouse in the industrial estate adjoining the airport, the initial signs were not good. Lots of moody looking uniforms with shotguns... Lots of Shouting Blokes and Pointing Blokes and Jumping Up And Down Irate Blokes and Virtually Apoplectic Blokes in civilian dress who may (or may not) have been customs officials, manhandling (and frequently dropping) various crates of peoples' precious possessions... And, as is characteristic of any bureaucratic procedure in Asia, mountains and mountains of needless paperwork requiring signatures from various self-important flunkies up and down the tortuous chain of command before you even get to see your parcel, much less get to grip it in your sweaty hands....
I enlisted some help from one guy whose role in the building was ambiguous and might best be described as 'clearing agent'. This man's self appointed task was to take command of my paperwork, and kind of deflect difficulties, not so much facing them head on, as side stepping them and allowing them to slide gently past...
We hit early trouble, when the invoice for the consignment surfaced. Being honest traders, the dirt bike company had meticulously recorded the exact value of my new wheel, oil filter and other goodies as an invoice for three hundred-odd US dollars. However, this would incur the usual punitive customs duty - amounting to around ninety US dollars. This is a truly stupid and unnecessarily harsh rule, since I wasn't importing these items for sale in Nepal, but to put on my bike and leave the country! But that's how the system works, and I had been stung in similar fashion in Pakistan. However, with only minimal prompting, we managed to 'lose' the invoice, and magically my parcel was re-designated as 'personal effects'. A few more signatures on my growing bundle of documents, and I was escorted past the line of bored shotgun-toting guards to freedom, with my coveted parcel. My 'agent' stuck with me like glue until we negotiated a mutually acceptable fee for his services, and off I went.
The flight to Bangkok went off without a hitch - except that the cost of freighting the bike by this route was a shocking 580 US dollars, which compares very unfavourably with the Delhi - Bangkok route. In fact, the Delhi option would have been a cool 350 US dollars cheaper. The information to which I had access (at the time I made the decision), suggested a much smaller price difference, and when the final totals were in, I experienced an acute stabbing pain in my financial diverticulum. But the deal was done, my bolt was shot; I and my shrivelled and emaciated wallet travelled to Bangkok on March 1st.
The shock of transplantation to a tropical climate was enormous. Now I know how backpackers feel. You just jump on a plane in a pleasantly coolish and dry Kathmandu and ZAP you're in Bangkok sweating your nuts off in what feels like 100 percent humidity, with unpleasant things going on in your armpits. Motorcycles are much slower and more suited to my slow-response psyche - also a great way to avoid climate and culture shock. You can keep your bloody jumbo jets, in my humble opinion.
Thai food so far is unbelievably excellent, lots of spicy chicken and pork things on sticks with chillies and ginger and satay-type sauces, and a heavy culinary dependence on organisms out of the ocean with far too many legs and eyeballs and no identifiable face. I have noticed that the mayonnaise you get here also tastes inexplicably of fish. But this aside, the Thais have stormed into the lead as regards scrummy comestibles, leaving the former number one (Pakistan, would you believe) for dead...
From Bangkok we headed west to visit the infamous 'Bridge on the River Kwai', and then North towards Chiang Mai, following roads which were incredibly wide, clean, orderly and miraculously free of random livestock of any description. I looked in vain for people taking a dump at the roadside, and could find none. Unbelievable! But luck ran out as we left the historic Kwai.
The Monsoon is due to start in around two months time, at the end of the dry season. However, it would seem that no- one has told the Monsoon this. Either that, or it is fed up with being taken for granted, and has decided to start when it damn well pleases. Rain, rain and more rain, pursued us as we rode North, until soggy and dispirited, we holed up in Chiang Mai to await the ending of the biblical floods.
It was here that I discovered that the condition of my front sprocket was deteriorating to the extent that a replacement would shortly be mandatory. Sprox are available for many big bikes here, but not (you guessed it) the Yamaha. However, the helpful Goodwill Motorcycles at Chiang Mai have a solution. By cutting the worn teeth off the outside of the sprocket, and then welding (to the remaining core) the outer portion of one that's in better condition, they can provide you with something that will get you on your way again. Insh' Allah. (I think Allah might be a bit out of his jurisdiction here, but I need all the help I can get). I've heard of retreads, but never in quite this context. I will report on the success of this idea.
So here we sit, trapped inside a kind of Thai edition of 'Groundhog Day' awaiting a break in the weather. Much longer and we will become a tourist attraction, the famous 'Soggy Static Bikers of Chiang Mai'... More when we break out. Connor.
Rob and Dafne de Jong, Netherlands, around the world, in Mexico and USA,
"Ever thought to find snow in Mexico? We were surprised when it started snowing in the Copper Canyon close to Batopilas. We had pitched our tent and were baking potatoes in our campfire when the clouds hanging over our heads were really getting dangerously black. We saved some dry wood in a waterproof bag for making tea in the morning (our petrol stove died a week before) when the first snow started falling. 'It will all be gone tomorrow morning,'we told each other before we fell asleep.
Next morning the door of our tent felt heavy and the snow was piled up on our doorstep about 20 cm (about 8 inches) high. The whole world around us was white, and all and everything was covered. We made a snowman that morning, while the sun came out and slowly warmed us up.
We shovelled our way to the dirt road before the whole area would turn into a mudhole. It was a perfect day and we could not have hoped for a better snow-experience. Funny thing is that we traveled through Northern Canada and Alaska in late September last year and never had so much snow as we had this time in Mexico.
We are back in Los Angeles at the moment, but not for long: On April 5 we will fly to Japan. Our Yammie has started to cross the ocean already; very luxuriously inside a 20 ft. container onboard a P&O Nedlloyd ship...
It's going to be great in Japan. We have missed springtime with flowering trees and moderate temperatures so much. We'll try to write an update for the next e-zine.
Greetings and a smile, Rob and Dafne de Jong"
Latest I hear is that they made it to Japan, but the bike has been delayed...
Ken and Carol Duval, Australia, around the world, in India and Thailand, R80G/S,
"We left Agra disappointed in not seeing the Taj Mahal but Aus$40 per person is over the top for us budget travellers. We vow to make a complaint to the Indian Government Tourist Office and, if we get motivated, one to a large newspaper.
The road to Jaipur varies in condition from smooth to bumpy but the chaotic traffic tests our nerves to the extreme. When three vehicles head toward us in two lanes, Carol's frantic waving gets the necessary results as a path is carved through the bemused truck drivers. The road is littered with crashed vehicles, dead camels, cattle and dogs. Pigs appear to be a little quicker than the rest!
Staying at the Jaipur Inn, we were offered a dorm bed with free buffet dinner for 100 rupees per person. The buffet is 100 rupees so we actually get our bed for free. Sightseeing at the Amber Fort/Palace we strike bike trouble. A noise from the bevel drive that began in Namibia, Africa (40,000kms ago) manifests itself as a failed crown wheel bearing and seal. We try to source the parts from the UK, Australia, Germany and India and settle on the UK as they are the cheapest. Our host at the Jaipur Inn was very helpful and directed us to his car mechanic who had the necessary equipment to assist in the repairs. The problem had us waiting for a while so we caught the bus to Delhi to arrange our 15 day visa extension in India. Despite what the Lonely Planet says this can only be done in major cities, i.e. Delhi, Bombay, Madras and Calcutta for sure!
'Guzzi' Mike and Rosie joined us here after they ditched their Enfield in Delhi. Plan 'B' had them flying Rosie's Honda Dominator out to Bombay from Germany to spread the massive load the Moto Guzzi was carrying. We had some great nights at the Inn with numerous wedding parades converging on the area. Lights, fireworks, marching bands and dancing was all part of the scene...
Our next stop was Pushkar. Just a short ride of 140 kms but we saw the stark desert sands of Rajasthan becoming more prevalent. Pushkar, a holy place for Brahma's of the Hindu religion, reminded us of Kathmandu with its numerous souvenir stalls, restaurants and street/footpath vendors, all vying for our hard earned rupees or dollars. There were a couple of buffet restaurants that provided great, cheap food. Hygiene standards in India have improved a lot and no stomach problems were experienced in all our time in India.
On the advice of many travellers we purchased a bike cover in South Africa to remove the temptation of prying eyes and fingers over the bike. Although we chained and padlocked this on somehow the nosy ones would undress the bike and play with the switches and knobs. The tripmeter would be reset, the light switch would be on and the cover would be twisted and pulled out of shape. Frustrating!!! We voiced our displeasure to the hotel management but Indians do not see it as a problem.
We head to 'Octapussy City' or Udaipur next, passing dozens of marble wholesalers. The air is white with marble dust as the traffic thins and the road twists gently through the hills. Our lodgings here at Lal Ghat on the lake were old, but the atmosphere was superb. The Lake Palace Hotel lit up at night with a few fire works thrown in for Valentine's Day made for a special time at this old city. We saw the 'movie' and can see where Bollywood gets a lot of its ideas. Were those old 007 movies really that bad?
Sad farewells to Mike and Rosie here, as we must head in different directions. We rode to Jodpur and they headed slowly to Bombay to collect Rosie's bike. We have shared a lot of fun and difficult times. Hope they can reach Australia one day for a visit.
Jodpur, the 'Blue City', didn't look very blue when we arrived. We encountered the normal street garbage being devoured by 'holy' cows, pollution from the burbling Tuk Tuks and the overpowering smell of urine at numerous spots enroute to our Hotel/Guest House. We read an editorial in an Indian newspaper complimenting the organisers of the Kumbh Mela on the efficiency and cleanliness at this huge holy gathering on the River Ganges; 'Indians must now apply these same ideas and efforts to the cities of this polluted nation,' it said.
We wait with bated breath. Investigating Meherangarh Fort and Museum we saw the splendour of the blue city. Hundreds of pastel blue buildings made the climbing effort worthwhile. The Fort and Palace were in good condition and maintenance efforts were still being done.
Because of the time lost due to our mechanical problems, our stay in India was not as long as we would have liked. We sped on to Jaisalmer, the 'Golden City' and on the advice of a fellow traveller we stayed inside the Fort, sleeping on a hand made mud and dung bed... with a mattress of course. We took a lot of photos. If an Indian was within earshot, and they saw the camera, the call would be, 'rupees! rupees!', assuming we were taking the photo of them (which we were not). If we wished to take a close up of an individual we would ask first, if they demanded money no photo would be taken...
...we reached Bikaner... camped on the lawns of the Desert Winds Hotel and our host/owner was most pleasant and helpful. We joined a Kiwi couple in his Ambassador (Morris Oxford) for a visit to Karni Mata Temple, commonly known in the west as the Rat Temple. Carol overcame her fear of these rodents for a short time as they scrambled over our feet. Fortunately we were allowed to keep our socks on. The front of the Temple was ornately carved marble, which most people fail to see, being preoccupied with the close encounter they are about to have with the rats.
The next day we toured Junagarh Fortress/Palace, impressive to say the least and with an excellent guide thrown in for the entry price we can thoroughly recommend this tourist attraction...
Our departure from Delhi and the transportation of the bike to Bangkok went reasonably well. We left on a Friday with the bike on the same plane (Aeroflot), arriving into the steamy weather of South East Asia around 3.30pm. Poor timing on my part saw the bike locked up until Monday so we met up with our Irish/UK travelling companion, Connor, once more and did a little sightseeing in Bangkok. The tedious task of extracting the bike from the cargo company and Customs saw a bill produced that was around half the air freight costs. Carol argued loudly with the Thai lad helping us as I reassembled the bike. After he had made a few calls on his mobile phone the price was dropped to less than half. If any travellers need information on our procedures/costs etc. in transporting the bike from Delhi to Bangkok please contact us by e-mail.
Thailand here we come! Ken and Carol Duval"
(We'll have this posted on the Shipping page as soon as possible.)
Simon Kennedy, Ireland, in India, on a Transalp,
"Woman on terrace tries to make conversation, explaining why she is walking around with a big piece of cloth, 'I am trying to make shade.' I nod politely, after all it is sunny, despite the early hour. Pause. She says then, 'I am travelling with a lama.' What to respond? Inquire into its welfare? Does it miss home? How are its hooves? Does it like the local water? Smiled inanely, I pictured her, in her ethnic clothes with a large quadruped mammal trailing behind her on a red embroidered tasselled lead, neighing in the heat and dust. 'He's not feeling well,' she added...
Only later at breakfast did I realise my error. This is the Tibetan colony of north Delhi. Not that kind of llama Simon.
It transpires that the hotel is full of wealthy middle aged women in ethnic clothes travelling with a lama. Quite common.
Next to me is a guy with tattoos all up his arm, various piercings and the robes of a Buddhist monk. His e-mail address seem to be 'punkmonk'. Ah yes: that synthesis of Anglo-American and Indian culture again. Here we are at the interface. More accurately, peering closer, his address is punkmonk124. Which means there are another 123 of them out there.
After Delhi we went wandering taking in the Taj (best seen from the river for free, avoiding the 20USD fee), the Red Fort, the Sanchi stupas and the marvelously sexy sculptures at Kajeraho; interesting that all those pin-up poses have been around for so long. Next to Bombay, India's most western city according to all the guide books, which is true if you ignore the vast bulk of the population who live in abject poverty in slums that stretch for miles from the rich centre. The stench of these places was something special...
Getting out of Goa the cop wanted 20USD because I didn't have a 'pollution certificate'. He threatened to confiscate the bike and take me to the police: 'fine let's go now and see what they say'. Just keep smiling, firm but friendly. After half an hour of nonsense we went, paying 50 Rupees. Now in Gokarna, the countryside getting lusher, the road winding up and down coves and hills, regular sights of the sea to our right. It's marvellous to be on a bike.
We will continue to head south catching Sri Lanka before the rains come down, when we will turn 180 degrees and race the monsoon north to the Himalayas. If we can get new visas that is."