Administrivia

Books

Calendar, Events 2001
Comments
Community
Final Thoughts
Funnies
Helpful People
Home Again
In Progress...
Leaving Soon
New Links
Prizes/New Quiz
Repair Shops on the road

Seen on the road
Shorts
Subscribe
Tech Tips and Bits
Travellers Community
Travellers Tips-Countries
Travellers Questions

Who's on the Road
Who Are They?
Quotable Quotes
Your Privacy
On the Website
Home Page
Search the Website
Bulletin Board
Travellers Community
Travellers Stories
Books
Christmas Rendezvous in Kathmandu, Nepal,
(see photo in the right column)
"Scruffy, the odd collection of two - wheel overlanders and global wanderers who collected in the outdoor garden of the Acme Hotel for Christmas Dinner in Kathmandu, Nepal. Not to be outdone by other motorcycle global road warriors gatherings at different points on the earth for Christmas Day, the collection of bike riff - raff at the base of the Himalayas partied hard into the morning of Christmas Day.
Motorcycle travelers were;
Ken and Carol Duval - Australia - BMW R80 G/S
Stephen Uch - Germany - BMW R100 GS
Bernarda Benka Pulko - Slovenia - BMW F650
Rosemarie Falch - Germany - Enfield Bullet 350
Michael Eierle - Germany - Moto Guzzi 1000
Gregory Frazier - USA - Enfield Bullet 500
Angela Brandl - Germany - Honda Dominator
Joining the collection of hardened two wheel travelers were friends and acquaintances bringing the party size to 16. It was an odd collection of travellers from around the world wearing motorcycle boots, riding jackets, hiking boots and backpacks. Before the party there was a debate about when the dinner should be held. As practiced in Germany, the German delegation wanted the dinner on Christmas Eve, whereas the Australian and USA traditionalists wanted the giant meal on Christmas Day. The sole Slovenian participant wanted two dinners, one on each day! An option to the deadlock was suggested by the American traveller who suggested a vote. To be unbiased and avoid any conflict of interest, the honorable and gracious American volunteered not to vote, offering to serve instead as the official vote counter and judge in case any discrepancies arose, drawing on the vast experience in matters of vote counting attributed to the democracy of the USA. The German and Slovene bikers laughed this proposal out of Nepal and reportedly into the swamps of Florida, USA.
Turkey, chicken, pork and bierwurst was served by waiters wearing starched white cookshirts and white gloves off a forty foot long table of flaming warming plates, a stark contrast to the usual camp cooking of the motorcyclists. Beer, wine and hot buttered rum, a large open fire and Christmas lights made the evening joyous. Christmas hats were handed out and the night became one for party animals anywhere in the world. The dinner was topped with Black Forest cake. It was a feast of feasts, a challenge for other two wheel travelers to meet in the future.
As the night wore on the travellers lazed in chairs around the bonfire trading stories and information on travel by motorcycle around the world. Some of the travelers have been on global rides for years, others just starting. Pakistan roads, routes through Africa, Indian drivers, Brazilian import taxes, Bangkok motorcycle repair shops, broken shock absorbers, crashes, security, all were topics as the night wore on. Secrets were traded, like how to find a steak and beer at the Australian Embassy. Tire tips were swapped, shipping costs harangued. It was a motorcycle traveler's treffen beyond compare, small, friendly and focused, the free flow in knowledge and stories. It was as if Santa was giving each motorcycle traveller new travel tools for their personal global travel kit.
Sadly, for the men, a call for a wet Tee shirt contest went unanswered, as did efforts to end the party early. Although several of the travellers had to leave next morning at 6:00 AM, the beer, hot rum and wine were flowing well after Santa left to deliver packages to points west.
The travellers warmly broke up in the early morning hours, laughing, trading addresses and promising to see each other in the future, on the roads around the globe. The Year 2000's Motorcycle Traveller Meeting in Nepal was a world class memory of a Biker's Christmas Rendezvous in Kathmandu."
Submitted by the Global Ride Scribe
Plan where to be when!
If you know of any events of interest to travellers, send me a note.
Slide show in Seattle WA area, January 27, 2001;
Bill Pratt, Randy Hoskins and Rusty Brennan Dubbs recently returned from a five week expedition in Asia... by motorcycle, KLR650, from Beijing, China to Kathmandu, Nepal. They will present a big screen video computer presentation showing some of the rare images captured on this never been done before challenge that included 48 hours at Mt. Everest base camp... Due to severe rainstorms, many of the roads became impassible and required ropes and porters to pull the bikes up mountainsides.
... presentation... tell(s) about how the trip was organized and became reality...
There were only three Republic of China permits issued in the year 2000 for motorcycle expeditions. They will discuss the travel conditions and concerns of rural China, Tibet and Nepal.
Seating is limited, so RSVP early.
You must RSVP to get the location.
Time: 7:00 PM - 9:00 PM
Location: To be announced via e-mail...in the Seattle area
Bill Pratt, Mill Creek, WA
Karuah River Rally, 10-11 February 2001, NSW, Australia,
Adventure Tourers Rally, contact Greg Aldis for more info. (see below also) To be held on the Frying Pan Creek campsite in the Chichester State Forest, near Dungog. It will be sign posted from Friday afternoon. No Cars are allowed on the site unless pre-arranged (parking for cars is available on the Coachwood campsite across the creek). Basic catering (Sausage sandwiches and soft drinks) from Saturday afternoon. Everything else BYO (Dungog has the nearest supplies) Awards for longest distance, hard luck etc. awarded early Sunday morning. $12 pre entered, $15 late. Leeches are free of charge. Entries to: PO Box 53 Rydalmere BC, 1701, NSW.
This rally is in a stunningly scenic area of the Snowy Mountains. At the junction of the Snowy and Pinch rivers on the Barry Way (the Barry Way runs from Buchan in Vic to Jindabyne in NSW) 65 km south of Jindabyne and 15 km North of the Victorian border. BYO everything (water available from the river, firewood can be collected around the site)
Greg Aldis (Australian events website page)
Sydney Australia
61 (0)2 9311-1119(H
Deadhorse, Alaska, July 12, 2001
"... Let's make Deadhorse (Northern end of the road) like the annual Ushuaia (Southern end of the road) Christmas gathering. If you are going to Deadhorse in 2001, coordinate it (on the Bulletin Board) with other like minded folks with common interests in the land of the Midnight Sun. I'll be there with my Yorkie 'Punky' on a Kawasaki KLR650."
Lew Waterman, USA, North and South America 2001-2
There are at least a half dozen riders already committed to being there - how about you?!
GET YOUR WEB SITE LISTED in the LINKS section by listing Horizons Unlimited on YOUR web site, let me know you've done it by mailing me a link to the page, and you may get listed here in the next newsletter and on the Horizons Unlimited web site Links page.
All sites will be considered for listing, but must be a MOTORCYCLE or TRAVEL site, useful or of interest in some way to travellers.
Links will be rotated regularly as needed.
Chris Frei, Chris' Motorrad-Fernreisen, 2 years PanAmericana, 13 month Trans-Africa, and Iceland. German only.
Daniel Cohen 2 wheels to Alaska, and 100 days, 48 states
Lars Spittel and Tini, Africa Twins on Tour, (German only)
Arctic Motorcycle Tours and Rentals Guided Tours and Rentals on dual sport motorcycles in British Columbia, Yukon and Alaska.
Chris Scott's Adventure Motorbiking website
There are many "Helpful People" listed on the Links page, a huge thanks to all of them. How about you? Or just join a Community, or start your own!
Do you know of a good shop "on the road,"
in other words somewhere there isn't a number of shops? USA, Canada, Europe etc. don't count. That's too easy. And too many! We're looking for those rare items, good repair shops in South America, Africa and Asia etc. I will create a web page for them eventually.
The South American Handbook lists motorcycle mechanics in every major South American town. Check them out when you're passing through and let us know which are the GOOD ones!
"David Lambeth Engineering (Tel: +44 1892 668280 Fax: +44 1892 611883) in the UK say they have fully prepared XT600Es and Teneres for hire for overlanding."
In Bangkok, from Daniel Vetter, Switzerland, living in Bangkok, a recommended mechanic:
Dynamic Motors
Mr. Yongyut
Wisut Kasat Rd. 253
(next to Bangkok Bank)
Ph: 02 282 99 99
Bangkok
This place is about 3 roads (parallel) north from Khao San Rd (Banglampoo district), the main Backpacker Area. He deals with BMW but can help for all brands.
Submit your tips and questions here, anything goes! Got a great idea for travellers, found a new solution to a problem? Send it in! If you're having a problem, just ask, there's a lot of people with a ton of experience out there to help.
Still more on last two month's question on Batteries:
"...Try the hawker pure lead gel packed batteries (type Genesis or Odyssey!) They are maintenance free, more powerful (and though smaller and less weight) I use them for the R80G/S and they are marvellous (even in winter no start problems)
www.hawker.de or
hawker.invensys.com
cheers"
Rrene Landsee, Germany
BMW F650 GS EFI Problem & Fix
from Tony Bramah, UK,
"To all BMW F650 owners, I called Williams Manchester today to ask if BM have come up with any fix for the erm, "hesitancy" pulling off a shut throttle. To be honest, my GD was so bad this morning (a particularly cold one) that the bugger stalled four or five times on one four mile trip; worse, not just from a standing start as has happened once or twice but when opening up after an apex. Nice one Klause - just wot U want on icy roads. Anyway the service manager told me BMW have released a new program for the EFI which they will be delighted to download into my sickle, under warranty. I don't think they were about to be so bold as to call me to tell me about this, although they did say they are reprogramming as standard at service time. Well, I can't wait. It seems much more of a problem now the air is barely above freezing, and as Williams said "the new program makes the bike more rideable from low revs" which is good enough for me. I also asked if it would dint the EXCELLENT fuel economy, but apparently not. One thing though, I was told the bike may run "a bit strange.." for an hour or two after the download, which is to do with the adaptive nature of the EFI system; it somehow monitors all the sensors for a while, works out your personal quirks and sets things up accordingly. How queer!"
and later :
"I dropped my GS off at the dealer tonight. I had a sneak look at the BMW service note which says the reprogramming of the EFI is to be done as a last resort due to it's irreversible nature and the possibility of it making the bike judder a lot. The note advises dealers to check fuel pressure before reprogramming, if it is too high they are to replace the fuel filter with a pressure regulator. This could cure the problem of engine stalling, if however the pressure is OK the EPROM needs to be flashed up with the latest software. As of December 1 2000 the latest version is 3.5 - the mechanic told me there will be a v4.0 in the spring, which will cure the juddering problem. Williams in Manchester have flashed up half a dozen bikes with v3.5 and have had NO judder problems so far. My courtesy bike is a standard F650GS with the new EFI map. It feels (maybe I just THINK it does?) a tiny bit more lumpy than my GD, but the response off a shut throttle is hugely better - in fact, it feels like a different engine. As soon as I got home I called the dealer and told him to go ahead with the upgrade, it is streets better than my bike. I'll let you know how we get on tomorrow."
I haven't heard anything further, any other comments? Grant
I've made contact with some of the people we were looking for last month, thanks! - but the following are unaccounted for...
Chris Addison and Keown (sp?). Chris is from Australia and riding an Austrian licensed KTM. Keown is on a Honda Africa twin (from South Africa).
Daniel, USA on a KLR650 travelling the world.
Two Danes riding XT600's in Iran...
Claire and Mark from England riding two XT600's...
Lionel Marx, I have no e-mail for him...
A Brit heading for Timbuktu...?
a Danish guy, Pauli, travelling on a new R80G/S classic converted into a PD, last seen in Kenya.
Found him! Thanks to the Duvals.
"I think I'm the guy you're looking for! Pauli Jørgensen from Denmark,riding an R80 GS Basic. I met Ken and Carol in Nairobi. Rode from Denmark to Australia,via Nepal and south east asia in 1995 on a Honda ntv650 (streetbike).And in 1999 from Denmark to Capetown via Ghana and then up the east coast to Djibouti from where I shipped home on a R80 GS that did the job perfectly. Ken suggested I mail you and say hi. I've been looking at your site. Great stuff, keep it up! Am currently planning the next trip. Looks like it will be Denmark to Japan, via Russia. Best regards Pauli"
A Brit on an F650 in Kenya, heading north...
Chris van de Goorberg, Netherlands, XT600, last seen in Mali...
Kiwi Brian and Japanese Junko, both seen in Chitral
Johan ? traveller from Netherlands, last seen in Rio de Janeiro.
"Japanese biker on a Suzuki Djebel 250. He'd ridden from Barcelona to Cameroon and then shipped the bike and his gear to Cape Town. When he opened the crate he only found his bike inside... He was heading north hoping to get to Egypt via Sudan although he'd heard the border between Sudan and Ethiopia is closed for the time being. After Africa he plans to go back to Japan via Russia although I'm not too clear on his intended route."
Interesting - we now have TWO Japanese riders on Djebel 250s:
from Daniel Vetter, in Bangkok;
"this Japanese you mention with the Djebel 250 is Kaz, isnt it? I met him in Bangkok"
And from Istvan Szlany; "It's Hiroshita..."
When you meet people
out there, please get contact info and let me know so I can add them to my who's who and where list! Grant
E-mail addresses - I've had a spate of problems with peoples e-mail addresses - if you know any of the following and have their e-mail addresses could you please tell them that the address they used when they e-mailed me has problems as my reply bounced. Thanks, Grant
Rory Corneille


Erin & Chris Ratay, USA, Around the World, in Australia,
"We'll need to ship our bikes from OZ to NZ at the end of March, then from NZ to Ecuador or Peru in June - can you give us some leads?
... we plan to be in Perth for Xmas 2000, and Ushuaia for Xmas 2001"
Anybody know good shippers for either of these routes? E-mail
Erwin Thoma, Germany, Around the World,
"...If someone has news about Algeria (crossing the Sahara), please inform me"
Matthew Newland, UK, Around the World, in Singapore,
"...I thought air freight was the quick way of sending a bike ! After 10 days still in Singapore waiting for my bike to turn up. My bike is currently reported to be in Paris and supposed to be here on the 16th. NOT ideal!
When I eventually get on my way again I will want to do the same again from Bankok to Kathmandu. Oh what joy!
I am planning to send it THAI airways and will initially just try and organise it myself directly with them. I looked on your web site but couldn't see any info on freight forwarders etc. Do you know of any reliable places ?
Keep up the good work,
Thanks, Matthew
And if anyone does, please make sure that I hear about it as well, so I can post it here for all. Thanks, Grant
Dieter Zerndt, Switzerland, to South America
"...Our bikes are on their way to Buenos Aires. We'll come in January 27, 2001. Do you have an address of one of our local biker-friends? ...We have our bikes in wooden crates. Leaving them in some harbour warehouse for storage might turn out to be a rip-off or a total loss. Any advice? Anyway, I'll send you immediate reports about all details your community should know... Thanx"
I can't help at this time, if anyone can or knows anyone please let Dieter and me know. Thanks, Grant
Welcome to the 15th edition of the Travellers' News!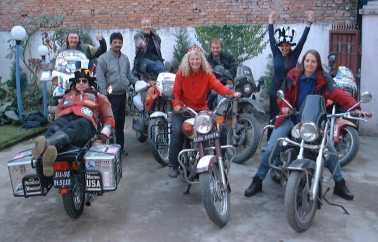 We are starting to get some info on Christmas parties already, the one in Kathmandu was apparently a terrific one, with some 16 people attending! See the sidebar for the story.
Just for your information, we currently have newsletter subscribers in the following 57 countries:
Antarctica (South Pole), Argentina, Australia, Belgium, Bolivia, Brazil, Canada, Chile, China, Colombia, Costa Rica, Croatia, Czech Republic, Denmark, Ecuador, Egypt, Finland, France, Germany, Gibraltar, Greece, Guatemala, Holland, India, Ireland, Israel, Italy, Japan, Kenya, Luxembourg, Malaysia, Mexico, Namibia, Netherlands, New Zealand, Norway, Portugal, Romania, Russia, Singapore, Scotland, Slovenia, South Africa, South Korea, Spain, Swaziland, Sweden, Switzerland, Thailand, Turkey, UAE, United Kingdom, Ukraine, Uruguay, USA, Vietnam, Yugoslavia, and, oh yeah, a Brit in a nuclear submarine somewhere under the ocean, so don't know where that counts!
If your country isn't listed it's because we can't tell from your e-mail address, so please let us know!
We've had a fantastic response to the "Horizons Unlimited Motorcycle Travellers Community" idea.
We have 41 Communities running already.
Thanks to all those who took the first big step and established the Community in their area!
For details on how you can join or use the Community to get information and help or just meet people on the road, go to the Community page.
Translations of the Community page into other languages - Volunteers?
If anybody would like to translate the explanation text of the community page to make it easier for those whose first language isn't English - it's only a couple of paragraphs - I'd appreciate it. My German is limited to fraulein, bier, weinerschnitzel, and uh... that's about it. Any other languages appreciated as well!
French and Spanish translation has been done by Jean-Pierre Poitras, Ottawa, Canada. Thanks very much Jean-Pierre!
New section: Trip Planning!
We've had a number of requests to put this sort of information on the website, so we're starting work on it, and we'd really appreciate your feedback and support. It's very much in draft stage, no real content yet, but the outline is there, with lots more to come.
We're hoping that eventually it will give you everything you need to know to prepare for a trip, whether it's just a few hundred kilometers (or miles!) or around the world. We invite you to submit articles, and hints and tips we can incorporate into this new resource for travellers. Have a look!
Wanna be famous? Rider/TV Host wanted;
Television documentary in development invites correspondence from experienced motorcycle adventurers interested in arduous work with long hours and low pay. The proposed hour-long program would follow a traveller as he or she explores India by motorcycle.
Individuals with previous print or broadcast journalism experience are particularly welcome. Contact Peter McLennan, Director / Cameraman Signal Film Productions Ltd.
Please feel free to submit news reports, web links etc. to me for inclusion here.
I try to link to your website if you have one, and also the photos in this ezine are generally linked from your website. If you don't want me to do that please say so!
This is a free service to travellers everywhere, both on the road and off. Your support is appreciated!
your editor, Grant
Peter and Kay Forwood, Australia, around the world, in Central African Republic,
"... The plan, South Africa to Senegal, 30,000km, 7 months. Up the coast of Mozambique visiting beaches and fishing villages. Across petrol strapped Zimbabwe to Victoria Falls. A river cruise with elephants and hippo's in Chobe National Park and a flight over the Okavango Delta in Botswana. Visited the chimpanzee orphanage in Zambia and enjoyed the two day boat ride up Lake Tanganyika on "M.V. Liemba", the 100 year old German freighter, in Tanzania. Bad and slippery dirt roads as we raced to avoid the onset of the wet season in Northern Tanzania alongside Lake Victoria and onto Kampala, Uganda.
A week's preparation to cross Congo and after a visit to Murchison Falls National Park we entered the at war corrupt territories of the divided Congo. It took 16 days to travel 1200 km of atrocious roads, fighting immigration officials, waiting four days to get rare petrol supplies, in sand fly and mosquito infested rainforest where the oppressed poor, war weary people were the friendliest and most helpful we have encountered in Africa.
Virtually no motorised vehicles move, all supplies are bicycled around, like our petrol coming 800 km from Uganda by bicycle.
We were relieved to leave Congo but were more severely abused by officials, the army, on our arrival in the Central African Republic. Having rifles loaded in our presence for effect before trying to extort money. Even a count down to firing if we didn't comply. We are now in Bangui having had no further problems with authorities, so far, and resting before heading into the more civilised? countries of West Africa. Petrol still a problem as the Congo war limits supplies to CAR and we haven't seen a working petrol pump for over 2300 km, buying from plastic containers.
The motorcycle running OK considering. Had to change a drive belt in the muddy swamp of Congo, missing on bad and dirty fuel, battery died from overheated regulator packed with mud, pannier bracket broken and tied with cord, engine rubber mount broke.
Damaged the crash bars, front mudguard and mirror from numerous falls, about ten a day in the muddy red soils, and from loading and unloading into dugout canoes to cross rivers. Bridges non-existent or with just the tree log supporting beams to try and ride across. A great adventure but glad to be out..." Latest Details.
Michael Eierle, Germany, in Turkey and Iran
Hi travellers, bikers and everybody who's dreaming about travel!
...friends and not so friends call me Mike, I'm from Augsburg, Germany and 39 years young.
I'm riding a 1981 Moto Guzzi G5 (like California). Engine and gear box are just 2 years old and a little modified. It has 1100 cc and a little bit more power now. For this trip I only put an offroad tire on the rear. The rest is more or less standard.
I started on the 23.Sept morning in Augsburg to reach Venice in the evening. By ferry I went in two and a half days to Izmir, Turkey. This ferry leaves only on Saturday evenings 10pm and costs in a 4-bed-cabin incl. the bike ca. 270$ US. I met Tim from Scotland (on a 500cc Enfield India) and we decided to travel together.
After arrival in Izmir it needs more than one hour to leave the port. The Turkish immigration and customs is a story on it's own. Nothing is sign-posted in English, and nobody really knows the sequence of the welcome procedure. If you travel through the country they charge you 22$US so called transit fee. Be very careful driving on two wheels in Izmir. The roads have been like soap and very slippery.
We spent one week in the nice village Kas on the Mediterranean Sea. Via Antalya and Alanya we followed the Mediterranean coast direction east. After Alanya it's a fantastic postcard view and the road has a lot of bends. Normally ideal for motorcycle riding, but the bends are mostly very slippery with oil and stuff from the tires, so it's only half the fun. Beware also of Turkish drivers. They are not sure on which side to go so they use both.
From Adana we took the highway (new, very good condition and no traffic) to Gazianthep. But look early for Petrol, there are not many stations or it's sign posted and there is only empty space. The road from Gazianthep to Sanli Urfa is the diesel-lorry-race-track from Turkey to Iraq. Hell of traffic, oil and deep lorry tracks in/on the road. It's greatest fun with a Jet helmet (open helmet).
In Urfa we met a Swiss girl coming from Iran. She told us to cross the border in Esendere, close to Hakkari in the Kurdish region. So we did. Via Diabakyr, Tatvan and Van we went through a very nice, quiet mountain area. But don't dream, or one of the huge sheep dogs will bite you from your bike. These bastards come from the side of the road straight to the bike and try to get you.
Close to the border are lots of checkpoints, police and some other specialists. Sometimes they offer you also drugs. But there was never any trouble.
On the 15.Oct.00 we finally reached the Iran border. The border crossing was painless and needs less than two hours. Staff on both sides was friendly and helpful. We have been the only tourists this time...
My trouble is that I have only a 5-day-transit-visa. The story was, that friends told me it's a big hassle to get an Iran visa very fast. So I sent the passport to a visa service (believing it would make the thing easier and faster) and they promised me a 5-day-transit in one week, a 21-day-tourist in one month. Finally I had to wait 5 weeks for shitty 5 day transit.
So I split with Tim (on his Enfield race bike) and rushed on the next day to Sanandaj. I had little rain and it was cold in this mountain area, but beautiful. Far away I could see the sun, but the clouds were following me all day. It was already dark when I reached the city, so I didn't see much. Early next morning I left for Esfahan, because it was said that the visa extension there is easy. The extension of the visa was painless, very cheap and needs 20 minutes. I got 5 more days only because of my transit visa. Tourist visa gets more days extension.
I wasn't under the best health conditions the last days. It was warm weather, best riding conditions, and I was on my way again. After 300 km in the afternoon I reached Yazd. This day I visited the old city. In the afternoon I went to the towers of silence. The atmosphere there was fantastic. There are only two big towers and some old houses downside. Some youths were hanging around, I always had the feeling, maybe they need some parts of my bike.
I reached "Akbars Place" in Bam. It's a nice, relaxing place around a yard with a little garden. Maybe the best of the cheap places to stay. You can park your bike inside the yard. If you want, Akbar will organise dinner. Next morning I had a laundry session and went with Stephen (Connor) (funny English guy) into the city for lunch. Then we visited the old citadel. Costs around 4 $US. Expensive, but worth the money. Together with 10 Overlander, travelling on a truck, we had dinner in Akbars place later.
Altogether travelling in Iran is safe, the people are very friendly and helpful. It's still cheap, especially petrol. Depending on Lonely planet 98 ed. the prices increased 30 to 50%.
You can easily spend more time in Iran. It's also safe for women travelling solo. As long as they cover everything that shows the difference between a man and a woman there is no problem. I haven't heard that a female tourist was harassed or touched by an Iranian man.
The roads are in very good condition, much better than in Turkey.
More about Pakistan next time , enjoy your time everybody Mike (MGM)"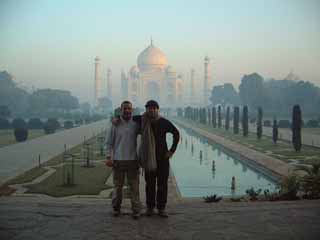 "Suddenly the world brightened up and put on a smiley face. We had made it to India.
We arrived in Amritsar after crossing the border at Wagah (20 kms from Lahore). We were surprised by our over-efficient (read "bribe-seeking") Pakistani customs inspector as he discovered that Robert's Carnet de Passage had the chassis engine number printed on it, a problem easily remedied by an exchange of US$20. Good to know some stereotypes still ring true.
Arriving in India from Pakistan one is immediately aware of the change of pace and addition of color. We were whisked through our customs inspection, obviously the border guard on this side isn't as short of cash as his counterpart. One of our most peculiar sights in a while was the human chain of stevedores (?) that ferry the goods between trucks on either side of the border, apparently the trucks cannot cross the border. ...And in the left corner, in the Blue Trunks, weighing in at Nuclear capabilities and a billion populace - Iiiindia! And in the right corner weighing in at Nuclear capabilities and Religious Fundamentalism - Paaaakiiistaan (see picture).
We had met the members of the Encounters overland tour truck at the border and took their advice and headed for the same guesthouse they were staying at. Mrs. Bhandari's Guest House is as colonial as one can imagine (without tripping over sunburned redcoats!). We had a very lazy afternoon chewing on Veg Pakora and downing many Kingfishers, whilst boring the other Overlanders to tears with our tales of woe ('tis a hard life!). Drinking went on to about 2 am - a very late night by our recent standards.
We awoke to knocking on our door (sorry no tents quite yet) only to find that in my drunken stupor last night I had left my credit cards lying in the middle of the garden - Liz, a member of the Encounters group, recovered them. We subsequently joined her and others for a quick tour of the Golden Temple in Amritsar."
Mullie© and Nobilé, Netherlands, Cape Town to Netherlands with Ural sidecar, in Ethiopia,
"... we have mixed feelings about Ethiopia, which we hope you will understand after you've read this travel report. Part VI ended with the sentence "We stamped ourselves and the bike out of Kenya, and passed through the gate.....". This was at about 17:35, and we had been told that the Ethiopian customs and immigration would be open until at least 18:00, if not 20:00. Well, not so. That is, they are supposed to be open until 18:00, but the customs and immigration officers had decided to go home early this day.
So, bad luck, we were not allowed to enter Ethiopia. By this time, the Kenyan border had also closed, so we couldn't get back into Kenya either. The Ethiopian border patrol said they would allow us to park our vehicles (remember the Land rover was still with us) at the customs parking lot, and we could go into a hotel across the street, provided we would leave our passports with them.
None of us was really happy about this idea. First of all, we didn't really want to part from our passports, and second, we didn't want to leave our vehicles (Daniel and Virginie always sleep in it, and we're reluctant to leave the bike at an unknown parking lot). After much discussion, arguing, and negotiating we were finally allowed to spend the night at the same parking lot as the vehicles. We in our tent and Daniel and Virginie in their car. We did have to hand over our passports though, but we managed to get a sort of receipt for it, even though they regarded this as a lack of trust in the Ethiopian border personnel.
Well, after a short night on the gravel of the customs parking lot, we woke up next morning and indeed got our passports back much to our relief. Then we had to wait for the officials to arrive... we first headed for the bank... the bank was a bit further than we expected, and cashing a travelers cheque takes some time in Ethiopia, so ...more than 1.5 hours before we got back to the border. Daniel and Virginie had already passed through immigration and were almost finished with customs. We could join in the process and had passed through customs pretty smoothly. The immigration official however, was nowhere to be found anymore. Eventually, we managed to track him down drinking tea at a local bar. When we asked about if we could get our passports stamped in, he replied that this was not a time for working, that we had had our chance this morning (for about half an hour), that this was our mistake, and that we could come back at 3:00 p.m. and maybe he would be at his post again...
However, after some persuasion and arguing, we managed to drag him away from his tea into his office where we finally had our passports stamped. So, after almost 18 hours we finally could enter Ethiopia legally.
We pitched our tent at the grassy lawn of Moyale's (supposedly) best hotel, where we had lunch with Daniel and Virginie who then left us to go into Ethiopia a bit further. We stayed for two nights to recover from the long, rough, and tough days behind us. We repaired the damage to the bike (the broken luggage rack, the mounting pin, and the jerry can bracket got welded, and the aluminum case was brought back into shape again). Then it was off in the direction of Addis Ababa. For the first time in days, we had a tarred road in front of us. And for the first time in almost 3 months, we had to drive on the right side of the road again..."
"...Tuesday, December 12th. We're in Puerto Montt, Chile, having so far ridden 7.200 km in South America, almost 26.000 km total. The wine here is good, very good, and we're doing a pretty good job trying to taste as many different ones as possible.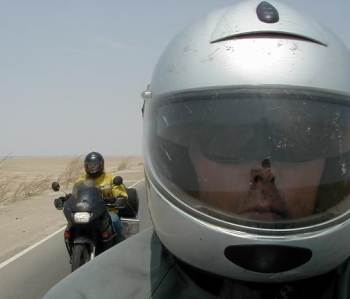 ...We continued towards Lake Titicaca and the ruins of Tihuanaco in Bolivia, crossed La Paz and headed west towards Arica, Chile, through some of the most spectacular scenery we had ever seen. Truly breathtaking, and not just because of the altitude, the highest point we crossed having been at 4667 meters above sea level. The bikes lost some power at altitude, but continued running smoothly, despite the 84 octane fuel.
In Tihuanaco, we made the acquaintance of Charlie, a rather nosy but very photogenic Llama. During the photo session, he somehow misunderstood our intentions and tried to mount me. Upon my polite refusal, he changed his mind and turned his amorous attention towards Ellen and could only be persuaded to give up by a solid kick in the butt. Definitely a confused animal.
From Puerto Montt, we're taking the ferry to Puerto Natales, in order to have enough time for a leisurely visit of the Torres del Paine National Park in Chilean Patagonia. After that, we cross into Argentina and head for Ushuaia where we will meet up with my parents in order to righteously celebrate X-mas and my fathers 65th birthday.
The fun continues..."
Mika Kuhn, Germany, around the world, in Thailand,
"... arriving in Kuala Lumpur I met the Slovenian woman Benka Pulko, she is also travelling on a motorbike around the world, and we went for a weekend trip to Singapore together, but without the bikes. We both had the feeling, after having seen so many interesting places, Singapore is nothing special - but we had a good time listening to each others travelling stories.
My bike arrived in time in Port Klang, but an idiot at Nippon Express had forgotten also to send the documents. And so I had to wait five days to get it out of the port.
Because my girlfriend Silke was on the way form Germany to Bangkok, I went straight up to Thailand and to Bangkok. We hadn't seen each other for over 18 months and I was nervous to meet her at the airport.
We traveled together, two up on my Tenere, to the South of Thailand for some days at the beaches. She had just returned from a year in England to Germany and had two weeks off before she would start a new job. We had a wonderful time and even did some sightseeing.
Now I am back in Bangkok, she flew back to Germany two days ago...
... I got my first report for my website translated into English. Thank you Rachel. The report is about me travelling in Kazakhstan in June and July this year, the title is "Corruption and Plains". You will find it on my website in a few weeks...
X-mas and New Years Eve I will spend in the north of Thailand or in Laos.
MIKA"
Istvan Szlany, Canada, to Central and South America, in Mexico,
"Last time I e-mailed from Quetzaltenango, Guatemala. Since then I have done a fair bit of travel, and crossed many borders...I managed to get quite far south and it is getting really hot. At higher altitudes is not too bad, but under 1000m it is burning. Csardas (KLR-650) is really hot...
I like Guatemala a lot. The scenery, the people, the towns and the local arts are all great. If you think about visiting that country, stop thinking, just go!
Exiting Guatemala to El Salvador wasn't that bad...about 40 min. and I was on my way. You can see these signs asking the public not to bribe the officials... Just go with the flow, smile, and tell your stories over and over again. Most people are very friendly even if they wear uniforms.
This is a very crowded country, and way too much pollution!!! The busses and trucks are the leader and sometimes I had this morbid feeling that they are tuned in a way that they suppose to reduce the population by spreading lung cancer!
I noticed that gas prices are around 2 USD/gallon anywhere I go. Food is - on the other hand - much cheaper than in N.America. I mean Local food. The restaurants are only cheap at the first sight. I'm starving all the time, so I decided to buy double portions all the time, this way, restaurant food prices are as high as in Canada, and even so, sometimes they don't satisfy my hunger. And the food is quite simple. I haven't had a really tasty meal since I left from Calgary, except Singapore. June, could you make me some Lasagna or Curry Chicken? Just stuff it into the A: drive and I'll pick it up next time I open my e-mail.
The road to Honduras was worse than a nightmare. The road is more like a rock slide, steep, uneven, and when I was there started to rain, and within 15 min turned into a creek bed! I have never ridden this scared in my whole live and only God knows how did I manage not to fall. Anybody intends to go this way, I say, it is a great adventure when it is dry, but it is suicidal when it is wet.
At the top of the pass is the border crossing and it was the fastest among all I have done so far in Central America. Very nice people! The view towards El Salvador is also wonderful, and from here you would never guess what lies beneath in the valleys.
It was rainy for the next several days and I had difficulties navigating without signs, so I used my GPS. Asking the locals not always works. If you ask 3 people where is ..., you might get lost. I learned that in Honduras, where the locals know only one road, one town, one world their own.
Copan! I have no words for this. You have to go there and see it. It is really amazing. Not the grandeur of the temples, but the stone works, the carvings!
On Dec. 24th Tegucigalpa was empty! There was barely anybody on the roads, and that was good, because there were tons of potholes from Tegucigalpa to Danli and it was terrible to Ocotal, Nicaragua.
The border crossing was okay. I was tired and under the shock of the malaria pill. In the morning, while I was riding, I started to cry. No reason. I ate enough, the sun was shining, I had no pain, no reason to cry. Chloroquin is getting on my nerves, and I'm afraid that it will cause me a nervous breakdown. Does anyone have similar symptoms? How did you cope with it? How is Lariam? I heard it is more likely to cause hallucinations. How often happens this?
...anyway, as I arrived to the border, the usual attack of tramidadores waited for me. Like I'm a golden egg-laying hen for these guys, they run at me and wave frantically!
"No, gracias! No, gracias!!! NO, GRACIAS !!!!!!!!!!" this final scream from me was enough to shake them off, and they all disappeared. Good, now I can do my own thing. I was damn tired, and I needed all my strength to be able to cope with the heat, pollution, crowd, paperwork, watch the bike, and SMILE.
Bienvenidos a Nicaragua! Time on the Nicaraguan side was about 40 min. because it was Christmas Eve.
Before the nightfall I got to Esteli. Where is a hotel? Finally I found a motor hotel: 15 USD. I enter the room, there is shower, double bed and ... a huge mirror on the ceiling above the bed! This is a ... mating room! And this is where I'm going to spend the Christmas night? ... O well, at least I can park Csardas next to my bed in the room. I had a good meal, a beer and I played some Christmas carols on my harmonica. That night I think a neighboring ammunition warehouse got fire, because there were so many explosions, you can't hear that much even in the bloodiest war! Latino Christmas! At least I didn't hear the moaning from the rooms beside.
Nicaragua was one of the biggest surprises so far on my trip. It is not a rundown country, but actually is much more beautiful than I could imagine it. Managua is a modern city, but the two most amazing was Leon and Granada. The architecture, the churches, the markets, the people, everything was really cool! ...
I mean HOT! Because I was suffering from serious overheating. I was sweating big time, and drinking 4-5 litres of water doesn't help much. I crossed into Costa Rica and I'm riding very slow because I decided to remove my riding gear. I think I know now how hot could it be in HELL!
The border crossing was easy on the Nicaraguan side. 2 USD, 20 min, no corruption whatsoever. Costa Rica? 4 hours!!! Photocopies of everything, long line to give your passport for stamping, another long line to get it back, another longer one to get your paperwork done for the motorcycle, and yet another to pay 1 full month of insurance, 6550 Colon (22 USD)
I went from the border directly to Playa Ocotal, and there I was able to rest a little for two days. There is a Restaurant called Father Rooster, right on the sea shore. I camped there for free and it is a safe place, too, because an armed guard patrols the shore all the time.
In the morning I've seen a motorboat being loaded with bags, then people boarded. These must be divers! So I go there. Yes, they are scuba divers! Can I sign up? I have 5 min. ... I made it! for 80 USD I had 2 dives and threw up about 10 times because I got seasick on the choppy waters. It was great, but the sharks were not there at this time.
One of the fellow divers said that he saw some big shadow way below us, and he thinks that it must have been a manta.
Now I'm in San Jose and if not today, then tomorrow I'll cross into Panama. I have to admit, that I'm on the edge of my nerves, and I don't know whether I should take a few months or perhaps a year break in my travel or take my chances with Lariam, and continue further into South America. I can't decide. One day I'm fighting my tears and I have to stop riding, because I can't see (no reason, as I said before, physically I'm fine) Then I feel fine, I'm happy and when I eat one of those double portions, I think I have the strength to continue my journey. I don't know, honestly I don't know what's best. In my next e-mail you will know my decision. Until then, I wish you all a very happy, successful, healthy, wonderful New Year, New Decade, New Century and New Millennia!
All the best! Cheers, Istvan and Csardas"
We suggested to Istvan that he try Lariam, as we have had excellent results with it ourselves, and if Chloroquin isn't working for him - and it certainly sounds like it isn't - he should just try something else!
Keith King, UK, around South America, in Guyana,
"Brazil - Leaving the tearful beach scene, I headed off to Belem, taking the secondary roads, which can be asphalt/dirt/mud/gravel/potholes -but all passable. I was pushing myself and the bike hard to make a town before dark, as after my near fatal experience of falling in the mountains of Peru, I vowed never to ride after sunset, so it was fast and exciting as my laden XR600 swerved, leapt, overtaking the trucks, kicking up dust and me dripping in sweat, allowing myself a cigarette/water break now and again.
My first sighting of Amazonia was the ride into Belem city-red sunset, deep green foliage, good road, heavy humidity and the expected rainstorm. Belem, at the mouth of the Amazon, had little to offer so after a day's sightseeing, I arranged a passage to Manaus- my dream to sail the Amazon River was happening! It was an enormous roll on/roll off barge laden with container trailers and pushed along by a tugboat.
Crewed by a mean bunch, Captain Pugwash and his merry band did not welcome passengers. After seeing Seaman Stains having a fight with a dock worker, I wondered if I would make Manaus in one piece. Accommodation was nil for passengers and I pitched my tent under a trailer. We had some pounding rainstorms where the wind would kick up 2 metre waves of warm water and we four passengers put on lifejackets in case we were swept overboard.
I saw a 15-meter container, lost from another barge floating in the river. It was a fabulous ride, sunsets, parrots, locals in their canoes, babies and all- hitching a ride and being so close to the jungle itself. This took four days of non stop travelling and though uncomfortable and with no exercise, it was great-I was actually on the Amazon, man- whoopee!!!
In Manaus, I booked into Hotel Brasil as it had parking. Although a brand new building, this turned out to be the HOTEL FROM HELL- no cleaning done, lousy breakfast and for the first time on all trip around SA -I was burgled-cleaned out of money, CDs, camera gear etc. but fortunately not my passport. The most hurtful loss was 10 rolls of used film, which I can never replace. Never again will I leave my key at Hotel reception. Manaus is a hot horrible city of optician shops and I was glad to get out to head off to Boa Vista.
The last 50 kms of Brasil was red clay dirt road and was done in a tropical downpour, so I crossed the river into Guyana covered in red dirt and soaked gear-sad to leave my beloved and happy Brasil- but looking forward to a new country and experiences.
Guyana -in a hotel in Lethem on the border with Brasil, I sipped a Banks beer and marvelled the beautifully kept gardens. Life here is busy but laid back -I had to seek out the Immigration officer at his home to get my entry stamp and the Customs official, who ran his office from the hotel, said he would check out me and the bike "sometime in the course of the day".
From Lethem, the "ROAD"- 600kms to Georgetown the capital, does NOT exist. It is a trail-wooden bridges, deep sand for 30 kms, flooded sections 2 metres deep and totally miserable. This "road" is used for the Camel Trophy endurance rally so I opted to do it by taking a truck a 20 hour ride but at least I could enjoy the spectacular scenery of rolling savannahs, jungle, hills without getting grubby or my feet wet. (Ed. Sounds like a wuss, Keith!)
Here in Georgetown, it's a West Indian attitude, great food, tranquilo, and after decades of a dictatorship, corruption and neglect, the country is in the process of rebuilding.
Everyone is repainting, repairing as the house proud Guyanese get to work. This once famous 'Garden city of the Caribbean' with its beautiful colonial architecture, tree lined avenues, cool sea breezes and horrible mosquitoes is again in bloom and I will be here for Christmas, even had my first party invite!!
Well, I've done it! I did my 40,000kms ride around South America-two nasty falls, exhaustion, new friends, a totally unforgettable experience but no punctures! Thinking back on all I've done in the past 10 months and writing this makes me feel emotionally choked so before the tears start to roll, I'll pour myself another rum and coke, oh, what the hell...I'll have a damn good happy cry.
To all of you out there wanting to breakout, my inspiration came from "The Alchemist" -by Paulo Coehlo and the words of Goethe-
...."Whatever you can do or dream - You can do - Begin it...
.... Boldness has a genius power and magic in it - Begin it now...
Happy Christmas and an onward, ever onward New Year.
Keith King- Guyana- South America. Dec. 2000"
Erwin Thoma, Germany, around the world, in Chile,
"...I did not sleep in a bed for a long time. The last weeks I traveled through Argentina and did primitive camping. Hotels are too expensive there, but it was a nice trip. A mixture of desert and altiplano, the Alps and tropical jungle. All within one day. Before I passed the border to Argentina I spend some days in San Pedro de Atacama. A nice oasis and a good place to relax after the hard trip in the desert and the salt desert of Uyuni in Bolivia (the largest salt desert in the world).
A pretty tough ride with deep sand and washboards. If you plan to do the trip Uyuni, Laguna Verde, take gas for app. 400 miles. The Salt Desert was easy to cross in October, it was like a German Autobahn and I left the tracks and flow with 100 miles over the hard, white salt - an experience of freedom. To lose orientation is pretty hard, because I could always see something (mountain, island.)
But step by step. From Panama I flew to Colombia...Traveling in Colombia WAS GREAT: I just met nice people and made good experiences, but I tried to avoid dangerous areas, traveled only at daytime, did not do primitive camping and used mostly main roads. I would like to come back.
Passing the border into Ecuador was a problem. At customs the officer (not at the border, you have to go to Tulcan) just gave me a permit for 2 weeks. He offered me to stay longer (up to 3 months), but than I had to give a deposit of US$2,000. Because I was planing to leave Ecuador to Peru I decided not to pay the deposit, I guess it would have been very hard to get it back at the Peruvian border.
So I had to cross Ecuador pretty fast, but it is a small country, just 600 miles to do, but I missed the coast and the jungle. On the other hand I was very late already, because I would like to join the long distance traveller New Year Party in Ushuaia. By the way, will I see some of you there?
In Ecuador I traveled also mostly through a beautiful mountain region. The highlights have been the hiking up the volcanos. Especially the Cotopaxi was an experience. The Pan-Americana in the South is also an experience. A very bad gravel road to Loja. At the border to Peru I complained at the custom about the short permit for the bike and the officer told me, astonished, that he would have given me a permit for 3 months without any problem.
I arrived in Peru with mixed feelings. A lot of tourists have told me bad stories about unfriendly people and that they have been overcharged horrible, but I had just nice experiences. The country is not as touristy as Ecuador and with the Beemer you can easily leave the beaten track. So I drove through huge dunes and a couple of hours later I was up at 9,000 feet, for a European a great experience.
Highlights in Peru have been Lake Titicaca and Cusco. I spend 2 weeks in Cusco, visited the sacred valley and Machu Picchu and a lot of other things which are all worth seeing.
The Inca trail was shocking. Small Peruvians climbing steep trails, carrying huge loads of stuff, preparing luxurious meals in tents who spends shade (looks like the pictures I have seen during the colonization/ conquest) and the tourists are hardly able to make it up the passes, even their day bags have sometimes been carried by the guides.
But they look worse than I carrying over 10 kilos of stuff - and I guess I did not look very good sweating and breathing - and some of them have been 10 years younger than me. By the way, the porters get paid 3 US $ a day for their hard job.
The ride from Lake Titicaca to La Paz was thrilling. The farmers (campesinos) have blocked the roads to protest against the higher prices for water, gas and some other reasons. Broken glass and stones have been covering the roads for miles and sometimes wired fences have blocked the road - it took 3 days to do a distance of 100 miles.
It was an experience to pass the demonstrating groups, you never knew, how will they react on passing tourists. On my way I meet a walking backpacker, no bus could be used, and a paddle bike rider and we traveled in a group (I took the backpacker on the bike) to avoid big problems, but they never threw stones at us and just one group was aggressive and tried to take my signals off, but I shouted at them and turned around as fast as possible.
Now I am in Santiago de Chile to relax a little bit, washing me and my whole stuff, which is absolutely necessary. After being weeks in deserts and woods I enjoy a big city and I met very nice people here. After doing the service on the bike I will leave for Tierra del Fuego..."