Administrivia

Books

Calendar, Events 2000
Comments
Community
Final Thoughts
Funnies
Helpful People
Home Again
In Progress...
Leaving Soon
New Links
Prizes
Repair Shops on the road

Seen on the road
Shorts
Subscribe
Tech Tips and Bits
Travellers Community
Travellers Tips-Countries
Travellers Questions

Who's on the Road
Who Are They?
Quotable Quotes
Your Privacy
On the Website
Home Page
Search the Website
Bulletin Board
Travellers Community
Travellers Stories
Books - great Christmas Gifts!
Plan where to be when!
If you know of any events of interest to travellers, send me a note.
what?
Christmas Rally
where?
at Ushuaia, Tierra del Fuego, Cape Agulhas, South Africa, Istanbul, Kathmandu and ??? Where will YOU be?
when?
Christmas Day, 2000
Traditionally there are a number of riders meeting up at Ushuaia at Christmas, as it's a logical stopping point in the wilds of South America. Three years ago when we were there, there were over a dozen riders from half a dozen countries. For 1999/2000, there were over thirty riders, and a tremendous party, especially for the Millennium celebrations. For those who make it this year, send us a pic so we can post it here in the newsletter.
A photo of a
"Horizons Unlimited"
banner is sure to get posted!
Wherever you will be, post it in the Bulletin Board here. Meet up with some fellow travellers!
New Years
We'll leave that up to you - feel free to post your whereabouts and plans in the Bulletin Board. Tell everyone to check the Bulletin Board for the latest news.
Latest news on who's where for the Holidays:
Belize: Contact Andrea and Bernie
Ushuaia: meet at the campground or at the ski lodge, there will be plenty of people at both locations
Uganda: contact Dirk (Krid) Bernhart
Istanbul: contact Luke Timmermans and Nikki
Costa Rica, maybe: contact Jason Koch
Kathmandu: contact Ken and Carol Duval
Guatemala / S. Mexico: contact Gonzalo and Nina
and I'm sure there are more I've missed...


Australia,
Cold Flame Rally, 10-11th March 2001
This rally is in a stunningly scenic area of the Snowy Mountains. At the junction of the Snowy and Pinch rivers on the Barry Way (the Barry Way runs from Buchan in Vic to Jindabyne in NSW) 65km south of Jindabyne and 15km North of the Victorian border. BYO everything (water available from the river, firewood can be collected around the site)
Greg Aldis
Sydney Australia
61 (0)2 9311-1119(H
GET YOUR WEB SITE LISTED in the LINKS section by listing Horizons Unlimited on YOUR web site, let me know you've done it by mailing me a link to the page, and you may get listed here in the next newsletter and on the Horizons Unlimited web site Links page.
All sites will be considered for listing, but must be a MOTORCYCLE or TRAVEL site, useful or of interest in some way to travellers.
Links will be rotated regularly as needed.
Guinness Book of World Records is online
Florida Frank Campbell, photo album of his travels, currently in Israel
Daniel Cohen, 2 wheels to Alaska, and 100 days, 48 states
Nina and Gonzalo, Los Angeles to Buenos Aires, just left.
Tom's Way Off-Road Web Site, British Columbia, Canada - loads of info

Chris Scott's Adventure Motorbiking website
There are many "Helpful People" listed on the Links page, a huge thanks to all of them. How about you?
Do you know of a good shop "on the road,"
in other words somewhere there isn't a number of shops? USA, Canada, Europe etc. don't count. That's too easy. And too many! We're looking for those rare items, good repair shops in South America, Africa and Asia etc. I will create a web page for them eventually.
BMW Mechanic in Guatemala
recommended by Gerald, via Dag Jenssen;
Talleres Autofox, S.A. - Audiel, S.A.
Johann Ferber
30 Av. 15-15
Zona 12
Guatemala City
"... we found a great place for repairs in Guatemala City, a Honda shop but they could probably be helpful with other brands as well.
Here's the coordinates:
FA Honda,
Via 8, 5-34, Zona 4, Guatemala City.
Tel 331 4148, 331 4167, 332 3932.
Ask for Carlos Cardona (service) or Julio Flores (parts). Both speak English.
The South American Handbook lists motorcycle mechanics in every major South American town, very helpful."
Submit your tips and questions here, anything goes! Got a great idea for travellers, found a new solution to a problem? Send it in! If you're having a problem, just ask, there's a lot of people with a ton of experience out there to help.
Last month's question:
"...We set off with Odyssey dry batteries,...both have now been replaced with the standard batteries as ours went flat after riding only to Italy.
...Interesting if anyone else has had similar problems."
Comments anyone - similar or otherwise experiences? What is the best battery for travelling? - Grant
I will be exploring this further, so if you have any input or experience with this type of battery, especially on the old BMW's. please let me know.
some replies:
"What is their definition of 'dry' batteries? I have been using the Westco Gel batteries in Arlie's R65 for the last year and my R80G/S since this summer. No problems and definitely adequate cranking power. I especially like the concept of a Gel battery in the GS which has been known to have been dumped on its side in rough going. No acid to spill. Also, because it has no acid in it, it can be sent through the post ready to go."
Chris Walstow, Canada
"after three BMW batteries in 18 months I have given up with them in my GS. If they loose any amount of liquid they soon corrode and soon will not hold charge for long. I have now opted for a sealed unit and it seems to be working much better. It is a little heavier but as far as I am concerned we have pushed one GS down Africa and I'm not pushing one another step further.
Matthew Newland"
any other experiences?
From Glynn Roberts,
"On bikes with a kickstart it's always advisable first thing in the morning to turn the engine over a few times especially on cold mornings if the bike has been outside, before trying to start it with the electric start. With no kickstart try rocking it in gear first just enough to free the pistons, or on the centre stand with the machine in top gear, turn the back wheel.
I recently had to purchase a new voltage regulator for my 1983 BMW R100RT.
Lucas has the same regulator, same fittings same size for £15.16.
I believe all BM's have the same voltage reg. and whilst it might not be any more powerful, perhaps its worth taking on a trip as a spare or remember this part no.
Lucas NCB 403"
Grant's Tip of the month
"...what is the proper procedure for re-torquing bolts? Do I loosen the bolt, then re-tighten, or do I just set the torque on the wrench and give it a pull?"
Standard practice is to slightly loosen the bolt, then torque to specification. Don't just tighten it some more, even using the torque wrench, you will not get a correct reading as the bolt has to first break free, and this requires a considerably higher torque.
Note that some bolts are meant to be oiled, others dry. Normal practice for threaded fasteners in an oily area, is oiled with motor oil. Some threads are meant to be clean and dry. BMW universal joints is an example. Loctite blue on places that are specified as dry works fine. I always use Loctite whenever there isn't a lock nut / washer or safety wire retainer.
I've made contact with some of the people we were looking for last month, thanks! - but the following are still unaccounted for...
Daniel, USA on a KLR650 travelling the world.
Two Danes riding XT600's in Iran...
Claire and Mark from England riding two XT600's...
Lionel Marx, I have no e-mail for him...
A Brit heading for Timbuktu...?
a Danish guy, Pauly, travelling on a new R80G/S classic converted into a PD, last seen in Kenya.
A Brit on an F650 in Kenya, heading north...
Chris van de Goorberg, Netherlands, XT600, last seen in Mali...
Johan ? traveller from Netherlands, last seen in Rio de Janeiro.
"Japanese biker on a Suzuki Djebel 250. He'd ridden from Barcelona to Cameroon and then shipped the bike and his gear to Cape Town. When he opened the crate he only found his bike inside... He was heading north hoping to get to Egypt via Sudan although he'd heard the border between Sudan and Ethiopia is closed for the time being. After Africa he plans to go back to Japan via Russia although I'm not too clear on his intended route."
When you meet people
out there, please get contact info and let me know so I can add them to my who's who and where list! Grant
here's a different one...
Dear Grant, I got your address from the German motorcycle equipment specialist Bernd Tesch, Aachen. I rode a Honda XL 600 around the world, two years 89/90, and published a very successful book later.
Now, ten years later, I`m back on the road again, but this time with my family (Stella 7, Piet 5 years old). We bought a motorhome in San Francisco (march 99) and have 25 months time till we finish the trip in Chile. We came through the Amazon and did not follow the usual way along the Pan Americana. I could imagine, that many bikers have similar histories, family, business, and so on, and are looking for a way to hit the road again. Is there a possibility that you publish our ad. in your international newsletter? In case we find a buyer with your help, we pay 500$. I'm going to publish another book and will draw some connections between travelling alone on a motorcycle and travelling with little children.
1997, Ford, V10, Fleetw. C, 22 C, 6.8 l, sleeps 3 + 2, solar, roof floor, (tent), rear chassis est., awning, spring helpers, $23.000, to be sold in Chile, contact us by e-mail: Many thanks in advance!
Rudi Kretschmer
anybody interested or finds anyone he'll pay $500 to us both!
One bike or two?
This one has started an interesting thread on the Bulletin Board. What do YOU think?
"My boyfriend and I are planning a trip round the world starting out next summer... I've never ridden a bike before although have been pillion quite a lot!! I'm thinking of taking a direct access course so we can go on 2 bikes - more luggage space, more freedom etc. but wondered what people thought. Also any news on the China situation - would love to go but I understand you can't on the bike - is that still the case? Hope to hear from you soon. Lisa
Welcome to the 14th edition of the Travellers' News! It was one year ago today that I sent out the first newsletter to a few people on our personal mailing list, wondering what sort of response it would receive. Would you like it, or was it a waste of time and energy?
When we first stated travelling in 1987, there was no internet, and e-mail was almost unheard of. We were on CompuServe then, and I remember explaining to the head of the Costa Rica telecoms company in his office that connecting our laptop to their telephone line wouldn't bring the telephone system to a crashing halt. Times have changed, and I'm getting e-mail now from hundreds of places I've never even heard of. There seems to be an Internet cafe in every "one-horse" town in the world.
And the newsletter? I guess you like it, I'm getting new subscribers every day, and lots of positive comments. I've had less than twenty unsubscribes in the last year, and under .5% mail bounces. The e-mail newsletter average is said to be 5.0%, so I suppose we're doing something right!
I'd like to thank all of you, most sincerely, for the support you've given us over this past year, and to wish all of you the very best in the coming year.
Christmas and the New Years holidays are coming, and with so many of you on the road I'd like to do all I can to help you connect up with other travellers. To help you connect with other travellers, I've set up a post on the Bulletin Board for Holiday Postings. Just go to the link and let everyone know where you will be and see where everyone else will be. Also see the sidebar Calendar section for more on who's where. For those of you at home, if you would like to invite travellers in for a party over the holidays, go and post your details there too!
We've had a fantastic response to the "Horizons Unlimited Motorcycle Travellers Community" idea. The idea of the Horizons Unlimited Travellers Community is to enable motorcycle travellers, both those on the road and those at home, to meet up with like minded people.
We have 29 communities running already, and it's only been fully operational for a month!
And here they are;
Adelaide, Australia; Atlanta, Georgia, USA; Austin Texas, USA; Bangalore, India; Bangkok, Thailand; Brisbane, Australia; Buenos Aires, Argentina; Campbell River, British Columbia, Canada; Christchurch, New Zealand; Coventry, UK; Dallas Texas, USA; Genoa, Italy; Gieboldehausen, (middle-of-) Germany; Israel; Istanbul, Turkey; Japan; Johannesburg, South Africa; Konstanz, Germany (on Bodensee, or Lake of Constance); Manchester, UK; Medellin, Colombia; Melbourne, Australia; Montreal, Quebec, Canada; Odessa, Ukraine; Oslo, Norway; San Francisco, USA; San Luis Potosi, Mexico; Sydney Australia; West Palm Beach, Florida, USA
Thanks to all those who took the first step and established the Community in their area!
For details on how you can join or use the Community to get information and help on the road, go to the Community page.
Network of Strangers
Vlad Litvinon in Odessa, Ukraine has for some years been running the Network of Strangers, which is similar to our Community concept. He wrote to me a few weeks ago and we have been exploring how the Network of Strangers and the Horizons Unlimited Community might co-exist and assist each other.
In Vlad's words: "I offer you to join our efforts. Your Horizons Unlimited Community (HUC) is aimed to Internet users only. I offer you to join other bikers to the system using Network of Strangers. I'm going to contact all the clubs I know world-wide as well as individuals, who have access to Internet, and offer them to join the HUC personally. Also they can create their own branch of Network, by contacting to other people who would support the idea and who have at least a phone. In this way one Internet user may involve ten interested people. Let's say, in Nikolayev, the city about 110 kms from Odessa, many travelers come via it on their way from West to East and back, there is one guy with email. He knows ten more bikers whom he could recommend to join the HUC. When he receives a message that someone is expecting to come to or via their city, he calls to other guys and they either organize a national feast to meet the traveller ;) or they decide someone of them would take care of him. They would belong to their local branch of Network of Strangers (let's accept this name) and by means of it - to the HUC, which is a higher level of community."
For more information on the Network of Strangers go to their home page. We greatly appreciate the additional reach that this provides to our Community. Thanks Vlad!
Translations of the Community page into other languages - Volunteers?
If anybody would like to translate the explanation text of the community page to make it easier for those whose first language isn't English - it's only a couple of paragraphs - I'd appreciate it. My Spanish and French aren't adequate to do it well, and my German is limited to fraulein, bier, weinerschnitzel, and uh... that's about it.
From a friend in Singapore,
"FotoAsia is looking for Asian images, so if you are travelling though the area and get some great shots, contact us, you may be able to make a bit of money and become famous as well. Check out www.fotoasia.com." Tell them we sent you and they'll treat you nice - really!
Please feel free to submit news reports, web links etc. to me for inclusion here.
I try to link to your website if you have one, and also the photos in this ezine are generally linked from your website. If you don't want me to do that please say so!
This is a free service to travellers everywhere, both on the road and off.
your editor, Grant
"Grant - here's the latest! I am reporting from the bustling metropolis of Peshawar where I have been thawing out after the last few days of subzero shenanigans. Here, for your edification and information, is how you land yourself squarely in the shit in Northern Pakistan....
About 10 days ago I was back in Gilgit (after a trip to Skardu, a small town situated on the upper reaches of the Indus, which you get to by traversing the wall of a steep gorge). From Gilgit I wanted to go to Chitral, which is in the North West Frontier Province and is overlooked by the mountains of the Hindukush. Chitral crouches in a remote valley, reached by a main road from the south over Lowari pass (3100 m). However, an alternative is to cross the jeep track which climbs direct from Gilgit over Shandur pass (3500m), and has been described as "the highlight of any Pakistani off-roading". Now if that isn't a warning to wear your brown trousers, I don't know what is. But did I listen? I did not.
Day 1 was sunny and warm, and the Ghizar valley above Gilgit positively glowed. The valley is more wooded and cultivated than any I've seen so far, and the river provided a deep azure contrast to the golden foliage. The riding became fairly demanding by my standards, being largely an offroad virgin and unused to a road surface which seems to actively try to unseat you at every opportunity. It seems possessed of a malevolent intent and rudimentary cunning, and has an arsenal of tricks to throw at you - here are some of my favourites....
1) Wobble dust - deep powdery dust with big wheel ruts in it, which is found on low flat stretches next to the river. The dust is of course inhabited by small goblins, who grab hold of your front and rear wheels, and make them squirm sickeningly from side to side. Their objective is to pull you so far off course that you end up at right angles to your original direction, at which point you topple gracefully off the bike, while petrol pours from your carb and fuel cap. The goblins then drink the fuel and fall asleep, pie-eyed and satisfied.
2) Gravel traps - Areas of deep traction-free gravel which are found frequently in villages and their approaches. There is not much to do in Ghizar valley, so villagers pass the time by collecting golfball sized rocks, and then painstakingly sanding them with glass paper (it's OK Dan, they've got goggles...)until they are perfectly spherical. These rocks are then placed in carefully dug deep pits, next to comfortable seating areas. The villagers then wait for passing bikers to provide entertainment.
3) Big spikies - In areas where small rocks are not available, an interesting alternative is to collect huge great lumpy buggers, which are chiseled to form wicked points and sharp edges. Installing these in the road surface takes many patient hours, but these guys are persistent. The net result is a kind of ratchet-shaped road with peaks and valleys, over which the bike bounds and leaps with mechanical protest, as your teeth rattle in your head, and your biscuits bounce out of the panniers to be eaten by passing donkeys. So that's where they go, I thought as I bounced closer to Shandur pass, becoming more apprehensive by the minute.
The final ascent to the pass was a steepish slope, though not as steep as my imaginings had made it. I knew for a fact that another biker (Hi Luke, hi Nikki) had made it this way some weeks earlier on a lardy BMW street bike (respect), (Ed. note: two-up as well) so it had to be possible. Trouble was, the road surface was a piece de resistance combination of all the hazards previously encountered, kind of like the last level of some masochistic video game. I half expected a big bald muscle-bound bloke with a sword to be waiting at the top.
I gave it my best shot, standing up on the pegs as the bike pitched and bucked and the wheel fought for traction. This effort bought me about 200 yards before I lost it into the rocks at the side of the track. The falling off routine, which I have perfected by now, consists of struggling with straps and ties to get the luggage off, and heave the bike upright with my eyeballs popping out, before I lose too much precious fuel into the dust from my dodgy filler cap. I decided to try to get the bike up the hill and worry about luggage later, so I took off again for another 100 yard battle before stacking the thing again into the rocks on the other side of the road with a painful broken-plasticky kind of noise. No time to worry about that now, up again and away.... or not, as the wheel spun and I lost it again into the dust and rocks. This represented kind of a low point for me, as I heaved the bike upright and lost it again five times on the trot. I counted.
Lots of flying dust, the smell of cooking clutch and petrol, lots of happy inebriated gnomes....I was getting nowhere and propped the thing up on a rock, too tired to lift it again. It suddenly occurred to me to wonder what would happen if a jeep crested the rise and came tanking down the hill, as my bike was lying kind of across the trail and both it and me were nicely camouflaged by a coating of grey dust. It is amazing what a bit of motivation can do, and once again I strained to lug the bloody thing upright again, and took off. Swearing incoherently through gritted teeth (this is actually quite hard to do, I suggest you try sometime), we made it over what proved to be the last difficult stretch and I parked the bike on level (ish) ground for a breather. Great. Except that my luggage was now about 500m back down the pass. I have some advice for people who are planning on carrying heavy luggage up a dusty trail at 12000 feet in full bike leathers, but it is not printable.
So that was Shandur pass, and I smugly congratulated myself on the way down the other side towards Chitral, as I knew that the road over Lowari Pass was a dream, a masterpiece of sweeping asphalt, a poem in black tarmac. Oh foolish, foolish paddy asshole.
But such revelations were for the future as I spent a couple of happy days resting up in Chitral, catching up with Kiwi Brian and Japanese Junko, both of whom I'd met in Gilgit, and who had come over the pass much more sensibly by jeep. The weather closed in a bit, and I was vaguely concerned that the Lowari pass to the south might get a bit of snow (OK , I can laugh now...) but I was waiting for Ken and Carol, who were planning to come in by this route, so I hung on.
The day I finally met them in Chitral, the rain was beating down, and the pass was irretrievably closed. Ken had been one of the last through the previous day, and graphically described how he had effectively skated down the road from the summit, trying to stop the back wheel overtaking the front. If Torvill and Dean had owned a BMW, this is the sort of ice choreography they might have dreamt up. We can only speculate.
But, I asked, the road is good asphalt, yes? Ken looked at me with that expression which he reserves for clueless poms. It transpires that the road is a churned up dirt nightmare, little better than that which I'd already traversed. While we were mulling over what to do next, buoyed up by an endless flood of excellent milk chai and the best chips you've ever tasted from a stall on the corner, another stray biker arrived to join us as we sat "up chitral creek". This was German Mike, who had somehow managed to get a low slung Moto Guzzi cruiser over the Shandur in a foot of snow. If this feat does not earn him the handle "Mad Mike", there is no justice in the world.
Retracing our steps over the Shandur was not an option (both Mike and I went a shade paler at the thought), and the Lowari was likely to be bike-hostile for some weeks. However, a third alternative presented itself. The ubiquitous jingly-jangly truck is a large Bedford with prehistoric suspension and capable of speeds of up to 0.1 mph on steep slopes, but it does have the advantage on snow of having 4 wheels, which a bike has not.
So this was how we came to spend 24 freezing hours in the back of one of these things as it churned its way over the pass along with dozens of its fellows, escaping from Chitral in a window of good weather. The journey over the pass was enlivened by the frequent long delays as trucks got stuck and were pushed and dug out, or inched past each other on the forty -odd dizzying hairpins which cling to the valley walls. Mike and I were pressed into service as BMW holding up devices, as we all bounced and rattled down the far side, spending more time in the air than in contact with the floor. The driving skills displayed by the truck jockey were nothing short if awesome, and really pushed the envelope between genius and madness.
We finally descended to the small town of Dir, a room in a hotel which was above freezing point, and the best chicken karai on the planet. We had escaped from chitral's freezing grasp for the sum of 1000 rupees each (18 dollars and cheap at the price).
I am now enjoying the sensation of being warm again in Peshawar, and in no hurry to move on.....another pot of chai, please...
More from Islamabad in a few days, Mission control, you can send my parcel of spares now, as I will be there soon to pick it up.
Cheers - Connor"
Frank Campbell, USA, Middle East and Africa, in Israel,
"...Before I could cry out "Please don't!", the olive-skinned, silken-eyelashed, almond-eyed Sabra in a crisp form-fit uniform had stamped my passport with the Israeli entry visa. This would forever ban me from travel to a dozen or so countries around the world. But she could have stamped the tip of my nose and I would have held perfectly still, and probably thanked her too.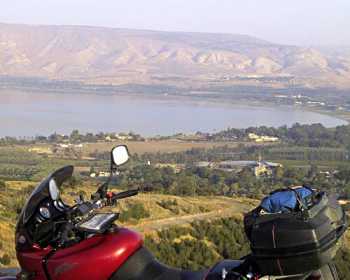 After my all too brief encounter with Sabra I rode into the modern city of Elat, got some maps, milked the ATM for some Shekels, slurped a Ben & Jerry vanilla-chocolate wafer-cone and sped off into the Negev Desert.
From the legendary Negev, where Israel had made the desert bloom to the shores of the Dead Sea the region reads like the Who-was-Who in biblical history. It was on the shores of the Dead Sea that the cities of Sodom and Gomorrah caught God's wrath after some protracted heavy partying.
And Lot's wife didn't heed the warnings not to look back, and was turned into a statue of salt, which still stands by the Dead Sea in testimony to all those who ever said "I TolD YOU SO".
Yes, you do bob like a cork in the waters of the Dead Sea. The beaches are not exactly Cancun, but the area is quite pleasant. A mini Palm-Spring like oasis in an otherwise VERY arid land. And Tel Aviv? If it weren't for the lack of signs announcing Mojito, Cubanos, Arroz Amarillo, Calle Ocho, Free Elian and anti-Fidel slogans, I'd think I was in Miami. Chic, avant-guard with even a touch of art-deco.
Jerusalem is 60 km away, with the rock throwing, shootings, car bombings and other events that might tempt God to send another stern fire-and-brimstone warning.
For now, the main concern in Tel Aviv seems be to get a good spot on the beach and and even tan.
Welcome to The Land of Israel...
Epilogue. Date: Sun, 19 Nov. 2000, Greece
'What? Your bike has no NUMBER?' asked the Greek incredulously.
'Well, yes and no. You see, in Florida...'
I was ready to launch into a lengthy explanation about personalised license plates but I thought twice. It might sound like the epitome of American narcissism.
'...As I was saying, in Florida we have trouble with numbers, so we just use letters'
'So what the Diavolos is F-E-R-N-W-E-H supposed to mean? Family name?'
'Kind of. Really means 'homesick', or...'
Before I could elaborate the Customs man went on 'So, you are going home to vote? They are just waiting for the Florida votes, you've heard?'
Again I was going to explain that you can ONLY vote on the election date that was long past, but things were complicated enough so I replied 'Yes, I hope to get home soon. If I ever get through Greece'.
'Endaxi, endaxi. No problem. So your bike has no number. You for this Bosch guy, or Gore?' It sounded more like Go-ray when he said it.
Trying to eschew the lengthy political argument that might ensue I gave a noncommittal reply such as 'I'll think about it on the flight home. I am considering a write-in vote for a real Floridian like Mickey Mouse'.
I don't think he made the association and went on: 'Yes, Clinton good president' he proffered as he approved my number-less motorcycle into Greece. I rode off thinking none of the likely heirs could possibly look less presidential at this moment. Not even M. Mouse.
When I get home, I'll turn in my personalised plate and get a regular one. I'm sick and tired of the 'What NUMBER your bike?' uttered in Turkish, Arabic, Hebrew and now Greek. At least the Germans will understand, and the Italians are nonchalant.
That is if Florida hasn't seceded from the Union and decided to join Cuba instead, where vote counting is really NOT a problem.
See you along the road, Frank"
Werner Zwick, Germany, on tour in South America,
(Werner left his bike there since last year at a dealers... and it all worked out well. Grant)
"...I had a nice experience at the Chilean border coming back from Argentina. A policeman asked me if it was normal for the motorcycle to leave a puddle of oil where it was parked. With some luck and refilling oil I made it 60km to the town of Los Andes on the spectacular mountain road between Mendoza and Santiago. It turned out to be a minor problem. The oil filter did not fit (thanks guys in Chillan).
In Bolivia I went for the thermal baths of Urmiri, 100km south of La Paz. The narrow road winds down in endless curves to a secluded canyon where 7 springs deliver delicious hot water for the baths. It's a small place with a family atmosphere, great for relaxing and recovering strength for further travelling.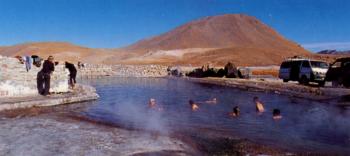 La Paz is an incredible city, climbing down a wide valley from 4000m down to 3000m. The lower you go, the richer the neighborhoods gets. The whole city is an open air market, with almost every citizen trying to sell something. There is a very lively mood in the city. I found a good place to park my motorcycle until I get back next year.
...I will visit the Islands in Lake Titicaca, and Lima..."
and in a later message...
"...Sunday night, 30m from my hostal, somebody grabbed me from behind, strangled me and two others held my arms. When I woke up, my backpack with camera, my purse with some money and credit card, and worst, my diary was gone. This happened in a busy street in La Paz at 10pm. Could have been worse, I am not hurt, and I still have passport, tickets and some money.
But, with my diary gone, it's hard to write something about the trip. Currently I am writing a new kind of diary out of my memory.
Left my bike in La Paz, with the same dealer, who has already stored Eric Haws BMW. Looks good. The Transalp will move north, every year a bit more, until she reaches Vancouver. That's the idea. Vamos a ver.
Saturday I will fly back to rainy Germany. Haven't had any rain (except the light drizzle in the Atacama desert) for four weeks.
Greetings from Copacabana, Bolivia, Werner"
Bente Bråthen and Dag Jenssen, (Rocinantes' Travels) Norway, North and South America, in Guatemala,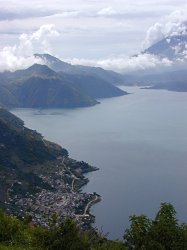 "...in Antigua, the old capital of Guatemala, destroyed by an earthquake in the 17th century, hence losing the status as capital to Guatemala City. Today it's a traveler center, a place people from all around the world meet to study Spanish and enjoy a truly amazing city. More than fifty schools and hundreds of teachers offer their service. Everyone offers one to one tutoring for 50-80 US$ a week. The town is full of trendy and traditionally mixed cafes and restaurants, and the atmosphere is vibrant.
...Antigua is a funnel, a place were every motorcyclist on the same trip as ours go through, so yesterday we were suddenly three bikes, our Tiger, Gerald's R1100GS and Lars and Tini's Africa Twin, that met north of Antigua on the Guatemalan Pan Am. The latest addition is Lars and Tini, a German couple going from Fairbanks to Ushuaia on a heavily loaded Africa Twin.
We decided yesterday to boost up our Spanish with 20 hours study next week, so we will hang around for a while. It's a truly nice city, despite the hordes of backpackers and other tourists, or maybe partly because of them, so we look forward to it...
Jason Koch, USA, to South America, in Mexico
"...I have become a maniac. I have seen 10 lanes of traffic converge into one, via a chaotic process of honking, nudging, squeezing, and shouting. I have been pinned up against the median, while a Capitalino (a Mexican from Mexico City) shouted profanities at me and my motorcycle. In that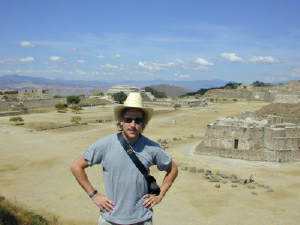 moment, I realized my mania by shouting profane retorts in a streaming display of Spanish worthy of any Mexican truck driver.
Self actualization in this sense is something I never thought possible. But in dire situations, such as Mexico City's rush hour, new feelings and actions are brought forth. Throw me into Los Angeles during peak rush hours. Toss me into Rome during Holy Week. Bring on Tokyo, London, New York, and Delhi.
I am ready--I have entered Mexico's capital and emerged unscathed after four days and nights of road warrioring. Perhaps it was of my own volition that I transformed into a raving lunatic on a 1000cc BMW motorcycle. Perhaps it was the shop owner in the Ford Tempo next to me, shouting offers to buy my bike while we careened at 50 mph in traffic. Perhaps it was the policeman on his 80's vintage (or dilapidated) Harley Davidson, who urged me to splice between cars: 'Adelante jefe, estas en moto' [go through them, buddy, you're on a motorbike]. Or, perhaps it was the 70,000 green VW beetle taxis, demonstrating the Zen of weaving in and out of traffic to board and de-board clients.
Whatever the reasons, what is done is done, and I can only pray that safety accompanies the mania. Are they mutually exclusive? Can mania be safe? I am currently searching to buy a popular bumper sticker: "Jesus es mi copiloto" [Jesus is my co-pilot] --to assist my driving and calm my nerves..."
Istvan Szlany, Canada, to Central and South America, in Mexico,
"...I screwed up. Big time! After I left from here, from La Paz, I headed towards Cabo San Lucas, the southern tip of the peninsula. I camped somewhere in the bush - just like usually. It was a beautiful night, unusually humid, though, and loud from the grasshoppers. Gee, those little creatures can make such a big noise! I slept ... well, not good, and I woke up sick. No, not that. Home sick. I had all kinds of thoughts in my head, and felt miserable from them. ...
So where did I screw up? hold on, I'm not there yet. As I was pondering on my present life, where I come from, and where I'm going, I was looking at my dear. This time I'm talking about the motorcycle, not June. I look at the chain and I noticed ... damn! the chain is about to break! I oiled the chain at every second fill-up, and didn't see that the ticking noise is not from the master link, but from a chipped link. How can I be so blind??? Oh, well, no big deal, I have the new one, and I can change it in 10 min. Sure - if everything is all right.
But it's not! So where did I screw up? ... hold on, I'm not there yet! I screwed up not here, but in Tucson. Why? Because I assumed that the dealer is smart enough to find out from a catalogue that a Kawi KLR650 A13 wears a 106 link chain, not a 110! ... got that? I should have known that I cannot trust anyone when it comes to bike spare parts supply and fixing my bike. Those of you who ride: do know your bike, and always double check everyone who touches your bike. ... you do as you want, but for me this is the rule from now on.
So I put on this loose chain, and head back to La Paz to fix it. But here comes Big Time Screw Up II. It was Saturday! So no shop is open. All right, I stock up with water, and head back to the desert. That's where I spent the last couple of days.
Screw up nr. III. The weather down here is so hot, that riding in the city is not good for your plastic fan impeller. The damn thing melted off the axle, and started to wreck my heat-exchanger. I mean radiator. ... So I had to remove the whole thing and what's involved with it: removing the stuff from my bags, removing the seat, the tank, and the fan. I had some glue, but - I guess you're bored with so many screw-ups - the glue didn't harden completely in 24 hours! Oh, well, at least I could clean the air filter without screwing that up.
Saturday I met near San Pedro (25km SW from La Paz) a Green Car, that supposed to help out mechanically stranded tourists. The guy was very kind and when I asked if he has the chain breaker and some special tools to shorten the chain, he instantly showed up next to me with a huge hammer and a comparably enormous screw driver. ... Special tool, eh? I bet you wouldn't have thought of this! After a little conversation (yep, crash course in Spanish that you wouldn't believe: me with two dictionaries in my hand sweating like a mule dressed up in riding gear, and this guy in uniform with an impressive hammer and screw-driver. Can you imagine this picture?
...Today I went to a MC shop called Moto Sport. For 80 Pesos they changed my rear tire and shortened the chain as well. They don't have such tools as chain breaker or talcum powder, but they have big tools, and lots of strength. So don't give them your bike just like that, unless you don't mind a series of screw ups like I had. Good luck!
After that I bought some CDs with local music and a box from a shoe store but I couldn't send it home, because ... yeeeeees, I screwed up. I was late only 5 min, the post office closed at 3 pm.
That's all for now. I'll take the ferry tonight to Los Mochis. It's 550 Pesos for the motorcycle, and ... I don't know if my fare is included into this or not. I'll e-mail you, Ladies and Gentlemen, whenever I can.
Take care, and have fun, whatever you do. ... and now I better go to the ferry, before I screw up that, too!
Cheers, Istvan"
Kobayashi Tsuyoshi, (Yoshi) Japan, uncertain route, in Iran,
Initially we got this mail, passed on by Sandra and Joerg as well as Julia Powell, and sent out a note to all travellers in the area to see if anyone could help;
"...I had a big car accident....my Africa Twin is completely broken... Yesterday I came back to Teheran from south of Iran by truck. It takes 5 days. I'm so tired and sad... but I must get out from Iran what is the most important things. Here is Iran I'm in Iran...I must get out from Iran with Africa Twin. Otherwise...oh... my god! But I had a big problem... I don't have US$CASH! I have some t/c, visa card. But I can't use!!! geeeee...and I don't have time too... yes... I'm in Iran... I have only two choices. Sending motorcycle or repairing motorcycle. But it's not easy... but I have to do... life is so exciting..."
later, more mail... after some recovery...
"...Thank you for writing E-mail for me. I'm O.k. I'm in Quetta which is border town between Iran and Pakistan. Which means ..I crossed the border! Of course Africa Twin too. It was one of the hardest route for me because my bike have still had a lot of damaged. Oil leak started from front fork and each parts are curved, wheel, shaft, break, etc..my body also curved.
About 3000km I drove from Teheran. I used snowboarding style... I'm tired... but I didn't want to stop in Iran. So I took it. Now I'm fixing motorcycle again.
It was boring road. So I was driving Africa Twin about 110km per hour. I saw changed color of asphalt. (in Iran there is a lot of road construction.) but asphalt was soft... like a oil... so I couldn't control it... on the other side car was coming... I fell down and throw motorcycle for the car.
BAN!!!!! I was rolled rolled rolled....Africa Twin was... you can image about this happened... then I called police....car owner fixed it by himself and then gone...
If it were not for motorcycle, everybody could live. But we are in need of motorcycle. m/c brings a lot of happens for us. We could meet beautiful land scape, nice food, people, smells, and beautiful girls... etc etc... and also cold days, wet sleeping bag, bad smells, windy, dusty, hot, hotter, hottest days, robbers, police, sickness, lonely, poor (I'm getting...)... lots!!
I had hard time of it more than good time. Hard time bring up me. You know... I learned a lot of things from on the road.
I'm trying to fix. Then I'm going to look for my self. I want to meet another yoshi.
Thank you for your help. I hope we will see somewhere in this planet.
Yoshi"
an e-mail a few days later...
"...When I had a car accident police control my all action. They took me police station then they said sit down! walk! Stay this hotel!... I had no choice... Next morning they came to hotel with truck (my Africa Twin on the truck at that time) police just said jump on this truck! Then go! go!
I asked to him Where? Where? Donde? But they just said.. "no problem"
But I didn't know my arrival place. So I was so confused... They took me to hotel (this hotel is the one of the most expensive hotel)
But there is no English speaker at that time. (Still I was confused.) Somebody speak English! or Japanese!!(in Iran a lot of people speaks Japanese more than English) one Iranian guy came who heard my story from other guy, and then he asked me some...
Why you came to Iran? It's your fault! With motorcycle!? It's your fault! You are foreigner so you have to stay and must pay! And get out from Iran!
I couldn't say anything I didn't want. It's no use talking to him, because he never understand me. I'll never forget him and his face. I just understand... I'm in Iran...
That hotel owner came and said, You can stay this hotel and also you don't have to pay... I see him looks like a god... and they called to transportation company... I got a truck to Teheran.
I came back to Teheran with Africa Twin. It took about 30 hours...
I met Japanese businessman who have worked about 7 years in Iran. I explained my accident... he said "you must go out from Iran as soon as possible and call to Japanese embassy, this is important". Then he took me to his hotel. Then he said... "Take this" he gave US cash for me... A friend in need is a friend indeed (in Japanese) he said.
And he didn't ask my address....but I asked his address and tel number. He said "see you in Japan".. Thank you...
I called to embassy. Embassy said "Are you O.K" yes... " anyway...
"You must go out from Iran with bike" then they call to HONDA... I went to motorcycle shop. They said... "no problem" How much does it cost ? "no problem" How many days.. "no problem" (but no problem is problem for me in Iran)
Honda made good job for me. They made new system! Because I can't get spare parts in Iran, they make everything! And he worked until 2am! I didn't expect so much from him but... after 6 days my Africa Twin was standing and running! He just make smile for me...
But we had a one problem we couldn't find tire 3 days. My tire was completely cut so I had to change. But... finally we found it!
10 days ago I was thinking that I'm satisfied with this trip... It's enough... but I could keep going my trip. Thank you.
I'm so happy. I have good friends. One Japanese friend "I can go to Iran with spare parts!!" he said... Swiss friend " I can send my brother (his brother is mechanic)"... I think this is joke but I am so happy! Thank you.
and finally...
"Grant, Just to let you know that we have seen Yoshi briefly this afternoon. He has arrived back in Esfahan after getting his bike fixed in Tehran. He's OK and back on the road again, although in needs of a couple of days rest. What a great job you do linking all this up. Great to know you're there.
Bye for now, Rachel Kempster"
Keith King, UK, around South America, in Brazil,
"5 Nov 2000 Making my way up the coast from Fortaleza, which for a major city is pretty tranquil with a great character bar named Calypso on the beach of Iracema...
17 kms from Paranaiba I got talking to some moto taxi guys who suggested that I visit Pedras do Sal a little fishing village with a few beach bars and even fewer people. Found the only pousada (guest house) for 2.50US$ per night and got a massive double room communal kitchen, freezer, tv with fuzzy picture, hammock etc. and was just the place I've been looking for to chill out for a while.
Temp here was in the 30s C but with a constant sea breeze. P Do Sal (Rocks Of Salt) are massive boulders where the Atlantic rollers crash onto a stretch of beach at one side great for surfing while at the other side is a calm bay with fishing boats bobbing at anchor. The evening sunsets are an artist/photographers dream-a great big red ball against a blue sky tinged with pinks, oranges, yellows. Really moving stuff & guaranteed to 'soothe the most savage breast.' Dinner of course is fresh seafood, fish deep fried and so succulent that you enjoy chewing the bones. Crab in quantity that you would pay a fortune for in the UK, rice, sweet potato, beans and all for 1US$. I feel so guilty when the bill comes!
Riding the bike on the endless empty beach is great but is wearing out my tires. Local pigs roam the beach and are more like pets. This is upmarket beach combing! We've had the occasional power cut at night and the two other local guests say to me in amazement 'You're happy when we have no electricity! I reply that I can see the stars even better now. And off we go to drink all the beer in the freezer before it all goes warm!
Sergio, a guest, is a 60ish salesman, samba playing guitarman, philosopher, rotund, sexmad, and a happy happy person who just bought himself a VW powered beach buggy so we go tearing off over the sand dunes - What a life!
The locals were a bit offish at first but were intrigued by me and the bike and soon I was the storyteller, and laced with rum and a few beers the night were long and fun.
So now refreshed and ready to take on the 1600kms to Belem then 3000kms up the Amazon to Manaus. As it's Sunday, I think I'll just go play in the rollers a bit, dry off in the sun, eat my freshly cooked prawns, drink my coconut, enjoy the microclad bikini scenery and have another wonderful day in my favourite of all countries. BRASIL Eu amo esse pais!!"
"13/11/00 Tourism is again dead in Uganda. Last time we were here it was from killing eight tourists by Congo Rebels and this time it is from the outbreak of Ebola. 105 people have died out of the 313 who have contracted the disease and they are still getting about 12 new cases each day. The centre of the outbreak is about 300km north from Kampala but minor outbreaks have occurred elsewhere but not spread. People are free to move around the country so its containment is not assured. There is minor concern verging on panic here like when a lady travelling on a mini-bus sneezed and had a nose bleed people started to jump out of the windows and door before the driver could bring the vehicle to a halt. Visited the French Embassy for C.A.R. visas and were asked to return tomorrow for an interview.
14/11/00 Well surprise, surprise, the system actually worked. The visa applications we made in Lusaka, Zambia, had been to Gabon and C.A.R. and were forwarded to the French Embassy in Uganda. Even better they had been approved and were just $US 20.00 each and available tomorrow. In the afternoon we collected two new Dunlop tyres with us removing and replacing the wheels and Nis Uganda fitting the tyres. With most of the uncertainty about our route to West Africa now removed it's down to repacking the motorcycle and buying food and extra equipment (machete and rope) for the expected difficult terrain in Congo.
15/11/00 From numerous times of coming off the motorcycle, twice heavily, we had bent the crash bars and weakened them. Nis Uganda were able to assist us in strengthening them in their workshop, cutting pipe to slip over the existing bars for added strength. Western supermarket type products in Africa are generally more expensive than in the west. Most are imported and not manufactured in the region. Even those made in Kenya or South Africa, the two major manufacturing centres, are expensive in Uganda and the range is limited as are the numbers and size of supermarkets. Some of the best-stocked shops are those attached to petrol stations. If you can afford the car and petrol you can afford the western produce..."
Gregory Frazier, USA, around the world for the third time, on his European leg, now in India,
"Europe was wet and cold as I moved around. My motorcycle, a "Monsterkuh" BMW R1100 GS outfitted by the TOURATECH Company, came with heated handgrips. Before this romp across Europe in the cold, I always secretly scoffed at the BMW riders who had heated grips, thinking them wimps. Well, after Europe in the ice, snow and rain, you can count me in the "Wimp Pack." I do not know if I will install heated grips on any of my motorcycles, but I will no longer snicker at those who have them. I might even be enticed into trying one of the new heated codpieces I heard the BMW company is soon to offer anyone who purchases a new BMW motorcycle...
My plan was to cross Europe to Istanbul, dump the bike and catch a flying carpet over to India, thus avoiding having to purchase a Carnet de Passage for Iran, Pakistan and India. The money I would save would pay for the magic carpet ride and I could also avoid the hassle of a visa for Iran...
One evening I spent with an Indian hobby club. They are several hundred such clubs around Europe. They dress up like Indians, sing Indian songs, and do a variety of Indian activities, such as powows, arts and crafts and tent building. As the night wore on, and the swill went down (yes, they even have the Indian swilling copied fairly well), we got to a point where I was going to have to produce some 'Indian hocus pocus" to bless the evening's greatness of a real Indian being present. Now, back in Montana, when I have an opportunity like this with a group of white-eyes, we can sometimes end up with some female, after being liberated of all her clothing and covered in pink paint, running wildly through the sagebrush carrying a torch or flashlight. Upon her return we bestow an Indian name upon her, something more like a moniker than official "Indian name." Swill twists some of our Indian traditions, and my recent crossing of Europe reinforced this belief. The name "Eye Lean" now has a home in Germany. She thinks she got it because her doctor told her one leg is 5 mm shorter than the other, but it could well be from the way she stumbled...
On this European leg I did have an adventure with a Wolpertinger suitable for inclusion in the next edition of my book, MOTORCYCLE S*X or FREUD WOULD NEVER UNDERSTAND THE RELATIONSHIP BETWEEN ME AND MY MOTORCYCLE, but you will have to go over to my website to see that story.
The BMW motorcycle on the European continent thus completes the third leg of my ride around the world using motorcycles manufactured on the continent I am crossing. I used an Indian in North America, and an AMAZONAS in South America. Next is Asia, where I plan to use an Enfield 500, manufactured in India. The Indian was 1200 cc's, made in 1947. The AMAZONAS was 1600 cc's and made in the 1980's. The Robo-boxer BMW was 1100 cc's of monster grunt from the 1990's. The Enfield is 500 cc's, manufactured in 2000 with a 1960's design, and pumping out the least horsepower, 22, of all the bikes I will use...
It has been an interesting transition from motorcycle to motorcycle, continent to continent. One motorcycle used a foot-operated clutch on the left-hand side, whereas the next used a foot-operated shifter on the left-hand side. The Indian Chief had a left-hand gas throttle, whereas the rest have had right-handed throttles.
At night, before I go to sleep, I try to remind myself that in the morning I must remember which hand to use for a shift, which foot to use for a brake, and which hand is for the gas. Then, because I am moving so fast, I must try to remember which continent I am on and in which country.
Complications I can see down the road. Next I will be on a continent where the left hand is used to clean the personal exhaust chute and the right one for filling the intake port.
Dr. Gregory Frazier, on the road around the globe, again"
Globeriders Trevor Sproat, and Noah Maltz, USA, around the world, in Russia
"...We headed north from Almaty, Kazakhstan all styled out in our new ski suits, ready to brave the autumn chill. After 1,600kms of temperatures reaching -5C we started to question the wisdom of this particular bit of route planning. On the third day out of Almaty we stopped at an isolated roadside café to thaw out. A little later the snow started again - and kept us there for the next 4 days.
The countryside turned white and the road became ice. We were cajoled into vodka shots by passing truckers (drunken driving seems more a requirement than a transgression in these parts) and cleared our heads by strolling around the nearby cemetery. On the third day we made a mad dash for freedom, and between us had four spills in about 100 meters. The next day the weather thawed to above -15C and we decided to try again. Alternating between the deep snow on the side of the road, and the ice on the road, we took about 5 hours to cover the 130kms to the border town of Petropavlovsk. Along the way we learned the following: smooth trail tyres have very little traction in snow drifts; there is not much one can do when the back wheel overtakes the front wheel on an icy corner; and it is difficult to pick up a fully loaded bike on ice when the ice is too slippery for one to even stand up.
Here in southern Siberia the ice seemed set in for the winter, and reports from truckers coming down from Russia all told of ridiculous temperatures and iced-up passes through the Ural mountains. We considered staying in Petropavlovsk for the winter, learning Russian and wearing live furry animals on our heads. But since we had already stayed two weeks on our 3-day transit visa, we decided to rather put the bikes on the Trans-Siberian train to Moscow...
Apart from the usual gregarious advances by dead-drunk gentlemen (a recurring theme here in Russia) the train ride was uneventful. We wheeled our bikes through the crowded Moscow train station at 6 a.m. We now find ourselves in the unusual position of being in Russia with no passport entry stamp, no visa registration, and no customs declaration...
For those of you who have spent time in Moscow, the name "The Hungry Duck" will no doubt bring a grin to your faces - the rest of you will have to get a Russian visa to find this out for yourselves! After this particular night of debauchery we were treated to a traditional Russian 'banya' (bathhouse), where the afternoon is spent sweating it out in a super-hot sauna, gently flagellating oneself and friends with bundles of birch twigs, after which one jumps into an ice-cold pool. Then back to the sauna, and so on until one is a bright shade of pink - at which stage one heads off to the lounge to drink beer and eat local delicacies while wrapped in a large sheet like a Roman emperor (but without the young boys). And then the whole process is begun again. So now that we have cleansed body and soul, we leave Moscow tomorrow for the Baltic states of Latvia and Lithuania. More stories from there!"
Ken and Carol Duval, Australia, around the world, in Pakistan,
"The Karakoram... What more can be said...
Departing Islamabad (and the pollution) with Connor (XT600 Tenere) we make Besham on the KKH late on the first day. The mountain passes were choked with horn blasting mini buses and diesel belching trucks but this is all part of the fun and challenge.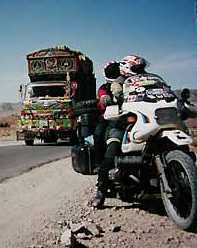 The "meat" of the KKH started today as the rough paved road cast its spell over us. Carved into the cliff face high above the Indus River, signs acknowledged the military companies that had built and now maintain that particular section. We stopped numerous times enjoying the view, taking photos and acknowledging the musical truck horns as they laboured past. To stop on the edge of the road, boil the billy and eat warm roti and jam under a bright blue sky, snow capped mountains in the distance... bliss.
This road is no sports bike road. It is "rough", there is the occasional landslide being repaired and the odd rock or two tumbles down the cliff face onto the road in front of you. In addition to these obstacles Pakistani drivers tend to take the corners on the wrong side of the road...
in Gilgit... over eight hours to cover 350 kms...Madina Guest House... good food, relaxed atmosphere and hot showers justified the recommendations...
...north to Sost... After paying and signing into Khunjerab National Park the vegetation ceased as we climbed past the 3,000 metre level. The last 13 kms to Khunjerab climbed steeply and the flowing creek, slowed with lumps of ice, became a solid mass at the top. The Pakistani border guard informed us it was -7 degrees under a bright blue sky. Photographs with a group of Chinese soldiers topped a great ride.
... The return journey to Gilgit saw the "team", Mark, Claire, Connor and ourselves back together again. Madina Guest House was cramped with bikes that night as we collected another overlander (Mike a lanky German riding a Motor-Guzzi street bike) on the way through town. Another two German riders turned up that evening on a DR800 Suzuki so motorcycles dominated our conversation for quite a few hours...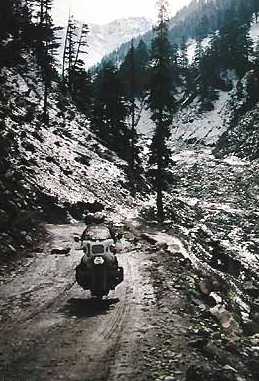 Leaving Dir around 10am the paved road indicated on our map turned to damp, hard packed dirt... A couple of shallow creek crossings with a slowly deteriorating track (mud)... on the top the mud turned to a slurry of ice and snow churned up by the slow moving trucks. The top was a skating ring with the slurry refreezing. The downside (northern) was unrideable for the first 50 metres as the tyres slid with my feet as skids just holding the bike upright. Sliding to a stop, Carol abandoned ship and hitched a ride on a recently overtaken truck. I proceeded down slowly for almost a kilometre to just past the snow line with Carol rejoining the bike after thanking her lift profusely. We don't think they were really unhappy about having a western woman aboard though...
Internetting the next day, we met Conner. He had made the Shandur crossing in two days. But all was not well as rain had set in and the mountains surrounding Chitral were blanketed with snow. Lowari Pass was now closed!! ...
Contemplating our dilemma over some chai (tea) at the Al-Farooq Hotel we heard the rumble of a large bike outside. Staggering up the stairs came MGM - Motor-Guzzi Mike. He had just completed the Shandur Pass through 20cm of snow crashing (touch downs) some eight times. Shandur would be closed for sure. Mikes' smiles on greeting us changed when we told him Lowari Pass was closed. He was unaware there was even a pass to be negotiated.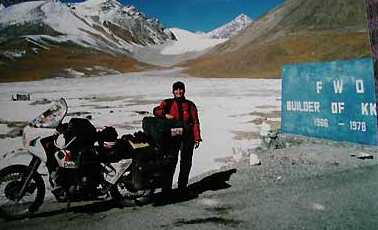 ...we had to escape the winter. We crossed to the other side of the river in Chitral and negotiated with a truck driver a price and planned our escape. Two days to allow the pass to be bulldozed clear, three bikes, four people....3,000 rupees, a bargain. The truck was an over decorated Bedford. While paying the deposit the next day we were informed that another truck would be used and more bad weather was anticipated. We must leave ASAP. 5.30pm that day we departed Chitral. Mike and Connor in the back with the bikes resting on 200kg of river sand (ballast) and Carol and I up front. Our escort would be an open tray truck carrying sand and rocks (the traction truck).
See Connor's piece above for the pass story - I think he suffered more in the back so he gets to tell it... :-)
Later...
The Islamabad Tourist Campground has a feeling similar to Uphill Campground in Nairobi, Kenya. A pleasant relaxing atmosphere with plenty of overland motorcyclists, 4WD's, backpackers and the odd truck. Meetings around the campfire discussing past adventures and future travels, mechanical help and advice and the ever present dormant traveller waiting on a parcel of spares, documents or a visa approval. It's a happening place.
Our stay in Pakistan is drawing to a close. Motor-Guzzi Mike has met up with his lady Rose and has headed off to India. Mark and Claire are already playing with the Delhi traffic. Connor's bike is all but repaired after completing a heli-coil repair on an oil filter bolt and a complete respoke of his front wheel (rusty spokes kept breaking). India is next but our aim is CHRISTMAS IN KATHMANDU. We have a few overlanders joining us but the more the merrier. That's all folks. Everybody have a safe and happy Christmas in case we don't get a message to you before hand.
Ken and Carol Duval"
Robert and Steve Raucher, South Africa, around the world, in Iran and Pakistan,
"...We landed up on the most stunning mountain pass with the road hewn straight out of purple and green rock! The final leg of this pass descended about a kilometer over ten kilometers of tarmac and landed up smack bang in an oasis. Palm trees, dates and oranges as far as the eye could see.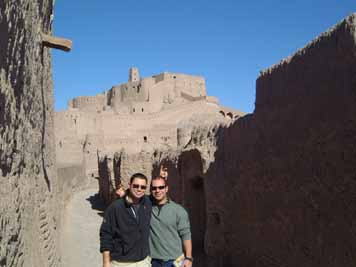 Another hour and we were in Bam. Which is also an oasis town and very beautiful. We spent the night at Ali Amir's Legal Guest House and had dinner with several other travelers at Ali's mothers house.
...We headed straight for Zahedan near the Iranian border with Pakistan. Alas, we were stopped at a police roadblock outside Bam and told to wait for a police escort, as the road was too dangerous. This was supposed to be a fifteen-minute wait but easily protracted into a 3-hour wait! Punctuality is not an Iranian police strongpoint.
We returned to Ali Amir's despondent and met some more interesting French travelers, Romain and Jean, who expertly helped me re-pack the (unused!!) camping equipment. We inaugurated our mugs with a brew made on their camping stove and felt we had finally become backpackers. We left Bam at first light and had reached Zahedan by 10:30. The border crossing was nothing if not typical of our previous experience with uniformed Iranians, needless to say I kissed the ground upon arrival in Pakistan.