HU Travellers Meeting Russia 2018
Horizons Unlimited 2nd Russia Adventure Travellers Meeting
Friday 21 June - Sunday 24 June, 2018
Valday Eco Club Hotel, Russia
It's All About Overland Adventure
Whether you're a seasoned veteran with wisdom to share or a complete novice hungry for ideas and guidance, it doesn't matter if you ride a motorcycle, a bicycle, or drive an expedition vehicle...
Horizons Unlimited meetings are for everyone who dreams of adventure along the road less travelled.
Inspiring, Informing & Connecting
Some people value Horizons Unlimited events for what they learn from the unique line-up of presenters. Some people value the chance to discover new products and services at the trade stands. Some people value just kicking back with a beer among old friends and new.
Most people enjoy a little bit of everything, and everyone goes home fired-up for adventure with a smile on their face.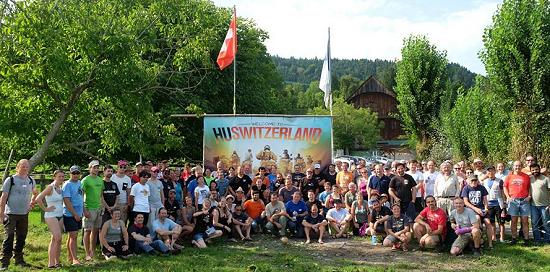 The event will include a packed schedule of presentations and activities. All within the relaxed and friendly atmosphere that Horizons Unlimited is known for.
Welcome
Dear HU members, we kindly invite you to visit 2nd Russia HU Travellers Meeting that will take place from Thursday 21st of June till Sunday 24th of June in Russia on the territory of the Valday National Park. NOTE the extra day!
This 4-day event will take place in a quiet and cozy location between Moscow and Saint-Petersburg not far from the border. If you have dreamed of visiting Russia but there were always other plans or obstacles – now you don't have any excuses! Travelers from different countries, local community, presentation and technical trainings, Russian sauna and BBQ in the evening, riding around the venue to explore local sights. All that and much more will be at HU Russia 2018.
Visiting this event is highly recommended for all who are interested to explore Russia. You will get a lot of practical information from real travelers, learn about best places to visit, most picturesque roads to ride, Road of Bones, the Trans-Siberian route, BAM, Baikal, Altay and many more
Event Schedule (To be confirmed later)
Thursday 21nd of June
12:00 – Arriving on site
13:00-16:00 – Lunch, rest after the road, making new connections
16:00-18:00 – Russian sauna

18:00-19:30 – Dinner
19:30-22:00 – Presentations, Q&A
Friday 22rd of June
8:00-10:00 – Breakfast
10:00-14:00 – 70-150 km ride to see local places of interest
14:00-15:00 – Lunch

15:00-18:00 – Technical presentations and master classes

18:00-19:00 – Dinner
19:00-21:30 – Presentations, Q&A
21:30-23:00 – Traditional Russian sauna
Saturday 24th of June
08:00-10:00 – Breakfast

10:00-14:00 – Riding around the Venue. There are many places we can visit, for example Novgorod city, Lake Seliger where Volga River begins, several small cities like Demyansk or Tver. For the off road lovers there are many unpaved roads in the National Park where you can ride. We will decide later on preferred road as there are options to make two short trips or one long trip for the whole day.

13:00-14:00 – Lunch

15:00-18:00 – Technical presentations and master classes

18:00-19:00 – Dinner
20:00-21:00 – Presentations

21:00-23:00 – Farewell BBQ
Sunday, 25th of June
08:00-10:00 – Breakfast
10:00-12:00 – Free time. More riding or presentations can be organized upon request
12:00-14:00 – Check out
* Please note - This timetable may change, adapted to the circumstances and possibilities.
Presenters at HU Russia
2018

so far...
Victoria Dorozhko

казахиждите
My Incredible India
казахиждите
Россия–Казахстан–Узбекистан–Киргизия– Казахстан – Россия. Таков оказался маршрут нашего путешествия длиной почти в 10000 км.
Поездка была просто восторг… До визга, до слёз радости, полная удивления и эмоционирования. Это означает совсем не то, что вы подумали. Она не была комфортной, тёплой, сухой и восхитительной. Это был сурвайвал-хардкор-тур, где болело всё, особенно у мотоцикла; организм сходил с ума от перепадов температур, высот и часовых поясов, а глаза умирали от увиденного. Я вообще была не в курсе, что так можно было. Чувствовать и переживать. Как ребёнок, чесслово, хотя с виду взрослая барышня. Вот воткнуть флажок в карту – это острая необходимость, от дорог совсем не зависящая, а значит, стоит трудностей… Соглашусь, что до меня дошёл тот факт, что «Кысь» (кодовое название BMW F 650 CS образца 2002) не для этого хардкора (хоть бы и звался он странным словом фандуро): запчасти отвергает, болты съедает, да и как эта маленькая вилочка вообще может любить ямы, ну, кто такое придумал… Турэндурки ведь берут для того, чтобы птичек разглядывать в любой точке планеты, фотографировать закаты и милых животных, пока сосед на обычном мотоцикле стрясывает себе позвоночник в дождевик. Я была тем соседом, но, как оказалось, не единственным в этом путешествии.
My Incredible India
Западное побережье Индии. Гокарна-Арамболь-Читторгарх
К этой поезде я готовилась 3 месяца, впитывая дух этой интересной и непохожей ни на что страны, где даже самый отъявленный московский трудоголик превращается в спокойного нормального человека, независимо от обстоятельств. . Это было путешествие по стране, где с местными жителями приходится общаться языком жестов,потому что русский там знают лучше английского (но это только в ГОА), а маратхи предпочтительней всех других языков мира;где nospicy приходится разбавлять большим количеством плохого кетчупа, иначе ты превратишься в огнедышащего дракона моментально; где есть дороги, но указатели тебе ни о чем не говорят и ты вынужден запоминать комбинацию странных значков; где коровы - это такие же участники дорожного движения, а иногда и полоса разметки. Это было путешествие в крепость Читторгарх, которая за всю свою историю ни разу не сдалась... на индийских мотоциклах. Как от такого можно было отказаться?
VICTORIA DOROZHKO's first two riding seasons were unbelievable. She was a scorcher - not in terms of speed, but rather in the way she rode. She was reckless and risky, a mixture of courage, inexperience and ignorance. During this time, people started to call her Banzai. She is on her sixth motorcycle now, a BMW, that she loves. There is no greater joy than to create beautiful things and discover new worlds with her faithful friend.
Alexey Anoshko

From Russia to India by Motorcycle
Journey through Azerbaijan, Iran and Pakistan to India
In 2016, my wife and I visited India on our motorcycle. We rode through Azerbaijan, Iran and Pakistan, and then we reached the most southern point of India – the city of Kanyakumari. There, we admired the many architectural and natural sights. Coming back home in the same way, but already alone. I will share info on how to receive visas to these countries and what documents are necessary for entrance by your own transport, what you should and should not be afraid of in Iran and Pakistan. Also, on my way back from India, my motorcycle was confiscated at customs! Find out why this happened and how I solved this problem. Now, my plans to continue the trip across Asia from India to Thailand have fallen apart.
ALEXEY ANOSHKO bought his first motorcycle 10 years ago, but he understood very soon that riding around the city was not for him. His passion is long-distance moto-travel. He has visited many places in Russia and approximately 40 countries, all by bike. As always, Alexey is constantly looking for more discoveries and planning some interesting routes for the future.
To The Edge Of The World
My Iceland: Try Not To Freeze and Enjoy!
To The Edge Of The World
Solo trip to the cape on Shikotan Island (Kurily)
Do you know how the Dream is born? I do! One lazy boring day in February 2017, I was choosing some new wallpaper (you know, it is very imortant for a girl) and asked google for the "Edge of the world". Google answered - "Hey, Katrina, maybe you are looking for the Cape Edge of the World on the Shikotan island?" Whaaaat? Yes! Wanna go there. So, the dream was born. Seven months of preparations and I am on the Road - from Minsk to Sakhalin and then to the little island (100 km from Japan). 12,000 km, plenty of adventures, not-so-pleasant story of losing the brakes near Baikal Lake, real Russian soul, one young bear, eating cookies, the story of killing a little bird, Shikotan-style luxury look... and one girl falling in love with Siberia and Russia.
My Iceland: Try Not To Freeze and Enjoy!
Solo trip to the land of ice, amazing colours, untouched nature, cute lambs, majestic waterfalls and severe weather
What do you know about Iceland? They won a match against England in 2016, and is an island situated on an angry volcano which is called Ejafla, nope, Eiaflatalcoo, nope, Eyjafjallajökull! That's all, I thought, until I made a plan to discover the real Iceland: what do Icelandic people dream about, how soft is a lamb, is Dettifoss really so big that it is called the biggest in Europe, and how to take a photo of a puffin. After many months of planning a route, some problems with accommodations in Germany, "spectaculous" sunset in Denmark, and taking a huge ferry called Norrona, I finally touch the ground of some fairytale country. Wanna see what I have seen? Let's go!
KATRINA DUBANEVICH is a mototraveller, dreamer and crazy girl with seven years of motorcycling, five of them spent travelling as often as possible. She evolved from solo trips on a little Minsk motorcycle through Europe to long solo trips for thousands of miles. Katrina is married and works as a marketing manager with a secial passion for travelling on islands... so far, she has already visited Danish islands, Iceland, the Faroe islands, Estonian islands, Vestmannaeyjar, Aland island, Sakhalin, and Shikotan (Kurily Island).
Andrey Valikov

Lake Baikal Winter Race
Exploring Mongolia
Lake Baikal Winter Race
What it is like to cross Baikal during the winter
Lake Baikal is the largest pure water lake in the world. During the winter it is covered with several meters ice cover and it's possible to ride on it. Many local people cross the lake to save time and avoid highways. Together, my friend and I made a trip and tried such an unusual ride. If you want to ride at Lake Baikal during the winter, I will tell you what to expect and how you can do it nowadays.
Exploring Mongolia
Two trips on two different bikes: R1200GS and lighter enduro bike
Last year, I visited Mongolia on my BMW R1200GS. We visited most interesting places in the north part of the country where there are mountains, and then went south to the Gobi Desert. Riding a heavy tour enduro bike was a real challenge and, although everything was fine, we made another trip to Mongolia with light enduro bikes at the end of 2017. Both rides were excellent and I would be happy to share my experience with you.
ANDREY VALIKOV is an adventure traveller from Russia who visited most interesting places at his homeland and beyond. Several years ago, he did a winter Baikal ride. Last year, he traveled two times to Mongolia's most interesting and wild places. He enjoys exploring many other regions of Russia.
Vadim Shpilevskiy

Tour to Murmansk and Rybachiy Peninsula
In 2017, Vadim rode to the Russian north, Murmansk, the Motobukhta festival, and Rybachiy Peninsula. Every year at the end of June or beginning of July, hundreds of riders go to the Motobukhta Bike Festival. It's a bike meeting in the north part of Russia, at Rybachiy or Teriberka Peninsula. Find out about his experiences there. VADIM SHPILEVSKIY is a Russian adventure rider with great experience of travelling around Russia, mostly in the northern and southern regions.
Movie About a Motorcycle Tour to Mongolia
Filming the most remote places, with unpredictable results
Pavel presents his movie about his 2017 trip to Mongolia. He and his friend and their fathers decided to reach the Gobi Desert - an adventure that would give their retired fathers some inspiration for many years. There was a film crew with the team so, in the end, they did a movie. Find out how the trip went and what challenges the guys faced.
PAVEL KOBYAK is a Russian adventure rider. He has done several long tours, including traveling to Vladivostok, Magadan, and Mongolia.
Moscow - Vladivostok
The Trans-Siberian Motorcycle Trip, two times in one year
In 2017, Alex traveled from Moscow to Vladivostok, twice. He will tell you his insights about this road - what are the road options, safety tips, camping advice, local contacts, and places of interest that are worth visiting. Plus, some fresh updates on road conditions and some other info.
ALEX NIKONOV is an adventure rider from Russia who has always been interested in exploring his home country. He traveled a lot ever since his late school years to now... by bicycle and trains during childhood and mainly motorcycles today.
Workshops and Educational Sessions
...because Horizons Unlimited meetings are about information, not just inspiration!
Dmitry Davidovsky

Enduro Training for Low-Growth Riders
Basic enduro and off-road skills
Dmitry is offering enduro training and basic skills for off-road riding, and special advice for low-growth (short) riders. Training takes place outside using his 250cc bike to demonstrate off-road riding techniques on the light enduro bike which is easier for you to handle. Then you will train on your heavier bike like a GS Adv. Light bikes let you learn off-road skills faster. Then, participants could be try to ride a light, 250cc bike under Dmitry's supervision and coaching.
DMITRY DAVIDOVSKY has travelled from 2011 to 2012. Trips on his 1200GS were long and interesting. He has visited southern Russia at the Caucasus, North Cape at the Rybachiy demi-island, a European trip in Germany, Austria and a lovely trip to the Uzbekistan - Tashkent, Samarkand, Hyva and whole Kazakhstan from north to south. Now he is an enduro coach and specializes in heavy enduro training for low growth riders.
Vadim Shpilevskiy

Off-Road Riding on Heavy Bikes (R1200GS)
Learn the main risks and safety tips for riding a heavy twin-purpose bike on gravel roads. Several years ago, Vadim visited Hechlingen training center in Germany. He will tell you the most important information that he learned while there. This is not a hands-on skills training course, but Vadim will show you some exercises and skills for how to handle a heavier bike (or any size bike) on gravel and sand, and basic skills such as turns, balance, climbing hills, and picking up your bike. It's also possible that he'll show you how to fix your tires.
VADIM is a motorcycle instructor and Russian adventure rider with great experience of travelling around Russia, mostly in the northern and southern regions.
| | |
| --- | --- |
| | Preparing Bike for Mongolia: Q&A |
In 2017, Pavel did a trip to Mongolia. Now he will show you how to equip your heavy tour enduro (F800GS, R1200GS) for a trip to Mongolia, including: preparing your bike, how to cross the border from Russia to Mongolia, what things are essential in Mongolia, and much more. He is ready to answer your questions! PAVEL is a Russian adventure rider. He has done several long tours, including traveling to Vladivostok, Magadan, and Mongolia.
LOTS of presentations to come! As people register to present we'll list them here.
How about you? We're all here to learn, and there's LOTS to learn! We want to do more presentations and seminars - but we need volunteers to give them! Any topic you can contribute having to do with motorcycle travel, maintenance, planning etc, lasting 20 minutes or more, would be great. Please contact us here to volunteer.
Presenters at HU Russia
2017

included...
Konstantin Popkov

Mountain Air of The South Caucasus
Baltic Necklace
1. Mountain Air of The South Caucasus
This is Konstantin's last trip from Moscow to the southern region of Russia, where he was hit by a car. It is a story of miracles of luck and a spirit of brotherhood. It was the beginning of autumn, but I heard a call of last summer: "Let's throw the essentials on the bike and go." No hotels, no hostels, no bookings, and no big panniers. Only air bed, dome of stars and homes of my new friends for six weeks. Mountain air and sea breeze. Ten days of two-wheeling freedom, but some things were out of this simple plan.
2. Baltic Necklace
A beautiful route: Moscow-St. Petersburg-Helsinki-Tallinn-Riga-Vilnuius-Kaliningrad-Minsk. Beautiful, quiet northern nature - the inspiration source. Six countries through former parts of the Russian Empire. A big set of old castles and palaces, and beautiful views mingle with the smell of history. Nothing extreme, only relaxation.
Konstantin is a 36-year-old engineer. Travelling is a hobby with his customized BMW 1990. About 100,000 km in Russia and eastern Europe... so far.
Pavel Kobyak

Moscow to Magadan
Call Center for Motorcyclists in Russia
1. Moscow to Magadan
We will show you movie about our 2016 year trip from Moscow to Magadan. Many people, places, roads, and fun. Plus useful tips and advice about how to do such trip on your own. There is nothing special, just sit and ride. Afterward, there is a Q&A about the trip with film crew that made movie.
2. Call Center for Motorcyclists in Russia
Pavel will give you useful information on what to do in case you have problems while travelling in Russia. There will be several cases on how we helped various international and local riders last year, and what you can do if you experience some trouble.
Pavel is a traveller, motorcycle enthusiast, and author of several books. He is also the founder of the first motorcyclist call centre.
Maxim Privezentsev

Vladivostok-Moscow on Ural Motorcycles
Trip Around the Caspian Sea
1. Vladivostok-Moscow on Ural Motorcycles
Movie and Q&A section about our trip on four Urals from Vladivostok to Moscow. Experiences, road conditions, Urals feedback.
2. Trip Around the Caspian Sea
In May 2017, we did a trip around the Caspian Sea. It was inspired by the Caspian Rally, an event that was held in USSR. We will tell you briefly about this trip, the main challenges, and our impressions.
Alex Nikonov

Explore Russia Series
Exploring amazing regions of this beautiful country (4 presentations)
1. Explore Russia
This presentation will give general overview of Russia as a country for motorcycle travelling. Alex will share info on getting visas, riding rules, how to search for hotels, which petrol stations to use, etc. If you're just getting started travelling in Russia, then don't miss this talk!
2. Travelling from Moscow to the North
Alex talks about which roads to use and what places to visit when you travel to northern Russia - Saint-Petersburg, Pskov, Novgorod, and the Karelia regions.
3. Travelling to the Far East of Russia
Alex will tell you all about his latest trip to Vladivostok, which took place in the end of May. He was scouting for the road conditions and interesting places to visit. His trip revealed several very interesting highlights about travelling over the Trans-Siberian Highway. Join him to get all the details.
4. Travelling to the Southern Regions of Russia
Presentation about aspects of travelling to the southern regions of Russia, including Sochi and Crimea. There are many interesting places and hidden sights. Plus riding highways is extra boring and we know interesting secondary roads that we will release for you.
Alex was always interested travelling all over Russia. Several years ago he decided to start travelling by motorcycle. Before, it was mostly riding in Moscow or some nearby territories. So far, he has traveled from Karelia in the north to the Sochi region in the south, and from Pskov in the west to Vladivostok in the far east. During HU Russia, he will tell you more about his impressions and experiences from these trips.
Panel discussions at most HU events include...


Border crossings - How to get through borders with minimal stress and cost!
Packing light - Tips and techniques from experienced travellers to reduce weight and bulk.
Regional discussions - e.g. travelling in South America or Asia.
For Women Only - A must for the ladies, so be sure to plan on being there! A chance to talk to experienced travelling women without the men around!
Experienced Travellers Panel - ask the experts anything you want!
Walk arounds / Show and tell!
Tool Kits - Show us your favorite tools. Toolkit discussion.
Tents and Bedding discussion (in the camping area) - What works, cheap vs dear and which ones keep you dry, warm and comfy!
Farkle Walk - Take a stroll and talk about your best bike mods - homemade saddle bags, toolbox mounts, GPS mounts, seats, side stands, tank panniers, cup holders, etc.
Facilities for a Fantastic Weekend!
The event is taking place at Valday Eco Club in Valday National Park, Korotsko, Russia. There is camping zone available 400 meters from the hotel where you can stop with a tent, plus we have preliminary booked 30 rooms.
Contact Details:
Valday Eco Club (English version)
Zelenaya Ulitsa 1,
Korotsko, 175400
Korotsko, Russia

8 (499) 136-35-36
8 (903) 004-59-76
8 (81666) 3-24-44

Hotel Rooms
Hotel information:
"This property is 1 minute walk from the beach. Situated in the Valday Nature reserve, Valday Eco Club features log cabin-style rooms with satellite TV and free Wi-Fi. Just 165 feet from beautiful Boroe Lake, the hotel restaurant serves traditional Russian cuisine.

Each of the bright, country-style rooms have a flat-screen TV and a private balcony overlooking the countryside. The private bathrooms come equipped with a shower and a hairdryer.

Valday Eco Club guests have access to a range of spa facilities, such as a Finnish sauna, Russian steam room and a floating Russian bath. There is also a pool table and a shared barbeque area.

A hearty breakfast is available each morning at the Eco Club, and in the evenings Russian and international drinks can be enjoyed at the bar with gazebo.

Valday city centre and the main railway station are around 9.3 miles from the hotel." Booking.com
Rooms are available at approx €75 per night. Prices may change, ask for current rates. Rooms can be booked through Rusmototravel. Write an e-mail to Kate (kate...@rusmototravel.com) and we will help you.
We have provisionally reserved 30 rooms for the event, which will fill up fast, so don't delay booking your room. These rooms are not available from a booking site.
Camping (Included with your Registration Fee)
There is camping zone available 400 meters from the hotel where you can stop with a tent.
Food
For meals you have several options:
1) In the hotel there is a nice restaurant with local Russian cuisine. Some of the products (like eggs, milk, cheese, sun oil, chicken) are grown/produced right on the territory of the hotel in private farm. Price for the breakfast is around 5 EUR, for lunch and dinner around 7-8 EUR
2) You can cook yourself or go to one of numerous restaurants in Valday City.
PRE-REGISTRATION PRICING FOR FULL PASSES

Includes admission to all presentations, seminars, group discussions and demonstrations, trips and excursions, welcome beer, shot of Russian Vodka, Camping
on Thursday, Friday and Saturday.
Camping is included. Hotel and Meals are NOT included.

Pre-Register & Pay before:

Event Price € Euros

(all presentations and workshops)

31 March 2018

15 June 2018

75 (saves 20)

85 (saves 10)

AT THE EVENT PRICING (APPLIES AFTER 15 JUNe)

Pay Cash or Credit card on Arrival

Full Weekend Pass

95
---
HUMM - the most fun on 2 wheels!
What happens at HU events?
HUBBUK - the premier adventure travel event in the world!
HU South Africa
Join the Volunteer Crew
From welcoming travellers at the gate, to taking care of the campsite and making sure all the presentations run smoothly, the success of every HU event relies on the enthusiasm of its volunteer crew.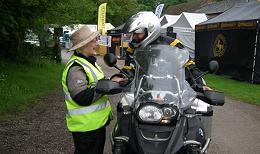 "What a wonderful bunch of people. I had no idea how much fun I'd have by helping out!"
"It was my absolute pleasure to be able to give something back to the HU community and working with such great folks really made the event special."
Volunteering is a great way to make new friends, get more involved with Horizons Unlimited and have loads of fun! You can sign up to volunteer when you register for the meeting, OR click here if you have already registered and want to add volunteering.
Comments about HU Events
"So many trips, tips, subjects, discussions, questions, answers, experiences, insights... I could go on and on. I will be back, and back, and back."
"It was like being with family... a friendly group with shared love of adventure."
"Everyone was humble, genuine, and encouraging, and I really needed that kind of 'we're all just people' kind of atmosphere."
"You'll see and hear the most useful ideas on so many subjects that it boggles the mind."
"Thank you all for such a superb extended weekend. So good to see everyone, to hear so many stories, to learn so much, and just to feel so at home with my tribe. Thanks to you, my batteries are fully recharged and rarin' to go!"
"Brilliant, entertaining and informative presentations."
"Yoga class was not something we had ever considered but really helpful."
"Full of very inspiring people who got me fired up again and motivated for my next trip!"
"What a fantastic inspirational weekend...we will be back."
"I have picked up so much information... and met some new friends and wonderful people."
"A superb event that was really well organised. I found the atmosphere amongst the attendees to be very positive too."
"I have not done much travelling so it was like visiting with a world traveller - Presenters were very approachable."
"...a new league of awesomeness."
"Great atmosphere and camaraderie, especially at dinner time, and interesting presentations."
"Folks were all great and the most amazing thing was there was NO ATTITUDE."
"I have learned so much, made some great mates and met some of the best people. I was buzzing by the time I got home. I have a little trip planned and just can't wait to get out there."
You can help!
If you have a few minutes, please download the poster (Adobe pdf format) and print off a few and hand them round your club or your local bike shop or anywhere seems like a good place.
Poster in pdf format (1.5 MB) full colour 8.5 x 11 Event poster:
POSTCARD - NEW!
Postcard in pdf format (677kb) full colour Event postcard, can be printed 4 to a page:
You may need to right click and choose "save target as..."
Thanks!
Be a Presenter
We're inviting submissions for presentations, so whether you're attending the event or exploring a distant continent, if you've got a story to tell or expertise to share we'd like to hear from you.
We love to hear stories about your travel adventures, especially if you have great pics! Also, practical how-to sessions such as roadside cooking, navigation / GPS, trip prep and planning, adventure motorcycling medicine, packing light, setting your bike up, communications / blogging from the road, self-publishing your story, yoga for bikers, bodging / bike maintenance, self-defense, photography, videography, tire repair, safe riding techniques, how to pick up your bike, off-road riding, all are of interest.
There are 40 minute and 90 minute sessions available for talks, workshops, demos and live web chats.
Click here to submit your ideas
PLEASE NOTE:
Submitting a Presenter registration DOES NOT mean you will automatically be included in the schedule, as we often have more presenters than available presentation slots. We will confirm one way or the other as soon as we can (but not immediately!)

Advertise at HU Russia
Run a business that serves the overland adventure travel market? Want to spread the word at HU Russia but can't take a Trade Stand? Send us a vinyl or roller banner and we'll display it in a prominent position.
HU Russia Venue Location
Valday Eco Club
Valday National Park
Zelenaya Ulitsa 1, Korotsko, Russia
ул.Зеленая, 1, д.Короцко,
Novgorodskaya oblast',
175423

8 (816) 663-24-44

Getting There
Valday Eco Club Hotel, Valday National Park, Korotsko. Venue is conveniently located not far from the border and M-10 Highway (Moscow – Saint-Petersburg) right between two major Russian capitals.
Distance from:
Moscow 405 km
St. Petersburg 322 km

Local Hosts
Your hosts will be Alex and Olesya plus their team. Two years ago they decided to develop motorcycle tourism in Russia and this year they host the 1st HU Travelers Meeting in Russia. You can learn more about them at their web page.

Big thanks to Alex and the team for stepping up and making this event happen! We can always use help on the day - please volunteer to help out for a couple of hours when you register!
Next HU Events
New to Horizons Unlimited?
Horizons Unlimited was founded in 1997 by Grant and Susan Johnson following their journey around the world on a BMW R80 G/S motorcycle. The website, HUBB forum and regular events across the globe have inspired thousands of people to follow their dreams and take the road less travelled.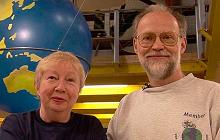 Read more about Grant & Susan's story
Membership - Show you're proud to be a Horizons Unlimited Traveller!
Horizons Unlimited is not a big multi-national company, just two people who love overland adventure travel and have grown what started as a hobby in 1997 into a full time job (usually 8-10 hours per day and 7 days a week) and a labour of love. To keep it going and a roof over our heads, we run events such as this one (18 this year!); we sell inspirational and informative DVDs; we have a few selected advertisers; and we make a small amount from memberships.
You don't have to be a Member to come to an HU meeting, access the website, the HUBB or to receive the e-zine. What you get for your membership contribution is our sincere gratitude, good karma and knowing that you're helping to keep the motorcycle travel dream alive. Contributing Members and Gold Members do get additional features on the HUBB. Here's a list of all the Member benefits on the HUBB.
You can join at a reduced rate as part of your meeting registration. Note that new Memberships with your Meeting Registration are applied as of the Meeting date or as soon as possible thereafter, not earlier, unless you make a special request in the Comments box when you register.