Achievable Dream: Collectors Box Set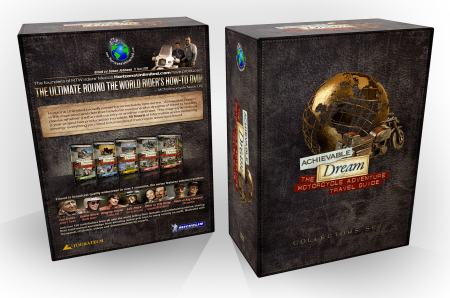 18 information-packed hours of inspirational content!
All 5 DVD's in a Collectors Box! Includes:
Part 1 - Get Ready! (2 hours 33 minutes)
Part 2 - Gear Up! (5 hours 58 minutes)
Part 3 - On the Road! (2-DVD set, 5 hours 24 minutes)
Part 4 - Ladies on the Loose! (2 hours 26 minutes)
Part 5 - Tire Changing! (1 hour 30 minutes)
Only US$ 89 for 18 information-packed hours of inspirational content to get YOU on the Road! (Full price with the box ($10) is $121.95 if bought separately)
"The series is 'free' because the tips and advice will save much more than you spend on buying the DVD's." Daniel Pedersen, on Amazon.com
---
Member login
Store categories
Am I NTSC or PAL?
When buying a DVD please ensure you get the correct format for your region. We use both formats to be sure you get the highest quality possible.
NTSC Format - North and much of South America, Japan, South Korea, Taiwan
PAL Format - Europe, Asia, most of the rest of the world
If in doubt about which format for your country, see listing here.
Note: NTSC format will play in a PAL TV, but PAL format will NOT play in an NTSC TV. Either will play on your computer.
Next HU Events
NEW!

Chile: Mar 8-11

NEW!

Sweden Mini: Jun 29-Jul 1

NEW!

Ecuador: Jul 13-15

NEW!

Italy: Sep 14-16
France: Sep 21-23
Indonesia: Oct 11-14
Germany Autumn: Nov 1-4
South Africa: Nov 8-11
Don't miss out on the HU 2018 Motorcycle Adventure Travel Calendar! Fantastic holiday gift for your favorite adventurer!
HUGE, 11.5 x 16.5 inches! Photos are the winning images from over 650 entries in the 12th Annual HU Photo Contest!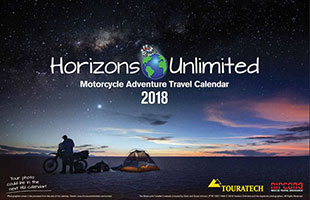 "So many awesome shots..." "Fantastic pictures. I'm very sorry that there is only 12 months in a year!"
HOLIDAY SPECIAL: Buy 4 Calendars and get free shipping anywhere in the world! Use Coupon Code 4CAL at Checkout.
We share the profit with the winning photographers. YOU could be in the HU Calendar too -