Luke Timmermans, in Nepal,
"I'm wondering if you could suggest someone that might know where I can get a front tire for my GS (any brand will do!) in Pakistan or Iran, and if you know of someone who can tune a boxer in those countries. It's nearly impossible to find vacuum gauges here and I'm not au fait with the shorting method. Thanks in advance if you can help. I'll (check) later (probably in Islamabad) on the bulletin board."
"Living out in the 'bush' for 3 yrs was fantastic, no phones or electricity, fortunately I bought an '88 XR 600 to play around on. It was indispensable during El Nino when we were cut off from Arusha for weeks on end by flooding. Words cannot describe the conditions of the roads during those days, 4WD's weren't up to the challenge at times but the bike always made it home...
Anyway I sold the beast in April as it was getting very tired and getting parts is a nightmare, however I'd like to buy another one, say 2-4yrs old. Perhaps you know of someone with one in E.Africa or someone who is planning a trip down this way. I'm not really interested in anything but an XR as other bikes are too heavy or unreliable for the places I like to ride to (read - isolated).
So who wants to do a one way trip to Tanzania? Save yourself a lot of money on shipping and help somebody out!
from Etienne Posthumus, Amsterdam, Netherlands,
"A friend of mine from South Africa will be travelling in Europe in September this year. He is investigating the possibilities of a bike-swap arrangement for that period. Here is the message
'Looks like I'll be hiring a 650 for a week or two, but I was wondering, since you are still subscribed to the GS list, if you could post a 'Bike Swap' message on my behalf. Basically, anyone wanting a bike (1150GS and/or 800G/S) for a week or two in ZA to swap for the same (or a 650) in Europe (pref Germany) for the same period. They can e-mail me.
BTW, Don is the guy who did the R80G/S blue owners manual on the net at the dogpage which is referenced quite often..."
We are now an Associate with Amazon, the biggest bookseller on the web. If you want to buy a book, you can go to our Books pages, where we have listed some of the best motorcycle travel books, as well as a number of BMW books, general motorcycle books, and travel guides. Very much in progress, with hundreds more to come, but there is a good list to start with now. There's links to Amazon USA, Amazon UK, and Amazon Deutschland, so no matter where you are - Aussies order from Amazon USA ;-) you can order books at great prices, and I'll make a dollar or a pound, which goes to supporting this e-zine. There are links to search Amazon sites for all their products, books, cds etc., and yes, we get a tiny piece of that too. We really appreciate it when you start your book search from our website! Thanks for the support.
To subscribe or UNsubscribe to this newsletter.
A few technical notes on this edition:
There is still a problem with Hotmail, but they have made a number of changes, and there seems to be less of a problem now.
For more information please see the July issue.
Please be assured that we will NOT under any circumstances, rent, lease, sell, or give out our mailing list, and/or your name and e-mail address, to anyone for whatever purpose. Your privacy is assured, and personally guaranteed.
Grant Johnson

Newsletter Back issues
All comments and suggestions are carefully read, and where possible will be acted on. Your help will make this a useful service for all travellers.
Feel free to use the Bulletin Board for questions. If you think there is something you'd like to see in the newsletter, please send me an e-mail.
I will try to respond, please be patient. ALL e-mail is normally replied to quickly, but who knows - we may be on the road!
If you would like to advertise your product or service in this newsletter or on the website, please contact me at the above link. Ad rates are very reasonable. Details at this link.
---
Horizons Unlimited Motorcycle Travellers' e-zine - Copyright 1999-2000, Horizons Unlimited and Grant Johnson. All rights reserved.

REDISTRIBUTION is allowed, indeed encouraged, but other than the following requirements, only with permission. You may forward copies of the Horizons Unlimited Motorcycle Travellers' e-zine by forwarding it yourself by hand. You must forward the issue in its entirety, no fee may be involved, and you can forward no more than two issues to any one individual. Please suggest they Subscribe!
Legal gibberish disclaimer: (particularly for those in countries that have more lawyers in one town, just for instance, New York, not to name any names, than some whole countries, as another example, Japan. Again, not naming anybody specifically you understand) Recommendations are based on positive or negative experiences of somebody, somewhere. Your mileage (kilometrage if you insist) may vary. We are not responsible in any way any product or service mentioned, and do not warrant any such mentioned product or service, and are not responsible for any bad things that may befall you. You are responsible for yourself! Act accordingly. We check all links and information given as close as possible to publication, and all info is correct as best we can determine at that time.
"Only in America"
or, why I don't carry a gun...

Super Grannie, Defender of Justice (True story - I'm told)
An elderly lady did her shopping and, upon returning to her car, found four males in the act of leaving with her car. She dropped her shopping bags and drew her handgun, proceeding to scream at them at the top of her voice, "I have a gun and I know how to use it! Get out of the car you scumbags!"
The four men didn't wait for a second invitation but got out and ran like mad, whereupon the lady, somewhat shaken, proceeded to load her shopping bags into the back of the car and get into the driver's seat.
She was so shaken that she could not get her key into the ignition. She tried and tried and then it dawned on her why. A few minutes later she found her own car parked four or five spaces farther down.
She loaded her bags into her car and drove to the police station. The sergeant to whom she told the story nearly tore himself in two with laughter and pointed to the other end of the counter, where four pale white males were reporting a car jacking by a mad elderly woman described as white, less than 5' tall, glasses, and curly white hair carrying a large handgun.
No charges were filed.
Eat one live toad the first thing in the morning and nothing worse will happen to you the rest of the day. "Dilbert"
New Proverbs
1. If you're too open minded, your brains will fall out.
2. Age is a very high price to pay for maturity.
3. Before you criticize someone, walk a mile in his shoes. That way, if he gets angry, he'll be a mile away - and barefoot.
4. Artificial intelligence is no match for natural stupidity.
5. A clear conscience is usually the sign of a bad memory.
6. A closed mouth gathers no feet.
7. If you must choose between two evils, pick the one you've never tried before.
8. Not one shred of evidence supports the notion that life is serious.
9. It is easier to get forgiveness than permission.
10. For every action, there is an equal and opposite government program.
11. Always yield to temptation, because it may not pass your way again.
12. A conscience is what hurts when all your other parts feel so good.
13. Eat well, stay fit, die anyway.
14. No husband has ever been shot while doing the dishes.
15. Men are from earth. Women are from earth. Deal with it.
Julia Powell and Kevin Sanders, UK, from USA to South America, back home - but the story continues,
"Amigos! Well, I know I promised that this would be the final one, but there was just so much to write about that this in fact will be the penultimate note and there will still be one more to look forward to!
Arriving at the train station, we rode the bike round to the cargo entrance where small crowds of locals had gathered and a variety of battered household furniture, rusted iron gates, higgledy piggledy cardboard boxes containing coffee and two coffins waited their turn for weighing and paperwork...a number of "agents" abandoned their consignments and started touting for our business - clearly gringo business was more lucrative! As we knew from Jeff and Linda that they paid 78 centavos per kilo for their bikes, the consensus from the agents that it would cost us 100 centavos (1 boliviano) was treated with contempt...we were being ripped off, I decided to see if I could find the helpful bloke that had given us his card a couple of days previously.
...into the train station, now transformed from deserted air hanger to frantic bustling market place...I spotted the bloke from a couple of days ago, loitering around the ticket kiosk and he beamed furiously at me and held his hand out, as I made my way to him. He immediately took charge of the situation, scurried off to the cargo area and acted as intermediary with the agents. The price immediately came down to 80 centavos per kilo, but we could not get any lower - I presume the extra 2 was his cut!
And then we had to pay another US$10 to the guys who would load the bike onto the train. This was another "tip", but one we handed over without question. Jeff and Linda had been asked for US$16 and bargained it down to US$8, only to find that their bikes had been loaded so poorly that they were damaged on arrival in Quijarro. We decided to pay $5 there and then, stressing to the loaders that the bike had to be very safe and we would check it later, whereupon we would pay another $5.
...Jose asked me about which passenger tickets we wanted to buy. Jeff and Linda had taken second class, very cheap at $7 each, but seemingly crowded with locals, which afforded them little sleep. Knowing that we had 3 days heavy riding at the other end, we plumped for the most comfortable luxury carriage, splashing out at $23 a head for fully reclining seats, videos, evening meal, snacks and breakfast. Not bad value for a 20 hour journey. And best of all, Jose then fled back into the mayhem of the station to get our tickets for us.
...Whilst waiting our turn, Jose returned with our passenger tickets in hand. It was a pleasure to have not waited in the queue and I happily paid over a $3 dollar tip for his time and effort...
...we were beckoned over to Franky where an officious looking little man, the Narcotics Officer, hovered over him, eyes glinting "GRINGOS!" and demanded to see our bike papers. We pulled out our documents but had no elusive Bolivian bike permit. He waved his hand dismissively over the rest of our papers and kept asking for the permit. Kev started to get irritated, saying we needed no other papers, no other police had asked for them, the Aduana did not give us one and there was "no problema". But the official persisted. Eventually Kev demanded that the Aduana come and check the papers to confirm that nothing else was required. It was a standoff. But the Narcotics Officer still did not capitulate. Someone overheard the situation, and before we knew it, a younger man appeared wearing a T-shirt marked "Aduana". It was our lucky day. He spoke excellent English and looked through everything, confirming to the Narcotics Officer that no further papers were required for the bike. The other man was obviously furious and there then ensued an argument between them in Spanish, with both brandishing their authorisations and ID.
The Aduana came away smiling, saying to us that all we had to do was open up the bike for the Narcotics Officer and apologised profusely for the treatment we had received. "He is giving you a hard time because he wanted you to pay him some money", he explained, "but you must not give him any money. It is not necessary. Just show him whatever he wants to see in the bike."
Since we had obviously pissed the Narcotics guy off, it was no surprise at all when he started giving us the full works. Firstly, he wanted to see inside the gas tank, then he went onto the panniers. Everything in the first pannier was hauled out and all our carefully packed belongings lay strewn over the bike as he laboriously went through it all. He seized eagerly on small piece of volcanic rock, sniffing it suspiciously, before he dropped it back down, disappointed. We stood back and watched, trying not to laugh, knowing we had plenty of time and he didn't! But it started to get tedious. We opened up the second pannier and knew it was full of stinking clothes. We hadn't done laundry for over two weeks, and Kevs socks were almost leaping out of the bag as we unzipped the hold-all and the knickers were equally as gruesome! The stench hit our nostrils and in a fit of impatience, Kev grabbed a handful and shouted at the Officer, "solo ropas" (only clothes) "necessito limpiar" (need to clean!) and proceeded to shove them right under his nose. The Officer stumbled backwards as if hit with a brick and coughing, finally waved his hand to say he was done. Hee hee hee!
It was strange sitting on the train...It was quite rare for us to cover distance together in an environment where we could both relax, watch the scenery...
...From time to time, with a hollow squealing of brakes, the train would grind to a halt, as we came to a small collection of homes and stalls along side the track. Women and children would amble alongside, holding up drinks, water, fruit, nuts. The cries of "mani" "agua" and "naranja" would float upwards. We leant out and bought a bag of mandarins for the old lady who was sitting in the seat opposite us...
That morning en route, the train stopped again, this time picking up either army or police who made their way down to the front of our carriage and started yet another search of luggage. In fact we found out that they were more Narcotics Officers - great! Their disposition was much better than our previous encounter, you could almost say they were quite a friendly bunch! They rifled through our huge Ortlieb bags, pulling out a tin of peanuts and shaking then around as if they expected a little packet of something to appear! Maybe they just wanted a few!...I was always nervous at these types of searches - I remember reading horror stories about other unfortunate traveller experiences where officials plant drugs to extract money...
We arrived at Quijarro slightly early...we showed our cargo papers to a member of staff, who shrugged... there was no cargo on this train. We were baffled... We had a mild panic.
Then someone appeared out of the blue and asked us if we have a motorcycle...The whole consignment was surrounded by soldiers and they were not letting anything be unloaded. We watched as some passengers had a frantic conversation with them, pointing inside the carriage. After a few minutes, one of the soldiers gave a nod, and they climbed on board and unloaded the two coffins! I'd like to think that there was nothing inside them....Once these were off the train and lain in the middle of the tracks, the cargo carriage was then sealed and the soldiers wandered off in the opposite direction...
...a drugs search (yet another!) of the cargo had to take place before anything else could be removed and this would not take place for another hour...An hour slowly ticked by and so did another. With every question of "when?", we received "in half an hour"...
Eventually...our helper reappeared and beckoned Kev to follow him. I stayed with our bags. Kev disappeared into a little speck trudging down the middle of the rail track towards the freight carriage... Lost in thoughts, I re-focused on the freight carriage and with a whoop of joy, saw Franky being wheeled down the planks. I could see Kev having to go through further inspections with yet another round of soldiers...
We were only a few klicks from the border and within minutes we stood in front of Bolivian Immigration Office. We chatted to the guy there, showing him the journey we had just done on the bike, on a huge map of Bolivia that was pinned to the peeling walls. He stared at us in disbelief, pointing to the bike and shaking his head, before stamping our passports. The Aduana was equally incredulous and, as on entering the country, showed little interest in our paperwork. We pointed to his rubber stamp and the back of our title document and he duly obliged us.
It was another emotional moment in the trip as we crossed under the welcome sign to Brazil; it was our last South American border. We slowed down at a huge modern building, expecting it to be for the formalities, only to realise it was deserted but for one man who told us that the immigration was in the town of Corumba...we were about to encounter the worst border entry of the whole trip and the fact that we did not understand a word put us at a distinct disadvantage...
Kevin and Julia"
Ricardo Rocco Paz, Ecuador, "Around the World for Peace," in Brazil
"Ricardo Rocco was interviewed in the talk show Gazeta Sportiva and very fine articles were writen about the expedition by the newspapers A Tribuna, Gazeta and Agora, emphasizing the work he does about drug abuse prevention......heading to Northeast Brazil...
...July 13th, I leave Rio de Janeiro finally, while I ride for the last time in this trip, the spaghetti of bridges that take me from the Ilha do Governador to the bridge of Niteroi, I get Rio's final gift, a fantastic view of the city and all the natural wonders that surround it...
...The day is overcast and a bit chilly...but it doesn't matter, my Aerostitch suit keeps me warm and comfortable, no matter the kind of weather and my inner strength is pulling me out of the 'blues'.
Helps me to think about my good friend Ivan Vallejo, who is now going for the summit at K14, in the Himalayas...Simon Milward, traveling in Nepal and Chris Bright, riding in Alaska, and all the other riders that are now travelling the globe, facing the same obstacle as I am.
Yes, I have lost a partner...but I've won many, many friends in every country I visited, and I haven't had any major problems, except maybe the financial one, yes, money is a problem, mainly because my itinerary extended far more than I expected it.
...I arrive into Vitoria and go directly to the Yamaha dealer, unfortunately they can not help since it is quite late, but tell me about the place were the local motorcyclist meet...
After... I go to the motorcyclist meeting place, a bar called 'Moto Beer', in gas station somewhere in the city...as soon as I get there, all the guys and girls start talking to me in their fast Portuguese, that I only understand when is spoken slowly, but since motorcycling is definitely an international language, I make friends on the spot.
...The 'boss' of one of the local clubs, 'A Butres', (their motto: a race in extintion !?!) introduces me to the guys, but most importantly to the beautiful girls, who promise to find me a 'girlfriend', really nice people, they all were watching my bike, making all kinds of comments, laughing and making jokes, I'm having a great time after the worries of the day, and enjoying being with all these nice persons... invitations come to go to a party that night and next day to a motorcycle acrobatic show, to the rodeo, to a barbecue party. They give me plenty of stickers not only from the A Butres, but from the local chapter of As Cobras du Asfalto, the Maquinas do Aco (Steel Machines) and Os Calango Moto Clubs and, on an unbelievable gesture, one of the guys takes off his club T-shirt and gives it to me.
Then, Joao 'Johnny' Merizio arrives, riding a Honda Falcon (brasilian designed 350 cc.), he's the president of the Maquinas do Aco Moto Club, he gets very interested in my work and promises to help me with the media, and presents me with the club newsletter, that not only deals with trips and good times, but with traffic laws and technical tips, that affect directly to motorcyclists.
I'm just amazed, I just got to town, I didn't know anybody, and I'm being treated like a long time friend. Is this hospitality or else?
When I take the bridge back to Vitoria, it is about 1 am., the full moon is well over the sky now, and I get the incredible feeling of flying on my bike over the bay. I don't need drugs to get the sensation of flying, this a natural, free feeling obtained only though the wonderful sport of motorcycling.
...arrive at Puerto Seguro at dusk...it's packed. I have a hard time getting a good price on a room. Then I go to see Valeria, my tour guide girl friend, she is very happy to see me, didn't expect to see me again...We go to a fantastic party at Mamagayo and dance till the sun comes up, at the beach. After sleeping all morning we go to the beach and get a heavy sunburn. Another tough day in the life of a motorcycle traveller!
We ride tomorrow to Morro du Sao Paulo, up north, which is supposed to be an amazing natural wonder..."
Matthew Newland and Richard Smith, UK, around the world, on two 1996 BMW R80GS Basic, among the last built, in Peru, having a litany of troubles...
Last issue I said:
"What's next? I'm afraid to open mail from Matthew now...good news is the starter is fixed, oil leaks dealt with, short and battery fixed, bad news is I haven't heard the final word on the rear shock... Grant"
Well, it continues with good and bad news...
"...still in Quito and am still waiting for BMW Germany to see if I get the back shock for free. Anyway the unit is being sent to Bogota where it will be fitted for free at the BMW garage there. Andres Fuse the BMW rep in south America is a pretty good guy who is organizing everything for me. I leave for Colombia in the next week or so. Plan to fly out of Bogota to Panama city. I'll let you know how it goes. Should be fun!
The BMW Garage in Quito is really great. They are really friendly and worked on the bikes for a whole day with NO charge. No parts but ready to help any way they can."
a few days later...
"I have just had some good news from BMW. They are going to give me the back suspension free under guarantee. Now all I have to do is get to Bogota. Thanks for the flight info in Bogota..."
a few days later...
"...there is now oil leaking from both of the front forks. We have some (but not enough) oil seals but it looks a big job to fit them. Do you know if this is easily fixed? ...Where it can this bike will leak oil..."
I got them sorted on that, and at last word they were on their way...
Russell Fisher, UK, across the USA on dirt, the Trans America Trail
"The trouble with living all your life in a country the size of a football pitch is that you tend to think you're normal -- normal in the sense that if it takes you more than a couple of hours to get anywhere then it's a major consideration and may, indeed, not be worth the hassle at all.
Now, of course I realised that the US is somewhat larger than the UK - I paid a modicum of attention in geography class y'know - but when someone says they're loading their dirt bikes up on a trailer and popping off for a week's holiday to ride some trails, you don't expect a 24-hour, mind-numbing drive just to get there. Do you? Well I certainly don't.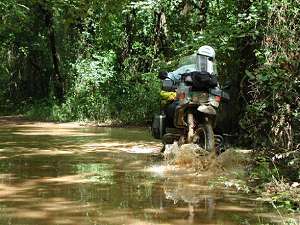 Here, though, it's pretty much par for the course. And, just a week into my ass-numbing US non-roadtrip, I'm finally getting to grips with the concept; I now realise why the majority of the natives ride around on two-wheeled leatherette, buckle-encrusted, super-squishy armchairs - can't say I condone the habit, though...
...Arkansas...the TransAm Trail sticking to the beautifully sweeping, crown-cambered and graded gravel tracks which form the network of public highways running through these hills -- amazing riding if, like me, you're buzzed by the idea of getting into the swing and rhythm of riding a rear-drive roller coaster on a bed of pea-sized marbles. After 400 miles of this your inside foot's less inclined to twitch nervously out and your right hand more inclined to twist back; so much for sightseeing - the only sight I was looking out for was the next hillbilly-piloted pickup with forward vision somewhat impaired thanks to a dashboard littered with empty Bud cans. They sort of get in the way a bit when you're hooking those apexes. And they don't believe in insurance in Arkansas either, or so I was warned.
The last day in the state before crossing into Oklahoma was wetter than a weekend in Wales - and if anyone from the Hein Gericke shop in Bristol is reading this, no your Tuareg lightweight jackets are NOT waterproof, thanks very much. Fortunately the Ortlieb soft luggage definitely is, and what's more the Happy Trails racks they're secured to are showing absolutely no signs of weakening under the constant off-road hammering; the further west we got, the rockier the tracks became, until by just north of Alma we were into sections of 18-inch high rocks steps followed by stretches of 18-inch deep glop - when it rains here it doesn't piss around..."
Chris Bright, UK, around the world, in Montana, USA,
"Greetings, after mucho driving and Olympic Peninsula and Mt. St. Helens, Washington, Moscow, Idaho and Yellowstone, Wyoming I can now be found doing the cowboy thing in Jackson, Wyoming... In a couple of days I'll be heading south down the Rockies, before braving the heat of the Denver to Las Vegas run via all the usual sights."
see the website for more...
"Kirstin and Tom are sending their bikes to NZ later this week (July 3) (XT600 and GSPD), and Liam is sending his bike to Sydney (Africa
Twin). We're sending our bikes in about 2 weeks to Darwin. Most of the
bikers before us shipped from Singapore to Darwin, but it looks like we can save about 30% by shipping from Port Klang (Kuala Lumpur). Will send you the info...
All is OK now, but last weekend Erin had a pretty scary accident. See the story: www.ultimatejourney.com/chap36.html
The bikes were crated here in Malaysia and should be in OZ at the end of the month. We're temporary back-packers, off to Melaka, Singapore, Bali, then Sydney..."
Erwin Thoma, Germany, around the world, in Central America heading south,
"...thanks for thinking about me. I am now in Panama City and will fly to Colombia. Will stay there approximately 2 weeks and then head for Ecuador. I will send some informations and a trip report about Central America from Ecuador...It is good to know, that we stay in touch."
Dirk 'Krid' Bernhart, Germany, to Cape Town, in Kampala, Uganda,
"...My next goal is Lake Baringo... on a boat trip...I feel like Earnest Hemingway, watching all the birds, crocs and hippos idling around in the brown water. The campground has a huge pet turtle and a pet hippo cutting the grass for them.
Bad roads take me along the north of Mount Elgon into Uganda, to the Sipi Falls and further on to the Bujagali Falls near Jinja. These are actually rapids, offering great rafting opportunities. The camp is right on the Nile's shores, I can hear the water roar all night...
...I realize that there's something wrong with the rear suspension. It leaks oil and driving feels like riding a jo-jo. I decide to rush to Kampala to get it repaired, and here the odyssee begins...
In Kampala, ...workshops have never seen such a high-tech suspension and refuse to repair it. Some mails with the producer Technoflex Deutschland later...send it back to Germany through DHL (costing lots of bucks), they repair it and send it back again. Said and done... OR?"
Myles Nott and Atsuko, Australia and Japan, around the world, heading to Venezuela from Buenos Aires,
at last word are in the Amazon somewhere...
Myles and Atsuko met on the road in Africa, married, and are on the road again. Atsuko had already been travelling for years on a Honda CT110 with a one-legged Japanese photographer. Myles was riding a big single at the time, travelling with a friend, Leo. When Atsuko was asked how fast the CT's go, Atsuko replied, "the same speed as Myles and Leo's big singles - 35,000km every 13 months."
They shipped their bikes to Holland from Melbourne where they are now based, turned right and headed east, then took another right in Alaska and travelled south to Chile - but they seem to have taken a wrong turn recently and are now heading towards Venezuela (as anyone would in Patagonia in August)
We'll have more on their travels next issue if they emerge from the jungle in time...
Wylie and Helene, USA and Canada, Around the World, in Kyrgyzstan,
"Seeing the mountains from Bishkek was not good enough, so we scampered off to the hills as fast as we could. We found ourselves guests of a Kyrgyze family in a small village located at the foot of the Alatoo Mountains. A few Russian words and much mimes allowed for some communication with our hosts.
...After a few days with our hosting family, I was getting very frustrated not to be able to communicate very well. I therefore decided to learn Russian. Our very patient neighbor, Gildis, offered her help. I kept forgetting everything. All the words sounded the same to me. I did retain one little sentence though: 'Ya Zabila', which means 'I forgot'..."
currently in Turkey heading east...


Sara Down and Chris Jagger, UK, around the world,
"...we're setting off from London in the direction of Dover on 2 August - hopefully we'll make it to the coast and from there we travel to Calais, down through France, on to Italy and Greece, where we'll take a well earned holiday on the island of Kalymos (?). After that it's Turkey, Iran, Pakistan, India and Nepal. You'll have to wait to find out where the rest of the journey takes us but it involves South-East Asia, Australia, the States, Central and South America, and Africa!
We'll keep in touch, Sara and Chris"
Sam Koops, Germany, to Australia,
Leaves in August heading east...
Three Canadians leaving August 29, 2000 for Ushuaia. (Amazing how some people can set an exact day - I feel lucky if I leave in the right season...Grant)
Srinidhi and friends, Bangalore, Karnataka, India,
"We are three Indians from Bangalore planning to do a world tour on motorcycles. We plan to travel across 86 countries over a distance of 100,000 + kms. We would like all those like minded individuals give us some information or help or both regarding this. All advises are welcome and will be highly appreciated."
(from a post on the Bulletin Board, please reply on the board - they may be able to help YOU out on your India Trip!)
Peter Delft, Holland, around Australia,
"I will be in Australia from 1 Aug. till 1 Nov. this year. Starting in Perth for 30.000 km's, first to Darwin then the east-coast to Sydney then the south road back to Perth. I am driving a modified Transalp."
David, Gmunden, Austria,
"I will fly with my girlfriend in November 2000 to Argentina and will drive the Pan-American to Mexico within 15 months. I would like to exchange info with motorcycle travellers who come down the other direction from USA to South America."
see the Bulletin Board for updates with David.
Michael Odland, South Africa, to Tanzania September / October,
...planning a trip from South Africa to Tanzania on an F650. He would love to hear from South Africans who want to join him on the trip - and/or the climb of Kilimanjaro.
Claudio and Marcelo, Angostura, Argentina,
...getting ready to start their motorcycle trip north to the USA.
...depart in August 2000, for a one-year, 5 continent trip around the world. Nice site. (Note that you may have trouble accessing it for some reason - my IE5.01 hangs on it, Susan's IE 5.01 is fine, my Netscape 4.7 is fine.)
Tom Grenon, Victoria, BC, Canada
"...Doing a Dual Sport ride in August - September 2000 to Northern BC, Yukon and the Northwest Territories. Leaving Victoria, BC around Aug. 18 for a 4 to 5 week trip that can be spilt into 3 sections if taking in the entire adventure is not possible. Looking for 2-3 experienced riders to support one another through the remote areas and river crossings."
"Hello Grant, I have made it home now, I am afraid, back to reality after my 18 month adventure...
Russell."
"...we've finally arrived home to Portland, Oregon on Saturday afternoon, July 29th, around 4 p.m. It was a fabulous trip and an emotional return to our "other" life. All in all we travelled 28,702 miles in 303 days through 14 countries. Suzi (Suzuki DR 650) and The Green Hornet (Kawasaki KLR650) did a fabulous job...
We return a little soft around the edges, a little frazzled but still buzzing from the experience. When we pulled up into the driveway I was flooded with the memories of the moment when we left 10 months ago. I thought of all the uncertainties, expectations and unanswered questions at that time. We both had wry smiles on our faces in remembrance of that time.
Boy were we naive. But now that we're seasoned veterans we can look back on the trip and just shake our head in disbelief. By itself it was a grand adventure but doing it together as a couple made it a very special experience. After all we've seen and done, nothing much has changed with us except that we can speak pretty good Spanish, really bad Portugese, we've gained a combined 7 lbs, the stuff on top of my head can no longer be considered hair, we have a lot less money, a billion more stories to bore all our friends with, a stronger relationship and, last but not least, a much more worldly view of the world.
It was truly a treat to have your webpage to keep us company while we were on the trip. I can't thank you enough for hosting Horizons Unlimited. It was an invaluable resource to us and I derived much pleasure from reading the monthly e-zine. Because even though the scenery that we rode through was awe-inspiring the most valuable thing to take away from a trip like ours was all the incredible people we met along the way. Especially the fellow mototourers.
We hope this e-mail finds you guys in good health and spirits."
Andy Dickson, Arusha, Tanzania
"Re: Tanzania. These days most major roads have been worked on a lot, there are lots of internet cafes around and the phone system works much better."
"I've just taken delivery of a new book titled: DESTINATION HIGHWAYS BRITISH ColUMBIA written by Brian Bosworth & Michael Sanders, published by Twisted Edge in Vancouver,B.C.
Anyone thinking of travelling in B.C. has to get this. It shows the top 185 rated MC roads with info on bike dealer locations, camping, pubs, etc. All roads also rated by twistiness, pavement, scenery, & character. I personally have been on about 70% of them & agree with the ratings. Each road has a detailed map with a running commentary on what to expect."
Peter Baernert, United Arab Emirates, "Nightmare in Minneapolis"
"...May this year with my Road King...on the aircraft from UAE to Minneapolis. Upon arrival in Minneapolis ...KLM informed me that I had to contact Customs for clearance...for a temporary "tourist import". While the customs officer busied himself with this I casually asked what the proceedings would be should one consider selling the bike in their country. He wasn't too sure of this and called his colleague Mr. Todd No 13149. And this was when the nightmare started.
His first statement was 'So you want to sell your bike here?' On this my reply was that this was certainly not my intentions, but the question purely academic. This was supported by the fact that the bike was still on UAE register and insured there, return tickets and arrangement for return shipping was in place. But he was not interested in this and instead started to explain that he needed EPA and DOT approvals etc. ...this I could not produce that day, or any other day as I was pretty sure some changes, like speedo change etc. had to be made.
The discussion went on for a while and finally he stated that "nobody in this office will touch this bike without above paperwork", and he didn't care if I had to ship it back or anywhere else, it sure wouldn't pass through their office. Pondering this I finally surrendered and asked for a written statement for his decision...so I could base further actions...was produced by him and I departed heading for the nearest cold beverage outlet.
The following day Ann Ziller at Harley Insurance was kind enough to issue a statement. With this in hand I returned to the place of my nightmare, fearing the worst. Mr. Todd was nowhere to be seen, but another officer was. To him I loosely babbled about yesterday, statement, tourist import etc. He didn't seem too impressed or interested either way and certainly not of any statement. Instead he stamped and signed the freight papers and I was finally free to go and check out my RK at KLM freight.
The trip was absolutely brilliant...11,718 miles in 38 days made it possible to see a lot of the Midwest and the west coast, wished I could have stayed longer...the people you meet are so friendly that it's almost embarrassing.
Heading back to Minneapolis for the return trip to UAE I had some days to spare as I planned to check out the town. Good thing...You guessed it, ...again it was nothing but hassle from customs.
Despite having plenty of supporting paperwork that the bike was mine etc, Customs was less than cooperative in letting me take my bike home. They stated that I should leave my bike at the Airline cargo dept, and they promised within three days to inspect the bike so it could be shipped. At the same time they suggested to me that it would be wise to hang around until this inspection could be done, should there be any questions.
... the Northwest/KLM cargo dept, one block down the road, had no such procedures for keeping a bike in bonded store for such customs purposes as they requested in this case. And could thus not accept my bike until it was cleared with customs!
Talk about Catch 22...as it turned out Mr. Joseph Reichman at KLM cargo was kind enough to make special arrangement for my bike whilst customs was getting around to take the time to inspect the bike. The following day I went down again to the Customs office and pleaded with the officer to get it done so I could fly home, this he promised to do it by the evening. This was done as promised and my bike was shipped back to UAE, where it will stay, it sure won't go back to the land of the free for a long time.
As a contrast I can mention that here (in the UAE) the action of shipping a bike in and out of the country are very straight forward, procedures to check up on ownership, tax applicability etc is well documented and is running very smoothly and will be done on the day."
Basic lesson here: when in customs offices keep one's mouth shut tightly! ;-) Grant