| | |
| --- | --- |
| Rtw on an r 80 gs or g/s | |
BMW Tech
BMW Tech Forum - For Questions specific and of interest to BMW riders only.


1 Weeks Ago
Registered Users

HUBB regular

Join Date: Nov 2015

Location: Maitland Australia

Posts: 79
Rtw on an r 80 gs or g/s
---
Here are the attributes that the 1981 -1989 models have which still apply to RTW travel. Not in order of importance they are:
Twin engine and very smooth motor, lightweight in comparison to other bikes of comparable size (186 kgs wet), capable of 399 kgs weight in total ( better than many other more modern bikes), low compression motor, air-cooled (no water-cooling to worry about) and simple rear wheel removal.
Rear drum brakes are a concern to some but a disc brake assists at the front. Parts are available. The electrical output is low compared to more modern bikes such as the recent iterations of the Africa twins and can be a bit unreliable but the Bosch unit can be upgraded to improve reliability I think. The stock seat can be uncomfortable I gather but a different one can be ordered from various manufacturers. The question I'm asking : is it still a viable option compared to the DR 650, Africa Twin, KTM 950 Adventure, BMW 800's and 1200's and Suzuki DL 650's, for example.


1 Week Ago
Registered Users

Veteran HUBBer

Join Date: Feb 2002

Location: Wessex, UK

Posts: 2,092
I have done a lot of travelling on both the GS and G/S and will say in their day both were well up to the task. I did big mileages on both of mine 175,000 on the GS and 195,000 on the G/S using both on long trips until I sold them both needing a lot of work.
With good preparation either will still be capable but with quit high fuel consumption compared to modern bikes and the increase globally of low emission zones which might exclude them or make using them expensive I would now use something more modern.
If you particularly want to use a vintage bike any airhead BMW would be a good choice.


1 Week Ago
Registered Users

HUBB regular

Join Date: Nov 2015

Location: Maitland Australia

Posts: 79

Rtw on an r80 g/s, gs.
---
Thanks for your thoughts Mark. A more recent post (R80 G/S, GS V R100 GS) adds much more information to the matter. I didn't consider your point about low emission zones. An excellent point to consider.

Currently Active Users Viewing This Thread: 1

(0 Registered Users and/or Members and 1 guests)
Posting Rules

You may not post new threads

You may not post replies

You may not post attachments

You may not edit your posts

---

HTML code is Off

---
Next HU Events
HU Event and other updates on the HUBB Forum "Traveller's Advisories" thread.
ALL Dates subject to change.
2023:
2024:
California: April 18-21
Virginia: April 25-28
Germany Summer: May
Switzerland: August
Romania: August
Ecuador: September
France: Septembert
Austria: September
South Africa
Queensland: Oct 4-7
Germany Autumn: Nov.
Add yourself to the Updates List for each event!
Questions about an event? Ask here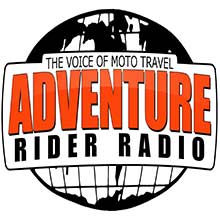 Check the
RAW
segments; Grant, your HU host is on every month!
Episodes below to listen to while you, err, pretend to do something or other...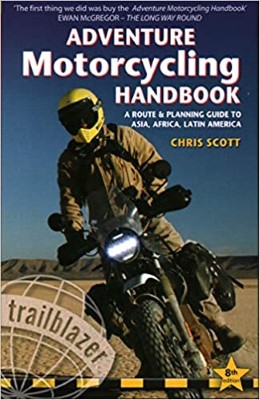 2020 Edition of Chris Scott's Adventure Motorcycling Handbook.
"Ultimate global guide for red-blooded bikers planning overseas exploration. Covers choice & preparation of best bike, shipping overseas, baggage design, riding techniques, travel health, visas, documentation, safety and useful addresses." Recommended. (Grant)

Ripcord Rescue Travel Insurance™ combines into a single integrated program the best evacuation and rescue with the premier travel insurance coverages designed for adventurers.
Led by special operations veterans, Stanford Medicine affiliated physicians, paramedics and other travel experts, Ripcord is perfect for adventure seekers, climbers, skiers, sports enthusiasts, hunters, international travelers, humanitarian efforts, expeditions and more.
Ripcord travel protection is now available for ALL nationalities, and travel is covered on motorcycles of all sizes!
What others say about HU...
"This site is the BIBLE for international bike travelers." Greg, Australia

"Thank you! The web site, The travels, The insight, The inspiration, Everything, just thanks." Colin, UK

"My friend and I are planning a trip from Singapore to England... We found (the HU) site invaluable as an aid to planning and have based a lot of our purchases (bikes, riding gear, etc.) on what we have learned from this site." Phil, Australia

"I for one always had an adventurous spirit, but you and Susan lit the fire for my trip and I'll be forever grateful for what you two do to inspire others to just do it." Brent, USA

"Your website is a mecca of valuable information and the (video) series is informative, entertaining, and inspiring!" Jennifer, Canada

"Your worldwide organisation and events are the Go To places to for all serious touring and aspiring touring bikers." Trevor, South Africa

"This is the answer to all my questions." Haydn, Australia

"Keep going the excellent work you are doing for Horizons Unlimited - I love it!" Thomas, Germany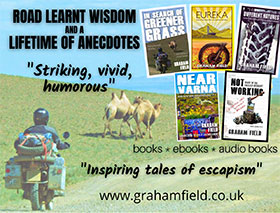 Diaries of a compulsive traveller
by Graham Field
Book, eBook, Audiobook
"A compelling, honest, inspiring and entertaining writing style with a built-in feel-good factor" Get them NOW from the authors' website and Amazon.com, Amazon.ca, Amazon.co.uk.
Back Road Map Books and Backroad GPS Maps for all of Canada - a must have!
New to Horizons Unlimited?
New to motorcycle travelling? New to the HU site? Confused? Too many options? It's really very simple - just 4 easy steps!
Horizons Unlimited was founded in 1997 by Grant and Susan Johnson following their journey around the world on a BMW R80G/S.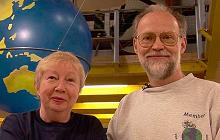 Read more about Grant & Susan's story
Membership - help keep us going!
Horizons Unlimited is not a big multi-national company, just two people who love motorcycle travel and have grown what started as a hobby in 1997 into a full time job (usually 8-10 hours per day and 7 days a week) and a labour of love. To keep it going and a roof over our heads, we run events all over the world with the help of volunteers; we sell inspirational and informative DVDs; we have a few selected advertisers; and we make a small amount from memberships.
You don't have to be a Member to come to an HU meeting, access the website, or ask questions on the HUBB. What you get for your membership contribution is our sincere gratitude, good karma and knowing that you're helping to keep the motorcycle travel dream alive. Contributing Members and Gold Members do get additional features on the HUBB. Here's a list of all the Member benefits on the HUBB.
All times are GMT +1. The time now is
16:05
.