Travel Through Uzbekistan on a Harley-Davidson
By Peter Forwood
Uzbekistan on a Harley (30/8/05 - 12/9/05)
Distance 1463 km (437293 km to 438756 km)
This is part of the eleventh section of my around the world trip.
Complete Trip Overview & Map
Coming from Tajikistan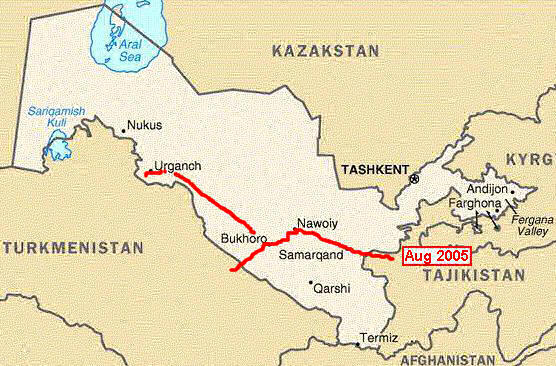 30/8/05 The Uzbek border thorough but efficient. They brought out the sniffer dog but didn't check the panniers too thoroughly. No payments and just 30 minutes. It was just a short distance to Samarkand through busier streets and the first real backpackers accommodation in a long time. Bahodir Hotel, situated around a treed courtyard in an old building in the centre of town, breakfast and dinner, other travellers, internet and washing, hot water, has all the comforts travellers want and I settled in for a few days.
31/8/05 A rally of a different kind left the UK for Mongolia a couple of months ago. A charity event, all the cars, about 40, had to be less than 1000 cc and would be donated to Save the Children Fund in Mongolia along with the 1000 pound each, entry fees. A couple of stragglers, the event now officially over, were at my hotel with their Vauxhall Nova, the engine in bits at the local workshop, the pistons having been burnt out by the bad petrol and hot conditions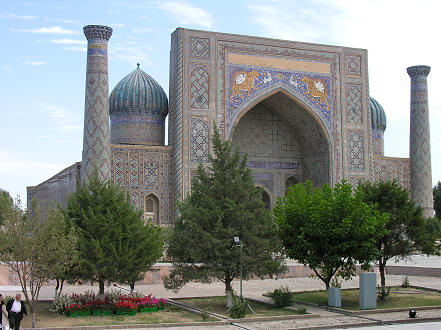 coming across the Turkmenistan region. Wanting to finish the event, they asked my limited advice on mechanics, and decided to get new parts from Tashkent, the car being ready in a few days, hopefully. It was interesting for me to see what damage had been done, melting holes around the edge of the pistons, up to 5 mm deep, down to the first of the rings. I wonder what the inside of my engine looks like after thousands more km's on the same bad fuel. Visited the Registan, the 15th Century medressa with its blue tiles and minarets. Now not used as a religious place it looses a lot of its appeal compared to complexes in Mashad or Mazar-e Sharif which are alive and vibrant.
1/9/05 You can't kill between 300 and 1000 civilians (the numbers vary depending on what source used) in a religious and political crackdown in spring and expect tourists to still visit your country in the summer. Last May the government here opened fire on a group of protesters in Andijan, in the east, with the high death toll. According to locals, tourist numbers have plummeted this year compared to recent years. The holiday makers, not willing to take a risk on their holiday, or in protest of the governments actions, simply went elsewhere.
The travellers, content to progress slowly to see what unfolds in the country as they get nearer, are now here, there having been no follow up problems. Today is Independence Day, a holiday, and with people out tending their recently deceased relatives graves in the main cemetery I wandered through to the Shahr-i-Zindah, an avenue of ancient tombs surrounding one that is believed to be that of the Prophet Mohammed's cousin Qusam ibn-Abbas, now being restored surrounded by the newer cemetery. Also visited the Bibi-Khanym Mosque, again a sterile renovated historical site without any soul, but with great architecture and history. The living bazaar next door however thronged with activity.
2/9/05 Guir Amir Mausoleum is another restored ancient building, beautiful, but lost in its impact, standing stark, surrounded by modern cleanliness, with few locals or tourists. This is the tomb housing Timur's remains and some of his relatives. It is back to school for most Uzbek children after the summer holidays and a continuation of the elaborate dress of the people passes onto schooling with girls in dresses, aprons, with large bows in their hair and boys in a full suit.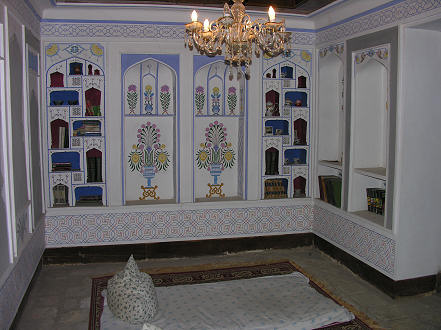 This is one country that seems to have kept much of its Russian-ness, less here seems to have changed since devolution than in Russia itself.
3/9/05 Headed out of Samarkand with the intention of getting towards Khiva but having left late and in increasing heat decided to stay in Bukhara. I had recently found out that my planned route through Turkmenistan, from Kayne-Urgench to Ashgabat was not possible on a transit visa so I will have to return to Bukhara to transit from Turkmenabat to Ashgabat. The flat hot plains of irrigated cotton passed quickly on the good, four lanes almost all the way, road. The people, almost overly friendly, their vehicles a little annoying coming alongside, trying to talk as we drive along, offering a drink or to stop and talk.
4/9/05 Mubinjon's Bukhara House is like a homestay, in a 250 yr old semi restored building surrounding a courtyard. Mubinjon is as much an attraction as the house. Living alone he entertains his guests unobtrusively. Just three rooms for rent at $US 5.00 a person. My room is totally restored, niches, alcoves and shelves filled with books and artefacts. The only furniture, a mattress on the floor. Cool inside the thick windowless walls, a door to the courtyard its only opening.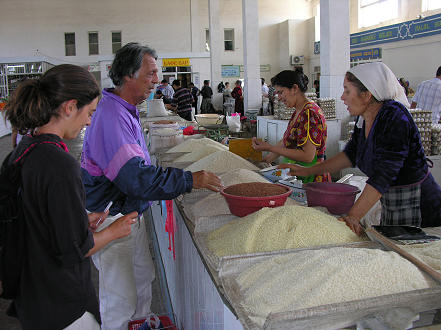 With just one other guest, a French tourist, we were invited to go shopping this morning and to help prepare the national dish, plov, for our lunch and dinner. A rice bases dish, meat, cotton seed oil, garlic, tomatoes, carrots, onions and the spice cumin, all cooked in the one pot. A little oily for my tastes elsewhere but here it was delicious, perhaps because we spent all morning buying and preparing the dish. In the cooler evening I explored the old part of town. Again largely recently restored but with tourist shops and artisans filling the historic buildings, it at least had a living feel. The domed roofed monuments are stunning and I climbed to the top of the Kalon Minaret, an amazing tower built in the early 12th century giving tremendous views at sunset. As amazing was there were only four tourists at the top and that the authorities allow tourists to climb such an ancient and important structure, its 100 steps slowly wearing away with use.
5/9/05 With all the restoration work being carried out in the country recently it is easy to see how older buildings could become submerged beneath the new ones. Some restoration has required the digging down, sometimes over 3 metres, to uncover an older structure,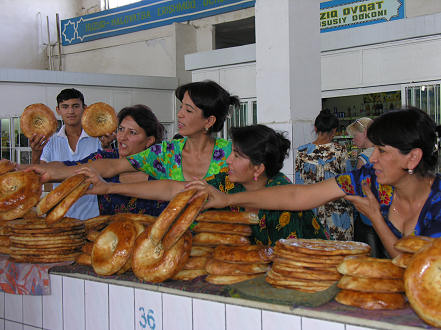 like the Maghaki-Attar, a mosque built over fifth century ruins of a Zoroastrian temple. Again we went to the markets shopping with out host Mubinjon, this time four of us, another French tourist had arrived to join in our exploits. It is surprising how many French tourists are in this country. Normally they only mass in numbers in ex-French colonies but for some reason are the dominant tourists in Uzbekistan. Germans also often congregate in certain countries with Japanese, Brits, Aussie's and the Dutch spread all over the world. Today it was a chicken dish with bread and buck wheat, again heavily laced with garlic, local wine its accompaniment. A big grape growing country, not really known for its wines. A slightly fortified drop, red, sweet with added sugar, just a dollar a bottle and a more normal red wine a little more expensive. We just about got what we paid for. Unfortunately Mubinjon, short on rooms, decided I wouldn't mind sharing mine and registered more tourists to his hotel. As I was not asked for this favour, but assumed it would be OK, I decided to move to another hotel for the night, taking a room with air con, ensuite, cable TV and parking for just $US 8.00
6/9/05 A 6.00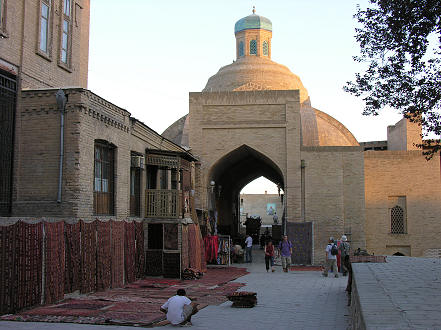 am start, to beat the heat, for the 450 km ride north to Khiva along a good asphalt road, travelling at 100 km/ph and taking just six hours. Marred only by the number of police checks. Like the 10 or more I had from Samarkand to Bukhara, most just wanted to look at the motorcycle, not interested in my paperwork. On that section I normally didn't stop, shaking my head and riding slowly on without problems, however as I plan to return along this road I decided it was better not to annoy any police on the way out and had to endure about eight stops of the same ten questions about the bike before I felt I could, without their permission, take the initiative to start the bike and continue on the trip. I don't mind, most of the time, this interest from the general public, but find it an abuse of the powers of the police, usually underpaid but somehow overfed. Usually the more police checks in a country the greater the corruption, each hoping to get his share. The scenery was mostly desert and flat but the last 100 km was irrigated cotton and corn. People out harvesting the cotton by hand, men and women, a vision of the past, deep south America, except there was no negro singing. The irrigation waters, that used to flow into the Aral Sea, then the worlds fourth largest lake, are diverted along the worlds longest canal for irrigation,
now only 10% of the original rivers flow reaches the sea, that has shrunk and is now too salty for fish, and is perhaps the worlds worst man initiated environmental disaster. The death of a lake gives life to the desert elsewhere!
7/9/05 A town is believed to have existed at Khiva for more than 3000 years but it is more famous for its recent history. Part of the silk route but it is believed more than a million slaves were traded here in the 19th century. Now given over to tourists, busloads arrive each day, most not staying inside the 2.5 km mud brick walls, just day trippers. This leaves the place empty at night. The locals not involved in tourism getting back their town. I am staying inside the walled area, the only tourist at my hotel, the owner waiting for the next tour group to arrive. I have been debating riding up towards the Aral Sea, the town of Maynaq, where in the 1950's a fishing industry supported tens of thousands of people. Now it is a couple of hundred km's from the lakes shore with its fishing boats stranded high and dry. On inspecting the front tyre, and with 4 to 5 thousand km's to ride to finish this trip I decided the 900 km round trip detour to Maynaq might be asking a bit much and opted for another rest day in Khiva, again wandering the old town almost alone at sunset.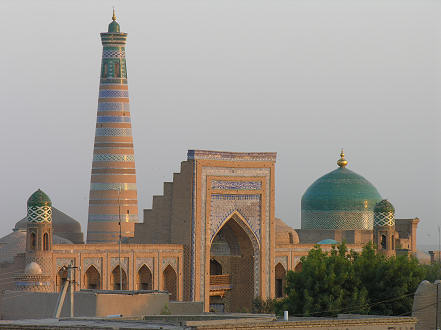 8/9/05 I was recently given the book "The Long Way Round". The story of Ewan Mc Gregor and Charley Boorman's trip from London to New York across Kazakhstan, Mongolia and Siberia on BMW GS 1150 motorcycles, which I just finished reading. Famous actors and making a documentary enroute they had a cameraman on a third BMW and up to six assistants, doctor, interpreters, logistics etc in two 4x4's. I normally don't get into other motorcycle travellers stories, however this one was easy reading, had a bit of Hollywood flair, and exaggeration, and covered a similar part of the world I had recently visited, and I thoroughly enjoyed it. I only wondered why they had travelled at that time of the year, when it was known to be wet, and 1 to 2 months later the trip would have been much easier. Perhaps the drama was needed for the documentary. Perhaps the planning forgot the most important factor in motorcycle travelling, "plan the weather first", everything else will then be easy. Uzbekistan will not rate highly on my return to list. Whilst I have had some great experiences at a couple of accommodation places the general undertone has been a little negative. Perhaps the flood of tourists, having dried up has left them disenchanted with the industry.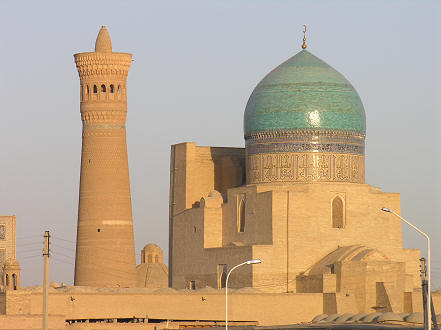 Perhaps the need to get as much from the remaining tourists had them pushing too hard. Perhaps they are just dissatisfied and it is reflected in the tourists. But other things, like the road blocks, the inability to by suitable oil for the bike, things that the other countries in the region to the east have done haven't occurred here. Again I was the only tourist at my hotel of 20 rooms, now the beginning of the high season.
9/9/05 Most animals live a longer time in captivity, some almost double their life expectancy, yet man considers captivity of animals cruel. Man also lives a longer time in captivity, where food and medicines are readily available and accident and predatory risk is reduced by government regulations as in western societies. Yet westerners think the rigors of the third world are cruel, as he settles the nomads and brings farmers to industrial cities so they too can have medicines and regulations for a longer life of captivity. Back to Bukhara. A different road for the first 100 km, more irrigation, a bridge across the Amu-Darya (river) instead of the series of connected floating barges further to the north. Then the same road, police checks and desert. After having visited a dozen shops I found a grade of diesel oil (engine oil) suitable for the motorcycle, still no suitable gearbox oil. Little seems to be imported into this double landlocked country.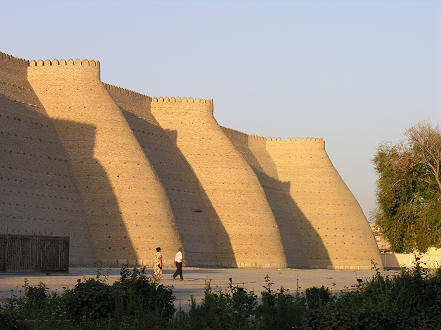 One of only two in the world, a landlocked country, surrounded by landlocked countries. The cost to bring products overland or by air, when all of its neighbours are almost as poor keeps imported items to a minimum. Locally made products are to a basic cost and quality. Petrol in the region is smuggled in from Turkmenistan where it is subsidized heavily. Each smuggled litre costing the Turkmen government the price of the subsidy. Subsidies also create a wasteful use of fuel, it being so cheap. Petrol stations in Uzbekistan can't compete with the street sellers and the Uzbek govt looses revenue it would have made from the sale of legitimate petrol.
10/9/05 Kay and I have had lengthy discussions on our future, either getting together or staying apart, when we were travelling in Japan and by email since then. With just five weeks of this trip left I am already looking forward to seeing the family, 14 months since I saw the "adult" children and five since seeing Kay. Normally the trip starts to wind down in the last two weeks when trip planning stops and thoughts move homeward but this time the homeward thoughts have been with me much earlier. It is planned for Kay and I to travel together for the 12th section starting in December, countries of Africa the bike has not yet visited. Apart from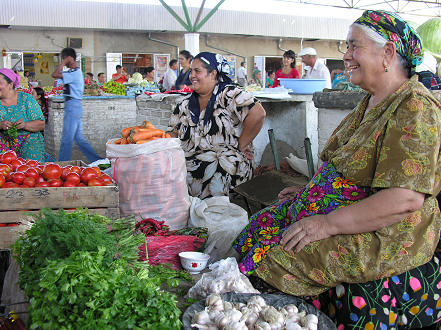 the month in Japan it will be a year since we have travelled together, after the longest period of being apart since we first met 35 years ago. Just kicked back waiting till the 12th of September when my Turkmenistan visa starts.
11/9/05 Women bear the effort of mans indulgence the world over. In so many third world countries the men sit and talk while the women work. Man taking on the supposed important jobs or those of new technology, seen as too complicated for women or suitable to man's status. Hunting, livestock management, the handling of machinery. Women have remained marginalized in the homes. Spent a few hours in the internet looking into boats to the Middle East countries from Iran and airfares home to Australia.
12/9/05 Something has been biting me fairly regularly over the last month or more. Usually in the evenings I have had many ant like bites where clothing is tight, around the waist, arms and buttock. Initially I thought it was insects getting into my clothing whilst riding, then perhaps something in the region that infests the hotel rooms or bedding. Finally I realized it was in my clothes bag. Cold water washing either didn't kill them or they lived in my bag and spread as I changed clothes. A can of fly spray about a week ago seems to have stopped the problem, thankfully. Left at 8.00 am for the border intending to spend the last of my local money on petrol, however every station for the 100 km journey was closed and the street sellers were no where to be seen. Knowing the motorcycle gets about 70 km on reserve I arrived at the border with about 30 km to spare. An easy crossing, 30 minutes, they wanted to see just one hotel receipt which I had kept.
Move with me to Turkmenistan