Travel Through the United States of America on a Harley-Davidson
By Peter & Kay Forwood
U.S.A. on a Harley (12/4/01 - 16/6/01)
Distance 10804 km (229146 km to 239950 km)
This is part of the Seventh section of our around the world trip.
Complete Trip Overview & Map
Coming from Western Sahara and Morocco

12/4/01 The value of having friends in the right places can't be overstated. Freddie, one of only two people we know of who have ridden a H-D around the world, has been planning and awaiting our arrival. He managed to get our motorcycle's agricultural inspection done yesterday. Despite us having pressure washed the bulk of the caked on grime off he still had troubles convincing the inspector the bike was actually clean. Our aeroplane landed at 2 pm, customs was cleared at 3.30 and the bike reassembled and out of the cargo terminal, riding the New York roads by 5 pm, the day before easter. Half an hour later and we were enjoying a cold beer in Freddie and Nathia's flat comparing his week long efforts to clear customs in Madras, India and mine in Bangladesh. No carnet needed here, just a couple of forms, and declaration showing I was a foreigner, as was the motorcycle, and we get a six month free ride.
13/4/01 Off to New York H-D which opens every day, even Easter Friday, where the workshop manager arranged a super special price to rebuild the engine top end using parts supplied free by Morgan and Wacker H-D of Brisbane Australia. A ride around the "Big Apple" and still being knocked over by the culture shock.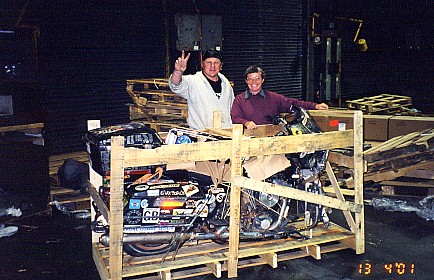 You can buy anything here. It's just the price that kills you. The sun shone and we visited another biker shop before a fast food lunch. We had slowly slipped into Africa, moving progressively more third world towards people who live in unimaginable difficulty and now within days to be thrown back to a western society at its extreme, hard to absorb.
14/4/01 Freddie took us on an overview drive through visit of down town New York, Manhattan. Down Broadway, 5th Avenue, Times Square, Wall Street, Twin Towers and the Empire State Building, Brooklyn Bridge and a glance at the Statue of Liberty. In the evening we "hung out" with his mates at Eddie's Bar. A converted garage under a disused railway line accessed down a back alley and with a portaloo toilet in the alley. Originally a bike shop with small drinking area. It seems the customers drank more than they rode, with the bar growing and shop shrinking, particularly in winter.
15/4/01 Apparently there are more Spanish speaking people in America than English speaking people. Freddies "to be", August 11th, family is Cuban American and has a big get together at Easter.
We were invited to Nathia's sisters house along with 40+ family members for a great insight/welcoming into the way they celebrate Easter. We were accepted as almost one of the family and were treated to an overdose of great food.
16/4/01 Absorbed the local community with its free library internet, phone cards at cheap prices allowing that phone call home to the relatives we have been deprived of in Africa. Ate bagels and bagels, got lost in gigantic hardware and sports stores, still amazed at the variety of selection of products.
17/4/01 Played commuter to Manhatten then tourist, visiting Federal Hall, where the first US Congress convened and George Washington was sworn in as the first president. Wall Street to see the trading floor of the stock exchange. Down Broadway and a boat to the Statue of Liberty. They say first time visitors to New York feel they have been here before having heard and seen so much about the place, usually on TV, probably "soaps". That is exactly how we felt.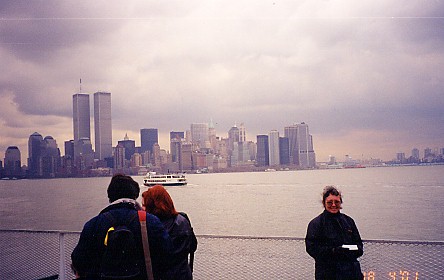 18/4/01 H-D informed us the engine top end rebuild is progressing nicely. Apart from substantial leakage around the exhaust valves the cylinders only need 10 thou oversized rings, replace the valves and machine their seats, rocker pins and push rods plus new gaskets and we could be back on the road in a couple of days. Meanwhile the extremes of NY's wealth and poverty, efficiency and inefficiency, generosity and miserliness continue to fascinate. Ask one New Yorker for change for the phone, they give me a quarter and a smile, ask another for directions and they look and walk on without recognition.
19/4/01 Back to Manhattan heading "uptown", through China Town for lunch, Soho, The Empire State Building and Times Square where the largest billboards are to be seen, blocking out buildings. Where any live theatre worth anything has been seen. Where there are more tourists than locals and where we enjoyed a coffee overlooking the "rubbernecks" from the only coffee shop we could afford, McDonalds. Macy's Easter spring flower show is stunning. The whole bottom floor a bloom along with the street display windows.
20/4/01 Again to the Big Apple with its big cars. No petrol crisis here although there is a lot of talk about raising prices. They are currently about the same here as we were paying in Africa. The parking bays are larger and traffic jams are greater because of the larger vehicle size. Nowhere more apparent than in the taxi's, carrying usually one business man in a huge car. This country alone uses 25% of the worlds energy consumption. Walking from Times Square to Central Park past the Rockefeller Centre, its outdoor ice skating rink, horse drawn carriages and Strawberry Fields in an area of the park as a memorial to John Lennon. The enormous Central Park described as the lungs of NY, the sanity in an insane society. The unorthodoxly dressed Jewish community with their large hats, cropped hair and long side curls wander amongst the cell phone crowd and many times the smell of burning marijuana or hashish passed us in the streets. This is the place where high priced unique items are first released on the trend-setters that may ultimately gain popularity, become mass produced and will eventually be affordable to the masses. Without this birth of uniqueness many products we take for granted today would not have been developed.
21/4/01 Party, party, party. Last night had seen us out on the town with a bunch of biker mates of Freddies and Nathia's, arriving home at 3.30 am and tonight it's friends over to their apartment for good food and a movie. Work hard, play hard.
22/4/01 With the computer at home now four years old and we are in a civilized country we have finally succumb to a laptop or notebook. While internet is free here in libraries, they restrict what you can do with it. Internet cafe's seem thin on the ground, perhaps because of the libraries, perhaps because most people have computers at work or at home. So the first of probably many days learning the new toy before it is likely to disintegrate from vibration. The 12 month warranty should at least give us that time without expense.
23/4/01 We are still waiting on the motorcycle engine rebuild to be completed, now six working days. The hold up, basically it is the beginning of the riding season and the shop is just flat strap busy.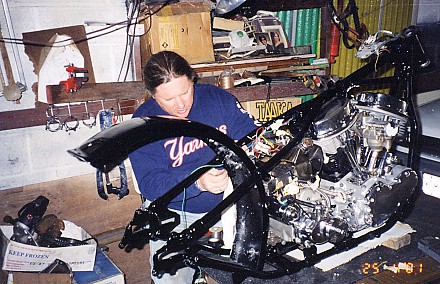 24/4/01 Freddie is restoring a 1965 Panhead H-D, almost unique with an electric start. Since completing his world trip he has relaxed into a more congenial lifestyle working for himself in a nearby neighbours garage restoring bikes he likes and then selling them. He says the boss is a little tough but he knows how to get around him. The hours are flexible but the pay is not so good. People having travelled for a long time tend to take a different view of the world on their return. Some never settle down again while others take on pursuits more in line with their hobbies, doing what they enjoy. The broader world broadens the perspective of what we can do in it.
25/4/01 Collected the motorcycle. A new cam had also been installed as the valve springs were weakened from being overheated and had allowed "chatter" and the old cam was marked slightly. We had been interviewed yesterday for the national magazine "The Horse", a hard riding magazine and today they were at the H-D dealer taking photos of the now ready motorcycle.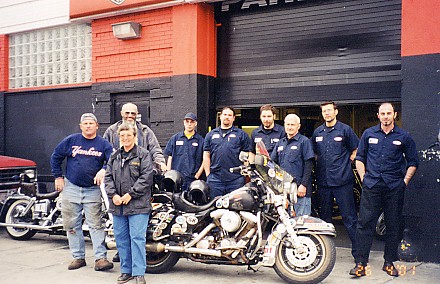 26/4/01 A full day doing our share of repairs to the bike like fitting a new rack (the old one had cracked beyond repair), brake pads, battery, front engine mount (our third) and rear bumper all destroyed in Africa. Parts generously supplied by Morgan and Wacker H-D of Australia.
27/4/01 We feel it's time to move on having been here now for the longest time anywhere on the entire trip. Freddie and Nathia the greatest of hosts showing us the tourist, party and suburban New York. The four of us decided to ride out together over to Reading in Pennsylvania to a swap meet, where Freddie is looking for parts to rebuild his project bikes. The spring crisp morning and sunny days with trees budding and bright green grass make the countryside look like a large well manicured park. Dotted with traditional two story plus attic wooden houses you really feel in the "mom and apple pie America".
28/4/01 This is the 100th anniversary year of commencement of production of the "Indian" motorcycle and this swap meet is dedicated to Indian restoration. In the judging arena there were 187 Indian motorcycles ranging from 1904 to 1953 models. An incredibly impressive sight. Some in original condition others completely restored. There were Harleys as well as other makes represented. Out in the fields it seemed as if all of America had emptied its garages of old motorcycle bits and pieces, with many people being both sellers and buyers. Someone even said they break up old motorcycles to sell the bits to someone else who will put them back together.
29/4/01 Jimbo toured Australia six years ago on his H-D with trailer and had invited us to stay at his house in the U.S.A.. However travel got into his blood and he and his new wife Donna now travel most of the time in their full coach bus fitted out with everything from self levelling to satellite TV. He tows a truck behind that carries his Harley Softail. Now that is a way to travel, not through the world but certainly in America. We had already seen some of these coach RV's with their hydraulic slide away expanding rooms at the swap meet but were more impressed by the internal size and finish. Everywhere we look there are different things, like the invisible dog fence. A sensor runs underground around your block and the dog, wearing an electric jolt collar won't cross it. If he does, he gets zapped by the collar. Like the drive through ATM's (Bankomat), never needing to get out of the car or off the motorcycle to get cash.
30/4/01 York is where Harleys are made. Well at least assembled with 92% of all their parts manufactured in the U.S.A.. We toured the plant along with hundreds a day of other interested people. Current production is 700 bikes a day from the three assembly lines working two shifts. I guess our motorcycle has now technically been around the world having been made here, shipped and sold to us in Australia and continuing to head westward on our trip it is now back home. Of course for us it won't be home till it is back in Australia.
1/5/01 Quakers founded Pennsylvania with religious freedom that has lasted till today. The Amish communities near York still wear plain clothing, shun electricity or mechanized transport and ride in horse drawn buggies and use horse teams to plough their fields. Whilst tourism is big in the area you can still take small back roads to see the Amish going about their normal activities.
2/5/01 After three nights of comfortable sleep in the motor home we departed via Gettysburg National Military Park, the site of the decisive battle of the civil war and where Lincoln gave his famous Gettysburg address. This enormous park with hundreds of memorials to the famous and fallen seems to be a compulsory visit for every American school child. We moved on, on our own for the first time in America, along the 15 then the 322 to camp in a forest park at Reeds Gap. As usual the Americans are well organized with the odd numbered roads running N-S and the even ones going E-W eliminating the need to know exactly the next town name. As long as you know roughly the direction you are headed it works. I used to also think they had run out of names with their 1st, 2nd and 3rd streets but in big cities it makes it easy to work out how many blocks you have to go and its quick to find where you are on a map.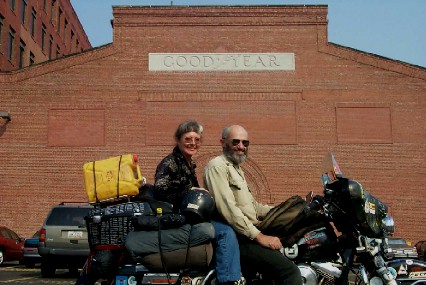 3/5/01 Just riding, along the interstate 80 West, along with the large truck rigs that travel 24 hours a day leaving that dull humm in the air. Rest stops are better than any campground we stayed in in Africa with green grass, tables and chairs, toilets that flush and with paper, hot water basins, information, soda machines and even TV with the weather channel giving forecasts. It is a shame we couldn't camp here. Crossed the border into Ohio to camp tonight still revelling in travelling all day without a road block checking our papers.
4/5/01 The choice in America is to decide what not to see, not what to see as there is so much of the world we know here. Called into Akron, where half of Americas tyres are made and where vulcanized rubber was invented by Mr Goodyear, now part of Dunlop. We approached the marketing representative here and visited their museum and hopefully we will be able to continue receiving free tyres from them whilst in the Americas. Onto Milan where Thomas Edison was born, for a tour of his house, still in the family, and a realization of how one man changed our world with the inventions of the light bulb and recorded sound.
5/5/01 We spent last night in the company of Carl and Kathy in Bowling Green. They are Goldwing riders and having read our web page emailed us to come and stay. This was a first for us. An open invitation between two couples who haven't met to share their company and home, arranged through the internet. Both couples broad minded to consider the "blind date", but hesitant not knowing the other party. Great food, company and plenty of dynamic conversation. We also visited a local town motorcycle meet heralding the beginning of the riding season and enjoyed the local bologna sandwiches and home baked pies.
6/5/01 With the weather cooling off from its unseasonable highs we rode 500 km to Milwaukee via Chicago. Milwaukee, the birth place of H-D and still its main administrative town. Choosing lesser "red roads" where possible, and along the beautiful lake shore drive in Chicago, through the countryside and smaller towns to avoid the rush of the interstates.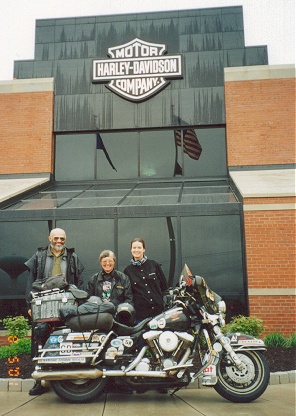 7/5/01 Christine Adamavich, editor of H.O.G. Tales, the company club magazine, had invited us to stay at her house in Milwaukee. She had planned a photo shoot outside the engine manufacturing plant and in the countryside along with an interview for the magazine. Milwaukee rain did its best to deter events but despite us being wet the sun appeared for the last photos. The engine plant produces Sportster engines plus small lots production of spare parts for older models now not in production. With over 1 million big twin H-D Evo motors still chugging along, H-D has created an engine rebuild facility where for half the cost of a new motor you can have the old one brought up to new specifications and warranty, both inside and out with new chrome and paint. Our next rebuild, hopefully in a long time, will probably need both top and bottom end work and will likely be done here.
8/5/01 Regroup for a couple of days by ourselves at Devils Lake State Park just 200 km west of Milwaukee. The pace in the USA a little faster than we are used to and not having been home to organize ourselves between trips we have to plan, read and shop on the run. Again the library system with its free internet access in every small to big town a boost to keeping in touch. Everything is in the shops, its just the choice that is difficult.
9/5/01 Where is the milk. Yes we can get homogenized, skim, low fat, flavoured, vitamin D enriched, 1% or 2% fat but we can't find just milk. When they started to remove fat and modify milk to our "health advantage" the price went up despite ingredients going out. Now that they are putting ingredients back as in "whole organic milk" the price goes up again. I remember clothing fashions of the 60's where manufacturers changed fashions to make us buy new clothes and now they are creating food fashions to make us pay more for less. Coming straight from Africa where what is available isn't adulterated, where yoghurt comes in one flavour, natural with no additives or removals, where a tomato was picked ripe yesterday and squishes down your chin, and strawberries are only available in season and taste like strawberries, where the range is limited but the product is real, it's a little horrifying to see "progress in the supermarkets".
10/5/01 With cheap motel prices out of reach and even camp grounds expensive "The Community" at www.horizonsunlimited.com/community was dialled up. A list of people throughout the world willing to help travelling bikers, in need of assistance with mechanics, local knowledge or accommodation. A horizonsunlimited idea that although in its infancy has 80 assistees throughout the world. We emailed one for possible accommodation in Vancouver and immediately received a positive response. It would appear most of these people are in cities where accommodation prices are the worst.

Move with us to the next section of the U.S.A. .