Travel in Taiwan on a Harley-Davidson
By Peter & Kay Forwood
Taiwan on a Harley (22/3/08 - 19/4/08)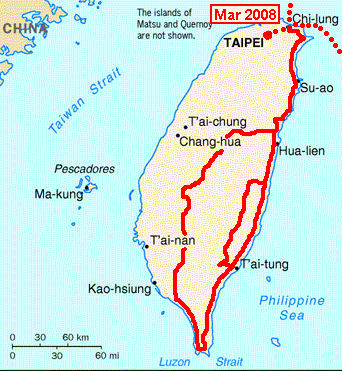 Distance 1911 km (502010 km to 503921 km)
This is part of the fourteenth section of our around the world trip.
Complete Trip Overview & Map
Coming from Palau

22/3/08 We had ordered Lonely Planet guide books for Taiwan and Korea off their web page, while we were in Guam over six weeks ago, to be delivered to our hotel in Palau, but they hadn't arrived, nor had our internet requests by email to the Lonely Planet web page been answered. We have almost always used these guide books, but this is the second such incident of our books not turning up on time, or not turning up at all. Last time the follow up service was excellent, this time we are arriving in a country with no knowledge of it, no knowledge of what we want to see or do, only a hostel booking over the internet, with an airport pick up, something we rarely arrange before arrival. Before we had landed it was obvious we were entering a different world. The sunset smog was thick, the city stretched for miles in all directions, a bigger country than we had visited for almost a year.

23/3/08 Our room
was a cube, as wide and long as it was high, designed for three, two bunks and a flat bed, toilet outside, modular showers, like porta-loo on the outside balcony, top and ninth floor of an inner city apartment building. Designed for an average family it now had 25 beds, and tonight was full, Americans looking for English teaching jobs, a Colombian doing time waiting for his broken leg to mend, women from Hong Kong and a local couple, a good mix. The most famous attraction in Taiwan is the National Palace Museum, armed with a "Rough Guide" guidebook, bought from a departing tourist, we manoeuvred through the under underground rail network, and a local bus arriving after an hour's travel. This is a Chinese collection, from Emperors going back over 5000 years, once stored in Beijing it was packed up with the advancing Japanese troops during the second world war, then fled to Taiwan with the advancing Communists along with Chiang Kai-shek. Not all of the Emperors' enormous collection could be transported but the best pieces are here, much to the chagrin of the Chinese government. Sunday may not have been the best day to visit a museum that attracts two million people a year, but it avoids school groups. Jades,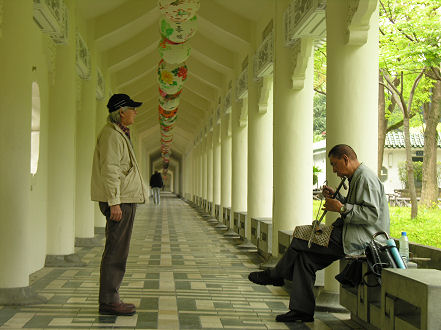 bronzes, the best and earliest we have seen, ivory, pottery, lacquer ware, furniture and trinkets all amazing. We spent the whole day, with many rests, absorbing the history, and at times dodging the Japanese tour groups. Hungry, the Shilin Night Markets, on our path home, seemed to be the answer. We tried, once only, the stinky tofu, it is said to sicken foreigners, and that is what it smells like. Unfortunately we found, despite being told otherwise, the smell transfers into the taste, at least mentally. The deep fried tofu is very popular with locals though. The lamb broth was tasty but we found most foods lacked fresh vegetables, perhaps seasonal, and were more oily than other Asian foods we have experienced.

24/3/08 Taiwan entered the capitalist world well before China and its people having earlier benefit of wealth and a higher protein diet are surprisingly tall, particularly the men, who are reaching western stature. Almost everyone eats out in Taipei, a low vegetable diet, low fruit, high starch, high fats, and we haven't been able to locate a supermarket, well at least not what we would call a supermarket. The closest was an upmarket place, speciality foods, some special marbled beef was selling for $US 900.00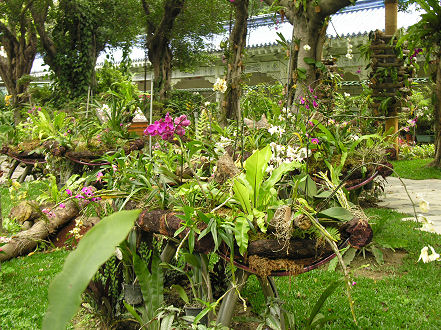 a kilogram and nicely wrapped and boxed apples were $US 10.00 each. We did manage to find some tea bags in the endless array of choice that would have made any other country's selection seem inferior. A culture of coffee and tea shops has grown up surpassing even the US in variety, we are yet to try the bubble tea!! The results of the two day ago election are out and it is a change of government, one more interested in closer relations with China, perhaps re-unification, a popular topic of discussion. Our outing today was to the to the Chiang Kai-shek memorial hall, along with his enormous bronze statue it is an impressive building to the man set in lovely gardens. Some magnificent modern jade carvings could be seen in the exhibition hall beneath. We also had the opportunity to enjoy some local music. A succession of elderly men arrived, played their bamboo fiddle whilst someone sang, and left. Not buskers, just people who liked to play and have someone sing. Utilising the acoustics of the covered walkway and the solitude of the memorial grounds, away from the city noise, elderly people enjoying company and a common interest. A stroll through the 2-28 Peace Park balanced the hero status of Chiang Kai-shek with the reality of his dictatorial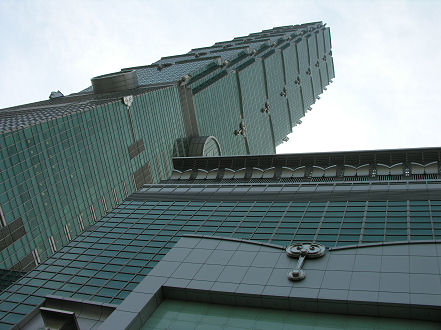 rule before the arrival of democracy, ended the outing for the day.

25/3/08 Taipei is an easy city to move about in. The metro seems logical in its function and as we are seeing everywhere the country's attention to perfection is also here. Trains arrive on time, the passengers are polite and orderly, no pushing and standing to the side on escalators, the ticket token system is efficiently excellent. Messages are broadcast in Chinese and English with subtle reminders to vacate seats for the elderly and pregnant and not to eat, chew or spit. There is no graffiti in the subways, in fact some are used as art galleries, seemingly unattended except by surveillance cameras, and crime appears to be non existent. The world's tallest completed building is in Taipei, the 101 tower, 101 floors, surpassing the twin towers of Malaysia, but it will soon be surpassed by Dubai, the next city wanting to debut itself on the world's stage. We managed to obtain a Korean guide book in the building's enormous mall, looked at the latest new cameras, and watched the majority foreign tourist shoppers dine at the best restaurants.

26/3/08 One of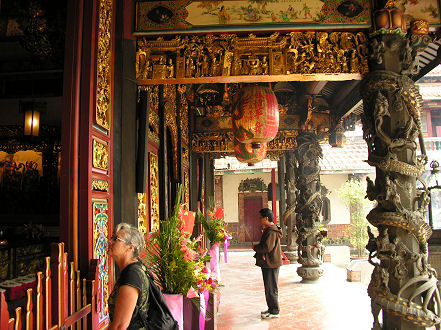 the costs of this great development is the air quality. Even on a sunny day like today, the air was hazy, no blue sky just a pale grey, perhaps blown in from mainland China? Although there is not a great deal of what we might call "good English" we are not finding it too difficult to communicate. A couple of people, seeing our maps out, have offered to help with directions. Many signs are in English, many are not, most people will try to assist, often asking around if anyone speaks English. Ordering a meal is often the most difficult as we are eating in small, off street stalls or local eateries and can't read the menu, so we are using the point method if possible. Visited a couple of temples. Baoan Temple has recently undergone renovations and is striking in its appearance with carved granite pillars and murals. The stunning array of offerings people leave, fruit and flowering orchids, are the best available. A midday street procession with fireworks and performers passed while we visited, and afterwards in the opposite park a few older people were enjoying themselves, gathered to sing and play traditional musical instruments. Later in the afternoon we visited "China Town". I guess the whole of Taipei is China Town, but modernity has overcome most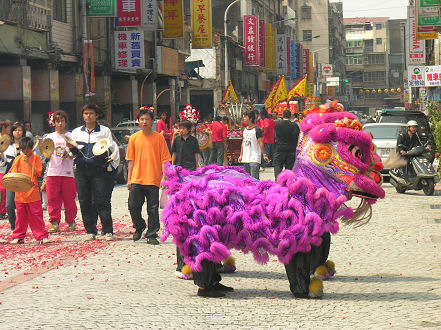 of the city, but in Dihua St, much is as it was, modernised, and such luxury goods like a small tray of bech-demer, (sea slugs), could be purchased from modest prices up to over $US 600 a small tray. A display of shark fins and jaws, and what looked like orca dorsal fins, in the same shop, showed a cultural divide.

27/3/08 Taiwan has over 13 million motorcycles, almost exclusively scooters, in a population of 23 million. Large motorcycles are fairly new to the country, with over 150cc bikes banned until Taiwan joined the World Trade Organisation in 2002 and the ban on larger motorcycles was lifted. Still changes on the roads are occurring slowly. It took till 2005 for larger motorcycles (over 250cc) to be allowed on just two expressways of only 50km in length, and not till 2007 were motorcycles of over 550cc allowed on all expressways with posted speed limits up to 90km/hr. All motorcycles are still banned from freeways with faster speed limits. For newcomers to the country it could cause us a bit of difficulty working out what roads we are allowed on. Also to turn left, small motorcycles have to turn right, effectively do a U-turn then wait for the traffic lights to change. Large motorcycles are treated like motor cars and use more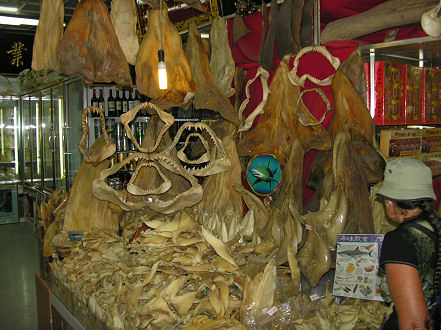 usual traffic rules. By having so many motorcycles as a percentage of the vehicles on the roads many countries in Asia have developed their own strategies on traffic control. Lonely Planet finally emailed us back and will be refunding the purchase price to our credit card, a good result. We visited the shipping agent, who had appointed a customs clearance agent. Initially we were informed the motorcycle would attract a 17% refundable bond, only to be later informed this was not possible for a motorcycle and the full duty, not refundable, of 20% would have to be paid for the motorcycle to enter the country.

28/3/08 Taiwan is not a country that is a signatory to Carnets. On the best advice we could obtain yesterday we needed special approval from the Ministry of Finance, under section 52 of the act, to get permission to waive the importation duty. We were politely welcomed at their office at opening this morning and applied for the permission, which we hoped would be approved in the next day or two. Unfortunately they would not waive the import duty but would allow it to be refunded when the motorcycle leaves the country. Back at the freight company we paid them for handling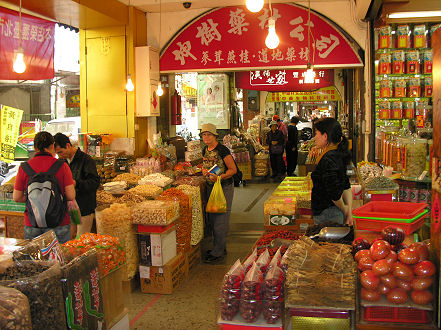 charges, and booked the motorcycle from Taiwan to Korea on the 22nd of April. All very efficient, if not a little strict to the rule book. At both the government and private office we were ushered into what we would call the "board room" provided with cups of tea, and after business was completed were escorted, at least to the elevator, or in the case of the Ministry of Finance, to their canteen for breakfast. The onward shipping was incredibly cheap, just $US 10.00 a cubic metre and with document and port charges came to just $US 60.00. Apparently most cargo comes from Korea to Taiwan, reverse shipping is cheap. The only shock cost was the quote for a customs broker, $US 160.00 import, and the same to export, so we decided to attempt it ourselves from Keelung, the port the motorcycle is due to arrive at on the 31st. A late email from the Ministry of Finance arrived, regretfully denied us special permission, as the rules don't cover motor vehicles. The Baoan Temple is currently running a free open air opera on weekends. Attended by a few hundred people, the elaborately dressed performers acted and sang out a comedy, not that we understood any of the jokes, in Chinese, but watching both the audience and the performance entertained us.

29/3/08 As Taiwan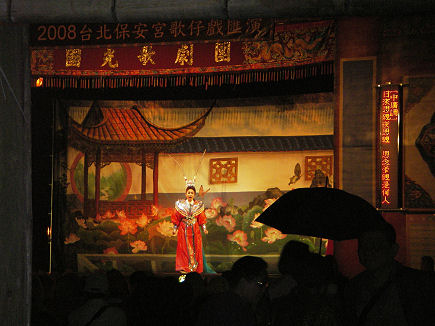 would be the only place in the world we have been asked to pay the full, non refundable duty, we started emailing the Taiwan Chamber of Commerce, our Carnet issuing authority in Australia and a contacts name we had been given. Being a Saturday we don't expect any responses till Monday. If there is no alternative to paying the full duty we will not ride the motorcycle here but will tranship it directly to South Korea. We had intended to move to Keelung to clear and collect the motorcycle but with those procedures now being more difficult than expected we chose to remain in Taipei, but visited Keelung for the afternoon. The port town is busy and at first we disliked its appearance and were surprised at its position as a holiday destination for Taipei residents, however by late afternoon and the starting of the street markets, in the narrow back lanes, it gained our interest. Seafood predominated, but dozens of unknown foods were being displayed and bought.

30/3/08 Trying to get out of the heavy traffic and busy city we took to the nearby Yangmingshan National Park, about 45 minutes by bus. It was drizzling lightly but we hoped it would clear, it didn't, and as we ascended from the visitors centre the 600 vertical metres climb to the top of Mount Cising fog descended giving way only to showers. The magnificent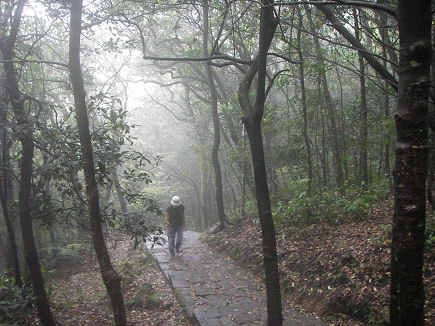 views towards Taipei eluded us as only the nearest of vegetation could be seen peaking out of the foggy whiteness. We stopped in a shelter about half way during a shower of rain and enjoyed the company of a few locals, some who have climbed the mountain many times, one proudly professing it was his 204 such summit. They had brought a stove, and were brewing tea, in a tea pot, carried for the occasion, a very social event. The day being fairly dismal we at least satisfied the need to be away from the crowds and traffic of Taipei. The temperature dropped drastically during the day and by the time we returned to the hostel we were damp and cold through, but strangely it was a very pleasant day.

31/3/08 The reply to our weekend email to the Ministry of Finance, pleading for special dispensation to temporarily import the motorcycle without duty, was a conciliatory "no". Taking a different track we caught the train to Keeling, approaching the customs office directly, where little English is spoken, but again the staff were helpful. Claiming the motorcycle as personal effects, it arriving in Taiwan at almost the same time as us, from the same place, and departing at the same time etc, similar to other personal belongings of a tourist, we gained a good response. A final decision will be given tomorrow once we have the Delivery Order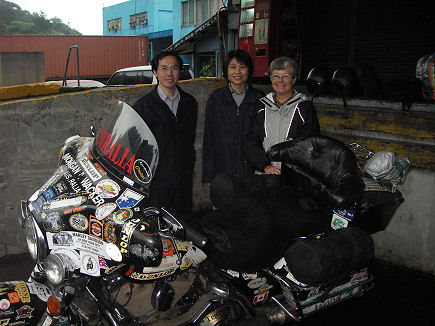 from the shipping company, and a formal application can be made. This will be our third line of approach, the first two also seemed promising on initial request, only to be denied. The cold front that arrived yesterday continued and it rained all afternoon keeping us to the hostel.

1/4/08 A great day. The shipping company had the delivery order by mid morning and customs, as indicated yesterday, cleared the motorcycle as personal effects, just one hour, with us filling in one form with their assistance, no payments necessary. Customs has a computer generated import checking system. If your goods receive a C3, then a customs officer needs to see the goods, a C2 means they can be collected without verification. We received a C2 and were at the enormous container handling facility a short distance out of town late morning. A payment of $US 9.00 handling fee, a friendly warehouse lady, and we had arranged to uncrate the motorcycle undercover, it was still raining, and they would store the crate for our return in two weeks time. By the time we had finished uncrating, the rain was quite heavy and we decided to leave the bike at the container yard, return tomorrow packed and ready to ride, so we returned to Taipei extremely pleased to have the motorcycle in our possession only a day after its arrival.
2/4/08 It has been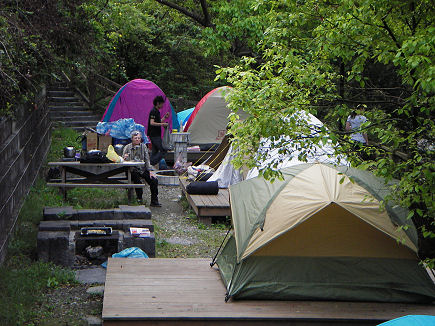 nine months, last time in Sri Lanka, since we have needed to pack the motorcycle for travelling. During that time we have been shipping in and out of the same port, small countries, staying in just the one accommodation while we had the motorcycle, doing day trips out and back. So this morning it was a total repack into the motorcycle when we arrived at the container yard. Camping gear, food, clothing, all had to fit again. By 9am, and still raining, we rode into Keelung and started down the east coast on highway 2. Just as we felt we were missing the great coastal scenery, misty and foggy weather, the rain started to clear, at least to occasional drizzle and we started enjoying the ride. Highway 2 and then 9 hug the coast through some magnificent almost vertical cliffs to the ocean, a great riding road, hampered a bit by the volume of trucks using the road. Stopped for a coffee, a couple of lookouts, were approached by locals interested in the motorcycle, one couple insisted on buying us a coffee, and a few students on scooters wanted photos, before we arrived at Taroko National Park late afternoon. This is our second national park in Taiwan, neither has an entrance fee, and this one offers free camping, on raised wooden platforms, cold showers, excellent facilities, also for free, so that is where we set up, the only campers in the area. It started a light drizzle again in the evening.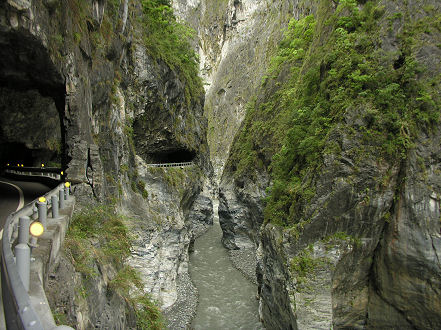 In April, the weather bureau advised, we can expect rain on 50% of the days.
3/4/08 Taroko is Taiwan's most popular national park, famous for its sheer marble gorges. We hiked along the Shakadang River, dodging a couple of busloads of local tourists. It's a couple of hours stroll, with large multi coloured marble boulders littering the riverbed. It is here that some of Taiwan's indigenous people still live. Planted amongst trees were their plots of birds nest ferns, a sought after food they sell in local markets. The main road through the park follows a gorge, popping in and out of tunnels, revealing some stunning views. Dozens of tour buses, mostly elderly Japanese, or young Taiwanese girls, zoom up and down the road on day trips, stopping at our campground, the most accessible toilet stop, and seem to take a particular interest in our camp, as if we are part of the tour's attraction.

4/4/08 The empty campground of yesterday started to fill up this morning and by evening there were tents sprawled all over the area, on the pavilion, around the amphitheatre, on every spare space. It is a three day long weekend, the spring break, and camping is a cheap, popular accommodation for families, university students and pet owners. The array of tents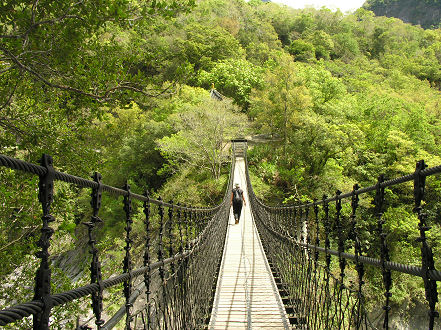 and camping equipment is as varied as any western country and the people don't spare the accessories, making our basic camp look a little paltry. We took another gorge side walk, the tunnel of nine turns, then a second hike, just a couple of km's walk departing from our campsite and by lunch time we were "walked out". The nearby town of Tiansiang has a few accommodation options, one is the Grand Formosa Hotel, where an aboriginal dance is held on weekend evenings, so we avoided the busy campground, and watched the performance, pretty touristy, perhaps less than authentic but entertaining.

5/4/08 The campground was emptying this morning as fast as it had filled up yesterday. We headed out over the mountains, a 3000m plus pass to the west of Taiwan, winding around the sides of cliffs, with magnificent forest and mountain views in all directions. The main cross country highway was destroyed by volcanic activity about a decade ago and has not been rebuilt so this smaller road was taking all the holiday traffic. Luckily we were early as the density started to increase to logjam just as we were leaving the mountains. Taiwan is a, geologically speaking, new land mass and is still growing. Its mountainous interior is almost impenetrable and the road we are taking was built during the Japanese occupation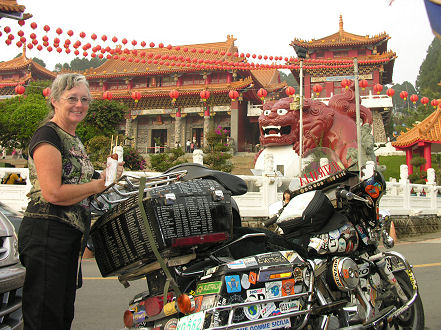 at the expense of many lives, many due to earthquakes bringing down rockfalls. I am now sitting in a campground at Sun Moon Lake, computer on my knees, powered by an inverter from the motorcycle's battery and from somewhere we are getting internet via wi/fi, something that is fairly common in this well wired country. This is the second night of the long weekend and tomorrow everyone will leave for home. At times it is great to experience how the local population enjoy their leisure but it is also great to have some quiet relaxation in the mountains.

6/4/08 The ear plugs worked hard last night keeping out late night parties. There is much genuine hospitality here. We were offered to join another camping family for dinner, unfortunately we had just eaten and had to decline. Our planned destination today was Alishan, the end of a popular narrow gauge mountain railway but we learnt it had recently derailed and wasn't running. Also when we approached Alishan cars were parked alongside the road for km's and police were preventing vehicles from entering the township. Thousands of people were being bussed from their cars, cherry blossom and the spring festival the draw card, we later learnt. The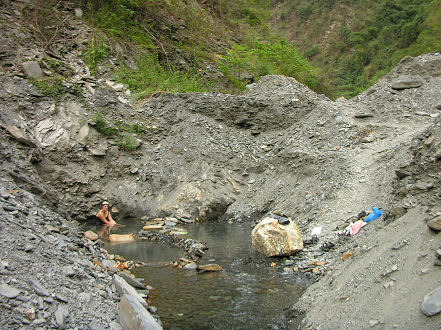 pass we had earlier crossed was beautiful with pale green new maple leaves mixing with dark green conifers across the hillside, with white rhododendrons and a few late flowering cherries. We decided not to get caught up with the crowds and in increasing traffic headed down to the western flatlands to look for alternative accommodation, ending up in the low mountains, at a small roadside place near the Zengwun Reservoir, at Dapu, after a long day. Travelling up and down mountains the vegetation changed from whole hillsides of beetlenut palms, to small vegetable agriculture plots, hot houses and immaculately trimmed tea plantations.

7/4/08 Still heading south today's vegetation again different, with small farms of mangoes and guava. The short pruned trees have their individual fruits bagged and nurtured to enormous size when they will receive a peak price in the markets. Yesterday's traffic has departed, the roads bare, not even business traffic until late morning. While the driving is challenging, with cars demanding both sides of the road on mountain corners restricting motorcycles to the road edges much of the time, it is at least at a cautious speed and we are finding the riding enjoyable on bouncy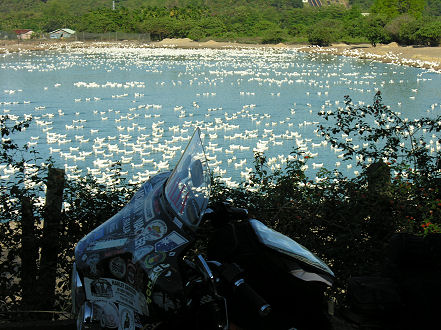 but generally good roads. Our destination, again on the mountain fringes, Duona, in the Maolin Valley, just a three hour ride away. Hot spring spas are a popular pastime, but most are enjoyed, piped to private room spas in hotels, open to non residents for a price, but we feel they lose the ambience of the outdoor experience we enjoyed in Japan. Duona has one of the few outdoor, and free entry spas in Taiwan, and in the evening we walked from our small homestay hotel to enjoy the rustic experience. Unfortunately a landslide upstream, and subsequent floods, carried down rocks and gravel and covered the springs. A couple of later excavations opened up some small springs where water is now piped to a formal concrete spa, but we managed to find a small spring where the cool river meets hot water, with three small pools of different temperatures, and enjoyed them to ourselves.

8/4/08 Duona is a strange mix of old and new, houses of slate, or just slate rooves, many using modern concrete, where the people chew beetlenut in the afternoons and where the loudest noise is an occasional dog barking. The slate mountains have provided a business, an income, the hot springs a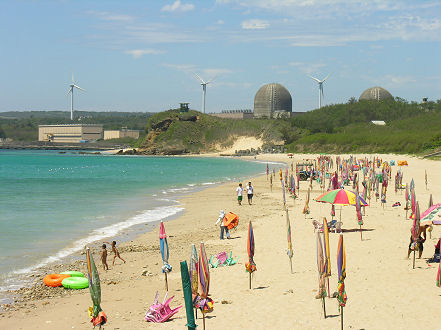 comfortable life from tourism, but the place is showing signs of decay, perhaps because of the landslides effects on tourist numbers, perhaps as we are seeing elsewhere in the south the beetlenut and warm climate leads to a more relaxed approach to life and less concern to quality of workmanship.

9/4/08 Out of the mountains and following the smaller 185 road we quickly covered the distance to the southern tip, again through small agriculture plots, pineapples, guava, rice and more beetlenut palms. Kenting National Park covers the whole of the southern coast. Its late creation has large numbers of people living within the park and commercial recreational facilities have been allowed to grow. More enigmatic is perhaps the nuclear power station backdrop of one popular beach, its towers straddled by three wind turbines, making the whole setting a little confusing. We grabbed an out of season, midweek hotel right on the beach, with ocean, and power station views from its balcony, where day trippers zoom about the bay on jet ski's, or are pulled behind on inflatable sausages. The small beach is lined with umbrella and chair rentals, while tractors and quad bikes tow jet ski's and boats from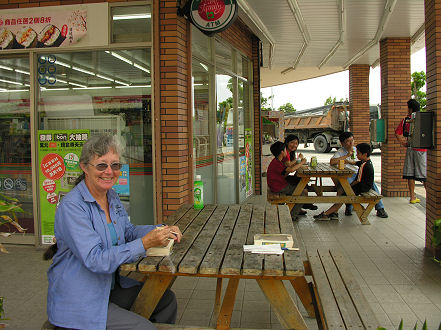 the land to water, a frenetic result.

10/4/08 7-Eleven has taken hold of the middle ground food culture here. Set between street foods and restaurants large 7-Eleven stores are in every major town usually offering toilets and parking along with easy food. Packaged meals, local and western, can be bought, a microwave and eating utensils along with outdoor seats provided. Coffee and tea sachets, many varieties, are purchased and cups and hot water provided free. The vast array of noodles, cup of noodles, twenty or more varieties, again supplied with hot water and eating utensils. The popularity of this cheap and available food source is shown by the crowds on weekends. Of course the more usual 7-Eleven supplies are also available. We took a cruise around some of the sites of the park. By world standards the beaches and land formations are not that exciting but are unusual here in Taiwan. One interesting place was the natural methane fires, burning constantly from an underground supply, they attract tourists to cook eggs and roast potatoes, to dance across the flames, despite signs prohibiting both activities. We have noticed many Japanese tourists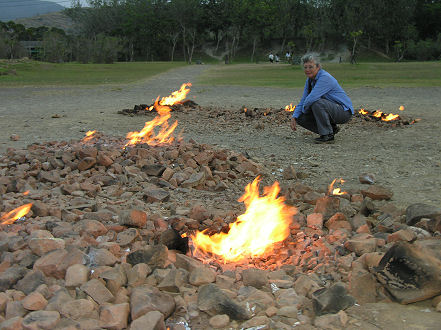 in Taiwan, and whilst they are the most polite of people in Japan, they seem to leave that societal etiquette at home, and were the group disregarding these rules and decide to sit on our motorcycle, posing for photos, whilst we were viewing the fires, something that never happened in Japan.

11/4/08 A society's ability to function is often dictated by the honesty of its citizens or the policing of its people. We have seen people leaving their belongings outside in front of their houses, restaurants leaving tables and chairs outside, fruit loaded trees are unfenced, motorcycles parked without any security, all in public view, overnight, and no-one seems to steal them. The cost of theft, fencing, or security guards in some societies we have visited is enormous, this is not a cost we have noticed in Taiwan. We left early to cross to the east coast in cloudy conditions, riding past Taitung, up the coast. There are two good roads running down this coast and rather than missing one, we have the time, and are enjoying the riding, we decided to go up, down, and up again, so heading north we visited Siaoyeliou, a coastal geological park with a number of different rock formations. Then onto Sansiantai where an unusual eight segmented
humped foot bridge takes walkers out to a couple of islands. Our last sightseeing was at Basiandong, a group of more than a dozen caves, now raised well above the ocean, but years ago they were occupied by stone aged people and represent one of Taiwan's most important archaeological finds. The excavated caves are now used as shrines for local religions and are filled with modern temple like artefacts. We found a nice hotel right on the Tropic of Cancer for the night.

12/4/08 It has been extremely easy to navigate around the island. Road signs are mostly painted bilingually and use the international brown colour for places of tourist interest. Unlike some countries that leave motorists guessing which road to choose we have rarely been left without an onward signpost at intersections. Crossed the mountain range to the rift valley, an agricultural belt, between the coastal and inland mountains. Headed south again back towards Taitung, stopping to look at a hot springs town, and an interesting aboriginal community that has taken on tourism as its future. They have a semi-traditional town, offering accommodation and meals, sell special produce and medicines they traditionally used,
and put on an explanatory and entertaining song and dance show. The place seems a possible model for other aboriginal peoples in the world that are losing their cultures. We ended up in Jhihben, a fully developed strip of hotels and shops, based around hot water springs. Sometimes the original, is in the best location, and our now aged hotel overlooks the forest reserve, has a great outdoor thermal pool, and we were the only ones using it during the evening.

13/4/08 A morning thermal dip, again to ourselves, in the outdoor pool overlooking forest, a great start to the day. Taiwan has compulsory military service, and like other countries a selection of youth try to avoid serving. We had met one, volunteering as an alternative, in a park visitors centre, possible because he was too thin to serve in the military. He had no hesitation admitting the weight loss had been intentional. Tensions with mainland China keep Taiwan at the ready and a few days ago, at the natural methane fires, live shells were being fired over our heads, exploding in nearby fields. The Taiwanese tourists didn't seem to think this was at all strange. Today we headed back up the coast road, just over 100km to where we had stayed the night before last. Passing through Taitung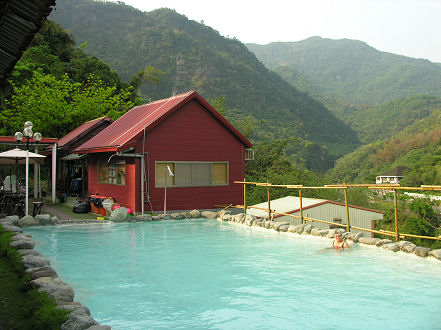 city we were again treated to a series of jet fighters taking to the air from the nearby airforce base, more practice.

14/4/08 With 23 million people on a small island and the population ageing, bus travel for holidays is incredibly popular. There may be a convoy of up to eight full sized coaches descend on a tourist spot at one time, all travelling together. Luckily our hotel only had room to accommodate only one busload, plus ourselves. They arrived late in the evening and left early the next day, excitedly sweeping in and out. We left a little later, heading back to Taroko National Park, and camping, in light drizzle. Midweek the campground was almost ours alone.

15/4/08 We had planned a two night stay, but with clear weather and prospects of more rain we thought it better to be riding. The road back to Keelung seemed even more spectacular than last time, when the scenery had been shrouded in mist. After passing through small fishing villages, hugging cliffs and dodging gravel trucks, we decided to head straight for customs on our arrival. The motorcycle had been booked on next week's sailing to Korea. The free advice and helpful Keelung Customs Service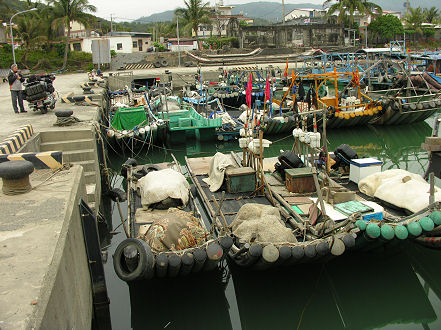 Centre, in the export section, filled in our paperwork and advised us of procedures, taking two hours. Unfortunately we are a C3 this time, the motorcycle needs inspection before it can be exported, so we have to wait till tomorrow for final clearance.

16/4/08 By 8.00am we were at the shipping container yard. Our crate had been stored safely and they moved it for us to the export section, all without charge. While waiting for our 10am customs inspection appointment we started to get the motorcycle ready and tied it to the crate floor. Few people spoke enough English for us to know what was transpiring but it turned out everyone was waiting for a Police clearance. To prevent stolen vehicles from being exported each one needs to be inspected, and records checked. Everything was finalised by lunchtime but we had no paperwork. The Keelung import/export system relies heavily on the electronic flow of information, but a double check back at headquarters showed the motorcycle had been cleared for export and we relaxed, spending the afternoon at the hotel and the evening sampling more foods at the street markets.

17/4/08 Taiwan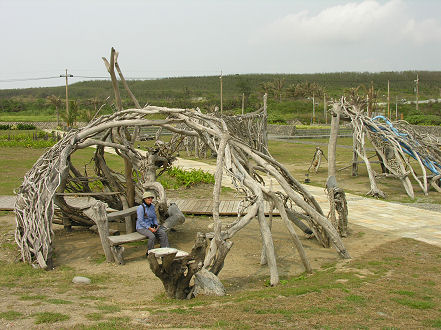 has been the first chance we've had to retest the over heating of the motorcycle's engine. With temperatures in the low 30's, hills and traffic, it didn't overheat more than normal. What caused the excessive overheating we had in India? we don't know. Since then we have changed the oil, are getting better fuel, and the engine is more run in, but damage was done as oil consumption increased the longer we were in India. Back in Taipei our thoughts are towards the Koreas, South and North, and planning in that direction.

18/4/08 Taiwan has been a surprise for us. Arriving with little knowledge and few expectations we have found a society willing to help, a little shy about using the English their parents paid so much for them to learn, but generous, exceptionally polite, a problem solving nation. They are fully aware of their unusual position in the world, the sibling of an ever more powerful neighbour, but are not willing to lose their recently gained democracy. A day spent at the hostel doing washing and catching up on internet.

19/4/08 Packed, and a late afternoon flight delayed due to passengers not showing up after checking in their luggage, their bags needing offloading.

Move with us to South Korea