Travel Through Sweden on a Harley-Davidson
By Peter & Kay Forwood
Sweden on a Harley (20/7/98 - 22/7/98)
Distance 1541 km (102482 km to 104023 km)
This is part of the fourth section of our around the world trip.
Complete Trip Overview & Map
Coming from Denmark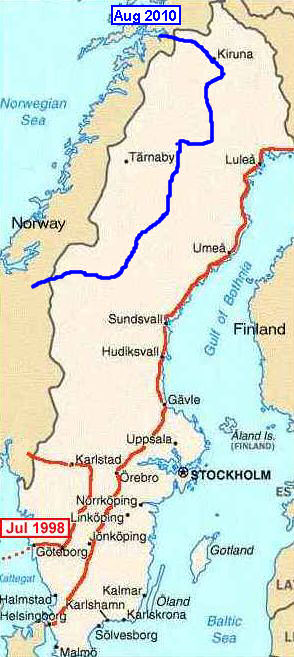 20/7/98 Today a ferry ride into Sweden at Helsingor and a total of 420 km staying the night at a van park at Vadstena alongside one of the 95700 lakes in Sweden. Yes we rode past many of them but don't expect to visit them all, who counts them in the first place. Elk fences line the roadsides (like a slightly smaller moose) and this being the home of the Volvo there are both animals and machines to be careful of on the roads.
21/8/98 Travelled about 650 km to Harnosand on the East coast and free camped just off the road. Sweden has this great system of "Right of public access" where you can camp, walk or swim on any public area and there are plenty of forests etc. to camp in and explore. Our spot overlooked another lake, surrounded by trees and bright green vegetation with the wild flowers in full bloom and we were alone except for the wildlife.
22/7/98 The human migration both northwards and southwards each year is weather dependant like most animals. The only opportunity to see this area in any comfort lasts for just two months and every motorcycle, of which there are hundreds, are overloaded, just like ours, on the pilgrimage north. Sitting at home you feel you will be the only ones in this remote corner of the world, and if you get off the highway you probably will be, but the roads are packed with caravans, overloaded cars and motorcycles. All the locals are out for their one month of sunshine and all the foreigners are here for the same reason. Still everyone is in holiday mode and generous like the local man who brought us over some strawberries and ice cream as we picnicked at a roadside stop. We chatted and were invited to his house which was regrettably too far out of our way. Travelling 530 km to Kalix just short of the Finish border.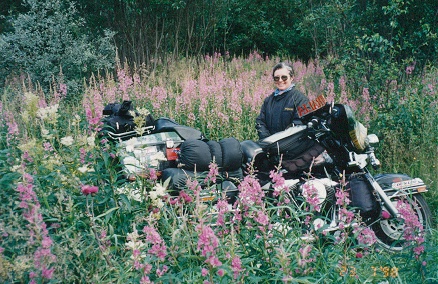 Move with us to Finland , or go to our next visit to Sweden .