Travel Through Suriname on a Harley-Davidson
By Peter & Kay Forwood
Suriname on a Harley (20/4/02 - 22/4/02)
Distance 407 km (287561 km to 287968 km)
This is part of the eighth section of our around the world trip.
Complete Trip Overview & Map
Coming from Guyana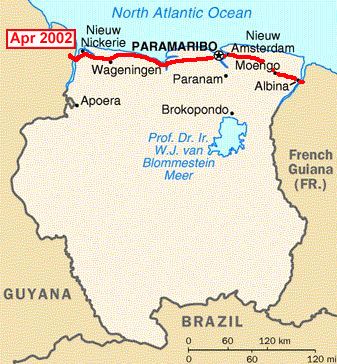 20/4/02 Suriname, very efficient, it seems we were holding up the official's departures to go home. No checks for the motorcycle insurance and two minutes to complete a form and the bike was in. Despite us only having a three day transit visa immigration gave us an eight day stay. Still driving on the left hand side of the road, incongruous as this was a Dutch colony, we travelled the 30 km of chopped up swampy, sandy track leaving the ferry terminal, supposedly to be sealed later this year. Once on the main road driving was excellent along an earth ridge between two irrigation channels spreading out across irrigated rice fields. We had managed to dodge two tropical downpours in the morning but it rained most of the way to Paramaribo where we stayed tonight.
21/4/02 This area of the world has to be the wettest, steamiest and most humid we have visited. If it's not raining, the sun is cooking hot and everything steaming building up more moisture to rain an hour or two later. Many enormous rivers flow north to the Atlantic out of the Guyana region. Suriname has one at each border and has only recently bridged the other two within its territory. Here in Paramaribo the population is a real ethnic mix of Dutch European, African American, Javanese and Asian Indians. The architecture is Dutch with magnificent three storied wooden houses lining the river front in town.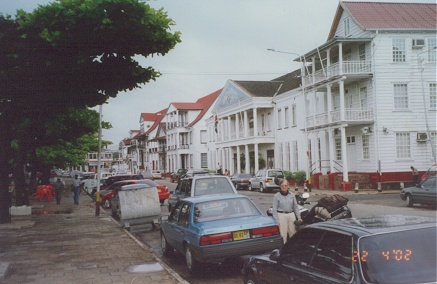 Some have not been maintained and are rotting away but we stayed in a restored one with its rustic timber appeal.
22/4/02 The early wet seems to have caught the road builders also as the 8 km of bridge approach is red chopped up mud. The remaining road to Albina good but bouncy, built again on a raised levy surrounded by swamp. This area of the country sparsely inhabited and where we managed to spot four black tamarins playing on the roadside. The border town of Albina seems to exist on the sale of cheap petrol to French Guiana. Pirogues cross constantly with 20 litre drums, twice the price of Suriname's petrol. We had yet another asian style meal, affordable and filling, while waiting for the French run 3 pm vehicle ferry. Easy formalities out of Suriname.

Move with us to French Guiana