Travel Through Sri Lanka on a Harley-Davidson
By Peter & Kay Forwood
Sri Lanka on a Harley (9/7/07 - 1/8/07)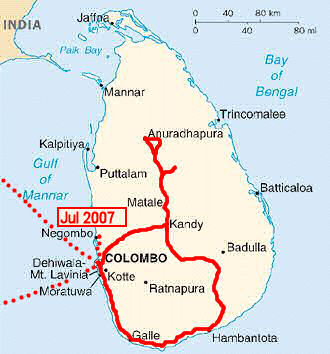 Distance 994 km (499064 km to 500058 km)
This is part of the thirteenth section of our around the world trip.
Complete Trip Overview & Map
Coming from India

9/7/07 It was a short flight, barely an hour to Colombo, but with the airport 30 km to the north of the city the bus ride in heavy traffic took almost twice as long as the flight. Immediately we could see we were in a more modern city, if not country, than where we have recently been in India. One great enjoyment was the minimal use of vehicle horns, something that had become an increasing annoyance in India. We almost immediately met the two extremes of helpfulness and hindrance. Needing to change buses we were escorted to the correct bus without us asking for assistance and just minutes later were pounced upon by a lying three wheeler driver (small taxi), who informed us the road was closed, we couldn't walk there, pedestrians were banned but he would take us, just 200 rupees, five times the normal rate. The road ran near the prime minister's residence but foot traffic was allowed, we ignored him and walked. As a couple we can stay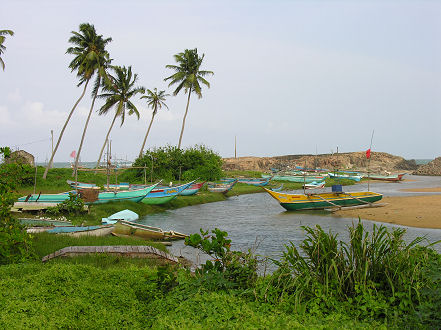 at the YWCA, and are. Women add a homely appeal to any accommodation they manage. Here is no exception.

10/7/07 We recently learnt that Sri Lanka has a 350cc maximum size limit for importing motorcycles leaving us a bit apprehensive whether we would be allowed to ride the motorcycle here. At the GGL Line shipping office early and were surprised at the $US 120.00 paperwork and handling fees, including what seemed to be a disproportionate share of the container rental and cleaning costs? Colombo is "locked down" due to the 22 year ongoing Tamil conflict. Armed police are everywhere. Many inner city streets are closed to traffic, parking roadside is not allowed and some streets are closed even for pedestrians. Identity papers need to be shown at many check post barriers and police check bags for weapons and bombs often halting buses to look through everyone's belongings. The port area is an even more secure area and we needed to get a special pass to enter, showing valid reason and were almost refused as we were not nationals of Sri Lanka. The 350cc maximum capacity for motorcycles was briefly discussed at customs but as the motorcycle is only a temporary import it didn't seem to be a problem. They accepted the carnet, after a letter explaining our reasons for visiting the country, stamped and signed again by different officers and with the need to inspect the engine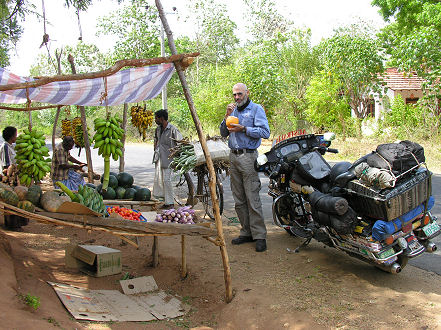 and chassis numbers we finally sighted the motorcycle, in its crate, at one of the warehouses. Unfortunately our agent needs to pay the port fees, which they hadn't done, before we can get clearance for it to leave the area. A long day of chasing paperwork.

11/7/07 We had agreed to meet the shipping agent to finalise matters early this morning. The man appointed to assist us with port procedures was not familiar with them and we visited three offices before we could start proceedings. By 10.30 we were little advanced and he had to leave for another appointment. Kay and I split. I started to de-crate the motorcycle and reassemble it while Kay went from one office to the next getting signatures and paperwork done, everything having to be photocopied after each signature and given to the next officer. One of the more confusing port clearances we have done and we regretted rejecting a man yesterday who offered to do it for $US 25.00. At the time we thought he was charging us this price just to pay port charges, which in the whole scheme were a very reasonable $US 5.00. We lost track of where we had been and who had signed what in the end but estimate we visited 20 offices and got 12 signatures and needed to write three letters. The carnet alone has three officer's stamps and five signatures. The officials were all very helpful, not requesting any payments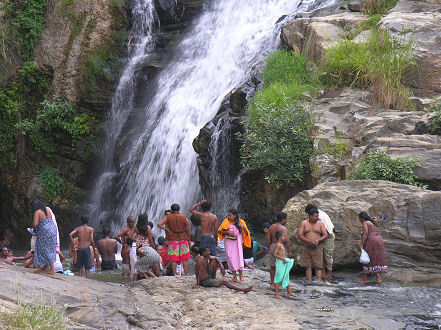 from us yet we saw small money transferred to the storekeepers for their signatures. Not so honest with us were the port police. We needed to pass through two check posts to leave the port with the motorcycle on a truck, couldn't get permission to ride it in the port area, the first policeman asked for two dollars and the second one a dollar. Both were refused, the last one loudly, voicing our opinion about requests for bribes to the other police officers at Main Gate as we left. Everyone seemed to be checking on everyone else, perhaps the result of this corruption. GGL Line arranged to store the motorcycle crate till we need it to ship to The Maldives and by 4pm we were riding in Sri Lanka only to be stopped entering our hotel's street. It seems no vehicle without a special pass can enter the street as it is near the Prime Minister's residence. Half an hour later we had special clearance, one off, to enter the street for overnight parking, after a search of the motorcycle and clearance from the Prime Minister's special security forces. Later in the evening we booked our flights to Male, and return to Colombo and then onward to Australia via Bangkok. The flights were incredibly cheap as since the recent restarting of Tamil conflict the number of tourists has dropped dramatically.

12/7/07 An early morning polite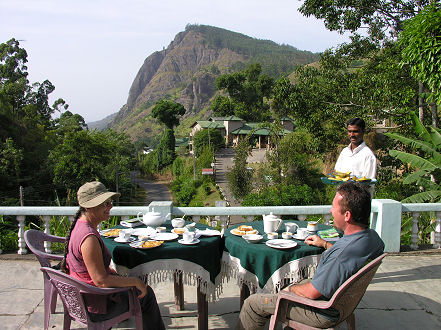 visit to GGL Shipping to thank them for their assistance and arrange onward shipping to Male, a final visit to customs to give them their copy of the carnet, which they had left with us? and after a 20 minute wait in a taxi for the Prime Minister's convoy to pass we collected the airline tickets we had booked last night and left Colombo for a couple of days rest on the southern beaches. Calling in at the first petrol station we changed the motorcycle's three oils and were offered a free motorcycle wash by the owner, well needed after India's dirt and the shipping. Understandably the motorcycle attracts great attention as we ride along, there being no other large bikes. Hikkaduwa, 100km south, an area heavily damaged by the 2004 Tsunami when over 30,000 people died, was slowly recovering when the Tamil peace plan faltered, and now in the normal low season, almost all hotel rooms are empty. We took a beachfront place, quiet and comfortable.

13/7/07 Out of Colombo we are away from the high police security and can relax in this mostly Sinhalese, Buddhist region. The conflict here, between the two ethnic groups, Sinhalese and Tamils or predominantly Buddhists and Hindu's and where the approximately 10% Muslim population has chosen not to get involved, is the only place in the world I can recall a religious based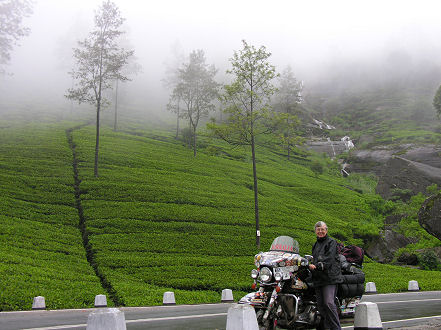 conflict that does not involve Muslims and is a sign of the religious tolerance that has been part of the country's history. We pretty much relaxed near the beach as storms passed by regularly.

14/7/07 Little things here show of a more modern, respectful society than where we have been in India. On the road the vehicles generally keep to their lanes, often use blinkers, have brake lights, use the horn less and have police who actively police behaviour. The society is less frenetic, more gentle, people keep a polite distance and respect our privacy and touch the motorcycle less. At over 90% literacy they also read where we have been, written on the motorcycle, avoiding the repetitive questioning. Travelled 250km, along the coast, more tsunami damage, the older stone and concrete buildings smashed with windows and doors blown out, the newer concrete structures held up pretty well and the fishing shacks completely gone. Some areas untouched, others flattened, depending on the topography of the land and ocean floor. Up into the mountains late afternoon, an enjoyable days riding, little traffic and time to look around as we moved. Settled at Ella with views overlooking the plains.

15/7/07 Sri Lanka is a big small island, 400 x 200 km's, packed with variety. The morning, after a lovely breakfast served on the terrace looking down the valley,
true British style, was spent reorganising the motorcycle, a list of the spares we carry, what is to be left behind and what to take back to Australia with us. An afternoon walk to a popular lookout called Little Adam's Peak where a small group of Tamil tea plantation workers have erected a small temple and were preparing for an evening celebration of worship. The views across the plantations with their canopy of large trees stunning. The last two evenings our hotel has prepared, just for us as the only diners, a variety of nine dishes, all vegetarian, all grown in the hotel's garden, many vegetables we have not eaten before and with a variety of spices, not called the spice island for nothing, quite delicious, but a little hot to our tastes.

16/7/07 It seems like the overheating of the motorcycle's engine has been resolved, well at least the problem seems to have been identified, the solution could be a little more difficult. My thanks to Enrique, in Mendoza, Argentina and the H-D mechanic he raised the problem with. When we put the engine back together, using the manual, we read, "The arrow on the top of the piston points to the front of the engine". There was no reference to front or rear cylinder, in fact the schematic it referred to was of the rear cylinder. Apparently the rear piston's arrow should have pointed rear and the front piston's arrow pointed to the front. Doesn't sound like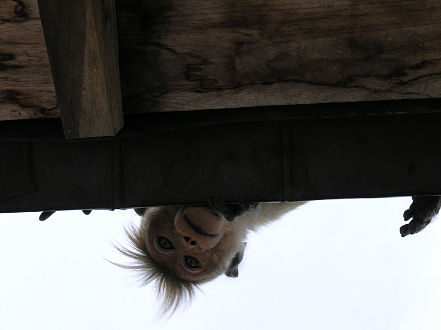 a big issue except that a H-D piston is a little complicated. It is elliptical when viewed from the top, barrel shaped viewed from the side and most importantly for this mistake, the piston pin hole is offset. What damage 15,000 km's of running with a piston in backwards has caused will be difficult to calculate. Still we are pleased to have identified the problem and with only a few hundred more km's to travel this trip will likely leave the piston in backwards till after we get back to Australia and talk to a mechanic personally. (Note. August 2007, Our mechanic in Australia confirmed we have placed the pistons in correctly, both arrows to the front, so it is back to the drawing board on the overheating. One point was raised that it could be the oil was circulating but not returning to the sump to cool due to a partial blockage somewhere). Moved further up into the hill country, 80km to 1900m above sea level at Nuwara Eliya, where it was off and on drizzling and cold which benefits the vegetables and tea grown in the area. An old British hill station with a lot of the period buildings remaining and converted to hotels.

17/7/07 We had planned to stay two nights but with more mist and promise of another cold rainy day we moved on to lower altitudes heading north up the island's centre to Dambulla and onto the dryer plains nearer to sea level and hot. Ceylon, Sri Lanka, is famous for it's tea and this early morning, mist rolled down the hills across endless fields of it. Lower down but still in a high rainfall area dozens of spice gardens have sprung up along the roadside trying to attract tourists.

18/7/07 I now feel a little less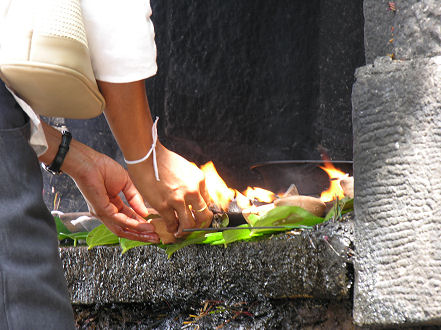 sympathy for the Sri Lankan pilgrims we encountered at Sarnath in India having to pay the high foreign entry price to visit the place of Buddha's first sermon. At the royal rock temples, Dambulla, a Buddhist site, foreigners are charged $US 5.00 while locals are entered free. That price, like a lot of things in Sri Lanka is going up fast, doubling to $US 10.00 in a couple of months. Like many countries where different prices are charged by the government for foreigners, the local businesses, hotels, restaurants etc. like to get onto the two price system and it becomes a constant battle not to, yet again, feel like a milked cow in this region of the world. Entry to the ancient cities region further north is $US 20.00 for each site, free for Sri Lankans. Again we take every opportunity to voice our opinion at such blatant discrimination. Wanting to see the cave temples we paid the, not excessive, entry fee and were well rewarded. The over 100 stone carved, limestone covered and painted Buddha inside the five caves elegantly hidden behind a whitewashed stone corridor were impressive, both in themselves and their location. Not being the pilgrim season we could enjoy the site without the crowds of visitors. Late afternoon we rode the 20km to Sigirya, chose not to pay the twenty dollar entry fee and admired the location of the ancient Buddhist monastery, situated atop a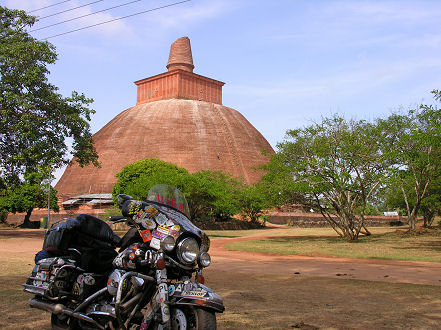 volcanic plug, from a distance, before returning to the same accommodation.

19/7/07 Anuradhapura was the Sri Lankan capital from 380 BC for about 1000 years before succumbing to too many South Indian invasions and the capital was moved further south. It is still a city today, one whose fringes have partially intermingled with the ruins. We rode towards the ancient site expecting to be turned back, as we had no entry ticket, but were allowed to view many of the ruins from the distance of the road including what was believedto be the tallest building, apart from the pyramids, in the world at its construction time, Jetavanarama Dagoba. Having visited many ancient cities we have learnt that just being in the area and reading about its history is generally sufficient for our interests in most cases. A more relaxing experience was had when we moved to nearby Mihintale, where in 247 BC, the then king of Sri Lanka met the son of Ashoka, the Indian Buddhist emperor, and was converted to Buddhism, starting the religion in Sri Lanka. Here ancient and modern stupas dot the hills amidst forests where monkeys and squirrels forage. It has been, and still is an important religious site and has ruins of monasteries, small cave temples, water tanks and stupas all in a relatively compact area. Back to our same accommodation in Dambulla.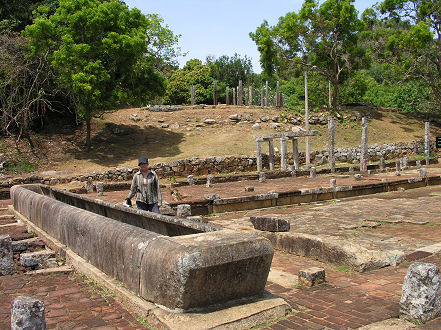 20/7/07 Having satisfied our interest in the history and religion of the north we headed back towards Kandy and found a lovely guesthouse in the forest behind the city. We had not realised just how oppressed we had become in India. We had started to spend more time in our hotel room, not wanting to venture out due to the noise and constant attention of the masses of people. It is only now, after a couple of weeks in Sri Lanka, where we are enjoying more time out and about that we realised the hermits we were becoming. Spent a couple of hours at a herb and spice garden on the way to Kandy where a guide explained the many properties of the plants for medicinal and therapeutic uses. Even received a neck and shoulders massage using some of their natural products.

21/7/07 Kandy is Sri Lanka's premier tourist town with a lakeside setting and cool climate, few tourists miss visiting this city. Different countries seem to have different scams. One that seems prevalent here it to distract you after a purchase, polite conversation, offer of cup of tea, while someone else goes to get change. The person returns but instead of offering the change they hold it and hope you will forget and having been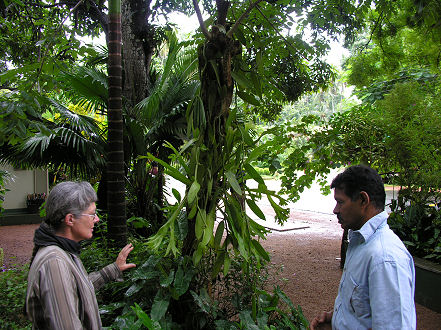 distracted will just leave. It is predominantly from hotel staff but today we had it from a cultural ticket seller. He was also an inveterate liar, claiming that the evening's cultural performance was a one off rehearsal for the annual Kandy festival and that dignitaries from Thailand and Japan would be there to evaluate the performance. Thirty baby elephants were supposed to be brought in for the event and he and the woman at the batik shop were performers. His father was the fire walker and fire eater. Of course none of the above was true, but the cultural show was excellent, different costume dances, and there was fire walking and fire eating. We brought the lies to the attention of the cultural officials but they didn't seem surprised, heard it all before, were not too concerned, tickets had been sold. They promised to remove the ticket sellers book, but why would they do it?

22/7/07 Took a walk around the lake, strolled past the Temple of the Sacred Tooth Relic, believed to contain a tooth of Buddha, snatched from his funeral fire and brought to Sri Lanka and now carries great symbolic importance. Despite questions over its authenticity, the Portuguese are said to have destroyed it, but not the original say the Priests, it has been the target of a truck bomb in 1998, and now all local traffic is diverted to drive around the lake and visitors are security searched before
entering the grounds. One could ponder Buddha's thoughts on someone knocking out his tooth at his funeral and placing such emphasis on it. We walked the grounds but decided not to enter the temple although thousands of pilgrims simply dressed in white robes carrying lotus flowers lined up to be security checked to do so. It rained most of the day and with overcast conditions we decided to stay in Kandy for the next two days rather than going higher into the mountains where mist is blocking views.

23/7/07 Whilst walking along the lake shore another man, same "modus operandi", praying towards the temple near a tree blocking our path, apologised for inconveniencing us, then went into the same dialogue about a Cultural Show, this time he was a firewalker teacher, the 30 elephants would be coming, a once only special show, etc, etc. We walked with him listening and arrived at a place where tickets are sold. I asked if the ticket seller spoke english, a quick exchange between them advised me he did but they denied it. They were both complicit and, snatching their ticket book, we left saying we were going to the police to report the matter, which we did. People in societies who don't complain, question or stand up for their rights get what they deserve, often a corrupt country where few things work. I used to dislike complaining but we long ago learnt
it is the only way things will change. To accept something that is wrong is tantamount to condoning it. The police were not pleased to see us. Moved us through two offices and left us waiting back at the first room. We requested an officer accompany us back to the ticket seller's booth but there are more problems in this country than inconvenienced tourists, the Tamil Tigers are causing difficulties again, and after being there for 40 minutes we left with an almost new ticket book in our pockets, not knowing what to do with it.

24/7/07 We had phoned the shipping agent a couple of days ago and again today to try to find out when the next ship was leaving for the Maldives to take the motorcycle. This is the cyclone season and Colombo's port infrastructure can't handle the current capacity. Any shortage creates high prices. The original date of departure, the 30th, first extended to the 31st was now out to a likely 2nd of August sailing. Our flight is on the 1st, needing to book early to get a good discount, we took the risk, and it should still work. With a weekend in between we need to be back in Colombo by the 26th for crating and paperwork. Spent the day planning a bit of our trip to the Pacific countries.

25/7/07 Still in Kandy,
a comfortable city, rain passes through every day but not enough to be inconvenient. We have been having problems with the motorcycle's handlebars coming loose over the last couple of years. Hopefully as a final solution we drilled holes through the risers and bars and pinned them with drill bits. The handlebars are now non adjustable but hopefully non moveable.

26/7/07 Back to Colombo, 120km's, heavy traffic almost all the way. Another photo of 99999.9 on the speedometer, the fifth one, meaning the motorcycle has covered 500,000 km's. We did a bit of a summary of its mechanical performance during that time as well as our varied successes and failures at repairs. When leaving Australia the first time in 1996 we had not even changed the oil, obviously we have learnt a bit of mechanics along the way, often by immediate necessity, and the motorcycle has the great ability of throwing new things at us as parts are still wearing out for the first time. In Colombo we visited GGL Line, the shipping agent and started the paperwork for exporting the motorcycle by paying port duties and visiting customs. GGL Line also advised us that there is no LCL (less than container load) shipments from the Maldives back to Colombo as there are virtually no exports from the Maldives other than bulk fish. That could leave the motorcycle stranded there or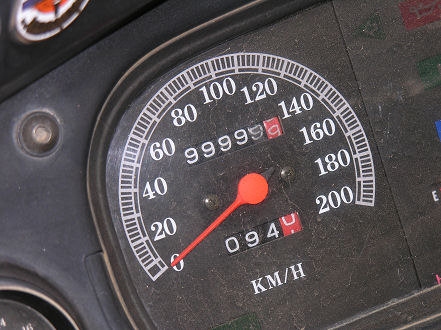 us having to pay for a full container!

27/7/07 A smooth and enjoyable day starting at FSL, Freight Systems Logistics, where the motorcycle's metal crate was being stored. They transported it for us, free of charge, to ACE Containers stuffing yard, where we dismantled the motorcycle and had it tied into the crate, taking about two hours. The people at ACE were enthusiastic about our trip, taking photos and helping when necessary, even providing drinks. After a customs check it was back to D-Branch, near the wharf and in behind the tight security of the fringing port area to get the carnet signed. By 3pm we were at GGL Logistics and paid just $US 75.00 for the Colombo to Maldives shipping. As we had done most of the paperwork they generously didn't charge for anything other than the freight. They also had a reasonable quote of $US 354.00 to ship the motorcycle from Colombo to Fiji via Singapore but we still needed to somehow get it back to Colombo from the Maldives first. By the end of the day we were fairly comfortable of next seeing the motorcycle in the Maldives in about a week's time.

28/7/07 It is steamy in Colombo,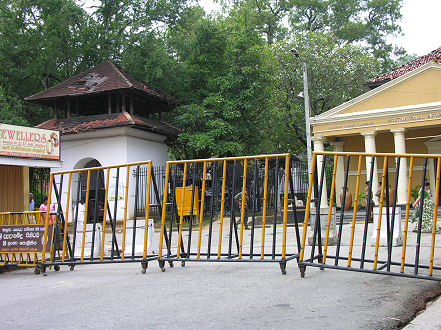 now and almost always. We ventured out of the YWCA hostel just a couple of times. A walk around the nearby lake, secured by the military, few vehicles are allowed in the area meaning many businesses have closed leaving the place a bit of a ghost town, but nice and quiet for a walk. The Crescat Boulevard Mall is as modern as any western mall with food court and upmarket shops. Its supermarket caters for all the ex-pat community, rich locals and occasional tourists, with everything western. We stocked up on a few items likely more expensive in the Maldives. The contrast in prices in some of these developing countries is often extreme. A local tea in a teashop is 20 cents, a coffee at the mall is 2 dollars.

29/7/07 With the motorcycle gone it was public transport to Negombo, a seaside holiday place 40km north. Even with light Sunday traffic it took two hours. Locals were out enjoying the beach, popcorn and ice cream sellers doing good business. Our comfortable waterfront small hotel room with balcony overlooking the beach and palm tree garden just $US 9.00, the last of the cheap destinations for us for a long time.

30-31/7/07 People come to a seaside place to relax, read books, go for walks on the beach, eat out in restaurants and socialise. That is what we did for the two days.

1/8/07 Awake at 3.30 am to catch the 7.15 am flight to the Maldives.


Move with us to the Maldives or go to our next visit to Sri Lanka