Travel Into The Solomon Islands on a Harley-Davidson
By Peter & Kay Forwood
Solomon Islands on a Harley (6/7/08 - 25/7/08)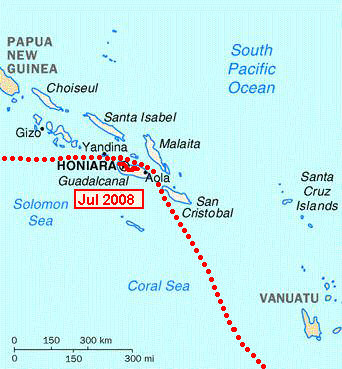 Distance 183 km (508394 km to 508577 km)
This is part of the fourteenth section of our around the world trip.
Complete Trip Overview & Map
Coming from Papua New Guinea

6/7/08 Immigration gave us a 60 day visit, free, and customs passed us through without problems, a smooth welcome. The airport ATM was out of order, forcing everyone to use the money exchange desk at poor rates, a common situation in these countries, and the only public telephone used cards, but the shop selling them had run out, but they were very helpful phoning four hotels for us before we found one with a spare room, a late cancellation, funny enough the one we had tried to book by email but were told it was full. The reason, the Solomon Islands was celebrating 30 years of independence tomorrow, and was having a four day weekend holiday, and a big party in Honiara.

7/7/08 One of the first things we noticed here is the lack of razor wire, high fences and security guards, some things we had grown used to. Strolling the busy streets it took us a while to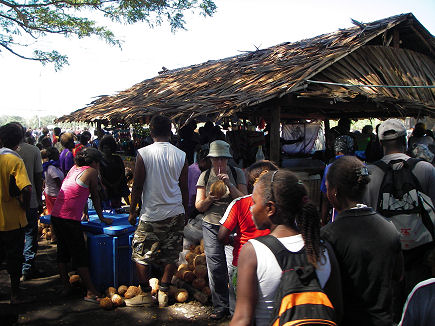 relax, the people a little more reserved in their approaches, perhaps there is less English spoken. Even though the temperature here is only 30 degrees it is sunny and feels much hotter than PNG and we spent time sitting on the verandah at our accommodation, Chester Resthouse, looking out over the ocean. Six km's out of town is the centre for independence celebrations. Dozens of well constructed temporary, wooden and pandanas display buildings had been built promoting farm methods and goods, different denomination religions, government departments, entertainment stages, and the most popular by far the food stalls, with ice cream and cold young coconuts the favourites. We spent a couple of hours wandering and looking amongst the dust and crowds.

8/7/08 With the motorcycle not due to arrive for a week we decided to take a visit to the nearby island of Malaita to kill time, taking the fast boat leaving at 8am this morning. The Chinese run vessel was comfortable and left on time getting us to Auki, Malaita's capital and Solomon's third largest city, well perhaps third largest town might be a better description, just three hours later. It was fighting between the people of Malaita and those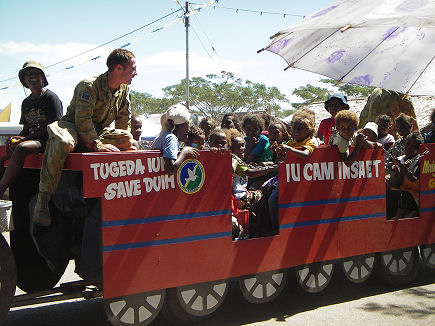 of Guadalcanal, where Honiara is located, that led to the civil war that erupted in 1999, mostly over Malaitans moving to Honiara, running businesses and occupying local land. More than 20,000 Malaitans became homeless and the Australian led Regional Assistance Mission to the Solomon Islands (RAMSI) was formed and is still in place, although fighting has long stopped, but might not be finished. There was no electricity in town, the generator's fuel shipment had not arrived, so supplies were rationed, electricity was promised in the evening. It is a small town, almost a village, situated on a bay surrounded by grass houses on stilts, the port and markets the thriving centre, a few shops and hotels. The promised sunset electricity didn't arrive and we sweltered in the concrete block hotel room overnight without a watt for the fan. Traditional houses cool in the evenings, modern concrete blocks need aircon or at least a fan.

9/7/08 The word about town this morning was Honiara hasn't been paying for its imported fuel so supply has been cut off, so shipments to Malaita probably won't be coming any time soon. A couple of other provinces haven't had fuel for electricity for over a month and it now looked like the same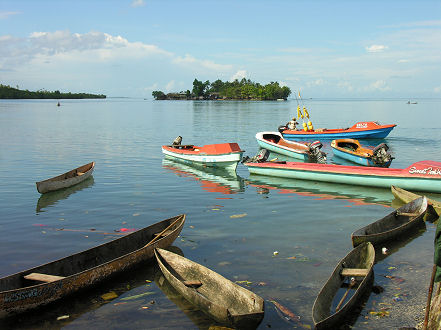 was happening here. The other disturbing news was local boats weren't arriving as often, higher fuel prices. Not wanting to risk being stuck in Auki, without electricity or a way to get off the island, we decided to catch the same vessel on its return voyage this morning. We weren't the only ones making this decision. A slower, and cheaper boat was due to have arrived in the night, it didn't, and as many people had come from across the island, mostly taking children back to Honiara for the start of school or returning for work after the independence holiday, they now wanted to return on the fast boat. One of the things we had hoped to see here were the man made islands to the south of the town. To avoid mosquitos or inland warriors, people, a few centuries ago, started to build up coral reefs just off shore into islands. While waiting on the wharf, as the crowds started gathering and people became talkative, one lady explained her family originated from the man made island in the bay. Still lived on, it was now covered in coconut palms and stilt houses, the occupants paddling to Auki in dug out canoes. The trip back to Honiara was uneventful but we haven't been able to find good reasonably priced accommodation and settled for a relatively expensive poor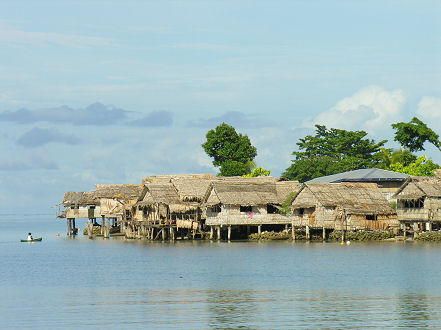 quality aircon room. When we are just moving through, staying for one or two nights, the accommodation quality doesn't matter much, but if we are holed up for a week, spending a lot of time in the room, it needs to be a bit comfortable otherwise we are just existing and waiting. Electricity was also off in Honiara during the day but came on in the evening and at least our hotel has a generator.

10/7/08 There was no water in the hotel this morning and the generator was again running after sunrise. We have found before that when outside agencies arrive in large numbers in a small country, here it is RAMSI, and even though they have been here now for a few years, services are still stretched, westerners use more water and electricity than locals, top end hotel prices soar and the locals and government workers are squeezed to poorer accommodation pushing up their prices. The same happens to local foods, meat and seafood in particular, where locals eat meat rarely westerners eat it every day. Not everyone can benefit from the high prices. The influx of foreign aid currency also pushes up the exchange rate making imports cheaper but local produce more expensive.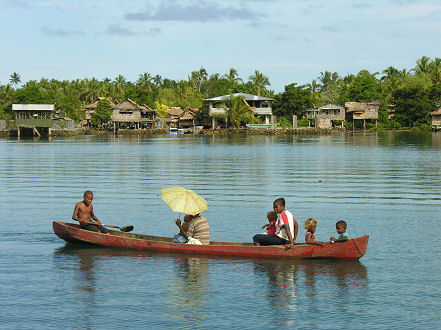 Booked onward tickets for Vanuatu and Samoa, cheaper arranging it as a stopover in Vanuatu than two single legs, still high fuel costs are biting, $US 350.00 per section each. Shipping costs also rising, almost $US 450.00 for the short trip, Solomons to Vanuatu, for the motorcycle, also arranged. The bike should now be early, here in a couple of days.

11/7/08 Last year the government had to bail out the electricity authority, $US 13 million, this time the debt is only 2.5 million, and judging by the tanker in harbour and that we again have electricity, another deal was done. We were pleased to have left Auki. They are still without power, and now also water as the pumps are electric. Paid just a couple of dollars to the shipping agent for import paperwork, less than two dollars to customs, cleared as personal goods, less than $10 each for port fees and quarantine inspection and when the boat arrives we should be able to collect the motorcycle. Doing all the paperwork ourselves, as were most other one off importers, it was a friendly bunch learning from each other as we moved from one office to the next, taking about half the day.

12/7/08 The Solomons feels
like the least developed and poorest of the Pacific countries we have visited. For a population of over half a million, shops, particularly groceries, are limited and expensive, while the local markets are large, selling a wide range of locally grown goods. The usual staples, bananas, sweet potatoes, taro and bok choy, but coconuts are there on mass. Thousands of green ones are drunk daily, as many older ones used in cooking.

13/7/08 Awoke to be able to see the Sofrana Magellan in the small port, hopefully unloading the motorcycle. More working on the book.

14/7/08 Now a well oiled routine. Permission to enter the port, they agreed to store the motorcycle crate for the ten days it will be here, the motorcycle was uncrated and assembled, and we rode into the 189th country at 10am, with just 4 countries to go. There was not the excitement here as there are only a few roads, perhaps less than 100km's, that we can ride, but it was great to be on the beast after a couple of weeks of walking. After lunch we headed east, 40km's to the end of the asphalt, no reason to continue. The road passed through kilometres of oil palm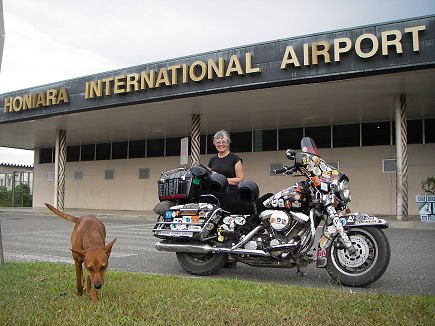 plantations, both sides and with young trees still being planted there will be more oil. There was a nice backdrop of mountains inland but little else of interest, just a ride.

15-16/7/08 We learnt today the Sofrana Surville, the ship we plan to get the motorcycle to Vanuatu, is arriving early, but because its sister ship didn't visit Lihir, because there is only one berth in the Solomons harbour, it had raced a bulk copra ship to that berth, but missed Lihir and had to leave all its containers in the Solomons, which will be collected by Sofrana Surville, so it will now detour via Lihir on its way to Vanuatu, arriving possibly too late for a connection to Samoa. With the high costs of airfares in this region, we have been getting discounts by booking ahead as far as possible, and taking non flexible fares so we are a bit caught. Sofrana Surville is now not due into Vanuatu until the 4th August, the onward ship, Pacific Islander 2 is due to leave for Samoa on the 6th, and we fly out on the 12th. If we can't get to ride the motorcycle on the 5th, it will miss the 6th sailing and will have to be transhipped on a later vessel via Fiji, extra expense, and arriving in Samoa three weeks later than the other ship, so at best we will not get a good ride in Vanuatu, or perhaps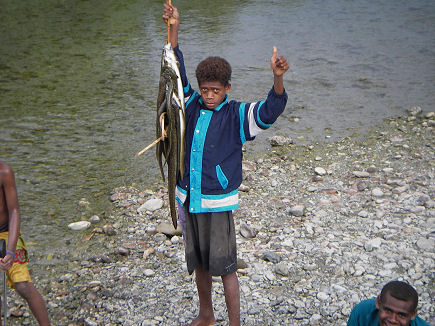 we'll be in Samoa for a long time.

17/7/08 Went for a ride to the west, to the end of the asphalt and a bit of dirt riding, but like so many other islands in the Pacific, with tribal ownership of land, every inch is owned, and here a walk on a beach or to a beach, or venturing off the road, will cost, average $US 4.00. Each track to any small village is boom gated, a betel nut chewing man sits around waiting for customers, a deterrent to a casual five minute look at the coastal scenery. What until recently was generally free to anyone, since the fighting, locals are charging locals and RAMSI workers looking for a bit of recreation space, and are keeping prices at this level. With a bunch of bananas, a pile of root vegetables, or a papaya going in the markets for about 50c, it is good lazy money.

18-22/7/08 We have settled into the boring routine of book writing, lunch at the Chinese restaurant, and an ice cream, the days highlight. The paperwork for the motorcycle, same as arrival, was completed and it went back into its crate and now sits at the wharf waiting shipment.

23-25/7/08 We haven't found the Solomon Islands at all appealing, largely because our attempt to leave Honiara for a week was less than successful but also we couldn't find anything that it had to hang its hat on, no special interests. Betel nut chewing is the main pastime, more people do that than any other pursuit. We spent too much time in our hotel, the "Quality Inn"? overpriced and under equipped, nothing was really broken but also nothing worked properly. The two channel TV had intermittent poor reception because Telecom's broadcasting signal had problems. The hotel's generator was on and off everyday because of mains power failure. Water at the hotel ran out a number of times, either the hotel didn't pump it or none was coming from the main supply. When we asked for minimal maintenance, like a blown light bulb, it took eight hours to find a replacement. The shower handle broke, and despite requests for maintenance was never properly fixed, but there was always plenty of time to chew betel nut and sit around talking. Flew out today the 25th, motorcycle is due to be loaded tomorrow but due to the shipping schedule change isn't expected in Port Vila till the 4/8/08.
Move with us to Vanuatu