Travel Through Slovenia on a Harley-Davidson
By Peter & Kay Forwood
Slovenia on a Harley (25/12/97 - 29/12/97)
Distance 615 km (79770 km to 80385 km)
This is part of the third section of our around the world trip.
Complete Trip Overview & Map
Coming from Croatia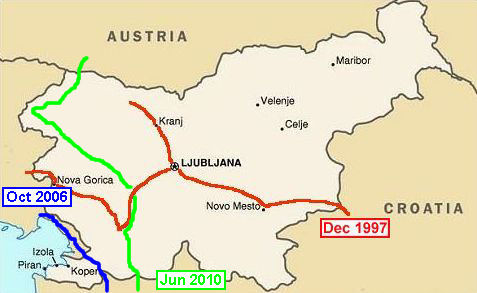 25/12/97 God turned on a magnificent day for his son's birthday, not a cloud in the sky, mild weather, and after crossing the border into Slovenia the snow capped alps, green fields and clear skies tempted us to ride through Ljubljana and into the holiday town of Bled. Situated beside a glacial lake, overlooked by a castle and surrounded by mountains it is a picture postcard Christmas spot.
26/12/97 How can one night make such a difference? Going to bed under starlight to awaken to rain, all day. Undeterred and wanting to see what we could of the area we headed for Bohinj, another glacial lake and closer to the ski fields. The speedometer register on the front wheel had lost a gasket. So stopping at a double hay rack (a large open barn used to store hay, timber or farm machinery) we raised the front wheel of the bike by rocking the motor cycle from side to side and placing larger logs of wood underneath each time. Fashioning a gasket from a piece of leather we were away again in less than an hour and off to Vintgar Gorge. The wooden walkway first built over 100 years ago hugs the cliff and crosses the gorge a number of times as it follows the fast flowing river for one and a half km's finishing in a waterfall. An advantage of being prepared with gear to ride in the rain means walking in it we can be comfortably dry, well except for boots and gloves.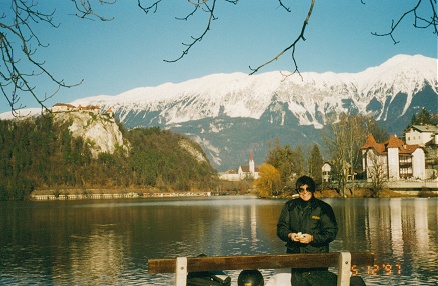 27/12/97 Deciding for today and for the future, where ever possible, to avoid motorways. We headed back through Ljubljana and onto Postojna. With all the signs heading for the motorway it is difficult to find backroads but well worth it. Instead of travelling with fast moving traffic, having to watch the road because of speed and feeling the wind chill factor, we meandered through traditional villages and rural scenery with little traffic. The advantages of better fuel economy and no motorway charges adding to the pleasure.
28/12/97 We did a loop today and back to our accommodation in Postojna. Whilst it is usually easy finding accommodation, having removed the need frees the mind for other things. 40 km south east are the caves of Skocjan. World Heritage listed by UNESCO in 1986 they indeed rate that listing. So far we have found anything World Heritage listed is a must visit part of the trip. The caves have the usual limestone formations, stalactites and stalagmites, shawls, tubes etc. which are not that spectacular.
But what you go to see is the sheer magnitude of the cave where the Notranjska river flows underground not to emerge again for 40 km in Italy. It is this immense underground gorge over 100 meters deep with the river roaring at the base that you follow that makes the cave so spectacular. On the same day we also visited Lipica, where the original Lipizzaner horses were bred in the 16th century. They are carrying on the breeding at the same site and using some of the original stables today despite this area of Slovenia having been fought over, lost and won back many times in the meantime.
29/12/97 Postojna to Kobarid today and poised to say goodbye to Eastern Europe and into Italy. The trip from Gorizia to Kobarid alongside the magnificent, milky aquamarine coloured Soca river. Always liking to sample the local foods we usually head for the truck stops. Anywhere a couple of trucks are parked outside an eatery looking building. The world over truckies being mobile and plying the same road many times, seem to hunt out the best deals for us to copy. The decor is not flash but the food is abundant, cheap and almost always local recipes and home cooked style. Today we had blood and rice sausage, savoury pork sausage and bacon with mashed potatoes and cabbage spiced to local tastes. This was washed down with a local red wine and again locally made strawberry/blueberry schnapps. It was so friendly two local bikers bought us a local wine and the host gave us a local schnapps to sample.
Move with us to Italy or go to our next visit to Slovenia