Travel Through Samoa on a Harley-Davidson
By Peter & Kay Forwood
Samoa on a Harley (28/8/08 - 17/9/08)
Distance 634 km (509094 km to 509728 km)
This is part of the fourteenth section of our around the world trip.
Complete Trip Overview & Map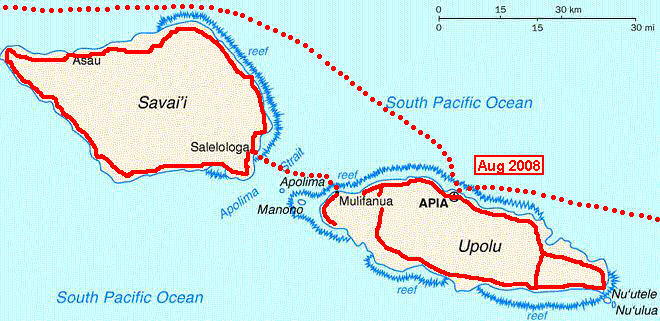 Coming from American Samoa

28/8/08 A much nicer, smoother crossing, we dozed fleetingly before reaching Samoa about 10.30pm, a much faster crossing with a following sea. Immigration and customs procedures were easily completed on the wharf , no quarantine? and we were at a hotel by midnight.

29/8/08 After changing some of the US dollars we had accumulated in American Samoa, checking emails and checking in on what was happening to our complaint about the damage done to our motorcycle by the quarantine services we left Apia, heading west. The letter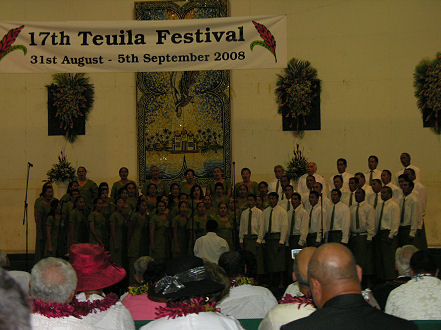 we had written to the Minister for Agriculture had not been forwarded to him, but had been kept by the officer in charge of quarantine, who had been away at the time of the incident, and after brief discussions with him, we realised the office had moved into defensive mode and that management were siding entirely with their staff, and were not interested in our side to the story, even refusing to look at the motorcycle to assess any damage done. We took the letter personally to the Minister's office, but don't expect any satisfactory result, as saving face in the "wantok system", has people, relatives and friends, siding together irrespective of general consequences to the country. The Giant African Snail has already been allowed to invade the island of 'Upolu and quarantine have been given the challenge of keeping it off Savai'i, Samoa's other main island. Along with the cocoa pod borer, also in the Pacific, which can devastate that industry, and with the "loose certification" of imported and exported items, other plant and animal problems will likely continue spreading across the Pacific. After our relaxed ride west and south we ended up back at Faofao beach fales, ready for more beach sitting, good food and company, all of which we found.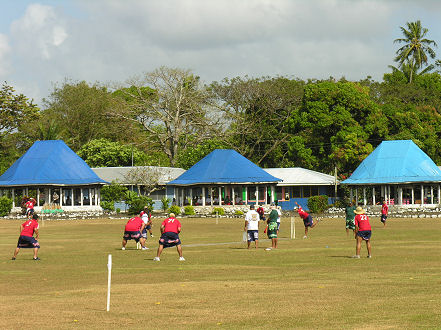 30/8/08 Breakfast, a swim, reading, lunch, sunbaking, talking, siesta, reading, swim and dinner pretty much filled up the day. A Saturday, the locals were also out enjoying the beach in large groups they rent space, or return to relatives villages for a lunchtime barbecue. Also a day for weddings, one was underway near our fale in one of the many churches early morning followed by a beachside photo shoot. A surprise though in the evening, everyone staying at the fall's was invited to a live show. Faofao village had been asked to perform at the regional police meeting, chiefs of police from neighbouring countries were gathering in Apia, and the village wanted to practice, a dress rehearsal, and who could be a better audience than us. So we were entertained for over an hour by the 30 enthusiastic dancers, men and women, to tunes of the Pacific, plus a spectacular fire dance.

31/8/08 Early morning ride back to Apia and meeting up again with Rudi and Jean, the couple we first met in Vanuatu, who were now getting closer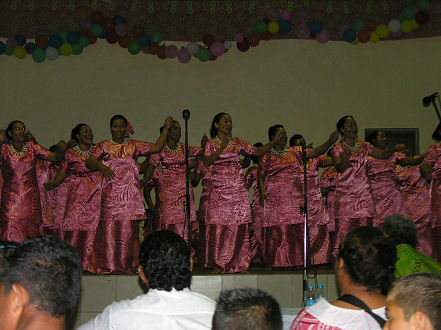 to visiting all the countries of the world, their quest. Spent the afternoon with them and together at the evening opening of the 17th Samoan Teuila Festival. The opening by the Prime Minister was followed by church choirs singers, from many denominations, from around the country, who were competing. It was an excellent evening, great voices and obviously a lot of practice had been spent at local churches.

1/9/08 The day's events started with the main canoe races. The ones we have been watching practice each afternoon and now had a chance to see who had been practising hardest. Nine boats with 40+ crews raced to a close ending. All over as quickly as it started without too much fanfare for the winners or runners up. We then headed off to the Samoan Kilikiti (Cricket) competition. Based loosely on British cricket, stumps, and a bat, two teams, is about the only similarity. Bigger teams, perhaps twenty a side, a hard locally made rubber ball meant hitting boundaries was easy so only scored one run, or two for a boundary on the full, a three sided bat and no bales on the stumps all added to the morphesis. On leaving, our taxi was hit by the cricket ball, flying across the road, where there was one
fielder placed for the big hitters. We again spent the afternoon and early evening with Rudi and Jean. The outdoor cultural performance had to be moved indoors due to the weather, but in an island no fuss efficient manner everyone strolled to the new location, where the sound system was reinstalled, cameras and judges tables all laid out. Approximately ten groups, island dressed, rocked an enthusiastic audience, almost the opposite from last nights choir singing. In Samoa more people seem to like to perform than watch, whether it was the choir, the kilikiti or the cultural performance, the entertainers outnumbered the audience, which was made up mostly from performers. Whole villages of men, women, and mixed, performed vibrantly on stage. The evening ended with a fire twirling competition with performers from neighbouring countries, again spectacular in their skills.

2/9/08 A quieter day of jobs in the morning, moving the crate to the onward shipping agent, buying tickets to the neighbouring island, and relaxing before another evening performance. With the onset of rain the show was again moved to an indoor location so we decided to grab a pizza and bottle of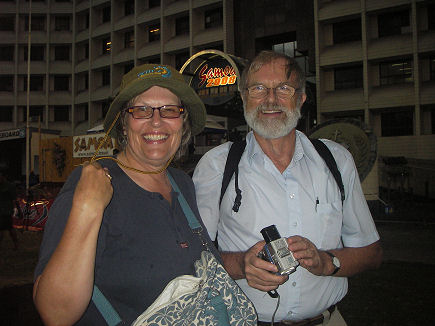 wine instead and heading back to our backpackers met two English girls we have been socialising with, who joined us, and a couple hundred metres later bumped into Phil and Janet, friends from our home town in Australia, who we haven't seen for four years, they joined us, and so we pizza'd, red wined and talked the evening away.

3/9/08 Another quiet day, tonight's show was variety. Most had a religious theme, the performers part of religious groups, very common in Samoa, and was finally outdoors as the rain stayed away. Food stalls dotted the roadside, taro and BBQ sausage the main staple. It was a larger, younger crowd that gathered to sit on the lawn or stand at the back to watch. The variety show competition, for us could only be judged by the laughter, as it was all in Samoan, and after a few performances we left it to the locals to enjoy.

4/9/08 The festival continues for another couple of days but we headed out for the island of Savai'i. The vehicle boat runs a number of times a day and takes about 90 minutes for the crossing. With the Giant African Snail on the island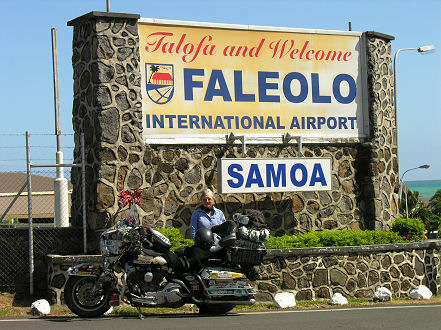 of 'Upolu but not yet on Savai'i, all vehicles must be sprayed by quarantine officers before boarding. An incredibly token effort, just the wheels and tyres were sprayed, not the underneath of our motorcycle or vehicles lining up, and we couldn't smell any chemical and no foaming spray. We asked the operator what chemical he was using and were told it was "protein", an strange answer. We stayed at a different waterfront location, in a well treed plot, with a freshwater spring fed pool off our balcony and the ocean just beyond. Our more upmarket bungalow has walls, solid, a bed, not just a mattress on the floor, and electricity, unlike the one we stayed in at Faofao. In such a relaxed environment it is difficult to muster enough energy to do more than eat, drink and sit on the verandah. Semi tidal fresh water spring fed pools are common along the coast, water seeping out of the volcanic soils, and are used for bathing and relaxing in, and we have a small one in front of our cabin.

5/9/08 Another decadent day, lazying around doing pretty much nothing, not leaving the confines of the accommodation property, and why would you, with water frontage, restaurant meals and bar, a wharf to sit on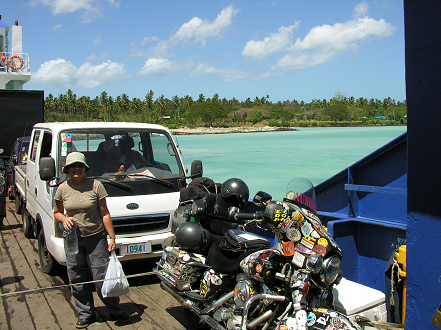 and good company.

6/9/08 A change of scenery, riding to the west of the island we passed the last place on earth where a day ends, where any further west it is already tomorrow, across the international date line. This new island, volcanic, last erupted about a century ago, and old lava flows around the coast drop straight into the ocean, volcanic cliffs, hundreds, really, of blow holes erupt with every high tide wave, lava tube caves open along the coastal road, all making it an enjoyable and interesting ride.

7/9/08 We had ended yesterday's ride at the northern town of Manase Beach, a conglomeration of beachside fale. With tourism growing rapidly in Samoa, mainly due to the cheaper airfares provided by Pacific Blue, new accommodation is popping up everywhere in a country run without many, if any, development rules. Any beach is being developed with basic fale to high end resorts, still uncluttered, we wonder what it will be like in a few years time. About half of Samoa's population lives overseas, mostly New Zealand, and sends back money for development to relatives in this
still strong culture with strong family ties. Most tourist places are still locally owned. Tourism's flavour of the month, will hopefully last, else the development might go the way of other beachside destinations. Prices have already started to rise with tourist demand on accommodation and local produce. With our current fale providing three meals a day, again there was no reason to leave the grounds other than a sunrise walk along the beach front. We at least managed to do some repairs to the motorcycle, a new engine mount, replacing a poorly made and designed model for the new upgraded model, which we hope will last longer on the rough roads. Fitted a temporary rear left signal indicator, the other one having fallen off in PNG, damaged and broken during shipping.

8/9/08 We have been meeting the same people along the way, staying at the same level of accommodation, in Apia for the festival, at the beaches for a swim or fale rest, but most are now leaving, their few week holidays over as the temperature here is getting hotter and their home country also coming out of winter. We decided to return to our previous accommodation, it has a power outlet in the cabin, so we can use the computer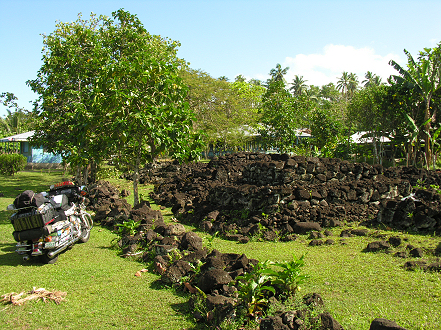 to write. Time relaxing, just sitting around reading books is wearing thin, something more constructive is necessary, so back to the book while we again wait for the next boat, due on the 13th.

9/9/08 Another story for the book in the morning, a swim and whilst checking our internet, a finalised request for a video interview, for the Horizons Unlimited, "how to" DVD. With arrangements made with a local videographer for taping the day after tomorrow, we will be leaving our island paradise and heading back to Apia tomorrow. It is to be a series of four DVD's apparently, featuring many past and present long distance motorcycle riders, something on them and their trips, plus helpful hints on "how to" do it for budding newbies. We understand it is designed to be sold at the Horizons Unlimited rallies that have become annual events in many places all over the world, no money for us, but it might help sell one or two of our books, if one is ever finished.

10/9/08 A sad farewell to the relaxed fale lifestyle where meals are provided, there is a bar, and accommodation is as lay back as it gets. The boat back to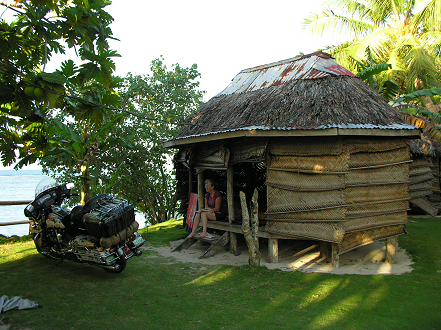 'Upolu, and ride along the coast to Apia. Rudy, the videographer met us at our accommodation in Apia and arrangements were made for tomorrow's filming. Grant and Susan had emailed us 100 questions to be answered, which we reviewed a second time in the afternoon and evening.

11//9/08 We haven't done what might be called a permanent media shoot before. Newspaper photos and TV interviews only last a short time and if we look a bit dumb or fumble answers it has faded from public view within a few days, but if we appear on a DVD, designed to be sold and kept, the pressure to appear at least a bit intelligent, and to know what we might be talking about was there. It was a six hour day, starting with the videographers car breaking down and him hiring a rental. The three staff, a sound man, cameraman and production manager were all local Samoans and knew their country well and we located a few spots with scenic backdrops for shooting footage. Three hours was spent driving and the same on location but by the end of the day, day length for work is short in Samoa, we were only through about 60 of the allocated 100 questions and answers. Perhaps we were putting too much into the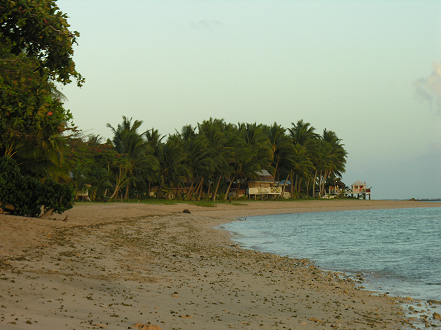 answers, perhaps we were a bit slow between questions, but the filming is scheduled to continue tomorrow at our hotel, most of the on the road filming complete. Like with any public appearance, guest speaker, media interview, we reflected afterwards on what we forgot to talk about or mumbled over, and vowed never to do it again, but we have done that before also, but seem to somehow have difficulty saying no the next time. Perhaps we will blame our poor performance on the lack of a microphone and headsets for the sound man, or perhaps the difficulty the cameraman had manoeuvring his camera tripod, but that is the relaxed approach to life here in Samoa.

12/9/08 Another hour and a half was spent in front of cameras this morning answering most of the remaining questions. A more relaxed filming, just sitting with a leafy backdrop, head shots, talking to the camera. An afternoons meeting with the head of the Department of Agriculture resolved our complaint regarding damage done to the motorcycle by his staff. He had a report from the quarantine office, and conceded there had been lapses, apologised and asked how we could proceed. As most of the damage was irreplaceable, blasting away stickers we had accumulated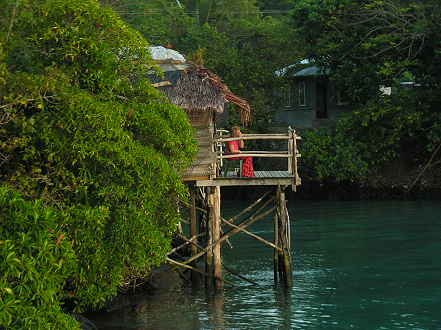 from the countries we had visited, monetary compensation wouldn't have fixed the damage. A token, waiving of quarantine fees was all that was asked and provided.

13/9/08 The ship from Samoa to Tonga has been delayed, originally from the 12th to the 15th and the latest to the 17th, meaning we don't need to crate it until the 15th but it will shorten the time it is available to us in Tonga. A quiet Saturday in our hotel room again working on the book.

14/9/08 Sunday almost everything closed. Tried a local to'ona'i, the after church traditional lunch, but no alcohol sales on Sundays.

15/9/08 We rode, in the rain, to the shipping office to crate the motorcycle at 11am only to find out the ship, "Forum Samoa 2", had broken down and had returned to Australia, and was now not expected in Samoa until the 25th of September, and too late for us to ride in Tonga and meet the connecting vessel to New Zealand. After asking other shipping agents there was a fallback option, "Pacific Islander 2", expected into port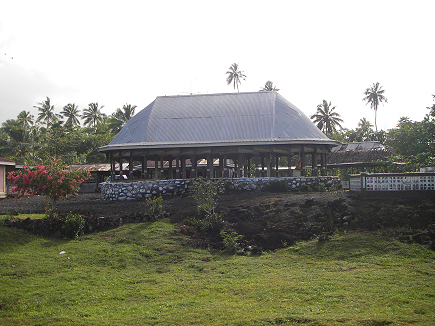 tonight, operated by an opposition company we managed to receive a refund of our previously paid freight, arranged to have customs cleared, quarantine inspected the motorcycle after it was cleaned at the shipping company's warehouse, and we paid port dues. Unfortunately freight with the alternative shipping company was 50% more expensive as the vessel goes via Tahiti, also taking longer, and is still only scheduled to arrive in Tonga three days prior to the onward ship, including a weekend, so it is still a risk whether we will get to ride in Tonga and still catch the planned "Southern Lily's" fortnightly schedule to get to New Zealand on the 8th of October. Normally we wouldn't be too fazed by a two week delay but this time we have friends arriving in New Zealand to ride with us. So yet again shipping problems have caused us more problems, so we will be pleased to be able to soon ride longer than a few km's between shippings. Adding to our already busy day we had arranged for the film crew to attend the crating of the motorcycle, answer the final questions regarding shipping, and do a display of crating the motorcycle. Luckily all went smoothly but the day didn't finish till late, and it didn't stop raining the whole time. Nothing like a last minute change of plans to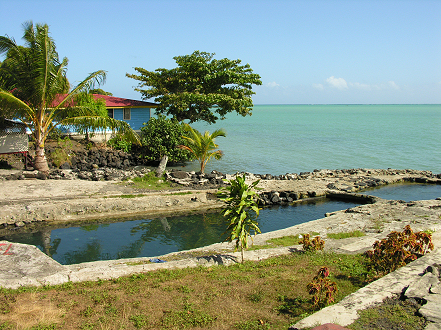 keep the grey matter revolving efficiently.

16/9/08 Now always sceptical of shipping advice we took a walk to see if the ship had arrived but by 9pm last night it hadn't, but this morning at 6.15am we saw it leaving, a quick overnight turn around, presumably carrying the motorcycle, a Bali Hai ship, we have had good service from them and expect to see the motorcycle in Tonga in ten days time. After an interview with the local TV media, we received a copy of the DVD footage from the local cameraman who has been doing the shoot over the last few days, and had it copied to our hard drive, as the laptop's DVD player isn't working, then we watched some of the footage. From our untrained eye the quality wasn't good. The amateurish actors aside, and the fact it was being played off a USB hard drive, we were surprised the two hours and forty minutes of recording occupied less than three gigabytes of space, and the trailers had some local TV ads, ones that we had recently seen on TV, indicating it was a reused tape, not a great format for high quality, but who knows, Grant and Susan at Horizons Unlimited, along with their editors, might be able to work miracles and get what they want from the recordings. Otherwise it was a pack up day, ready for our flight to Tonga via New Zealand.

17/9/08 Probably the shortest day of our lives. Our flight left at 2.15am, and minutes later crossed the international date line, and the 17th of September finished almost as quickly as it had started.

Move with us to Tonga