Travel Through Reunion Island on a Harley-Davidson
By Peter & Kay Forwood
Reunion on a Harley (1/5/06 - 2/5/06)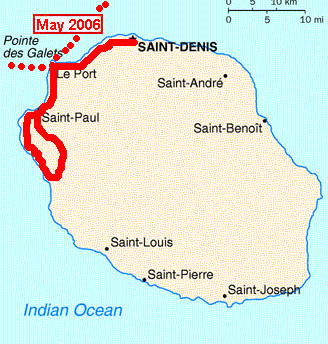 Distance 122 km (456261 km to 456383 km)
This is part of the twelfth section of our around the world trip.
Complete Trip Overview & Map
Coming from Mauritius

1/5/06 The container with people's luggage and our motorcycle was offloaded onto the wharf on the boat's arrival in Reunion early in the morning. The passengers continuing on to Madagascar were asked to identify their luggage to make sure it wasn't accidentally offloaded at which time we asked the Reunion Customs officer if it would be permitted to ride the motorcycle on the island for the day. A casual enquiry, an initial no, then a reflection and a yes if the ship's captain permitted. The same reaction from the captain, and we were riding the motorcycle out the customs gate by 8 am with strict instructions to be back by 3 pm to reload into the container. Reunion Island is a part of France, one of its political departments. Part of the European Union and it uses the Euro currency. Once we got over the surprise of being allowed to ride the motorcycle today, we headed for St-Denis, the capital. Stocked up on Euro's from the ATM for Madagascar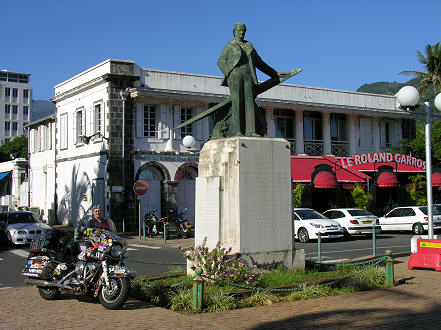 and it finally dawned, with the lack of activity that it was the May day holiday as we rode the empty streets of the city. With only a few hours available we took the coast road to the beachside tourist capital of St-Gilles-les-Bains where predominantly white skinned people, including us, had their morning coffee and baguette or cake at the local patisserie. The beach was crowded with surfers and sun worshippers. A short ride up into the mountains where the skin colour became darker, and the views magnificent. We were back in time, rode the motorcycle into the shipping container and it was loaded onto the boat and with the 50 other passengers we left at sunset for Madagascar. A bottle of wine in the bar topped off a great day.
2/5/06 Like most boats there is not a lot happening during the day, just a lot of water being washed past. The big social event happens at meal times where us second class passengers are relegated to our small cafeteria and the first class ones to their restaurant. A distinct class difference is felt, their being three times as many first class berths as second class, yet the second class is almost full. Spent most of the day in the cabin, low down in the ship, less movement, not that the seas were that rough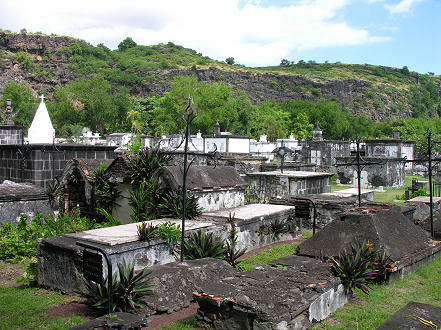 till late afternoon, and worked on the computer. We were surprised just after dark to hear the engines stop, and realised we had anchored just outside the port in Tamatave. Apparently the port charges here are excessive so the ship waits out till morning. It seems we will be back in Africa tomorrow after our brief respite in its shadow as we were also informed that to unload the ship takes twice as long here as in Mauritius.


Move with us to Madagascar