Travel Through Portugal on a Harley-Davidson
By Peter & Kay Forwood
Portugal on a Harley (16/2/98 - 25/2/98)
Distance 1339 km (87608 km to 88947 km)
This is part of the third section of our around the world trip.
Complete Trip Overview & Map
Coming from Spain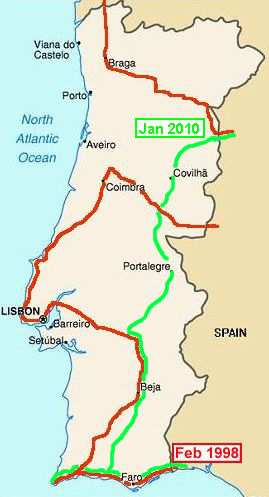 16/2/98 We decided to move onto Portugal and stay at Tavira tonight. The border crossing was our first completely free crossing. Not only no checks, but no customs officers or immigration officials. A totally free border. The border did however have the worst value exchange rates. The rate to buy Portuguese currency was 150 to 1 US and to sell was 250 to 1 US making a 40% difference (i.e. 100/250) meaning at each change you would lose 20%, half loss to buy and half loss to sell. Doing this calculation is a good way to see if the exchange rate offered is reasonable, even if you have no idea of what the rate is. Take the difference between the buy and sell rate and divide it by the higher of the two, this gives a % variation of which you would lose half for each transaction. E.g. buy 90 sell 100 difference 10. 100/10 = 10%. You lose 5% each exchange. An excellent rate you might only lose 1.5%, average might be 2% depending on commissions, but to lose 20% you would need to be stupid or desperate.
17/2/98 Each country has different ways of slowing vehicles for towns. India has either poor roads in the town, big pot holes, or large speed humps when entering. Indonesia has ¨cut outs¨ two dimensional wooden police cars and policemen on the outskirts of some towns and the west has its range of radar, speed cameras and police cars. Portugal has an interesting method, they have red traffic lights on the edges of towns timed to change to green if your speed is slow enough or they stay red forcing you to slow down, quite effective. Staying tonight in Lagos after meandering slowly through the Algarve beaches and hinterland. Another touristy area for sunseeking, winter trapped north Europeans.
18/2/98 Out for a ride, down to Cabo de Sao Vicente, South Western point of Portugal (and Europe), a windswept peninsula with high sandstone cliffs falling to the sea. The native spring flowers just starting on the treeless peninsula. Then we did a loop up the west coast and back to Lagos. Our accommodation here at Rubi Mar guest house, one of the best, run by a couple of gay Englishmen, cleaner than home, nice breakfast and with nice views of the fishing boat harbour. At this time of year great value.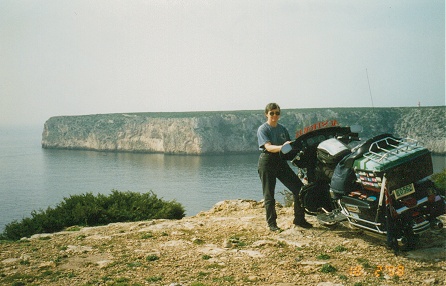 19/2/98 Off to Evora starting with forested back roads and through Monchique and onto the plains around Beja. The forests were of Australian eucalypt and pines. The constantly cutting and regrowing of the eucalypts make great straight poles. One of the best sustainable mixed agriculture are the cork trees dotted amongst the grasslands of grazing animals providing shade, wind protection as well as the saleable renewable product, cork. Evora is famous/infamous amongst other things for its ¨Chapel of Bones¨. A large chapel inside a wing of the Church of St. Francis are the skulls and bones of 5000 humans geometrically arranged on the walls and pillars with 10,000 empty eye sockets looking into the room. Because of a shortage of land in the area a few hundred years ago, 32 cemeteries were emptied and the remains of the exhumed were decorated into the walls of this chapel. More macabre than the chapel is the entry fee charged to see it together with the sale of books and postcards depicting the skulls and bones. Watch where you are buried today or you might end up as a tourist attraction in a church you once trusted.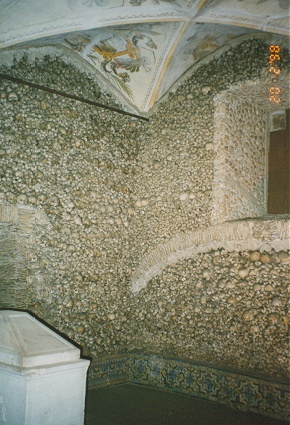 20/2/98 A series of small towns and we are in Lisbon, the capital of Portugal and a city getting ready for EXPO 98. Just three months to go and there are unfinished construction sites everywhere, freeways, metro, buildings, will they make it? It seems everyone is rushing to get the job finished, even motorists who drive flat out through the city streets. Bought new front brake pads, the last ones had lasted for 45,000 km, since Thailand. Prices here for parts, very expensive at $US 120.00 for two pairs.
21/2/98 I feel we are no longer hemmed in, after the walled cities and narrow streets of Morocco and Seville, Lisbon is spread out, opening onto wide streets, parks and ocean. The display of horse drawn coaches at the coach museum from the 17th and 18th century is an immense contrast to travelling today. Up to 7m long plus the length of 12 horses two abreast, they are as long as a semi trailer, covered in gilded wood (gold leaf), ritzier than the chrome of a H-D, and swinging suspension looser than the old Citroens. Yet to travel any distance over cobbled roads would be sheer hell. No matter how rich you were you couldn't travel the world like you can now on an H-D
22/2/98 Out of Lisbon and up a magnificent coast road to Nazere, winding in and out of sandy beaches and headlands. About half way was Caba da Roca the western most point of Europe. It was along this stretch, through some towns that I realize, sometimes, I enjoy traffic lights. They stop you, giving time to look around, get directions, talk to friendly motorists before continuing. Being Sunday and the first day of ¨Carnival¨ everyone was out, bicycle tourers,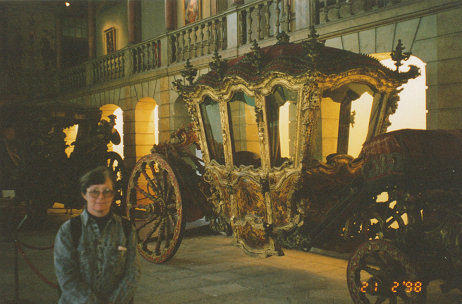 hundreds of road bikes, just enjoying the spring. Carnival (22-24 Feb) was in full swing when we arrived in Nazare, famed for its carnivals. The road was blocked for a couple of km before town with cars trying to enter the small beach town. Parades and floats plied the streets from 4-6 pm then the restaurants were packed before the bars from 9 pm - 3 am. Predominantly a locals party everyone was fancy dressed, older people and children more traditionally with the party going age in anything from tights, wigs, masks, dresses and adorned with anything at hand, bottles, shoes, toilets and toilet seats.
23/2/98 The whole place woke late, those who slept, and being cool but sunny, veged out on the beach or in the cafe bars that didn't close. The party started again at 9 pm and lasted until 3 am. We veged as well taking in the sunshine, riding the funicular to nearby cliffs and sampled local snacks, a peanut cake and broad beans in brine.
24/2/98 Portugal accommodation seems some of the best, large clean rooms in quaint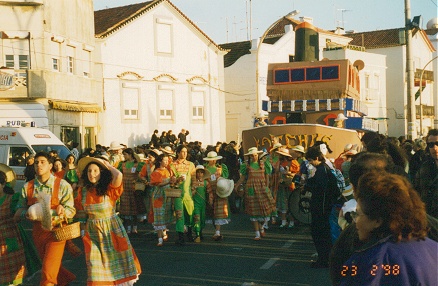 old buildings, basin and bidet in the room, shower and toilet outside the room. Some are modern rooms, others furnished with older style beds, marble topped bedside tables and wardrobes with full length mirrors. Averaging $US 17.00 a double, great value except for the too few or too thin blankets. Our unzippable fold out sleeping bag comes in handy. Luso today, still heading North, a small town tucked into the mountains below an old monastery. The towns claim to fame is its purer than pure water, bottled here under the Luso brand and the biggest selling in Portugal, but free at the towns spring where people come from all over the district to fill water containers. The old monastery was run by barefoot monks and about 150 years ago they planted trees and shrubs from all over the world in the surrounding walled forest. Paths and walkways lead through the forest to springs and pools, old buildings and the now enormous trees and flowering shrubs.
25/2/98 We have a bike cover, cloth, that before leaving Australia was marked (pissed on) by the local tom cat who occasionally slept in our carport. Since then cats have slept on the motorcycle seat, under the cover, and sprayed it to cover the previous cats smells. In almost each country dogs have lifted their leg to cover other dogs marks and to try and cover the cat spray. Despite washing the cover to remove the smell the process goes on. We must have more varieties from more countries of cat and dog piss impregnated into the motorcycle cover than has ever been recorded. What a claim to fame. Cross country to Spain via Castello Branco, a most magnificent road, winding through pine and gum forests with the marquis just coming into flower, with yellows, mauves and white dominating. The ridge-back ride looks down either side of the mountains onto new forests, pastures and wildflowers.

Move with us to Spain or go to our next visit to Portugal