Travel Through The Philippines on a Harley-Davidson
By Peter & Kay Forwood
Philippines on a Harley (10/11/04 - 18/12/04)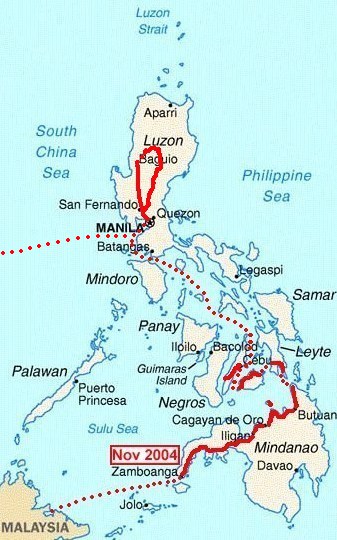 Distance 2410 km (403780 km to 406190 km)
This is part of the eleventh section of our around the world trip.
Complete Trip Overview & Map
Coming from Malaysia

10/11/04 We had chosen the cheapest ferry ticket. Bunk beds on deck. In the fresh air. The boat being a little more than half full we had plenty of room to relax. We knew of only two other people who had brought foreign motorcycles to the Philippines and both had difficulty with customs, having to put up 150% of the motorcycle's worth in a bond and leave by the same point as they entered from, all taking time to arrange and paperwork. We had plenty of time in our bunks to ponder the likely customs problems we would face. A dead calm crossing passing small islands during the morning docking at 12 noon. Immigration was cleared on the ship after which I wandered around the port area in case there was a way to slip out the motorcycle undetected, as there were many vehicles moving about. Customs however were already on board checking on the cargo. Initially officious and serious. We showed them the motorcycle, the stickers and the countries we had visited and within five minutes they said we could go, no paperwork. The bike was treated as personal luggage. The customs officer commented that it would be unlikely we would sell the bike in the Philippines, it was so much a part of us by now. We were riding the streets of Zamboanga, Mindanao by 2 pm.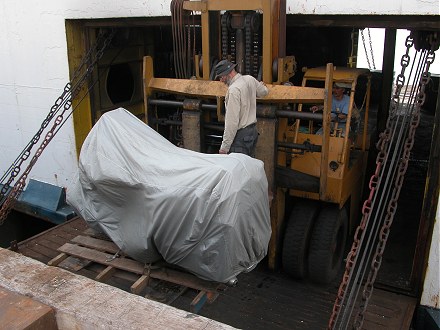 11/11/04 A vastly different country than where we have been before this trip. Despite this being the "Muslim region", fighting for autonomy, there are few signs in Zamboanga of Muslims. No morning call to prayer, no restaurants closed for Ramadan and only a few head scarfs to be seen in the crowd. Bright coloured Jeepney's, a symbol of the Philippines. and tricycles, (motorcycles with side car, roof, windscreen and windscreen wipers, almost a car), are everywhere, more common than private motorcycles or cars. The delicious Malaysian/Chinese food gone, replaced by fairly ordinary cuisine. The vibrance of the people similar to other Spanish colonized countries we have visited. Everyone seems friendly but we are an anomaly in the streets, the only westerners we have seen. There are also many poor, street children, begging.
12/11/04 270 km along the main road to Pagadian City.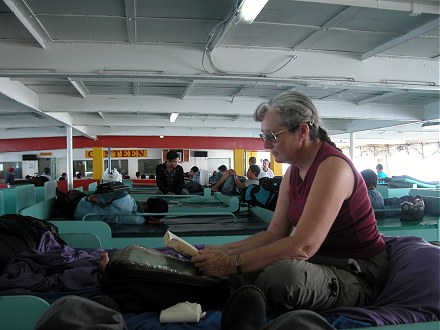 A concrete road where we drive on the right side, different from most of Asia, perhaps the Spanish then American influence. The good road periodically turned non existent where sections were not finished, about 15% of the distance. No one was working on these sections, just left for vehicles to bounce over. There might be 100 metres or 20 km then road base for a km or two then concrete again. The rural areas had well tended rice fields and very small bamboo and palm frond huts. The countryside very clean, no rubbish and flowering gardens around the huts, giving a relaxed appeal as we rode through. Again we are welcomed, cautiously at first, looked at, even stared at until they realize their impoliteness. There is a high military/police/official (can't easily discern) presence. Police road blocks every few km's, mostly unmanned or our weaving the chicane of road block signs watched but not halted. All businesses of any size, hotels, banks and shopping malls have armed security guards, often with metal detectors, and some malls have two lines, one for men the other women where you are frisked prior to entry. Police with rifles wander the streets. Whether we feel calmer with their presence or more nervous depends on our thinking at the time.
The fact that they are there should make the place safer but the fact that they need to be there makes us nervous. The underlying opportunism of this region a concern. Whilst we were having a roadside coffee, only metres from the motorcycle, one man partially blocked our view of the motorcycle whilst another was trying to remove a cassette from the player. An obvious play for experienced eyes, we firmly moved them on, but it left that need to be extra careful. Even the beggars here, mostly children, will reach, touch and hold onto us, blocking our path, a more aggressive tactic than elsewhere.
13/11/04 Cagayan de Oro is currently considered the border of the safer region to the north east, of Mindanao. 240 km, we arrived about 1 pm after a better concrete road, patches being repaired and upgraded, but slow speeds because of traffic and bumpy. The road followed the coast through more well tended coconut plantations and rice fields. Petrol prices again went up here yesterday, a few private vehicles out of towns and those public ones full. Four people to an ordinary motorcycle common, the most we have seen is six. The rear mudguard and rack strengthened and extended carrying extra passengers off the rear.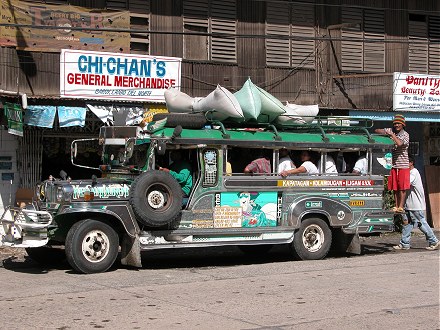 It's the end of Ramadan, the beginning of the holiday season Eidh-al-Fitri but there are few signs here. More apparent are the Christmas decorations in hotels and shops. We are surprised at how few Muslims live in the regions we have travelled through.
14/11/04 Balingoan, then crossed to the small island of Camiguin. A local holiday island with many resorts along its northern coastline. Built by its seven volcanos, the beaches are black generally with some white coral beaches and sand cay's. Our chosen resort was full but with plenty to choose from we settled into a bamboo hut with ensuite and electricity on the waterfront. Prices here dearer than elsewhere, as expected, but a restaurant lunch for two with a couple of beers for less than $US 5.00. When we move to a new country it is important to look for changes and differences from where we have just visited for within a few days you no longer see these differences, accepting them as normal. Such is man's ability to change and to forget, to accept. If they are not recorded as we spot them the first time they are lost to us. English is widely understood, less spoken, but difficult to have a conversation with locals. Radio and TV is broadcast in a mix of Tagalog (Philippino) and English. Not separate shows but mixed within sentences.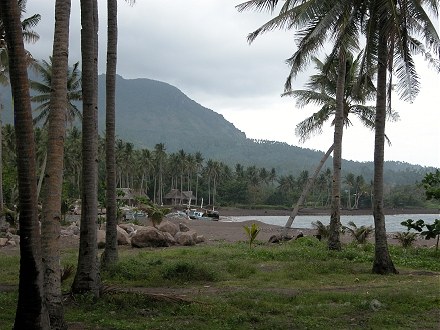 It seems the most expressive portion of both languages has been selected. A little disconcerting trying to follow a program that flicks mid sentence back and forth between two languages, one we understand, one we don't, tantalizing, but little is understood.
15/11/04 Malaysia has oil palms, the Philippines has coconut palms. Camiguin in the past lived off the coconut but today the plantations on the mountain sides are being reclaimed by the forest. The ones along the beach are shading resorts and we wonder how many tourists get clobbered by the falling nuts. A windy day today and a few thuds as the nuts hit the ground near our hut. Some are still gathered, the pulp dried, and sold for palm oil extraction. The motorcycle here draws little attention, its stickers blending in with the other brightly coloured vehicles, its size small compared to the motorcycle tricycles. Visited the capital, Mambajao and a waterfall, relaxed.
16/11/04 We were thinking of veging out another day but by 10 am had the urge to move on. Circled anti-clockwise the island, visited the well developed hot springs, past the underwater cemetery and ended up near the ferry port at the lagoon.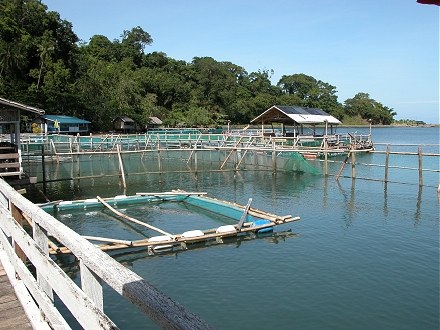 A tidal body of water with fish pens, a restaurant where your meal is taken fresh from the pen, cooked and served. We had crab and prawns, the local choice and took a room overlooking the lagoon.
17/11/04 The 7 am ferry had us back on Mindanao by 9 and we rode to Surigao on the island's northern tip. Planning just to check the ferry timetable for tomorrow we discovered one leaving in 30 minutes and decided to take the three and a half hour trip to Liloan on the island of Leyte. A Ro Ro (roll on roll off) ferry, part of the Pan Philippine Highway, connecting Mindanao in the south with Luzon in the north. Not quite a smooth paperless ferry, the bike and all vehicles are still treated as freight and need a waybill. Eleven pieces of paper, eleven separate charges, and five separate offices, all requiring a fee before the bike and us could board the ferry. A ticket, terminal usage fee (even if you don't use the terminal), name registration fee (in case the boat sinks they have you registered), city tax charge, 10% govt tax, port fees (departing and arrival), plus four other port fees I couldn't decipher, all accounted for and receipted. The total not a significant amount, totalling $US 15.00, for the three of us, but producing reams of paper and I guess employing many people. It was dark on our arrival in Liloan and we hunted a hotel for the night.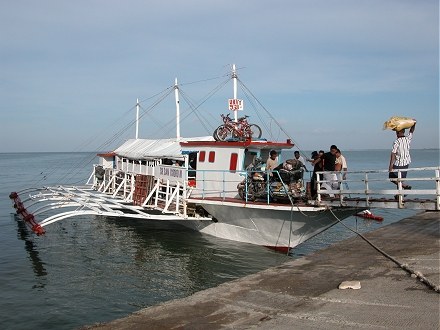 We are still impressed by the neatness of the country, observing that the schools particularly have neat gardens and lawns. The children educated in being tidy. We have seen them out sweeping road edges in villages. The work ethic also seems strong with people busy, not avoiding work, like we have seen in other Asian countries. Perhaps that is why at any one time 10% of the countries population is working overseas, sought after as hard workers. Employed, often illegally in neighbouring countries and representing a significant portion of the world's crews on boats.
18/11/04 We had learnt last night that our intended passage to the island of Bohol was not likely to be easy. There was no vehicle ferry operating from the south of the island of Leyte, the only one 3 hours to the north going to Cebu, then another one to Bohol, taking two days. The only chance, a bangas (large canoe with two outriggers) leaving from Bato, 90 minutes north at 9.30. We left our accommodation at 6 am and on arrival were assured that the motorcycle could be loaded. It was pushed down the gangplank, five porters assisting and finally tied to the front deck. The double decker cabin was already half full with passengers and their considerable luggage. By 8 o'clock it was overfull and sitting low in the water. It was now one of those boats you would have second thoughts sailing on this loaded, we now had no choice the bike was aboard.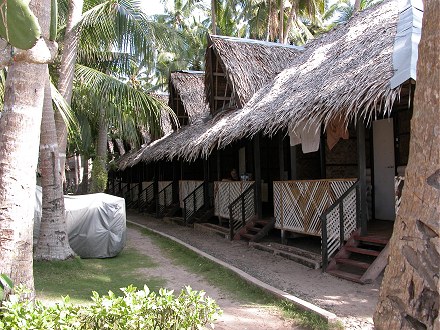 At 8-15 they stopped selling tickets, almost unheard of, boats here are never full, however people kept leaping aboard till our departure at 8-30, grossly overloaded. Three men in rotation manned the hand pump the entire two and a half hour journey. Crammed into the two cabins people were seasick with the engine heat and fumes and rough seas. We had chosen to remain outside, fresh air and a safety precaution. We arrived safely, the passengers unloaded, the bike also, the reverse of loading, again many helpers and we rode from Ubay to Tagbilaran and onto Panglao Island, seaside, a well earned rest after 12 hours of travel.
19/11/04 The starter clutch on our model Harley is notoriously weak. Despite installing a whole new starter motor just 50,000 km ago, the starter clutch started slipping two days ago. It gave way completely just after arriving on Bohol. A push start after lunch, petrol and at the tourist office had us at the beach yesterday. We carry a spare, a three hour job this morning outside our Nipa palm hut had the new one installed. Unfortunately while a success in starting the motor it seems to stick or run on, creating a crunching grinding. Perhaps just a need to seat in.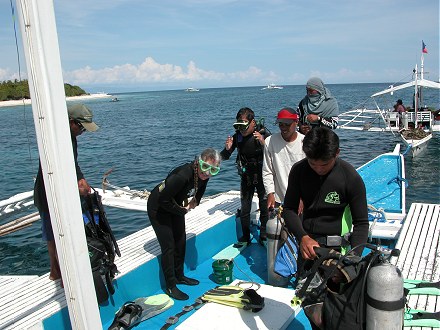 We will leave it a while and ponder, concerned there may have been another underlying problem to cause the first clutch to fail. Alona Beach is a popular, although not large part of the Philippines that receives a few hundred tourists a day in season. Mostly for diving, relaxing and the beach. Huts spread for a km or so along the beach interspersed by dive shops and unfortunately an increasing number of resorts. A quiet low key area mostly full with Europeans here with their Philippino acquaintances.
20/11/04 It had been over ten years since Kay had Scuba dived, the same for me other than two dives in Australia earlier this year. After running a dive business in Townsville Australia it had taken this long to rekindle interest as a tourist after so many dives as an instructor and also to now having to pay to go diving. Over a dozen mono hulled vessels with bamboo outriggers take divers to reefs and islands out of Alona Beach. We chose one, $US 35-00, two dives, with equipment, to the island of Balicasag, wall dives off an inhabited coral island. The marine life sufficiently different and varied from where we dived in Australia.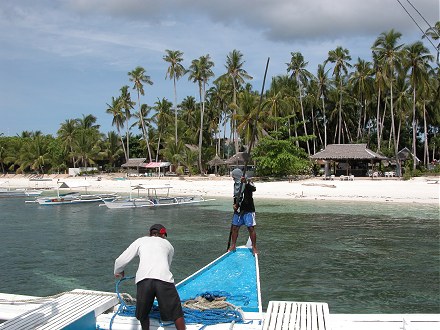 More sponges and different fish. Mostly small sights but a column of a couple of thousand mangrove jacks, like small tuna, about half a metre in length had us fascinated. Used to the hundreds of divers frequenting the area they let us pass through the column, surrounded, just out of reach, a different experience.
21/11/04 We had been pondering the starter motor problem and looking at the schematic parts diagram realized a ball bearing was missing. It had remained stuck with grease inside a shaft of the old part and had not been noticed, and thrown out. Retrieved yesterday afternoon, we again removed the starter motor, pulled it apart just to insert a small ball bearing, finishing the job today, hopefully finishing the job correctly. Tired from our two one hour dives yesterday we relaxed seaside catching up on chores, washing, internet, web page and diary.
22/11/04 It is rare that we take a holiday during our travelling but here the mood seems right. We decided to stay a few more days and then catch a boat to Manila rather than hurrying along the road. Two more dives today, same operator, same island, different dive sites. The crowds of boats still there, increasing as the season moves into high gear. Our boat though only had three divers, the divemaster leading us slowly, again two one hour dives. Small things again, sea slugs, nudibranch, colourful fish. A stone fish and crown of thorn starfish a bit different.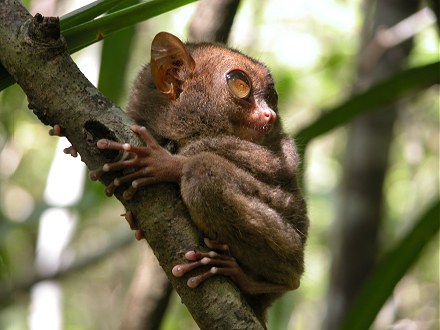 23/11/04 The worlds smallest primate, fits into the palm of a hand, the Tarsier, holds on to an existence in the hills of Bohol. They are difficult to see but a preservation breeding area allows visitors. The enormous eyed animal is nocturnal but sits in trees one to two metres above the ground during the daytime and can be readily seen. With a guide we spotted three within the natural breeding enclosure. Bohol is also famous for the Chocolate Hills, a group of over 1000 limestone hillocks about 100m high, uniformly rounded on top, rising from flat land in between and spread over a wide area. In autumn the grass on them turns a deep brown, chocolate hills. We also visited immigration to extend out visas. Given 21 days free on arrival the extension gave a further 38 days and cost 2020 pesos ($US 36.00), took half an hour in Tagbilaran. Back to our beach hut for the night.
24/11/04 Bohol was one of the first islands settled by the Spaniards who built some enormous, magnificent churches. Putting on my gloves to leave this morning I noticed three large holes, presumably eaten by rats in our grass hut. We caught another Ro Ro, that because of the pricing structure is really a freight boat, unloading and reloading trucks at each end, using forklifts to load. Four hours to Cebu, the southern capital and teeming with that picture one has of Manila.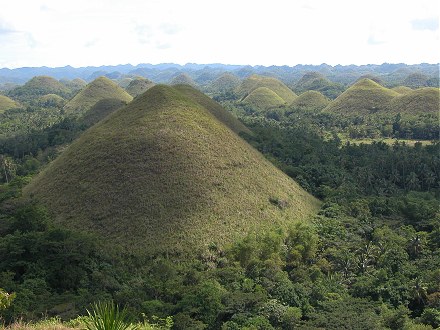 Two storied shanties line the footpath near the port area, street kids sitting outside shops selling TV's and watching the latest products they will probably never be able to afford, cardboard beds in alcoves. We took a more expensive hotel mainly because of security for the bike, parked in the street but with security guards, the quantity of which is the same as in the south, at each bank, department store etc.
25/11/04 ATM's here give less than $US 80.00 per transaction. We caught a taxi to Citibank in uptown Cebu for a larger withdrawal, the maximum being three times as much. The 15 minute taxi ride just one fifth of a bank's electronic withdrawal charge, such is the difference in western and local prices. Here the Ayala Mall, modern, has many mixed Western, Philippino couples. It seems the ageing western population problem is being solved not by governments but by individuals, moving to Asia for companionship, nursing care, retiring in comfort. The economics of a western pension, the more age friendly climate and the lower labour cost of a permanent carer, with or without the physical side, a large attraction for the aged to the area. Governments in the region are starting to adapt visas to cater for the longer stays for retirees. Back downtown we visited the Spanish Fort, 16th century, and Magellan's Cross, the founder of the region, and the old Basilica.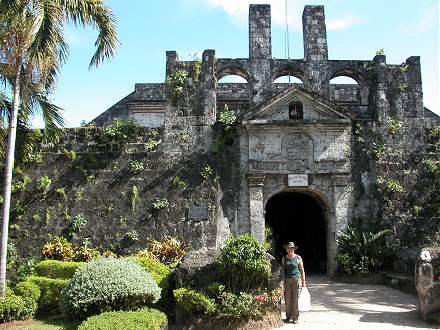 26/11/04 It was raining at dawn and continued till after check out time. We try to avoid riding in constant rain. It was easy to convince ourselves to stay another day in our hotel with cable TV. We ventured out to the supermarket, observing that most customers were buying large quantities of single items or a few products. We realized that here the margins are so small that the little shops that dot the roadside buy at supermarkets to resell at their stalls, often only a couple of cents difference.
27/11/04 A sunnier day we left for Moalboal, a beachside place two and a half hours south on the other coast. An adventurous trip with both wheels losing traction on an oil slick covering half the road and later being forced off the road by overtaking buses, otherwise the traffic was normal. There seems to be no road rage in countries where drivers learnt to drive without lessons or tests. The rage seems to come from drivers who know the rules, their rights, and insist upon enforcing them. Where the road courtesy has evolved rather than being laid down in rules drivers seem more conciliatory to the other's needs on the road and allow for them. The Philippines seems such a country while where we travelled in Malaysia people would insist on their right of way.
28/11/04 The seaside near Moalboal has made that classic mistake in its development. Buildings right alongside the waterfront prevent an easy ocean view. They have encroached onto and used beach sand and with a typhoon twenty years ago the beaches were washed away, not to return. Rock walls were put out to trap sand, preventing its natural movement up or down the beach. This is the situation to the southern part. We didn't venture up to White Beach. Many foreigners have settled here, beachfront, running dive shops or hotels and restaurants. Some come here just to relax, away from the European winter, build a small native house on rented land with a long lease, perhaps 5 years. Usually associated with a Philippino woman and not willing to give up their European citizenship they must do an immigration visa visit every two months and leave the country every year to renew. We washed the bike, talked to people and relaxed but weren't tempted to stay here long.
29/11/04 An early morning uneventful ride back to Cebu and booked on the afternoon ferry to Manila. A 24 hour trip. Again, even though we could ride the bike on the ferry, it was treated as freight requiring an hour's paperwork. We filled in the four hour midday wait sharing time between the upmarket mall and the street vendors shanties near the port. The ferry can carry 1600 passengers and was almost full. Our area, economy bunks on deck, air conditioned, had only a few spare bunks. The current promotion includes meals for a nominal extra charge, and after leaving on time the 1200 lower class, including us, lined up for the evening meal. Amidst crying, fidgeting children, with television and lights burning all night we slept in our corner on upper bunks.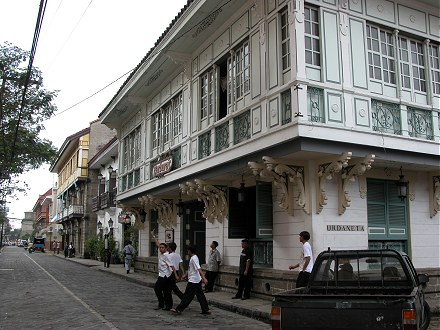 30/11/04 Rice for the three meals with a small piece of meat and bowl of soup. Asia would starve without rice. Some days I think I would prefer to starve than eat it again. At least we have a choice, many here eat it three times a day every day and are more than thankful, others aren't so lucky. The smooth passage at 17 knots rarely out of sight of islands one side or the other had us at Manila's port by 4-30 pm cleaning up in a hotel by 5-30, a great way to enter the bedlam of Manila, at the centre of town. A thriving, lively city centre with streets and blocks of restaurants near our hotel.
1/12/04 Starting at 8 am and three hours and four taxi rides later and we had organized the shipping for the motorcycle to Bangkok on the 17th of December. A once weekly, five day container ship crossing directly to Thailand. Customs at the port suggested we use Wan Hai Lines, (632) 525-5118, cnr of T.M.Kalaw and Cortada streets, Ermita in downtown Manila. They are providing us with a 20ft container, just for the one motorcycle, $US 100-00 shipping, $US 30.00 paperwork and handling, including one week's storage if needed in Bangkok. We could probably have found a cheaper consolidator rather than renting an entire shipping container but that would have made customs more difficult, possibly at both ends, and we would likely have needed to crate the motorcycle. We also have greater security with our own container, especially at this price. All paperwork, including customs clearance, finalized this morning. Wherever possible we prefer to do the customs work ourselves. It's quicker and cheaper. We usually get personalized attention being foreigners and the one off nature of our request.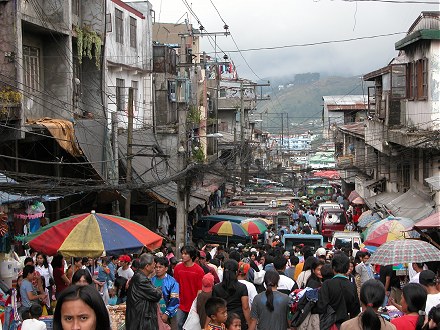 2/12/04 For the last couple of years Kay has not been getting the same enjoyment out of travelling as she used to nor as much as I continue to get. There have been many discussions on the subject, at times quite in depth. At my age of 51 and with a further possible life expectancy of another twenty five years, and most probably not needing to work again if careful with savings, and with no great ambitions, must do's, or challenges at the back of my mind, it is difficult to see an alternative to travel other than sitting on the porch whittling, or growing vegetables. We have covered the spectrum of university, private business, farming, government work, working on boats, raising three children and even taking up bridge and dabbling in the share market for a year or two before becoming restless enough to start travelling full time. None of which do I have any great desire nor need to return to. Kay on the other hand is not enjoying travelling any more and has a need to put down roots. A house, family and friends. Unfortunately after over thirty years of marriage we have come to an impasse, our first. It has been a long time discussed as mentioned above but we must unfortunately go in separate directions from here. Neither sees the possibility of adopting the other's lifestyle or a compromise lifestyle in the foreseeable future so it must be considered a permanent arrangement. The ending of one book with a quiet time for reflection before the commencement of the next. Kay booked her flight out of Manila for Australia, leaving on the 19th December and I booked my flight to Bangkok leaving on the 18th December. We plan to have our last two weeks together travelling in the Northern Luzon region.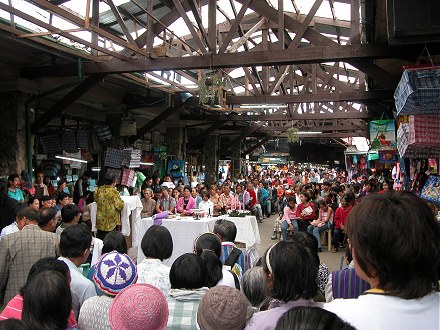 3/12/04 The twenty fourth typhoon to hit the Philippines this year killed 600 people last weekend with another one expected to hit the same region to the east of Manila yesterday afternoon, passing over the city last night, we decided to stay put another day. The winds did arrive and blew solidly all night, not too much rain, but still raining this morning, clearing in the afternoon for us to walk around the fort area and parks of the older city. I also took the opportunity to get a Vietnamese visa yesterday, twenty minutes, $60.00 US, and applied for a Laos visa today, three days wait and $30.00 US.
4/12/04 The Americans created the hill station of Baguio as a summer retreat from the heat, 250 km north of Manila at 1500 metres above sea level. A new freeway travels about 80 km, western standard, an excellent relief from Manila traffic. The last 30 km also traffic free up into the mountains. The remainder typical here with the tricycles setting the pace at 30-40 km/hr backing up trucks and buses. Some relief between towns but as everything is one building deep alongside the road the towns run together. Evidence of the typhoon's path with roadside flooding, landslides and maize crops flattened.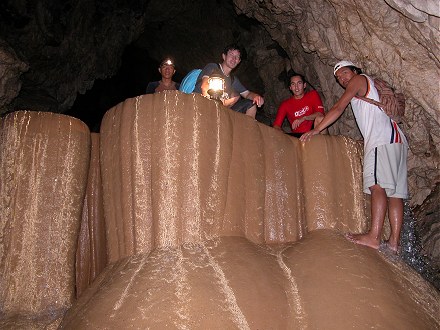 5/12/04 The bustling town of Baguio is wealthy by Philippine standards, a large student population, hill grown fruit and vegetables. Food stalls and fruit sellers dispense to the wealthier tourists. There are beggars, some opportunistic children taking advantage of the Christmas good will, some older people hunched and wizened through age and hard work bent double, younger mothers carrying babies, some breast feeding as they move begging in the crowd, adding extra sympathetic appeal. We spent a large part of the day watching and following the movements of beggars. Watched their targets and tried to calculate their successes which were very high. One woman, whose baby had wet himself, urine flowed down her dress, she simply removed his pants, draped them over her head scarf to dry, picked up another pair from a local stall, tried them on the child, assumed the stall holder would give them to her and brazenly after a short discussion walked away with them into the crowd to continue her art. We were the target of every beggar, the only westerners we saw all day.
6/12/04 The about 130 km's to Sagada takes seven hours by bus, averaging less than 20 km/hr, and for us about the same. The road is slowly being concreted at the Baguio end but the old asphalt almost non existent, at the Sagada end, is falling apart faster.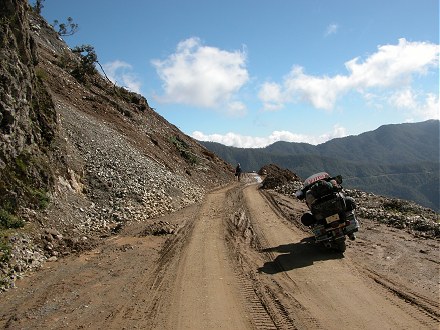 The highest road in the Philippines, passing over 2200 metres, it's famed for scenery. Clean air gives magnificent views at each of the hundreds of corners. Terraced fields among pine forests run up the mountains. Constantly green and shrouded in mist this is where the recent typhoons cut the roads with landslides, equipment still repairing sections that totally disappeared off the mountainside. They simply cut deeper into the hill so vehicles can pass in single lane. There were dozens of these landslides, some old, some new, where the concrete road headed out into space.
7/12/04 Sagada is an Igorot village. Before Christianity they would place their dead in wooden coffins and either hang them against cliff walls or put them at the mouth of caves, stacked high. About 5% of the inhabitants still practice this burial process. We took a guide through one large cave, scrambling barefoot over flowstone slowly filling in the cave as it created terraced waterfalls. At the mouth of another cave were the Igorot coffins, perhaps 100. We joined a couple of young Brits to explore the hanging coffins and ended up fighting brush to climb out of the crevasse after following a creek through a 250 metre cave. A long tiring day in cool mountain air.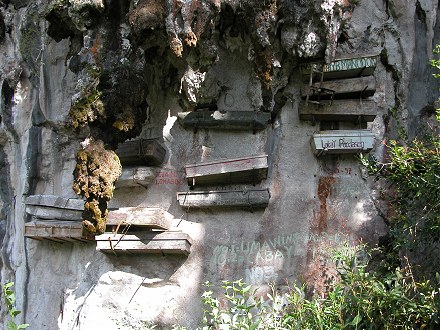 8/12/04 I spent much of last night sitting on or kneeling in front of the toilet bowl getting rid of the beef dinner that had caused the food poisoning. Luckily Kay had not indulged in the beef dish. The rest of the day was spent resting and rehydrating in bed.
9/12/04 Back down the hill and onto Bontoc then Banaue, just 64 km and three hours, more land slips, a couple of dozen, some still being cleared, the road only open two days ago. More magnificent scenery, terraced fields of winter vegetables and some late rice crops still ripening. Over another mountain pass into alpine vegetation of stunted timbers and scrubby bush. Banaue itself affected by the storms. Electricity had been off for almost a week and landslips near town had crushed one car and carried away a house that we could see. Perched predominantly on the hillside tall concrete buildings hug the steep slopes. The river that feeds the rice fields rushing through the valley.
10/12/04 Billed as another eighth wonder of the world, the UNESCO World Heritage listed rice terraces of Banaue,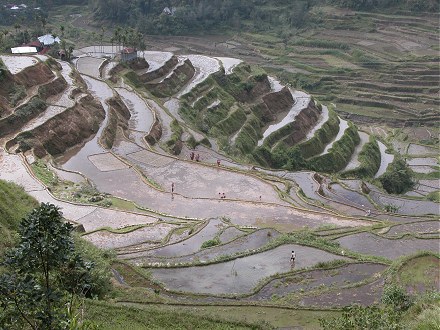 over 2000 years old, are an amazing sight, even just filled with water as now, let alone how they must look in all their greenery in April and May. We took a tricycle to the viewpoint, five klm from town and walked for three hours back down over the hills, along irrigation canals, rice terrace walls, through a village and back to Banaue. People worked in the fields, collecting grass from the walls, moving mud to repair damage and building seedling plots to start the growing season all over again. Unfortunately the rice fields are in decline. The once a year harvest of a low yielding variety not productive enough to compete with more lucrative lowland fields producing two or three crops a year. The pressures of more money in the towns drawing the next generation away leaves fewer people to maintain the terraces. Quite a lot are not rebuilt after landslides or not sown anymore.
11/12/04 Batad rice terraces, another World Heritage listed site is only accessible by foot, a two hour climb up and over a mountain saddle. The road to the climb is still cut by a large landslide, ten days ago, and requires a change of vehicles either side and taking two hours for the 12 klm's.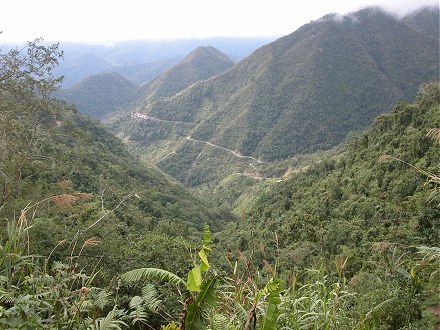 More spectacular views along the road and on the climb. The rice fields here also surviving for tourists. The extra money coming into town lifting living standards, electricity only months away from being turned on. You know you are in a remote area when there is no mechanical noise for over an hour and in wilderness when there are no mechanical noises for a day. The only noise we heard was a chainsaw clearing some debris from the typhoon. We stayed in a pension on the ridge overlooking town.
12/12/04 Most of the rice crops had been harvested, the remainder were lying flat, along with broken banana trees, palms and a few buildings in the strong wind path of the typhoon. We walked the paths between terraces, to the village of Batad, at the bottom. A traditional house, 100 yrs old, was open for viewing and interpretation. Sitting on four poles, the 3x3 metre house, of grass and thatch roof is kitchen and sleeping. A fire burns constantly for warmth and mosquito repellent. About half the village still live in the traditional, off the ground huts, often in varying degrees of modernity, metal roof being the main upgrade. We watched old people tend the fields and young people offer their services as guides.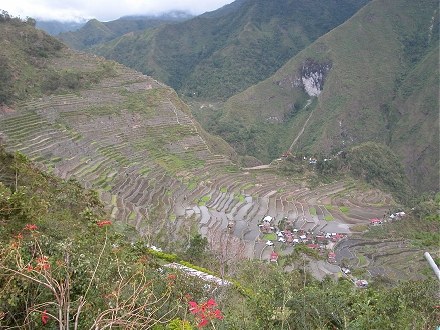 Women work for $2 a day and men for $3, in the ricefields, more can be made off tourists, selling drinks carried in and guiding. Here they get two rice crops a year, tilapia fish are also harvested from the rice terraces along with fresh water clams. More climbing of terraces for the view, exhausted back at our hotel in the afternoon.
13/12/04 A 6 am start for the two and a half hour walk to Banga-an, a trail cut into the mountain, traversing. An early start as the last reported jeepneys go back to Banau at 9 am. We were back in town by 10.30. The jeepney drivers here gouge tourists for what they can get. So normal is the process that all the other passengers assist by covering up how much they pay, siding with the driver. This is also the official position held by the jeepney drivers association in Banaue despite Manila fixing the prices of jeepneys and banning the process of separate pricing. We were overcharged and with a free afternoon reported the matter to the police and the local tourist authorities just to check on their reaction. A lot of lip service, voiced concern, but we didn't see any money returned, or action against the driver. The only place this sort of rip off has occurred in the Philippines, a sour taste for the region.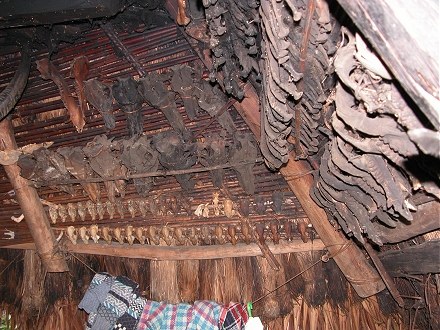 14/12/04 We left at 7 am planning a two day return to Manila but with a sealed road and light traffic, at least to start, and thinking further ahead, we rode straight through, arriving into the Manila traffic jam at 2 pm and our hotel at 3.30 pm. Back on the lowlands the bike ran hot idling through three or four sets of light changes, at many intersections, before our turn to move on through the intersection. The four lane freeway widens to seven lanes as traffic bunches up, drivers moving between lanes and off onto the shoulders to jump ahead. We sat at one intersection until the police arrived, trucks and cars blocking in both directions, no-one able to move. Tempers flare, the horn venting anger, unusual here where driving is normally courteous.
15/12/04 Our minds now on the last details of our separation. The jobs that need to be done, the things we need to work out. Kay thinking of Christmas in Australia, our daughter only yesterday informing us of her engagement to the man she has been with for over a year and building a house with, and me on transporting and packing the bike for Thailand.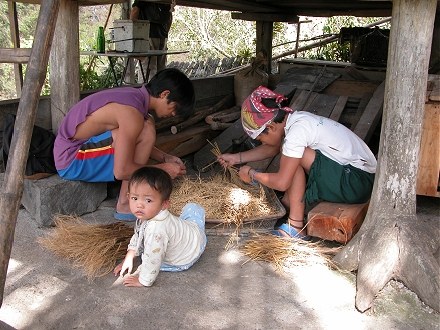 Collected my Laos visa, changed oil in the motorcycle, separated toothbrushes and soaps.
16/12/04 As previously arranged (see diary 1/12) the motorcycle was delivered to the container port, special permission was obtained to ride it in onto the loading dock. I tied down the bike, looking lonely in its container and it was sealed shut. The whole process took three hours, plus one and a half for lunch break where the whole wharf shuts down. As almost always happens the quoted price was well below the final, extra handling costs the culprit, $US 55.00 extra. Discussed politely for over an hour we agreed to pay an extra $US 10.00 with the company covering the difference. We have come to expect these extras and allow about 10% for them in our costings, a little like a tip. Whether a genuine mistake or normal business strategy we can never be certain and always take a politely hard line. The bike should be in Thailand next Wednesday, six days time.
17/12/04 The last of our days travelling together. It's been a 144 country, 338,800 km and 2120 day journey for the two of us. A long time on the back seat for Kay, often in difficult conditions. Not many would have lasted this long, or been as patient with the driver. When asked when would we stop travelling, we would reply, when we have had enough.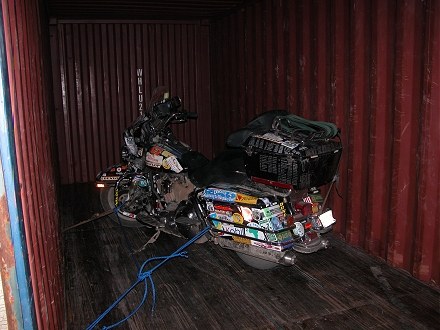 Unfortunately it has happened to each of us at a different time. Quietly finalized last minute jobs, each aware of the others thoughts.
18/12/04 We have spent much of the last two weeks like a second honeymoon, long mornings sleeping in and days often holding hands as we strolled through towns, valuing our last moments together as a couple. But it has not all been smooth as suppressed emotions flare through the outer calm momentarily showing unhappiness or fleeting anger. It's because of our caring and love for each other that we can no longer be together. Each more than needs, but requires differences in their lifestyles. To live apart but to remain a couple would have restricted that freedom necessary for full utilization of the differences we need to pursue. To remain together, only separated for long periods of time could only lead to rumours and infidelity and ultimately a devastating separation sometime in the future. It is better to be honest with ourselves and each other and make the inevitable step now. Men love their wives whilst women love their children. I caught the flight out of Manila for Bangkok tonight, alone.

Move with me to Thailand