Travel Through Norway on a Harley-Davidson
By Peter & Kay Forwood
Norway on a Harley (24/7/98 - 10/8/98)
Distance 3655 km (104605 km to 108260 km)
This is part of the fourth section of our around the world trip.
Complete Trip Overview & Map
Coming from Finland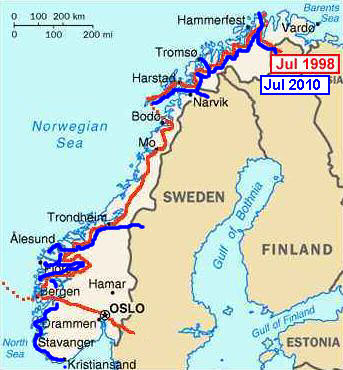 24/7/98 260 km further into the Arctic Circle, heading generally north we crossed into Norway. Reindeer everywhere alongside the road and although stupid they are beautiful to watch with full grown velvet covered antlers. As we head further north the trees shrink in size and are more sparse, the winds increase and the mosquitoes disappear, you start to feel at the end of the world almost a frontier with the traffic also almost gone. It hasn't been dark now for a couple of days (nights), you can still read a book at midnight, no need for the camp torch, drive into the evening, set up camp and eat dinner as late as you like and go to bed in daylight. The darkest it gets is like a cloudy day back home. Petrol here is the earth at $US 1.20 a litre and is consuming large parts of the budget having travelled 3000 km in the last week. Camped just outside Lakselv and had reindeer sausages for dinner. (Not a road kill I hope)
25/7/98 Still heading north past the most northerly pine forest with gnarled trunks and branches, some over 500 years old, then no trees, then no shrubs, just grasses and sedges and almost no wildlife. Reindeer are still here grazing and seagulls are collecting sea urchins at low tide and dropping them onto the road to smash open the delicate contents. We caught the ferry across to the island of Mageroya as the sea fog rolled in and camped just 20 km short of Nordkapp in thick fog. Not expecting the fog to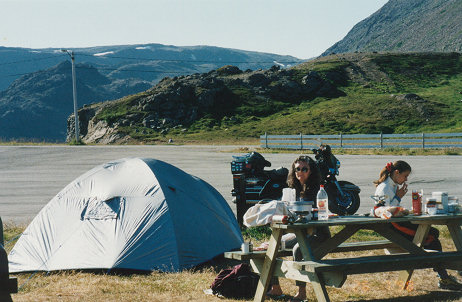 clear we went to bed, unexpectedly awakened just after midnight to patchy fog and some suns rays. Is it really worth getting up into the cold to get dressed just in case the fog is clear enough to see the sun? Yes. By 12.30 am the fog had fully cleared and the sun was at its lowest near the horizon. We rode the 20 km to the furthest north you can be anywhere in the world on a public road. Just 2000 km short of the north pole. You can pay $US 23.00 each to go an extra 500 meters and view the sun over the second most northern cliff but we declined. The actual most northerly land in Europe is at Knivskjelodden a nine km walk from the road at 71 degrees 11' 08" north. The sun here moves in an ellipse, lowest around 12.30 am near the horizon then heading east and upward in the morning to reach its highest near north around noon before passing through west in the afternoon, a wierd sensation for us equatorial folks.
26/7/98 Today we joined the hundreds of lilly whites we have seen along the way and stripped down to the minimum and sat absorbing the suns rays in total relaxation. No one here cares if you are not sun-tanned as everyone is pure white, bodies not having seen the weak sun long enough to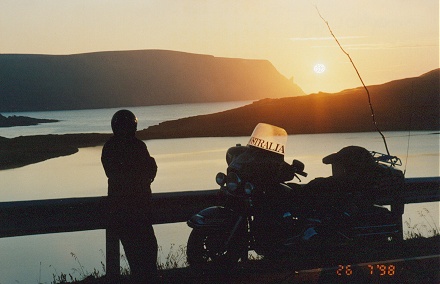 colour. You can sit in it all day and not get slightly pinked sunburn. A quick trip to a couple of fishing villages on the island, a good book and to bed early.
27/7/98 Heading south down the west coast of Norway (well you can't head any further north). The road twisting in and out of the inlets of the fjords and following the coast most of the way. The houses are all timber, same since the middle of Sweden, sawn pine of which there is plenty growing and someone must be making a fortune out of red paint, virtually the only colour used in these parts, perhaps it stands out in the snow. It seems the van parks are full with fisher folk trying their luck with the salmon running up to spawn. I have seen a lot of fishing but not so many fish. It seems this process has been going on for 6000 years judging from the rock carvings at Alta. Now about 30 meters above sea level (due to the 3 km thick ice sheet melting, and with that weight removed, allowing the surrounding land to rise over the past few thousand years) the well preserved carvings depict fishing, elk and reindeer their main foods. 330 km and we camped near Storslett after a spotted dog for dinner. Spotted dog? Well it's an Australian bush meal. Damper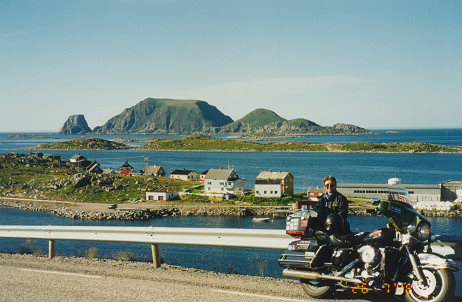 with raisins. Mix flower with water (some milk powder if you have any), salt, raisins and traditionally cooked in a cast iron pot in a heated hole in the ground, or in a fire place. Cooks hard as a rock, lasts for days and sticks to your ribs.
28/7/98 Before this trip started Chris Scott asked me to review his book "The Adventure Motorbiking Handbook" (AMH) and awaiting me in the Netherlands was a copy. From the outset of reading I could see a kindred spirit in what he was describing and some of the mistakes, experiences and worries in a long trip by motorcycle. Grabbing any opportunity to read a chapter I admire his ability to consolidate his own and others experiences and whilst I have been travelling for 19 months there are many valuable hints and tips in the book that I have not learned along the road. Along with his web site it is a must for anyone seriously contemplating an overland motorcycle trip or for anyone who has been on such a trip to see that others have had similar experiences and made similar mistakes. Travelled 450 km to Harstad, winding roads through small towns along more fjords and wonderful scenery.
29/7/98 Everything (almost) in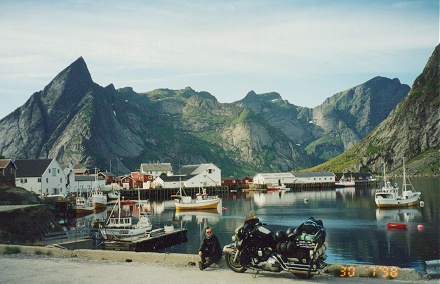 Norway is about twice the price of Australia. Eg. petrol, accommodation, meat and most foods. Who would pay $US 4.00 a kg for carrots. But anything local is cheap. Fresh pink salmon fillets for $US 10.00 (half of Australian price). So we aren't eating any carrots but poached salmon is great. Lofoten Islands to the west of Bodo and still within the Arctic Circle are well traversed by travellers. The mountainous peaks rise straight up from the fjords providing sheltered bays and thousands of islands in the deep blue waters. The speedometer driver finally gave up the ghost after 106,000 km, it has been noisy for the last 26,000 km and so we had brought a spare one from Australia. My policy is if it ain't broke don't fix it but be prepared for the inevitable. Camping again, near Stamsund after 250 km
30/7/98 The Lofoten Islands were inhabited by Vikings around 1000 years ago and the current dwellers proud of that history have reconstructed a chieftains house, next to the largest viking remains known, in Borge. A great museum!! only opened a couple of years ago with period dressed craftsman and women recreating the believed decor of the original house and occupants. Instead of making trinkets to sell to the tourists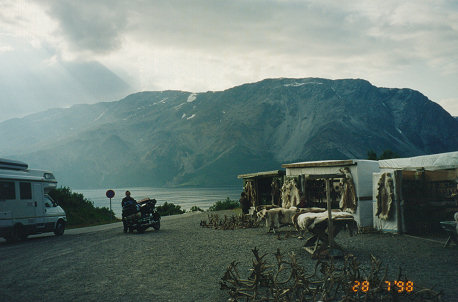 they are making accurate reproductions for the tourists to see, a great idea, not only to see the items but to watch them being made. One authentic basket for household items may take one month to make. Headed for the bottom of the islands to "Å" and awaited the next morning ferry to the mainland at Bodo.
31/7/98 I have already lost count of how many ferries we have used to cross water in Norway or how many tunnels under fjords, ocean and mountains. The scenery might be great with all this water between land but for road builders it must be hell. Four hour ferry to Bodo and we leave behind the lovely fishing villages Norway is famous for. Those colourful houses set near or over the water in a protected bay surrounding a small fleet of small pine boats in such a dramatic landscape. Oil change time again, one problem with the H-D is the amount of oil needed to be carried. Engine 4 litres, gear box 0.7 litres and primary 1.3 litres. Did the plugs at the same time while admiring the scenery roadside. Passed again through the Arctic Circle south and despite eight lovely days within the Arctic Circle it was freezing cold as we crossed the actual line. Camped after about 400 km of riding.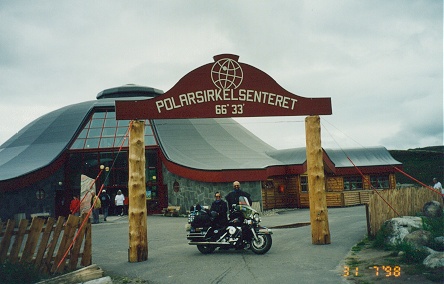 1/8/98 Feeling frisky and getting knocked back in the morning, somehow you know that the rest of the day will be tense. Like the petty official to the boss, when grumpy, obviously didn't get their bit last night. The weather couldn't make up its mind to rain or not to rain, settling on 50/50 with a wet road for most of the days 600 km. Adding to the rain the strong head wind meant misjudging the fuel and pulling into a gas station with a few drops left only to find it closed ten minutes earlier. Luckily the manager was still about and was kind enough to open up for us. Camped at the end of a beautiful fjord near Sunnadalsora and relaxedly fell asleep knowing tomorrow would be less tense.
2/8/98 Awoke to full sunshine gradually making its way down the valley to our tent. There could hardly be a more beautiful place than Norway as we walked to a high waterfall and then followed the TROLL's path and the Eagles highway snaking its way up the edge of a 180 meter waterfall and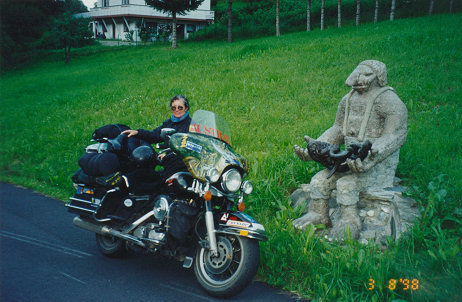 ending at the viewpoint overlooking Geiranger Fjord. A hellishly tourist laden Sunday but with room for everyone. You expect blatant lies and scams in Asia but Norway is a very honest country, everyone leaves gear hanging off their bikes while they wander the countryside. However tourists somehow breed greed and at the Grande Fjordhytter van park (at the top of the Geirangerfjord) the manager wanted to charge us 50% more than we had been paying, when queried he pointed out that the park next door was cheaper but had no showers and no toilets, (hadn't I heard similar in Asia, its closed or its full). Next door we paid the usual and had lovely showers and toilets. The name of the van park that spoilt Norway's honesty for us was Grande Fjordhytter.
3/8/98 Caught the ferry down Geirangerfjord with its mixture of five star to one star travellers all dressed according to their selected or afforded image. Unlike 20 years ago where fashion was dictated to everyone by fashion houses we now dress according to the image we want to portray. Bikers gear, hikers gear, businessmen gear, well to do lady etc. After our brush with the tourists we headed for Briksdal glacier where standing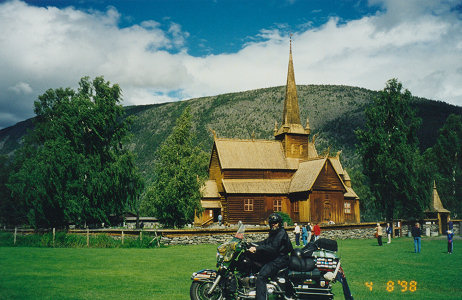 at the blue ice face we sampled 2000 year old ice, not much flavour, mustn't have all the today pollutants. I could just picture some far seeing Viking pissing into the snow thinking some idiot tourist will be eating my piss in a couple of thousand years at the bottom of this glacier.
4/8/98 Off to my favourite scenery in Norway. Trying to get just 20 km over Norway's largest glacier meant a 300 km trip around to the north through some barren windswept highlands, covered with lakes, some still with snow submerged in the recently thawed waters, glaciers overhanging the mountains and to make the scenery more spectacular storms were rolling in, broken by mist and brief rays of sunshine. Finishing the day at Gjerde with rain settling in for the night.
5/8/98 Rain again all day, or what I call all day, as soon as the ground started to dry, down came another shower, but it is what Norwegians call a nice day and wonder what you are complaining about. Spent all day at the
Breheimsenterm, an information centre and museum on glaciers and it has the great innovation of internet access within the museum which we exploited, updating this site for about five hours of the day. Still camped at Gjerde.
6/8/98 Up early for a guided tour on Fabergstolsbreen (glacier), and after a one hour walk through the country we donned crampons, harness and ice picks and proceeded to walk three km's up the face of the glacier to the snow line. Walking around crevasses and chipping steps into the ice with ice picks on the steeper section we crossed steep and relatively flat ice before lunching atop an ice ridge. Looking back down the three km's you can envisage the magnitude of the glacier up to 600 meters thick in places and stretching well beyond where we had walked. At the top the small streams from last seasons snow melt were running on top of the ice and would flow into crevasses further down. Slept well after being on the glacier most of the day.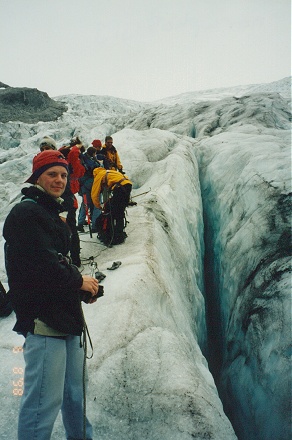 7/8/98 A bit weary after yesterday's walk we decided to take it easy and visit two more glaciers in the area by motorcycle, unlike four Norwegians who three years ago decided to spend one week holiday each year and walk east to west across Norway at the widest point. This year they met Jostedal glacier and ten km's of ice to cross. They planned to walk to the edge of the glacier at 1500m, then cross at the highest point, 2000m, and down the other side the next day. It seems everyone places their own challenges before them, to differing degrees of difficulty, hoping for that personal achievement.
8/8/98 Spent half of today's 300 km in tunnels (well it seemed like it) after heading to Boya glacier (yes another one) from Sogndal and followed the E39 through Forde down into Bergen. They tell me Bergen gets 275 days of rain a year and today helped prove that fact. However the countryside was again magnificent, tunnelling from one fjord arm to the next, disappearing into the mist to arrive at another postcard scene. Norway has to be one of the most beautiful countries. The blend of mountains, snow, fjords and lakes, sparsely populated by friendly people.
9/8/98 Not too many people would choose the two places we decided to visit in Bergen today. The first was a leper museum. After spending much time in India where leprosy is still a problem and seeing the lepers of Calcutta living in small bands on the streets, this place where the leprosy bacteria was identified by Armaud Hansen was a "must visit". To the forefront of care for lepers and research into the disease, Norway created large well run hospitals specifically for sufferers in the 18 century. The one in Bergen is still in existence (in museum form), also the research lab where Hansen discovered the leprosy bacteria with all its outdated equipment. The other museum, very small by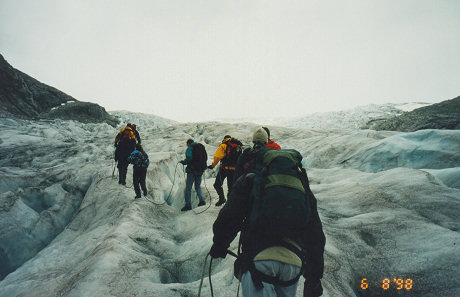 its nature, was the resistance headquarters for Bergen during WW11. Hidden on the second floor down an alley right near the dock, this actual room museum has been reconstructed by the surviving members of the resistance. It gives great insight into the cloak and dagger operations needed to avoid detection from the Germans.
10/8/98 After 32,000 km on the front tyre and 18,000 km on the rear and a fax to Dunlop two new tyres were waiting for us at Auto Dekk, the distributor in Bergen. While we removed the wheels, greased the bearings etc. they fitted and balanced the tyres, throwing in two T-shirts all for nothing including the tyres. On the more negative side it seems other travellers are your worst enemy with theft, losing a pair of jeans drying on an inside rack, straight away you become distrustful of everyone, quite unjustified. The motorcycle has been idling a bit roughly and hesitating when accelerating from low speed, just slightly, so a new idler jet 0.45 mm was installed into the carburettor. Bought from the H-D dealer in Bergen, dealerships in Europe lose some of the Harley ethos and camaraderie associated with owning a H-D and the HOG club when they sell many other brands of motorcycle and in this case outboard motors. It's not brand snobbery, it just seems odd to sell your competitors products, the price of a H-D here at twice that of one in Australia, might be part of the cause.

Move with us to Iceland , or go to our next visit to Norway .