Travel in North Korea on a Harley-Davidson
By Peter and Kay Forwood
North Korea on a Harley (5/5/08 - 6/5/08)
Distance 28 km (504727 km to 504755 km)
This is part of the fourteenth section of our around the world trip.
Complete Trip Overview & Map
Coming from South Korea

Firstly we would like to say thank you to both Harley-Davidson of South Korea, and Hyundai Asan as owner and manager of the Mt. Kumgang facility in North Korea. Without their joint and generous efforts this visit with our motorcycle to North Korea would not have been possible. We would also like to thank the North Korean joint partners of the Mt. Kumgang facility for allowing us to ride our motorcycle in North Korea.

5/5/08 More than two hundred thousand people cross this border each year. They are almost exclusively South Koreans, although a few westerners cross, but on our visit we didn't see any. English brochures will soon be available. Mt. Kumgang is advertised as the first reunified area of Korea. Where inter-Korean talks and family reunions take place. The tours started almost ten years ago, visitors arriving by ship, then five years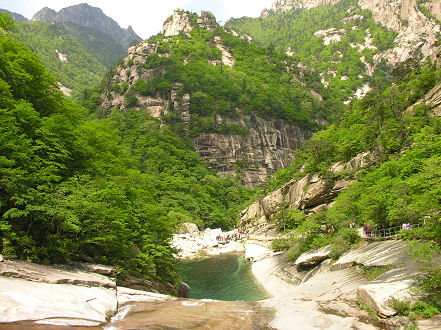 ago on buses. By 2005 over a million people had visited the growing complex. We arrived on a busy day, Children's Day holiday, a day to spend with the family, and 22 busloads left the meeting point in convoy towards South Korean customs, more buses would leave on the later schedule. All necessary documents, hotel reservation, customs forms, had been pre prepared by Hyundai Asan. Modern easy customs on the South side then the convoy, with the motorcycle following in the back of a truck, proceeded across the Demiliterised Zone, heavily fenced, and into the North Korean DMZ and their customs facility. We were welcomed by loud speakers playing propaganda music but gone were the billboards of the "illustrious leader", that we had been informed used to dominate the landscape. A marquee style building with polite but thorough inspection of vehicles and belongings. Visitors are not allowed to bring in binoculars, notebook computers, mobile phones, cameras with long zoom lenses, CD's, road maps or bibles. Many of the motorcycle's stickers had to be taped over, flags of certain countries are also banned, including US and Japan. As with many border areas or military establishments we were not allowed to take photos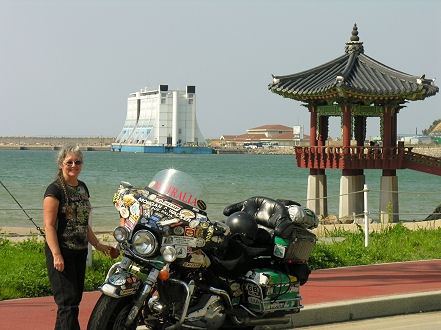 whilst on the bus, either near the border nor whilst travelling between the Kumgang facilities. With the formalities over the convoy moved along a fenced corridor, 20 km's into North Korea, to the Kumgang Resort area. Locals outside the fenced road went about their rural work seemingly oblivious to our passage. Soldiers manned any road passage ways where locals needed to cross our path. We could view their way of life, ploughing fields with oxen, moving about walking or on bicycles, observe villages, but any photography or interaction with ordinary locals was not allowed. Concrete bunkers dotted hillsides housing tanks and military vehicles. Most South Koreans had come just for the day, to walk in the mountains. We were taken to our hotel, and were surprised to recognise it as the floating hotel that had once been anchored on the reef near our home town of Townsville in Australia, 20 years ago. It had now been refurbished and modernised. Our suite, with views overlooking the bay, is perhaps the most opulent hotel we have stayed in. The motorcycle had been unloaded at the work depot, and joining in with other tourists we were bussed to Mokran-Kwan then walked to Kuryong Falls. It had been raining early morning but now the skies and air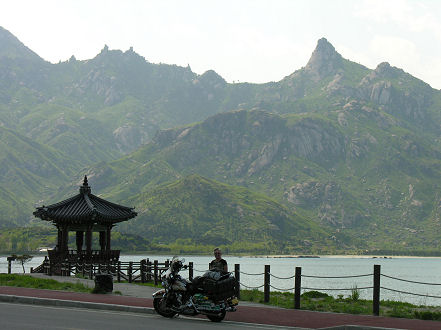 was clear for magnificent views of granite peaks and hillsides of tortured pines and oaks. Following the stream we had our first contact with North Koreans. Guides from both Koreas were happy to converse, with little bits of english, assisted with taking photos, and monitored everyone's movement along the walk. North Koreans were conservatively dressed in dark blue or grey, the only brightness, a badge of their leader, worn proudly on the chest. After a snack lunch of North Korean biscuits and buckwheat pancakes we rode the motorcycle, unaccompanied, to our hotel, just 1.5 km's, for restricted photos, only allowed towards the ocean. Taking our time we rode the route four times. After shopping for some North Korean souvenirs, liquor, with ginseng or made from wild berries, for people who had assisted our visit, we relaxed at our hotel over a couple of beers, listening to live music, hardly believing we had ridden the motorcycle in North Korea.
6/5/08 With the motorcycle back in the garage we had next expected to see it in South Korea and were extremely surprised this morning when Hyundai Asan advised they had arranged an escorted ride to Mokran-Kwan,
the same area we had been bussed to and walked yesterday. The ride was eleven km's in each direction, escorted by separate North and South Korean vehicles, we rode past check posts, through unfenced pine forests and up the river valley, for a photo session at the end of the road before returning. The Kumgang area is spread out, 20 km's by 30 km's, its many hotels, hot spring spa, shopping complex, restaurants and golf course are often km's apart, linked by frequent shuttle buses, walking is only allowed in small restricted areas. In between, North Koreans go about life as they always have, seemingly unaffected by the tourists. Staff within the co-operation area is a mixture of North-South employees. After our ride we were bussed to Manmulsang hiking trail for another mountain walk before a traditional North Korean cold noodle lunch. Seated on the floor at a low table, we ate black noodles, accompanied by kimchi, buck wheat pancakes and a burnt rice water drink. Hyundai Asan had provided us with complimentary hot spa tickets, so our last event was to rest weary muscles at that complex of a dozen pools, spa's and sauna. Separate facilities for men and women, bathing is communal and naked. We gained more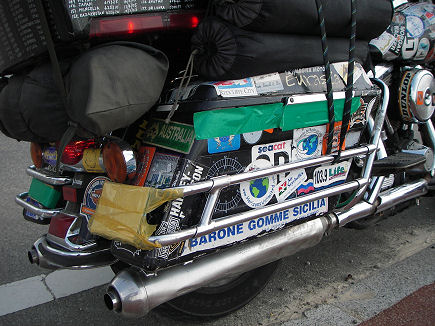 than a few sideways glances being the only westerners, and I guess returned a few. When South Koreans agree to accomplish something, it happens, they will work out the smaller details later, and as a matter of personal pride the project is made to work. This has not always happened in other countries where we have often been left disappointed. The two days spent in North Korea went smoothly, we were not asked to arrange anything, were just consulted with our requirements and it happened. The motorcycle had again been loaded on a truck and after we smoothly cleared both the North and South customs procedures were led to it in the car park, back in South Korea, unloaded and ready to ride. Staff politely awaited our departure and we rode to a nearby hotel late afternoon.

The debate of should people visit North Korea, where much of the costs of a visit go directly to the government, to us is a personal choice. More than two million South Koreans, those who have visited via the same route as ourselves, have made the choice to do so. Other South Koreans we have spoken to have chosen differently. What is fairly universal is a desire to bring the two Koreas back together, something that is more likely achievable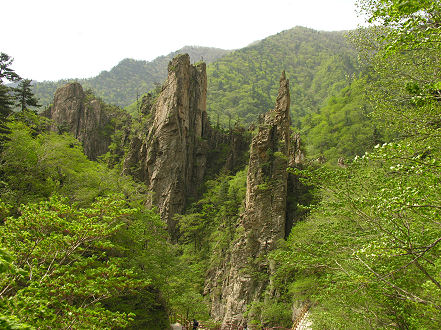 if each side better understands the other, something that can occur through co-operation. We paid the normal rate for a one night, two day visit, about $US 300.00 each, plus $US 400.00 for the motorcycle's transportation expenses. We understand about $US 300.00 of that money goes directly to the North Korean Government, visa and entry charges.


Move with us to South Korea