Travel Through New Zealand on a Harley-Davidson
By Peter & Kay Forwood
New Zealand on a Harley (7/10/08 - 16/11/08)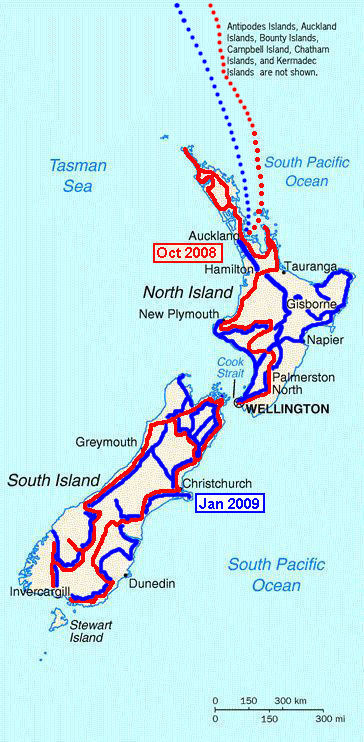 Distance 6268 km (509935 km to 516203 km)
This is part of the fourteenth section of our around the world trip.
Complete Trip Overview & Map
Coming from Tonga

7/10/08 Our midnight flight landed at 2am and by the time we had cleared customs, a little difficult as we were carrying a tent that needed to be opened and inspected, we found a set of bench seats up in the Sky Deck area of the departures section and slept till 7am. A McDonald's breakfast, a shuttle bus, and we were really in New Zealand. Since the Lord of the Rings trilogy hit the big screen tourism has been booming, which was still apparent as we entered the backpacker hostel, full last night, and departing and arriving bodies milling around the common areas. After being in the relaxed islands for a long time it was great to arrive in a place that functions at a reasonable level. In our hostel, Bamber House, just south of the city, set in lovely grounds, everything works, everything including the staff. It is again their job rather than an inconvenience as much of our Pacific accommodation seemed to be. We purchased a local SIM card for the mobile, arranged a cheap car hire, bought warm gear from the local Salvation Army second hand clothes shop, did grocery shopping, had fast wi/fi internet, and still managed to relax for most of the day. We had met many people wanting to drop out in the islands, drop out it certainly was, a lovely quiet lifestyle, but western born, I am not old enough yet, and hope never to be that old. Having been to New Zealand before we have found it to be a low population western society, something we usually enjoy in our travels, and look forward to some great rides.

8/10/08 Technically the motorcycle has already been to New Zealand having spent a week in the country being transhipped from Sri Lanka to Fiji about a year ago, but as we have set the conditions that it must be ridden in each country, engine running, we were pleased to hear it's ship arrived in port today, and the agent advised, if the paperwork is completed it should be available Friday, in two days time. Only then can we claim it has been ridden in every country of the world, every internationally recognised country, all 193. Why we chose this country definition is because a number of places have declared themselves countries, that few other places, if any, recognise. An example is the recent recognition of Abkhazia and South Ossetia, recognised only by Russia, not internationally recognised. And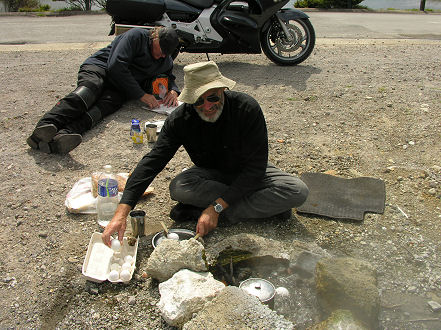 whilst the motorcycle has been ridden in many non recognised or disputed areas of the world they are not a part of this record. With our rent-a-rocket, an old hire car, it was the shipping office first, near the airport, $US 80.00 handling charges, then MAF (quarantine) who were helpful and will inspect the motorcycle Friday morning, Customs not quite as pleasant and required a valuation for the motorcycle as we are putting up a refundable bond for the VAT (12.5%), cheaper than obtaining a new carnet for just this one country. So with a valuation from the Harley dealer of 7500 NZ dollars for our battered Harley, and an appointment with a customs officer tomorrow, the days paperwork was completed. Frank and Rita, two Australian friends, are joining us, or we are joining them, for the next month as we travel around New Zealand. We collected them at the airport late afternoon and had a great evening eating tapas, small bar eats, as we caught up on conversations.

9/10/08 Frank Wheeler is an American, having adopted Australia as his home, and is a well know adventurer. He has walked across the Simpson Desert, bicycled to Birdsville, canoed the full length of the Darling, and ridden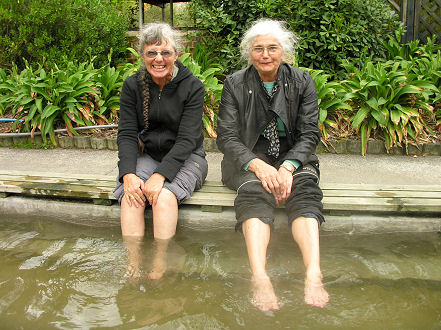 or driven on almost every outback road in Australia, usually using Honda products, his main sponsor and backer. Rita has accompanied him on many of the adventures. Honda have provided him with a demonstration model ST1300 touring motorcycle for the month we will be travelling New Zealand and this morning we visited their head offices, arranged some publicity for our trip together and collected Frank's motorcycle. That was the days good news. The bad news was problems at the port mean the motorcycle won't be available until next Wednesday, five days later than we were told just yesterday. The other good news was customs cleared the motorcycle, after more discussions, and we paid a refundable bond of $NZ 617.00, and they don't need to inspect the motorcycle when it finally gets here.

10/10/08 With five days on our hands we decided to head to the southern inland, Frank and Rita on their Honda motorcycle and us in the rented car, a bit disappointing, yes, we were travelling in a car. Headed south to Rotorua. It has been a wet winter and the grass is green as and the rivers are flooded, the countryside looks magnificent. Rotorua is one of New Zealand's premier tourist places, already busy early in the season. Its thermal
hot springs, mud pools and geysers attracting lots of visitors. We walked around the sulphur bay of Lake Rotorua where thousands of birds come to the warm waters to nest in early spring and where steam rises from some vents on islands, and a strong smell of sulphur was constantly in the air.

11/10/08 New Zealand is supposed to be in a recession and the share markets around the world are crashing and banks collapsing but there is little sign of it as we walk the tidy streets of Rotorua. Steam gushes from parks in town, from gutter vents and mud pools bubble and boil. We found a small boiling pool, in a Maori part of town, and boiled a dozen eggs and made billy tea for lunch, soaked our feet in a hot foot pool, them ending up looking like lobsters, in another park of large hot lakes and streams. Late afternoon we headed towards Taupo, further south to visit Mark and Leanne on a small B&B property in the country.

12/10/08 They had invited us to stay, over the internet, about a year ago and are arranging to store the motorcycle's crate while we are in New Zealand. Mark is building/converting an Isuzu long wheel base 4x4 bus into a motor home
with the idea of travelling the world slowly, starting with a year in NZ and then a couple in Australia, living from the bus, which will be designed to go about anywhere, a similar but very different lifestyle from ours. Mark and Leanne showed us around Taupo, the cellar wine bar, the cascades, glass blowing, and an evening meal at the local pub, a great day and company.

13/10/08 We said goodbye early morning and headed back to Auckland stopping at the Hamilton Gardens for an early lunch. A quiet day to ourselves as Frank and Rita had gone off for a ride on their own.

14/10/08 Who ever designed the calendar to have a day a week as a rest day got it right. After socialising, dealing with officials, travelling, it was time to do nothing, especially as we have become too relaxed in the islands, socialising can drain energy.

15/10/08 We were at the shipping warehouse at 7.30 am, the appointed time for our MAF (quarantine) inspection, the motorcycle was produced in its crate, and whilst waiting we started uncrating. The MAF representative had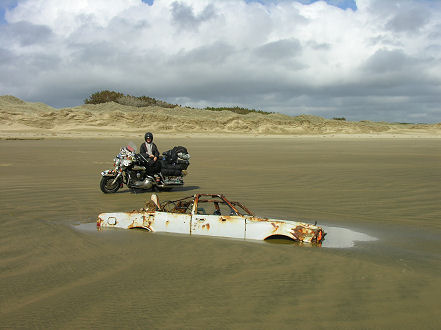 a thorough look under the mudguards and around the engine, mainly looking for seeds. Interested in our travels, and how we reassembled the motorcycle, the inspector passed the bike as clean, and on payment of $US 30.00 the motorcycle was free to go by 9.30 am. Trev, a goods repacker and warehouse owner, and friend of Mark's, had agreed to store the crate for the four months the motorcycle will be in NZ. He lent us his ute to collect the crate and by 10.30 we were free to ride and headed back to our accommodation, returned the rental car, washed the motorcycle which had been fumigated along with the vegetables in the container and had some salt corrosion. A few adjustments, repack, petrol, checking over the motorcycle, as we will be riding considerably faster than we have been in the islands, and we should be ready to head out tomorrow. So finally the motorcycle has now been ridden in every country of the world, and equally as enjoyable, we can get back to riding, not shipping, at least for a few months.

16/10/08 Our first ride with Frank and Rita started in the rain, a short trip to the city to meet a friend of Frank's, a descendant from Pitcairn Island, those who
mutinied with Fletcher Christian against Captain Bligh, an interesting breakfast. His friends were heading to Tahiti for the 220th anniversary of the mutiny. The skies cleared for a great days riding north. A couple of stops for a roadside tea, a visit to a Kauri museum, along highway 12, and a ride through magnificent forests south of Opononi, where we took a campsite, and it set in raining all night. Frank, used to travelling alone on his adventures, as have we been mostly, meshed in pretty well, swapping the riding lead as we travelled. Frank had bought a Tom Tom GPS navigator which already has proven to be great in finding street locations but a paper map still seems to be necessary for an overview, neither has proved to be perfect.

17/10/08 The greens hills, covered with grazing cows, milkers, are so lush in the spring growth that it can be hard to look at. Wild flowers often dot or cover hillsides, snowdrops, daffodils and calla lilies mostly but also many native flowers we can't identify. We headed further north on great twisting roads, mountains on each side and riding along a ridge, almost no traffic, a ferry ride from Rawene, and into Kaitaia, visiting another Kauri shop. These trees had recently been dug up from swamps, some buried
for over 45000 years, and still the timber was millable. One enormous tree, over five metres diameter, has been carved with an internal staircase and was the centre attraction. At low tide vehicles can enter 90 mile beach, actually about 90 km's long, and travel on the hard sand. By mid afternoon the tide had receded enough for the motorcycle to have solid traction and we rode comfortably from Waipapakauri to the Te Paki creek, passing just a few tourist buses and one car. The steep sided sand dunes make breaking down in this region fatal for motor vehicles and a couple of cars were half buried in sand, and were slowly rusting away. We rode mostly on the hard sand but the exit was up a creek bed, leaving behind the ocean to get back to civilisation. Riding in the water was comfortable but patches of deep sand around reed beds gave us problems and we needed to push the motorcycle a couple of times, but the creek bed ride washed all the salt water from the motorcycle.

18/10/08 A drier tent camp followed by a short ride, the soon to disappear 20 km of dirt being upgraded, to the top of the north island, Cape Reinga. The ocean, sand dunes, grasslands, mountains, all more great scenery. So now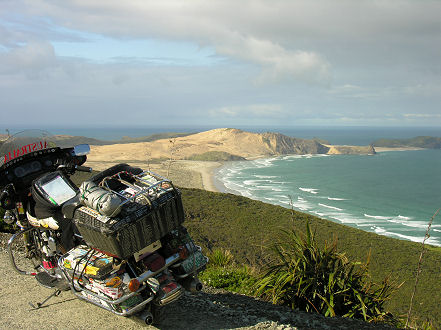 it is a ride towards the south, initially taking the east coast. The recession is biting hard here, outside of the cities it is more noticeable. Almost every second house or farm in this area is for sale. Signs dot gates and mount front yards, few have sold stickers. We have been warned on a number of occasions to be careful of theft, the poor economy starting to affect peoples morals, though everyone seems to be friendly and helpful, and we are enjoying the longer distance riding. Camped at a backpackers in Paihia, the Bay of Islands.

19/10/08 Already a little saddle sore a rest day was prescribed. A cruise ship had anchored in harbour, a relocation cruise, bringing itself and passengers from the Alaskan summer season to the New Zealand summer season. Passengers have been on board for almost a month visiting the Pacific Islands, a few more ports of call in NZ and they fly home. 1500 of them descended on the small town of Paihia, visiting Russell, the original capital of NZ and Waitangi, where a treaty with the Maori was signed. Some took helicopter flights, light aeroplane rides, but most shopped in the town and at special stalls put up to attract a few dollars. We sat in an ocean front cafe, people watching while Frank took a couple of the ships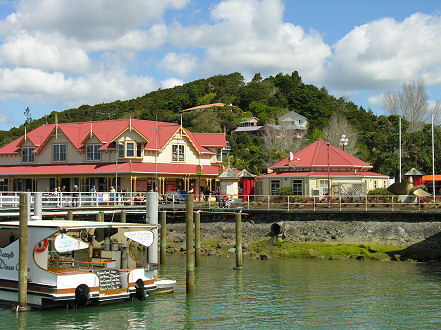 staff, a hairdresser and facial masseuse, for a ride on his motorcycle, a bit of a thrill after they had been playing with geriatric heads for the last months.

20/10/08 A short ferry ride across to Russell, a coast ride, and again we can't comment too much on the great riding and magnificent scenery, whether it is because we have been deprived of it in the islands or it is the great company or it is actually as good as it seems. The weather has been kind, a couple of short showers, but mostly sunshine easily lifting the mood. We took the coast roads, hardly any traffic and arriving in Auckland, stayed with Trevor and Pamela, the couple who are looking after our motorcycle crate and who offered the four of us a bed for the night. A barbecue, good wine, actually excellent wine as Pamela works for a winery owner, and great company topped off the day.

21/10/08 Frank has been visiting a few Honda dealerships along the way, promoting himself and tagging us along with him. Honda emailed all their shops in NZ advising that we might be passing through their area over the next month, even though we are riding a Harley-Davidson we have received warm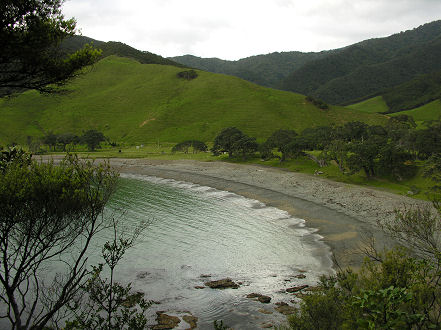 welcomes at each place, and have received a couple of phone invitations to visit over the next few days. The Coromandel Peninsula is a quiet part of the country not far from Auckland and leaving our comfortable accommodation, later than usual, again in sunshine, we followed the road around the coast, finally ending up at the Department of Conservation Park on the tip of the peninsula at Stony Bay for a nights camping. The peaceful seaweed filled bay, sheep grazing hills and ducks demanding our dinner all made the 20km's of dirt to reach this quiet spot worth the effort.

22/10/08 Fraser, the editor of Bike Rider and Dirt Rider magazines had been phoning Frank the last couple of days for an interview and after riding the east side of the Coromandel Peninsula we visited his office in Paeroa for the interviews and ended up having dinner at a local pub and staying at his rural farmhouse, great hospitality. As our trip doesn't generally fit the image of Harley-Davidson riders, nor the adventure bike brands that normally do long distance international trips, magazine editors often can't find a category slot for our trip, but it looks like an article should be in the January edition.

23/10/08 We headed
into Hamilton, a visit to a couple of Honda dealers along the way to fulfil Frank's promotional commitments as an adventurer representative, then with our sunshine luck replaced by showery grey skies we rode cold towards the south west, through the lovely Awakino gorge to the coast and stayed in a backpackers near New Plymouth. New Zealand's backpackers, some with camping facilities attached, are proving to be excellent. Each is different, some a little quirky like tonight's. Built in a large metal shed the outside looks run down but inside, the log fire, wood panelling and quaint rooms give a homely feel.

24/10/08 Three single night stopovers and we are ready for a two nighter so after heavy rain overnight and grey skies in the morning it was easy to decide on a second night by the log fire with just a short visit to New Plymouth and a ride up Mt Egmont to the visitors centre during an afternoon lull in rain.

25/10/08 The Forgotten World Highway winds out of Stratford through mountains towards Lake Taupo and following this magnificent road across a few saddles,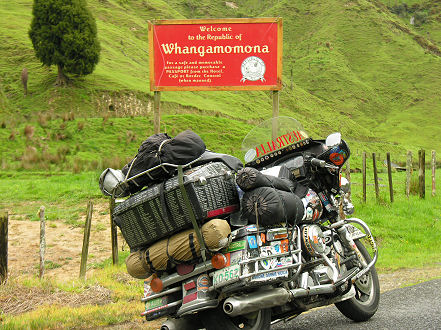 through tree fern forests, high pastures it is inevitably more damp than the already wet NZ. The little town of Whangamomona decided to secede from New Zealand a few years ago and formed its own republic, well at least unofficially, along with passports for its citizens, and as we stopped in at the local pub we could have had our own passports stamped having visited another "country", well it might be a while before the United Nations recognises the little republic so we will not be in a hurry to add it to our list. We learnt a bit about the water deflection of Honda's, particularly the one Frank and Rita are riding, an ST1300, compared to Harley's. We arrived at a roadside stop wet, boots, gloves and faces. Frank and Rita arrived pretty dry. Their water cooled engine allows for fairing aerodynamics, plus an electric height adjusting windscreen, where the air cooled Harley has to have good air flow, which also allows good water flow, wetting everything. Even though Frank offered us a ride on the Honda we declined, not game to experience the smooth running motorcycle 15 years the junior of ours. Anyway we like the vibration and "real" riding experience of the H-D, don't we? It was a good lesson in rider comfort. Stayed at another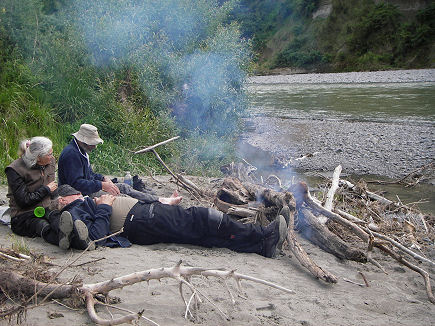 backpackers, this country has some of the best we have seen anywhere, Turangi for the night.

26/10/08 The skies cleared to a crisp to cold morning, less than 5 degrees as we rode past Mt Ruapehu, snow capped and glimpsing itself through morning fog cloud. The cloud increased but the temperature didn't and we ended up in Wanganui with the worst of riding conditions, wet and cold. The ride had been excellent down highway 4, what we could see between showers. After an hour's warming up at the local McDonald's restaurant, and no warmer, we were at a roadside, riverside, free camp ground at Vinegar Hill mid afternoon and having had enough riding without seeing the great scenery we were passing through we settled for a large log fire along the riverbank as more showers had us oscillating between the fire and our tent until nightfall.

27/10/08 Yesterday's rain had cleared to light cloud, and we can easily understand why NZ is nicknamed the land of the long white cloud, but after seeing part of a steam train exhibit in Feilding, the skies were blue for the last day of the long weekend and the whole of the population was out enjoying their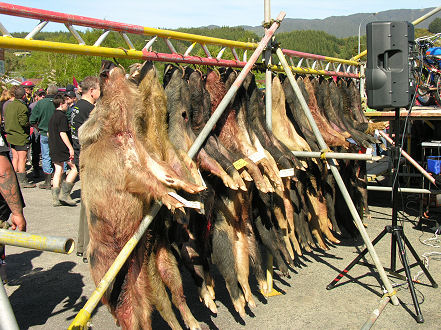 individual hobbies. Motorcycles dominated the mountain road from Featherstone to Upper Hutt, resting, chatting and bragging at the top of the pass, checking out new brands and worn out models. Old Minis, Citroens, hotrods, MGs, all travelling in small groups were out for a holiday run but the most interesting hobby we saw was the local Upper Hutt pig shoot. By late afternoon about thirty were hanging up, weighed like Marlin, along with wild deer, goats, rabbits and possums, all feral animals in NZ. The local rough looking shooters were gathered around waiting for the results of the competition, drinking a few beers, chatting the days hunt, whilst their children entered the dead rabbit throwing contest.

28/10/08 Frank had arranged a meeting with the Wellington Honda dealer, who arranged a meeting with the Dominion Post newspaper, who came and photographed the motorcycles at the Bluebridge inter island ferry terminal for the crossing to the South Island, which gave us half priced return tickets for ourselves and the motorcycles, a busy but profitable outcome for the morning's events. The smooth ferry crossing took about four hours and we arrived in Picton at 5pm, a quiet town up a long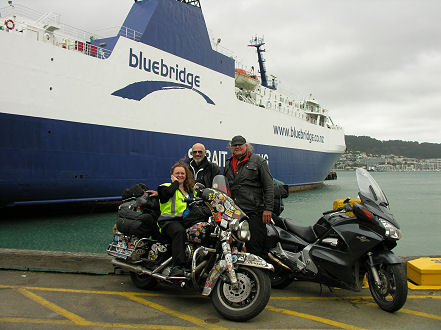 inlet where we grabbed a camp ground cabin.

29/10/08 Frank's last Honda appointment was in Nelson and after a magnificent early morning ride along the coast of Queen Charlotte Sound, then through more mountains, we were welcomed by the dealer of Morley Motorcycles with morning tea and coffee at a local coffee shop while we waited to be interviewed for the local paper, the Nelson Mail. The warmest welcoming we have received it took till after lunch before heading out towards the Lewis Pass, camping as sleet peppered the tent at the Maruia Hot Springs. The outdoor hot pools in a natural setting, whilst cold rain fell on our heads, then relaxing in the resort's lounge, before having to head out to our cold tents, topped off a great day.

30/10/08 It was three degrees when we woke and another dip in the hot springs seemed the best way to warm up before heading across the Lewis Pass. A light dusting of fresh snow covered trees on the surrounding mountains and it was in foggy sunshine that we rode down towards Christchurch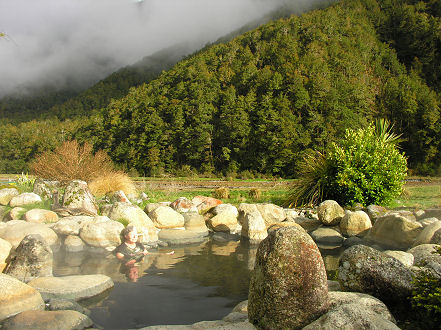 alongside the braided river and green pastures. Sam, president of the Patriots Motorcycle Club, and associated with the Harley HOG club, invited us to their meeting for a few beers and to meet some of the local riders. A quiet but enjoyable evening, mostly talking to a couple of riders looking to go overseas with their motorcycles or who had already ventured to Australia for a ride.

31/10/08 It was time to rest for a day. You can't get away from the washing and it is nice to take a day off occasionally.

1/11/08 The day started with a balmy warmth as we headed out of Christchurch towards Mt Hutt but the catabatic winds coming off the mountains gave us trouble keeping the motorcycles on the road as they gusted between the tall windbreak pine hedges. Snow still covered the mountain peaks and as the cross wind turned to a tail wind we rode in comfort most of the way to Lake Tekapo and past the Mt Cook lookout but after lunch the promised cold change arrived from the south bringing equally as fierce winds only icy cold as we passed through Twizel and over the Lindis Pass choosing to wild camp alongside Lake Dunstan just south of Cromwell.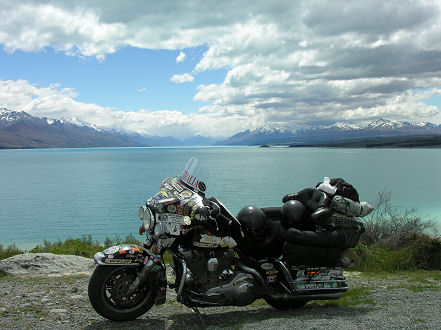 Frank likes to ride, and ride, and we are running the risk of running out of roads as we head to the southern most point of mainland NZ. Almost 500 km's today. Not a long day but with only limited numbers of roads and ourselves having 12 more days before we expect to be back in Christchurch we will need to sightsee more and ride less, a tall order for Frank.

2/11/08 This high mountain area of New Zealand gets little rain huddled between snow-capped mountain ranges. Our lakeside camp attracted an early sunrise and despite the freezing morning we were sun warmed as we broke camp. The front having passed overnight brought more strong winds, initially from behind as we moved down towards the coast, but at Milton we were being battered by gusting side winds, with the pig iron Harley faring better than the more lightweight Honda. Following the coastal route through Owaka and Fortrose we almost ran out of petrol with the small stations closed, it being Sunday. The main event for the day, to reach the bottom of New Zealand, near the town of Bluff. Although not the actual most southern point it is where highway 1 ends and where the signpost depicts distances to far away places, the pseudo bottom of the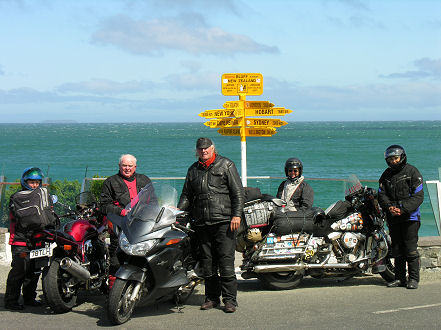 country, a little bit more north than Slope Point in the Catlins, but Bluff seems near enough for most people.

3/11/08 We were at the Invercargill Honda shop early morning looking for new tyres for Frank's motorcycle, unfortunately they didn't have any in stock, but they could be freighted in by tomorrow morning. Whilst this was being organised we did an oil and filter change on our motorcycle, using diesel oils we'd purchased from a nearby autoparts store, and an oil pan from the Honda shop. Colin and Deanna, local riders and organisers of the 100 plus ride, celebrating over 100 years of motorcycles, now in its 24th year, had invited us to their place for morning tea and they also invited the Southland Times newspaper for another interview and photo session. Colin collects and restores old motorcycles, previously British bikes but now mostly Japanese models, a hobby he has had for a long time. With Frank and Rita locked into staying in Invercargill for another day we decided, whilst the weather was fine, to ride to Te Anau via the coast road. The hopping off spot for Milford Sound it is a full on tourist town, having lost any semblance of a real, and we have seen many great small rural towns, New Zealand towns.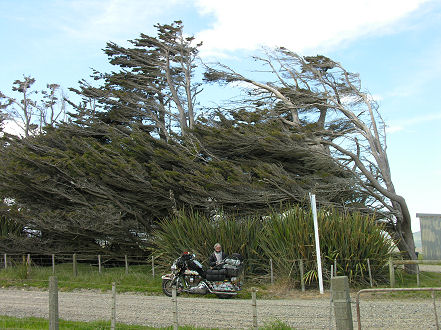 4/11/08 A quiet walk to the small bird zoo, which displayed many of the more endangered birds of NZ, and a lakeside walk into town filled the morning before Frank and Rita arrived with their new tyres. The afternoon turned cold and wet, the evening wetter and by late evening snow had started falling. Our tent slowly collapsed upon us as the wet snow's weight bent its poles. Regularly, every 30 minutes or so, we needed to violently shake the tent to dislodge build-up until it finally stopped falling around 2am. Nearby tree branches could be heard breaking, mostly newly leafed birch, weighed down by the wet snow, and the electricity in the camp ground went off leaving motorhomes and cabins cold without heating, but our down filled sleeping bags kept us warm in the snow covered tent.

5/11/08 The storms passed leaving blue skies and we awoke to about 10cm of new snow around the tents. Our plan was to ride to Milford Sound, a day trip, but chains were required, so, hoping for the weather to remain fine,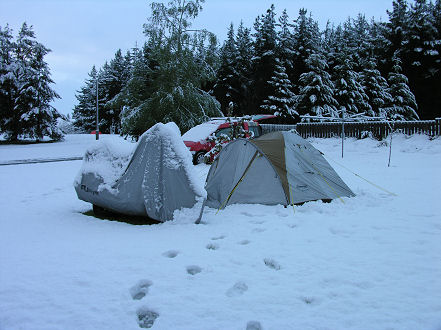 and a possible lifting of the restriction, we broke camp in late morning and headed towards the Sound. The pastures, trees and surrounding hills were covered in fresh snow and as we move higher towards The Divide, about 80km's out and at 500m, with fresh snow falling, we decided to turn around, there was little chance the chains restriction would be lifted as the road continued to climb to over 900m just ahead, and the temperature was already down to 2 degrees. Back in Te Anau, not to waste an afternoon, we headed off towards Queenstown, but just 15km along the road heavy snow was falling, settling and sticking on the windscreens and looked like continuing, so again we were back in Te Anau camped at the caravan park watching snow fall on our tent throughout the afternoon.

6/11/08 A frosty morning, clear skies, late start to ensure no ice on the road, and we again headed out towards Queenstown getting caught up in the Southland Cycle Race, a New Zealand version of the Tour de France lasting a few long days of riding through hills. They had also been out yesterday, their coldest day of the event in 30 years. We were following the more than a hundred cyclists until a police escort shepherded us,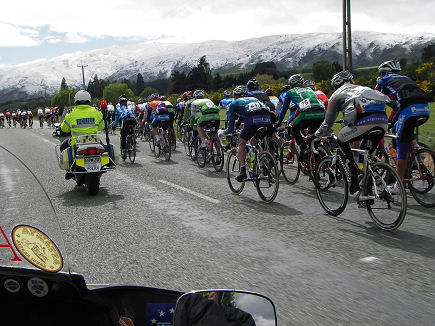 and a few cars, around them. In Queenstown we warmed up, sitting with a few locals waiting for the cyclists to pass through town, still mostly bunched up, all traffic was halted as they passed. The ride to Glenorchy had been billed to us as a must do on a motorcycle, and whilst a lovely ride with great scenery, it didn't rate much better compared to other great roads we have been riding in NZ and we found the road over the Crown Range equally as spectacular, settling in the scenic town of Wanaka for the night.

7/11/08 Frank, wanting to just ride and ride, and us preferring to sightsee along the way, set out along the west coast early morning in warmer conditions, riding quickly over the Haast Pass, along the coast past Fox and Franz Josef Glaciers, but stopped only for petrol and food. With him also wanting to ride the loop up to Westport tomorrow and back to Greymouth we parted company near Ross and stayed the night in Hokitika with a plan to meet up again tomorrow night.

8/11/08 On one of those magnificent spring/summer days of full sunshine with a crisp breeze we strolled about town and down to the waterfront where dozens of
locals were out trying to net whitebait as they migrate between the ocean and the dark waters of bush covered rivers and streams. The small, almost translucent fish, a delicacy, fried, pattied, omeletted, and selling for $NZ 70.00 a kilogram, technically illegal for sports fishermen to sell them, but with the tourist demand many fish caught today will likely end up in local restaurants.

9/11/08 After last night together, Frank and Rita decided to head towards Picton, and a ferry back to the north island, via Arthur's Pass, and we chose the west coast road to the north. Our ride was 420km, theirs 560km, and with the weather deteriorating, and not knowing what might gain our attention along the way, we agreed to meet in Picton at 11am, for a farewell, tomorrow, but with a trailing wind and storm brewing from the south in cold cloud we had little inclination to stop and ended up in Picton by 5pm today. A phone call from Frank later in the afternoon, and they had also moved along without seeing reason to stop, and had also arrived in Picton, but had taken a cabin in a different camp ground.

10/11/08 Light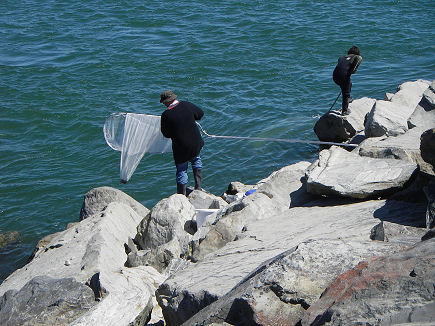 drizzle overnight increasing to steady rain in the morning and we were pleased to have continued riding yesterday. It is not that we are opposed to riding in the rain, it is more that we are here to see the scenery, and riding in rain pretty much precludes that. Frank and Rita said goodbye, catching the lunchtime ferry back to the north island and we returned to our cabin for a quiet afternoon, catching up on jobs that don't get done when travelling with others. Frank's infectious laughter, bantering and joking along with Rita's steadying influence will be missed, an easy couple to travel with.

11/11/08 Having travelled quickly past the Queen Charlotte Sound last time we decided to visit again, a slower ride by on the way south to Kaikoura, the capital for ocean wildlife in NZ. Before we arrived seals, New Zealand Fur Seals, could be seen sun baking on rocks, frolicking and playing in the water and a few were disputing territory, just off the coastal road, where we had stopped to eat a picnic lunch. Later afternoon we walked the peninsula walk, along the coast and cliff, past nesting bird colonies and more seals.

12/11/08 Tourist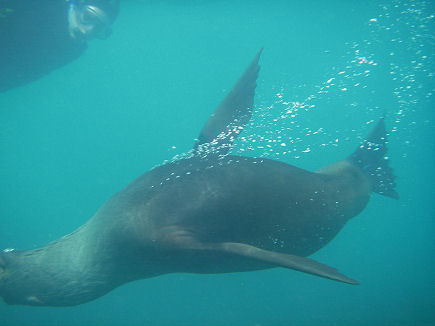 operators have been running tours here, swimming with the seals, for the past, almost 20 years, so we booked on one. The water temperature, 13 degrees, rising from the undersea Kaikoura Canyon is filled with krill, which attracts fish and seals, along with dolphins and whales. Our boat with a total of ten punters dressed in their 5mm wetsuits, travelled for just 10 minutes to a colony and after spotting a couple of juveniles playing in the water we slipped in to assess their reaction. One looked at us for a couple of minutes before disappearing, the other started putting on a performance that lasted over half an hour of interaction. Swimming amongst us, rolling over, tail wagging at the surface, blowing bubbles, disappearing to return again with snorkellers trying to imitate the seals movements and in awe of its mobility. A young one of many lazying on the nearby rocks it just enjoyed the company but finally left when another seal joined with it. A couple more, older seals, passed by our view, interested in our presence for a short time but offered little interaction before leaving. Slowly the cold got to most snorkellers and the tour was over, a great experience, a wildlife encounter that interested both participants.

13/11/08 To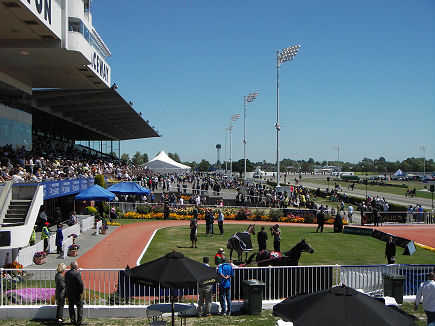 Christchurch, and after a stop at the Harley-Davidson shop for a coffee and chat with the owner we arrived at Nigel and Lee's place. Nigel is involved with the Horizons Unlimited community, is organising their rally here next February, and is also planning his overseas trip in a few years time. We were offered a quaint 1960's caravan to stay in, and a place to store the motorcycle, and started preparing for our trip back to Australia for Christmas.


14/11/08 Nigel is the time keeper in the Christchurch region at the dog races, gallopers and harness races. He produces the photo results for the judges, and today was at work for the spring carnival of pacers and trotters at Addington Racecourse and invited us along, and to his work area to see how that side of the industry functions. Never having been to harness races before we spent the first hour watching a couple of races before Nigel showed us around. With digital cameras pumping out 2000 frames a minute the results are produced almost instantly and almost eliminate dead heats with their accuracy.

15/11/08 Spent most of the morning going over the motorcycle to see if there would be any likely problems heading into our next trip, NZ, Hong Kong, China, Russia and back to Europe, a more remote area of the world than we have been travelling in recently. The usual maintenance items, spark plugs, air filter, oil filters, brake pads, will all be needed plus new tyres, probably wheel bearings replaced, and we found that the rear brake hose has been rubbing and will need replacing otherwise the old bike seems pretty sound, time will tell. The afternoon repacking and we were ready for home.

16/11/08 Nigel drove us to the airport, a 4.30am start, leaving the motorcycle behind yet again.

You can either move onto planning the fifteenth trip or go to the first country of that trip New Zealand