Travel Through Morocco on a Harley-Davidson
By Peter & Kay Forwood
Morocco on a Harley (22/1/98 - 10/2/98)
Distance 3151 km (83940 km to 87091 km)
This is part of the third section of our around the world trip.
Complete Trip Overview & Map
Coming from Spain, Gibraltar and Spanish North Africa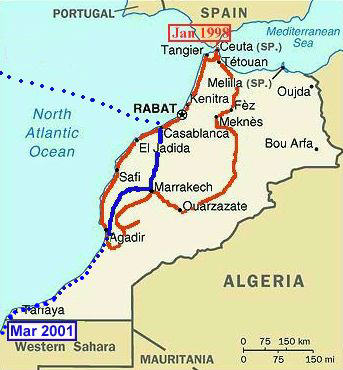 22/1/98 Not wishing to stay in Ceuta we crossed the Moroccan border, minor hassles and about an hour, and headed for Tangier. It's just one and a half hours by ferry from Spain and such a different world with different cultures. We arrived in Tangier on market day with our chosen hotel in the middle of the medina (the old city) and nowhere to park, with the streets literally covered with people buying and selling everything. But as is so wonderful with third world countries the entrepreneurs are everywhere and within minutes someone had materialized, guided us through the myriad of lanes, clearing the hoards of people out of the way for us to get to a secure parking place near the hotel. That entrepreneur, dispatched with coin, and another two, this time with some English language, offered a city tour, no problems with money!!!! Being experienced we knew we would be taken to the compulsory carpet shop, offered tea, making us feel obligated to buy something, then to a restaurant where there are at least two menus depending on the commission asked of the owner by our guides, and anything we bought would be at least 30% dearer again for commissions. Accepting one of the two guides and explaining that we would not be buying anything we set off. We toured the markets and some sites before descending on a carpet dealer and restaurant. It's worth visiting a carpet dealer in most places as they always describe how, where and by whom the carpets are made and can give a background to the peoples and country. At the end the
inevitable hassles occurred. Payment of the guide, which was two guides, because the other one tagged along. The amount I offered was of course not enough, it wouldn't matter how much it would never be enough. After some quite firm discussions they left with the original amount offered. While travelling in Asia I resolved never to increase the original offer as that only encourages "touts" to try for more. Having said that you must be aware what is reasonable before the offer, usually about double a good hourly wage. Even with the known hassles it is usually worth the guide, particularly when new to a country as you can ask many questions and get a better insight early into the country.
23/1/98 Today we got hassled by some of the best hustlers we have ever encountered. I enjoy the challenge and sometimes the getting caught by the local scam, finding it interesting and imaginative, particularly after the upfrontness of Europe. It started when entering the Kasbah (the old fort), the pressure to accept a guide with reasons like, you will be mugged, pickpockets, hassled by other guides, only for locals or with guide, you will get lost in the maze of streets, gradually going from
friendly to menacing. Then came the guilt trip, what do you think I am an animal, you treat us like dirt, we are humans too. Then at the museum, no change, then the wrong change, then of course no ticket. After insisting, tickets were produced, otherwise the money goes straight to the ticket seller and not to the upkeep of the museum. And lastly, change money black market rate, about 3% better than the bank. Trying for confusion they give the wrong amount, tell you police are coming for a distraction, move you to a dark corner where it is hard to see. Always I get their money before producing mine. My money was feigned to be unacceptable and handed back, on inspection, $US 40.00 short, on asking Kay to go for the police it was produced, having been palmed to a back pocket without my noticing. There is in fact no black-market, it's just used as a ruse to try and short shift your money. With all that and just watching the goings on a very interesting day.
24/1/98 Tangier to Rabat, down the west coast. Spring has already arrived in Morocco, green fields, shepherds with stock in the fields, passing showers, just rolling hills right down to the Atlantic ocean. Yes, we had arrived at another ocean after leaving from the Pacific, the Indian and now the Atlantic. Morocco's first motorway links the western cities.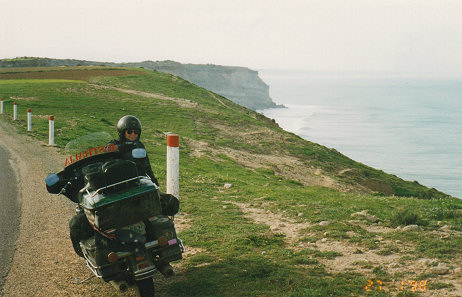 Just completed, you can see the culture here is going to make operating it very difficult. The side fences are already cut in places allowing free access to vehicles and stock and the lack of traffic will make it difficult to pay for and justify repairs. This ongoing maintenance never seems to appear in any third world budget, whether for buildings or roads. It is great to see the use of Australian eucalypts for timber, planted in small forests dotted over the countryside. They grow fast, are fire resistant, can be constantly cut and will regrow using the original root stock and thus are excellent for firewood and cheap log timber.
25/1/98 It is Ramadan all over the Muslim world. A 30 day period where nothing can be eaten or smoked between the hours of sunrise and sunset. This changes the day's structure, almost throwing it into reverse. The all day fast is broken at 6 pm, light foods followed late evening with the main meal and 5 am with supper. A lot sleep then till 2 pm when markets open and tempers flare for lack of food and cigarettes. By 5 pm the streets are buzzing with buying food, 5.30 pm brings people to cafes, food in hand, a bowl of soup and coffee waiting. 6 pm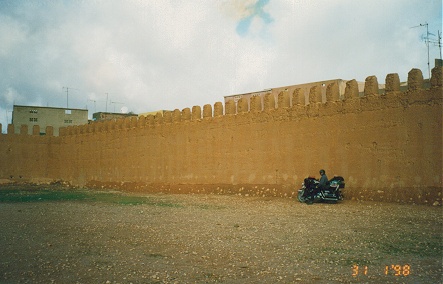 the streets are empty, everyone is at home eating or in a cafe having that first cigarette or coffee for the day. For us it would be extremely impolite to eat in public during the fasting times, there are no eat in food shops open. This is limiting to some extent but the traffic is much lighter in the mornings making travel easier. To visit for the full month of Ramadan I think would be a chore but to experience a week is a great interest. Ramadan ends on the 30/1/98. We travelled to Casablanca, that Humphrey Bogart place that has none of the movie charm but to us represents halfway around the world. As far away from Townsville as possible East or West, North or South without ending up in the Ocean. 14 months of travel time and 60,000 km.
26/1/98 Following the coast road today down through El Jadida and onto Safi. We have views of the ocean almost half the day, cliffs, beaches and enormous sand dunes holding back lagoons with fish farms and evaporative salt collection. Not being the main north south road there was little traffic and many people were working in the fields or just relaxing in the spring sunshine shepherding animals. In Safi we went to a "Moroccan small town disco". No alcohol due to Ramadan, and couples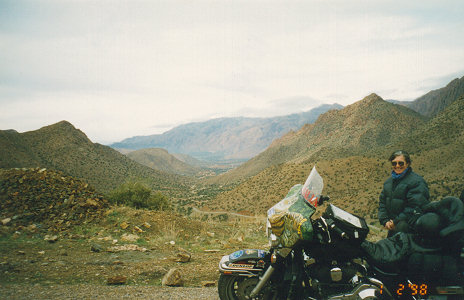 sitting side by side listening to the keyboard singer, not touching or holding hands. It was however quite lively with most people joining in singing and clapping in time with the music. Probably no hangovers in the morning and certainly no unwanted pregnancies.
27/1/98 Further down the coast again, through Essaouira and onto Agadir. We popped into Essaouira for an hour and not in a mood to stop, decided to head on. Essaouira was however a lovely town set on the beach with islands off shore. A lot of tourists come here for the winter and we have noticed an increase in motorhomes plying the road. Just outside Agadir however, there are hundreds, no exaggeration, of motorhomes in parks or just parked on open ground. We spoke to one British sunseeker who has been coming here for ten years, to the same beach, in the same motorhome, two weeks to get here, three months here, two weeks to get home. I can understand the need to escape north Europe's winter but not to come to the same beach, described by him as either muddy or dusty. Life is too short to sit around for three months every year, even shorter once you reach retirement.
28/1/98 Agadir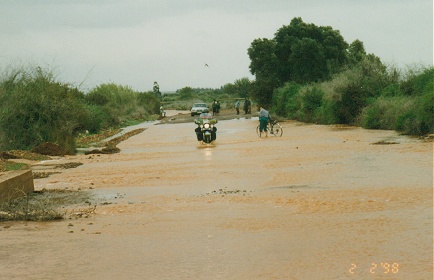 itself is even more touristy, flash hotels on the beach and every western convenience for the packaged tourist. Not usually a place for us, but being in need of a break for a couple of days, catch up on washing, read english newspapers, a bit of maintenance on the bike, unload the need to speak english to a common tongue, and lap up westernism at eastern prices we will be here for a couple of days.
29/1/98 Theft, or the risk of it is always a problem, and I don't think there is much difference between most countries. Wherever there are people who want what others have, theft is always an option. A H-D T-shirt disappeared between getting it ready to wash and washing. Normally if something goes missing, reporting it and waiting 30 minutes, with a few controlled threats of police, the article will miraculously appear with some long but poor excuse for it's disappearance. Not on this occasion, so it's into phase 2. The shirt went missing in the wash room, so with the manager and much protest from the chief washer woman, tantrums and yelling, a search was started and lo and behold at the bottom of a box in the corner, hidden from view, was the missing T-shirt. Now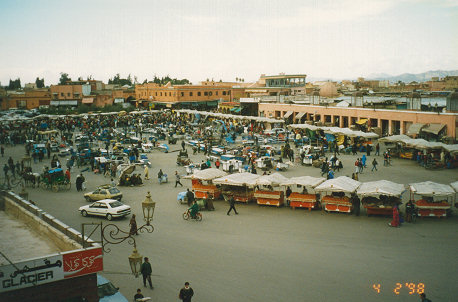 silence and concern, apologies from management. Theft in a Muslim country is serious, they may have stopped cutting off the right hand, but it is still serious. Feeling satisfied with the result, but awkward over the next step we left it up to the manager to pursue.
30/1/98 Raining steadily all day, so after a damp walk along the beach we settled back and played cards all afternoon with two other english speaking couples. With the resting over we are away tomorrow.
31/1/98 With Ramadan over, and travelling again, we can stop and sit in cafe's or restaurants along the way instead of eating hidden from view. We headed south to Tiznit, a mud walled city. The six km walls made from local stone and covered with red mud surrounded the old city. Then off to Tafraoute and into the Anti Atlas Mountains. It's here you can see where the red dirt of the plains comes from. The sparsely covered red rocks change colour with the sun and passing clouds. We still can't get away from tourists however as packaged tour buses ply the circuit from Agadir.
1/2/98 Leaving Tafraoute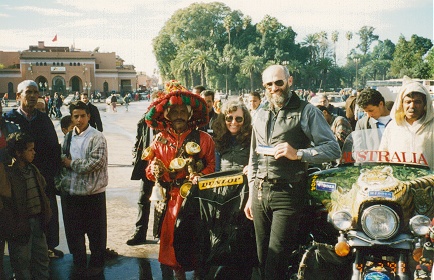 for Taroudannt, heading generally north now back towards Spain, this is the furthest south in Africa we are going this trip. Again it's the scenery of the mountains that lifts the day. Small villages dotted amongst the hills. Shepherds out grazing their tree climbing goats. Taroudannt, on the flat and it's raining again. The nice red mud of the walls becomes boggy red mud in the streets. Alcohol is starting to reappear after Ramadan, with a bar at the back of our hotel discretely hidden from the road and a doorman vetting the entrance of patrons. The staggered double entry doors prohibits viewing from outside and reduces any excess sounds of merriment from entering the streets. Take away is allowed but only when wrapped and hidden behind black plastic bags. If we can't see it, then it either doesn't exist, or can't do us any harm??
2/2/98 Heading for Marrakech across the High Atlas Mountains, we had travelled 75 km before a road block turned us back. It had rained heavily overnight and after crossing a few swollen rivers and creeks, the mountains had scattered rocks across the road before a larger landslide had made the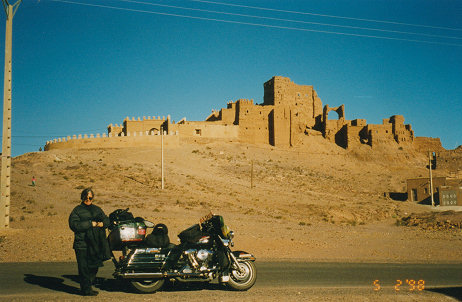 road impassable. All the way back to Taroudannt and a different road to the west to Marrakech. 420 km and it rained most of the way, at least the temperature was warmish, between 10C and 20C.
3/2/98 Marrakech's Djemaa El-Fna is the hub of the city. Starting late last night and throughout the day I walked, stood and sat in cafe's just watching the people. Starting with the four homeless shoeshine boys aged five to fifteen sniffing glue before bedding down on the pavement about midnight, the drunks staggering home, the muslim women surreptitiously smoking a cigarette under their chador, old men with rubbish carts pulled by older donkeys and of course touts hustling tourists. They were just the normal goings on. Then there were the real street performers, snake charmers, snake oil salesmen with remedies for everything and a performance to match the best vaudeville. Musicians, belly dancers (men of course dressed as women), photographers and traditionally dressed men. In the evening none of the above disappears, it is just infiltrated with food stalls of boiling snails, sheep's heads, stuffed livers and animal parts I couldn't recognize, all throwing out different aromas. It is truly a different place if you have a day to stand and watch it change.
4/2/98 A photo session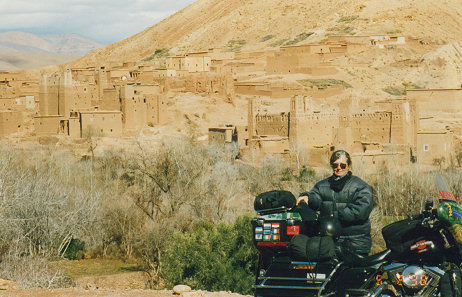 for the sponsors in the square with the snake charmer and traditionally dressed man and of course the motorcycle before heading off to Ouarzazate. It's always great to meet true travellers, particularly with so many tourists around. This morning we met an American, just finishing an 18 month trip through Africa, out of Algeria. He has travelled 175 countries and territories and we exchanged stories for a couple of hours. The road to Ouarzazate climbs the High Atlas Mountains, still snow covered, and down into the desert where we come across the most crass scam yet. Two men flagged us down, their car had broken down and could we go to their brother's house to send help. Like anyone we would always help a motorist in need. At the brother's house we were kindly thanked and offered tea, which we accepted. Yes they just happen to be wholesalers of products from the desert, and because we had helped we could get the goods at very special prices!!!! Eventually you learn not to trust anyone in a country, are suspicious of genuine people which puts up barriers and your enjoyment of that country suffers. Morocco just overstepped the bounds of decency for me.
5/2/98 Two gorges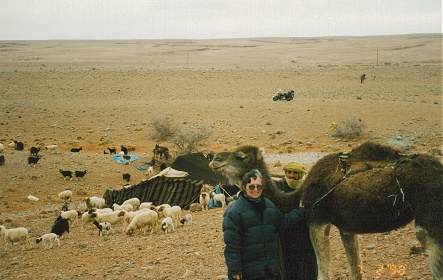 today, Dades and Todra, cut by water from the High Atlas. Both of us have developed colds so the going is slow. Nice desert scenery and flat roads. Fewer tourists get out this way. Had another tagine for lunch. The original crock pot, meat and vegetables cooked slowly over coals in and earthen dish with a peaked lid. Overtime it is different, different meats, vegetables and spiced with specialities of the area.
6/2/98 Five km walk up the Todra gorge before hitching a ride on a souk truck loaded with sheep and cattle and a dozen Berber men heading for the animal market in Tinerhir. We rode with the Berbers on a platform above the sheep in the back of the truck the 20 km to town where my faith in Moroccan guides was partially restored. Omar led us through the old Jewish area of town, explaining its history and how most Jews left in 1956 when Morocco gained its independence from the French. Hand painting using henna dye is very common with the Berber women, and finally Kay succumbed to having one hand painted with dots and symbols representing different aspects of Berber life. The dye can remain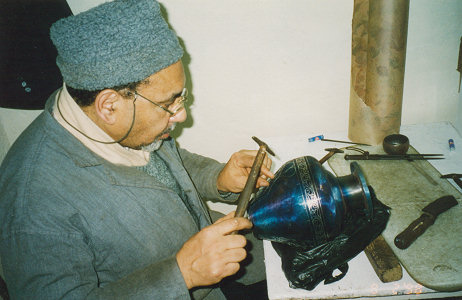 on the hand for up to a couple of months.
7/2/98 Todra gorge to Meknes, 450 km, starting off in desert and ending up in the most fertile cropping area, and again raining. Passing over the High Atlas and Middle Atlas where the snow has all but melted, grass starting to grow and nomadic Berber shepherds moving up for summer grazing. We drove off into the desert to photograph a camp with woven camel hair tents for themselves and the animals (dogs, sheep, goats, donkeys and camels). We were offered tea and bread outside the tent, but were not allowed inside the main tent where the women lived. After exchanging interests, us in them and they in the motorcycle, we left.
8/2/98 After a brief tour of Meknes and a drive to Fes, we toured one of the largest medinas in the world with all of its crafts. This non touristy functioning souk makes and sells just about everything. A maze of narrow streets and alleyways without vehicles, all the materials carried in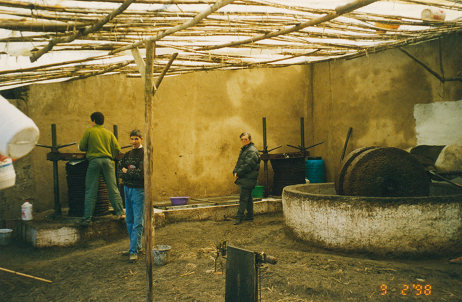 and out by donkey or small hand carts. We visited tanneries, saw mills, dye pits, metal crafts, wood crafts, stables, mosques, medersas (Koranic school), carpet shops and cemeteries all in the same basic area. Without a guide we would have been totally lost. And for dinner snails in soup and a sheep head stew, delicacies of the area.
9/2/98 Moving again to Chefchouen, the summer drop out for westerners smoking grass or hash. Grown locally in the surrounding hills it seems to be tolerated by the police as a cash crop for locals. Two other more legitimate crops in the area were cork, bark from the cork tree, regularly stripped but not damaging the tree and olives. After watching half rotten olives collected off the ground, crushed under two stone wheels turned by a mule, then pressed in pancake like jute pockets, having clear cold pressed olive oil on my salad will never be the same. Olives dropped in the mud were simply picked up and thrown in the crusher, dirt entered the press from the mud floor. Naturally there were preservatives and filters so I will still eat olive oils.
10/2/98 Decided this morning to go back to Europe and try for Seville. The rain was clearing but was replaced by incredibly strong winds. The cold fog rolled down the mountains replacing warm valley air and when we arrived at the ferry it had been delayed by rough seas.
Move with us to Spain , or go to our next visit to Morocco .