Travel in Micronesia on a Harley-Davidson
By Peter & Kay Forwood
Micronesia on a Harley (15/1/08 - 29/1/08)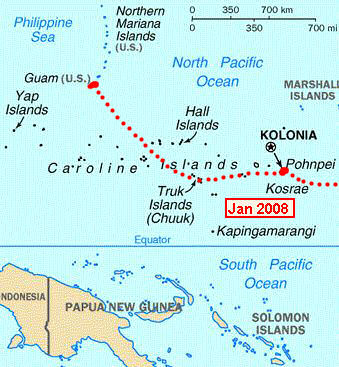 Distance 210 km (500932 km to 501142 km)
This is part of the fourteenth section of our around the world trip.
Complete Trip Overview & Map
Coming from Marshall Islands
15/1/08 Still hovering just above the equator we landed first in Kosrae and then in Pohnpei, both volcanic, not coral islands. Pohnpei is the largest island and capital of the Federated States of Micronesia. Another relaxed destination. The motorcycle was sitting on the tarmac, in its crate on a cargo flat bed, having arrived two days ago. A quick visit uptown to the customs office, no stamp was at the airport, stamped our papers, and with the helpful airport staff the motorcycle was rideable before 4pm closing time and the crate safely stored in the cargo shed. To ease customs procedures we have been writing on the Airway bill "Motor Cycle, Personal Effects, to be ridden and Transhipped to xxxx". When it arrives by air this seems to be all that is necessary for the authorities to accept it as a temporary import, personal effects, and so far we have been lucky clearing customs.

16/1/08 People here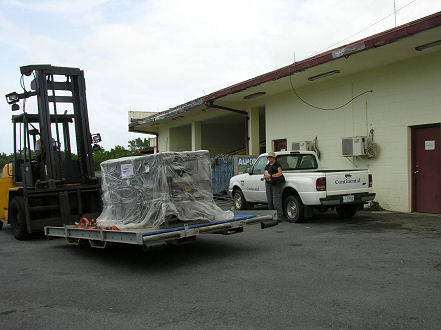 are more outwardly open, helpful and friendly. It has been a long time since we have heard calling out, "Nice bike, I like your bike", not since the Caribbean. This friendliness had permeated the ex-pat community and meeting another, I think the only other, Harley rider on the island, Greg, we were invited to his house for dinner with his wife. There are a few motorcycles here, a couple of larger ones, and as it's over 80 km's to do a loop of the island there are more opportunities to ride than on the coral atolls. Spent most of the day locating supermarkets, shops, internet and facilities as we plan to base ourselves in town for our two week stay. It is again a small community, about 5000 people in Kolonia, where we are staying, and only 35000 for the whole island, so many facilities are basic but seem to be well organised.

17/1/08 With a couple of visits to the air cargo office and shipping offices we again decided to fly the motorcycle. Whilst shipping is cheaper from here, the boats, to get to Guam, have to go via South Korea, or as before we have to take a full container. It is about the same cost to fly the motorcycle as its last few flights, between US 600 and 700 dollars, less than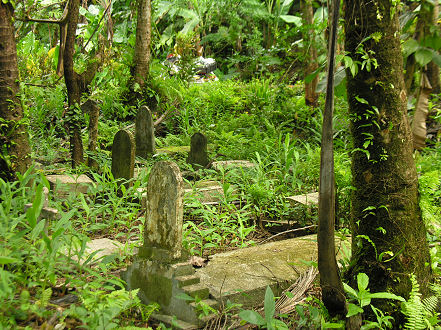 a full container's costs and better than the minimum three week shipping via Korea, assuming connecting boats. We booked the motorcycle onto the Asia Pacific Airlines flight for the 30th as the earlier flight will be full of tuna, the priority cargo. We spent the majority of the day riding around the island. It is by far the prettiest island we have visited in the Pacific. High rainfall and volcanic soils, combined with a low population, a mountain background, and large mangrove trees bordering the narrow flat strip of land between ocean and mountains, are not conducive to the yellow sandy beach set, but the lush variety of vegetation, waterfalls, creeks and rivers easily compensate. We spent a few hours visiting Nan Madol, the ruins of a civilisation that lived here almost 1000 years ago and built a massive complex of about 100 man made islands, building up reef flats, off the south east corner of the mainland. Basalt pillars, some over 7 metres long, were rafted from the mainland and used to line the edges of the islands. The most impressive and still largely intact structure, standing seven metres high, is a massive tomb, situated on its own island. The remaining islands are being returned to the sea but the basalt columns still define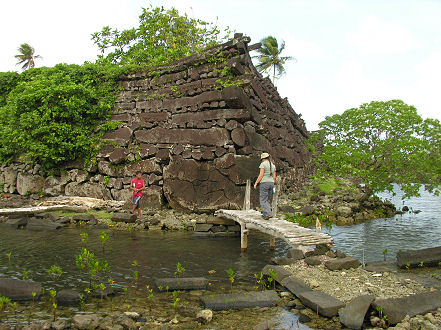 their existence.

18/1/08 Like other island nations most of the shipping is inbound. Used cars come in from Japan, right hand drives, driving on the wrong side of the road. Their short life span in the rusting environment obvious by the thousands of mouldy and rapidly rusting hulks left roadside, left where they last broke down. We started working on our motorcycle hoping to prevent a similar fate.

19/1/08 A couple of days ago we met an ex-pat, whiling out his time, married to a local woman, they now have five young children, he is sixty and finding it tough to earn money here is simply waiting it out till he receives a pension from the US government when he turns 62. It is a fairly common story. Middle aged western man, usually divorced, leaves his native country dissatisfied with the past and ultimately finds what values he desires in a less westernised society, in a tropical paradise. Some arrived with a job, Peace Corp workers, a western contract, the embassy, and find the lifestyle more appealing than their hectic homeland. The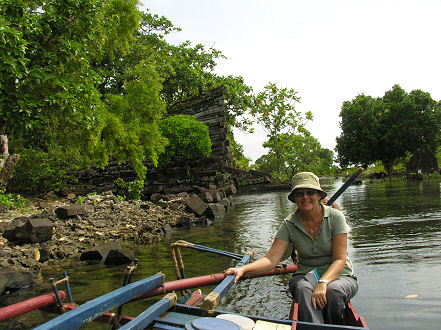 locals however, all permitted to work freely in the US, are leaving to find opportunities not available here, wealth and a more dynamic lifestyle.

20-23/1/08 We started work on the rear of the motorcycle a couple of days ago, removing the whole back end, swing arm and mudguard. In the past our repairs have been to fix only what was broken, usually done roadside, we rarely did a thorough job. Now we want to lift the motorcycle to a better standard. All the parts were removed, carried to our hotel room and washed thoroughly, in the bathroom, removing caked on mud, every nut and bolt undone, every part disassembled, any rust treated, painted parts polished. The motorcycle's electrics have been giving intermittent problems for a while and we found half a dozen wires exposed, the plastic coating rubbed through to the wires, one completely snapped. It took a day to disassemble the parts and two days to clean and repair them whilst sitting in air-conditioning and listening to the TV, and wearing down our fingers on scrubbing brushes and a wire brush. With the parts reassembled, a new engine mount installed, a re-alignment of the engine in the frame and re-aligning the rear end racks and guard, the motorcycle,
after almost a week's work, looked and functions much better, but it is only the back end and we have more work to do to bring it back to where we will be happy with it mechanically.

24/1/08 The 16 page bi-weekly local newspaper arrived on the streets yesterday, with a full page article on our trip, and with the motorcycle back on the road by mid morning we were recognised by many locals and the already friendly place became moreso, with waves and requests for photos of the motorcycle each time we stopped. An easy day with short rides to check on our motorcycle work and get supplies.

25/1/08 We rode another loop of the island, this time counter clockwise, with Greg leading the way on his Sportster, stopping for photos and some local socialising. Tried the local "donut" similar to the deep fried dough balls common to most of eastern africa, and over a coffee chatted with a local lady torn between living in the US and Pohnpei, culture verses money, opportunity or lifestyle. She has one child in each country, her husband recently died in Pohnpei but she has worked in the US for 13 years. Australia doesn't have many overseas missions in the Pacific islands.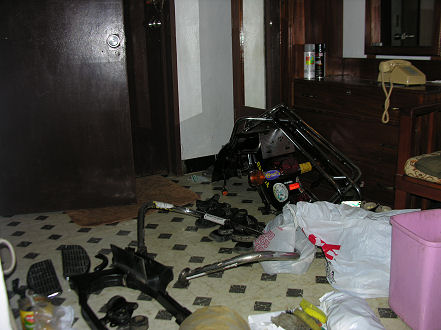 Each embassy services a few countries and with a new ambassador having arrived in Pohnpei recently, and it being Australia Day, the embassy threw a cocktail party, and every Australian on island, including us, plus dignitaries, local and overseas, were invited. There were other Australian travellers on island, a couple sailing around the Pacific on a 10 metre yacht, soon to head for Papua New Guinea but most invitees were working here, missionaries, aid agencies, government contractors. A great social event, waterside location, with plenty of drinking and eating, nice to get some of our taxes back directly, and in liquid form.

26/1/08 Moving onto the next, non local born, function/socialising, tonight a group of "oldies", like us, occupied the Rusty Anchor bar, located in a failed hotel complex, where a few musically talented individuals, reminiscing their youth, strummed away at guitars and drums, singing out old rocker and blues songs while we listened and talked, again over a few mature grape varieties or liquefied hops. The same crowd, there are just a limited number of western islanders available in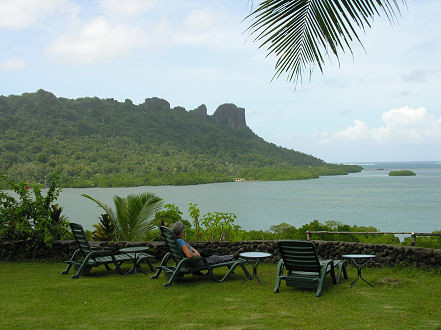 the small population, with surprisingly few locals mixing in. Younger locals started to arrive just as the older westerners retired for the night.

27/1/08 The Australian Government has provided naval patrol boats to almost all the Pacific Island countries and has a small group of Navy personnel assigned to assist each country in maintaining and running the vessels. On Pohnpei there are three patrol boats, mostly used for emergencies or looking for illegal fishing boats, and the Navy Australians posted here live a comfortable life in a westernised compound. Today most ex-pats on island, including us, were invited to welcome a new staff member and his family, and we all had a great afternoon enjoying the same company we have been seeing over the last couple of days. We were assured not all weekends are as socially packed as this one.

28/1/08 Back to reality and at the Continental air freight office this morning to break the motorcycle down, now a well oiled routine, and crate it. Assured it will leave in two days time for Guam we relaxed with Greg over a glass of iced tea, yes iced, they have taken on the US habit through these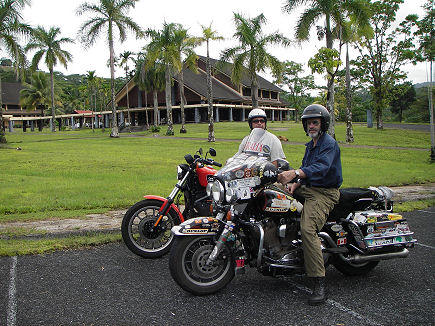 islands. It turns out there are a couple more HD's on island, ones left behind by departing Americans. Cars are also an expendable item when homeward shipping is calculated and a variety of unusual cars end up stored in collector's garages.

29/1/08 Even though a small airport we needed to be at Pohnpei's early as the staff multi task. The people we had been dealing with in cargo now handle passengers. Security for checked in luggage move to hand luggage as one area closes and the other opens. The same customs officers handle outgoing and incoming. Greg farewelled us as the plane left for Guam, stopping in Chuuk along the way. Heading for America the aeroplane was extensively searched for left behind packages as we waited on the Chuuk tarmac. All carry on luggage had to be removed from overhead lockers, identified, behind seat headrests checked and seat cushions lifted, yet another 911 inconvenience.

Move with us to Guam