Travel in The Marshall Islands on a Harley-Davidson
By Peter & Kay Forwood
Marshall Islands on a Harley (28/12/07 - 15/1/08)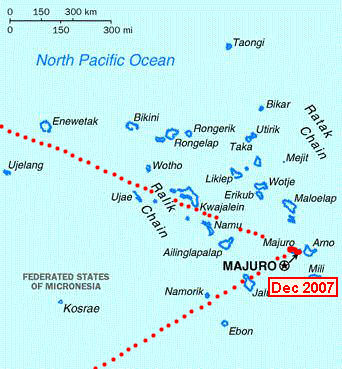 Distance 282 km (500650 km to 500932 km)
This is part of the fourteenth section of our around the world trip.
Complete Trip Overview & Map
Coming from Nauru

28/12/07 An hour and quarter flight and again feeling like the pilot had gone crazy as we seemed to be landing on water, we arrived in Majuro, Marshall Islands. Clashing with the arrival of a JAL flight loaded with Japanese tourists we were hurried through customs, as second class citizens, and had to collect baggage from the cargo section, which for us was great, the motorcycle arrived with our other luggage, customs cleared it without question and we assembled it in the building, in fact it was ready to ride before the Our Airline flight left, now three and a half hours late, having to wait for the JAL flight. Before 11am we rode out of the airport and onto the 183rd country, heading for D.U.D. the capital area. It was immediately noticeable that this was the most advanced and wealthy country we had been to recently. Houses were painted, cars weren't falling apart, there were road signs, a poor area of America feel, and riding on the right side of the road, buying petrol in gallons, with US dollars and miles per hour signs alluded to its history, and that we had left the Australian influenced Pacific and moved to the American Influenced.

29/12/07 We
found out why the Marshall Airlines, Air Marshall, was not answering our emails, their planes have been grounded for the last ten weeks, no international flights or flights to outer islands, stranding people. It seems like the cost, or mismanagement, in maintaining an airline in this region is becoming prohibitive, and along with the increasing cost of shipping because of higher diesel prices, and not allowing passengers on freight shipping, islanders are having difficulty moving about. Continental Airlines is the only airline operating from Marshall Islands to Micronesia, our next planned stop, and back at the airport this morning getting a quote we discovered they don't allow items over 180kg on their passenger flights, also a 737 like the one the motorcycle arrived here on. It seems we are back to western restrictions. They can air freight, Sunday's only, on a special mail freight flight from the US, back loaded with tuna on a loop through the region, but the cost for the motorcycle is pretty high, we will look at shipping. There is a fortnightly boat, Matsons Shipping, cargo only. The old Japanese vehicles, right hand drive, rusted out in the Pacific countries to the south, have been replaced with old US autos, finishing their days in the Marshalls, along with many newer petrol guzzling SUV's and cheap Asian varieties. Some vehicles are running on coconut oil, a cheaper, eco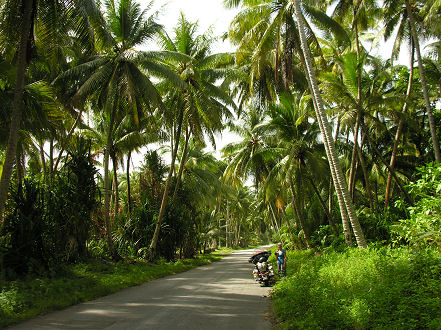 alternative, but there aren't many, registration plates are just four digits and then not over 6000.

30/12/07 Sunday holiday and we took the opportunity of doing some work on the motorcycle, conservative work, cleaning and polishing. Started under the tank section, removing years of grime built up, cleaning the carby, inspecting electrics, having plenty of time and staying at the Flame Tree Backpackers there is a covered area to work, and with storms rolling through all day it was pleasantly cool. There are no other backpackers staying here so we have ended up effectively with an apartment to ourselves, very comfortable. It is also the happening place in town, live music on busy nights, restaurant and veranda overlooking the road, pool tables and CNN TV, and of course almost everyone here has an ocean view. The predominantly US expats, most married to local women come in for a beer and other western company, watch the rodeo or American football on the big screen TV.

31/12/07 Majuro Atoll is another long ribbon across the ocean, low lying and with all the recent rain, green. A check on boats to Micronesia, the first agent would only book a whole container, $US 700.00 plus handling costs, cheaper to fly the motorcycle. We approached Continental Airlines for a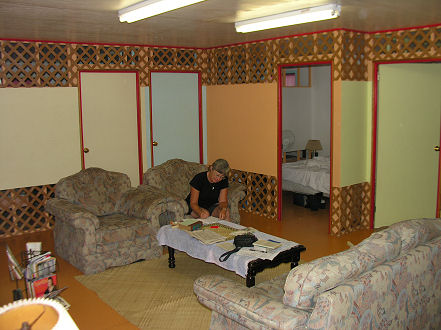 sponsorship for discount airfares and freight, to Micronesia, Guam and onto Palau, a letter written, forwarded to the Guam office and we wait for their response. A frustrating day trying to send emails. The main telecom office was painfully slow, the one machine at the hotel didn't have a working keyboard, and the wifi offered by the telecom office was so slow that after ten minutes we gave up without a usable connection. All in all a long day not achieving much, which is often the way of the islands.

1/1/08 Another day of motorcycle work. Had a great success as the previously hard starting problem seemed to be overcome with the replacement of the original coil, perhaps part of the cause of the overheating problem. Also fixed a leak in VOES line, a carby vacuum hose which regulates ignition timing differences between idle and riding, also could be causing problems. We call it conservative work because we don't want to restore the motorcycle. We quite like the used look but don't want it to deteriorate further and still want it to function properly. Areas are being cleaned, slowly, rusty spots treated with rust converter but not painted, worn parts preferably repaired rather than replaced. Years of baked on road grime is removed. The afternoon we rode to the end of the island, the city end, where chunks of slowly rusting WW2 metal lay
above low water mark near the shallow crossing to the next island. The city area is tightly packed with houses and people are still partying in the new year. Surprisingly Christmas Carols are still being played about town in shops? Island time?

2/1/08 Still looking for a way off the island for the motorcycle. Tried two more shipping agents but they only receive goods, don't ship them, a common problem with most of the small island countries, lots of goods are imported but nothing is exported, except the airfreight tuna here. More slow cleaning of the motorcycle filling the mornings.

3/1/08 Reading local newspapers is always an interesting way to get info on a city or country. The weekly, Marshall Islands Journal, reportedly billed as the world's worst newspaper, is quite readable and provides a good insight into the US dependent, at least financially, nation. Granted free access to the US, Marshallese are moving there in a steady flow, 2% annually, about balancing the recent population growth rate. Assuming money will be repatriated to families left behind it could go a long way to reduce cash assistance from the US government, which is, supposedly, being phased out. The grounding of Air Marshall seems, logically, to be having an enormous impact on tourist numbers, they can't get out to the islands to go diving. It will be a minimum of four months grounded before they fly again? Continental Airlines requested dates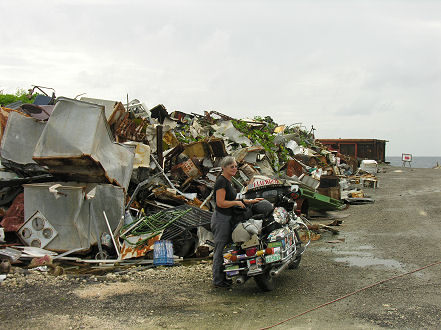 for our onward flights from our request for assistance, a good sign, otherwise the usual, a couple of hours work on the motorcycle.

4/1/08 The wet season was supposed to be over but last night and all morning it poured keeping us room bound, well that was the excuse for having a day indoors. No news yet from Continental Airlines.

5/1/08 Started on the front of the motorcycle and rust proofed some deep rust in the mudguard. Rust in the battery box and patches on the frame were also treated, some will have to be spray painted tomorrow. Cleaned the front brakes thoroughly, not done for a couple of years, at least pre last African visit. Most supplies come from the US and there is a good range of quality products, and at a surprisingly good prices for those with Australian dollars, likely the falling value of the US dollar. Electrical connectors, wire brush, rust converter, spray paint, cable ties, sounds like simple items but not easily available elsewhere we have been recently.

6/1/08 Diabetes is a big problem in the islands. A western diet mixed with genetics not used to sugars. It is a big drain on medical resources. Alcoholism and sexually transmitted diseases also feature here more than in western societies, high unemployment rates and fewer opportunities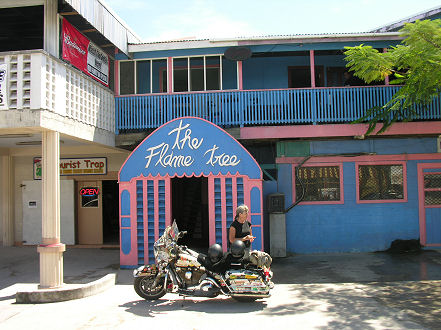 for the young doesn't help the problems. Back to the motorcycle in the morning and finished cleaning and repairing the front end, then took a ride the 40km's to Laura, never out of sight of the ocean, most of the time with water both sides, the land only a couple of road widths wide. A regular local crowd shuffles through the Flame Tree pub during the evening and the live band rocks till the small hours, we sleep through most of it, after enjoying a wine on the veranda, CNN or a movie on the large screen TV.

7/1/08 Share taxis ply the one road on the island, up and down, up and down the ribbon, driving slowly looking for fares, politely flashing lights to allow people to cross or allow other cars to enter the road, over and over again along the same road, up and down. Surprisingly motorcycles and bicycles are few, less than a dozen have been sighted. Petrol once being cheap, and it raining often, a deterrent, but with gasoline at over $US5.00 a gallon more might start to appear and the island's own efforts towards fighting global warming might kick in. Their recycle program now ships out scrap metal in containers. Containers making up a lot of rusting metal lying about the country, shipped in and sometimes cheaper to leave here than ship out, used as business storage they rapidly rust. The cleanest Pacific country visited so far, rubbish is collected in large industrial bins, much is recycled, roads swept, grass mown and streetlights work.

8/1/08 Back at the airport this morning and assembled the motorcycle's shipping crate after its couple of flights packed up. Marshall Air has been generously storing it at their cargo office, now pretty quiet without any flights. Still no word either way from Continental Airlines regarding a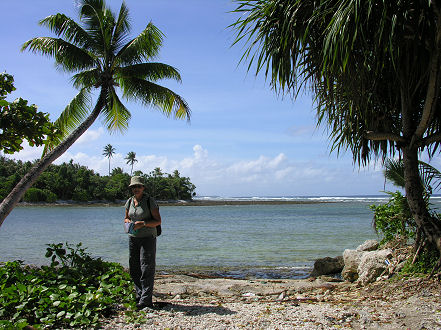 discount fare and freight. The Sunday cargo flights they are agents for, are with Asia Pacific Airlines and it seems there is some discussion happening between them in Guam and Honolulu, meanwhile we wait and hope, only four days till we are planning to fly. Another problem raised itself this morning, that of getting a "dangerous goods certificate" signed, necessary to fly the motorcycle. It seems there may not be anyone on the island that is authorised to sign one. We were coaxed into signing it ourselves when flying out of Kiribati? and the problem was raised leaving Nauru but it seemed to be forgotten, conveniently, likely no authorised person on either of those islands. Hopefully someone might be found in the Marshall Islands who is authorised or prepared to solve the problem.

9/1/08 School went back after the Christmas break a couple of days ago, now occupying the time of a large part of the idle population. The helpful DHL agent had also taken on our leaving the island problem, corresponding directly with Asia Pacific Airlines to see if we can put the motorcycle on the weekly tuna flight, and for a discount price, but discovered his hands were tied as Continental has the air freight contract, and was the only agent. The country had a change of government leader a couple of days ago. It seemed to miss the CNN and BBC news, supplanted by what is happening in the US elections or what happened in the Georgian elections but for the people here it was no less important. The country has been going backwards for a while and hopefully a less corrupt government has been elected. That at least is the local's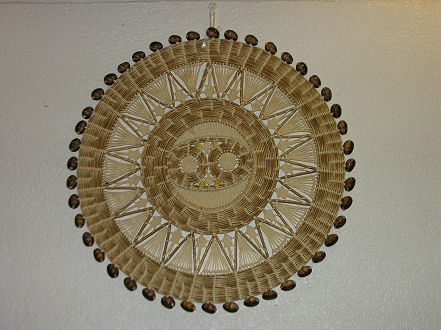 hope. A big turn out at the parliament building watched the final events unfold, almost closing businesses. Everyone who was anyone was there, and the local newspaper was full of its news.

10/1/08 Spending a lot of time at small airports we were again back at the Continental air freight counter, armed with a signed dangerous goods certificate, (don't ask how) it was rejected, a pedantic document or official, another trip to town for a more correct copy, but by days end we were assured the motorcycle could fly this Sunday, three days away, still no word on any discounted price from the leaders in Guam though. A slow picture of the country starts to emerge as we stay a little while longer and have more dealings with ex-pats and locals. Air Marshall hasn't paid staff wages now for six weeks, so it is becoming more difficult to keep staff, a lot of whom are western imports, doing the technical work. Ex-pats also remonstrate doing business in the country, its difficulty, not being able to own land, bureaucracy, all of which prevents development, if that is what the locals want? We have also found the dealings here different. Further south in the Pacific all problems raised are solvable, even if it is not possible, we were told it was, and usually it was, where as here we are told of the difficulties first and then it is up to us to challenge them one by one, wearing them down until what was always possible is now achievable.

11/1/08 Airport again and finally the motorcycle was put into our crate and placed on a flatbed aluminium freight pallet for the cargo plane in two days time. Paid the quite reasonable shipping charge, as no response had been received for our request for sponsorship. We delayed our flight till the 15th still hoping for a reply and started looking for options from Pohnpei, Micronesia.

12/1/08 At the internet researching for a couple of hours. We plan to fly to Micronesia, Guam, Palau, the most logical route, but after Palau our choices are not so easy. PNG is our next preferred country but that would require us to return to Guam, then Cairns Australia for connections to PNG, and the motorcycle being shipped via Korea to PNG, expensive and slow. An alternative might be to fly Palau to Taiwan, a country not on our official list but the most "non UN accepted country" there is. Recognised by about twenty countries, mostly small ones wanting financial aid, and held away from official country status by its dispute with China, and the political and economic power of that big neighbour. If we end up in Taiwan we might shoot for the Koreas before heading back to the Pacific proper, but who knows?

13-14/1/08 Our luck with sponsorships remained unchanged, again a no. Don't know how other motorcycle travellers manage to get assistance, it usually seems to allude us. The local manager from Continental Airlines last night phoned apologetically. Locally they could not have done more for us, being helpful, and generous with their time, but the powers in Guam who wield the real dollars remained unmoved, perhaps reserving their assistance for a more deserving or emotionally profitable cause. We have really only been assisted by a couple of corporations during the trip. Dunlop tyres, when for a period of about eight years they supplied tyres to where ever we needed them in the world, but that arrangement ended a couple of years ago. We still use them as they are an amazing tyre, no problems anywhere we have used them and only a few punctures. Another sponsor was Staintune exhaust who supplied us with stainless steel mufflers, which have been smashed about on rocks beneath the low slung HD but have survived any misuse we dished out. Now over ten years old they will likely outlast the motorcycle. Local Harley-Davidson dealers have personally assisted us, often incredibly generously, but we have not had any direct support from the parent company. Regularly people ask "does Harley-Davidson know what you guys are doing?" to which we have to reply that there seems little interest in individuals from corporations. So we continue under our own power, constantly amazed by the generosity of time and effort by the "man in the street" we encounter.

15/1/08 Flew out to Pohnpei mid morning on the "milk run". Stopped in Kwajalein to drop off passengers, currently most of the plane load, with Air Marshall grounded. We were not allowed to get out as it is a US military establishment, part of their space tracking and missile defence, where they lob missiles into the worlds largest coral atoll lagoon. Many tourists pass through here to dive at Bikini Atoll, notorious for atomic bomb experiments, and the worlds only diveable aircraft carrier. We flew on to Micronesia.
Move with us to Micronesia