Travel Through Macedonia on a Harley-Davidson
By Peter & Kay Forwood
Macedonia on a Harley (28/11/97 - 2/12/97)
Distance 496 km (76510 km to 77006 km)
This is part of the third section of our around the world trip.
Complete Trip Overview & Map
Coming from Greece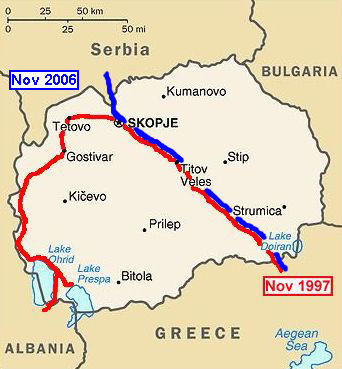 28/11/97 Out of Greece and into Macedonia today with $US 53.00 greencard insurance and $US 7.00 road toll to reach Skopje and hassles in finding the right accommodation didn't endear me to Macedonia at first. But after a magnificent dinner with a bottle of excellent local wine in a heated well decorated restaurant ($US 10.00 for both of us) and back to a heated hotel room, I am rapidly growing to like Macedonia.
29/11/97 A wander around Skopje with the usual, now accepted, cloud cover descending to fog for the morning and lifting to low cloud in the afternoon. No sun for a week. While vibrant at the markets on a Saturday morning the shops are half empty of merchandise and the supermarket shelves are thinly stocked. Many of the newer buildings are showing signs of needing maintenance with older ones falling apart. It would appear to be difficult times here but things are not cheap. Despite the above, the city is quite beautiful with enormous pedestrian ways, large park areas, old Byzantium buildings and little traffic.
30/11/97 Off to lake Ohrid, the tourist mecca of Macedonia. With temperatures at 8 degrees, we both donned the vests and gloves of the WIDDER LECTRIC-HEAT gear (see sponsors page) for the first time. Not having used any external heat while on the bike before I was amazed that with just the heated vest, I needed less clothing elsewhere to keep warm. The body transferred that heat (and saved energy) to unheated areas. Even when crossing a mountain at 4 degrees the vest was only on one third maximum. The 170 km of roads excellent and because of the high relative costs of owning a vehicle here they were almost deserted.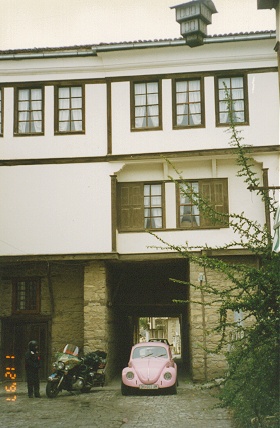 Had it not been for the pea soup fog and drizzle atop one mountain and the limited panoramic views from low clouds the trip would have been more enjoyable. We have now passed through rolling hills of vineyards, mountains of tall timbers and valleys of crops and grazing. Very similar to the colder regions of N.S.W. Australia.
1/12/97 A loop today about 100 km out to Resen then up over the mountain 1600m with snow patches, between the two lakes, through deciduous forests and magnificent views glimpsed through rolling mist. The temperature down to 4 degrees, it was nice to warm up over a late lunch in a restaurant back in Ohrid.
2/12/97 Off to Albania this morning, used up the last Denar (Macedonian currency) buying petrol and travelled the 30 km to Sveti Naum, where most private vehicles cross, south of Ohrid lake. The first sunshine in a week and fresh snow dusting the mountain tops gave us hope of an easy crossing.
Move with us to Albania or go to our next visit to Macedonia