Travel Through Liberia on a Harley-Davidson
By Peter & Kay Forwood
Liberia on a Harley (24/2/01 - 28/2/01)
Distance 485 km (224680 km to 225165 km)
This is part of the Seventh section of our around the world trip.
Complete Trip Overview & Map
Coming from Cote d'Ivoire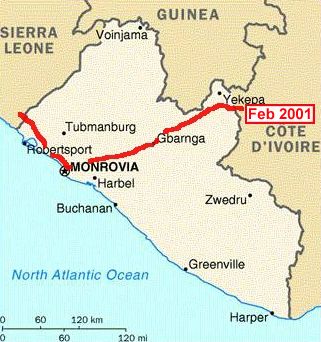 24/2/01 Unfortunately a similar start to Liberia. Immigration wanting $US 5.00 each before they would stamp our passports, threatening that even though we had a visa they didn't have to let us in. On a handshake we paid the money with a promise of a receipt. Honour is apparently cheap here as no receipt came. With the border closing and us preparing to sleep in the compound, and much discussion (in English) with an older gentleman, he gave us $US 10.00 assuring us he would collect it later from Immigration. The rest of the border straight forward with health certificates, customs, police and statistics, who judging by the questions seems more like the C.I.A. Stayed in a small friendly hotel right at the border. We think we worked out why the older gentleman returned our $US 10.00. In the middle of the night there were a series of trucks rolling across the border, supposedly shut. We presume military supplies, against the embargo, and they hadn't wanted us camped too close.
25/2/01 You're pretty certain there is a major problem with the motorcycle when you start buying oil in 20 litre drums. Two days ago, concerned about the quality and availability of oils in Liberia, Sierra Leone and other countries ahead and burning oil now at the rate of 4 litres per 1000 km's we bought a 20 litre drum. Enough for 4000 km and an oil change. 110 km of dirt and 240 km of good sealed roads through logged rain forest with hilly to mountainous scenery brought us to Monrovia, the capital. Eleven check posts, particularly where the road runs near the Guinea border, as the two countries are in a cold war. Six of these checks were serious. Recording of documents and a ten minute interrogation on the reason or purpose for our trip. The difficulty was getting the message across what tourism was in a country that has been in civil war since 1990 until recently. They could not grasp the idea that people travel for pleasure and were thus suspicious of an ulterior motive. The whole country seems like a mini America. This probably stems from the resettlement of freed American slaves here in the 19th century and their close ties since. The English spoken is very "black American" along with the snap handshake and a flag that is just a few stars short of the American one. As is often the case the people who have suffered the most are the most friendly and most welcoming.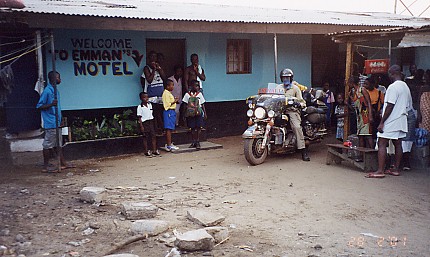 26/2/01 We are staying at Emmans Motel, 3rd Street, Saye Town, about four km from the centre in one of the new generation efficient private enterprises popping up around town. Set in an old suburb, surrounded by shanties and partly destroyed houses the people live in an area of no fences with community areas blending together. We get electricity for a few hours morning and evening from a private supplier, its quality varying as lights dim with other subscribers draining supply. There is no government supply yet so looking out our window to the high voltage grid passing overhead is of little concern. Military buildings in the city still have no windows, some supporting pillars are destroyed and bullet holes riddle their exterior. Reconstruction here is not like when we were in Bosnia, but will be painstakingly slow and everything not locally produced prohibitively expensive. The people are at pains to make us feel welcome.
27/2/01 Money is easily changed on the street and the system of needing an exit paper was abolished two years ago according to the Immigration department. Mauritanian visas are not issued here despite there being a consulate here.
We were shown into his office. There were at the time five other people there, two looking at a pile of diamonds on the consuls desk, one studying diamonds closely with an eye piece unconcerned at our presence. We were also approached by a man from Sierra Leone trying to sell diamonds in the street. The war in this region is about diamond mine control and money. Politics and ethnicity just a way of getting locals involved to fight for territory containing the mines. This seems the same all over Africa. Countries with no resources have no wars.
28/2/01 We left our city suburbia with its locals wishing us the best, just two days and we were totally accepted. Then back to 21 document checks, numerous interrogations from four different security services plus army, immigration and customs, before we could leave the country. Our names are now written in more UNHCR school books used by Liberian officials than probably by the Australian government. Five hours to get the 120 km past more newly revived rubber tree plantations and logged rain forest. We were lucky to find someone to sell us a petrol coupon for five gallons, although outside of Monrovia it was available in bottles.

Move with us to Sierra Leone