Travel Through Kuwait on a Harley-Davidson
By Peter Forwood
Kuwait on a Harley (21/9/05 - 11/10/05)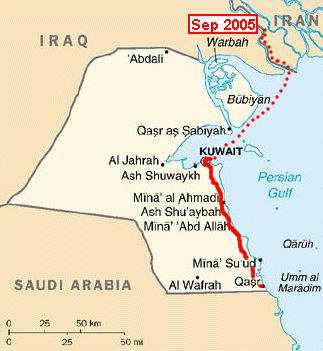 Distance 1370 km (441328 km to 442698 km)
This is part of the eleventh section of my around the world trip.
Complete Trip Overview & Map
Coming from Iran

21/9/05 The reported six hours crossing took seven and a half, and a further hour to unload the boat and pass immigration. My visa was issued on the spot, three months for less than $US 10.00. With the next two days being holidays there was discussion whether I would be able to collect the motorcycle until after the weekend but an incredibly helpful Kuwaiti national, customs officer, and his Indian assistant, managed to process the bikes paperwork immediately and I rode out into Kuwait well after dark. Tired, I found an old, empty, check point building at a construction site and laying out the tent and mattress and slept on the floor. It had been 45 degrees here today and the walls of the small building were radiating that heat back, leaving me lying in a bed of perspiration. There were also sand flies nibbling, forcing me under the sheet, adding to the hot conditions.
22/9/05 Up at 5 am, nearing sunrise, I rode the corniche. A wonderful seaside road, low headlands and beaches, trees, grass, with places to relax overlooking the calm ocean. Here last nights litter was being cleaned up by an army of Indian, Pakistan and Bangladeshi contracted workers. There are about two such workers for each Kuwaiti national living in the country, and about 94% of Kuwaiti nationals work for the government.
An extremely unusual balance of employment. A definite two tiered population. Kuwait is the first place a Harley-Davidson dealer has existed since my leaving Japan and needing an oil filter, I went there to find that the manager, Harry, was the same guy who Kay and I met in Dubai six years ago. Welcomed like an old friend, I immediately had offers of bike mechanical assistance and use of the internet. It was the day for elections of office holders for the local HOG (club) Chapter and many riders turned up early afternoon. With eats and drinks (Kuwait is a dry country so no alcohol) provided, and good humour I was invited to Abu Ali "Heritage's" house to stay whilst in Kuwait. Daytime riding at this time of the year is considered too hot, so after an afternoon siesta, and evening tea, we left for a ride towards the southern border at nine o'clock. Collecting other riders along the way we were soon more than 20 bikes, all male riders and one woman pillion. It is still unusual for a Kuwaiti woman to be on the back of a motorcycle, and although totally legal, it's extremely unusual for a Kuwaiti woman to ride a motorcycle. Being a small country, less than 200 km by 200 km, there were a lot of timely rests for a meal, coffee, and shisha (water pipe smoking) and good relaxed conversation with most members speaking English. It was to be 3 am before I was back at Abu Ali "Heritage's" house. He was a motorcycle police rider trainer, and has been riding for 34 years. He tells me he is from Kuwait's first family, "Abu Jaber". The people from the sea. I was also given the Arabic name of Rahal, which I think is similar to Gypsy. A wanderer, a person always on the move, sleeping in different places each night. Never having adopted a "nick name" before, it will now be my motorcycling name. All here already refer to me as such, probably an easier name for them to remember.
23/9/05 Abu Ali has provided me with a room separate from his house. His motorcycle den, with my own facilities. He has two female Phillipino contract workers in his house and a Bangladeshi man that helps with his hobby, motorcycles, and looks after the cars and gardens. Definitely a comfortable lifestyle. His family, wife and unmarried children live at home.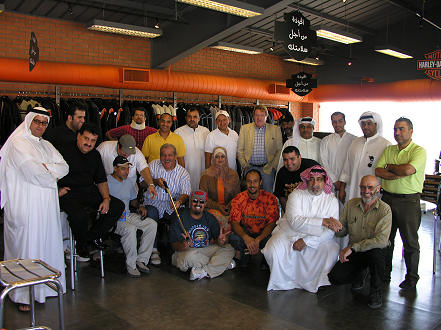 We, just Abu Ali and myself, have been eating outside in his garden as it is not considered proper for me, a non relative, to be staying within his house. Today though is Friday, and as we might have on a Sunday, the family over for a meal, so it is here. I was incredibly honoured to be invited to share lunch with the entire family, their weekly get together. Two traditional meals, one from Iran, the other from Kuwait, prepared by Abu Ali 's wife and served by the staff on a low table, with nine of us seated on the floor. Abu Ali was happy for me to photograph inside his magnificent house but asked that no family photos be placed on the internet for their privacy. What the west might still consider conservative values, Kuwait has adopted a more open, "worldly view" of the world in recent times. With a dust storm blowing through town we had a ride to the marina late afternoon, a photo session with the local motorcycle magazine, and another short ride to coffee, again about 20 motorcycles. The welcoming I have received here is unsurpassed on my travels. Having changed money on my arrival I have been unable to pay for anything, and have all but given up trying. Petrol and drinks flowing seemingly from some bottomless reservoir.
24/9/05 Apparently the Saudi Embassy is closed today for a holiday so it is another day before I get a chance to attempt a visa. Putting out feelers on my arrival for anyone with connections at the Embassy has brought many suggestions of possible ways of obtaining a visa. I have not wanted to approach the embassy directly in case of refusal, thus making further approaches from other sources less likely to succeed. This morning we went to a visa agency for his opinion. It will take a month to get a transit visa through them, if it is at all possible.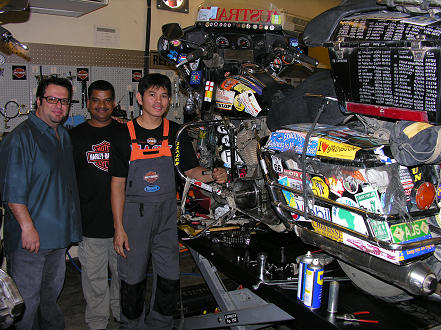 Over to the Harley Dealer where Harry, the manager, offered to do some work on the bike. I had asked for an oil change. Next time I looked the bike was apart, a new, slightly used carburettor, enricher cable, clutch cable, front brakes and rear brakes were being inspected, a new battery and the primary was apart as part of the generosity afforded me. Both the Arabic and English local newspapers had been invited to interview me at the Harley-Davidson shop and take photographs of the bike in the afternoon and then an invite to Talal's family home for a family get together and dinner. A male only gathering of about a dozen traditionally dressed Kuwaiti's. In a more traditional garden setting, on carpet covered benches, we sat sipping thick tea, sweet lemon tea and bitter coffee with great conversation before entering his family house for a meal. Sitting on the floor were three large platters of rice with a cooked, quarter sheep on top, so tender the meat pealed away from the bone. A few men gathered around each platter, and eating with t he right hand quickly had their fill, and were back out into the garden for more tea and conversation. I have met quite a lot of people from mixed parentage, usually British mothers and Kuwaiti fathers. A patrolinial society, requiring a Kuwaiti father to obtain Kuwaiti citizenship for the children, and all the financial benefits,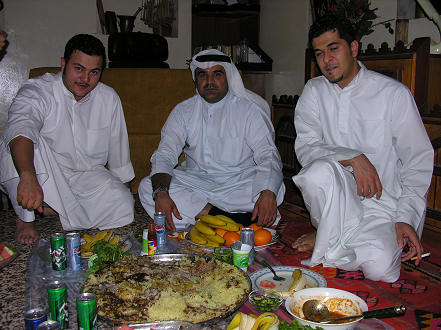 of which there are many, that go with that privilege. Pleasantly exhausted from a fast day of activities requiring more mental effort than physical I crashed about midnight.
25/9/05 I was taken to the Saudi Embassy this morning but we were not allowed to enter, being too late, apparently we needed to be there by 8 am to be allowed entry. The Saudi's are seen here as being difficult to deal with, the other Gulf States having liberalized their positions in the world recently regarding tourism and visitors from other countries. I no longer require a pre entry visa for any other country in the region. The rest of the day was spent at the Harley Dealership. Despite it being the beginning of the riding season as the weather cools from the summers highs of 55 degrees, and the workshop being extremely busy, work continued on my motorcycle as a priority. Monday is a motorcycle riding night and a small group assembled at Abu Ali's house for the hour or two before the ride for drinks and discussions. After a few days of hectic socializing I opted not to ride and have an early night. The roads in Kuwait are excellent, six or eight lanes, well signposted and fast. Driving is close and accidents common. I saw six accident results today. Not serious, normally tail ended, driving as close as a metre or two to the car in front at high speeds. The mobile phone, a constantly used accessory, a significant contributor to accidents.
26/9/05 My passport was collected by Jasam last evening and taken to the Saudi Embassy this morning. A friend of a friend arrangement, with nothing definite and it still might take a while.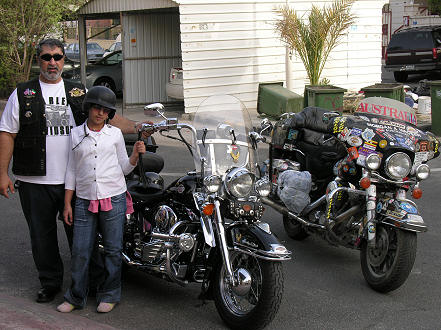 Part of the problem is the beginning or Ramadan in a weeks time. I relaxed at Abu Ali's house this morning, hoping my welcome here was not wearing thin after four days. Despite there only being a few roads out of the city, one each north, west and south, all flat, the highest hill in the country only 100 metres high, and great road surfaces, but straight and six or more lanes, the riders here ride a few times a week. Going to the same few places in turn, again tonight we headed south about 9 pm. Not just Harleys, BMW's and Hondas, even a Ducati, had a burger, coffee and a lot of cool evening conversation before heading back about 2 am. A charging problem with my bike had me needing a push start after refuelling and arriving back home with a flat battery and no light.

27/9/05 The regulator plugs connection pins had broken, and fitting the spare regulator solved the charging problem this morning. It was not envisioned that I would need to stay at Abu Ali's home for this long. Hospitality often diminishes as a visitor extends his stay, however nothing has changed here. In fact as Mr Abu Ali and I become more comfortable within our relationship of different cultures, we seem to be bonding more, opening up more on subjects earlier closed. Today after buying a new remote hard drive back up for my lap top, we were at the fish market looking for a local delicacy. Locally known as maid, but what I would call a small mullet, the oily fish is only eaten in the summer months and only hot off a barbecue plate.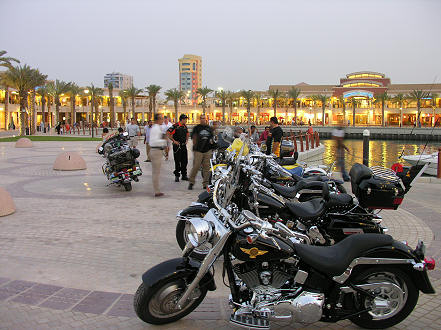 In his garage, on a small gas hot plate, his Bangladeshi assistant cooked dozens of the small fish, and we ate almost as many. Eating with our hands, removing the heads and sucking the juice, then eating the oily white flesh, leaving bones and skin before attacking another one. Served with white rice to help digest the oil, and salad, followed by deliciously fresh dates. An afternoon siesta, almost compulsory here as all shops close from 1 till 4 pm and lunch is the main meal. Some shopping for new shirts for me later in the day. Slightly embarrassed at the state of my dress, having only two faded shirts, bought in Thailand and now rotted from long hours sitting on the bike in the sun it was great to feel better dressed. The evening spent sitting outside with some of Abu Ali's motorcycle friends, local drinks, conversation, with it not winding up till after 1 am.
28/5/05 With the wait for an answer from the Saudi Embassy dragging on Abu Ali will not let me waste time and we were at a fibreglass place to get the left pannier, smashed in the accident in Afghanistan, repaired. Initially I had thought of buying a new pannier but reflected on the memories contained in the stickers and cracks the old one contained and decided that the recent accident and this repair would just add to the bikes memorabilia. The two tiered society here keeps prices low with labour oriented jobs reasonably economical. Product prices are also reasonable as there is almost no taxation or import duties as nothing is produced, other than oil, so there is no local industry to protect.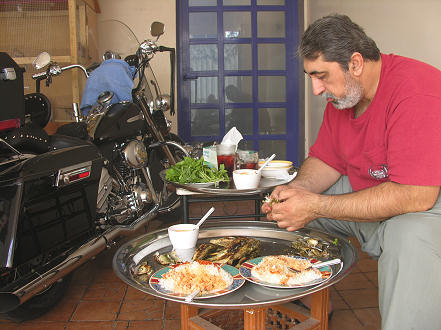 With oil revenues so high, and likely to continue, with 10% of the worlds oil and 150 yrs supply at the current pumping rate, there is really no need for the government to impose a sales or consumption tax. Most of the world has somewhat forgotten the events of 1990 when Iraq invaded and occupied Kuwait for six months, their minds more attuned to current events in Iraq. However the people of Kuwait do not have the luxury of forgetting so easily. Many lost their lives, their loved ones, their belongings, or at least their innocents. Whilst the country has been almost entirely rebuilt, some places have been left as museums so that the memory will continue forever. One such place was an ordinary house, where just hours before the allied invasion to free Kuwait, the resistance group of Al Messilah, was discovered by the Iraqi occupiers and most of its occupants, fired on by tanks and heavy artillery, were killed, three at the scene and nine later at the hands of the Iraqi's. Abu Ali, who knew personally some of those killed, took me to the memorial, a place he hasn't been emotionally able to visit for 10 years, a moving place for me, more so for him. Soon after the first gulf war, as part of the reconstruction, tree planting took on a high priority, the greening or Kuwait, and is continuing to spread throughout the city making it a more comfortable place. But with the enormous energy consumption, air conditioners, cars and radiated heat the city is five or more degrees hotter than the surrounding region.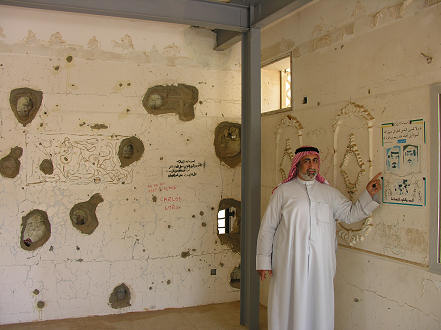 On rides in the evening we feel an abrupt drop in temperature hitting the desert, just on the cities edge.

29/9/05 I was informed last night that the Saudi Consul is unable to approve the visa application without authorization from the embassy section, which is where it has now been moved. People move here in groups. Young women and children do not move outside the family house without being escorted by parents or staff. I am also escorted, not sure why, but yesterday afternoon was the first time I could comfortably wander the suburb on my own. Even then I was initially followed by the male household staff, his concern I might get lost. I requested though to walk alone for a while. Looked after so thoroughly after such an independent last year travelling alone has had me pondering how much we give up the more we strive to make life easier, something everyone seems to do. Household appliances, both in the garden and home, save labour, as does the motor vehicle, but then have us jogging or at the gym to get exercise. Fast food take away's are too easy to consume, compared to home prepared meals and our weight suffers. Having other people do repairs for us removes us needing to know how something works and the skills to fix it, reducing our mental and dexterity diversity. It can be seen in Kuwait to the greatest effect where life is easy for nationals, with servants at home and cheap labour elsewhere, there is little need or incentive for hands on doing.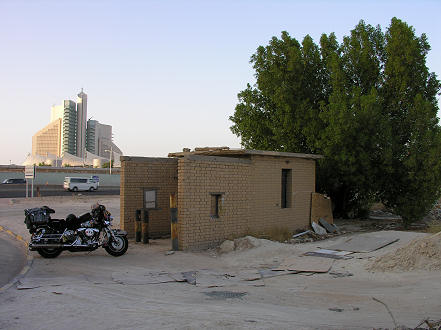 Decided to book a flight home, even though I am not sure in what country I will be leaving the bike at this stage. On the 15th October, 16 days away, from the UAE, somehow I will have to get there, by bike, boat or fly. The rest of the day spent cleaning and sorting luggage and spares, thinking of the next trip.

30/9/05 A couple of motorcycle world travellers that we have met along the way have later died in motorcycle accidents on their travels. Many others have been injured, some seriously. Many many more have finished their world trips without incident. Having had just one minor collision, recently, in Afghanistan, and one single vehicle, ours, dropped on asphalt on a railway crossing in rain in Brazil, we have been incredibly fortunate. The motorcycle has been dropped a couple of hundred times on dirt. We stopped counting after forty, crossing the Congo, with the mud. The motorcycle has always been able to be ridden away, and only one visit to a doctor as a result of an accident, four stitches to Kay's eyebrow after the fall in Brazil. Should I ultimately be killed along the way of this journey, there would be no regrets. Few people get an opportunity to experience the world in such a way. The experiences outweigh the ends. With Kay joining me on the next section, her injury would be shattering to me. Finished reorganizing and cleaning the bike contents before a ride into town to see Kuwaiti's at play on their holiday. The large seaside shopping mall could have been anywhere in the world other than the dress of its shoppers. Out for a family days shopping, the older women traditionally dressed in black, some with their faces covered, the men in white robes and head dress. One generation down has the women in brighter colours, still with a head scarf, but with multi layers of bright clothes and lace, men more western dressed.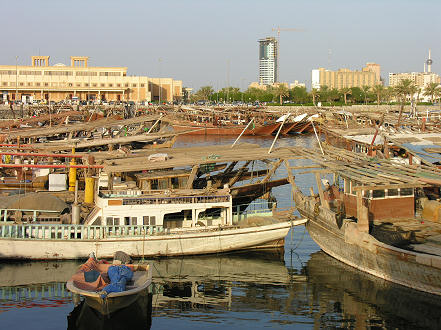 There is a total range of cultural dress, through to westerners in shorts and even a tank top or two. Dress here definitely dignifies its owners position. A traditionally dressed male carries a presence of power, both within a motor vehicle and in business dealings.

1/10/05 The left pannier was collected after its repair and holes redrilled ready for the new catch and lock Kay has arranged for me in Australia. I have now cleaned and sorted just about everything possible in the bike. Have updated the web page and processed all my photos. I have effectively run out of jobs to do. Kuwait is not such a large place to require an extended visit. Still no word on the Saudi visa. Despite my extended stay at Abu Ali's home, his tremendous hospitality has remained unchanged and I am still not permitted to buy anything. There can not be a more hospitable place in the world.

2/10/05 Whilst we are waiting for the Saudi's we are also looking at alternatives in case of refusal of a visa. Today we were at the port only to be told there is no boat to Bahrain, neither ferry nor cargo. An alternative earlier suggested was to have the bike road freighted through Saudi and me flying to Bahrain. An expensive process but perhaps the only option.

3/10/05 My options for continuing the trip from here are rapidly being squeezed. With less than ten days before I need to be in the UAE for a flight home I find out that the visa application has been referred to Riyadh for possible approval.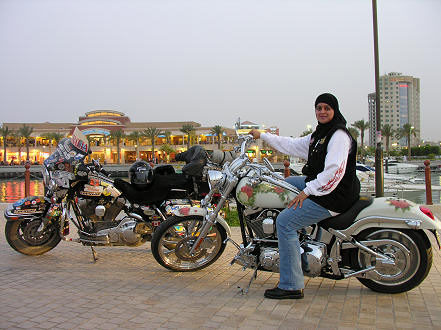 Ramadan also starts tomorrow. Working hours generally halve to four hours a day, things run slower and the rules are strict here and more so in Saudi. Here, anyone found eating, drinking or smoking in public, receives a $US 340 fine, and are imprisoned till the end of the month of Ramadan, certainly a deterrent. It has surprised me that for such a wealthy country, with everything available, unlimited imported staff, how inefficiently it sometimes runs. It was not till I considered that in the average countries population, 10% are probably good managers, 40% are good workers and the remaining 50% are probably less than average. In Kuwait, with 94% of Kuwaiti nationals employed in the government sector, inevitably many will come from the bottom 50%, and placed in supervisory roles will not have the qualities to produce an efficient workplace. I was taken for a breakfast ride on the corniche, a restaurant lunch, coffee at another place before an afternoon rest. The evening, another ride, again south, the only road out of town with decent places for a drink and food. Being one of only three alcohol free countries, Iran and Saudi Arabia the other two, devoid of discos, little mixing between the sexes, little variety of entertainment, in a small country surrounded by desert, life here can rapidly become repetitive. The riding was good in the cooler evening and the company excellent, not getting back to my bed till 2.30 am.

4/10/05 I advised Abu Ali that I did not want any prepared meals during the day, during Ramadan, as this would mean his Muslim staff and his family would be unnecessarily exposed to my food preparation whilst they were fasting. I could quietly snack in my room. He would not hear of this however, and insisted things would remain the same for my meals. The weather turned hot again and on a mid afternoon ride I wondered how people in this hot environment could fast without water for daylight hours. The ride ended as the sun set and the call to prayer sounded out over the suburbs from minarets across the city that it was time to prayer and time to start eating again.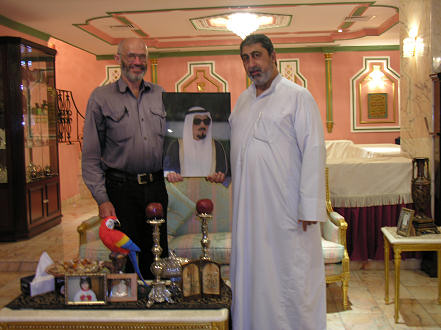 5/10/05 By the end of the day there was still no word from the Saudi embassy as we enter another weekend. I emailed a friend to try and change my flight out of the UAE from the 15th to the 20th, the absolutely last day for me to be home before a family reunion starts. Deadlines are the worst in these situations. Having a shopping list for renewable items for the next trip Abu Ali and I hit the shops, about the same price here as in Australia, and with plenty of waiting time it was something to do. Worked on the bike in the late afternoon, a couple of little jobs.

6/10/05 It is now the longest time I have spent in one place on the entire trip. Normally I can drop off the passport at an embassy or book a ticket and travel around the country whilst waiting. But with Kuwait so small and locked in there is nowhere to go whilst waiting. It is fortunate that the hospitality here compensates somewhat for the waiting. Talal invited me to his uncles house for the breaking of the fast feast at sunset. A dozen of his relatives congregate at his uncles home each evening during Ramadan. Again there were no women present at the dinner. A fairly normal meal, fish, meat, rice, with a few special delicacies. Another ride in the evening, south along the coast to a new mall, water fountains and live music entertain the late night goers. With almost all buildings and infrastructure in Kuwait built after the Gulf War the country has been booming bringing with it the normal problems associated with big money being spent in a short period of time. A society now with an emphasis on money and loosing a bit of its traditions. Caught between the past and future. Four people were hanged yesterday for trafficking in drugs, a more common crime in recent years. People are jailed for drinking in public but it seems tolerated in the home. Women narrowly missed getting the vote a few years ago and are still not readily welcomed in male arenas.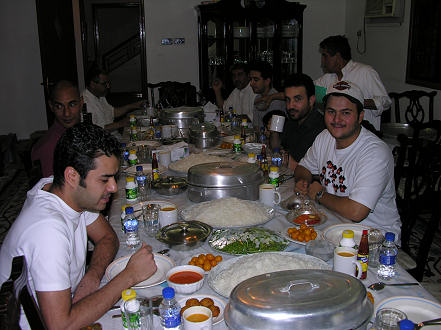 7/10/05 Kuwait has more oil than water. Desalination plants now give the city enough water for comfort. Waste water is recycled and used for the new greening of Kuwait. With Ramadan well underway the city is now into the familiar pattern. The streets are empty in the minutes leading up to sunset, with people visiting family. The evenings come alive at about 9.00 pm when restaurants and coffee shops do a roaring trade and people shop for presents for the festive end of Ramadan. This lasts well into the early hours of morning when before sunrise people sleep. A late start with offices not opening till 10 am or later, only remaining open for four hours, possibly an afternoon siesta and it starts all over again. The bikers meet afternoons at about 4 pm as the weather cools before heading home. Many later come by Abu Ali's home, like this evening, and we sit outside talking of bikes, trips, politics and religion, politely till early morning.

8/10/05 I only just found out that Australia has recently opened an embassy in Kuwait. This morning I talked to the ambassador to see if he could help me speed up my Saudi visa application. He took my details and promised to assist where he could, but stopped short of asking them directly for assistance because of difficulties that might occur with a return of the favour. Abu Ali and Basal, generously offered to trailer my motorcycle to Bahrain, 500 km through Saudi, with me flying, if a visa was not issued in time. Again an amazing part of the hospitality I am still receiving here. Although the Harley-Davidson dealer here has only been opened for six years its adoption by locals is spreading rapidly. The big bikes are being personalized to the extreme with bolt on modifications.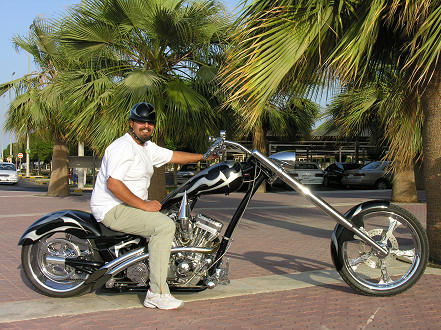 The first chopper arrived last year from the USA, and one in kit form was assembled in a new shop this year. As the country accepts more and more western liberation the construction of personalized bikes looks set to grow.

9/10/05 In the early hours of this morning my passport was returned. It was considered that it would not progress further at the Saudi embassy and was withdrawn. Often they don't outright refuse applications, but merely sit on them till the applicant runs out of time or patience. Another visit to the Australian embassy was polite and helpful but they were unable to assist with the Saudi visa. If I could have got residency status here or an invitation from a Saudi company there should have been no problem with a visa. With more time that is what I will work on whilst at home for a couple of months. A flight booked to Bahrain in two days time and the bike will be trucked there the following day, hopefully. Third world nations have health problems brought about by hard work and too little or the wrong foods. First world nations seem to also have large health problems, but this time brought about by too much of the wrong food and lack of physical work or exercise. The middle ground seems to win again.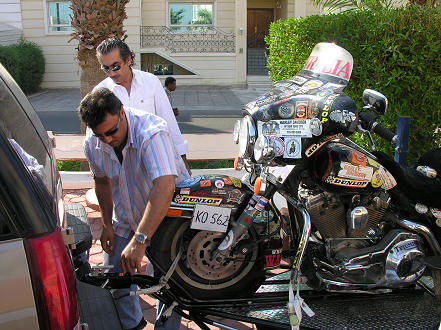 10/10/05 Basal, whose car and trailer was to be used to transport the bike through Saudi was in hospital this morning with low blood pressure and would be unable to take the bike tomorrow. Abu Ali quickly found another willing person with a car for the 1000 km return journey. Documentation allowing him to transport my bike was prepared and on an evening ride I said good bye to the bikers of Kuwait.

11/10/05 Emotional farewells to Abu Ali's family after my, almost three week, stay. The bike had left on the trailer at 3.00 pm and I flew out for Bahrain at 6.00 not knowing if it had cleared customs into Saudi or if it would be stranded at the border. Abu Ali had not let me pay for anything whilst in Kuwait. I had been fed, housed, and the bike refuelled without being able to dig into my pocket, and was reprimanded if I tried. The Harley-Davidson shop took a similar approach to my repairs, even apologizing for not being able to do more as the bike was older than the shop and therefore limited in spares for it. Kuwait is generally an expensive country, similar to Europe or the USA for food and accommodation but I will always remember it as the most hospitable country, and for me, the most economical country I have visited.



Move with me to Bahrain