Travel in Kiribati on a Harley-Davidson
By Peter & Kay Forwood
Kiribati on a Harley (13/12/07 - 21/12/07)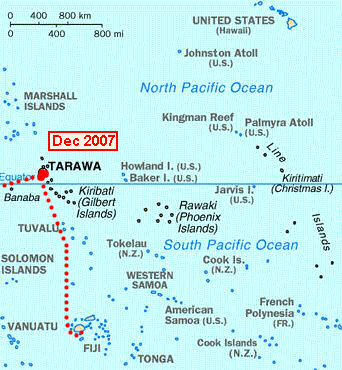 Distance 123 km (500375 km to 500498 km)
This is part of the fourteenth section of our around the world trip.
Complete Trip Overview & Map
Coming from Fiji

13/12/07 The plane left Fiji at 7.30 am, an early start. An uneventful three hour flight and Air Pacific had us landing in Kiribati, just north of the equator. It seemed all the island was out to welcome the flight's arrival, held back by the airport fence, and with relatively easy formalities immigration gave us just a two week entry, tied to our onward ticket which was checked thoroughly. There were quite a number of white faces on the flight but all were met by friends, business partners or their missions. We were the only tourists we saw and without a hotel booking were approached by a representative from the Otintaai Hotel with an offer of transport and a discounted room. The Tarawa atoll houses about half of Kiribati's 100,000 population strung out along its long narrow strip of land where the road is rarely out of sight of either ocean or lagoon on one side.

14/12/07 We had visited the nearby airline booking office yesterday afternoon to see if there were any flights to the Marshall Islands. No luck. Air Marshall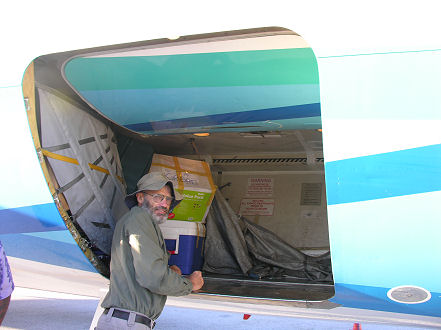 used to fly but stopped the route when a couple of pilots quit and they ran short of planes. Air Nauru also used to do this route but the government airline wasn't paying its bill and its one aeroplane was repossessed. Air Nauru is now back flying as Our Airline but no longer goes to Marshall Islands. So we felt stuck, the only option to return to Fiji for an onward flight to Samoa, until the booking office owner advised of a special charter flight from Nauru to Marshall Islands on the 28th of December. If we could put the motorcycle onto the flight we could visit Nauru on its weekly flight from Kiribati on the 21st and then fly on to Marshall Islands. We had rejected the proposal of flying the motorcycle on 737's before because air freight companies advised the cargo door was too small to handle the motorcycle. But, as you can at a small country's airport, we walked out onto the airstrip this morning to measure the cargo door of the Our Airline's flight at 6am, after it had arrived from Nauru, the once weekly flight we might be taking next Friday. The cargo door is just 90cm high and 120cm wide, turning the motorcycle inside the aeroplane might also be a problem, as the cargo door is near the front end of the plane where it narrows, however we calculated if we remove the front wheel, the rear carry box, loosen the handlebars, by lying it on its side, it could fit, and by removing the panniers, it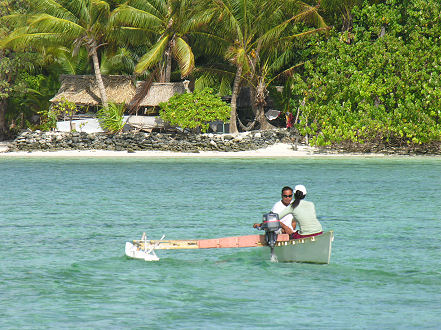 should reduce the weight to about 300kg, as it has to be human lifted into the plane. The plan is to also dismantle the shipping crate and fly it with the bike to be used for future shippings. That was all thought through by 9am and we caught a public minibus along the 30km's road to Betio, the port, where the incredibly helpful port authority prepared paperwork, helped at customs, and after much discussion with special approval from the finance department, they allowed the motorcycle's entry for a week without needing to put up a refundable bond. The motorcycle's shipping container had only arrived this morning and the "Kiribati Chief" was still unloading offshore, the port is too shallow for it to come alongside and the containers needed to be barged to the wharf. Our container was lifted down from a stack, the doors opened and there was the motorcycle right in front, as promised by Williams and Gosling, but on top of it were boxes of heavy bibles, pushing the top of the crate out of shape and ended up denting the tank slightly, another trip memory. We had the crate opened just in time for customs to inspect the motorcycle's panniers before weekend closing time and rode out into Kiribati an hour later, after reassembling the motorcycle, its 181st country.

15/12/07 The V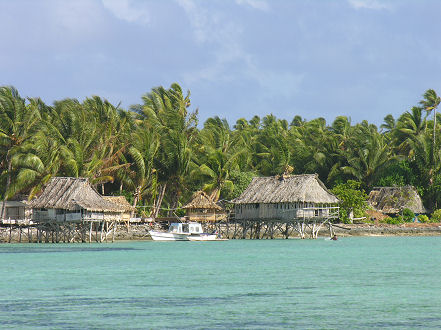 shape land area that makes up the Tarawa atoll stretches for over 80 km's in its ribbon across the ocean. South Tarawa's islands are connected by man made causeways, a bridge and then heading more onto Northern Tarawa people catch an outrigger canoe, modernised by an outboard motor, in the adaptation of old and new technologies, or walk at low tide, starting the series of smaller and more remote islands heading further north. The population is concentrated to the south, people coming in from more remote atolls looking for better prospects in life, but putting pressure on water and food supplies. We rode as far north as possible, sat and watched people net fishing, rode around the airport to the Taiwan gardens where fresh, mostly green vegetables are grown as a community education project. The only other supplies of fresh foods come in on the same ship as our motorcycle, normally monthly but this time it was almost six weeks since the last boat, so there was a bit of a luxury of oranges and pears for sale today.

16/12/07 The three Pacific island countries we have visited are vastly different. Fiji's Indian population along with traditional give an unusual mix of cultures. Tuvalu's size and isolation has kept many of its traditions observable in everyday life. Kiribati's, much larger island and community has also kept traditions but seemingly a poorer nation, traditional building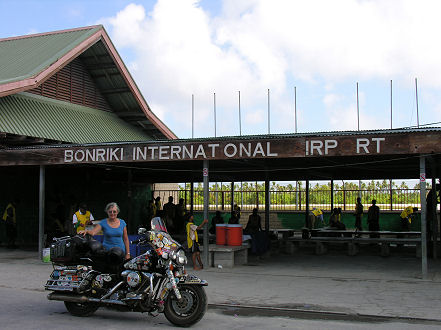 and sleeping dwellings still remain dominant. Still haven't seen another tourist. Many people are here on a mission, whether it is religion, Peace Corp., NGO, donor projects, they all seem to be keeping the country going, in whatever direction? Sunday today, and quiet. Back to the book writing, pondering news on the chances of our onward flight to Nauru, and small motorcycle maintenance.

17/12/07 Pacific World Travel is trying to look after all our onward travel movements, motorcycle flight, our flight, and our visas for Nauru as well as onward from there to the Marshall Islands. This morning, Monday, there was no progress as a response to their request for information from Nauru had not been received. We went ahead with the plan of still flying there in four days time, no option, and had the motorcycle's shipping crate collected from the port and taken to our hotel. Also picked up a 2.4m x 1.2m sheet of plywood, cut it into lengths, to help with loading the motorcycle onto the plane, and to spread the motorcycle's footprint on the cargo hold floor as it won't be crated. We have a pretty generous reserve of cash we normally carry but not anticipating two onward flights we were at the bank trying to get more. The maximum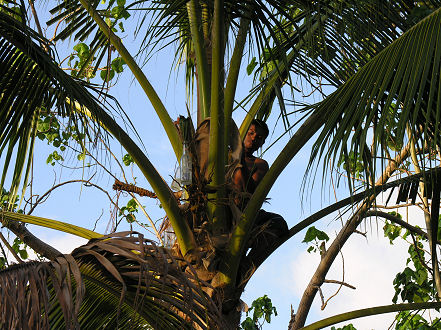 ATM withdrawal on either debit or credit card in Kiribati is A$ 200.00, an expensive, repetitive process to take out a few thousand dollars, and only two of the five ATM's on the island are currently working, our mobile phone doesn't work here and the government seems to have a monopoly on internet use, Skype (internet phone), is banned as it was affecting telecom revenues. Part of our problem is Nauru, the latest information we have is that there is currently no operating bank, no foreign exchange, no ATM, bring in any money needed.

18/12/07 By days end not a lot had been achieved. There was no concrete reply from Nauru regarding our visas. We did however get a confirmed price for our flights, to Nauru, $US 255.00 each, then to Majuro $US 170.00 each, quite an amazingly reasonable price considering comparable airfares in the region. The motorcycle should go for about $US 630.00 for each leg, including the packed down crate, also reasonable. Some slow internet, Christmas emails, and planning. Kiribati straddles the equator, and also straddles the, 180 degree, international date line, its vast expanse of islands and water covering their intersection. Until 1st of January 1995 it was the only continuous country trying to operate on different days of the week, separated by
the date line, when the government decided to move the date line eastwards to give the country one date, meaning the 31st of December 1994 disappeared from eastern Kiribati's history, it never existed. Eastern Kiribati now breaks each new day first in the world, an hour earlier than any other country, and even though you might fly west to Samoa you end up arriving a day earlier than leaving Christmas Island on Kiribati.

19/12/07 We were at the airport at 7.30am for the one day late flight from Fiji to talk with customs officials regarding exporting the motorcycle. An easy going process, one form, signed in quadruplicate, and the paperwork was done. The helpful Pacific World Travel agent here phoned the travel agent in Nauru chasing up our visa applications, the only sticking point to at least attempting the flight. It had not yet been approved. Nauru is the only Pacific country that Australians now need a visa to visit. Nauru gained a lot of bad publicity over the boat "refugees" that Australia rescued and housed on the island. Immigration procedures were tightened to discourage media and protesters. Visas are not issued by their embassies, they only have a couple, a pre approval letter must be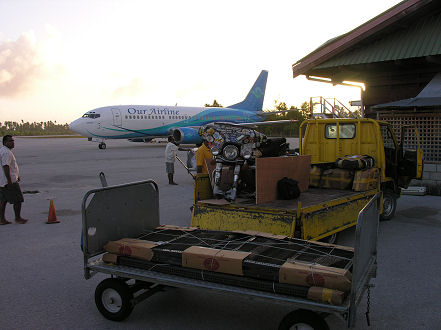 received directly from Nauru's immigration before flying. With only 40 hours till the weekly flight and we were told to check back tomorrow. Continued with our preparations to go. The metal crate was disassembled and roped together in two packages. Panniers, windscreen and luggage box was removed, battery disconnected, and we wait.

20/12/07 More attempts at phoning Nauru over our visas started at 11am and continued all day. There are limited lines into the country. It wasn't till 3.58 pm that an email was received giving approval to ticket us, visas would be issued on arrival. The semi rush started, booking the motorcycle freight, dangerous goods certificate, tickets to Nauru and onwards to Majuro in the Marshall Islands. The office staff were to take the company truck to town, an hour away, for Christmas shopping, then the motorcycle would be loaded on their return at 7.30pm, by 9.30pm, island time taken into account, they were late, the truck returned at 11.30pm and under the headlight of a motorcycle we loaded the motorcycle, now stripped down and ready for a 5am departure.

21/12/07 When the truck driver hadn't arrived at 5.15am I walked to the office and woke him. Not sure why, but he asked me to drive the truck to the
airport, he rode in the back, where, after flight check in we wandered around, both sides of security, waiting for the Our Airline flight, which arrived at 6.50am. The truck, not allowed to be driven to within three metres of the aeroplane had to be pushed closer, by hand. A last minute change by the captain, to put the motorcycle in the rear luggage compartment rather than the front, meant a quick rethink, and loading the rear of the motorcycle first, not the front, and with about half a dozen staff it was manually lifted and squeezed in, the fairing scraping the door as it entered. Unable to sit upright, it rested at about a 45 degree angle. A small amount of oil from the gearbox leaked when the motorcycle was turned a bit upside down, cardboard packaging absorbed most of it, but otherwise the whole procedure went smoothly and we flew out, the aircraft spending only 50 minutes on the ground.

Move with us to Nauru