Travel Through Kenya on a Harley-Davidson
By Peter & Kay Forwood
Kenya on a Harley (12/1/00 - 24/1/00)
Distance 1546 km (174146 km to 175692 km)
This is part of the Sixth section of our around the world trip.
Complete Trip Overview & Map
Coming from Ethiopia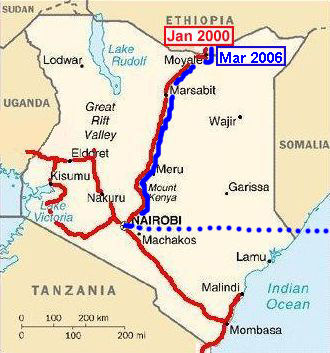 12/1/00 Kenya officials easy, again one hour but only because the immigration official was "in a meeting" and had stayed in Moyale for the night.
13/1/00 The next 500 km is dirt, rumoured to be impassable in the wet and hell in the dry. Because of previous banditry and some killings (mainly of opposing tribal groups) a truck convoy leaves each morning at 9.00 am with an armed guard. The first 125 km being the dangerous section. We left at 7.00 am to be sure of making the 250 km to Marsabit before dark, there having been no recent attacks and tourists are not generally targeted. Also we managed to see hyena, lesser kudu, monkey, dik-dik, and dozens of different birds in the early morning. There are three small wayside stops available for tea or a coke. One 80 km out and the next a further 45 km or half way. To here in the dry the road is quite good, 40-60 km/hr with some sections still completely chopped up by trucks from previous wet periods. From half way almost to Marsabit the road is shit, not overly difficult, just a pain in the bum, either steep sided corrugated washboard or rocky ruts. Travel here at 30-40 km/hr with stones constantly being flicked up by the front wheel to pepper the underneath of the motorcycle. Another wayside stop about 50 km before Marsabit.
14/1/00 Thought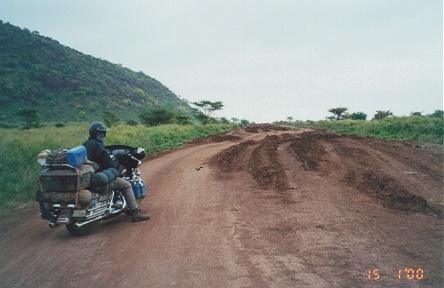 we would have a rest but a local guide nabbed us taking us to the large volcanic crater, now treed and grassed and a local village to see inside a grass and mud hut. At the end of our 14 km walk we were not rested.
15/1/00 Leaving at 6.30 am we had squirrels, hare and a greater kudu cross our path. From the beginning till almost Isiolo we passed through Samburu territory, (closely related to the Masai) those tall elegant tribes people, traditionally dressed, warriors with long finely braided hair and women's heads shaved, both using beads for decoration, men carrying spears and clubs, women the calabash, a carved root container used for milk sometimes mixed with cattle blood on special occasions. Both sexes carry out traditional circumcision, men at ten years, women at marrying. We stopped many times to interact, nearer the towns they wanted money, because missionaries hand out money they see all white people as being a similar source. More into the bush where many men would be tending cattle and goat herds they were just as interested in seeing the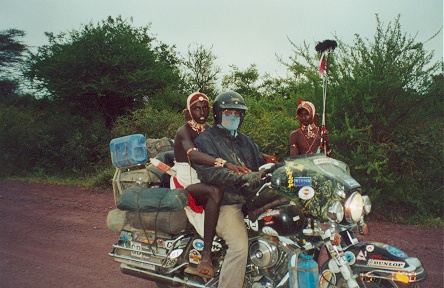 motorcycle as we were in seeing them. The 260 km better than the first section, most at 40-60 km/hr with slower areas where the road was completely destroyed during previously wet seasons. I would hate to be on this road if there had been any rain.
16/1/00 Into Nairobi, past Mt. Kenya, Africa's second largest mountain, across the equator to the southern hemisphere and driving on the left and a change from desert tribal Africa to broad acre farming. We could be in Australia, eucalyptus, some pine trees, wire fencing, merino sheep and wheat fields, but blink and you are in a township of small acreage's and tin shed houses, roadside stalls, children sniffing glue and last nights drunks still reeking.
17/1/00 More overland motorcycle travellers than we have seen before, mostly waiting for parts, friends or resting. A Dane on a KTM, two Germans on a Suzuki and a Honda, a Belgian couple on a BMW GS 1100, a French couple on an Africa Twin and two Slovakians on a Moto Guzzi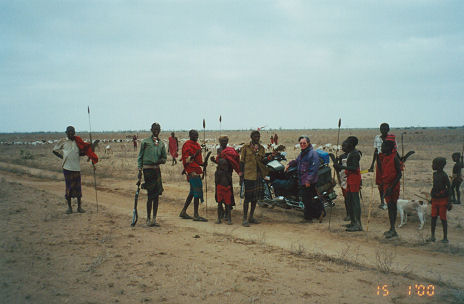 (who had just left) but had crossed from West Africa by road. Nairobi is no picture city, modern buildings surrounded by dirty streets, western prices at third world quality, fat and wealthy people with hundreds of down and out glue sniffing children, but it is the main city between Cairo and Johannesburg, taking on the worst of Africa and the worst of the west.
18/1/00 More visas, Tanzania and Uganda both issued same day and for three months, internet, more talk and planning next trip from the East to West Africa, the problem, Congo Zaire. Visited their embassy to find out what is the current area that is held by the rebels but they were not that helpful, actually found out more information from the Ugandan Embassy as they support the rebels fighting in the North East. Both embassies considered it dangerous and unpredictable at the moment.
19/1/00 Two more motorcycles arrived, one from the South having travelled Lake Tanganyika to Kigoma where we hope to travel next trip and one from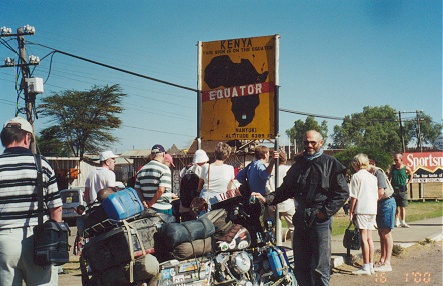 the Central African Republic through the Rebel held section of Congo Zaire to Uganda. Difficult but possible. Follow the bicycle tracks, those carrying petrol to towns along the way, no roads but bicycle tracks, no bridges just dug out canoes, something to look forward to next trip. Re-welded and strengthened two more pannier supports and extended where the stand spring attaches. When the motorcycle bottoms out it often hits the stand spring stretching it. So we welded a long piece of metal with holes so we can continue to stretch the extended spring.
20/1/00 Kenya's national park entry fees are mostly around $US 25.00 a day each person to each park. On a budget and on an all of Africa tour we have become very choosy. Sellers of safari tours are everywhere in Nairobi and as we headed off the plateau and onto the plains we passed dozens of minibus safari tour groups heading towards and away from the Masai Mara Reserve, Kenya's most popular. But after we had ridden only 50 km onto the plains there were zebra, hartebeest, gazelle,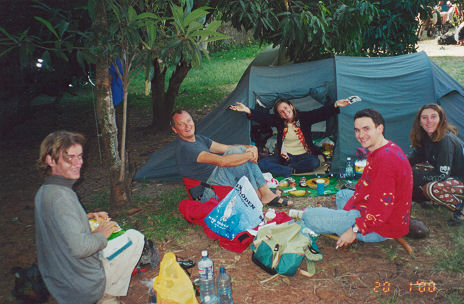 ostrich and one giraffe wandering in scrubby bush land just off the road. Masai people, with their bright red robes were tending cattle in the same area. We rode through the grassland to see closer and the almost unperturbed animals grazed on. Further along the road two lesser cats crossed and about 40 km short of Masai Mara Reserve thousands of zebra and wildebeest grazed either side of the road again near the cattle and Masai people. We were amazed to see such numbers of wild animals outside the park grazing open range with the domesticated stock. Camped just outside the park at the Masai run Oloolaimutiak Camp.
21/1/00 Motorcycles and walking people are not allowed inside most African parks because of the danger of attack by animals. Having seen many animals outside the park we decided to follow a small dirt track from the eastern gate through to Musiara Gate at the western side of the park. The track lies just outside the park to Talek Gate but soon after enters through an unmanned gate travelling up to 5 km inside the park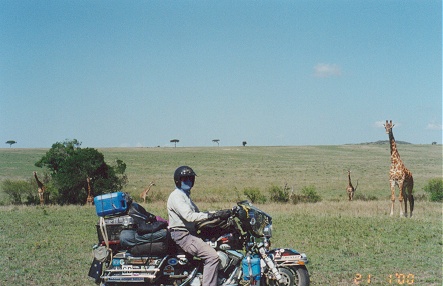 for about 15 km. We had to leave the park through the manned Musiara Gate and when friendly and politely questioned we explained where we had come from and that we were heading for Kisii and exited without problems. We saw none of the big cats, luckily!!, although we watched carefully, but the sheer numbers of grazing animals, in their thousands, everything we had seen before and more, particularly near water half way, two lots of giraffe seven and nine, at close range, impala, eland, topi, vervet monkeys, baboons and warthog. After leaving the park, and heading up onto the escarpment, crossing the Mara River there were five hippopotamus wallowing the waters just below the bridge. Overnighted in Kisii.
22/1/00 We are in the famous tea growing area of Kenya yet a bigger industry here seems to be religion, with every form of Christianity, Islam and Evangelist fighting to save souls, churches, schools, hospitals, hotels all bearing the names of religious groups. We arrived at the eastern side of Lake Victoria with its floating islands of hyacinths and grasses. Its fishermen
in dhows or open canoes. Its reedy lined banks where hippopotamus can be heard but not seen. Camped lakeside to a magnificent sunset surrounded by tropical thunderstorms, and ate fresh lake fish before the onset of the evening mosquitoes.
23/1/00 At times the oppressive attention the motorcycle and we draw gets to us. We can better understand movie stars, royalty and famous people wanting to escape the paparazzi, fans and media. In the highly populated region we are in, particularly on a Sunday, we cannot find anywhere to be alone. Policemen stop us, people yell to get our attention, cars overtake slow down and overtake again. We stop and are surrounded. The usual questions of where are you from, going to, how many cc's, etc. have to be answered because they speak English here. It's almost easier in a non English speaking country. They don't understand your shortness or rudeness having done this 1000 times before, for them it's unique. We needed a rest and Kakamega Forest Reserve, in the middle of all these people a haven of green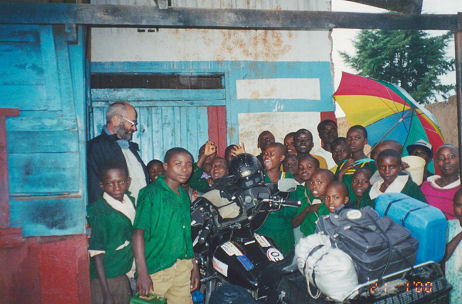 grass, trees and the occasional monkey. Finally in isolation we could rest.
24/1/00 Away from it all in the only rain forest left in Kenya. A guided tour of the tree species and monkeys in early morning before the Uganda border.

Move with us to Uganda, or go to our next visit to Kenya