Travel Through Japan on a Harley-Davidson
By Peter & Kay Forwood
Japan on a Harley (29/3/05 - 14/5/05)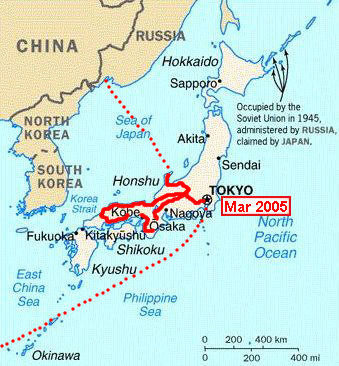 Distance 3670 km (415658 km to 419328 km)
This is part of the eleventh section of my around the world trip.
Complete Trip Overview & Map
Coming from Thailand


29/3/05 I had met Timon in Africa, Uganda. He was on a six month overland truck trip from the south through to Europe. We had met the truck a couple of times and by co-incidence five years later he stumbled across our web page and generously invited me to stay where he is now, in Tokyo. The easy flight on China Airlines (Taiwan), Narita Airport Express train, change of trains and a reasonable walk had me at his apartment in almost central Tokyo late evening. The stories of Japanese running on time true, the train to the minute leaving each station on schedule. The stories of clean and orderly also true. Not a piece of litter to be seen, almost no-one talking on the trains, no-one smoking or eating whilst walking about, an unhurried progress of people and vehicles.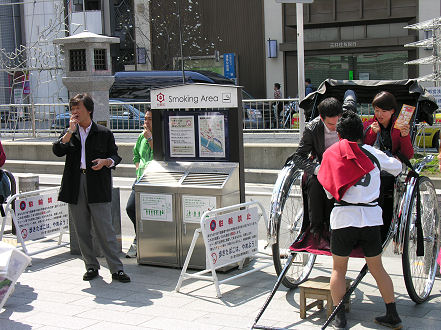 30/3/05 Despite over 12 million people living in Tokyo, viewed from any one position it doesn't look like a big city. Most buildings are not tall, there seems to be no city centre, just a sprawling metropolis linked by over a dozen subway lines and a few above ground railways. Traffic moves freely and quietly or is it because I have just left Bangkok. Catching trains everywhere I managed to visit the tourist office, get the Carnet's finishing approval at JAF, pay the $US 170.00 (it's Tokyo) unloading and unstuffing fee to the shipping agent for the motorcycle (ready in two days), found out I could have it in Tokyo, as it was actually shipped here and not to Yokohama, a real bonus. Picked up a parcel of winter clothes sent from Australia, grocery shopped, and even managed a couple of Belgian beers with Timon and his girl friend at a small local pub in the evening. During the day I needed to ask directions numerous times, which train, which direction, and was
surprised with the number of English speakers, each helpful to extreme, one man walking half a km with me to the correct subway line, insisted on buying me a ticket and ensuring I was on the correct platform. They were even patient listening to my bad pronunciations of the place I was looking for.
31/3/05 Sightseeing and absorbing the different culture. It is amazing how this culture has evolved so differently from other Asian societies in the region. Already I am finding the blank, almost expressionless faces, as people robotically move about the city on a work day, a little disquieting. The public chatter, laughter and bantering, that I am used to in Asia, not here. The gaiety of children, not visible in the city. Uniforms abound, bland mono colours, pressed and new, like a wardrobe for a 1950's movie scene, not a thread out of place. Occasionally a group of university students will rebel, eat and smoke in the street, even when walking, sometimes laughing, dresses as outlandishly as possible, bright colours, even the hair, but the society will have them in the black suits, if they want a job on graduation.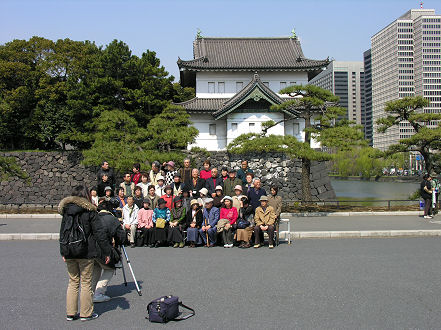 The unhurried short stature of office seekers easily breaks into a quick Asian shuffle when necessary to catch a train or pedestrian crossing. It's the cherry blossom season and cyprus pollen season, many people wearing face masks to keep away allergies, equally as many congested in the head, a cold, spread easily from the close living and commuter trains. I visited the Royal Palace area and its East Garden. A popular spot for Japanese tourists, bus groups, the plum and cherry blossom just beginning, photographers shooting the first buds. One of the many large parks in a city of compaction.
1/4/05 Chris has a great web page on Japanese information for bikers entering or leaving Japan. http://www2.gol.com/users/chrisl/japan He offered to assist me clear the bike through customs. Speaking excellent Japanese (he is a translator) the process was relatively simple, though tedious, as things can be here. The exact law that allows customs to permit the bikes entry needed to be located, its reference quoted, before the carnet could be stamped. At the freight forwarders office, hard hats had to be worn inside the perimeter fence, the bike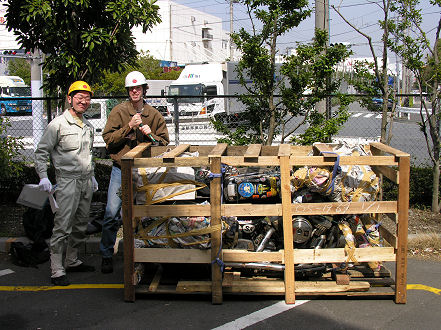 unpacked and reassembled, without much interest from the other job oriented workers. A fee of $US 30.00 was negotiated by Chris after an initial request for $US 50.00 to dispose of the crate residue. It was mid afternoon before we rode away only to be stopped by police within ten minutes for "almost" being in a turning lane when we were going straight. I can see my other Asian driving style will have to be adjusted, they have police here who do policing. A polite short lecture and we were allowed to go. At Chris's suggestion I bought third party insurance, probably a good idea in this country, easily obtained at motorcycle shops and reasonably priced at $US 60.00 for two months.
2/4/05 Kay and I have been discussing our situation recently and thought it a good idea to travel Japan together for a while. She will be flying into Kyoto on the 10th April for a month. The train station at Shinjuku has 2 million people pass through it each day. The business and consumer centre of Tokyo or Japan. Home to the most upmarket shops, where uniform dressed young girls bow a welcoming at each door to each shopper.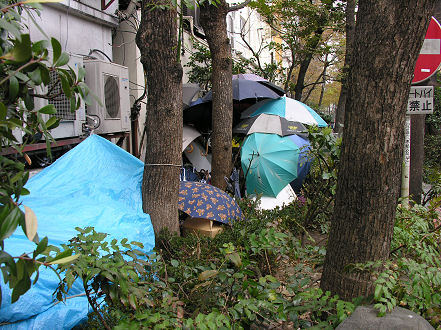 Where shop assistants stand rigid in their aisles, bowing as you pass. The overstaffing extending to parking and taxi attendants, yes flamboyantly uniformed, including white gloves, worn also by police and taxi drivers, performing their tediously monotonous job of directing traffic and door opening with great gusto. Just around the corner is the other extreme, the Kings Cross or Pat Pong of Tokyo. Peep shows, strip dancers, small bars and street people, huddling under tarpaulins or even a tent of umbrellas. I moved on to Harajuku, where the pimply faced age group compete to see who can wear the most outlandish mix and match of colours and styles of clothing. The area where rigid Japan can be opposed, at least on weekends. Nearby is the Meiji shrine, a popular place for wedding photos, traditionally geisha dressed brides join with families for photos. A quiet place of gardens not far from the above weekend extremes.
3/4/05 The Ueno region of Tokyo still has a small part of the older tradition. Cramped shops in and around the pillars of the suspended railway sell cheaper produce. The nearby parks on Sunday in cherry blossom season has thousands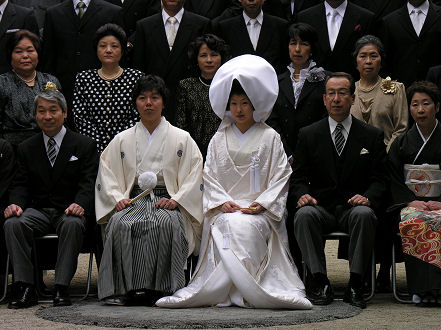 of picnickers sitting on tarpaulins eating and particularly drinking, beer and sake, to a happy excess, larger groups from work, even traditional music from the three stringed shamisen was being played. The cherry blossoms only last a week, this being its peak, celebrated for its beauty, the beginning of spring and its proximity to Buddha's birthday the 8th April. The Asakusa region, the old centre of Tokyo has the Senso-ju Shrine. Volunteer guides take Sunday tours, the original shrine destroyed, like many others, in the 2nd world war, rebuilt to the same design to lesser quality. The narrow street between small speciality local product shops packed with visitors. Japan has a predominantly local tourist industry, only 6 million foreign visitors a year.
4/4/05 With the bike and me ready to move on it was raining this morning after a cold change came through last night. But by 11 am it cleared enough to start moving. The choice of expressways at $US 0.18 cents a km or roads with constant traffic lights difficult. The first hour completed just 28 km, still in Tokyo the second hour another 26 km. Route 20 finally left behind the suburbs and entered beautiful mountains sprinkled with spring snow from last nights cold change.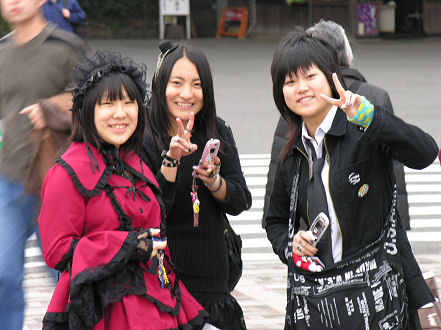 Whilst the traffic lights were generally left behind the speed didn't increase as the winding road, twisting, had conservative speeds of 30-40 km/hr posted, in fact through the whole day the maximum speed allowed was only 50 km/hr. By 4 pm I had covered only 130 km when Mt Fuji came into view. Fully exposed in afternoon light dominating the skyline. I took a room in a cheap hotel, local style, tatami mat floor (woven mat) futon bed and low table with cushions. Shared bath, and I mean shared, one large bathroom for each sex, eight spigots for sitting and washing and a large tub, 4x3 metres, for soaking after washing, all dressed in your birthday suit. The view from both the bath and my room out over Mt Fuji. I soaked and watched the suns rays slowly disappear from the snowy slopes.
5/4/05 The shoe shuffle. Street shoes are removed, replaced by hotel provided slippers, which in turn are removed before stepping onto the tatami mat in your room. The slippers are again replaced with wooded clogs in the toilet area. A yukata (dressing gown) is supplied along with a small modesty towel for the bathroom.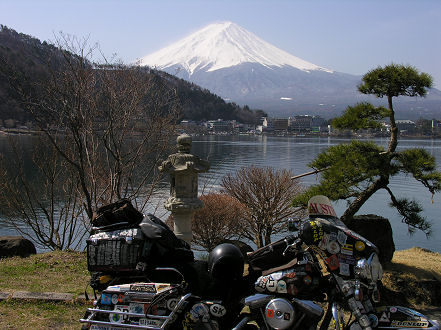 Green seaweed tea, pot and thermos, in a lacquer ware box contrast the only modern conveniences of a television and telephone. I had been hanging around the bathing room like a pervert hoping to see how the Japanese bathed, to no avail, three baths and pruned and I am none the wiser. The hotel has a few guests, either they don't bathe or I got the times wrong. With Mt Fuji never disappearing all day I rode around two of the areas five lakes, picnicked on their shores, checked out the amazing array of Japanese style prepared foods in the supermarket and ate dinner at a small bench style restaurant over a bottle of cold sake. The food here is so varied, reasonably priced by western standards, that in the six week visit I don't think I will have the same dish twice.
6/4/05 Again I awoke to the view of Mt Fuji and a balmy spring sunny day. The traffic a little faster but could still only average 40 km/hr on the way to Matsumoto, riding the valley between snow capped mountains a lot of the way. The castle of Matsumoto is one of only four in the country to have survived, now declared a national treasure. In the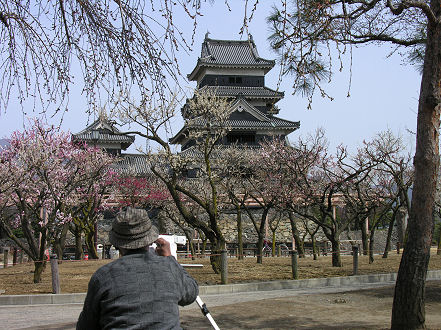 middle of a modern town it is surrounded by a moat and gardens from the 16th century. It is rarely I talk of food so extensively in my diary but as like a lot of Japanese culture it is unique and varied. A small sushi restaurant near to my ryokan (traditional homestay accommodation) was empty of other diners. The family owners went to great lengths to show me the correct way to eat sushi with hands and chopsticks, over a couple of beers and seaweed tea. Such delicacies as fish stomach, baby squid (5cm long, head and tentacles) raw tuna, raw adult squid, raw fish, cucumber and rice wrapped in seaweed, cooked shrimp on rice and others I couldn't identify were all enjoyed.
7/4/05 Japan being the second largest economy after the USA, and wealthy, demands products not available elsewhere in the world. As such they produce many unique items, some later filter through to other countries, others because of local culture remain in Japan and others disappear as they didn't work in either place. The ultra small car market here in vast contrast to the individuality of SUV's (big macho vehicles) has a variety of functional yet aesthetically devoid cars. The "cube" motorcar, is just that, a box on wheels. Dozens of different styles of motorcycle, some as simple,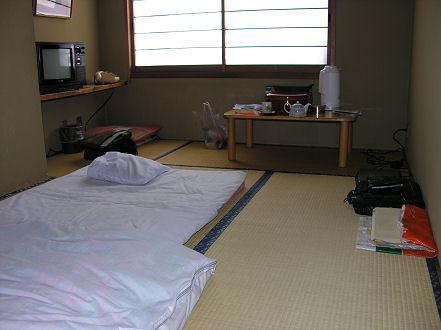 yet practical, looking like 1920's era, others with dual rear wheels gyroscopically attached to the front half, the rider tilting in corners but the rear with engine remains vertical. A hand basin over the toilet cistern runs automatically when flushed, using the same water to wash hands for the next flush. Local inventions that only local disposable wealth can allow to be developed. The onsens (mineral hot spring spa) at Bessho have been used as public baths since the 12th Century. 50 km away by narrow mountain road through pine and birch forests there are three public spa plus many others attached to hotels. After a morning bath at my ryokan and two onsens in Bessho I was again incredibly clean. This time at least there were enough Japanese bathers for me to unobtrusively learn part of the art of public washing. Using only a small (hand towel size) towel for token modesty, and to dry yourself like a chamois, first a rinse, at least the groin area, sometimes a shave and full wash, before entering the main bath, then a return to a low stool at a spiggot for a full soap or wash, if not previously performed, a return to the bath, after a thorough rinse. Great variations of the time spent oscillating between baths or washing. Returned to Matsumoto in more balmy spring weather.
8/4/05 The Edo period from 1600 to the mid 1800's had Edo (now Tokyo) as the capital moving it from Kyoto. Trade continued between the two cities along the post road, in the Kiso Valley where a few towns that prospered during that time have been restored and are kept as working tourist towns. Most of the old buildings are pretty original, now converted to shops selling local souvenirs or foods. I visited Narai and Tsumago, separated by the Torii Pass, another scenic mountain road. Covering just 120 km today by mid afternoon I looked for a campground. The complex at Kisaji Land, a full on resort, had sites for $US 45.00, I declined, and found a small side road into the forest beside a stream to wild camp. Although a sunny day, the temperature dropped by early evening for a cold night and morning.
9/4/05 Japan is a controlled environment. Water courses are dammed, even small creeks for no obvious reason. Mountain sides are concreted over to prevent land slippage, trees are planted in monocultures in the mountains, in towns they are pruned at great detail to desired shapes,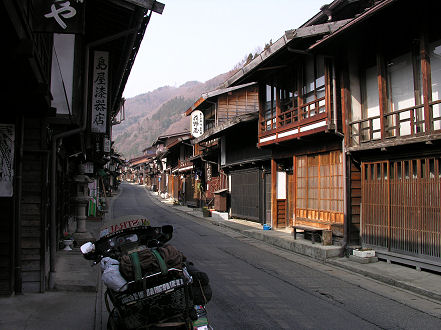 vines terraced over carports and bonzai'd. Part of the culture or part of the make up of the people is their attention to detail, to do things just correctly every time is seen in the perfection and cleanliness everywhere. Tourist offices are near the train stations in most towns, making it easy to ask directions, they book accommodation and give town maps, and good directions. It is an easy place to travel. Inuyama with its castle, Japans oldest, on a cherry blossom Saturday is packed with locals out enjoying spring sunshine. Originally built in 1440, using interlocking timbers that move, thus preventing damage during earth quakes, and with a private volunteer guide I explored the castle and a ceremonial tea house nearby, it being about 400 yrs old.
10/4/05 Service in Japan is legendary, the welcoming in a restaurant to the refilling of your glass of water, bringing of the bill and in your hotel, attentiveness to your needs. Yet tipping is unheard of. It seems to controvene the theory that tipping brings better service as nowhere have I had better service, most genuine hospitality than in Japan. Early morning Sunday traffic was light, only a few trucks, into Kyoto by 11 am, easy to negotiate with most signs almost everywhere in Japan in both Japanese and English.
Kay's plane arrived at 7.15pm and she was at Kyoto train station by 9.30, our dormitory bed accommodation, all we could find in Kyoto, not the best first night after not seeing each other in almost four months, a lot to discuss and talking to catch up on.
11/4/05 There is little individual responsibility seen in Japan. The collective group making most decisions. Even when asking for directions, workmates or other passers by will be enlisted for opinions. Individuality is discouraged and conformity to rules the norm. Traffic lights dictate when to move in a vehicle and when to walk on the street. Doors of trains and lifts and shops open automatically, signs inform everyone of what they can and can't do where and when. This has created an overly cautious society, driving slow to the extent of indecision and more near miss accidents than I see elsewhere. Concentration needs are reduced when driving and with frequent stopping at traffic lights the mind wanders. Most vehicles are local movement, short distances, driven by the predominantly elderly population. I prefer the unregulated societies of individual responsibility to drive in. Visited two temples, both under renovation, with enormous steel buildings constructed around the original wooden building for the work. One is the largest wooden temple in the world,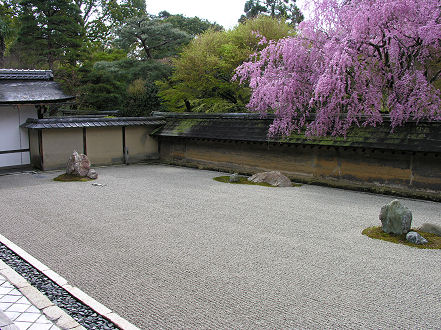 huge trees used as support beams, decorated carvings, gilded, all to the worship of Buddha. Two competing sects at Nishi and Higashi Hongan-ji. Also a walk in the Imperial Palace Park, downtown Kyoto's covered markets, and the narrow restaurant and bar streets of Ponto-cha into the evening. Pavement pounded feet, tired, we returned to the hostel late.
12/4/05 It rained all day, a good day to not pound the streets and parks. Relaxed near the hostel.
13/4/05 One of the many sects of Buddhism is the Rinzai school of Zen and Ryoan-ji has the archtypical Zen garden. A collection of 15 rocks set in a raked garden of white stones without a plant. Designed to enhance meditation, the austerity removing any semblance of beauty for my liking. The surrounding lake and garden bursting into spring more appealing. The large Imperial Palace Park has two walled in areas, the Kyoto Gosho and the Sento Gosho. The latter a magnificent Japanese style garden of lakes, stone bridges, mossy banks, Japanese maple trees bursting in spring and cherry blossom now snowing their petals.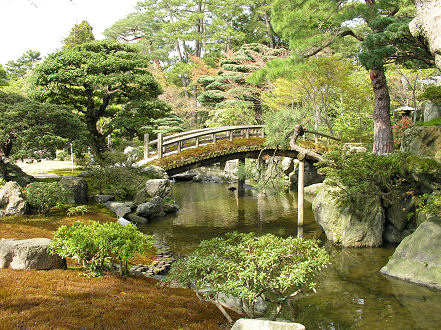 There are so many attractions in the old capital of Kyoto that the whole holiday of many tourists is based from there.
14/4/05 Usually a day trip from Kyoto, Nara, Japan's first real capital is the beginning of our trip south, so with the motorcycle overloaded with all the luxury extras that a single rider can enjoy plus the minimum requirements a woman needs for a month joining him, we rode all of 45 km to Nara and in true Japanese traffic it took 90 minutes. The main attraction is Todai-ji, the largest wooden building in the world yet only two thirds the size of its predecessor which burnt down. The newer building almost 300 yrs old, built to house a 16 metre high, 440 ton bronze buddha. A walk through the surrounding parks and up the backdrop hillside, for views overlooking Nara and its many temples, with tame deer grazing, on a sunny afternoon, a great way to extricate us from temple viewing, bringing us back to the present day Japan.
15/4/05 Despite high levels of service the rules are laid down to work within. Most accommodation has a check out at 10 am, and check in after 4 pm. Whilst those staying more than one night can usually remain in their room between these hours, few do. No staff are visible other than cleaners, no services available.
Rainy days, or arriving in a city drenched off a motorcycle and having to wait till 4 pm would be no fun. We took a day off, our room overlooking a lovely Japanese garden courtyard in crisp sunshine. A time to relax in each others company.
16/4/05 Some of the original rulers of Japan were buried in large earthen mounds starting in the 3rd century, one supposed to have moved more earth than the largest pyramid. Open to the public they look just like large hills, a museum is the best way to grasp their size. Today was spent between a couple of mounds and Japans top cherry blossom destination of Yoshino. The season almost over didn't deter the crowds whose cars remained stationary along the 6 km road to the small town. Motorcycles passed easily the stationary vehicles whose occupants seemed unperterbed at waiting for hours in their cars, eating lunch, chatting. We had a brief final look at the cherry blossoms, before heading further south towards Koya-san to wild camp in the forest.
17/4/05 A magnificent clear sky spoilt only by the motorcycle and car enthusiasts roaring up and down the mountain road most of the night.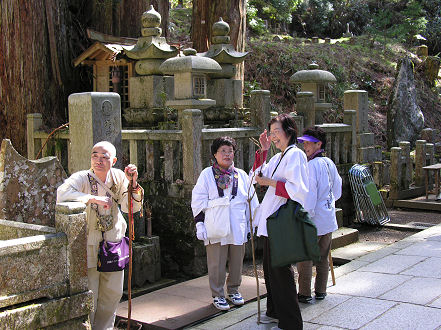 Sandwiched between using tollways, arrow straight or traffic lighted town roads to be able to be on a mountain road without traffic too tempting for those in the latest sports cars and road racing motorcycles. Koya-san is a monastic complex with over 100 temples. Founded in 816 AD its fortunes have fluctuated with up to 1500 temples at one time. The Buddhists temples bring in over a million faithful each year, the cemetery of half a million tombs, beautifully set amongst enormous cyprus trees a big attraction along with its lanterned temple. Many people, as we are, stay at a temple for a night to experience the lifestyle and vegetarian foods. Now big business, most temples have banded together, fixed prices. But a few lesser ones, where we are staying, remain relatively inexpensive but I still wonder as to the balance of dollars versus the faith.
18/4/05 Many Japanese seem to be in a perpetual state of Tai Chi, slow purposeful movements from one action to the next, without jerkiness or fumbling. Watching them eat breakfast at the monastery, slow and graceful, sitting cross legged or on their heels, on the floor with a thin cushion. We were up at 6 am, the morning service at 6.30, a small temple, full of charms and rituals to please their deity or bring good fortune and health.
Then a ride, 110 km, no traffic, through the mountains to the coast at Shirahama, famous for its outdoor onsen. Hot mineral water flows from a hill in town right next to a rocky headland where male and female baths have been constructed in natural surroundings. Naked in the elements watching the waves and ships pass, oscillating from hot or cool baths, lying on flat rocks a great way to spend an hours relaxation. New foods still tempting us. An evening at an Izakoya, tiny pub, sake and beer with small dishes available, seaweed, octopus and squid, instead of the western peanuts, served with the drinks. Sea snails with the second round. Small fish, different seaweed, bacon tasting desert, just items plucked from the Japanese only menu. The smallest establishments, where few if any foreigners are seen, are the most enjoyable. Polite helping and joint laughing at our non understanding of how to eat each dish correctly. Regular patrons assist with instructions and generously often buy a small favourite dish of theirs for us to try, or a refill of sake, no common language not a barrier. Different accommodation type, a home stay, less rules, Japanese style rooms, mineral hot spring bath, right near the towns beach. Whilst Japan is expensive, the range of new experiences available easily compensates.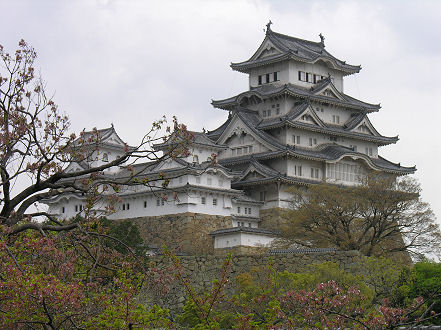 19/4/05 270 km's, through Osaka, following the coast road almost all the way to Himeji, arriving at 3.30pm, eight hours, just too late to visit the castle, so we found a spot to camp the night, in the middle of town, alongside a river, used as a recreation area in summer, people walking their dogs late into the evening with no-one seemingly concerned with our presence.
20/4/05 The warm weather changed cool in the middle of the night, rain early morning, the cheap Thailand bought tent leaked and at 5.30 we packed up in light rain moving to a train subway commuter restaurant for breakfast. Himeji castle is claimed to be Japan's finest. Over 400 yrs old, built of huge timbers and grey tiled roof it stands on a hill overlooking the town. An enormous structure, beautiful even in the rain. The weather didn't improve, and after a couple of hours outstaying our welcome in a cheap eatery and McDonalds we took the cheapest hotel in town, still $US 83.00, and waited for the 3 pm check in to dry out the bedding.
Move with us to the next section of Japan