Travel Through Indonesia on a Harley-Davidson
By Peter Forwood
Indonesia on a Harley (11/2/96 - 3/4/96)
Distance 5973 km (27000 km to 32973 km)
This is part of the first section of our around the world trip.
Complete Trip Overview & Map
Coming from Australia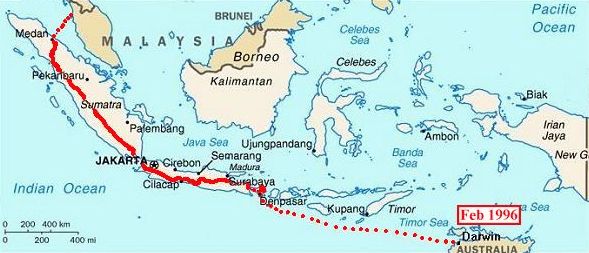 I was straight off the plane and ushered into the immigration office. Apparently I was supposed to have an onward ticket to prove that I would be eventually leaving Indonesia. What? A boat ticket to leave Sumatra, impossible to obtain from Australia or anywhere in Indonesia other than at the departure point. I was informed then that I will have to buy an airline ticket to anywhere before I can enter the country. Having been in this situation before I didn't need to be a genius to understand that this was a request for an exchange of financial gratuity, but being western I am also opposed to bribing officials. So it was the old I-can-sit-you-out-longer-than-you-can-sit-me-out. After about five minutes of polite agreeance with everything the official said but doing nothing, and him realizing that he was losing business as other potential customers were being funnelled to his counterpart in the next office, he grudgingly stamped my passport with a brief lecture not to do it again and I was free, well at least I was in Indonesia.
On leaving the airport the old familiar Indonesia refreshed my memory. I have been here twice before and it wasn't long before the smells, morning mosque calls and traffic brought it all back.
As expected the bike was not available for collection until 9 am Monday and there I was waiting on the doorstep at 9 am. I could see it still bubble wrapped, but not for another three hours could I ride away. Apart from the expectation again of gratuity, and again refusal, the procedure was easy. Mind you I did have a carnet and a letter from the local Director of Customs to say that I could import the bike. A very helpful letter indeed.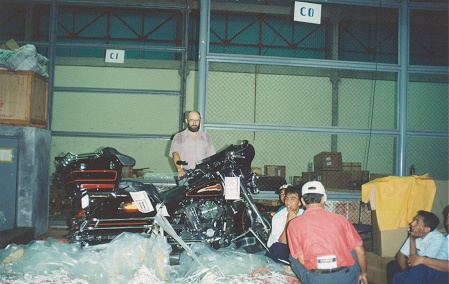 Now the first ride. If you don't know what a Harley-Davidson Electraglide Classic is then picture this. A 375 kg bike, fully loaded, all black and shiny, not new but lovingly maintained without a scratch, being let loose on the streets of an Asian traffic nightmare. A bike designed for the touring roads of USA, Europe or Australia. A bike designed to move freely and not lumber in traffic. You ask why did I bring it here? Well, it is on the way to the USA by land, and if I want to get there, I have to go here. Bursting from customs into the traffic in the pouring rain was indeed a fair test of concentration for a person who last rode the deserted highways of Australia. Stop start, riding the clutch and not travelling over 50 km/hr were the norm. Distances between bikes, cars and trucks either going in your direction or oncoming were frighteningly close, and to top it all off I was stopped twice by policemen within the first 60 km of riding. Well I guess the bike was a bit unusual, and I guess they just wanted a look, or some money, but if I was to be stopped every 30 km for my entire journey in Indonesia it would be frustrating to say the least. The reasoning for stopping me, no front number plate, check papers, it didn't really matter.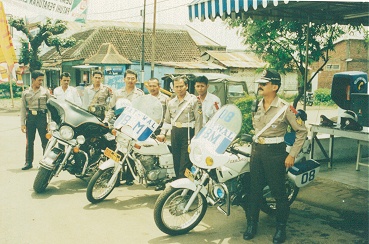 Nice slow look at the bike, check of documents that they couldn't read, talk of trip to the police station, and after curiosity satisfied and no possibility of financial gain I was allowed to depart. It was at this time I decided not to see another policeman while in Indonesia. I wasn't silly, I did see roadblocks, but policemen at booths and on the roadside waving red flags were just out of my sight. Whilst this might sound dangerous, to me there was no choice, everyone in Indonesia wanted to see the bike, and I simply didn't have time to show all 190 million of them.
As luck would have it, after touring for a few hours and getting totally lost, I finally found my way back to Kuta Beach and a cheap hotel (A$6) that happened to be locally known as Harley-Davidson. That is because the owner has three Harleys and the deaf mute working there has tattooed his chest with a Harley American Eagle. This guy had two old Wla's from the war and a 1992 Ultra. The owner described to me the rules for big bikes in Indonesia. A big bike here is one over 250 cc. Well you can't register them. You can only ride them on club events with special permits and a police escort. It was now that I realized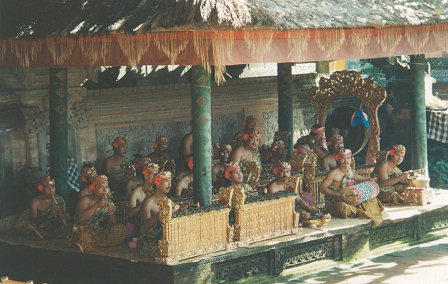 whilst customs had allowed me to import the bike I was probably not allowed to ride it in Indonesia. Rather a daunting discovery for someone planning a 6000 km journey across the country. Money and ingenuity had solved the problem for the H.D.C.I. (Harley Davidson Club Indonesia) Bali Chapter, at least while they were riding on Bali. You see the police having only small Hondas couldn't catch the Harleys but if the police had bigger bikes. Well the H.D.C.I. of 70 members bought two new Harley Roadkings for the Police Dept and two for the Military Police and were issued with special permits to ride at any time on Bali. That didn't solve my problem however, which I just ignored for the entire trip without consequences. In fact once out of the more touristy areas and into Indonesia "proper", I received friendly, helpful and courteous treatment from the authorities and at times even salutes from the police.
To venture out into the countryside of Bali was the next step, hopefully without getting lost, Lake Batur about 90 km north the overnight destination. First stop Balinese dancing and a test for the bike's security. I had installed a burglar alarm and other anti theft devices hopefully to keep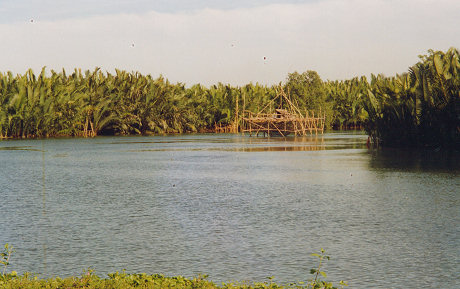 my bike safe but also to keep my carnet deposit safe. The bike valued at A$20,000 and the carnet bond of A$28,500 was more than I could afford to lose. However my concerns soon moved away from outright theft to loving damage. The bike had some theft test devices hanging from it. It had a flag and a bedroll, both expendable, to see if they would be stolen. On the entire journey these remained exposed, day and night, and are still with me. But the problem was the need for the locals to look, then touch, then sit and fiddle with everything. The unintentional damage from fiddling became the major concern. The inevitable scratches of rings and shoes being dragged across the tank or panniers. You cannot blame the Indonesians as their culture allows this, but at times it was frustrating and a solution was needed to minimize the damage. For short stops in view, the remote control alarm. Don't touch or you activate the alarm. No language barrier problems getting the message across to understand that signal. And for longer stops, out of sight, the bike cover just seems to make the bike vanish. One minute there are fifty people looking and touching and the next it is gone and so are they. This was to be the ritual for the rest of the journey.
Heading into Lake Batur there is an amazing road built across the lava flows of a recent volcanic eruption. The road hasn't been excavated nor filled but follows the contours of the lava as it finally cooled. This is obviously no highway but nor are any other roads around Bali. Through to the north coast the next morning and east to Candi Desa. The road again bumpy but without the hectic traffic and speeds of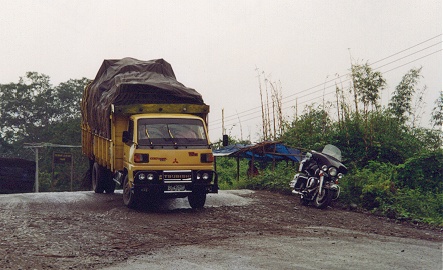 60 km/hr could be reached without bouncing me out of the seat. The road winds up through the mountains of terraced rice paddies before returning to the coast.
On this section was my first encounter with a situation that was to plague me for the rest of the trip. Not only in Indonesia but also in Malaysia and particularly in Thailand. The road racers. Generally 13-18 yr old males riding motorbikes of 100-150cc. Probably no license and definitely no riding lessons. Upon seeing a larger bike, either on the straight or on a windy road, would need to express their manhood by challenging the larger motorbike to a race, drag, or feat of stupidity. Ignoring the situation was the only course of action, even though I was often tempted, but to have contributed to a possible accident or death of these helmetless kids by in any way encouraging or participating in their stupidity would be hard to live with. There seemed to be an endless supply of them and almost everyday I was goaded to participate.
The same day I also learnt that it was going to be difficult to stop and watch the locals at work, in the fields or making crafts, as they also would stop their work to look at the bike. Here I could not use the bike cover to deter them and settled for a fair exchange of cultures where they would observe the bike for a time and then I would observe their work for a time. Whilst in a hurry at times it did seem an eternity that they could look at the bike and their return to work was slow. As in the west any excuse for a work break will be snapped up.
Two nights at Candi Desa just relaxing on the beach and learning about how the Indonesian system of employment in tourist towns works. For any one person actually employed there may be one or more hanger on. People working for nothing but one meal a day and a place to lie down at night. These runners fill the needs of tourists hoping to gain some commission or tips for service. Generally young men hoping to get a real job if one becomes available. They normally go home for the harvest season to their village.
Back to Kuta Beach and I now realized that the first thing anyone learns in school is the "you have got your headlight on" gesture. Travelling with the headlight on, in Australia, is compulsory but in Indonesia only official vehicles (and Australian Harleys) ride with headlights on. Therefore everyone from 4 yr. olds to 84 yr. olds want to tell you, and do. It does have its advantages though, at least you know everyone sees you coming and hopefully it will be safer.
Leaving Kuta Beach for the second time, this time for Java via Bedugal and the North coast before heading West to Java.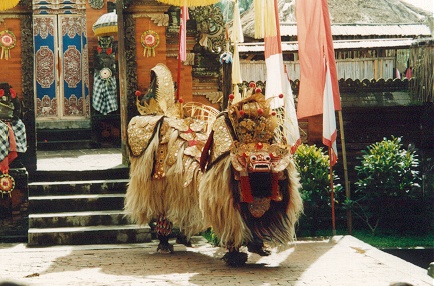 I have decided to travel early in the mornings thus avoiding some of the worst traffic, heat of the day and hopefully finishing before the wet season downpour that seems to occur every afternoon between 2-4 o'clock. However it decided to also rain on this morning, I forgot that tropical rain is also at night and usually clears early morning which is what happened. You forget how cold it can get in the tropics up in the mountains. Down to the northern beach of Lovina where backpackers who want to get away from Bali go when they are on Bali. You realize how difficult life can be for some when (while lying on the beach) you are approached by a 14 yr. old boy selling drinks and ice creams. He will run and buy what you want at the nearby shop. Not unusual except that his mark-up is 14 cents per item and unless he makes at least 60 cents he will not cover his bus fare for the 20 miles trip home and will have to sleep on the beach.
By this time the budget is starting to develop shape. It appears about A$6 is about average for a room with a bed. Quite comfortable, no bathroom attached and no hot water, but this is a budget trip. Food around A$7 a day, eating at small restaurants and small street stalls. Petrol is only A45c litre and a couple of dollars a day is usually enough. That leaves some for sightseeing or a beer from the A$20 a day budget. No unleaded petrol unfortunately but the super is super and I envisage no problems with it and indeed had none. The food was a different matter. As always when I travel to so called third world countries, I eat and drink virtually everything and inevitably get sick. But I only get sick once a trip. This time I was only 5 days into the trip, developed stomach problems, had a fever and took antibiotics, all over in two days and did not get sick again this trip.
Off to Gilimanuk and my first and the bike's first ferry ride. Over to Java. Naturally I didn't know where I was going and ended up in the wrong place. But everyone's so friendly they let me park the bike there and get a ticket from where I should have been. Just A$1 for both the bike and I to cross between Bali and Java. What a bargain. The ferry was a roll on roll off and only takes twenty minutes, crammed with all sorts of vehicles.
One Island down and two to go, albeit a slightly bigger island. Having just left the Hindu Island of Bali I am now confronted by the Muslim Island of Java and at the end of Ramadan, and the beginning of Idil Fitri. Ramadan is a Muslim fast, lasting for one month, where no food or drink may be consumed between sunrise and sunset. It is followed by three days of celebration when everyone in the country seems to be travelling. 50% of Jakarta's population is reported to leave the city and visit their villages during this holiday. A time when there is limited accommodation. Hence a stint in Baluran National Park would suit. Situated just north of the crossing from Bali the road in was a bit ordinary. One of the few times I would like to have had a dirt bike. 15 km of potholes at 20 km per hour. Worth the trip though when it opened onto a mangrove flat with grey monkeys, herds of red deer, wild pig and plenty of birds.
It was here that I first learnt, from a group of holidaying Chinese Indonesians, what having a motorcycle accident in Indonesia meant. Foreigners are always in the wrong. The logic. Well if you hadn't come to our country then the accident wouldn't have occurred, therefore you must have caused it. It may not sound reasonable but it is very hard to argue against. Solution, don't have an accident.
Up to Jember today, through Situbondo, Pasir Putih and Bondawoso. A long day but I am learning to ride in Java. Totally different from Bali. Here the traffic, and I mean traffic, moves quickly, and if you don't move quickly you get carried in its path, literally. The best way is to follow a road sweeper. A fast moving truck or bus clearing both oncoming and same direction traffic in its path, and yours. About 100 metres behind seems to work. Only disadvantage is the diesel fumes. Later as I became more confident and could judge mirror heights better (you need to judge that your mirrors will pass either above or below the mirrors of other vehicles otherwise there isn't enough width to pass) I ventured out front but could only travel about 10 km/hr faster than their fastest vehicle. Otherwise oncoming vehicles couldn't judge my speed. Vehicles don't go that fast here!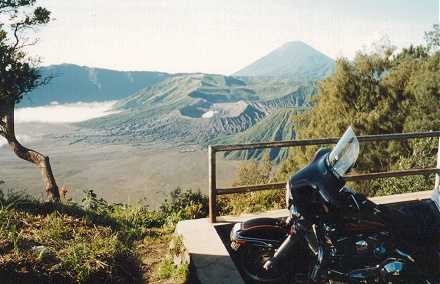 Its always a buzz, it doesn't matter how low you might start the day, once you are on the road with the cool morning air, magnificent mountain scenery, looks from intrigued people, with surprise on their faces (as if a spaceship had landed) the world feels at your feet. You feel on top of the world for a while. The ride to Mt. Bromo via Probolingo was such a ride. The last section, up the mountain, 30 km, through the hand built, terraced and tilled vegetable fields. All lush green with the wet season. Onto the crater rim and looking down into a 20 km diameter volcanic crater. So large that there are three mountains inside, one is still an active volcano.
Getting lost is easy, but getting found is also easy. There is always someone to ask, and willing to help, and if you just stand around someone who speaks some English will come up to see if they can help. Know your "Selamats". Selamat pagi-Good morning and Selamat siang-Good afternoon. Have the name of the town written down and if your pronunciation is as bad as mine show the written word. Terima kasih - Thank you, and you're off again. Often some of the best rides are when you are lost. I would tell you about the best road in Indonesia if only I knew where it was, but being lost at the time I don't know where it is.
Certainly the best experience I had on a bike in Indonesia was riding across the "sea of sand". That is to ride down into the Bromo crater onto the floor of ash. This ash is trickier than riding on sand. It is deceptively deep in places, and I got bogged once. The fog had rolled in and I was all alone in a moonscape environment. You could hear the horses and voices just out of sight. It took about 30 mins to reverse the bike out of the sand on my own. Sticking more to the tracks now, I crossed the crater and up the other side for the best views in Indonesia.
Knowing now that by selecting secondary roads to avoid the worst of the traffic, I am also selecting the windy roads most suitable for motorbikes. In fact this is the first time I have worn out the outside edges of my rear tyre rather than the centre. Heading now for Pasuruan and Surabaya I was forced to join the main highway. 30 km/hr tops. I only stayed because the freeway was only a short distance ahead. But, too late, I find out motorcycles are not allowed on freeways over here. Initial anger followed by frustration. But as the majority of motorcycles can't obtain freeway speeds it's probably safest. Can't face another two hours in this traffic to get to Surabaya so I hung a left to Malang making a mental note to do the same miss with Jakarta when I get closer.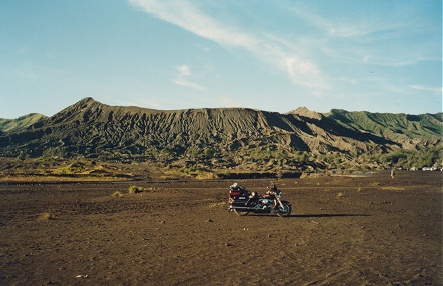 The Idil Fitri holiday seems to be extendable like our Christmas holidays. Whole families of three generations and maybe 30 people will be travelling in a few Kijang's (like a four wheel drive). They are surprised and a little concerned at my travelling alone. Admiration, yes, but also sorrow that I have no-one to travel with. The thought that I have no family with me, so important here. Here people don't travel alone and rarely less than three. The choice to travel alone is not understood.
Having covered 2000 km in Indonesia I feel I am now qualified to describe the traffic. On the roads travelling in both directions are, pedestrians, cyclists, man drawn carts, horse drawn carts, motor cyclists, becak, small and large cars, trucks and inter city buses. Apart from the normal hazards of animals. All travelling at different speeds. Isaac Newton's laws of relativity are no match with the Indonesians ability to judge relative velocity on the roads. You may have up to six vehicles coming towards you spread over the road all in various stages of overtaking whilst you are also six wide heading towards them also in various stages of overtaking. Travelling at up to 70 km/hr some how all vehicles manage to merge without deviating from their general direction or speed. This is obviously very dangerous but to drive like we do in the west would simply stop the traffic dead. Once accustomed to the traffic, driving becomes almost enjoyable and always challenging.
I headed over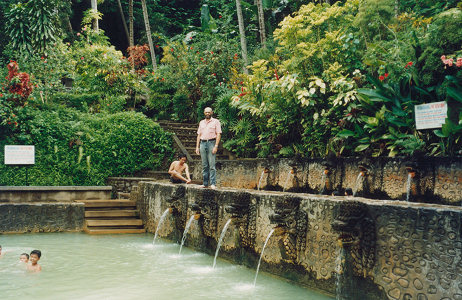 the mountains into Surakarta (Solo). I do like the roads criss-crossing North to South over the mountains. Rising from wetland rice, to hillside vegetables, up into the tropical rain forest and clouds of building thunderstorms. Arriving in the late evening, against my wishes, and in pouring rain. Drenched and waiting at a set of lights, again lost. The motorcyclist next to me offered to lead me to my Losmen (backpackers). The place was unknown to him, requiring directions twice before we finally arrived. This man rode in the pouring rain at night to guide me, expecting nothing in return. Someone I met at the traffic lights. A true indication of the friendliness of the Indonesian people. Indonesia 96
Solo is very touristy, albeit tastefully so, and it was here that the first offer of a ride on my bike was accepted. I had offered in the past but the offers were never accepted. The people either being too shy or too frightened. The offer was accepted by a 21 yr. old university student, who being on holidays was prepared to travel with me as a guide for food lodging and a packet of cigarettes per day. Not having access to the local scene before, I was surprised to discover in a Muslim country the amount of sanctioned alcohol consumption and prostitution, male and female. It seems beer, being a low alcohol liquid, is acceptable in most areas where spirits or rice wine are not as tolerated. Also there are government sanctioned brothels where hygiene and health are paramount. Not to mention the sleazier bottom end brothels and the high class tourist establishments.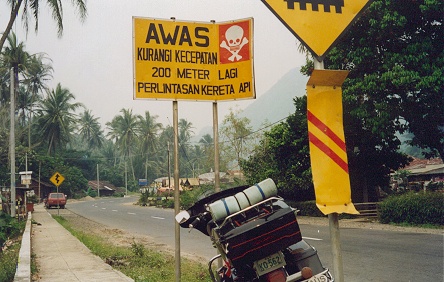 Solo to Yogyakarta and the inevitable happened, a minor collision. I was overtaking a slower motorcycle when without warning he decided to turn right. I should not have expected a blinker or even a glance from the driver to see if anything was coming. Only a glancing blow with no damage to bikes or riders, no bike going down. I was later to find out that this type of incident was the most likely to occur, happening maybe another ten times on the trip, (the incident not the accident) and modified my driving accordingly. The rule seems to be that you only worry about what is in front of you, if it is behind you can't see it, so don't worry about it. My university friend did all the negotiating and it was suggested I pay 5000 RP or A$3.00. This apparently is the rate for a minor accident.
Into Yogya and a night at the Borobudur Bar. The hot night spot, but also the pick up joint for male and female prostitutes. It wasn't till half way through the night that I realized, sitting with my university friend, that everyone assumed I was set for the night. This was a bit disconcerting as it was assumed I was gay and that my friend was my male prostitute. In fact this became the reason for our parting company a few days later. It became impossible to travel without both westerners and Indonesians alike treating my friend as a prostitute and myself as a homosexual in Asia for cheap pleasure. It is a shame that you can't now travel Asia with an Asian of the same or opposite sex without this label.
Moving away from the flatlands to the Dieng Plateau at 2000 ft, and despite it being early autumn and near the equator it was still cold. Wearing everything to bed, all my clothes and two skimpy blankets, I was still cold and awoke early. The road now to the South and Pangandaran. The side roads here are so varied. They seem to have all started as cobblestones. No, not like Europe but just rocks to cover the mud (10 km/hr). The next improvement is to cover the rocks with liquid tar and some smaller stones increasing navigable speed to 20 km/hr. This is generally followed by hot mix and widening to two lanes, but we have no road engineering at this stage, however the improvement creates lovely tight cornered narrow roads and 60 km/hr speeds. The road gets wider and more traffic, followed by more potholes and still no engineering keeping the speed to 60 km/hr on most roads. The added danger now is bitumen slippage in corners. Trucks bunch up the hot mix by their sheer weight, and when you lean into a corner hard, one wheel falls into a hole while the foot peg plows into a ridge creating an adrenaline rush or worse. All this keeps you on your toes and in the saddle for a long day.
Pangandaran is not a good place to visit during or immediately after an Indonesian Holiday. The beaches are littered with rubbish and accommodation is expensive. It can also be hazardous travelling to there or away. I encountered the Indonesian travel sickness first hand. You would expect to avoid this by travelling on your own vehicle. It is customary on a bus to be sick, straight out the window or be sick into a plastic bag and simply throw it out the window, sometimes into the path of an unsuspecting Australian motor cycle traveller. The other hazard is following directly behind a bus or truck while waiting to overtake. If you're not travelling in the wheel tracks of the vehicle in front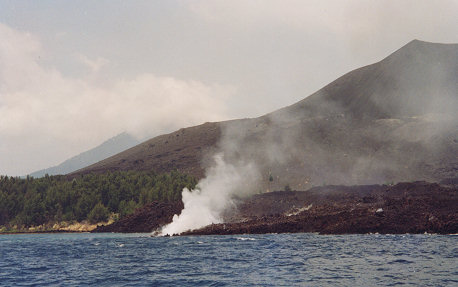 then you are likely to disappear into the potholes being straddled by that vehicle before you can see it. Even travelling in their wheel tracks doesn't ensure safety, just smaller potholes.
I have now been three days without speaking to a westerner. This seems to be the tolerable limit. I don't speak Indonesian and with little English being spoken by Indonesians means almost solitude when away from tourist spots. By the same token after three days of other travellers and the shallow, hello where are you going etc. I am after solitude again. This was the case when I arrived in Cipanas, to hot spring fed tubs, in every room. All I wanted was solitude and my first hot tub in a month. Two days and five tubs later I left.
What now seems like an enormous distance, in Australia was a quick ride. 300 km over 10 hours through Bandung and onto Bogor for my first repairs. It took three hours to travel 60 km through Bandung and another three hours to do 60 km of rough roads the other side. The bike was running well but on this section it ran hot and as I found out later the battery had boiled almost dry. The clasps on the tour pack top box had also become loose with all the vibration. Finding battery water, a drill and a drill bit took nearly half a day with the repairs only taking minutes. A job that at home would be simple becomes instantly complicated and the repairs a compromise.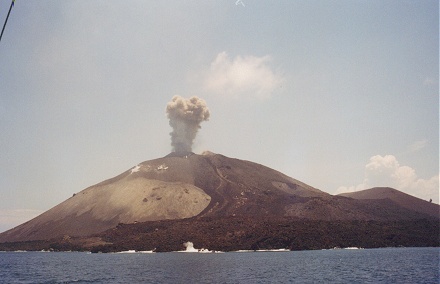 The last site from Java that interested me was Krakatau. Something I wanted to see last visit. I have been looking all over Java for lava. Active volcanos, yes, but lava, no. Over to the West coast at Labuhan for a departing boat. I could hear the eruptions all night on the slight westerly breeze. It is obviously a great tourist attraction with buses from Jakarta every day and condominium developments. It never ceases to amaze me the development in some areas compared with the simplicity in others. The wealthy Indonesians are wealthy, and display their wealth while the poor are poor. As with most places wealth doesn't seem to bring enjoyment and what is more the lack of wealth here certainly doesn't bring unhappiness. The boat brought us closer to the ever growing Anak Krakatau (Son of Krakatau). It was erupting every 15 minutes. Bursts of ash and rock. The island was surrounded with encrusted lava bubbling up from the ocean floor with steam venting at the shoreline. I was watching evolution and the creation of new land, an island.
Java was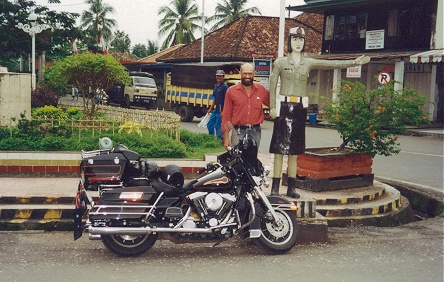 finished with my ride to Merak, the ferry departure point for Sumatra. It is here the long journey without major towns or repair stations start. The ferry is similar to that from Bali and the fare as ridiculously low at A$2.00 for both the bike and myself for the two hour crossing. I am of course with the only Harley-Davidson on the ferry and indeed the only westerner.
Two islands down and now heading North to Medan. The most obvious change is the quality of the roads. These roads have been engineered, unlike the majority of those in Java. I haven't seen roads this good since leaving Australia. Covering 400 km in just 8 hours, including stops, and with less than half the traffic. It is almost like moving into a different country. I guess Indonesia is many different countries in one.
On the way to Muaraenim I was reminded of an intriguing sight. That of papier-mache and concrete policemen, policewomen and two dimensional police cars. At many intersections in towns are concrete, larger than life, police persons, with serious looks on their faces, arms extended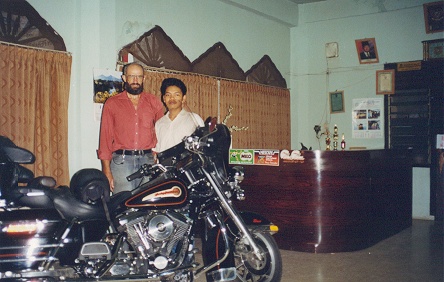 directing traffic. In rural areas there are two dimensional police cars strategically placed on dangerous corners or entering towns designed to deter speeding and overtaking. To the frequent traveller they are useless, but I found myself often slowing, mistaking the fraudulent for the real.
There was not much of interest in the South of Sumatra so I kept moving quickly through to Muarabungo where the night was spent at a truckie stop hotel. The drink driving rules and maximum hours of driving for truck drivers don't seem to exist here. On my arrival many were drinking or drunk with other drivers arriving throughout the night. This may be the reason for the many truck and bus graveyards littering the highway. It is quite sobering to round a corner and see an upturned bus with its roof totally collapsed and seats strewn around. You wonder how many were killed or injured in the usually overcrowded bus. The bike was housed overnight in the foyer of the hotel (which has become the norm for Sumatra) and after a leisurely breakfast I removed its covers to leave, only to find that I was holding up the majority of Sumatra's freight service. It appeared all the truck drivers had delayed their departure to see the bike, and see its departure.
Heading for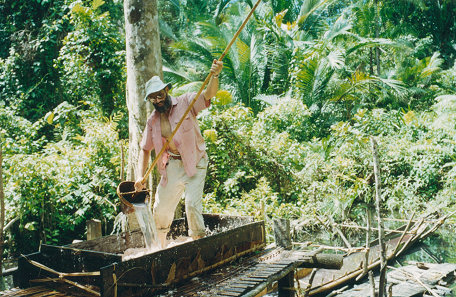 Bukittinggi the country side is generally uninspiring, flat to undulating, good roads, with many palm oil trees and rubber trees covering the countryside. Only twice so far have I wished for the walls of a car. Once when following a bus with people vomiting out the window in Java and now following a rubber truck. You will understand how bad the rubber truck smells when I say I would prefer to follow the bus.
The size of the bike seems to impress the Sumaterans more, commenting how I must be super human to ride such an enormous motorcycle (at my age). How tiring to travel long distances and how expensive for fuel. Being a tall person (185 cm) added credence to this strength, particularly compared to their shorter stature. It was difficult to explain that once the bike was moving freely it was as easy to ride as theirs (try explaining counter steering in sign language) and fuel consumption at higher speeds wasn't much greater than their bikes. Movies shown here though have a lot to answer for as the bikie image is portrayed as a big rough, tattooed, heavy drinking, brawling, unkempt males (not quite me). There is a Harley culture here based on that perception and when I don't tear apart the place and seem not to be drunk most of the time and without tattoos I think they are a bit disappointed. Women also have an identity problem. In Indonesia western movies often depict women of low morals, by Indonesian standards, leaving all western women to be viewed with the same low morals.
There are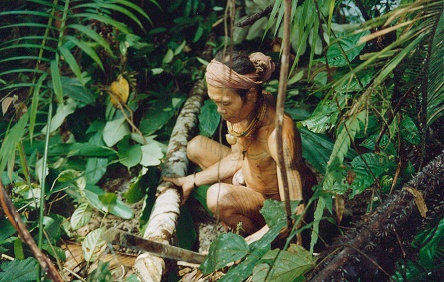 many anomalies in Indonesia but none more strange than the price of bottled water and the cost of long distance telephone calls. When you realize bottled water costs 800 RP a litre and petrol 700 RP a litre, and to travel by bus 200 km and back is cheaper than a 3 minute telephone call to the same place, things don't add up.
Bukittinggi is my starting point for a ten day trek to Siberut Island. Ten days without the trusty steed and ten days without being able to check it's security. I had become fairly relaxed by now with the safety of the bike. Most hotel owners are more concerned of the trouble a theft will cause them with the authorities, and take particular care to avoid that trouble. If the bike is anywhere in public there are too many people looking at it for anyone to steal anything. Still I was naturally concerned. The trek was a highlight missed on a previous trip to Sumatra and a must on my itinerary. Ten days of walking through calf deep mud and living in traditional huts with indigenous island people. A bit touristy but pretty authentic. We hunted, made loin cloths, made sago, ate traditional pig and grubs, made music and poisoned arrows. A totally different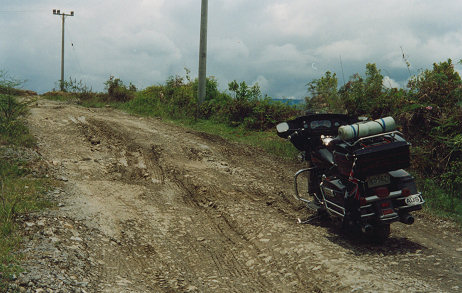 level of civilization even from what I had become used to travelling in Indonesia.
The road from Bukittinggi to Parapat was done in a day, 500 km and leaving at 6.45 am I arrived at 6 pm to book onto the ferry across to Samosir Island in the middle of Lake Toba. A 9 pm departure and collapse into accommodation at 11 pm. The longest day yet.
It seemed like a good idea at the time. Ride around the island and up over the mountain in the middle. The road showed up well on the map and away I went. Climbing to the top of the first plateau revealed magnificent views of the surrounding lake. A gradual climb now and steadily deteriorating road conditions. There had been some logging trucks over the cobblestone road churning out the stones and creating muddy ditches. At decision time I chose to proceed rather than return. By riding the ridges between the wheel ruts I could avoid the majority of ditches. This all worked manageably with me only bottoming out twice, before it rained. Keeping to the ridges with road tires on the wet clay became impossible and rain had now filled the ditches hiding their depth. 125 mm of ground clearance wasn't enough to ride from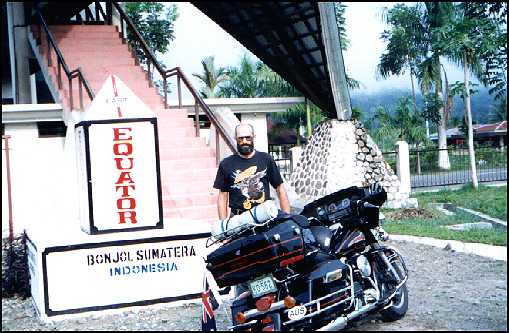 one ditch over the ridge to another ditch. The frame, and hopefully not the sump, scraped every time. Pouring with freezing rain, and with the fog rolling in and getting colder, my prospects weren't hopeful. After persevering for another kilometre with outriggers out and bracing with every scrape of the frame the road miraculously improved. The logging trucks had churned up this end of the road so much that they had indeed repaired it to what seemed highway standards. Whilst the map was accurate it had not kept up with logging developments and logging truck destruction. Luckily there were only minor dents and scrapes to the frame and no damage to the exposed sump. Not a good road for an Electraglide.
I had corresponded by Fax with the I.M.B.I. (Ikatan Motor Besar Indonesia - Big Motorcycle club of Indonesia) in Medan and had been invited to join a ride of welcome from Lake Toba to Medan. Not realizing that anyone would be crazy enough to travel through Indonesia alone, they were surprised when I said it would only be me arriving. They had booked my accommodation to stay with them at a $US 50 a night resort.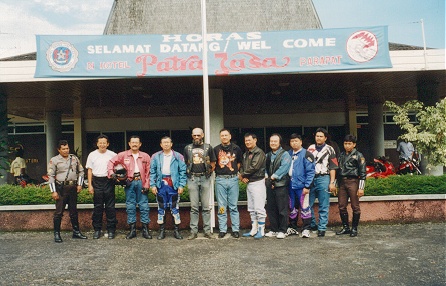 A group of ten super bikers had ridden the 200 km to welcome me. Between the accommodation, lunch, dinner and a show, police escort and lunch the next day all paid for by the riders of I.M.B.I. of Medan, I felt incredibly welcome. The police escort is compulsory as bikes over 250 cc can not be registered and require the escort to ride on public roads. Sirens blaring for the 200 km even through red lights as we passed through towns and the city of Medan. Never before have I felt so welcomed by a biker group. Whilst I enjoyed the novelty and the road clearing ability of the police escort it would not be to my permanent liking. It does take away from the independent nature of motorcycle riding, weaving in traffic, fast acceleration, overtaking and travelling at your own pace (usually faster on corners and slower on straights). But a great temporary buzz.
The looming problem now was getting the bike across to Pinang in Malaysia. I had been led to believe the passenger ferries plying the Straits of Malaka would be able to carry it. However on further enquiry at the port this was not possible with such a large bike. Here is where the ingenuity of Indonesians comes to the fore. I had previously learnt that by standing around looking lost someone would come and attempt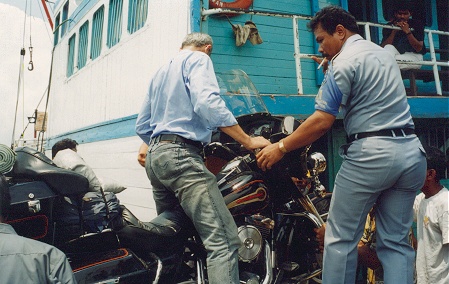 to solve your problem. So that is what I did and that is what happened. Word soon travelled regarding my predicament and I was informed of a departing wooden vegetable boat to Pinang the next day which could accommodate the bike. The boat, no more than 25 metres long, was loading vegetables with a jib not designed to carry the weight of the Harley. After much discussion I would have to ride the bike up a plank, over the gunnel and onto the deck. The angle over the gunnel was too steep and the Harley bottomed out, with me straddling it, and feet on the gunnel. Quick manoeuvring of the plank by the crew and the bike rolled onto the deck. It was here that I was most nervous of losing the bike, not getting it onto the boat but whether it would arrive in Pinang. At sea for 24 hours on the deck of a small wooden boat in the most congested waterway in the world while I travelled by passenger boat.
Despite a mix up with luggage, and almost the departure of the passenger ferry before I had my documents for the bike, the departure from Indonesia occurred.
Move with me to Malaysia/Singapore or go to our next visit to Indonesia.
Newsletter Article
From the Harley Owners Group Townsville Newsletter
August 1996