Travel Through Ghana on a Harley-Davidson
By Peter & Kay Forwood
Ghana on a Harley (2/2/01 - 6/2/01)
Distance 570 km (220380 km to 220950 km)
This is part of the Seventh section of our around the world trip.
Complete Trip Overview & Map
Coming from Togo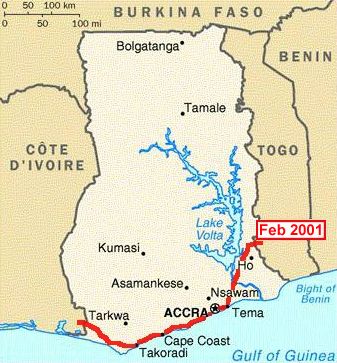 2/2/01 Followed the lake road to Accra past Akosombo. Accra is the most modern city since South Africa, new houses dot the suburbs, good roads and newish vehicles. An internet that works, official money changers and cheap hotels, hardly keeping up with the inflation rates.
3/2/01 God and Jesus are being called upon all over Ghana for protection and support. "Jesus is great", "God will provide". These types of slogans are on just about every minibus and truck and many cars. Businesses incorporate the faith in their names like the "nearer to God brick factory". He has indeed got His work cut out for Him as we have seen occur, or been at the scene immediately after, six motor vehicle accidents in the last 200 km from entering Accra to Cape Coast. With petrol prices at just $US 0.20 cents a litre promoting car usage the bad roads are crammed and speeds high. High petrol prices definitely curb car usage and erratic driving in other African countries. There are almost no motorcycles here, unlike Benin and Togo where they dominate the streets. Perhaps they have been crashed out of existence in Ghana.
4/2/01 We went on a guilt trip tour of Cape Coast Castle/Fort where about 12,000 slaves were shipped to the Americas a couple of centuries ago.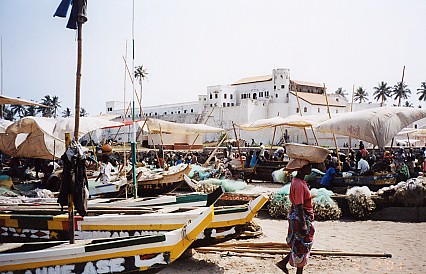 Captured for an hour by our guide, our responsibility for our ancestors was made clear as the propaganda poured out. The fort itself in a magnificent setting overlooking fishing boats at sea and on nearby beaches with colourfully dressed peoples dotting the yellow sands folding and repairing nets and repairing boats. There is almost a deluge of tourists here, more than we have seen for a long time, holiday makers and travellers.
5/2/01 El Mina, another fort town, even a more picturesque setting with the fort on a headland facing the ocean and backing onto an inlet crammed with colourful boats. An idyllic tropical setting with tall palms and golden sands. Its easy to have the day pass doing nothing here but talking over a drink at a beach side bar.
6/2/01 A slow heavy trafficked road, the first half to the border with Cote d'Ivoire before the road improved and the traffic stopped. The heavy thick air, hot and sticky, where you wake up feeling worse than before going to bed, is zapping our energy and enthusiasm.

Move with us to Cote d'Ivoire