Travel Through Gabon on a Harley-Davidson
By Peter & Kay Forwood
Gabon on a Harley (1/1/01 - 4/1/01)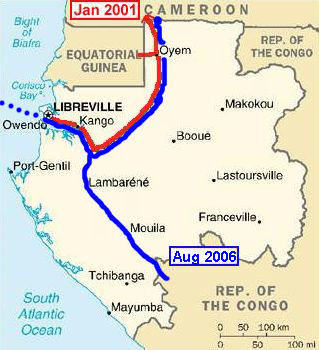 Distance 1198 km (213449 km to 214647 km)
This is part of the Seventh section of our around the world trip.
Complete Trip Overview & Map
Coming from Equatorial Guinea

1/1/01 Entering Gabon was similar but with a request for money easily dampened with a counter request for his identity papers, our note pad and pen at the ready. A total of only 20 minutes for both borders. The usual loud guffaws we receive passing through villages not heard this morning as their yells may have shattered the occupants pounding heads. In fact few men were to be seen, just women and children. A pleasant surprise of 150 km of freshly sealed bitumen south from Oyem greeted us with my vote for the best scenic road in Africa. It turned to 80 km of dirt before returning to asphalt to Bifoun where we stayed the night. This twisty road winds along a small river gradually growing to over hundreds of metres wide, weaving through cone shaped rain forest covered mountains where bamboo stands canopy the road. With little traffic other than the occasional timber truck the road was ours, only needing to be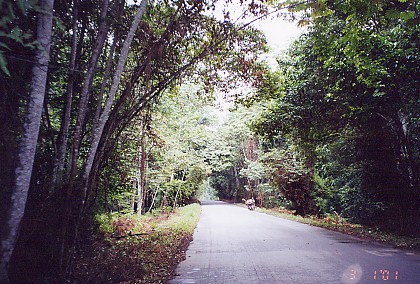 careful where landslides either covered part of or undercut pieces of the older section of road. It was a constant battle between admiring the scenery or enjoying the road contours at speed. The only consolation that we hoped to return from Libreville the same route.
2/1/01 The tall trees disappeared, the road deteriorated and the traffic increased as we moved closer to Libreville. Hotels were expensive, internet was expensive and apart from the boulevard alongside the ocean we saw little of interest here compared to the rain forests. After a visit to St Michael's Church with its wood carvings and mosaics, lunch and petrol we returned to our last nights hotel in Bifoun dipping just below the equator again for the last time this trip.
3/1/01 Back up the road to Oyem, early morning mist blowing over the mountains, through the trees, even brighter after a shower of rain last night. Past what has to be the shortest town in the world. Measuring just under 100 metres between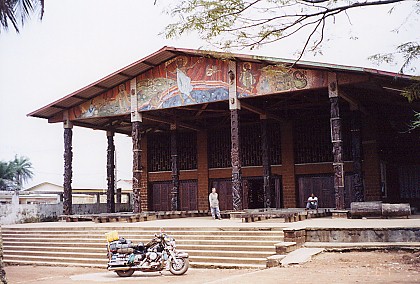 the town sign/reduce speed sign and the open speed sign this one house structure somehow rates a name and enough significance for everyone to drop their speed to 50 km/hr for the 100 metres.
Ended up in Bitam just short of the Cameroon border. Like so many other small African towns it has nothing to claim fame to. The same market stalls, dirty streets, no town planning or governing body. A couple of cheap hotels like ours with chewing gum stuck to the bed head, bare concrete floors and gungy toilet and shower down the hall. The only local entertainment the numerous bars or a disco or promenading the streets. At least here there is electricity to venture out at night and town water for a real shower.
4/1/01 Arriving at the border it seems we should have got our exit stamp back in Bitam, 30 km before. Still the officials weren't concerned, nor were we, so we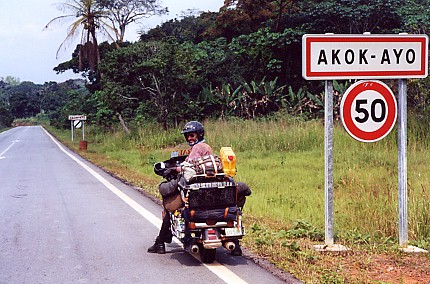 proceeded to the free inter country barge and crossed back into Cameroon.



Move with us to Cameroon or go to our next visit to Gabon