Travel in Fiji on a Harley-Davidson
By Peter & Kay Forwood
Fiji without a Harley (27/11/07 - 13/12/07)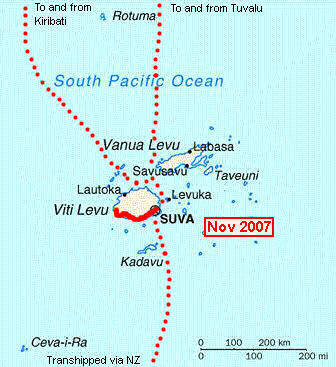 Distance 277 km (500098 km to 500375 km)
This is part of the fourteenth section of our around the world trip.
Complete Trip Overview & Map
Coming from Tuvalu

27/11/07 Back in Fiji, Suva, the same hotel, again waiting for the motorcycle, hopefully it will already be here from Tuvalu.

28/11/07 The ship arrived in port this morning and the motorcycle was unloaded. In the morning we were told it should be available tomorrow morning but by afternoon it won't now be ready to be collected till at least late tomorrow, Thursday afternoon. Williams and Gosling Shipping have a pretty relaxed island time frame it would seem. Last freight must be in their warehouse by midday Monday for onward shipping to Kiribati so it will likely be a short ride in Fiji.

29/11/07 It took till 3.30 pm for the motorcycle to arrive at the company's bonded warehouse. We attempted to uncrate it to ride but ran out of time by warehouse closing at 5.00 pm, mainly because we couldn't get it to start. With old fuel from India perhaps the cause.

30/11/07 Clean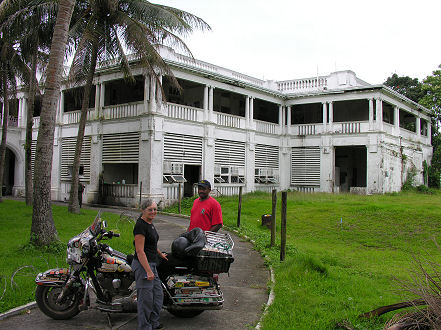 fuel, old fuel cleared from the lines, new air filter fitted, spark plugs cleaned and the motorcycle jumped into life. On one of the best days, weather wise, we have seen in Suva, we rode into the 180th country. The new rear tyre we had brought with us on the first visit to Fiji two months ago, and had been stored at our hotel, was fitted at the local tyre place, and wheel bearings repacked with grease. Not having done many kilometres on the motorcycle in the last few months doesn't mean no maintenance is needed. A quiet ride along the coast to the east for a few kilometres, and return, finished the day.

1/12/07 As the motorcycle needs to be re-crated on Monday, two days away, we decided to just go out for a day's ride and headed towards Nadi. Another beautiful sunny day and our first real ride since leaving Sri Lanka over four months ago. The reasonable road follows the coast most of the way, winding through hills and with little traffic. Stopped in at a couple of local places for a coffee and lunch before returning home mid afternoon, a little tired after not being on the motorcycle for this long for a while.

2/12/07 We have decided to take advantage in the small countries we expect to visit over the next year, using spare time between shipping to do some long overdue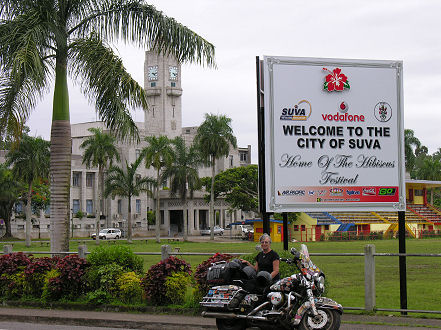 restoration maintenance on the motorcycle. It is now 14 years old and showing signs of rust where we have made repairs or where paint has worn away. Washed off the protective layer of WD40 we had sprayed on the motorcycle in the Maldives, and a couple of preparatory jobs looking at what materials will be necessary to maintain the motorcycle filled the day.

3/12/07 Back to the Williams and Gosling warehouse and again the two hour job of breaking down and re-crating the motorcycle, now pretty much routine. They are very supportive and allowed us to work in their storage area. The poor quality steel in the crate, from India, is showing signs of bad rusting after its recent deck voyage from Tuvalu. The motorcycle is supposed to be placed in a container to Kiribati today and is scheduled to leave on the 6th on the "Kiribati Chief", arriving in Tarawa, Kiribati's capital, on the 11th, we shall see if all goes to plan. Owing to the mistake that Williams and Gosling made previously, shipping the motorcycle to Tuvalu before we had time to ride in Fiji, it looks like we will receive a special price for this shipment, but won't know till it is loaded.

4/12/07 We have decided to stay at our hotel in Suva until the ship sails, allowing us to receive the original "bill of lading", and to make sure it actually goes. Whilst Suva is not a particularly great tourist destination we are finding our hotel and the facilities comfortable to wait around at.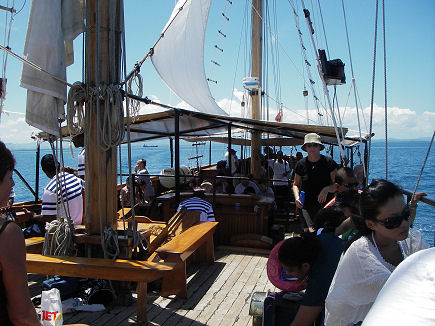 We have located a few reasonable restaurants, internet and have generally become part of the furniture as we have been here so long, people friendly and helpful.

5-7/12/07 The Kiribati Chief was delayed arriving by a cyclone just to the north of Fiji and only docked on the 7th. Williams and Gosling decided to provide free freight for the motorcycle, we paid port, handling and customs charges, not a bad deal and we picked up an advance copy of the Bill of Lading.

8-9/12/07 Took one of the many mini buses that ply the Suva, Nadi road to Korotogo, passing the Suva wharf we noticed "Kiribati Chief" was still being loaded so it will be a race who gets to Kiribati first, us or the motorcycle. Korotogo is a small village right on the water about an hour before Nadi that has seen better days. The recent coup, well it just had its one year anniversary, deters many people from coming to the country. There is also a travel warning out, mainly aimed at Suva, which can be a bit rough on a pay Thursday or Friday when drinking becomes a problem. Fiji's coups started in 1987, another one 2001 and 2006 was the latest, with an interim government still in power. One locals opinion was the country is no better off under either regime. The government was corrupt but tourists came. The interim government is at least honest but no tourists are arriving. Korotogo, usually has a lot of tourists with low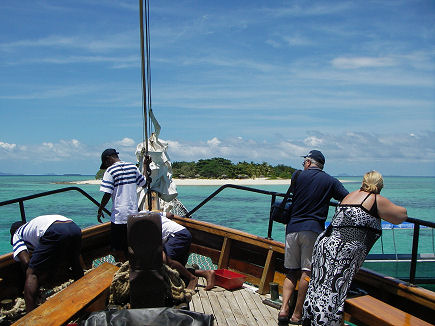 key hotels and resorts but apart from a few ex-pats here for the weekend we seem to be the only others in the area. The place, with its coups, in some ways seems no better than the African countries we are more used to visiting.

10/12/07 Moved onto Nadi early morning, the main tourist town of Fiji, where most tourists spend either a night or two between flights and resorts or brave the "real" Fiji by going outside the comfort resort zone, and where shop keepers are used to getting a decent living, now taken from them by the lack of tourists. Selling is hard, trying all the more usual pressures to get people to buy from their shops.

11/12/07 We were nabbed by Wyndham Vacation Resorts, a time share resort operator, offering rewards for sitting through a sales presentation. With not much to occupy our time a taxi collected us at our backpackers and ferried us to a resort island next to Nadi. Sheraton and Ramada were both neighbours, with their resorts adding credibility to the one on offer. We enjoyed the refreshments, presentation, stroll around the resort and a look at its facilities. We noticed many holidayers, excited about a time share and were signing themselves up for a lifetime of resort holidays. At the end of the presentation we declined the option to purchase, no real hard sell and collected our reward. We chose a day cruise on a yacht, available tomorrow, a pretty reasonable compensation for a three hour distraction today.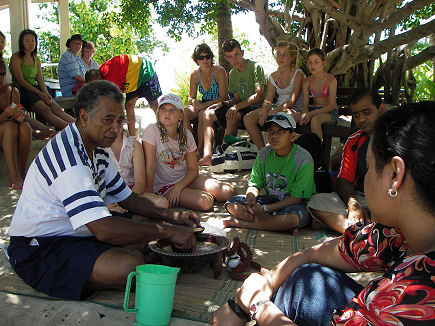 We felt we had benefited more than those who parted with money and signed up, and that we only benefited less than the company handling the sales.

12/12/07 We should have been collected from our "resort" by Captain Cook Cruises but as we are staying in a backpackers in Nadi, and received a free ticket, they don't seem to consider it suitable to them to do so and we need to be at their locale early, and waited. The day's cruise to an island just off Nadi was extremely pleasant. The seventy passengers were a great friendly mix, many were already time share holidayers, comfortable with their decision, many were like us, just happy for the free day's outing, some even paid for the trip at a pretty over inflated price. After 90 minutes the sailing boat comes to a tropical island, usual, sandy beach, palm covered, glass bottom boat, snorkelling boat. Relaxed program, friendly staff, an attempt at making the experience a bit traditional with a Kava, local alcoholic drink, ceremony, a gas barbecue hangi, but it all fell a bit short of most people's expectations. The "relaxed" island atmosphere had permeated the event, masks and snorkels were mouldy, they ran out of morning tea cake on the way over and biscuits on the way back. It all showed what we have heard from many tourists to Fiji, attention to detail for what is paid is quite poor, but the locals are friendly and not too stressed.


Move with us to Kiribati