Travel Through Faroe Islands on a Harley-Davidson
By Peter & Kay Forwood
Faroe Islands on a Harley (28/8/98 - 3/8/98)
Distance 314 km (110831 km to 111145 km)
This is part of the fourth section of our around the world trip.
Complete Trip Overview & Map
Coming from Iceland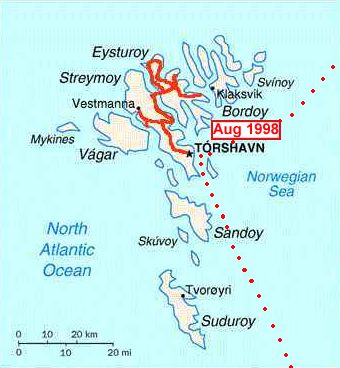 28/8/98 Faroe Islands at 6 am we arrived, the sea fog moving through town rapidly wetting everything. Six weeks into the trip and some of the anticipated excitement realized, the camping mattress is getting harder, the erecting and dismantling of the tent a chore and the initial enthusiasm diminished. We will use the three days here to recharge batteries. Updated the web site at the local computer shop for free, visited the historical museum and passed the time reminiscing Icelandic stories with others waiting for the next boat to Bergen at the local campground.
29/8/98 Relaxed start after a sleep in with a view just to glimpse the islands in the remaining two days. Multicoloured sheep still graze the highlands while the owners try drying the mown grass before winter. Racks of grass slung across fences covered with netting to prevent the wind carrying it away, Glacial carved valleys between mountains glimpsed through mist and broken cloud, bright green grass, treeless on black rocks. Sheer cliffs to the ocean with brightly coloured fishing villages at every cove or sheltered harbour. 200 km around the islands of Streymoy and Eysturoy before settling at Oyndarfjordur for the night.
30/8/98 Years ago the small village of Oyndarfjordur (200 people) and Elduvik (smaller) used to have a get together every year on the mountain ridge, carved by two glaciers, separating the two places.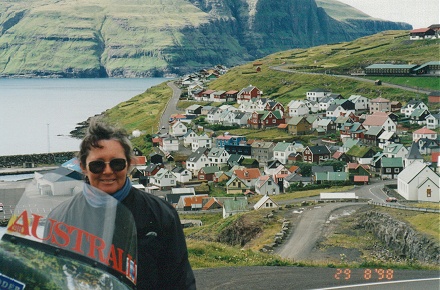 With the revival of old customs and traditions, last year 150 people trudged to the top. This year over 200 including two Australians walked the vertical height of 500 meters to sit atop the ridge, listen to the folk songs, speeches and dance the ring dance before heading down to a crowded town hall for traditional foods. Revival of traditions and trying to maintain a language for 40000 people seems lost amongst the Adidas, Puma and Umbro brand clothing worn by everyone, particularly the young. Most of whom are moving to Denmark to work, learn Danish and if in business to learn a third language English.
31/8/98 Waking and packing the tent at 4 am in the sea mist and drizzle accompanied with strong winds to catch the 8.30 ferry to Norway. Our third trip its now just another boat. Arrive 12 noon tomorrow.


Move with us to Norway