Travel Through Equatorial Guinea on a Harley-Davidson
By Peter & Kay Forwood
Equatorial Guinea on a Harley (28/12/00 - 1/1/01)
Distance 459 km (212990 km to 213449 km)
This is part of the Seventh section of our around the world trip.
Complete Trip Overview & Map
Coming from Cameroon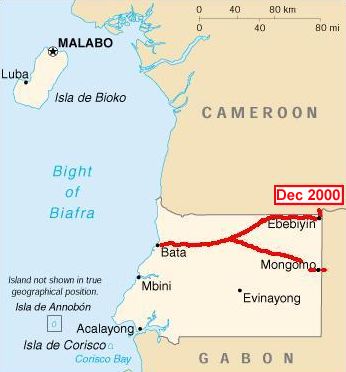 28/12/00 We are now sitting on the Equatorial Guinea side of the border where our papers were being processed while we waited for the Cameroon key, but the man with the stamp had gone home and again we wait. It's 6.30 pm after a frustrating day, starting with the Michelin map incorrectly showing 130 km of tar road from Ebolowa to the border which has never been anything but dirt. From Kribi we had taken a good short cut logging road through some lovely rain forest areas over many streams and past small villages. The trees may not be there for long. We finally gave up on getting our passports back today and settled into a hotel for the night.
29/12/00 An excerpt in a Ugandan newspaper goes something like this. An African and an Asian were at a conference. The Asian invited the African to visit his home in his country. While there the African commented what a magnificent house the Asian had. The Asians reply was "See that freeway and that hospital built with aid money, they built my house". The African reciprocated and invited the Asian to visit Africa. What a magnificent house you have said the Asian. The Africans response was "See that area, there was supposed to be a freeway there and a hospital as well, all the aid money went to buy this house". One society uses the golden eggs the other kills the goose. Our passports were finally returned this morning after heated discussions and arousing the immigration man from his house to come and do his job. The dirt road continued in dense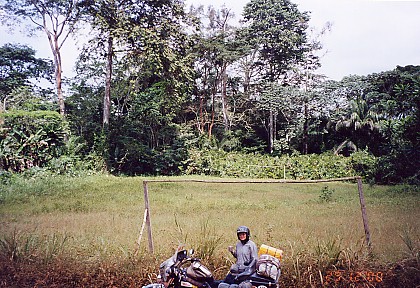 rain forest, winding through lovely tree covered hills over small black water creeks. Football fields the only carving on the forests with each village having one. Spanish style wooden churches also dotted the countryside as well as wooden housed villages, swept clean and tidy, no rubbish to be seen. The ex Spanish colony seems to have retained its colonial pasts influence, people polite and vibrant, well dressed and helpful, the border like a change of continent.
30/12/00 The last few weeks has had us in cheap hotels each night. No more camping, rooms mainly with ensuite but often with bucket showers and rarely hot water. The mattress foam but compressed to one inch thick from use or bouncing. It's the same in Bata but here the whole city has no running water and most places have generators as the electricity is so intermittent. There are no internet cafe's but we managed to send emails through a local business suggested by the government phone company. They were very generous and didn't charge us. We haven't seen a beggar in the country, real or opportunistic, but often wonder why those who can pay (us) are often not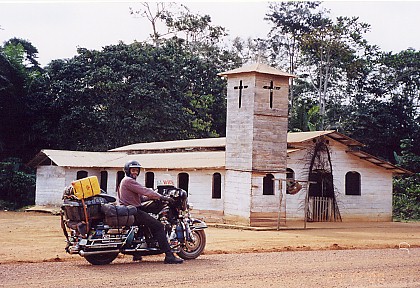 asked to (the people providing the internet) while those who can't pay (beggars) often have difficulty getting peoples generosity. We must be getting slow as it took till a few days ago to realize why things take time in Africa. If things run smoothly there is no need to call on others for assistance. Then they can't do a small service for you and can't ask for a reward for the service. Thus everyone on the continent is trying to make things difficult for everyone else, hoping to be rewarded for solving a problem. The bigger the problem one creates the bigger the reward they can expect by solving it. The man operating the gate to your hotel won't be there when you want to leave. You will have to find him and disturb him from some other seemingly important function, inconvenience him, even though he is the gate man. He will then have to find the key kept in some obscure place, the lock will be old and difficult to unlock as will the opening of the rusty gate. Don't repair it as then the favour he is doing you is diminished. When you finally get out you are so relieved with his efforts he is well rewarded with a tip for his efforts.
31/12/00 Borders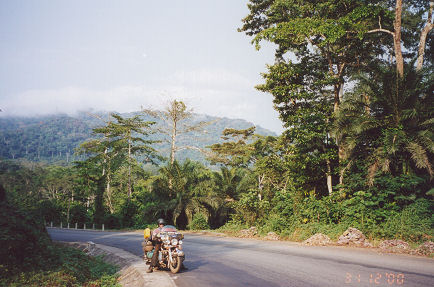 in Africa usually mean little cultural differences, the western powers that drew them giving little thought to ethnic variations. But Equatorial Guinea has taken on a different feel, of helpful, listening, reserved behaviour we have not seen in French Africa. Mind you there are plenty of bars selling beer and Spanish wines and the supermarkets are full of Spanish goods and run by Spaniards. Alcohol seems to be excessively consumed by men throughout the day being their entertainment and the women spend enormous amounts of leisure time doing each others hair or having theirs done. Some magnificent art forms are sculptured from the frizzy locks. A popular one seems to be the swirling snake look. The hair is braided into very thin strands then wrapped in fine black plastic wire with the strands interwoven loosely over the head. Extensions of synthetic hair are added, the whole process taking days. Combining the alcohol consumption with bad roads, overloaded and poorly maintained old vehicles and you have severe road carnage. Crashed cars, trucks and buses litter he roadsides. It seems once a vehicle has been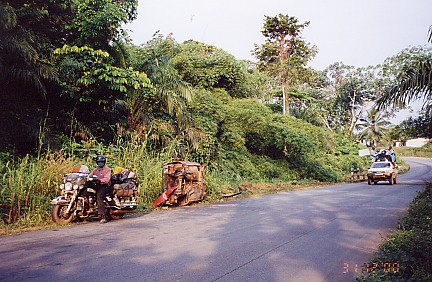 involved in a serious accident it is just left roadside. After a time parts are slowly stripped from it and eventually it becomes just a chassis. There seems to be no effort to take it for repair or for the owner to sell it for parts. Mongomo, on the border with Gabon where our visa doesn't start till tomorrow. Our hotel included the main disco bar and on this millennium New Years Eve revelled loudly till after we were ready to leave New Years Day.
1/1/01 The hung over border officials couldn't manage the energy to hustle, couldn't manage the energy to find the man with the exit stamp, so they let us leave without one.

Move with us to Gabon