Travel Through Cote d'Ivoire on a Harley-Davidson
By Peter & Kay Forwood
Cote d'Ivoire on a Harley (6/2/01 - 10/2/01)
Distance 957 km (220950 km to 221907 km)
This is part of the Seventh section of our around the world trip.
Complete Trip Overview & Map
Coming from Ghana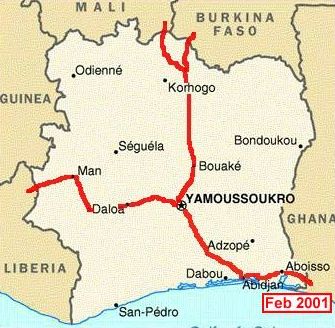 6/2/01 Smooth border, but we needed to use our carnet for the first time since Congo. All the other countries have been happy to just stamp our motorcycle registration papers. The alternative was a vignette at $US 15.00. Petrol here also expensive at four times that of Ghana and $US 1.00 a litre. Still the advantage that there are very few cars on the roads because of it almost worth the extra price. Almost unique to Africa, organized large scale farms alongside the road. Palm oil, banana and pineapple. Tidily planted, well maintained with machinery assistance.
7/2/01 A few months ago over 100 people were killed here in violence leading up to the national elections. Two weeks ago there was an attempted coup blamed on people from neighbouring countries and resulting in riots against businesses owned by foreigners. Yesterday we had to pass through 12 secure roadblocks to get from the border to the capital and our papers were checked at most of them, and before leaving Ghana in the morning the BBC reported the police had blocked foreign vehicles from entering Abidjan because a policeman had been killed, supposedly by a foreigner. Luckily this road block had been cleared before our arrival. Such is the situation in most West African countries, seemingly on a rotational basis taking it in turns for violence. Here only for visas and a tyre we had previously arranged. Mali and Guinea visas today and we hope to get two more and the tyre tomorrow and leave.
8/2/01 We were refused the Guinean visa when we went to collect it this morning, being told it was too dangerous for us to visit the country on our own motorcycle. We suspect it was because they hadn't started to process the documents and wanted extra money to deliver ours at the time they had advised us yesterday. We managed to collect Liberian and Sierra Leone visas the same day using our two passports. Dunlop tyres had a rear tyre waiting for us at their distributor here and we fitted it without problems in the afternoon. It may not be a good country to obtain tyres for travellers as the customs, insurance and agent costs amounted to $US 180.00 not including the price of the tyre or freight. We were obviously pleased that Dunlop would include these costs in their generous support.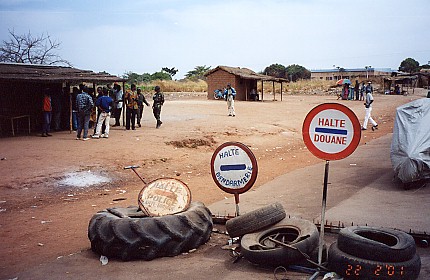 9/2/01 Out of town passed the many scars on the road where tyres have been burnt as roadblocks in past demonstrations. This seems to be a common occurrence in West Africa leaving round gouges in the asphalt. Perhaps as many as twenty such places along our departure route. Abidjan a friendly city, moreso because of migrants from Ghana and Liberia seeking work and they being able to speak English we could converse more readily. The other very noticeable ethnic group was from Lebanon. Almost all the businesses we dealt with were run by them, and again friendly and generous. The afternoon we spent at Yamoussoukro, supposedly the birthplace of the first president of 33 years and as Lonely Planet describes "It's a testament to Africa's greatest curse, the big boss who can get away with anything". A presidential palace on the lake and a polytechnic institution turned this place from a village of 500 to over 100,000 people with six lane highways and the highest church in the world, a copy of St Peter's Basilica in Rome, but higher, and on a bigger block of ground. Now since his death it's slowly deteriorating like so many other grandiose schemes of the region.
10/2/01 Past and slowly through about 20 police road blocks where fat policemen were extracting money from lines of trucks heading to and from the Burkina Faso border. Its not the corruption itself as much as the corruption in the face of such poverty, pushing up the price of all goods, both those imported and local farm produce, while children walk the streets with their food bowls looking for leftovers. The truck drivers are forced at every road block to stop the truck, walk across to the fat police sitting in the shade, argue over the amount to be paid and then continuing to the next road block, sometimes less than a few km's away.

Move with us to Mali , or go to our next visit to Cote d'Ivoire .