Travel Through Cambodia on a Harley-Davidson
By Peter Forwood
Cambodia on a Harley (11/1/05 - 10/2/05)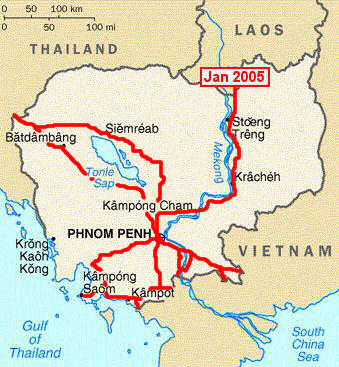 Distance 3062 km (408292 km to 411354 km)
This is part of the eleventh section of our around the world trip.
Complete Trip Overview & Map
Coming from Laos
11/1/05 Cambodian officials were relaxed. 200 km into the country and I haven't seen a customs officer yet. Immigration at the border quick and a token request for money, after processing, easily denied with a smile. The 10 km leading up on the Lao side was a dirt track and the first 10 km this side also bumpy after which roadwork's are underway, just an hour to Stung Treng, 50 km. Small boats cross the San River into town, too small for the bike. I waited till lunch time for the roadwork's supply barge to come from upriver to transport fuel trucks, hitching a ride, with many locals, for the return journey. The notoriously bad road either side of town is about half formed. No asphalt yet, but a good wide dirt base. Both men and women working. This border region still heavily treed, probably because of left over land mines. No livestock or settlements in the area either, same reason. After lunch I decided to take the 140 km, mostly dirt road to Kratie, about four hours.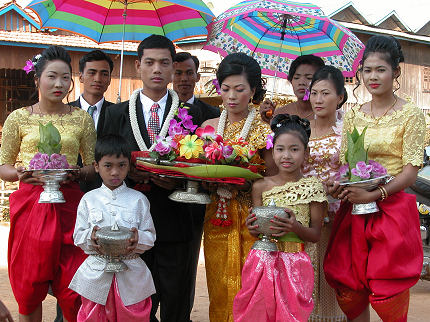 12/1/05 Many roads in Cambodia are being built by Chinese contractors. I have noticed this in other developing countries all over the world. They build a basic but solid road, often as a gift or development aid or on a long term loan. It seems to develop a lot of good will between the countries, certainly a lot more good will than by bombing, as other nations have been known to attempt. Kratie is still along the Mekong River. The freshwater dolphins can be seen near town. Many tourists still arrive and leave from here to Laos by boat, however boat traffic is in decline as faster and more efficient roads are built. The $US 5.00 a night hotel provides hot water, fan and cable TV, unbeatable value. It also offers "boom boom" massages, I presume a local term for a lady of the night, despite signs in the rooms that prostitutes are forbidden in the rooms.
13/1/05 People here are a lot closer and more touching regarding the motorcycle. A hands on experience for most of them, squeezing the seat and baggage, tapping the panniers and fairing and playing with the gears and brake if permitted.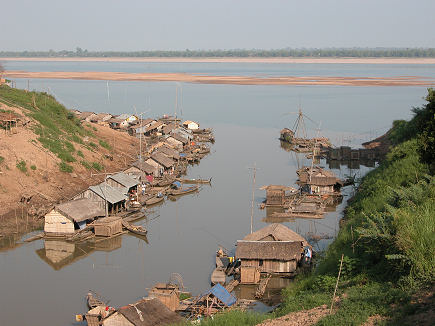 A polite "don't touch" is usually sufficient. I chose the riverside road out of town, dirt, running along the levy bank, houses built either side, past a couple of weddings with marquis extending out onto the road. Petrol has only been available from roadside stalls, drums or cans, and dearer at $US 0.75 cents a litre. The dirt roads easier by myself and no traffic. Ended up in Phnom Penh, the capital, the last 140 km sealed road, increasing and fast traffic.
14/1/05 The decision made this morning to reformat the computers hard drive. A local technician couldn't get it going otherwise. He had a newer version of windows, office, and we bought the remaining programs I use at a local computer shop, all pirated presumably as they were $US 2.00 each. The afternoon spent transferring data files from the remote hard drive backup I carry. Unfortunately as I backed up about a month ago there was quite a lot to recreate and also a lot to learn as the programs are all later versions.
15/1/05 Spent the morning trying to upgrade the computers RAM, currently only 128 MB, but couldn't get it to accept any more than 192 MB, 64 on the motherboard plus upgrading the RAM from 64 to 128 MB card. The rest of the day still getting the files back to normality.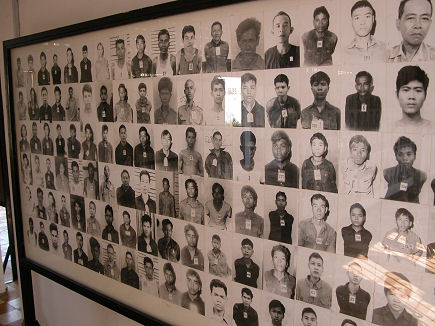 16/1/05 Rented a Tuk Tuk, motorcycle with attached six seat carriage, myself and a friend, to take us to the cities sites. The National Museum houses artefacts from Angkor Wat and before and after periods of history. The most moving sites we visited however were the Killing Fields of Choeung Ek where an estimated 17,000 people were shot or bludgeoned to death, 9000 of whose remains have been exhumed and are on display behind glass in a memorial stupa. Most of the victims had come from the Tual Sleng Prison, a place of detention and torture under Pol Pot, another museum, in town, with walls of the photographs of victims, A truly gruesome account of that part of Cambodia's history.
17/1/05 A trip to the Chinese embassy for a visa, $US 30.00 single entry, $US 45.00 double entry, come back in four days. I have been staying at lakeside, a very typical backpackers area, all the trimmings, cheap accommodation and semi-western restaurants, tour operators, money exchange, washing service, local and distant transport arranged. It's easy, even a visa service, people come here to rest and plan and have company who understands their language.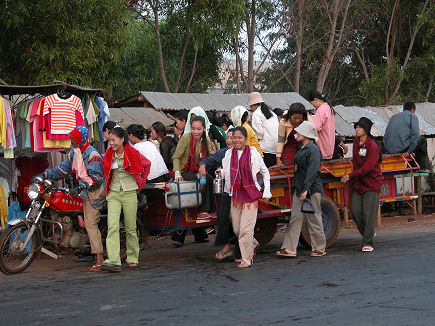 I am finding more people hanging out at these places rather than in more remote areas. Travelling alone I am also finding these places more appealing.
18/1/05 Left at 6 am heading to Battambang, 300 km, five hours. I thought a motorcycle carrying four people was a lot, or pulling a Tuk Tuk with eight, but on the outskirts of town where the big factories draw thousands of workers from the surrounding area they have 125 cc motorcycles drawing trailers with up to 40 people, the cheapest way to get workers to low paid jobs. Also roadside are duck farms, hundreds of ducks raised in ponds, moved to the fields to graze, transported by dozens dangling from motorcycles on their way to markets in nearby cities. Battambang, Cambodia's second biggest city, but not much bigger than a provincial town, attracts a few tourists choosing the boat trip across Tonle Lake to Angkor Wat.
19/1/05 Tonle Lake is Asia's biggest and triples its size in the wet season floods only to drain out during the dry. To get to Angkor Wat I have to pass around the western end.
Roads in Cambodia so far have been reasonable as was the 60 km to Sisophon. However the dirt section of 70 km after was the dustiest I have seen. Special cars with jacked up suspension carry tourists from the Thai border to Angkor Wat, cruising across this section at about 60 km/hr, and on this windless morning leave a permanent dust cloud mixed with smoke from rice stalk burning, leaving me, travelling at just 30-40 km/hr almost unable to see potholes just in front of the bike. How people live in the roadside houses or work their stalls every day is beyond me. Thankfully the last 30 km was asphalt, sort of, at least hard surfaced. Siem Reap, the support town for Angkor Wat, has all the good and bad of a highly prized tourist spot. From beggars to touts, 5 star hotels to western restaurants at every price or budget you want.
20/1/05 Angkor Wat was built in the 12th Century, incredibly influenced by Indian architecture it is a religious building to the Hindu God of Vishnu. It is the worlds largest religious building. A ticket to see the complex is $US 20.00 a day or $US 40.00 for three days. We, Helene and myself, opted for a three day pass so as to have time to see it and the surrounding associated temples.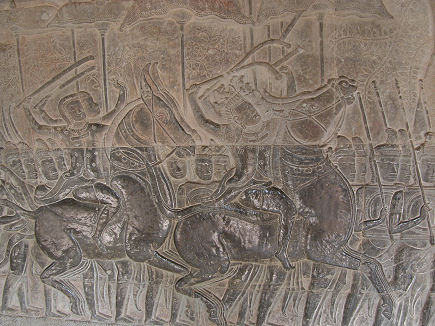 The Wat is as impressive as imagined. Surrounded by a moat 1.5 km square and a covered walkway 800 metres square with magnificent carved walls, stone roof, other walls and pillars. In the centre, rising steeply to 53 metres above the ground is the main tower and four smaller towers. Almost all the stonework is carved, some plainly, some exquisitely. We spent over five hours, looking sitting and talking.
21/1/05 Tourists driving themselves around Angkor Wat is technically illegal, too many accidents on rented motorcycles. We have had no trouble entering the site on the motorcycle. The Grand Loop follows a 20 km road between many of the "lesser" temples. We observed many on a drive by but only two on foot, Ta Som and Ta Prohm, the latter kept pretty much as it was discovered 100 yrs ago with large kapok trees, their roots embedded through the stone structures. It was here that the films Tomb Raiders and Two Brothers were shot. The scale of the entire complex is amazing. The number of tour busses and tourists also amazing, however they follow a set path and schedule that can be avoided.
22/1/05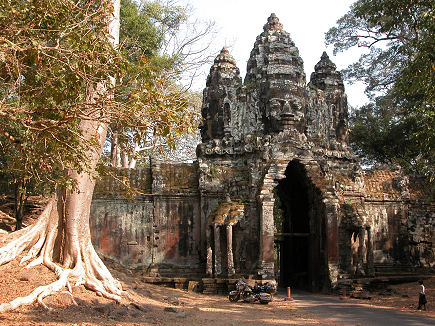 Helene and I have been following a similar path through Cambodia, bumping into each other almost at each stop. A French Canadian, travelling for a year, now towards its end. Places like Angkor Wat are much more enjoyed together, someone to voice the marvels with. The last day of our three day pass, by sunrise we were at Bayon, devoid of tourists, the sun slowly revealing the 216 smiling faces on the 54 towers. The wall of elephants and leper's also visited before returning to Siem Reap during the heat. Back to the temples, a last visit at sunset. When leaving such a marvellous site, just before departing I try to take a last deep look, like this will be the last time in my life I will be observing this structure , as it most likely will be.
23/1/05 After three days of temples it was good to have a rest. Accommodation in Cambodia incredibly good value, $5.00 US for a room with fan and cable TV, tempting me to watch a movie or two between internet, eating and processing photos. A budget balance revealed my expenses have increased travelling alone, as expected, petrol and accommodation now not shared, along with more logistical expenses, oils, guide books, rapairs etc. To relax for a day settles the mind but I cannot imagine what occupies the minds of those who sit at a stall or in the markets all day every day, trying to sell a few products, vegetable, fruit or a couple of litres of petrol.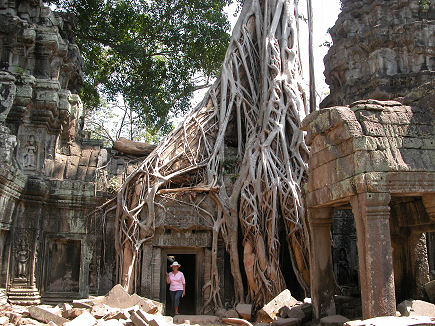 24/1/05 Just 150 km to Kampong Thom, arriving there at 9 am after an early start and good road. 30 km out of town along a dirt road are some of the oldest ruins of the Pre Angkorian times at Sambor Prei Kuk, dating from the eighth century. These brick ruins, again dedicated to the Hindu religion, are mainly stupa surrounding large linga, phallic symbols. This area was heavily bombed during the Vietnam war, the young guide, who would not have been born at the time, pointing out at least ten bomb craters, plus one destroyed stupa along the two km walk between buildings. Bomb fragments, twisted metal parts lying exposed on the ground.
25/1/05 Back to Phnom Penh by 9 am and collected the Chinese Visa. I have been carrying a spare tyre from Bangkok and lucked onto "Dara" motorcycle workshop where they repair many dirt bikes used by tour operators taking tourists around the country. They offered me the use of their workshop for free where I changed the tyre and again had trouble removing the swing arm bolt which yet again was rusted in place.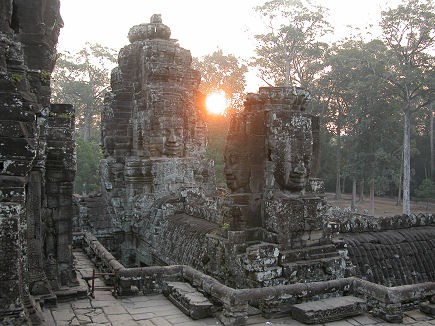 A construction engineer offered me the use of his Kanga hammer, a small jack hammer, and after ten minutes of vibrating the rust the bolt loosened. A new product, a zinc anti-seize applied and maybe this time it will not rust. This has been an ongoing problem. If the bolt is seized and the drive belt breaks I can not replace it roadside. Even lubricating it every three months is not sufficient, I will have to increase the schedule to monthly, I think, or find a better anti-seize lube. Greased the wheel bearings, all taking most of the day, the first real repairs I have done without Kay as assistant and tools watcher. Always a concern that someone will relieve me of an important tool, that would not be found missing till absolutely needed, roadside.
26/1/05 It surprises me each time how sore my leg muscles are after a days work on the motorcycle. The deep knee bends picking up tools, the crouching, the bracing undoing bolts and squatting cleaning or repairing parts all works muscles not normally used just travelling. There are many people travelling in this region af Asia. The popular loop of Thailand, Laos, Cambodia and often Vietnam gets a large number of tourists or travellers. It's a rare encounter however meeting someone to spend more time with than the more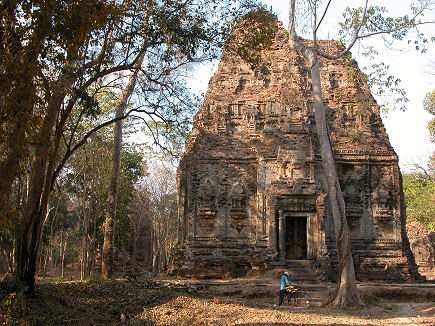 fleeting hour or two covering the usual questions of "where are you from?", "how long are you travelling?", "where are you going?", etc. A large percentage of the "guys" (men) here are, like at home, only interested in booze (beer), sport and women. On holidays, that occupies almost their entire time. Younger women are usually happy to include me more, perhaps the fatherly image or the perceived safe ground with an old man. I find myself gravitating towards mature women for intelligent two way conversations that last more than the shallow banter. Their varied life's experiences can be drawn upon, adding insight to my own.
27/1/05 Helene, the mature lady I have been bumping into over the last few weeks, packed a 5 kg backpack, all that I could allow for my offer of a lift to Sihanoukville, Cambodia's beachside and my last stop before attempting to get the motorcycle into Vietnam. 230 km, we left early taking advantage of being able to stop along the way at interesting sites and food stalls.
28/1/05 Unlike Thailand's overdeveloped seaside resorts Sihanoukville is still a "real" town. It's half a dozen beaches are white sand and quiet, alone places can still be found.
Busy areas like Serendipity Beach, have deck chair and umbrellas for hire, the beach backed by bars and restaurants, food and massage sellers can be annoying and beggars pull at your heart strings. A swim, relax on the beach and watching sunset the main events.
29/1/05 The same as yesterday but with an oil change, air filter clean and new spark plugs for the motorcycle. The dusty roads had clogged the air filter and on inspection I noticed a few holes in the cotton filtering material. Eaten by cockroaches, not good, and I don't carry a spare. I filled the holes with silicon till I can find another filter. The digital camera was out for some sunset photos but the viewfinder was blank, no light entering, presumably the photo cell is broken. Years ago when living on our farm with a nice garden swimming pool and tennis court I realized I was spending more time repairing and maintaining the worldly goods than I was getting use and enjoyment from them. Since then the height of consumerism has been falling, encouraged by the third world people we meet whose belongings are by necessity minimal. Encouraged also by the life style of living on a motorcycle. Still, items are considered important or necessary at all levels of consumerism, from the broken cane basket to the personal jet or non working camera.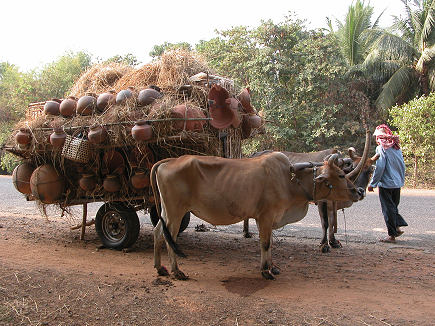 30/1/05 I still can't get the camera to work. The spare one, carried for the last 18 months without being used, was resurected from the bottom of the pannier, but was also dead. Last resort, the purchase of a disposable camera, not expecting brilliant results there. Our last day on the beach. Last night a bottle of red wine, cheeze and biscuits watching sunset in the breeze, tonight sharing a tub of ice cream and soda.
31/1/05 Just 110 km to Kampot, an area of Cambodia undergoing a tourist insurgency. Situated on a tidal stream the town itself has little to offer but the riverside setting. It is however on the loop between Phnom Penh and Sihanoukville, a loop that draws many mororcyclists renting dirt bikes.
1/2/05 Said goodbye to Helene, who is heading back to Phnom Penh and then an easy entry to Vietnam. I started my more difficult challenge to get the motorcycle into Vietnam. Working northward I attempted three border crossings. The first two for locals only, the last one an international border. Ha Tien, at the end of 16 km of dirt out of Kampong Trach was not encouraging from the start.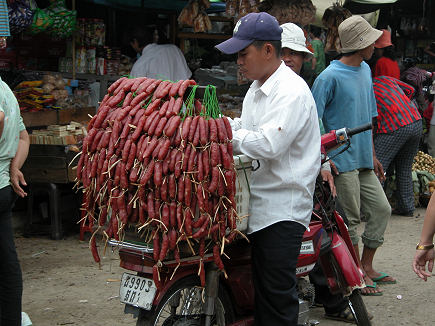 The border side shops had none of the produce that indicate trade between countries or smuggled goods. There were also no vehicles being driven across the border. The one truck I saw was unloading rice to be carried across. Motorcycles were being pushed across, not ridden. I got no further than the police on the Cambodian side, a stone wall attitude, not for foreigners and despite my comment of dollars there was no interest. Back to Kampong Trach then 3 km east a turn off along a dirt road for 12 km more to a river canal crossing into Vietnam. No problems this time in Cambodia but after leaving the bike and taking a ferry to Vietnam another polite wall was put up to my passing. Again not a border for foreigners. Back again and further east to Tane and to the highway 2 and the Tinh Bien crossing. Again no problems with the Cambodians, they allowed me through, asking that I just return to have my passport stamped if I was allowed into Vietnam. All was going well with the Vietnamese customs, almost ready to give approval, immigration stamp already completed, then the Police rejected the motorcycle. My suggestion that the bike could be trucked to Saigon to be shipped to Japan didn't change matters. So the paperwork was unwound and I ended up in Takeo for the night, a little less optimistic of my likely success than before the days start.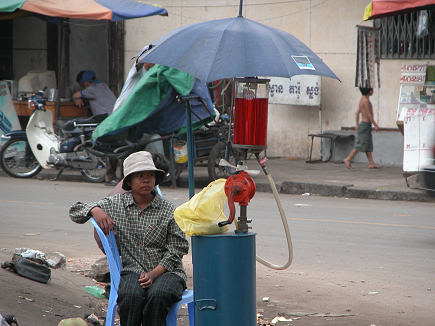 2/2/05 I am putting extra effort into getting the motorcycle into Vietnam for two reasons. It's the last country in South East Asia that the bike hasn't visited and it could be a launch pad for China, South Korea and Japan rather than having to return to Thailand and shipping to Japan. Popping in and out along dirt roads near the border also gives an insight into a very different Cambodia than where the tourists are. This flat delta area of the Mekong grows rice on its poorer soils. Most families still live in some form of grass structure, no electricity, except battery power to run lights and TV. Using a mapping CD, Global Explorer, a 1991 edition, I found a couple of roads that disappeared just over the border in Vietnam that could possible have no border checks and, in the dry season perhaps a route deeper into the country. I had also been informed by the Vietnamese consulate in Sihanoukville of another border crossing open to foreigners at Binh Hiep, 35 km south of Svay Rieng. All these options were on the eastern side of the Mekong. I rode back almost to Phnom Penh, then onto Highway 1 east, a bumpy road till the ferry crossing, then newly made asphalt.
The Cambodian officials at the Binh Hiep crossing stamped me out but again the Vietnamese refused entry, stating it was not an official foreigner border. I returned to Kampong Ro, eight km, turned east along a dirt track running parallel to the border, always heading right in case a trail crossed the border, asking directions to Vietnam from the many locals. There were small signs of smuggling, fuel drums on a couple of motorcycles and some plastic goods, seen at other border posts. One local, who spoke english, suggested the police arranged for items to cross the border and that I should discuss it with them. He arranged a meeting where I was left in no doubt that I was not welcomed on their territory, that they had no contact with the Vietnamese authorities and that my presence could be jeopardizing their operations. A foreigner with a big bike was more than they were wanting to handle. Again disappointed, to Svay Rieng for the night.
3/2/05 238,857 miles, the distance from the Earth to the Moon, also the distance covered by the motorcycle since starting the trip nine years ago. Headed to the Moc Bai border. Same story. Cambodia let the bike and I through only to be rejected in Vietnam. With a request from me to put the motorcycle on a truck I was pushed up the chain to customs who handed me a written directive from police not to let vehicles in without police approval. At police HQ they advised it was illegal to allow in foreign vehicles.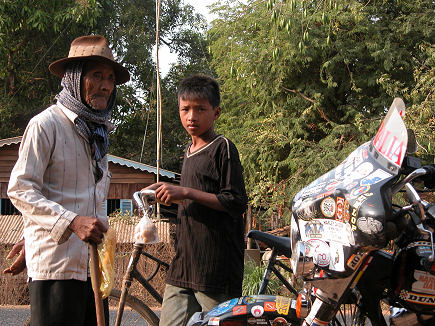 Again no trucks were crossing the border, all produce by hand or on motorcycle. It often amazes me how antiquated Asia is in some of its rules. The only options left seem pretty high risk. Smuggling the bike in, finding a safe hiding place for it, returning to Cambodia to an official border for me to cross legally to Vietnam, then collecting the motorcycle. Svay Rieng again for the night.
4/2/05 I took a dirt track along the eastern side of the Mekong, heading south it passed through small endless poor villages, weaved around waterhole tributaries, crossed over wooden walking bridges and detoured sandy bogs. Only motorcycles travelled the 35 km, or bullock drawn wagons. A small boat, loading cross border rice, was arranged to try and cross the border by water. The bike loaded and we hugged the east bank for an hour before crossing to the west. I had expected the boat to cross into Vietnam but a misunderstanding with the operator had us at Cambodian customs. Again no vehicles, boats included, tourist boats excepted, cross this watery border. I went within minutes of being allowed into Vietnam though. A more friendly border than the others they were at least open to the idea and over two hours discussions occurred between police and customs. Surprisingly the police were in favour of allowing the bike in and it was only the head of customs, who left for the Chinese New Year holiday minutes after the decision, who was against the idea. The second in charge later said he would have let the bike in had his chief not previously said no. Back to Phnom Penh, exhausted and arriving after dark. Again the first 50 km was alongside the Mekong a bouncy dirt track, similar but better than this mornings ride on the eastern side.
5/2/05 That was my last border attempt from Cambodia. A rethink of my plan and after getting a new Laos visa, which will take a few days as it is the weekend, I plan to head out through Thailand then onto northern Laos. Back into civilization and a cleanup of myself and the bike of dust. Replaced the catches on the top box, vibrated to destruction.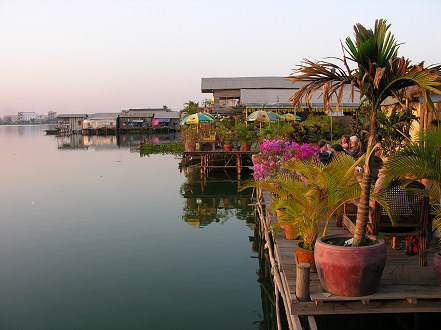 6/2/05 This is now my third visit to Phnom Penh, staying at the same guesthouse, lakeside, I was welcomed as a long lost relative, such is the hospitality in this country, particularly returning as so many just pass through, never to be seen again. With so many guesthouses and even more restaurants, the locals needed to work in these businesses and the travel agencies and transport taxi's, there is a second tier support structure level for those staff. They have their own street restaurants and coffee shops. I prefer to eat and drink there. A chance to talk with locals, many speak English in this area, a more sense of belonging. After a few days I am seen more and more as a local, removed from the tourists, and get an insight into how tourists are generally viewed, how they are co-erced to part with more money than they intended, how the local structure works.
7/2/05 Characters abound all over the world but seem more prevalent amongst travellers particularly in Asia. A Canadian, 54 yrs old, at my guesthouse, an ex-movie and advertising director from Singapore, now a budding painter having time away form his Thai wife and two young children, just hanging out in Cambodia because the amphetamines that he needs at 4 a day are only $US 1.00 each on the street here compared with $5 in Bangkok. Using them, and sleep deprivation (only 8 hours a week of sleep), he says he sees his painting creations more clearly. Others here prefer the more mind dulling drugs of alcohol or marijuana. Happy pizzas, yes edible marijuana toppings, are available and advertised openly at some restaurants even though illegal. Five foreigners last year died of drug overdoses in the country.
8/2/05 I'd been looking for a new camera the last few days and ended up with the new Nikon 8800, justifying the price of $US 875.00 as it's new technology, uses the same memory card as the Nikon 5700, I have been using and 80% of the functions are the same. Hopefully the old camera can be repaired in a more modern country to be kept as the spare. Spent most of the day playing with the 8 megapixel, 10 times zoom camera, obtaining my new Laos visa in the afternoon.
9/2/05 The number of people killed on the roads in Cambodia, 1024 last year, is about the same as in the west on a population basis, 11.4 million Cambodians. However the number killed on a per vehicle basis is about nine times that of the west. This is probably the same for most underdeveloped countries. Does that mean it is more dangerous driving here than in the west? Most vehicles here are used constantly, motorcycle taxi's, busses, trucks, with few private under used vehicles like in the west. Most vehicles are full to overloaded, not with just one occupant, so any accident results in more injuries. Ambulances and hospital care is slow and basic, particularly in remote areas, a higher chance of dyeing as a result of an accident. The vehicles and the people are not protected as well, no seat belts, no helmets, air bags, overloaded, exposed people riding on the outside of vehicles, resulting in higher injuries. Despite most people here not having a license, or having a dodgy one, the driving is of good quality. The speeds are generally slower, reducing injury. On balance I don't think there is a large difference in safety, riding a motorcycle here to riding one in the west.
10/2/05 Left Phnom Penh at 6 am heading west to the Thailand border, 400 km, arriving at 1 pm. Good road except for the last 40 km's of torn up asphalt. It was along this section that the bike didn't steer around a potlole, skidding with me almost dropping it. On inspection I couldn't find anything wrong. It wasn't till it happend again that I noticed that the top crash bar bolt had snapped and vibrated out enough to partially jam up the steering. Luckily it only affected the steering at low speed. Cambodia is basically a flat rice field, mile upon mile of dryland rice, flooded in the wet season. The extra stamps that were in my passport from trying to enter Vietnam confused immigration and kept me waiting for a while otherwise no motorcycle paperwork leaving.

Move with me to Thailand