Travel into Burma on a Harley-Davidson
By Peter Forwood
One Day in Burma on a Harley (5/6/96)
This is part of the first section of our around the world trip.
Complete Trip Overview & Map
Coming from Thailand

Burma is an impossible country to visit with your own motorcycle. There are no official land crossings for tourists let alone motorcycles. There are three popular border crossings between Thailand and Burma for locals. They are at Three Pagoda Pass, Mae Sot and Mai Sai the northern most town in Thailand. Mai Sai border crossing currently allows foreigners to cross into Tachilek (Burma) for day visits. You leave your passport at Thai Customs, pay the $US 5.00 cash and get a daylight entry permit to Burma. Be back by 6 pm. The idea is that this will eventually be the route taken to get through to China in the future.
I was aware of the above conditions before arriving in Mai Sai and hoped they would extend the courtesy to my motorcycle. Arriving at the checkpoint I was advised that for an extra $US 5.00 cash the motorcycle would be allowed the same courtesy in Burma as myself. I could travel around the town and within a five km radius of the town.
After photographing the event I proceeded to cross into town and decided to explore the five km limit. There appeared to be no checkpoint and it was 12 km out of town, before feeling nervous about pushing the point, that I turned back. This is now the furthest point from home that I will be travelling this trip. From here it will be a southish ride towards Bangkok.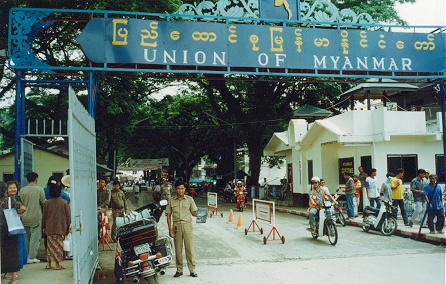 U turn and a couple of photos of the appalling road conditions and the antiquated vehicles plying them before returning to town. A couple of km along on the return journey and an official on a small motorcycle, who was sent out to chase me, waved me down. Did I realize I was 25 km out of town and had I seen anything? I naturally answered that I didn't realize I was that far out of town and no I hadn't seen anything. I guess I must have had my eyes closed for the whole time. I don't even know what I wasn't supposed to see. He was very polite and advised me to return to and stay within the 5 km limit, which I did.
In town I was surprised to see so many Indian looking people until I realized that Burma has a common border with India on the other side.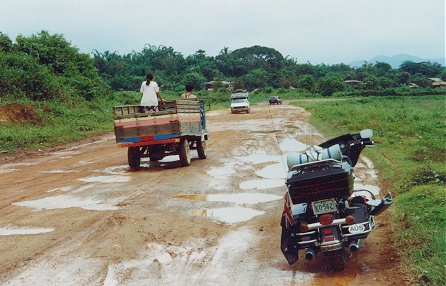 Some of central Asia has migrated to southeast Asia. The Indian people along with the Chinese seem to run most of the shops and added that typical Indian personality and flair to business. After a few hours of exploring shops and the variety of foods it was back over the border into Thailand.

Move with me to Thailand Part 2