Travel Through Belize on a Harley-Davidson
By Peter & Kay Forwood
Belize on a Harley (19/2/02 - 22/2/02)
Distance 340 km (277976 km to 278316 km)
This is part of the eighth section of our around the world trip.
Complete Trip Overview & Map
Coming from Mexico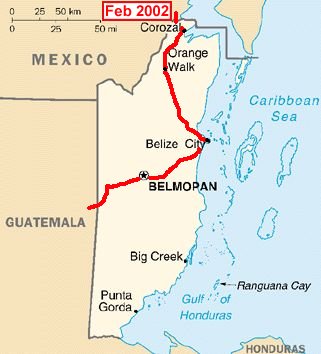 19/2/02 English speaking Belize, efficient and straight forward border crossing. No payments for us or the motorcycle. Another 30 minutes and we were in a totally different culture. 50% of the population African descendants, along with their imported culture mixed with the indigenous and British. Lunch at a small restaurant produced bush meat of gibnut (a large rodent) curry. The owner proud, having shot the animal himself. Cooked in a Creole style and tasting like pork. Arrived in the city of Belize for the night.
20/2/02 Belize City has a reputation for crime, and in the last two months 12 people have been murdered in a population of 60,000, mostly merchants being robbed. Little is being done by police or government to solve these crimes so the unprecedented solidarity by all merchants left their businesses closed today in protest and a rally demonstration held in the main park. A country town feel, the people were out in the streets and prepared to discuss their country's problems with strangers. We met many as we walked the waterfront, past colonial timber houses, over the swing bridge to the protest site. There seems no colour divide of the people here with blacks attending the rally in great numbers as merchants or workers. Chinese, Indian, British and Africans mix and speak their own dialect of English or Spanish. One of the world's smallest countries trying to survive its 20 years of independence and only 160,000 population.
21/2/02 After a 1961 hurricane the government decided in 1970 to move the capital from Belize City to a central place in the hills called Belmopan.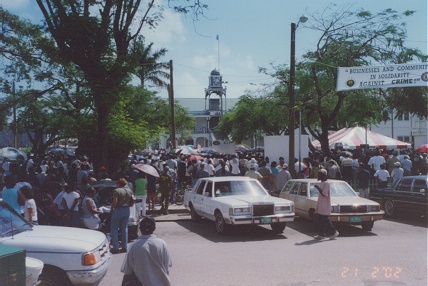 30 years later it is still a small town and only a few embassies or government departments have relocated. Onto San Ignacio (Cayo) where people run tours into the rain forest to see caves, or go canoeing. A small relaxed town where I was approached by a local needing $US 1.50 for a tetanus injection for a bad cut. Rather than giving the money we went to the hospital together. A joint Taiwan/Belize run hospital, treatment was free, so the gentleman received an injection, a dressing and some pain killers and the hospital received my donation and I got an hour of entertainment and insight into local life.
22/2/02 An easy country to spend more time in like the ex-pat community here escaping America's winter in an English speaking country. The border out of Belize easy but a land departure tax of $US 10.00 each and an environmental tax of $US 3.50 each. It is frustrating to have to pay money on departure as we have normally run down our local currency to zero. The border officials have no American change for our American currency, and you are left with having to deal with the street money changers and are at their mercy for the exchange rate. A better arrangement is for the charges to be paid on entering a country.

Move with us to Guatemala