Travel Through Barbados on a Harley-Davidson
By Peter & Kay Forwood
Barbados on a Harley (21/2/03 - 26/2/03)
Distance 163 km (324216 km to 324379 km)
This is part of the ninth section of our around the world trip.
Complete Trip Overview & Map
Coming from St Vincent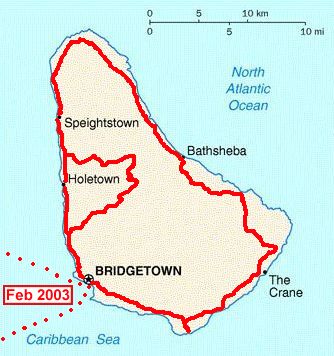 21/2/03 A modern industrial port, not at all like the other customs clearances we have visited. Few boats head east from the islands to get here with most yachts coming across the Atlantic, Barbados the first landfall in two to four weeks of sailing. There were two such boats anchored in Carlisle Bay, both about 13 metres long, one had an easy 18 day crossing the other a rough 28 days. We thought our 20 hours from St Vincent was long enough. These Caribbean countries seem so isolated in some ways yet worldly in others. Sometimes choosing to make their own rules and not be part of the world-wide community. Despite having an international license to ride the motorcycle I had to purchase a local temporary license, the first country we have needed this. Bridgetown, the capital has a great mix of old and new. Whilst looking for a place to unload the motorcycle we strolled through the wooden fishing boat wharfs, caught overcrowded minibuses, mingled with the cruise line passengers eating in outdoor restaurants watching the luxury game fishing boats unload the punter's catch.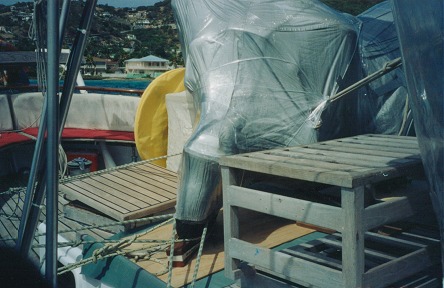 22/2/03 Coast Guard had given us permission to use their wharf to unload the motorcycle, however as we tried to lift anchor the boat wouldn't engage forward gear. On investigating the gearbox was found to have milky oil, a lot of water had somehow entered the sump. The captain proceeded to drain, flush and replace the oil over a few hours. The tide now being too low we will unload tomorrow. If you are going to have bad luck you want it at a good time. We were thankful that the problem didn't eventuate while we were motoring from St Vincent or worse while we were manoeuvring to dock. Barbados is a happening place, and our sandy bay hosted two Saturday night events. The local distillery has been operating for 300 years making rum and had a live show and fireworks, and the dinghy dock bar had all you can drink prices and women free drinks. With a couple of other yachties we visited both places and relaxed on the golden sandy beach over a beer in the warm evening.
23/2/03 An hour to unload the bike with the Coast Guard giving us a hand to tie up at their wharf. Then it was a loop of the island. Barbados is different from the other islands, being non volcanic, it is an uplift of the earth's crust and made up of an ancient coral reef. As such it is flat and without rivers. Water is drawn from the underground reservoirs in the limestone. Riding around, it is rare when you can't see the coast, golden beach after golden beach. Being Sunday people were out wind and para surfing, picnicking or swimming on this densely populated island. The mansion houses and beach side resorts disappeared into two roomed wooden huts the further north we travelled with them returning along the western side, walling people in and out with security fences and boom gates.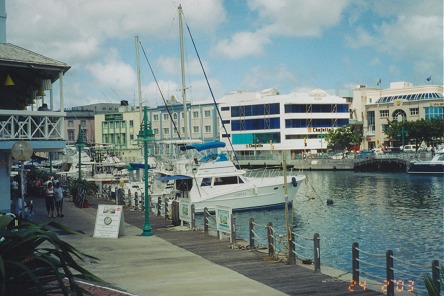 24/2/03 Owners or Captains take on a big risk when they sign on people as crew. They become responsible for them and can not simply put them ashore at the next port as immigration formalities and onward ticket requirements must be met. Captains often take paying passengers as crew to avoid the legal requirements and added costs of a normal passenger, insurances, boat survey etc. They are also taken on to assist in longer sea crossings as an extra watch keeper or for their experience and knowledge. Usually done on agreement and without cost to either party. During these long voyages things can get tense and both parties regret their situation but can do nothing. If the crew will not leave the boat voluntarily the Captain is obligated to meet immigration requirements and provide an onward ticket. We have heard many such stories from other yachties on our short trip. Today was spent with boat chores and land chores, shopping, motorcycle oil change etc.
25/2/03 Barbados seems more British than the other islands we have visited. A larger white population and independence only in the 1960's has kept that influence. Its strange to hear local whites with the typical Caribbean accent usually associated with the black communities of the region. Despite a couple of cruise ships visiting each day the locals have remained friendly and helpful, not at all jaded by the constant onslaught of questions and directions asked of them. We took the motorcycle for another outing, into the "mountains", 300 meters high, limestone caves and sink holes where the few large trees remain. A creole lunch and the local delicacy of flying fish for dinner.
26/2/03 Said goodbye to Barbados, leaving in the late afternoon after loading the motorcycle, cleaning the chain locker and loading the dinghy. We were passed by two enormous flood lit cruise liners in early evening and we pictured their passengers eating a wide array of foods for dinner on their gyroscope stabilized ships as we chewed on dry toast to settle our stomachs. The wind was behind us and the seas quite calm as we rotated three hourly shifts all night.

Move with us to St Lucia