Travel Through Algeria on a Harley-Davidson
By Peter & Kay Forwood
Algeria on a Harley (16/10/06 - 22/10/06)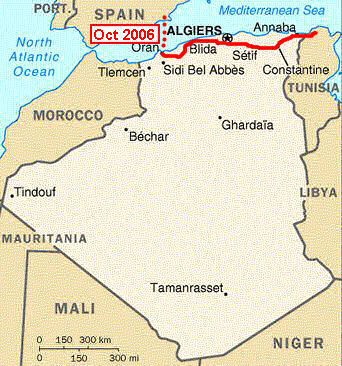 Distance 1190 km (473844 km to 475034 km)
This is part of the twelfth section of our around the world trip.
Complete Trip Overview & Map
Coming from Spain
17/10/06 The ship arrived on time at 9 am and we were about the tenth vehicle to depart but still it took almost two hours to complete formalities. The last car was likely to be there well into late afternoon. We were not offered any special treatment but received great help from all officials as we passed through immigration, police and customs using our almost not existent French and their small amount of English. No money was asked for, nor did we need to change money at the official bank in the customs hall which was only paying 88 dinars to the Euro, 95 at the bank just outside the gates and 100 unofficially from an import/export business nearby. Customs was thoroughly examining almost every vehicle and we could see to one side whole motorcycles, broken into bits, where people had been caught importing whole vehicles as parts. Running on reserve we purchased high octane fuel for 25 Euro cents a litre. The quality seems excellent judging by the lack of smoke the older vehicles are not emitting. In Sub Saharan Africa vehicles belch out black fumes using their fuel.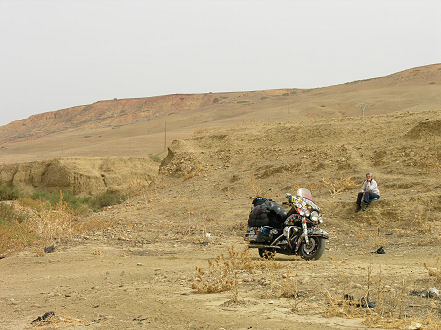 We had noticed in Spain that a pannier support had broken and needed welding. Expecting it to be easier and cheaper in Algeria we had waited, and managed to find a place and got the job done in less than an hour, and like a lot of Arabic countries we have not been charged before for small repairs and were again not allowed to pay for the repairs. The Hotel des Jardin on the road heading towards Tlemcen, being renovated and charging 14 Euros was spotted as we drove around sight seeing and where we crashed. Friendly, the manager's main concern was that Kay and I, with the same family name, usually meaning siblings here, were married.
18/10/06 Algeria is the 53rd country in Africa the motorcycle has visited. It has now visited all the countries of the mainland and islands making up the continent. It would also have meant the motorcycle had visited all the countries on five inhabited continents, leaving just countries in Asia and the Pacific to visit, but the recent split between Serbia and Montenegro means there is again one country to visit in Europe. Ramadan is not an easy time to visit strict Islamic countries. Nothing is to pass by mouth during daylight hours for one full passing of the moon, about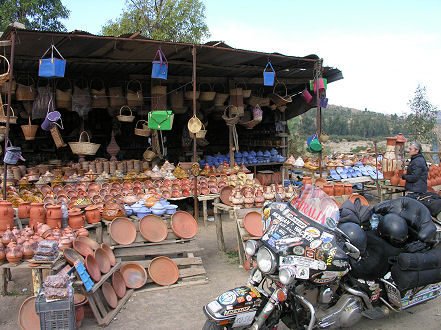 thirty days. No food, water, cigarettes etc. can be consumed. We left Dakar just as this years Ramadan commenced avoiding a large part of it's restrictions and it still has about one week left. Algeria strictly adheres to the conditions and all restaurants, coffee shops and food outlets are closed during daylight hours. Although most Islamic countries don't enforce Ramadan's conditions on non Muslims, or travellers, it is extremely impolite to consume anything where a fasting person might observe. We ate breakfast on the boat's stairwell yesterday morning and were relieved to arrive at our hotel early afternoon. Today after riding 200 km we found an area near a creek off the road. Somehow feeling like a child eating something forbidden we had lunch of bread and cheese. The inland road was busy, cheap petrol, many cars, weaving through many towns. After Chlef we headed for the coast, a lovely ride along a mountain side with ocean views. Hotels are a little scarce. It took two hours passing through a couple of towns where the only place was being renovated or an overpriced government one, or one didn't exist, till we arrived in Blida near Algiers. The internal political problems that cost the lives of almost 100,000 people in the 1990's and left some lingering attacks till a few years ago seem to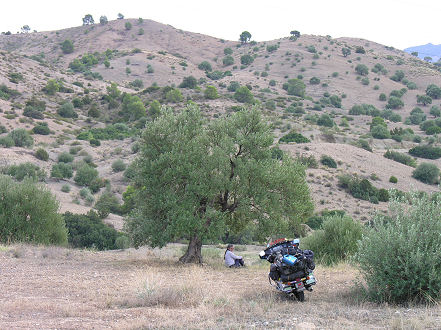 have stopped and privatisation and renovations are moving quickly. We ended up in another small private and friendly hotel in the middle of town. People were milling aroundthe square waiting for sunset and the fast breaking. The coffee shops are then full, of men only, few women are seen on the streets, although their dress, whilst conservative is not as strict as some other Islamic countries. Many wear the abeyya (loose fitting cloak) and scarf whilst others go without the scarf and a few are western dressed. A couple of small restaurants opened later and after eating the owner refused payment for our meal, saying it was his pleasure to invite us to Algeria. It is rare we are charged the real price for things. Some societies try to overcharge tourists, others, usually in low tourist areas, will offer something for free to travellers.
19/10/06 The traffic is slow moving and not wanting a big city we skirted Algiers on the freeway. There are a variety of officials controlling people's movements across the country. We have been stopped by local police, national police, military police and customs officers. Each town has at least one control post on entering and leaving whilst there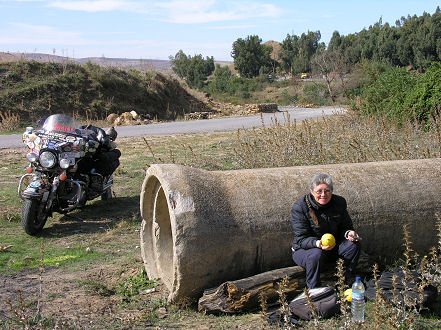 are random check posts between towns. These are serious control posts. Heavily armed officers are posted slightly away from the road block in case of problems. Motorists slow respectfully and wait to be waved through before proceeding. There is on average at least one control post every 20 km's where we have been and we are stopped regularly making progress slow. The officers, whilst incredibly polite and friendly don't realise the inconvenience caused by being so often singled out and stopped, particularly on a slow road, after just overtaking a line of trucks, to be delayed, to have to overtake the same trucks again, two, three or more times. The strict controls seem to be making the country safer though. Traffic is also heavy as we are heading into the last weekend before the end of Ramadan holidays, with fast and often dangerous overtaking. Rode a slow 350 km today to Setif in the mountains and slightly cool. Being Thursday night, and a holiday tomorrow, people were again out in the streets buying goods and drinking tea and coffee in the evening. Most restaurants are closed for Ramadan, even during the evening as people eat at home with the family, so it was a street pizza by the slice for dinner at a stand up coffee shop.
20/10/06 Spent the day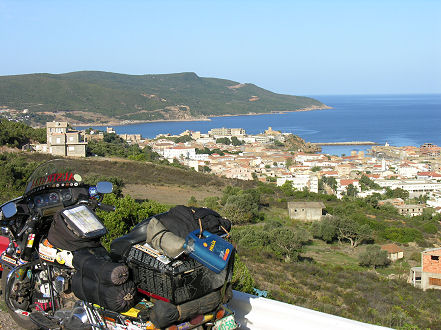 in Setif. A quiet restful day wandering the streets and trying a couple of local Ramadan sweets.
21/10/06 Algeria is Africa's second biggest country after Sudan but with only a seven day transit visa we can't see most of what tourists come here for, the southern deserts. The country is similar to Australia with a fertile coast and large areas of inland desert. More fertile rolling hills are being prepared for the winter's rainfall and crops. North Africa was the breadbasket for the Roman Empire and there are ruins in many towns. Today with the increasing population Algeria can't grow enough food to feed itself, plastic bags blow across the fields clogging planting and harvesting machinery. When does a society realise the cost of it's rubbish? Most of Africa has no official garbage collection or street cleaning and leaves rubbish to be dumped, burned or to blow around. That is how it is here. We arrived in Annaba, again having had lunch hidden from the road. A youth hostel lies just near the police roadblock entering town and for one Euro each we had a bed in a comfortable room. The hectic streets of this port town slowly emptied to quiet leading up to sunset as people headed home for the evening meal breaking the day's fasting. We have been warned many times about leaving the motorcycle on the street since arriving in Algeria. This evening there were more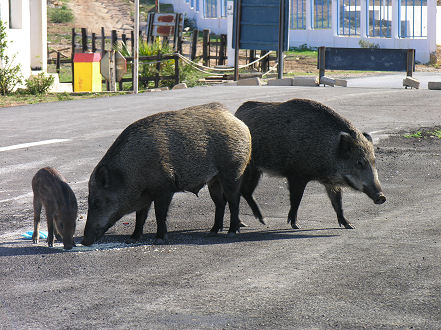 warnings as we parked and covered it, intending to go for a walk, we instead kept it in sight. A couple of young teenagers paid particular interest and on our return we discovered the bike cover had been razor slashed in three places. Just vandalising, perhaps because they couldn't see the bike under the cover, or were bored or for whatever reason people vandalise other's property. It is ironical that it was in this area of the world that the Vandals, in the 5th century, were in power and where the term to vandalise came from.
22/10/06 Algeria's economy seems to be booming. New road works, some up to six lane highways with long bridges spanning gorges and housing development complexes in all towns we have passed through. The almost mono design of government housing spoils the landscape however. Left over from Soviet influences, concrete housing blocks rise above the surrounding fields. Few are softened or beautified by trees or gardens, just functional structures. We stayed another day at the youth hostel, venturing out to the local markets for fresh fruits and vegetables and did some work on the bike's brakes, sticking a bit lately.
23/10/06 The about 100 km to the border was through some of the most scenic we have passed through in Algeria. A slow but easy out of the country. No-one asked for any official money exchange documents nor asked for the customs declaration we had to fill in on entering the country. Our visit to Algeria was pleasant but the tenseness of the constant roadside checks and it being Ramadan definitely affected our enjoyment.
Move with us to Tunisia