HU Travellers Meeting Virginia - 2017
Horizons Unlimited 3rd Virginia Travellers Meeting -
Holiday Lake 4-H Center and Camp, near Appomattox
Thursday, April 27 to Sunday, Apr 30, 2017
It's All About Overland Adventure
Whether you're a seasoned veteran with wisdom to share or a complete novice hungry for ideas and guidance, it doesn't matter if you ride a motorcycle, a bicycle, or drive an expedition vehicle...
Horizons Unlimited meetings are for everyone who dreams of adventure along the road less travelled.
Horizons Unlimited Virginia Event Schedule
This event is taking place from Thursday, April 27 to Sunday, Apr 30, 2017.
On-site registration/check-in will open on Thursday, April 27, at 1:00 pm.
There will be presentations and tech clinics on Thursday evening; Friday and Saturday afternoons and evenings; and Saturday afternoon and evening. We plan ride-outs on Friday and Saturday mornings. Come early and make it a great weekend! We recommend riding in on Thursday and leaving on Sunday, and participating fully in the activities in between to make the most of your HU experience.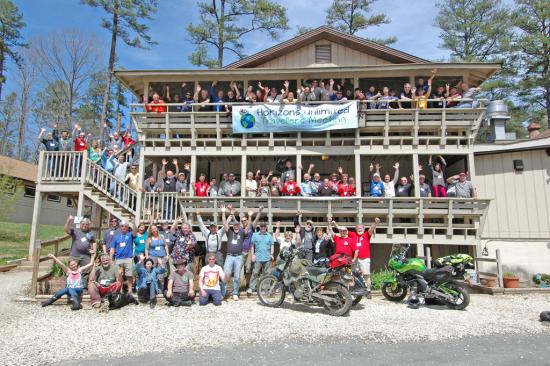 Throughout the meeting, we'll offer talks, demonstrations, and other fun sessions, including interesting ride-out opportunities. In addition to hearing inspiring stories of overland adventure from around the world, you'll learn how to prepare for your journey, navigation tips, first-aid basics, photography, and a host of other essential topics. Whatever your past experience has been or your future plans may be, there will something for everyone.
PLEASE NOTE: The schedule is subject to change at any time - all the presenters are volunteers and travelling, thus they may be delayed or unable to get there. Some may have anxiety attacks and be unable to perform! ;-) And sometimes travellers show up unexpectedly with great pics and stories, so we try to fit them in! Details of changes to presentation times or other matters of note will be posted at Registration and other locations.
The complete listing of presentations will be printed in the Registration area.
Kameran (Kam) Ahari

Rockies Backcountry
While the dream of nomadic overlanding and globetrotting continents may be a bigger hurdle from the bondage of our daily lives and careers, a backcountry trip through the Rocky Mountains can be more within our reach. It was at the first Horizons Unlimited Virginia event that Kam heard about a couple of trails that criss-crossed the country through the backcountry. After doing some research, he was drawn like a magnet to explore the Rocky Mountains by following the Great Continental Divide Route (CDR). Join Kam in his journey through the backcountry of Colorado, Wyoming, and the Moab region of Utah. He shares some of the most beautiful and less-travelled places like the Great Divide Basin in Wyoming's Red Desert. Kam also shares his experience of outfitting a bike, discuss the pros and cons of a big adventure vs. dual-sport bikes, how to pack, some travel precautions, and available planning resources.
Kam considers himself one of the most recent Horizons Unlimited "graduates" who returned to riding only a few years ago. After attending his first HU Travellers Meeting in Stecoah, North Carolina, in 2013, overland motorcycling now courses through his veins. "Almost everything I've learned has been from attending HU events." (Aw, shucks, Kam!)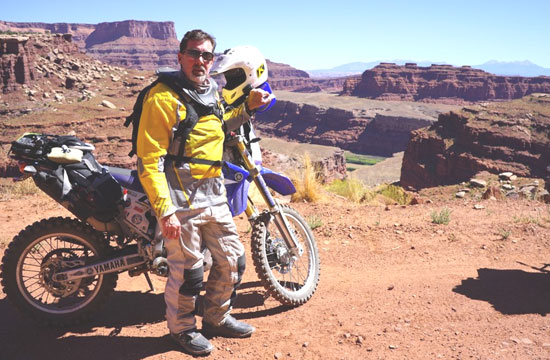 Beth Ann Hinnant & David Smith

Touring the U.S., Canada & Europe by Bicycle
Beth Ann and David's 2016 epic bicycling tours included riding 4,000 miles across the U.S. for a second time, touring Quebec, and heading over to Europe for a cultural shock and the adventure of a lifetime. As Beth Ann says, "We get so much joy from seeing the world on the seat of a bicycle. Oh, the places we've been, the sights we've seen, and the people we've met on our self-propelled journeys!"
Jeff Davison

Mechanical troubles cannot derail the exploration of Nine National Parks in the Southwest
Despite preparations in place for an ambitious journey, Jeff was not prepared for a mechanical failure and parts on back-order at T-minus two weeks. But when nine National Parks await discovery in the Southwest, creativity and pigheadedness pay off. Riding from his home in Ontario, Canada, Jeff makes the most of his annual pass to the National Parks by visiting Utah's Might 5 and Colorado's Colorful 4 in the space of four weeks, not to mention Bonneville Speedway, breathtaking Antelope Canyon, and Monument Valley in Arizona. Definitely a month to remember.
A beginner in 2007, Jeff has ridden in every province in Canada as well as half of the United States. He has written for both Motorcycle Mojo and Rider Magazine. During the long Canadian winters, he dreams of following the PanAm Highway from Deadhorse, Alaska, to Ushuaia, Argentina.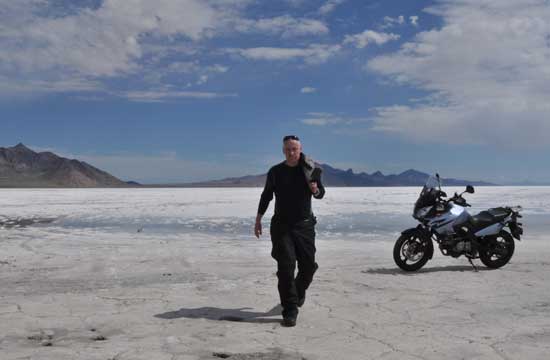 Mark Brown

Small Bore, Big Adventure
Explore the challenges and triumphs of small-bike overlanding.
Join me as I recount my journey on "El Burro", a 2014 Honda CRF250L. I will share my experiences of travelling solo from Georgia, south to Puerto Natales Chile, then heading north to Buenos Aires. Successful travel strategies from the perspective of riding a small-bore bike 14,500 miles through 13 countries.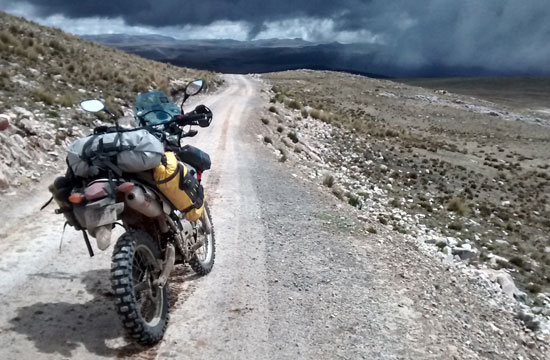 Col. Ignatius "Buck" Liberto, USMC Retired

Lee vs. Grant: Last Days of the Civil War
The final year of the war and how the armies arrived at Appomattox Courthouse.
After three long years of fighting here in Virginia, the two best generals of the American Civil War finally faced each other across the Rappahannock River in an area known as the Wilderness of Spotsylvania, north of Richmond. Both were graduates of West Point and comrades together in the Mexican War, and in May of 1864 they squared-off in the final year of the American Civil War, from the Overland Campaign to the Surrender at Appomattox. We will relive those final arduous months of the War and discuss the greatness of these two American icons, explore their tactics and strategies, and share what became of them after the War.
Buck is a retired U.S. Marine Colonel who loves history, adventure riding, and meeting new people!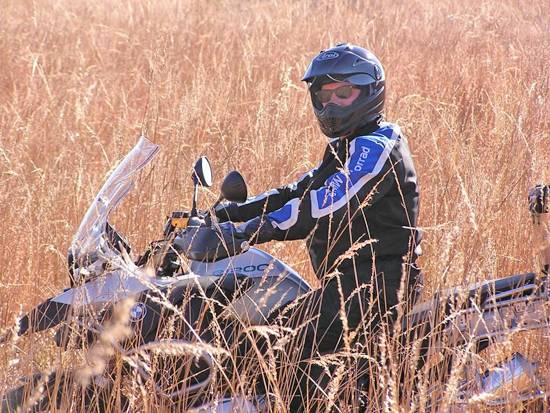 George Parker

Join the Journey
Getting Started for the Travel Curious: A full session Q&A.
Getting Started for the Travel Curious. Travel photos used as a catalyst for a full session of open discussion on getting started in motorcycle travel. If you are a novice or just travel curious, join in and ask your questions. This session will help you realize that the important thing is to get out of the driveway and ride somewhere, and just how easy, simple, and inexpensive that can be. Those early trips don't have to be to far-off places, "One Person's 10,000 miles is Another's 1000". Join the Journey!
George managed a motorcycle dealership and was a certified safety instructor in the 1970s. He has traveled long distance since 1970 and did his first cross-country on a 250cc. He has ridden multiple trips in the lower 48, Canada, and Alaska with trips in excess of 13,000 miles. George's goal is to help new travelers "Join the Journey".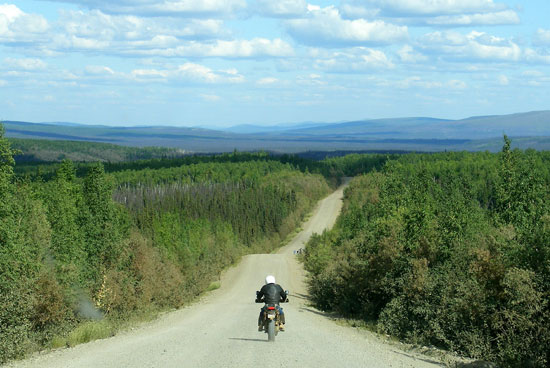 Brent Carroll

Traveling the World by Moto Changed Me
Petrified, I took on a TransCan and PanAmerican trip by moto. It changed me.
I gave up nearly everything I had to chase the dream of traveling the world on my motorcycle; and I am so glad I did. After one year to the day travelling across the U.S., Canada, and the Pan-American Highway from Prudhoe Bay through 18 countries to Ushuaia and back, I observed strong evidence to confirm a few beliefs I had held: that the world is full of purposeful, striving, thriving, happy people; and that the world is also full of jaw-dropping beauty. But the most important things I learned were about myself: coming to know what happiness in life really means, how patience is totally relative, and how important it is to savor every moment in life.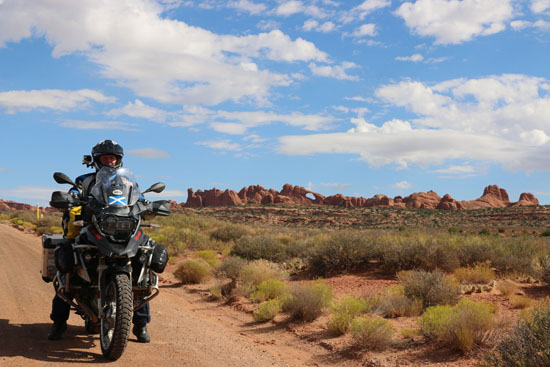 Fly Fishing for the Motorcycle Traveler
Discuss minimalist fly fishing gear for carrying on a motorcycle, and demonstrate fly fishing techniques.
Have you ever wanted to take a fishing rod on your motorcycle travels? This presentation will give you great tips on fly fishing gear and techniques. A demonstration will also be part of the presentation, because it will be lakeside. Maybe we'll catch a blue gill or two.
D. Brent Miller has been motorcycling since age 15. He is the Program Leader for Project Healing Waters Fly Fishing—Cincinnati. The program teaches Veterans with disabilities how to tie flies, cast a fly line, build their own fly rods and provide opportunities for the Veterans to go fishing.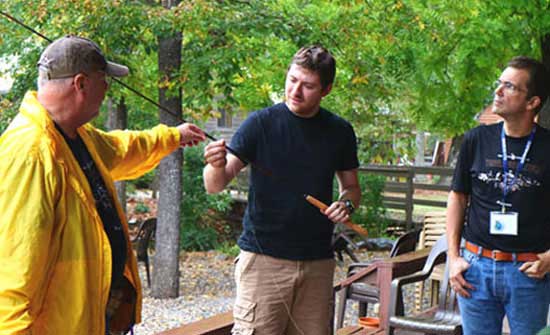 Rally for Rangers - Mongolia (with film)
An off road adventure in Mongolia bringing new motorcycles to park rangers.
Documentary film and presentation: In 2014 and 2015, 35 riders embarked on a rally across northern Mongolia to bring new Yamaha AG200 motorcycles to park rangers who desperately needed them. These rangers are attempting to protect some of the last pristine land in Asia from development, poaching, and mining. They were doing so on horseback and 40-year-old Russian motorcycles held together with baling wire and duct tape. All 35 bikes were delivered and are now in use helping rangers stop poaching, illegal mining and other detrimental activities in Lake Hovsgol National Park and the Darkhad Valley. These rangers can now cover vast territory without fear of breaking down, all through the efforts of the Mongol Ecology Center's Blue Waves Motorcycle Rally and the 20 volunteers who raised the funds to purchase the bikes, fly to Ulaanbaatar, Mongolia, and ride 1000 miles through the vast steppe of central Asia to personally deliver the bikes.
Rally for Rangers is gearing up for another delivery in 2017 and is seeking interested riders. Join RfR founder Tom Medema for this inspiring film and information about next year's Rally. In addition to showing the adventure of the first two rallies, Tom plans to recruit riders for the 2017 and 2018 rallies in Mongolia and Patagonia.
NOTE: This presentation is given a second time, but with an abbreviated film and more time for Q&A.
Tom Medema is a park ranger and founding member of the Rally for Rangers Foundation. He has worked as a park ranger in the U.S. for over 25 years and his foundation is bringing new motorcycles to help rangers protect national parks around the world.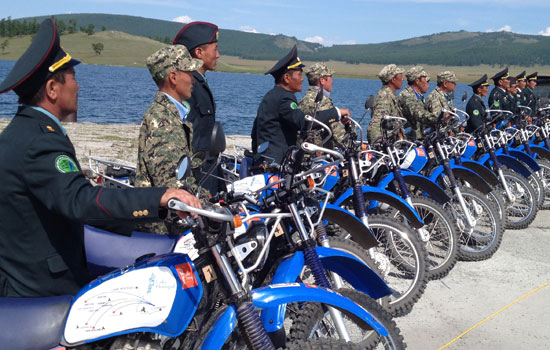 Workshops and Tech Sessions
...because Horizons Unlimited meetings are about information, not just inspiration!
A Thousand Words and
Mastering Your Mobile
1. A Thousand Words
Create travel photos that speak a thousand words. Your friends think you are NUTS for traveling around the globe on a motorcycle. You try to describe these destinations to them, only for it to fall short. Why is that? The human brain is highly driven by visual stimulation. In order to truly convey the EXPERIENCE of being there, you need great visuals! In this presentation, we will discuss all the ingredients that make for beautiful photography. Composition, light, color... Yes, you too can learn the "magic" that makes images reach into our hearts and "speak a thousand words"!!!
2. Mastering Your Mobile
Round-table discussion on tips, tricks, and apps to master our smart-phone photography. In today's fast-paced world, more photos are taken with smartphones than with any other camera! They are small, light, and durable. They provide excellent quality in a convenient package. And they can multi-task! In this program, Chris will lead an open, round-table discussion, about how to improve and fully utilize these amazing devices. He will share his favorite apps, cloud storage systems, and social media systems. Bring your questions. And bring your own favorite apps and ideas to share with everyone in this lively discussion about all things social & mobile!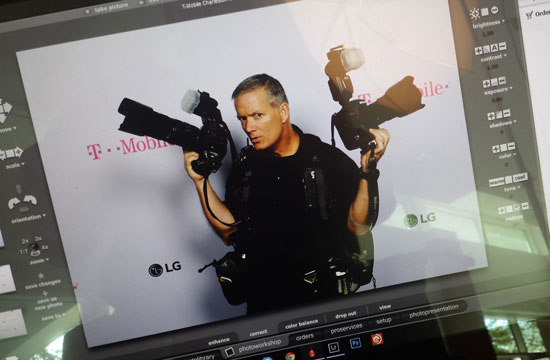 A true Third-Culture Kid (TCK), Chris was born and raised by his American parents living in the Congo (DRC). His parents were missionaries at the time, affording him a childhood full of wonder and curiosity at the marvelous planet we inhabit, and the diversity of people, places, and creatures we share it with. Growing up overseas imbued him with a healthy dose of travel lust coursing through those veins. From Tanzania to Jamaica, Canada to Costa Rica, Romania to Guatemala, Chris is always searching for that next great adventure! A second life-long ailment struck him in high-school when the photo bug latched on and never let go. Returning to the US, Chris obtained his photography degree in New York, and now operates one of the most highly rated studios in South Carolina with his wife, Cami. Barack Obama, George H. W. Bush, Steve Harvey, Serena Williams, Pete Sampras, Karch Kiraly, and Martha Stewart are just a few of the names he's had the privilege of photographing in his 25 year career. From riding dirt bikes in the African plains as a teenager, to carving corners on the Blue Ridge Parkway, riding is the third great passion in Chris' life. He looks forward to sharing all three with everyone at the HU Meeting in Virginia!
| | |
| --- | --- |
| | FOUR high-value presentations covering packing light, budgeting, mental preparation for extended trips, and prepping for injury or illness. |
1. Going Small
Does it always seem like you have too much stuff packed, while at the same time you can't seem to figure out what you should be leaving behind? With years of experience traveling on a small motorcycle, Andrew goes over luggage choices, and what to pack versus what to leave behind.
2. Anatomy of a Budget
It's one of the most common questions overlanders are asked - "How do you pay for it?" Starting with the choice to go, all the way through prep, planning, time on the road and returning home (if you ever do!), Andrew walks you through how to budget for your long overland adventure.
3. Finding the Time To Go
It's one of the most common questions faced by overlanders, and perhaps the biggest hurdle that prevents people from taking long journey of their dreams. Leaving work, home, and loved ones to travel is a huge change, and Andrew works on how to approach finding the time to travel, dealing the obstacles and delays, and how to come home and start again after the trip is over.
4. Medical and Trauma Preparedness on the Road
No one wants it to happen, but injuries and illness happen while on the road. Packing all the gear and medications to face every possible scenario is impractical at best and impossible at worse. Andrew Pain has worked as a paramedic in Milwaukee for 17 years, and traveled around North, Central, and South America on a small motorcycle. He explains what you don't need, what you should have, and where you should get it, as well as a few simple tips for dealing with the things that go wrong.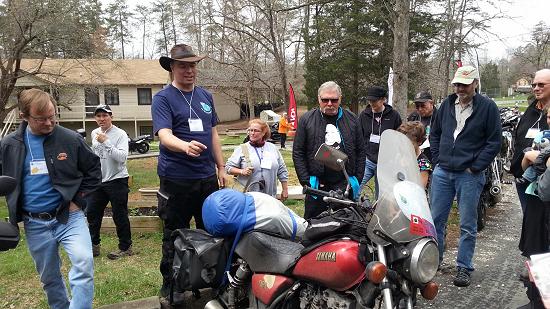 LOTS of presentations to come! As people register to present we'll list them here.
How about you? We're all here to learn, and there's LOTS to learn! We want to do more presentations and seminars, but we need volunteers to give them! Any topic you can contribute having to do with motorcycle travel, maintenance, planning, etc., lasting 30-60 minutes, would be great. Please contact us here to volunteer.
We'll also need volunteers to help us run the meeting. Areas of need include: pre-meeting setup; registration/check-in area; audio/video setup; computer/IT issues; general "go-fer" assistance; post-meeting packing and cleaning up.
Exhibitors

Zacker Adventures Skills Session & Afternoon Ride
BREAKING NEWS! Chad Corbett of Zacker Adventures will be holding a skills training session on Saturday morning followed by an afternoon ride. This is an opportunity for you to polish up your skills and learn a few pearls with this fun and practical approach to Adventure Riding.
Chad will cover the basic skills to make you a more capable Big Bike rider. He will review and perform all of the following techniques:
Adventure bike set-up and ergonomics
Slow speed control (throttle, braking, and clutch)
Riding posture (standing, sitting, weight transfer)
Slow speed balance and maneuvers
Afternoon adventure ride
Saturday schedule:
Morning Range 9am-12pm
Afternoon ride 1pm-4:30pm
Cost for the training session: $125. Limited availability. Register directly with Zacker Adventures.
***You must be be registered for the meeting to attend the training.***
Panel discussions at most HU events include...


Border crossings - How to get through borders with minimal stress and cost!
Packing light - Tips and techniques from experienced travellers to reduce weight and bulk.
Regional discussions - e.g. travelling in South America or Asia.
For Women Only - A must for the ladies, so be sure to plan on being there! A chance to talk to experienced travelling women without the men around!
Experienced Travellers Panel - ask the experts anything you want!
Walk arounds / Show and tell!
Tents and Bedding discussion (in the camping area) - What works, cheap vs dear and which ones keep you dry, warm and comfy!
Bike mods - Show off your best bike mods - homemade saddle bags, toolbox mounts, GPS mounts, seats, side stands, tank panniers, cup holders, etc.
Horizons Unlimited Virginia 2017 Planned Ride-outs
Friday morning: Ride to historic Appomattox Courthouse and tour the site of the surrender that, for all intents and purposes, ended the American Civil War.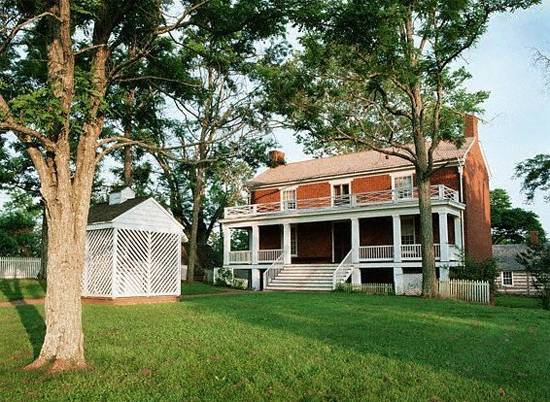 Saturday morning: Ride to explore Appomattox-Buckingham State Forest via paved, gravel, and dirt roads.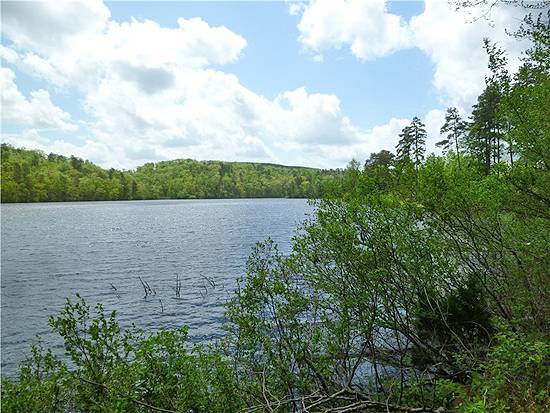 Facilities for a Fantastic Weekend!
We are excited to come back to the Holiday Lake 4-H Educational Center and Camp. The camp is located in the Appomattox-Buckingham State Forest in central Virginia, about ten miles from Appomattox Courthouse National Historical Park. The camp is about 85 road miles west of Richmond, VA; 85 miles east of Roanoke, VA; 170 miles southwest of Washington, DC; and about 130 miles north of Raleigh, NC. It's an easy and scenic ride from almost anywhere in the mid-Atlantic or central U.S.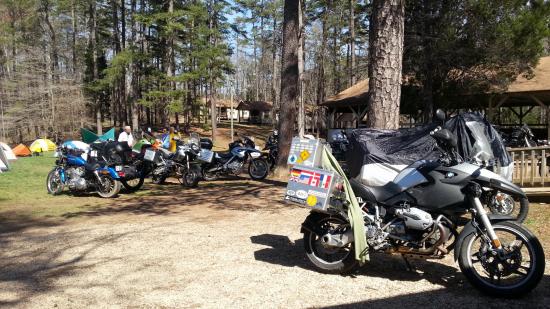 This part of Virginia is characterized by rolling farmland and countryside, lush forests, and scenic, two lane roads with minimal traffic. The inaugural weekend of HU Virginia coincides with the 150th anniversary of the end of the American Civil War and will bring more people and traffic to the area. We'll be largely insulated from that at the 4-H camp, though you may want to venture out to witness some of the re-enactment activities. While easy to reach via major highways, the Appomattox area is a mostly rural landscape, dotted with small towns, and shaped by history. When you're not participating in HU seminars and presentations, you'll enjoy great riding and plenty to see and do.
Presentation Facilities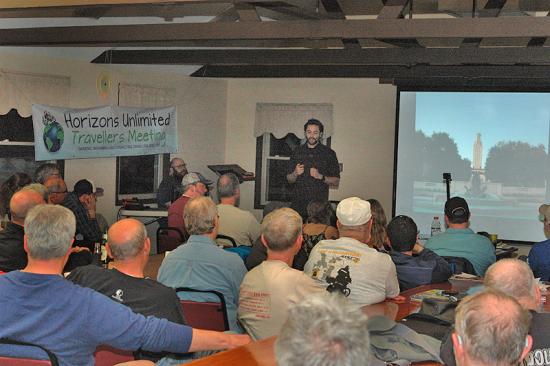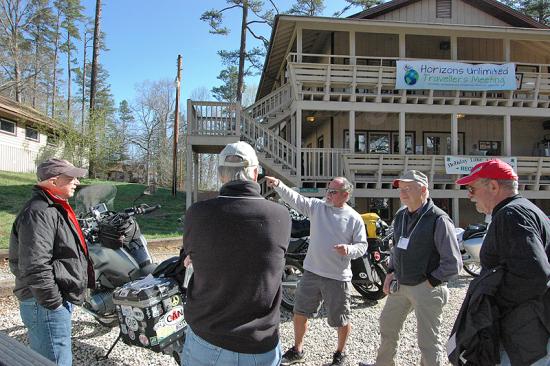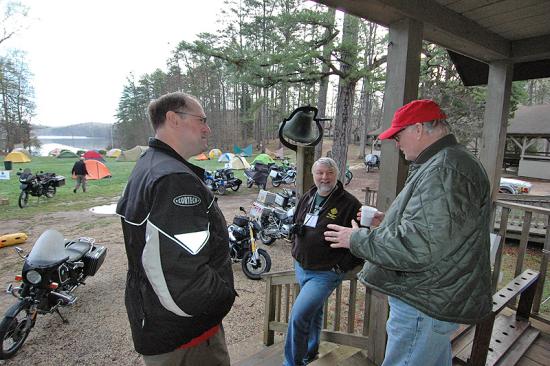 Accommodation on site
Holiday Lake 4-H camp offers plenty of flat and grassy areas for tent camping with bathhouses nearby; rustic and historic cabins for basic accommodations with bathhouses nearby; bunkhouses with bath/shower rooms incorporated; and a small number of upgraded rooms for more private lodging. You are responsible for providing linens – sheets, pillows, sleeping bags, towels, etc. – for all accommodations.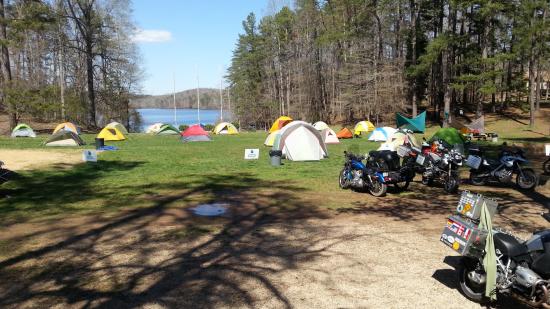 Tent Camping
Tent space will be in two areas. One area will be on the lake side of the dining hall complex. There is a terraced, grassy area that will be set aside for tents between the dining hall and the large fire ring. Campers here would use the large bathhouse near the dining hall building.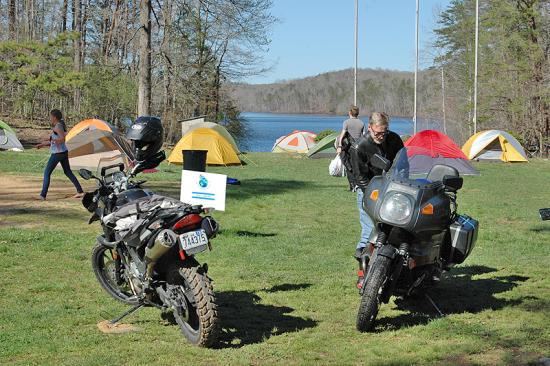 The second is near the entrance to the camp and across from the swimming pool. This is a flat, grassy, athletic field, and campers would use the bathhouse at the swimming pool just across the road. The swimming pool itself will be closed during our event. There is a large parking area on the far side of the athletic field. To avoid damaging the athletic field, you will not be allowed to ride your motorcycle up to your tent.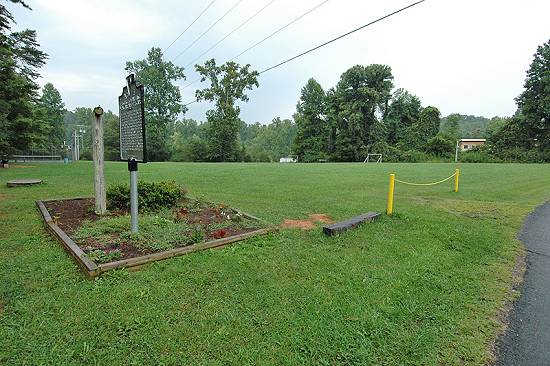 All campers are advised to use best practices regarding the storage and disposal of food near their tents and cabins. We are staying in a state forest with the corresponding possibility of animals looking for food.
Fires are allowed only in the camp fire ring. Camping stoves are permitted at your tent site but not inside any buildings.
Bunkhouses
There are two bunkhouses plus a lodge.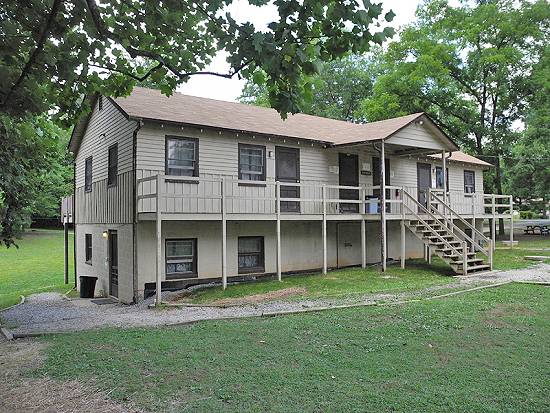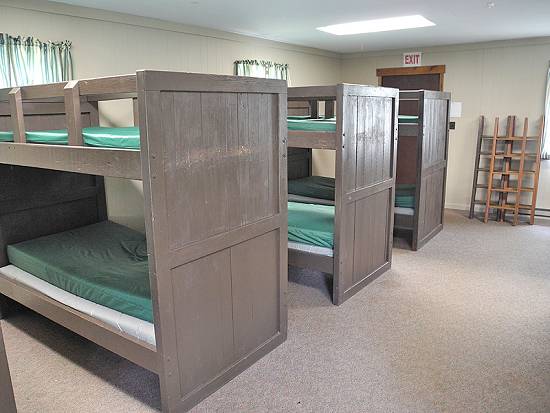 Cabins
There are two rows of cabins flanking a lawn with a volleyball court and grassy areas. There are 15 of these, each with four bunks (eight beds). We will use four beds (lower bunks) per cabin so there will be enough room for four adults plus plenty of gear. Beds are 72"x30", slightly narrower than a twin mattress.
To note - we will reserve one row of cabins for women and couples, and the longer row of cabins for men only.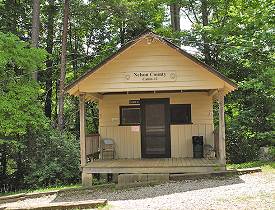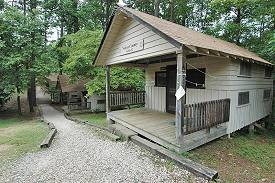 PODS
- SOLD OUT!
There are five of these with two bedrooms with one bed in each, plus a bathroom and a living room. Heated and A/C.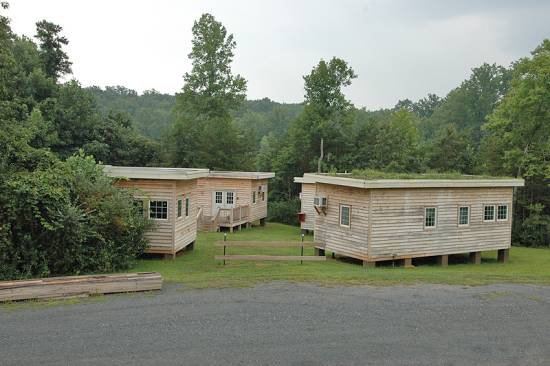 Showers & Toilets
There are bathhouses for those camping in tents or staying in the cabins. Bunkhouses and upgraded rooms have their own washroom facilities, including private showers, toilets, and sinks.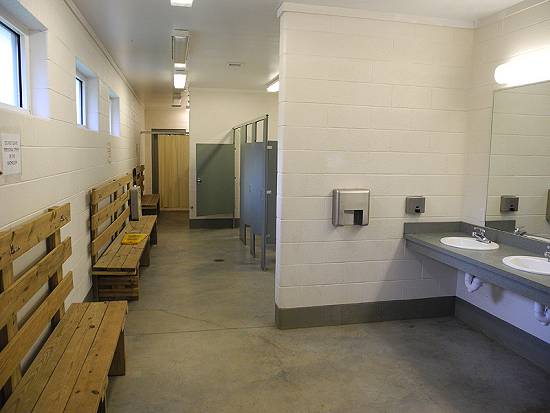 Meals
Meals are NOT included with your registration fee. You have choices regarding meals. Complete meal packages are either 8 meals (if coming for Thursday afternoon – Sunday morning) or 5 meals (if coming for Friday afternoon – Sunday morning only). Partial meal packages leave lunch up to you, and may make sense if you're planning on a ride-out on Friday and Saturday. You can also sign up for the complete meal package and choose a box lunch for your ride-out.
"The food was amazing and there was so much of it, it was comfort food as well, I did not hear one complaint and the ladies in the kitchen were very accommodating."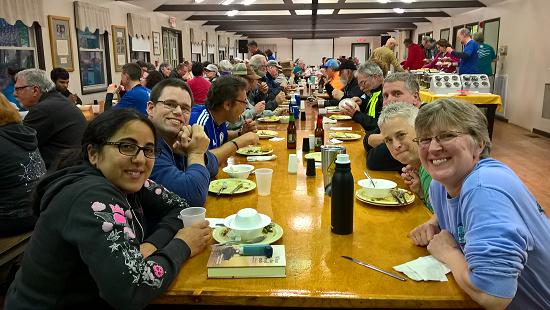 "The food is very good. Well worth the cost, and certainly worth the time you'll save."

If you desire a box lunch for either Friday or Saturday, please check the appropriate box.
There will be a vegetarian option offered at each meal - we will need numbers for these, so please indicate when you register if you wish a vegetarian meal.
Special dietary needs within reason can be accommodated with advanced notice.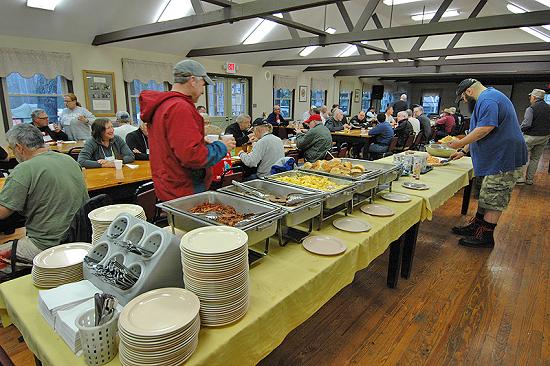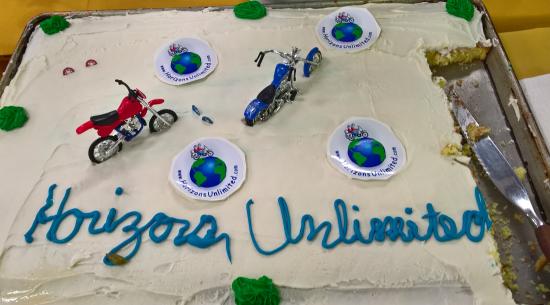 Sample meal plan below (to be updated when finalized):
Thursday
Friday
Saturday
Sunday
Breakfast

Eggs, oatmeal, sausage or bacon,
cereal, yogurt, fresh fruit.

Eggs, oatmeal, sausage or bacon, cereal, yogurt, fresh fruit

Eggs, oatmeal, pancakes, French toast, sausage or bacon, cereal, yogurt, fresh fruit
Lunch
Sandwich bar, BBQ, soup, macaroni salad, tossed salad, fresh fruit, cookies
Hamburgers, chicken, potato salad, baked beans, tossed salad, fresh fruit, brownies
Dinner
Fajita bar – Make your own fajitas and enjoy them with a tossed salad and cobbler!
Lasagna, baked chicken, herb stuffing, green beans, tossed salad, pie
Roast beef, baked fish, whipped potatoes, green beans, tossed salad, cake
Children & Pets
Horizons Unlimited wants to inspire the next generation of adventure travelers, so you're welcome to bring your children along if you wish. Bear in mind this event is for adults, with adult themes and language, and we won't have any specific activities for children. Those under 14 years old get in for free. Participants under 18 years old must, in accordance with 4-H regulations, be under the supervision of an adult. Please note that the health and safety of your children is your responsibility and they must be supervised by you at all times. Children will not be allowed in any of the presentations from 8 pm onwards each evening.
Pets and other animals are not allowed, as per 4-H regulations, except for companion dogs.
Holliday Lake State Park is just across the lake from the 4-H camp and does accept pets.
Smoking & Drinking
Smoking is prohibited inside any of the camp buildings. Smoking is allowed on the decks of the dining hall. If you are smoking anywhere on the property, you must dispose of the butts properly in the butt cans.
Alcohol is permitted at the camp, but we reserve the right to expel without reimbursement any attendee who becomes intoxicated and/or causes a disturbance. Beer or wine can be purchased at almost any grocery or convenience store in Virginia; liquor is available at the state-run Alcoholic Beverage Control (ABC) stores. The closest one to the camp is in the nearby town of Appomattox and is open Monday-Thursday from 10am-7pm and Friday-Saturday from 10am-9pm.

Please note: Firearms are not permitted at the camp.
---
Next HU Events
HU Event and other updates on the HUBB Forum "Traveller's Advisories" thread.
ALL Dates subject to change.
2023:
2024:
Virginia: April 25-28
Germany Summer: May
Switzerland: August
Romania: August
Ecuador: September
France: September
Austria: September 12-15
Queensland: Oct 4-7
Germany Autumn: Nov.
Add yourself to the Updates List for each event!
Questions about an event? Ask here