HU Travellers Meeting Queensland 2014
THE PREMIER OVERLAND ADVENTURE TRAVEL EVENT FOR MOTORCYCLISTS
Horizons Unlimited 11th Australia Travellers Meeting
Friday Oct 3 - Monday Oct 6, 2014 - Beaudesert, Queensland
YOU MISSED IT! GO HERE FOR CURRENT EVENT!
It's All About Overland Adventure
Whether you're a seasoned veteran with wisdom to share or a complete novice hungry for ideas and guidance, it doesn't matter if you ride a motorcycle, a bicycle, or drive an expedition vehicle...
Horizons Unlimited meetings are for everyone who dreams of adventure along the road less travelled.
Horizons Unlimited Queensland Event Schedule
The event is taking place from Friday, Oct 3 to Monday Oct 6, 2014.
The Registration Tent will open for check-ins at 1 pm on Friday, Oct 3. HU Film Festival from 2 pm. Meet and greet from 4 to 6 pm. Dinner from 6 pm, and the first presentations beginning at 7 pm. Last presentations will be Sunday night.
There will be slide shows and tech clinics on Friday, Saturday and Sunday evenings, and all day Saturday and Sunday. Come early and make it a great weekend! We recommend riding on Friday and Monday, and participating in the presentations and clinics in the evenings and Saturday and Sunday.
As well as hearing inspiring stories of overlanding adventure from around the world, you'll get the low-down on preparing for your journey, navigation, first-aid, photography, filming and a host of other essential topics. Whatever your past experience or future plans may be, there's something for everyone.
Monday morning - after breakfast, repeat presentations may be scheduled depending on presenter availability, demand and numbers of presentations.
DRAFT event schedule can be downloaded here - please note it is always subject to change!
Presenters at HU Queensland
2014

included...
Christophe Barriere-Varju

Dream Racer - Dakar rally
"Dream Racer is an inspiring account of the fear of life going by unfulfilled and the pursuit of dreams as the antidote to this fear. The film tells the extraordinary true story of French Australian Business Consultant Christophe Barriere-Varju who defies extreme physical hardship and personal tragedy as he attempts to take on the world's most dangerous motor race, the Dakar Rally, on a motorbike.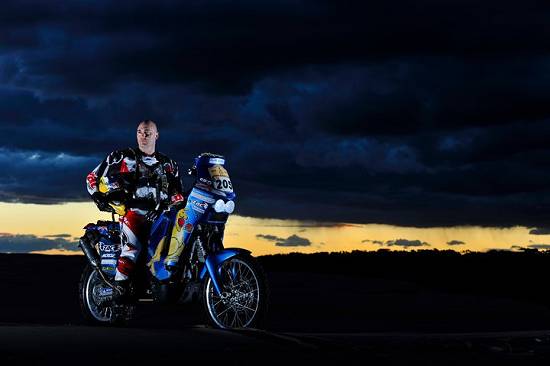 Simon Lee followed him on his incredible roller coaster journey – from the struggle to find funds to take part and his preparations in the sand dunes of eastern Australia to 10,000 thrilling kilometers across some of the harshest terrains of South America.
The Dream Racer film shows The Dakar Rally in its purest form – no sponsors, no multi-million dollar team, not even a mechanic – just one man, a motorbike, his tool-roll, and the world's most dangerous motor race."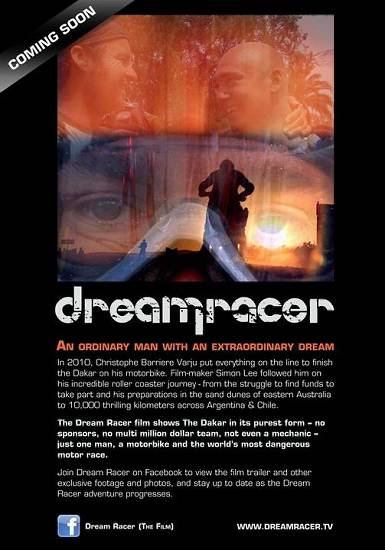 | | |
| --- | --- |
| | Oops, I'm on the Silk Road! AND Riding with Reindeer |
Oops, I'm on the Silk Road!
A few months ago Mark was celebrating his 50th in Europe when a colleague phoned him… 'Mark, I have a problem. Can you help me?' And that's how my sudden 2014 Silk Road Adventure started.
My Spanish business colleague Pere had planned a trip for him and a mate to ride one-way from Barcelona to the Chinese border, before flying home and letting 2 of his friends bring the bikes back to Europe. Unfortunately one of the friends broke his wrist just weeks before departing, leaving Pere's bike stranded in Kyrgyzstan.
Champing at the bit to do one of my 'bucket list' adventures and not sure how I'd arrange myriad visas etc. in time my only question was "What dates would suit?" Co-incidentally it was the day after my wife would fly home to OZ.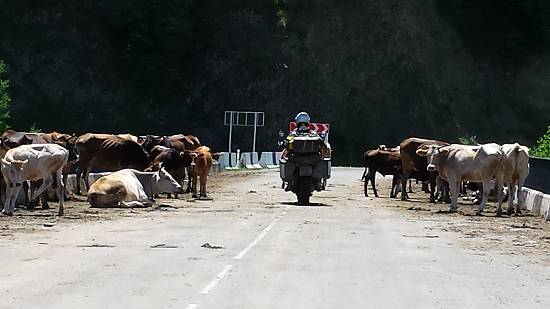 Riding with Reindeer
The Swedish Spring was unusually warm so I turned left and headed into the Arctic
I try to get one good overland bike ride in each year and keep bikes in Europe and North America ready for just the right opportunity. Last year's European summer was quite a long one and so after my wife returned from her solo ride across the US I shot off to Germany in mid spring to collect the F800GS and circumnavigate the Baltic Sea.
I was heading for Stockholm when I decided on the spur of the moment to turn left and venture into the Arctic Circle, finding myself riding with reindeer.
Mark Phillips keeps motorbikes on 3 continents and has visited around 100 countries to date. Just back from his '2014 Silk Road Adventure' Mark also was 'Riding with Reindeer' through the Arctic in 2013.
Tex O'Grady

Tex and Bundy - Charity Fundraisers
Tex and his Cattle dog Bundy talk about their charity work, the adventures together as they travel the length and breadth of Australia. Also hear about Tex's successful attempt at the Around Aust' Record in 1978, 15,500 klm's in just under 9 days!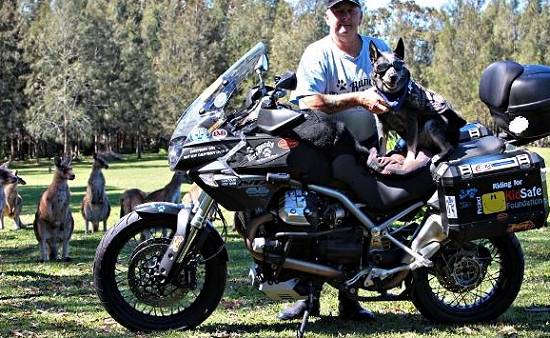 Tex & Bundy are a well known Australian motorcycling, charity fundraising duo. An Aussie bloke (Tex) and his stumpy tailed cattle dog (Bundy) who love & live to ride together, Tex & Bundy have ridden over 600,000km together for charity all around Australia supporting countless charities.
| | |
| --- | --- |
| | North America - the landscapes and people - Finding great people and experiencing the finest scenery North America has to offer |
The planning priorities were based on the impeccable history of conservation reserves in the USA and the awe inspiring beauty of remote places in Canada. Along the way we met some life-time friends who through their attitudes to travelers, respect for their environment and home values, and a genuine interest in all places of beauty contributed to a rich and long lasting experience for us.
We traveled to North America three times on BMW's and managed to ride to many places that locals simply dreamed of doing. Travel was basic camping through good and bad weather and clocked up some memorable 30,000 miles. The USA and Canada offers some of the best riding in the world. It is easy but time consuming to plan these trips. Getting your priorities right up-front is the key.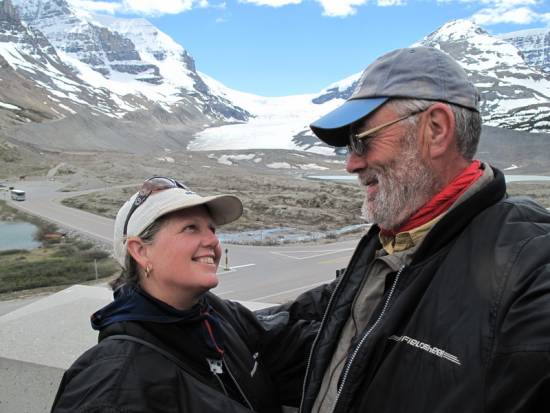 Travelled in more than 55 countries since 1982. Completed a solo motorcycle trip through Europe and Eurasia in 2009 taking in 23 countries. Since then my partner and I have concentrated on riding in the USA and Canada over three years covering more than 30,000 kms. Camping and traveling in remote places has been my forte.
Brendan Mills

Spleenless In Siberia - In's and Out's of group riding and an insight of how things can turn drastically when you least expect it.
An insight into the triumph and tears of remote motorcycling. Having not completed a London to Magadan journey in 2012, this presentation will cover how a country boy of 27 years came to having a operation in a remote Russian town, and the return journey to Australia.
From incidents of road travel with strangers to sharing a bond that can't be explained. A great presentation of how you may think of the world before and after your first international bike journey... and a remarkable journey for survival in Siberia.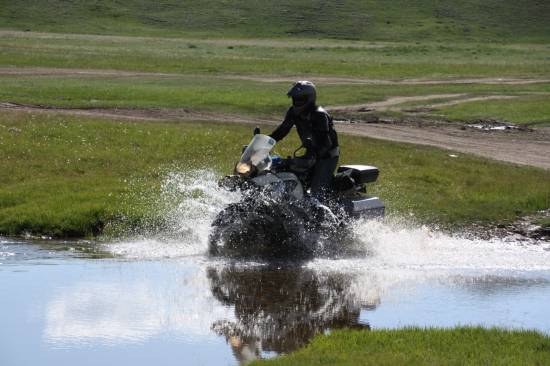 Brendan says: "I'm a 29 year old country Australian lad who hasn't kept too still over the years. I work construction all over my birth country and when ever I can I go exploring. In 2012 I set off with a group to complete a journey from the Ace Café (London) to Magadan (Rus). At just around the 2500klm mark short of the completion of the trip I had my spleen removed in remote Siberia."

Helen Black

How to be a chicken in Turkey (& Iran) - A novice rides around Turkey & Iran on a cheap ebay bike
Purchasing a $1000 bike of ebay in England and riding solo around Turkey and Iran, Helen proves that you don't need expensive gear or heaps of experience to fulfill your desire for adventure. This is a humorous story of how a 'chicken' discovers amazing landscapes, friendly people and the nerve to keep going.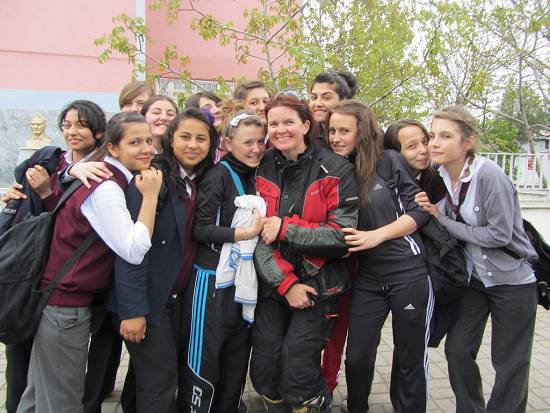 In her forties and after been given a double on the back of her partners bike, Helen decided this motorbiking thing was horribly scary, so she'd better be on the front!
Trevor and Rachel Skipsey

Making it up as we go along - Long distance motorcycle travel with a sense of humour (as a married couple!)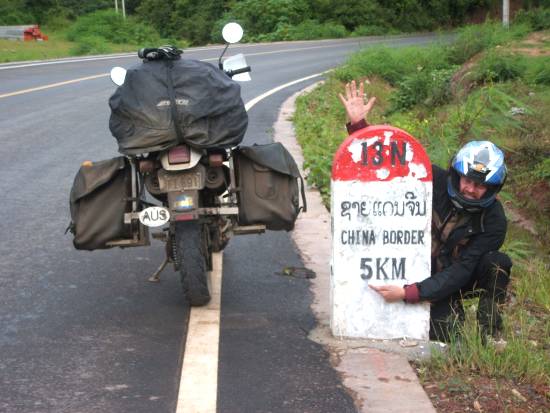 | | |
| --- | --- |
| | Two weeks in the Alps - Travelling the French and Italian Alps the scenic and the adventure way |
My short trip through the French and Italian Alps in summer 2012 had two different targets:
Since it was my summer holiday I wanted to ride as many scenic roads as possible.
But I also wanted to gathering experience in dirt riding to be prepared for my upcoming adventure travels. The Alps gave me a perfect destination for both ....
I did two short trips on my motorcycle in Europe before I went on my one year trip around Australia. The Queensland meeting will be the end of my trip.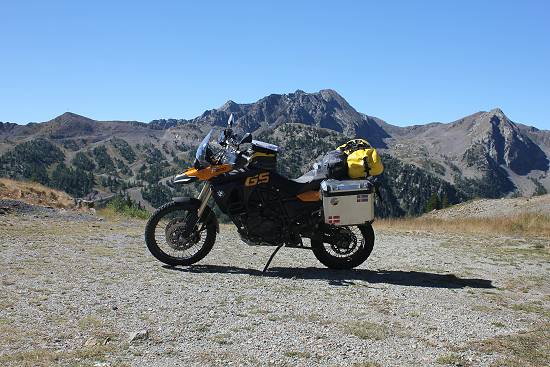 Note: Dominik started his Australia trip from HU Perth last year with a great send-off! Let's give him a warm welcome to Queensland and congrats!
| | |
| --- | --- |
| | RTW two-up! and Roads Less Travelled London to Melbourne |
Two up around the world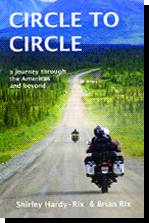 We rode from the bottom of South America to the top of Alaska. A lap of Western Europe and southern Africa before heading home to Australia. 16 months on the road, more than 82,000 ks through 32 countries. We crossed the Andes, deserts, visited Antarctica and Galapagos. It was the ride of our lives!
London to Melbourne on roads less travelled
We left London with a year to get home to Melbourne. We were on the Isle of Man for the TT and rode the circuit on Mad Sunday. We travelled through the European heatwave and down the Dalmatian coast, through Greece and Turkey. Into Iran and then Pakistan where we had to ride under armed guard on some dangerous roads. We rode high into the Karakoram mountains, then through Nepal, India, Thailand, Cambodia, Malaysia and Singapore and home into Darwin.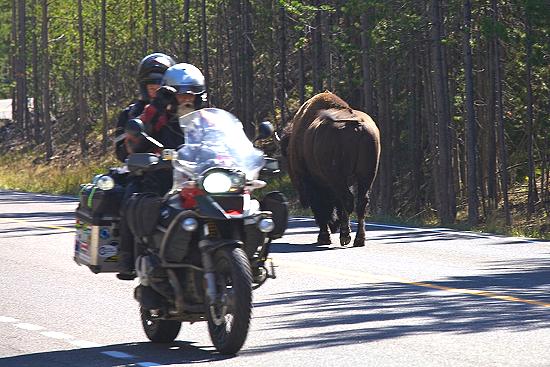 Shirley and Brian have written a book about their travels: Circle to Circle - a journey through the Americas and beyond. The book will be available at the event - get your copy signed by the authors!
"For some of us, when a huge reality gap opens, it actually helps us to clarify our purpose in life: we get in touch with 'the big picture', we reflect on what life is all about, we connect with our true core values, and we grow and develop. We may even discover a greater cause or create a mission, which ignites our passion and gives us a sense of vitality." ​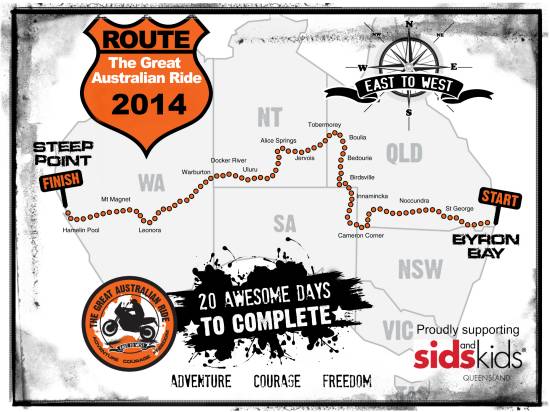 "I am honoured to be part of The Great Australian Ride #4, every time I leave Cape Byron with Team GAR I am filled with immense pride and admiration for our riders. And I know that our actions will help and contribute to those families who have sadly been effected by Sids. The guys have made the ride far greater than I ever anticipated, amazing friendships have developed and for that I am indebted. Happy travels."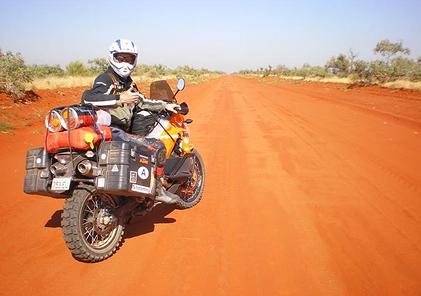 On the 1st October 2011 Stuart Ball founder of The Great Australian Ride rode his KTM990 Adventure motorcycle solo 6000km across Australia. This was a daring and difficult ride with many challenges and hardships along the way. Raising $5200.00 for The Children's Health Foundation to help work wonders for sick kids. Starting in Byron Bay, eastern most point of Australia and riding unassisted through The Simpson and Gibson Deserts with only a map, no GPS, no sponsor or support to reach his end goal, Steep Point in WA, the western most point of Australia.
| | |
| --- | --- |
| | How it all began. The story of Grant and Susan's 11-year trip around the world, without a plan or a clue! |
Way back in 1987, before the Internet, two young and naive Canadians set out from Vancouver to ride around the world on a motorcycle. The plan (and budget) was for 3 years, but it didn't quite work out that way!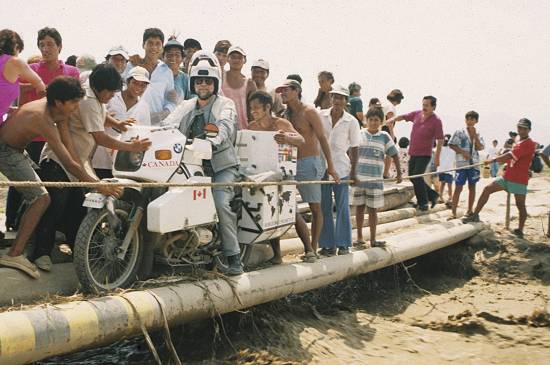 11+ years later, they finally made it, through 50 countries - Europe, Africa, New Zealand, Australia, North and South America, with a side trip to Antarctica! Hundreds of great pics and some amazing stories!
| | |
| --- | --- |
| | Pocket Adventures - How to have an affordable adventure before the boss even knows you're gone! |
Adventures in our our backyard, starting with a motorcycle tour of East Timor and then looking at various Internet and other resources to make travelling within Australia both exciting and affordable.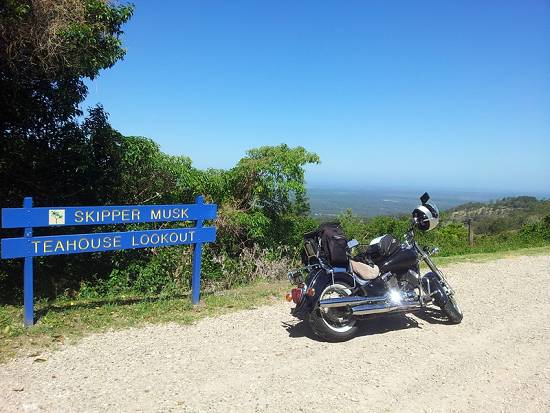 Shane describes himself as the clumsy traveller. "If one learns from their mistakes, I must be the smartest traveller in Australia. I've managed to leave parts of motorcycles in many locations in Australia."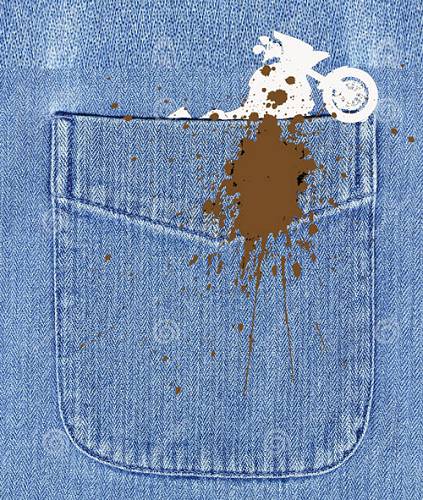 Peter Jeremijenko

Idiots Guide to international Rides
From Bergen in Norway, I had planned to ride to Paris to propose. After that the plan was to 'have no plan'...so my new Fiancee decided she would like to go to Greece. Wow! what an adventure- and home via the eastern bloc countries. a total of 25 countries. I have some advice on the best roads e.g. Dolomites and Croatian coast and the worst Roads and what not to do: e.g. put tank bag magnets next to your credit cards in a foreign land.
Asia on a 150cc - Do's and don'ts to travelling Asia on a bike
Comedy and photos of my Asian trip. down the Mekong, Golden triangle, Laos and the hutchi min trail , on a 150cc
Hooked on international riding I decided to ride around Asia countries. on a 150cc, because you can take them across borders. and my philosophies about riding smaller cheaper local bikes where parts are available and everyone knows how to work on them. and then finally my Adventure rides in Australia.
Peter: "After 10 years at Movie world as a stuntrider and another 10 years on films I decided to go for a holiday in Europe and go for a little ride around. 25 countries later. I decided that this was the way to have a holiday so I did 6 countries in Asia and then decided I better ride around Australia."
Educational Sessions
Since HU meetings are about informing, not just inspiring, we've got a great lineup of interactive workshops for you!
| | |
| --- | --- |
| | Fix that flat! How to change a tyre anytime, anywhere! |
Grant's tyre changing seminars are always well attended and appreciated. This seminar covers: how to prevent flats in the first place, and fix them when you get one; the best tools and how to use them for tube and tubeless tires; hands-on practical for beginners to experts, optional tyre changing contest.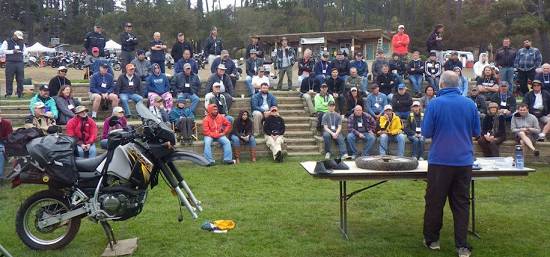 | | |
| --- | --- |
| | 4 Easy Steps to Overland Travel! You can do it - we can help! Finding your way around Horizons Unlimited, other resources. Lots of great pics and video clips. |
"Grant and Susan Johnson are icons in the round-the-world (RTW) motorcycling community. The Johnsons host - or more appropriately write, edit, produce, manage and coordinate Horizons Unlimited - a global network of motorcycle travelers... and a bona fide adventure motorcycling phenomenon." Dan Hilton, Rider Magazine
This seminar will be an overview of 'How To' travel overland topics. Includes content from the Achievable Dream series and great pics from HU Photo Contest winners!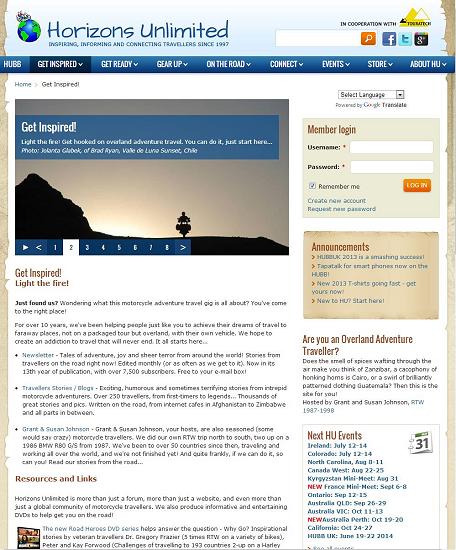 | | |
| --- | --- |
| | Bike mods and ergonomics! |
Grant will host a bike 'Show and Tell' - bring your bike and show us your favorite travel mods. Critique and discussion.
When you picked up your new bike, did they take the time to make it fit you? You'll learn the amazing difference a properly setup bike makes to your riding fun.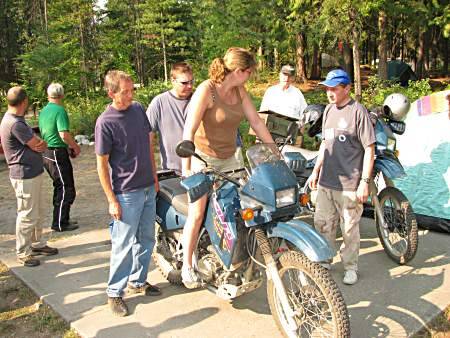 Panel discussions at most HU events include...


Border crossings - How to get through borders with minimal stress and cost!
Packing light - Tips and techniques from experienced travellers to reduce weight and bulk.
Regional discussions - e.g. travelling in South America or Asia.
For Women Only - A must for the ladies, so be sure to plan on being there! A chance to talk to experienced travelling women without the men around!
Experienced Travellers Panel - ask the experts anything you want!
Walk arounds / Show and tell!
Tents and Bedding discussion (in the camping area) - What works, cheap vs dear and which ones keep you dry, warm and comfy!
Bike mods - Show off your best bike mods - homemade saddle bags, toolbox mounts, GPS mounts, seats, side stands, tank panniers, cup holders, etc.
Facilities for a Fantastic Weekend!
The Horizons Unlimited Queensland 2014 travellers meeting will be held at:
Beaudesert Showgrounds.
49 Albert Street,
Beaudesert, Queensland

S 27° 59.507', E 153° 0.228'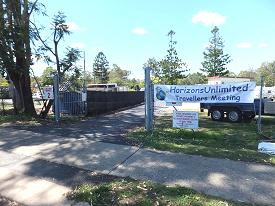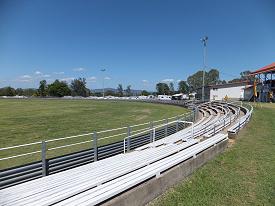 Spacious presentation rooms, great facilities for camping and catering, lots of room - we have the whole venue!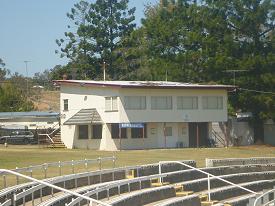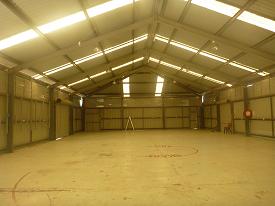 Beaudesert is a great base to explore the surrounding areas. To the east is the Canungra and the Gold Coast, this area is popular with motorcyclists and has the beautiful Lamington National Park a world heritage site you can ride through. To the west are the Border Ranges.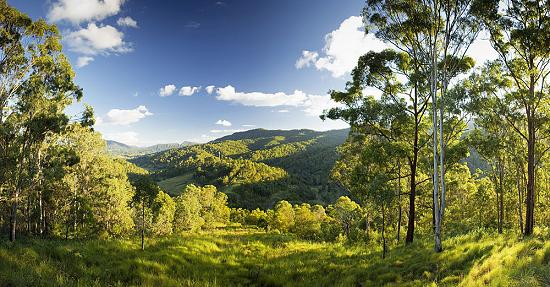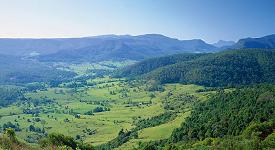 Climate
Beaudesert enjoys the subtropical climate of South East Queensland. It is relatively dry during October and averages 27°C during the day and 14°C over night.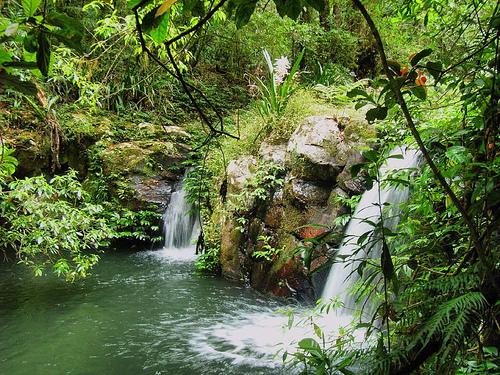 Camping
There are excellent camping facilities on site, including power, flush toilets and hot showers. Camping is $10 per person per night. You are most welcome to bring your caravan, campervan or motorhome. Camping is available from 3pm on Friday 3rd October. The site must be cleared by 11am on Monday 6th October.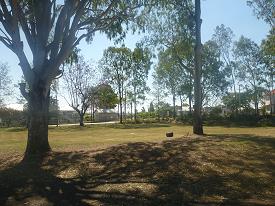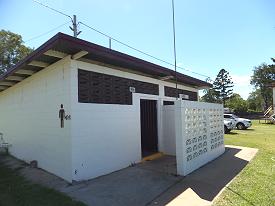 Food
Dinners
You have the option of pre-purchasing our fully catered two course dinners at $25 per meal.
Friday - Make your Own Mexican (Wraps provided!)
Chilli Con Carne beef mince
Chicken Enchilada Mix,
Black Bean / corn salad,
Ensalada (green and mixed salads),
Mexican rice, Corn chips,
Mexican bean mix, Salsa,
Grated cheese, Sour cream
Individual Pavlovas with Vanilla Cream and fruit
Saturday Roast Dinner
Roast Chicken
Roast Lamb
Roast vegetables
Steamed seasonal Vegetables
Gravy
Mud cake with vanilla cream
Sunday BBQ Buffet Dinner
Sausages
Lamb Chops
Marinated Boneless Chicken Pieces
Coleslaw
Green Salad
Potato Salad
Sauces and Condiments
Apple Slice with Fresh Cream
That is $75 for all three nights! These dinners are an excellent way to meet fellow participants and talk to presenters, and since you're eating right there on site, you won't miss any of the after-dinner slideshows. Always enjoyable. You will NOT be able to get it on the day, so order when you register!
Special requirements such as allergies, gluten free, vegan etc must be advised as early as possible. Additional notes in the comments box please and we'll do what we can.
Breakfast and Lunch
Breakfast and Lunch options will be provided by local community groups. These can be purchased on the day.
---
Next HU Events