HU Travellers Meeting Italy 2018
Tech Sessions and Workshops
Because Horizons Unlimited meetings are also about informing, not just inspiring!
Strutture per un grande evento!
Badia di Moscheta
Via di Moscheta, 898
50033 Firenzuola FI, Italy
GPS: 44.074954, 11.423815
Ph: +39 055 814 4015
Alloggio

RIFUGIO ESCURSIONISTICO (22 posti letto)
Composto da n. 3 camere da 6 posti letto, e n.2 camere con 2 posti letto tutte con bagno in camera
Posto letto senza lenzuola ( a testa a notte) € 15,00
L'eventuale fornitura di lenzuola e asciugamani comporta un supplemento di € 5,00
AGRITURISMO (24 posti letto)
6 camere con bagno e riscaldamento con 4/5 posti letto a camera
Pernottamento per 1 persona € 35,00
Pernottamento per 2 persone € 60,00
Pernottamento per 3 persone € 75,00
Pernottamento per 4 persone € 100,00

NOTA: questi costi NON sono inclusi nella quota di iscrizione all'evento. Ti consigliamo di prenotare al più presto, poiché si riempiranno rapidamente!
Si prega di prenotare l'alloggio selezionato direttamente attraverso la sede al numero: +39 055 814 4015 o tramite il loro sito web.

Cibo

Il posto è fornito di un ristorante / trattoria con piatti tipici della cucina Toscana. Primi piatti a base di tortelli, ravioli e spaghetti, nella più classica tradizione italiana. Con secondi piatti a base di Bistecca alla Fiorentina e tagliata della migliore carne Toscana, concludendo con dolci, vino e birra.

Facilities for a great event!
Badia di Moscheta
Via di Moscheta, 898
50033 Firenzuola FI, Italy
GPS: 44.074954, 11.423815
Ph: +39 055 814 4015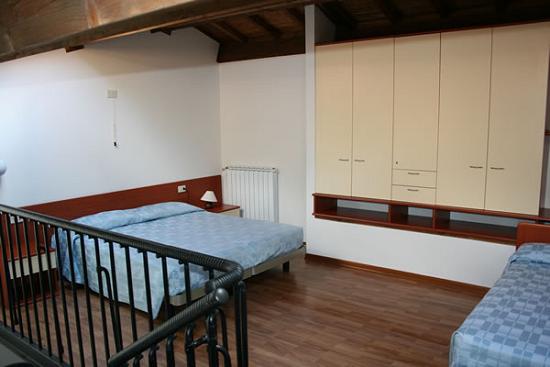 Accommodation

HIKING REFUGE (22 beds)
Rooms as follows : 3 x 6-beds rooms and 2 x 2-beds rooms. All the rooms have a private bathroom.
Bed without sheets (per person per night) € 15,00
Supplement for sheets and towels € 5,00
FARMHOUSE (24 beds)
6 rooms with bathroom and heating with 4/5 beds per room
Overnight for 1 person € 35,00
Overnight for 2 persons € 60,00
Overnight for 3 persons € 75,00
Overnight for 4 persons € 100,00

NOTE: These costs are NOT included in your event registration fee. We recommend that you book soon, as they will fill up rapidly!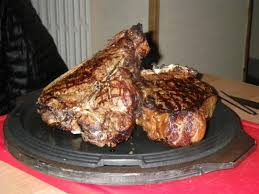 Please book your selected accommodation directly through the venue at: +39 055 814 4015 or via their website.
Food
The place has a restaurant / trattoria with typical Tuscan cuisine. First courses based on tortelli, ravioli and spaghetti, in the most classic Italian tradition. With main courses based on Florentine Steak and cuts of the best Tuscan meat, ending with desserts, wine and beer. Check out Trip Advisor for more pics and reviews!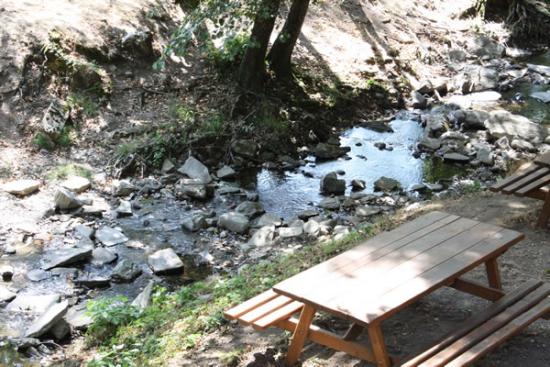 ---
HUMM - the most fun on 2 wheels!
What happens at HU events?
HU South Africa
Join the Volunteer Crew
From welcoming travellers at the gate, to taking care of the campsite and making sure all the presentations run smoothly, the success of every HU event relies on the enthusiasm of its volunteer crew.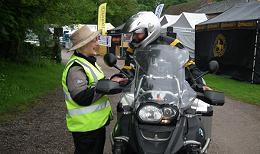 "What a wonderful bunch of people. I had no idea how much fun I'd have by helping out!"
Volunteering is a great way to make new friends, get more involved with Horizons Unlimited and have loads of fun! You can sign up to volunteer when you register for the meeting, OR click here if you have already registered and want to add volunteering.
Comments about HU Events
"So many trips, tips, subjects, discussions, questions, answers, experiences, insights... I could go on and on. I will be back, and back, and back."
"It was like being with family... a friendly group with shared love of adventure."
"Everyone was humble, genuine, and encouraging, and I really needed that kind of 'we're all just people' kind of atmosphere."
"You'll see and hear the most useful ideas on so many subjects that it boggles the mind."
"Thank you all for such a superb extended weekend. So good to see everyone, to hear so many stories, to learn so much, and just to feel so at home with my tribe. Thanks to you, my batteries are fully recharged and rarin' to go!"
"Brilliant, entertaining and informative presentations."
"Yoga class was not something we had ever considered but really helpful."
"Full of very inspiring people who got me fired up again and motivated for my next trip!"
"What a fantastic inspirational weekend...we will be back."
"I have picked up so much information... and met some new friends and wonderful people."
"A superb event that was really well organised. I found the atmosphere amongst the attendees to be very positive too."
"I have not done much travelling so it was like visiting with a world traveller - Presenters were very approachable."
"...a new league of awesomeness."
"Great atmosphere and camaraderie, especially at dinner time, and interesting presentations."
"Folks were all great and the most amazing thing was there was NO ATTITUDE."
"I have learned so much, made some great mates and met some of the best people. I was buzzing by the time I got home. I have a little trip planned and just can't wait to get out there."
You can help!
If you have a few minutes, please download the poster (Adobe pdf format) or postcard and print off a few and hand them round your club or your local bike shop or anywhere seems like a good place.
Poster in pdf format (1.4MB) full colour Event poster: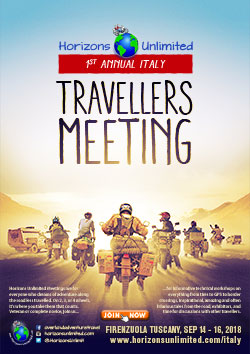 POSTCARD - NEW!
Postcard in pdf format, English (673b) full colour Event postcard, can be printed 4 to a page!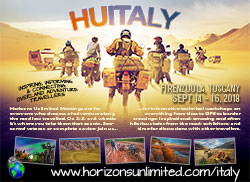 You may need to right click and choose "save target as..."
Grazie!
Be a Presenter
We're inviting submissions for presentations, so whether you're attending the event or exploring a distant continent, if you've got a story to tell or expertise to share we'd like to hear from you.
We love to hear stories about your travel adventures, especially if you have great pics! Also, practical how-to sessions such as roadside cooking, navigation / GPS, trip prep and planning, adventure motorcycling medicine, packing light, setting your bike up, communications / blogging from the road, self-publishing your story, yoga for bikers, bodging / bike maintenance, self-defense, photography, videography, tire repair, safe riding techniques, how to pick up your bike, off-road riding, all are of interest.
There are 40 minute and 90 minute sessions available for talks, workshops, demos and live web chats.
Click here to submit your ideas
PLEASE NOTE:
Submitting a Presenter registration DOES NOT mean you will automatically be included in the schedule, as we often have more presenters than available presentation slots. We will confirm one way or the other as soon as we can (but not immediately!)

Departing or Returning?
If you're planning an expedition, why not make the Horizons Unlimited meeting your official start point? Or maybe you're nearing the completion of a journey and would like a very public welcome home? Of course you might just be passing through and fancy marking a key stage of your travels?
We'd love to make you a big part of the meeting, so feel free to get in touch and tell us your plans.
Local Hosts
Alessandro Forni, Arianna Lenzi and Diego Barca are the local hosts for the 1st HU Italy Travellers Meeting. They've found a great venue and will be organising a fantastic meeting. We're very grateful to them for stepping up!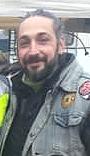 We can always use help on the day - please volunteer to help out for a couple of hours when you signup!
HU Events Refund Policy
We know 'stuff happens', and you know we have financial commitments to venues and caterers!
If you're unable to attend an event, please let us know (by e-mail reply to your confirmation e-mail from us) so we don't worry that something has happened to you...
Up to 30 days prior to event start, we will refund all fees in full less a $10 (or €9 or £8) fee for handling and PayPal charges.
Up to 15 days prior to event start, we will refund camping/accommodation and food packages in full less a $10 (or €9 or £8) handling fee. We will apply your registration fee to any subsequent HU event in the year or following year. If you have purchased a t-shirt, let us know your mailing address and we'll send it out.
Within 15 days of the event start, there will be no refunds, but we will apply your registration fee to any subsequent HU event in the year or following year. If you have purchased a t-shirt, let us know your mailing address and we'll send it out.

Next HU Events