HU Travellers Meeting France 2018
Horizons Unlimited France, c'est reparti !
Le meeting des baroudeurs à moto version française se tient du 21 au 23 septembre à Loupiac, dans le Lot.
It's All About Overland Adventure
Whether you're a seasoned veteran with wisdom to share or a complete novice hungry for ideas and guidance, it doesn't matter if you ride a motorcycle, a bicycle, or drive an expedition vehicle...
Horizons Unlimited meetings are for everyone who dreams of adventure along the road less travelled.
Aventuriers aguerris, apprentis baroudeurs, globe-trotters dans l'âme…
Le meeting Horizons Unlimited réunit tous les passionnés animés par une même envie : celle de réaliser et de partager son rêve d'aventure sur les routes les moins fréquentées du monde.
Un vrai meeting à taille humaine pour profiter de l'expérience de celles et ceux qui sont de retour de voyage.
Et pour cette 6ème édition française, Horizons Unlimited vous propose de parcourir plus de 100 000 km de souvenirs à moto avec au programme : le Grand Nord Canadien et l'Alaska, l' Amérique Latine, l'Iran, l'Afrique, l'Australie, Asie centrale, Pakistan…
Des conférences voyages et aussi des ateliers de préparation technique, de pilotage et un espace librairie vous attendent pour ce week-end d'aventure et de convivialité, dans un super camping, au cœur de la vallée de la Dordogne entre Sarlat et Rocamadour.
Inscrivez-vous vite, le nombre de participants est limité à 150 personnes.
Infos Pratiques
Horizons Unlimited se déroulera du vendredi 21 septembre au dimanche 23 septembre 2018. Il se déroule à Loupiac, dans le Lot, au Camping des Hirondelles.

Le programme débute en fin d'après-midi vendredi avec un premier atelier voyage.
Les conférences voyages, les ateliers de préparation technique et pilotage ainsi que l'espace librairie seront accessibles dès le samedi matin. Il vous sera remis également un petit road book pour celles et ceux qui voudraient faire une escapade dans les magnifiques alentours.
L'inscription donne accès à toutes les conférences et ateliers.
Tarif avant le 14 septembre : 35 euros. Ensuite, 45 euros à régler sur place.

Le logement n'est pas compris dans l'inscription.
Concernant le logement, vous avez le choix entre planter votre tente ou réserver un petit bungalow. Si vous logez sur place la restauration est incluse : petit-déjeuner, buffet, bbq.
(voir infos plus bas).
A très vite !
L'équipe française d'Horizons Unlimited.
Pour nous contacter : FranceHorizonsUnlimited@gmail.com
Pour nous suivre : https://www.facebook.com/horizonsunlimitedfrance/
Présentateurs programmés au meeting HU France
2018
La programmation se finalise, retrouvez ici toutes les présentations des conférences et ateliers voyages... et si vous souhaitez vous proposer, vous êtes les bienvenus !
Edouard Massucco & Mathilde Contoz

Direction Japon
Découvrez le récit d'un voyage de 6 mois et 30 000 km à travers 18 pays différents, nos rencontres, nos galères et nos grands bonheurs!
Il paraîtrait que 7 ans soit le cap redouté par la majorité des couples.
Pour nos deux savoyards, Mathilde et Édouard, âgés respectivement de 25 et 30 ans, ce fameux cap ne fut pas pris à la légère puisqu'ils décidèrent tout simplement de le mettre plein Est, en direction du Japon !
En effet, après avoir écumé tous les virolos et les cols alpins de leur belle région, ceux de l'Europe frontalière …mais aussi ceux du Ladakh (Himalaya en voyage organisé), nos tourtereaux décidèrent de casser leur routine pour se lancer dans leur grand voyage. Une aventure incroyable qui allait les mener des alpes françaises aux Alpes Japonaises.
Après plus d'un an de préparation administrative, technique, mentale J …, c'est le 16 avril 2017 que Mathilde et Edouard sont partis avec celles qui allaient leur tenir la chandelle pendant 6 mois, à savoir leurs motos : une Yamaha Ténérée 660 XTZ et une BMW F 650 GS.
Leur périple ? 30 000 km en traversant 17 pays et demi avec dans l'ordre : l'Europe comprenant (Italie, Slovénie, Croatie, Bosnie-Herzégovine, Monténégro, Albanie, Grèce) la Turquie, l'Iran, l'Azerbaïdjan, le Kazakhstan, l'Ouzbékistan, le Tadjikistan, le Kirghizistan, re-Kazakhstan, la Russie, la Mongolie, re-Russie, la Corée du sud et enfin le Japon.
Une liste étourdissante de pays traversés dont ils vous dévoileront les coulisses, les secrets, les galères et bien sûr leurs coups de cœur au prochain Horizons Unlimited. Car forcément, des souvenirs impérissables, il y en a beaucoup!
Comme l'accueil légendaire des Turcs, celui débordant des Iraniens et celui touchant des russes …Oui, des traversées maritimes aux pistes de la vallée du Wakhan, des immensités mongoles aux petits villages ancestraux japonais…Mathilde et Édouard ont vécu une superbe aventure qui consacre ainsi deux maximes fondamentales pou vous autres baroudeurs : 1) Aimer, à moto, c'est aussi regarder dans la même direction 2) Rêver sa vie, c'est bien, vivre ses rêves, à deux, c'est encore mieux.
Mathilde et Edouard vous attendent au prochain Horizons Unlimited ! Nous on a super hâte de les écouter et de découvrir leurs images.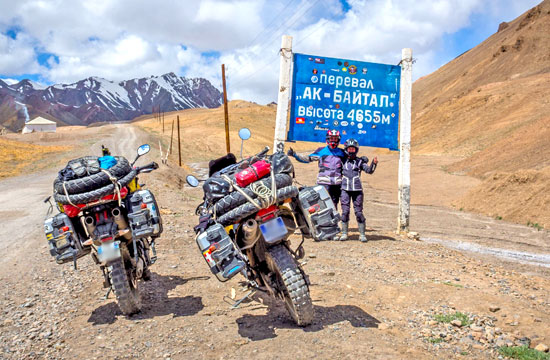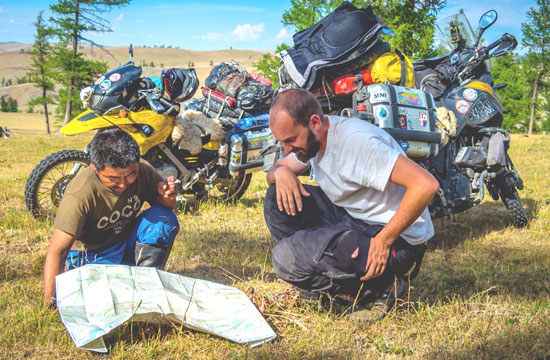 Christophe Arnaud

Image du monde
L'horizon dans l'objectif en Amérique latine
Christophe Arnaud a deux passions : le voyage à moto au long cours et la photo. Deux passions qui l'on amené à entreprendre plusieurs voyages qui en laisseraient pantois plus d'un(e). En 2000, il rallie ainsi la France au Yemen.
En 2005 il rejoint Pékin depuis Venise sur les routes de la soie, et puis il y aura aussi le Ladakh, le Vietnam…

En 2014, Christophe décide de tourner ses roues vers un autre continent : l'Amérique du Sud. Cinq mois de périple solitaire à travers quatre pays : le Pérou, la Bolivie, le Chili et l'Argentine.
26.000 km qui lui feront emprunter des routes mythiques, comme La "Panamericana Sur", La "Ruta 40", La "Careterra Austral". Des noms qui à eux seuls évoquent immédiatement l'immensité et les espaces infinis. Car c'est bien cela qui motive ce voyageur photographe : l'amour de l'horizon « unlimited »; cet horizon qui sonne chaque jour comme une nouvelle promesse, celui que l'on poursuit et que l'on atteint jamais. Cet horizon, Christophe ira le chercher jusqu'au bout du monde, à Ushuaia, peu importe les conditions difficiles que seront la pluie, le froid, la neige et les vents puissants de Patagonie.
Oui, l'horizon comme objectif, l'horizon dans l'objectif !
Son appareil photo, fidèle compagnon, lui permettra en effet de déclencher des rencontres aussi sincères qu'improbables et surtout de capter au cœur de l'image cet éphémère qui se cache dans un sourire, dans une lumière, dans un ciel majestueux surplombant un désert.Quand la route se déroule comme un carnet de voyage, quand le voyage se développe comme une pellicule photo…
Laurent Wydemans

Revenir pour mieux repartir
L'Afrique selon Laurent
Parce qu'il y a les enfants, la famille, le travail…partir au long cours, n'est pas toujours possible.
Laurent Wydemans, 43 ans, père de famille et architecte à son compte à Bruxelles a donc construit sa propre solution : le voyage, au long cours certes mais de façon fractionnée.
Le principe ?
Réaliser le tour de l'Afrique mais par étape, à savoir à raison de deux semaines par an et avec la particularité de laisser la moto sur place.
Un rythme très particulier qui permet à notre baroudeur de faire évoluer son projet d'année en année, de re-plonger dans le voyage dès les préparations et surtout d'avoir cette impression géniale de revenir pour mieux repartir à chaque fois !
Voilà ainsi un plus d'un an que la série « Laurent Wydemans en Afrique » a démarré.
Le premier épisode en janvier 2017 fut Tanger – Bamako avec la traversée du Maroc, du Sahara occidental, de la Mauritanie, du Sénégal, et enfin le Mali.
Le deuxième début 2018 avec le Mali, la cote d'ivoire, le Ghana, le Togo, enfin Bénin avant d'atteindre le Nigeria.
Sur place, pour l'accompagner : une superbe Honda XRV750 Rd07 (l'une des Africa Twin du Paris-Dakar). En effet, la moto étant abandonnée pendant un an, Laurent s'est rapidement tourné vers cette moto simple mais robuste, avec peu d'électronique, pas trop cher (en cas de vol) et surtout apte à passer partout. Tant mieux, car tant qu'elle tournera l'aventure continuera !
Avant ce voyage, Laurent avait réalisé un Bruxelles- Kirghizistan en 2014 et un tour de l'Atlas en 2016.
Aujourd'hui, avec ce tout à la fois unique et multiple voyage, notre architecte prend son temps et se bâtît des souvenirs incroyables où se mêlent l'authenticité de l'Afrique et les péripéties inoubliables comme ce passage entre la Côte d'ivoire et le Ghana en petite pirogue…
« Il ne faut jamais finir un voyage... ... seulement l'interrompre » écrivait Bernard Giraudeau.
Voilà une jolie phrase qui colle parfaitement au voyage de Laurent et que nous vous invitons à découvrir à la prochaine édition de Horizons Unlimited !
Et bientôt l'Alaska, le Pakistan, l'Iran..
Exposants -
En cours
Si vous le souhaitez vous êtes les bienvenus. Nous ajouterons les exposants confirmé rapidement. Merci de votre compréhension !
Installations du weekend!

Le Camping Les Hirondelles est un Relais Motard, situé dans l'un des départements les plus intéressants d'un point de vue historique et touristique de France. Il existe de nombreuses possibilités de découvrir des villages médiévaux célèbres, mais aussi des châteaux et des grottes. Le site internet du camping est une source importante d'informations au niveau local. Le camping est géré par Loic & Elodie Follerau.
Wifi:- Gratuit sur la terrace/bar.
Logement
Ces coûts ne sont PAS inclus dans vos frais d'inscription à l'évènement. Nous vous recommandons d'effectuer la réservation pour votre locatif (mobil-home) aussi rapidement que possible, car ils seront vite remplis.
Veuillez réserver le package de votre choix directement via le site du camping, via le lien ci-dessous.
Package Tente (camping avec sa propre tente)
Le Package Tente est au tarif de €49 (49 Euros) par personne et par nuit, taxe de séjour incluse.

Package Locatif (location de mobil-home)
Le Package Locatif est au tarif de €89 (89 Euros) par personne et par nuit (même si le locatif est partagé), taxe de séjour incluse.
Il y a 19 locatifs disponibles sur le site, chacun avec 4 lits.
Pour les locatifs, une caution sera demandée, au cas où il y aurait des problèmes.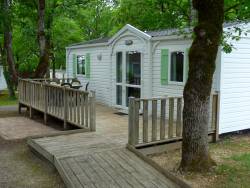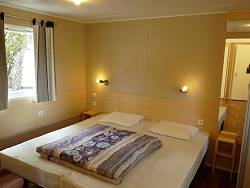 Repas et Boissons
Inclus dans le Package Tente et le Package Locatif, par personne et par nuit.
Petit-déjeuner
1 x pain au chocolat et 1 x croissant par personne, café/thé et jus d'orange à volonté, durant le petit-déjeuner.
Déjeuner
Samedi 22 septembre 2018 - barbecue/frites
Dimanche 23 septembre 2018 - sandwiches
Boissons non incluses, sauf pour l'eau plate qui sera à volonté.
Dîner
Un dîner, composé de spécialités locales, avec service à table, se servit et comprendra une entrée, un plat principal, du fromage et un dessert.
Boissons non incluses, sauf pour l'eau plate qui sera à volonté.
Le café sera proposé à volonté tout au long de la journée.
Pour le pack restauration sans hébergement, s'il vous plait contactez le camping directement.

L'inscription est obligatoire pour ce rassemblement. L'enregistrement est également nécessaire auprès du camping à l'arrivée. Il y a une taxe de séjour de 0,50 € la personne / nuit pour tous adultes.
Nous vous incitons à inscrire dès que possible afin de vous garantir une place et pour nous aider avec le planning.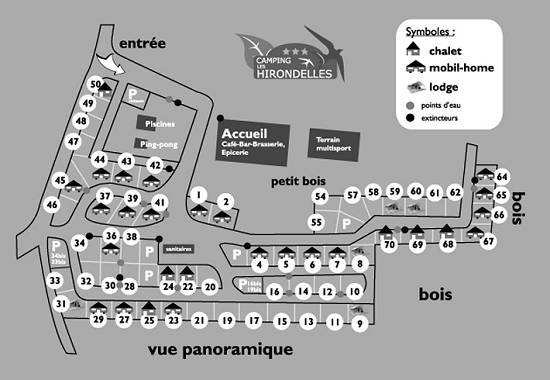 Facilities for a great weekend!
Camping Les Hirondelles is a Relais Motard, situated in one the most historically interesting departments of France - la Vallée de la Dordogne. There are many opportunities to discover ancient and famous villages, as well as Chateaux and caves.
The Hirondelles website is full of local information. The camping is run by Loic and Elodie Follerau.

Wifi:- Free on the terrace/bar.
Accommodation

The campsite has both tent space and Mobile home/Chalet type accommodation.
NOTE: These costs are NOT included in your event registration fee. We recommend that you book soon, should you want a mobile home, as they will fill up rapidly!
Please book your selected package directly through the campground website, via the link provided here.
Package Tente (camping with own tent)
The Package Tente is €49 (49 Euros) per person and per night with full board, including the tourist tax.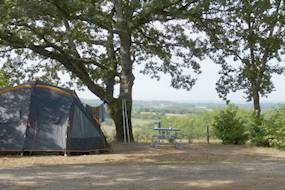 Package Locatif (mobile home rental)
The Package Locatif is €89 (89 Euros) per person and per night (even if the mobile home is shared), with full board and including the tourist tax.
There are 19 mobile homes available on site, each with 4 beds. For all mobile homes, a deposit will be required, in case of problems.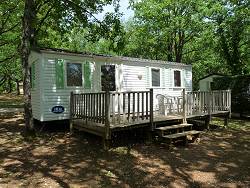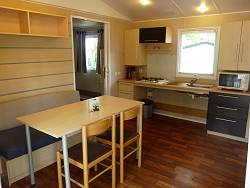 Food and Beverages
Food and beverages are included in the Package Tente and the Package Locatif, per person and per night.
Breakfast
1 x pain au chocolat and 1 x croissant per person, with unlimited coffee/tea and orange juice, during breakfast time.
Lunch
Saturday, September 22, 2018 - barbecue/French fries
Sunday, September 23, 2018 - sandwiches
Beverages not included, except for unlimited still water.
Dinner
The seated dinner, consisting of local specialties, will be served and will included a starter, a main dish, cheese and dessert. Beverages not included, except for unlimited still water.
Unlimited coffee will be available throughout the day.
For Food and Beverage package without lodging, please contact the campsite directly.

Registration is required for this meeting. Registration is also required (by law) at the campsite. There is a tourist tax (government) of 50 centimes per person per night for all adults over 18.
We encourage you to register as soon as possible in order to guarantee you a place and to help us with the schedule.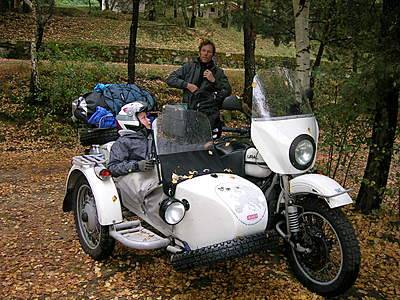 PRE-REGISTRATION PRICING FOR FULL PASSES

Comprend l'admission à toutes les présentations, ateliers techniques cartographic et démonstrations. Les repas et l'hébergement / camping ne sont pas inclus, mais peuvent être réservés directement à partir du camping. Voir détails et prix ci-dessus. Nous vous recommandons d'effectuer la réservation pour votre locatif (mobil-home) aussi rapidement que possible, car ils seront vite remplis. Tous les prix en Euros €.

Includes admission to all Presentations, Tech Clinics and demonstrations .
Meals and accommodation/camping are NOT INCLUDED, but can be booked directly from the campground. See details and pricing above. We strongly recommend that you book soon, should you want a mobile home, as they will fill up rapidly! All prices in Euros €.

Pré-inscription et paiement
Pre-register & Pay

Prix de l'événement
Event price €

Avant / Before 28 Feb 2018

28

du 1 Mar au 14 Sep 2018

35

AU TARIF D'ÉVÉNEMENT (S'APPLIQUE APRÈS LE 14 SEP)
AT THE EVENT PRICING (APPLIES AFTER 14 Sep)

Paiement en espèces à l'arrivée / Pay Cash on Arrival

Full Weekend Pass

45
---
HUMM - the most fun on 2 wheels!
What happens at HU events?
HU South Africa
Join the Volunteer Crew
From welcoming travellers at the gate, to taking care of the campsite and making sure all the presentations run smoothly, the success of every HU event relies on the enthusiasm of its volunteer crew.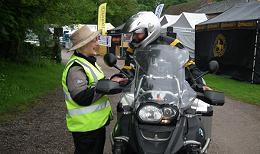 "What a wonderful bunch of people. I had no idea how much fun I'd have by helping out!"
Volunteering is a great way to make new friends, get more involved with Horizons Unlimited and have loads of fun! You can sign up to volunteer when you register for the meeting, OR click here if you have already registered and want to add volunteering.
Comments about HU France
"Premier HU pour moi, un grand bravo aux organisateurs qui ont été disponibles tout au long du week-end, de beaux récits de voyages et une équipe du camping qui mérite tous les bravos tellement ils ont été à la hauteur de l'évenement et toujours avec le sourire."
"Des images plein les yeux, du bonheur plein le coeur. Mille merci à tous."
"The campsite and the owners are super. It was well organised. And I met real amazing travellers again. Driving on old bikes, new 'real' dual sports bikes, amazing old sidecars, and driving in real 4X4's. The food was perfect, and we had running warm water in the showers this time. Thanks John and thanks to all the HU members who I met. I enjoyed it."
"As a 'first timer' I have to thank you all for the warm welcome I received at this event. I hope to see you all next year full of new adventures to tell."
"Thanks for an amazing event. We had a fantastic time, and met with inspiring and great people. The location was superb, and the couple running the campsite are absolutely fantastic and the food too: The confit de Canard or the dessert in particular..."
"The France meeting was a fantastic start to a great holiday. A massive thanks to John for doing a great job on organising and making the weekend run so smooth even if at one point I thought John was going to have a melt down lol. Also big thanks to the couple who owned/ran the campsite, a very hard working pair who made us all welcome. It is a beautiful site and hope I get the chance to visit again. And finally thanks to all the new friends I've made for making it a good weekend. I've learnt lots of new things and now have new ideas for future travel and at the same time friends to travel with."
"Many thanks for these great days, we really enjoyed presentations, discussions were easy with experienced travellers and the attentions of the camp owners. It was our first HU event and certainly not the last!"

Tu peux aider!
Si vous disposez de quelques minutes, veuillez télécharger l'affiche (format Adobe pdf) ou une carte postale et imprimer quelques exemplaires et les remettre autour de votre club ou votre magasin local de vélo ou n'importe où semble être un bon endroit.
Poster in pdf format, Francais (1.5MB) full colour Event poster: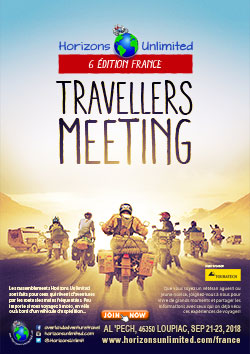 POSTCARD - NEW!
Postcard in pdf format, Francais (684kb) full colour Event postcard, can be printed 4 to a page:
You can help!
If you have a few minutes, please download the poster (Adobe pdf format) or postcard and print off a few and hand them round your club or your local bike shop or anywhere seems like a good place.
Poster in pdf format, English (1.5MB) full colour Event poster: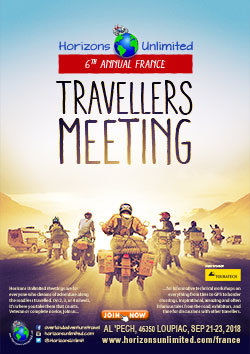 POSTCARD - NEW!
Postcard in pdf format, English (464kb) full colour Event postcard, can be printed 4 to a page!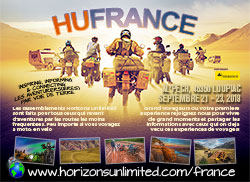 You may need to right click and choose "save target as..."
Merci!
Be a Presenter
We're inviting submissions for presentations, so whether you're attending the event or exploring a distant continent, if you've got a story to tell or expertise to share we'd like to hear from you.
We love to hear stories about your travel adventures, especially if you have great pics! Also, practical how-to sessions such as roadside cooking, navigation / GPS, trip prep and planning, adventure motorcycling medicine, packing light, setting your bike up, communications / blogging from the road, self-publishing your story, yoga for bikers, bodging / bike maintenance, self-defense, photography, videography, tire repair, safe riding techniques, how to pick up your bike, off-road riding, all are of interest.
There are 40 minute and 90 minute sessions available for talks, workshops, demos and live web chats.
Click here to submit your ideas
PLEASE NOTE:
Submitting a Presenter registration DOES NOT mean you will automatically be included in the schedule, as we often have more presenters than available presentation slots. We will confirm one way or the other as soon as we can (but not immediately!)

Departing or Returning?
If you're planning an expedition, why not make the Horizons Unlimited meeting your official start point? Or maybe you're nearing the completion of a journey and would like a very public welcome home? Of course you might just be passing through and fancy marking a key stage of your travels?
We'd love to make you a big part of the meeting, so feel free to get in touch and tell us your plans.
Information about the area
Il y a une station Total à Payrac, village à 4 kilomètres du camping. Vous trouvez également une épicerie, un débit de tabac, maison de la presse, restaurants. Souillac est à 10 km, vous y trouverez toutes les installations d'une petite ville.
There is a Total station in Payrac, village 4 kilometers from the campsite. You will also find a grocery store, tobacco shop, newsagent, restaurants. Souillac is 10 km, you will find all the facilities of a small town.
Local Host
Thierry Floreck is the local organiser for this event, ably supported by Baptiste Régné, Dominique Joseph and Christelle Routarde!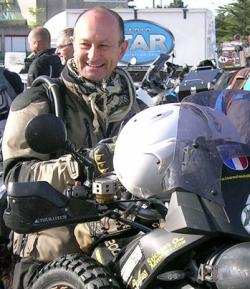 Presenters and exhibitors may also contact Thierry directly to sign up at thie...@orange.fr
We can always use help on the day - please volunteer to help out for a couple of hours when you signup!
HU Events Refund Policy
We know 'stuff happens', and you know we have financial commitments to venues and caterers!
If you're unable to attend an event, please let us know (by e-mail reply to your confirmation e-mail from us) so we don't worry that something has happened to you...
Up to 30 days prior to event start, we will refund all fees in full less a $10 (or €9 or £8) fee for handling and PayPal charges.
Up to 15 days prior to event start, we will refund camping/accommodation and food packages in full less a $10 (or €9 or £8) handling fee. We will apply your registration fee to any subsequent HU event in the year or following year. If you have purchased a t-shirt, let us know your mailing address and we'll send it out.
Within 15 days of the event start, there will be no refunds, but we will apply your registration fee to any subsequent HU event in the year or following year. If you have purchased a t-shirt, let us know your mailing address and we'll send it out.

Next HU Events
New to Horizons Unlimited?
Horizons Unlimited was founded in 1997 by Grant and Susan Johnson following their journey around the world on a BMW R80 G/S motorcycle. The website, HUBB forum and regular events across the globe have inspired thousands of people to follow their dreams and take the road less travelled.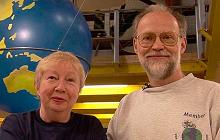 Read more about Grant & Susan's story
Membership - Show you're proud to be a Horizons Unlimited Traveller!
Horizons Unlimited is not a big multi-national company, just two people who love overland adventure travel and have grown what started as a hobby in 1997 into a full time job (usually 8-10 hours per day and 7 days a week) and a labour of love. To keep it going and a roof over our heads, we run events such as this one (18 this year!); we sell inspirational and informative DVDs; we have a few selected advertisers; and we make a small amount from memberships.
You don't have to be a Member to come to an HU meeting, access the website, the HUBB or to receive the e-zine. What you get for your membership contribution is our sincere gratitude, good karma and knowing that you're helping to keep the motorcycle travel dream alive. Contributing Members and Gold Members do get additional features on the HUBB. Here's a list of all the Member benefits on the HUBB.
You can join at a reduced rate as part of your meeting registration. Note that new Memberships with your Meeting Registration are applied as of the Meeting date or as soon as possible thereafter, not earlier, unless you make a special request in the Comments box when you register.