Tashkent, Uzbekistan to Italy, by Pietro Spera, August - September 2003
"What you need to know" to do the trip, all the tips and tricks.
Marta, my wife, and I followed the historical trade route of the Silk Road from Tashkent, the capital of Uzbekistan, in August and September of 2003. Our BMW R 1100 GS had been air-freighted from Italy to Tashkent, the start of our journey, then on to Samarkand, Bukhara, Turkmenistan, across the Caspian Sea by ferry boat, from there to Azerbaijan, Georgia, Armenia, Turkey and Greece, finally returning home to Italy.
The route is about 8.000 km, doesn't present great technical difficulties, but is beset by dreadful bureaucratic obstacles, and considerable economic costs. Added to these difficulties is the high probability of extortion by dishonest border officers or police. Fortunately, we completed our trip without any of these problems.
Although some travelers could make this – or a similar – trip without any assistance, I think a professional travel agency would be of great help, air-freighting the motorcycle, for example, especially if time is limited. We had little more than a month and, additionally, did not speak Russian, so we were faced with bureaucratic problems with visas, custom clearance of the bike at Tashkent airport, and border crossings into and out of Turkmenistan
Visas
Of course, most travelers have experienced visa problems in foreign countries, and this seems to hold true for European Union citizens – I'm Italian. Getting our visas was more difficult and expensive than I expected. Uzbekistan, Turkmenistan, Azerbaijan, Georgia and Armenia required visas – but not the carnet de passage for the bike. Turkmenistan and Azerbaijan have no diplomatic delegations in Italy, so we had to contact their embassies in Paris.
I'd advise giving a professional travel agent your passport details, and they can then deal with embassies to obtain visas and all the many documents – letters of invitation, declarations and so forth. I've been a client for years of
I viaggi del Sogno
, an excellent agency in Trento. Phone: 0461 983 469, or e-mail: duc
...
@viaggidelsogno.it and ask for Duccia, who did a great job this year with what would have been for us a difficult task, but still took about three months.
The Turkmen visa has to be obtained last, since they usually give only transit visas, often for only five days. They required passport information and details of the visa for our country of arrival and the countries where we planned to visit after Turkmenistan. You can obtain a tourist visa that allows you to stay longer, but all accommodation must be pre-booked and you must have a guide in a separate vehicle. The guide takes care of all the police posts and border crossings and helps you plan travel on the North South Dashogus – Ashgabat highway coming from Khiva. This is usually closed to foreign travellers and vehicles. The recommended local agency is Stantours, explained later in the paragraph dealing with Border Uzbekistan/Turkmenistan and ferry boat from Turkmenistan to Azerbaijan .
The price for all the visas needed is really high: it cost my wife and I € 732 each, a total of € 1464.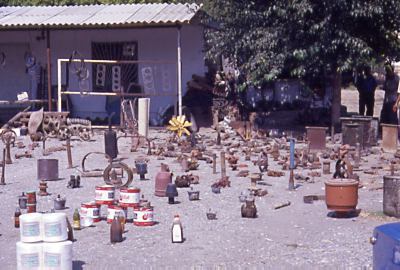 Shipping the bike
The motorcycle was shipped by Uzbekistan Airways on Thursday, August 14 th 2003. They have two flights per week from Rome to Tashkent, Monday and Thursday, but only the Thursday flight could manage our BMW. The flight lasts about 6 hours from Rome.
Shipping was handled by New Transport in Rome e-mail: new.
...
@flashnet.it, a small, efficient company that looked after crating, loading and all customs formalities. They need the bike at their office in the Fiumicino Airport in Rome some days before the shipment. I delivered our BMW three days before departure, having drained the tank, disconnected the battery, and deflated the tires to 50% pressure. Technically, all liquids (oils and brake fluids) should be drained, and I removed the rear mirrors and windshield.
I loaded the BMW, locking our possessions in the side bags, and securing our helmets with antitheft chains. We saved space traveling in our riding clothes and boots, with carry-on baggage only. It's a good idea to load the side bags with spare parts, tools, pressurized cylinders, and other stuff you can't carry on the plane for safety reasons. The price for shipping the bike – not included the tickets for my wife and me – including customs duties, crating and handling was € 1.440 in total.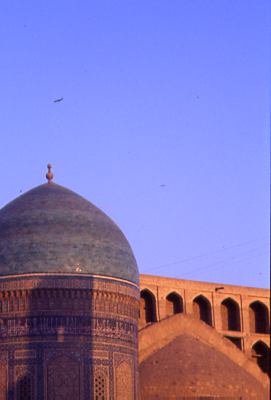 For shipping they needed the usual registration documents for the motorcycle, but the carnet for Central Asia was not needed. I had that because, according to our original itinerary, we wanted to travel through Iran. If you don't intend to visit Iran, I think a different document can be obtained, perhaps a simplified kind of Carnet released by the Chambers of Commerce. I suggest asking New Transport for details.

Air tickets for Marta and Pietro
We bought one-way tickets from Lombard Gate in Milan, specializing in Central Asia. The flight had a connection in Rome, and we paid about €680 each, but somebody told me you may get a better deal. (Lombard Gate in Milan 02 3310 5633, e-mail: elen...@lombardgate.it, site http://www.lombardgate.it/). Because we expected difficulties for the custom clearance of the bike, (and we were right, as you'll see), I left one week before my wife. To simplify arrival, I booked, through Lombard Gate, a hotel in Tashkent for three nights to simplify picking up the BMW. After the first three nights, I stayed in the same hotel, but negotiated a better price with the receptionist.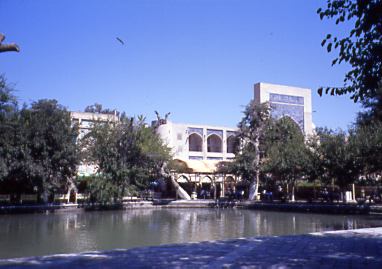 During the flight, you'll be given two copies of a detailed form for customs, one for the customs officer and one to keep. In the form you must specify the amount of foreign currency you have, and it's better to declare the actual amount, since when you leave the country the customs officer may check your money, possibly impounding the amount exceeding that declared, presuming this to be illegally acquired during the trip. We declared exactly the money we had, but when we left the country nobody asked anything. The procedure is the same in all customs encounters we experienced, so I suggest you always know how much cash you have, to avoid to counting a sheaf of bills in full view of the custom officers. My agent suggested that I indicated on the customs form that I had a motorcycle loaded on the same plane.
Custom clearance of the bike
This is the hardest part.
I arrived in Tashkent on August 14 th with our BMW on the same flight but it would take exactly one week, to August 21 st to take possession of the bike, just in time for the arrival of Marta on the same day. If that seems like a long time, let me point out that all necessary negotiations in Tashkent were made by an excellent full-time agency. Had I been alone, I think I would still be there, wandering from one mysterious office to another, waiting for my bike...
That agency is ContinentTour, in Tashkent (e-mail: sido...@mail.tps.uz, site http://www.continenttour.com), ask for Olga, a pleasant and efficient manager, who speaks excellent English. I was in contact with them for months, and all details were handled efficiently.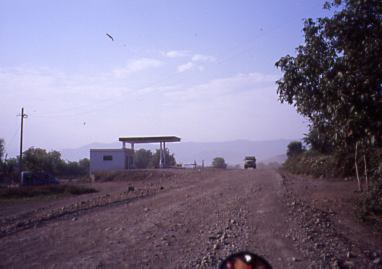 A most useful document is the "International Logbook", which I obtained through a broker agency specializing in vehicle importation. This document gives translations of all vehicle data in about 30 languages, including Russian, accepted throughout Central Asia.
Besides the documents required by Continentour in Tashkent (you can send these by fax or email some days before departure), the customs officials also asked to me for a declaration by the agent who assisted me in entering Turkmenistan, to prove my trip would be continued in that country, and a declaration by me detailing our itinerary in Uzbekistan.
Maybe it was a coincidence, but after five days of vain promises by the customs officers, continuous requests for new documents with no results (one afternoon they allowed me to visit the customs warehouse to check the bike had been delivered, was still in the crate and in good conditions), I got angry and told the ContinentTour people to tell the customs officers that, because there was no reason for the delay, they probably wanted to extort money. So, if I didn't have the bike by the following day, I would go to my embassy to tell them what was going on. It was a bluff, because I'm sure my embassy could not have done much, – maybe a coincidence – the following day I had the motorcycle, without paying any bribe.

Mechanical assistance
There are no mechanics specialized in western bikes for the entire trip, at least to Turkey. (Ed. comment: - there are good mechanics available in Istanbul – contact the Istanbul Community)
Nevertheless in Tashkent, there is an official importer and dealer in BMW cars. They are also the official BMW mechanics of BMW and although they didn't have specific experience in motorcycles, they were ready to help.
I asked their assistance to find oil and brake fluid (the bike has to be 'dry' when shipped) and any possible problems (battery, etc,) I might have after shipment. Airlines don't permit inflammable liquids, or lubricants, so you have to find them on arrival. The BMW dealer is Sanar Motor (e-mail: sana
...
@sarkor.uz, tel. Calling from Tashkent 1320353, fax 1322795).
The agreement was that ContinentTour had transported the bike by truck from the airport to their workshop. So, after customs clearance of the motorcycle, Olga and Andrew from ContinentTour drove me to Sanar Motor, where we fixed everything with the assistance of their mechanics and then I rode the bike to the hotel. My advice is to contact la Sanar Motor well in advance to negotiate what you need and the price. I paid ContinentTour for $350 for customs clearance of the bike and transportation to Sanar Motors. There are official BMW car dealers in Ashgabad (Turkmenistan). I believe this true for all other capital cities of the Caucasian republics we went through, but we didn't contact them.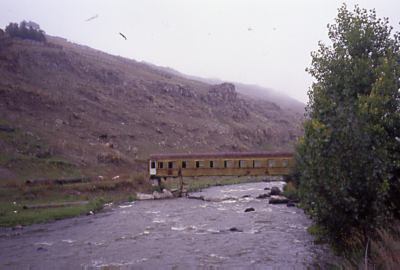 Border Uzbekistan/Turkmenistan and ferry boat Turkmenistan/Azerbaijan
The Turkmen transit visa lasted only five days, from August 28 th to September 1 st. So, because we had to travel more than 1300 km, often in odd situations, to complete our journey in time, we finally left Bukhara very early in the morning of August 28 th to reach the border (about 100 km).
When we asked ContinentTour for directions to the hotel in Bukhara, they sent an employee to help us at the border – at no additional cost. I don't know if that help was really necessary or not, but in a country with terrible bureaucracies and concerned about extortion by dishonest officials, it's always good to have a local, ready to help.
In a couple of hours we were on the Turkmen side of the border, without difficulties. There we met Oleg, from Stantours (e-mail: stan
...
@gmx.net, site
http://www.stantours.com
), an excellent local, low-key agency run by a German guy, David.
At the border the assistance of a local agent is not officially necessary, nevertheless, because all the forms are in Turkmen or Russian, and there are a lot of different offices – none with signs – extortions is always a possibility. Besides, not wishing to be involved in a terrible bureaucratic loop, we decided to ask for agency assistance. It was a good choice, not only to enter Turkmenistan (Oleg, a real professional, needed at least three hours to complete all the documents, but we may have been unlucky as this usually takes one hour). The help was very valuable, especially when leaving the country by ferry boat from Turkmenbashi to Baku, in Azerbaijan.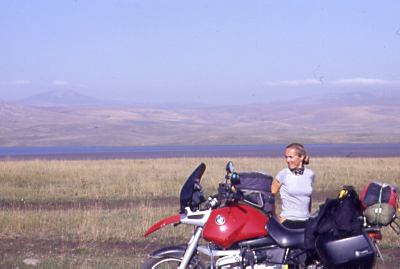 After two days traveling in Turkmenistan (we stopped for the night in Mary and Ashgabat), we finally reached Turkmenbashi. The boat to Baku leaves from there for the crossing of the Caspian Sea, the only option we had, as the Iranian embassy in Italy couldn't – or wouldn't – give us a visa.
Several freighters leave Turkmenbashi every day and the voyage to Baku takes about 14 hours. These ships transport long tank-trains carrying oil from Turkmenistan, as there are no pipelines under the sea. The ferries also carry passengers, but no vehicles are allowed if a tank train is on board, because of a previous fire. The problem is that tank-trains are ALWAYS on board, so, in practice, the transport of the motorcycle (or a car) shouldn't be possible. Luckily, with the mediation of Oleg, the captain allowed us to load the bike, and I paid a small extra cost of 20$ (the maximum one should expect to pay is 50$). We reached the Turkmenbashi port around 4 p.m. and we could have left that same evening. That was a real bonus, since a couple of Belgian bikers we met on the road to Bukhara (coming from Turkmenistan) told us they spent 36 hours getting their motorcycle, sleeping on the floor in customs). So I think the assistance of a professional agent is essential, not only for customs formalities, not to mention the purchase of the ship tickets. This was unbelievably complicated, involving many different offices, one to decide the price, one for the payment, one for the issue of the tickets, one for the receipts, and on and on. Then, of course, there's some difficult bargaining with the captain of the ship in order to load the bike.
Our costs on the ferry came to $45 each for Marta and me, $22 for the bike, and $2 to the waitress for clean sheets in the cabin. I must point out that cabin was the worst place we slept in for the entire trip: dirty, bleak, with an awful bathroom and cockroaches. Better cabins are available, and again, a small fee will persuade a crew member to give you his cabin for the voyage – but we didn't know that then. We were the only passengers, except for two guys from Azerbaijan, who spent the night in the adjacent cabin drinking vodka, eating, smoking and screaming. They invited us to join them, but we refused, with thanks.
The cost of Stantours assistance at the border UZ/TM and at the port of Turkmenbashi was about $150, which included the fee for the guide flying there and back and waiting for us at the ferry terminal.
I suggest travelers buy food and drinks in Turkmenbashi before leaving on the ship, as they don't have a restaurant or a shop for passengers, and you have to ask the kitchen crew, paying tips to everybody, of course.
Caucasus: Azerbaijan, Georgia and Armenia
After Central Asia, the Caucasian countries look almost European, even if they are very poor. Everything is easier and faster, formalities less complicated, and not much need for assistance is not a must. However, if a traveler wants agency help, CGTT ( e-mail: arn...@voyages.baku.az, site www.cgtt-tq3.az , a partner of Stantours, made a very good impression. We did contact them and they were competent very kind but, eventually, we handled everything ourselves.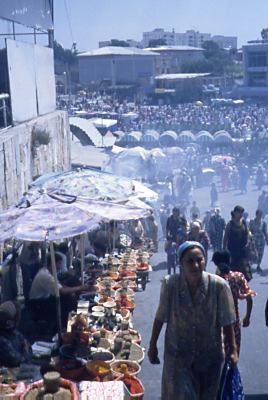 We were never bothered by what we had been told were terribly corrupt police, but we avoided the Georgian region on the Black Sea and the border Azerbaijan/Georgia of Zakatala, near Russia, both believed to be dangerous areas. We also avoided the northern parts of Georgia, close to Cecenia, Inghusetia and Daghestan, well known as REALLY dangerous.
I should point out that the Azerbaijan/Armenia and Armenia/Turkey borders are closed, so, to visit Armenia, it was necessary to follow the sequence: AZ, GE, AR, GE, TR, and that mandates a Georgian visa with a double entrance.
To reach Turkey, we crossed at a small, fast customs post in the mountains between Vale and Posof. The only drawback is that the road climbs to over 2500m and we had to cope with some snow and a temperature of 2° C.

General information
Exchange rates (August – September 2003):
American dollars and Euro can be changed everywhere, but dollars are still the favorite for cash in shops, hotels and tips. Nobody likes coins and the 5 Euros bill is usually too much. I suggest carrying a lot of one and five dollar bills.
UZ: 1 USD = 1000 sum on the black market, 975 sum at the official rate. That means that the black market has little edge at all. In any case, all the shops and restaurants accept dollars at the black market rate.
TM: 1 USD = about 5000 manat at the official rate, more than 21.000 on the black market. To buy money on the black market reduces the costs to less than one fourth, so it's convenient. Besides, everybody changes money, even if illegally. We bought manat on the black market at the UZ/TM border and paid the hotel in Ashgabad, more or less at the same rate.
AZ, GE, AR, and TR: I don't remember the exchange rates here, but there are no problems, exchange is free and legal, and all the shops do it.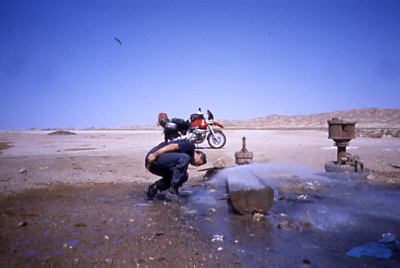 Hotels :
Tashkent (UZ): Gran Orzu: very comfortable and friendly, in a quiet residential area of the city, with a swimming pool, restaurant and a garden to park the bike. It's $35 a day for a double room with breakfast. The site of the hotel is on a link of the ContinentTour site.
Samarkand (UZ): Zarina: comfortable and friendly, but more expensive than Gran Orzu, well positioned near Registan, with a small swimming pool and a little garden for the motorcycle. It's $45 per day for a double room and breakfast, with a link on the ContinentTour site.
Bukhara (UZ): Zargaron: in a wonderful location, very comfortable, opened a few months ago, and there's a courtyard to park the bike; massage for few dollars; $55 per day for a double and an excellent breakfast, with a link on the ContinentTour site.
Mary (TM): Sanjar: it looks like the only one hotel in the city. Horrible and huge building, run by the state in perfect Soviet style: ugly, dirty rooms, terrible bathroom (cockroaches); everything was broken: telephone, TV and refrigerator. All this comfort for $30 per day, very expensive by local standards, one double room without breakfast.
Ashgabat (TM): Nissa: Best accommodation of the whole trip, run by a very nice Italian guy, Mr. Luigi Fontanabona, who is in charge and is also the honorary Italian counsel, since Italy hasn't any official diplomatic delegation in Turkmenistan. Four stars and a fantastic Italian restaurant – a real pleasure after weeks of traveling. Wonderful swimming pool and all the comfort desired, $60 per day for a double.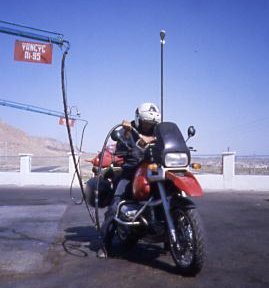 Ferry boat: Turkmenbashi/Baku: I've already described the cabin, enough said.
Baku (AZ): Absheron: modern, comfortable but ugly 20-floor hotel in excellent location, on the seafront main street; $50 per night for a double, without breakfast. You can park the motorcycle in front of the main entrance, guarded all the time by a guy who will wash it perfectly. I didn't like this because during my trip I like a bike that looks well travelled, so, if you agree, ask him not to wash it.
Sheky (AZ): old restored caravanserai; everybody knows it in the village, just ask: $30 per night for a double.
Tbilisi (GE): Victoria (e-mail: vict...@global-erty.net, tel. +995 32 291 269), friendly and very comfortable small hotel; formerly a private house and nicely furnished. The owner's son is one of the few bikers in Tbilisi. $70 per night for a double with an excellent breakfast.
Yerevan (AR): Crown: small, in the heart of the city, $40 for a double; and you can find it easily on the Lonely Planet map.
Ninotsiminda (GE): Leaving Yerevan, we planned to reach Ahalcihe (GE) (near the border GE/TR of Vale/Posof) before night. However, after the AR/GE border near Gumri (AR) the road became so badly repaired that our average speed dropped to 20/30 km/h and to reach Ahalcihe became clearly impossible. I think the only village in that countryside where it was possible to find a hotel, was Ninotsiminda (a double for $25.)
Ankara (TR): Ogulturk: A very comfortable stop and in an excellent location. After some negotiation we obtained $40 for a double with breakfast: site www.ogulturk.com.
Istanbul (TR): Pera Palace, a little expensive but after negotiations we paid $100), but one of the most charming hotels I've ever visited; in an excellent central location: http://www.perapalas.com/index.htm
Thassos (GR): The best here – but the most expensive – is the Alexandra Beach, in Potos (southern side of the island). Cheaper hotels on the beach, towards the west.
Roads
Quite good in Central Asia (UZ e TM); normally two-lane roads with no central reservation, almost no traffic. Pavement is a little run-down, especially in Uzbekistan, but it's possible to travel around 90 – 100 km/h. My advice here is NEVER ride at night, not only because of road conditions, but for the presence of camels, sheep and other beasts wandering along the middle of the road; or cars, tractors and trucks with no lights. Besides, in all the cities from Samarkand to Yerevan, it's easy to find manholes without covers! Pay attention, or you may find yourself falling headlong inside one of these, bike and all!
Awful in the Caucasus, especially in Georgia. Long stretches of road with no asphalt or, worse, the asphalt in terrible condition, even on the main roads. Our average speed decreased to 20 – 30 km/h. Because of potholes, we broke the rear rack, quickly fixed by an excellent Armenian mechanic in two hours for $5. Travelling here at night can be really dangerous.
Excellent in Turkey and Greece.

Temperatures
Extremes: Between the end of August and the beginning and September, in few days, we experienced over 40°C in Turkmenistan to 2°C (two!) with a little snow on the plateaus in East Turkey.
Petrol
Uzbekistan: hard to find; lots of gas stations, but most of them are closed, out of petrol! Anyway, it's easy to find gas on the black market; In case of difficulties, ask a taxi driver. When you find it, the quality is terrible, usually 72 or 75 octane. The petrol bought on the black market can be dirty, so it's good to have a filter. We used an old handkerchief in a funnel which was better than nothing.
Turkmenistan: quite easy to find; but don't wait until the tank is almost empty to fill it up; good quality and VERY cheap, I paid half a Euro for a full tank of 25 liters!
No problems at all in the rest of the trip.
Checkpoints
Everybody warned us that police and public officials could be offensive, not to mention bribes or petty extortions and threats. We were lucky – never had to pay any bribes at the checkpoints, even when we were stopped, which happened dozens of times. I think we adopted the right tactic: "super-cordiality". We said, "Salam Aleykum" to every policeman or custom official, but not to Georgians or Armenians, who are Christian. Handshakes and smiles worked well with everybody, and we'd ask information about the road or directions, even if we didn't need it. All this creates a good relationship that pays off. Many policemen at the checkpoints offered us tea and it's better to accept it, even if you are late. Some stopped trucks to "liberate" melons and tomatoes for us.
Languages
Russian would be best for communication; everybody speaks it everywhere in the former Soviet Union. We didn't speak Russian at all so a small dictionary was very useful on many occasions. Young people, especially in the main cities, speak a little of English – but don't rely on it!
Contacts
In Ashgabat, in Turkmenistan, it's worth a visit to the Nissa, an excellent hotel run by Mr. Luigi Fontanabona, with a fantastic Italian restaurant. Mr. Fontanabona is also the Italian honorary counsel.
Generally speaking, people we met in all the countries we went through are very friendly and can embarrass you with hospitality! It's not unusual to receive fruit, bread, cigarettes or other small gifts from people so poor they can barely survive. So I suggest taking some small presents for pleasant locals: postcards of your city, colored pens, stickers, calendars of your country, etc. Unlike people in North Africa, many we met love to be photographed, and will ask you to photograph them.
Highlights of every visited country :
Uzbekistan: the fabulous cities of Samarkand and, most of all, Bukhara. The Chorsu main market in Tashkent is very interesting.
Turkmenistan: A strange country, more interesting than beautiful. It seems to be an empty space between Russia, Oriental Asia, Persia and Turkey, and the feeling of bewilderment is strong, but people are wonderful, even if apparently a little rude by our standards. The enigmatic ruins of Merv, in the middle of the nowhere, are wonderfully emblematic.
Azerbaijan: Baku and the scenic countryside toward Sheki.
Georgia: Tbilisi and the plateaus at the border to Armenia, between Gumri (AR) and Ahalkalaki (GE).
Armenia: We enjoyed the countryside along the road to Vanadzor, between Tbilisi and Yerevan, and the Armenian stretch of the road between Gumri (AR) and Ahalkalaki (GE). At night, Yerevan – not really a beautiful city – becomes very lively, a lot of people on the streets and in restaurants and bars everywhere.
Turkey: This country alone is worth many visits, but if you go, you must at least visit the city of Ani, near Kars.
Greece: As everybody knows, Greece has many, many wonderful sights, but on this trip, we found a wonderful biking itinerary – great curves and panoramas – on the stretches linking Edessa (near the Macedonian and the Albanian borders), Florina, Kastoria, Ioannina and Igoumenitsa.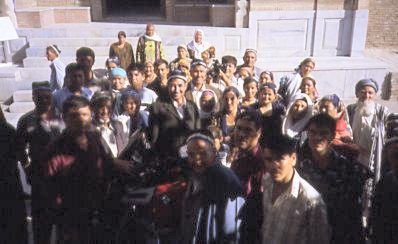 Conclusion
The trip was, as we expected, wonderful and I recommend it to any adventurous biker, even if some stages are very long, the temperatures extreme and the Central Asian landscapes often boring. Bureaucratic difficulties that seemed insurmountable when we started out were successfully overcome with the right help, patience, luck and the experience of similar trips we have taken.
Planning the trip, deciding the itinerary, contacting previous travelers for their impressions, getting good travel agencies to help with paperwork was all very difficult and we devoted a couple of hours a day to this for months. I hope this short report can help others to enjoy their own adventure as much as we enjoyed ours.
Have a nice trip! Pietro.
Story and photos copyright© e-mail: piet...@iol.it, 2003 - All Rights Reserved.
---
Member login
Are you an Overland Adventure Traveller?
Does the smell of spices wafting through the air make you think of Zanzibar, a cacophony of honking horns is Cairo, or a swirl of brilliantly patterned clothing Guatemala? Then this is the site for you!
Hosted by Grant and Susan Johnson, RTW 1987-1998
Next HU Events
HU Event and other updates on the HUBB Forum "Traveller's Advisories" thread.
ALL Dates subject to change.
2023:
2024:
Virginia: April 25-28
Germany Summer: May
Switzerland: August
Romania: August
Ecuador: September
France: September
Austria: September 12-15
Queensland: Oct 4-7
Germany Autumn: Nov.
Add yourself to the Updates List for each event!
Questions about an event? Ask here
ALL 15 chapters of the HU Achievable Dream Guide are available to download on Vimeo!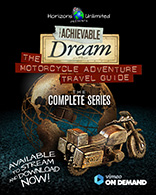 Binge watch over 18 hours of inspiring, informative and entertaining stories and tips from 150 travellers!
"a cross between entertaining stories, tech tips, and reference guide"
"A timeless introduction to Motorcycle Adventure Travel!"
Originally launched as a 7 DVD set, The Achievable Dream series can now be downloaded anywhere. OVER 18 hours of solid info take up zero space in your panniers. How convenient!
Books

All the best travel books and videos listed and often reviewed on HU's famous Books page. Check it out and get great travel books from all over the world.
NOTE: As an Amazon Affiliate we earn from qualifying purchases - thanks for your help supporting HU when you start from an HU Amazon link!